Tag: hobo cult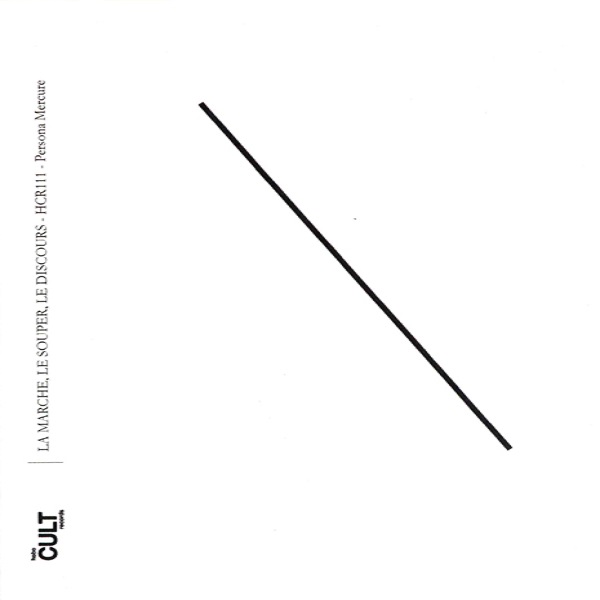 Persona Mercure
La Marche, Le Discours, Le Souper
Montreal, QC
From the sonic singularity of Johnnie Regalado:
The stark beauty of this drone is matched only by the elegant simplicity of the artwork. Three tracks that gravitate around the black holes of our mind; music made for a rendezvous where everything happens in threes. The trio of tone rings the full alert, whispers 'walk calmly towards the nearest exit' and lays out a feast amongst the infinitesimal screaming silence of space.
De la singularité sonore de Johnnie Regalado:
(Traduit par Jessica Grenier)
La beauté saisissante de ce drone n'est égalée que par la simple élégance de l'illustration. Les trois pistes gravitent autour du trou noir de nos esprits; une musique faite pour des rendez-vous où tout arrive par trois. Le trio tonal fait sonner l'alerte, murmurant de « marcher calmement vers la sortie la plus près » en exposant un festin parmi les minuscules silences criants de l'espace.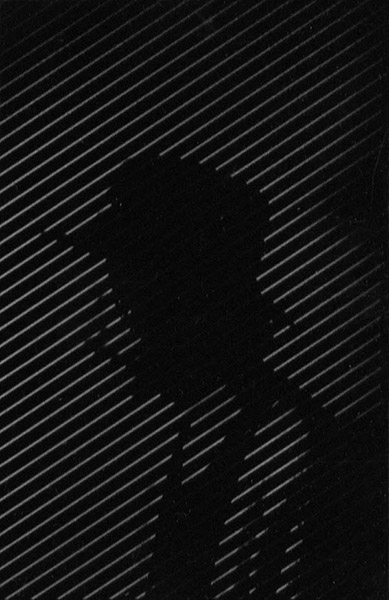 Hobo Cubes
Untitled C.90
Montréal, QC
From the formless perception of Jonathan Park:
Our headmaster dwells in a cement palace called Sewer Club. Bugs crack through our toes as we are sent to the meeting point. Dripping pipes scratch our fetish of morbidity and churn our soul. The sullen beats of our rat ancestors become more audible and weave in and out of our sensory perception. Six-foot tall cockroaches are dancing in the middle of the sewer to the bass drum's pulse. Let us be formless in this dark, scum-covered cave once the sacrifice has commenced.
De la perception informe de Jonathan Park:
(Traduit par les antennes de Jessica Grenier)
Notre chef habite un palace de ciment appelé le Sewer Club. Nos orteils écrasent des bestioles en cheminant vers le point de rencontre. Les tuyaux dégoulinants chatouillent nos fétiches morbides et barattent notre âme. Les bêtes solennelles, nos ancêtres rats, se font entendre de plus en plus, ondulant à la limite de notre perception sensorielle. Des coquerelles de six pieds dansent au milieu des égouts, suivant les pulsations de la grosse caisse. Laissons-nous devenir informes, dès que le sacrifice commence, dans cette cave crasseuse et obscure.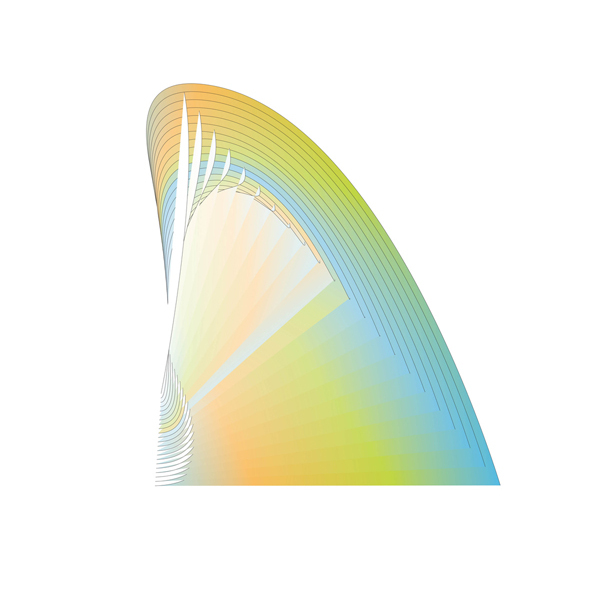 Hobo Cubes
Apex Ideals
(Debacle)
Montréal, QC
From the subtle sleep of Jesse Locke:
WC OG Francesco de Gallo sets down 12 inches of arachnidian mind-massage for the second time in less than a year. The warble-jam haunted house plunderphonics of his Ala Vjiior alias are replaced here with something subtle and formless, yet the lingering neck-chills continue to pulse and bleep from the cracks. "Structures in Stasis" plays Bloody Mary with the circuit-bent Speak & Spell spirit of Cthulhu, summoning the gatekeeper into this rainbow netherzone.
Du sommeil subtil de Jesse Locke:
(Traduit par Peter Particule)
Pour la seconde fois en moins d'un an, Francesco de Gallo – un vieux de la vieille chez Weird Canada – met en place 12 pouces de massage cérébral arachnéen : un album subtil, aux contours flous, dont les frissons persistants le long de l'échine continuent de jaillir des fissures sous forme de bips et de pulsations, et qui vient succéder au magma grésillant qui hante la house-collage possédée de son alias Ala Vjiior. « Structure in Stasis » joue à Bloody Mary avec l'esprit de Dictée Magique trafiquée de Cthulhu, suppliant à genoux le gardien de l'entrée de ces abysses multicolores.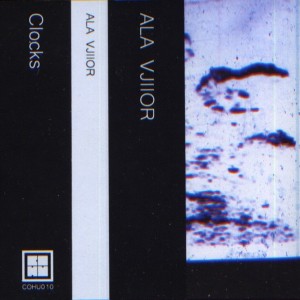 Ala Vjiior
Clocks
(La Cohu)
Montréal, QC
From the profound sound of James Goddard:
Ala Vjiior is Hobo Cultist Francesco de Gallo's un-hinged exploration of appropriation music. Warped vinyl is processed, tapes are flipped and reversed. Sound is profoundly altered in a way no concrete poetry can express. Clocks is appropriately abstract as it explores beginnings and ends, shifting and skittering through a variety of moods. At times the tense tones seem to be vying to score Cronenberg's next body-horror before slowly easing into what might be an eco-acoustic study of the far future. A perfect recording for losing yourself.
Du son profond de James Goddard:
(Traduit par le baladeur défraîchi de Julie Mayer)
Ala Vjiior est l'exploration sans bornes d'emprunts musicaux à laquelle s'est livré Francesco de Gallo, de Hobo Cult Records. Le traitement du vinyle voilé ainsi que les bandes magnétiques renversées et inversées altèrent le son d'une manière si profonde qu'aucune poésie concrète ne peut l'exprimer. Clocks est abstrait à souhait, car il glisse sur la palette d'humeurs qu'il explore d'un bout à l'autre. Parfois, les tons lourds semblent se disputer la trame sonore du prochain musée des horreurs de Cronenberg avant de s'amenuiser peu à peu vers ce qui pourrait être l'écologie sonore d'un avenir lointain. Bref, c'est l'enregistrement rêvé pour s'oublier.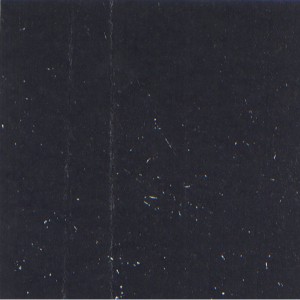 Femminielli Noir
L'Éveil
Montréal, QC
From the modest gabber of Jesse Locke:
The cavernous blackness of this cassette sleeve is the gateway to a yawning abyss. Bad boys of the Montreal subterrain Bernardino Femminielli and Jesse Osborne-Lanthier welcome us into their sonic sepulcher to reveal themselves as altered beasts. Here, the sensual whispers and spectral Italo disco of Femminielli's past masterworks are dispersed across an expressionistic soundscape of desolate ambience, garbled electronics and punishing four-on-the-floor. Only on side b's "Semence En Moi, Le Danger" do we see a glint of light through the darkness, as a haunted music box melody twirls away in an empty room.
Du papotage modeste de Jesse Locke:
(Traduit par le côté italo-spectral de Mathieu Bédard)
La noirceur caverneuse de la jaquette de cette cassette est une passerelle menant à un abysse béant. Les mauvais garçons du Montréal souterrain, Bernardino Femminielli et Jesse Osborne-Lanthier, nous invitent dans leur sépulture sonique où ils se révèlent à nous en tant que bêtes altérées. Ici, les chuchotements sensuels et l'italo disco spectral des dernières oeuvres de Femminielli se dispersent à travers un paysage sonore expressionniste à l'ambiance désolée, aux textures électroniques embrouillées et à la rythmique punitive. Seulement sur « Semence En Moi, Le Danger », sur le côté B, apercevons-nous une faible lueur à travers l'obscurité, tandis qu'une mélodie de boîte à musique tournoie au loin dans une pièce vide.
Femminielli Noir – Semence En Moi, Le Danger
Ephemera of Francesco de Gallo
Existing during the recording of Hobo Cubes // Taiwan – Split 12"
Montréal, QC
[photos: Aliya Kahsay]
From the happy hunting ground of Christina Bell:
The dogma of slowing right down is at the root of the symphonic revelation that is Hobo Cubes' Francesco de Gallo's recent work. The new sound is an experiment in deliberate unhurriedness. Inspired by artistic connections, de Gallo paired up with Edmonton's Taiwan to release a 12" split. Things that are independently constructed can merge together in magical ways. Fully succumbing to the wayward spirit of collaboration, the 12" released by Toronto's Pleasence Records demonstrates physical proof of this phenomenon in the fluid conjoining of artists — but also in Hobo Cubes' approach to his contribution. Through the involved process of collaging, deconstructing and layering, intricate soundscapes emerged. And although this variegated sound occupies a world of its own, we indulgently explored the nexus of "stuff" that contributed. Align your senses. Listen to this track while you float through these gorgeous photos.
Labyrinths by Jorge Luis Borges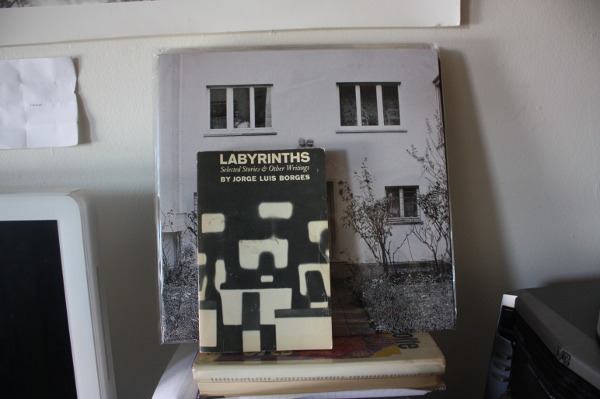 My friend Ryan lent me this Borges book before I knew his writing at all. It doesn't really directly have anything to do with the album but I just feel like after I read this I had a different state of mind. I wanted to go into more minimal but deeper sounds conceptually. Borges' stuff is super illustrative but almost abstract. Also, I just love labyrinths and the concept of the maze. Maybe this marked the beginning of the slowness in my life. I recently found this copy for sale and it has the same cover as the one my friend lent me.
Synthesizer (Roland JX-3P) // Controller (PG-200)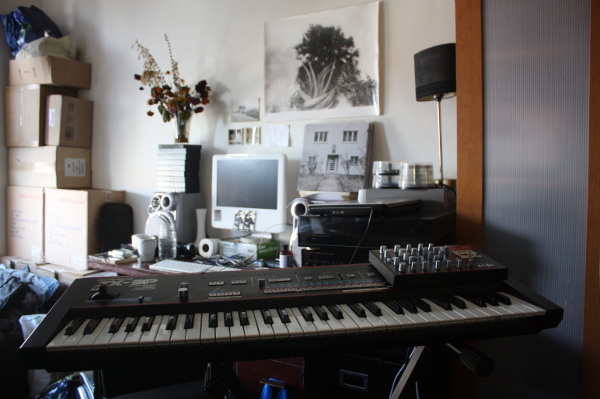 I bought the synth from a guy in Montreal. It had been in storage for 10 years and I bought it really cheap but then had to get it fixed and that cost a lot of money. The controller, which you can buy separately, I got from my friend Christian. His friend found the controller, and gave it to him, so he just gave it to me. But, I had to get a specific cable from Italy. Unfortunately this was during a time when Canada Post was on strike, so I had to wait for like two months until I could even use it. [The controller] truly opened up a different world of sounds because I could manipulate the synth more. It's possible to manipulate the synth from inside but I don't have that logic. I don't want to get inside the synth. The controller is just hands-on. You hear it a little bit on the album.
Alto-Sax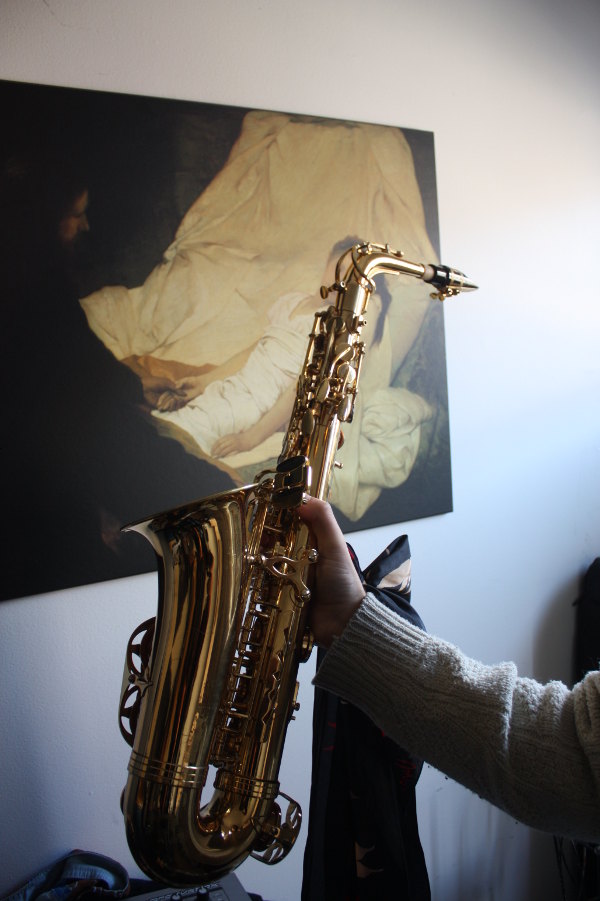 I learned on this saxophone. This is the one I was using to tour a little bit and it's what Alex Dirty Beaches saw me playing in Calgary when he said we should tour together. The first tour [with Dirty Beaches] was done with this sax. One show in France we were playing in this small venue inside a boat. The show was so crazy and at the end of the set I pulled off this weird punk move and dropped the sax. During the next show I was like "why is the sound all… fuck, I broke the sax." It sucked, but it's something that people remember from that show. I could get it fixed, I just never have, because in my heart I know I want a tenor sax — that heavier sound.
"Focus" Tattoo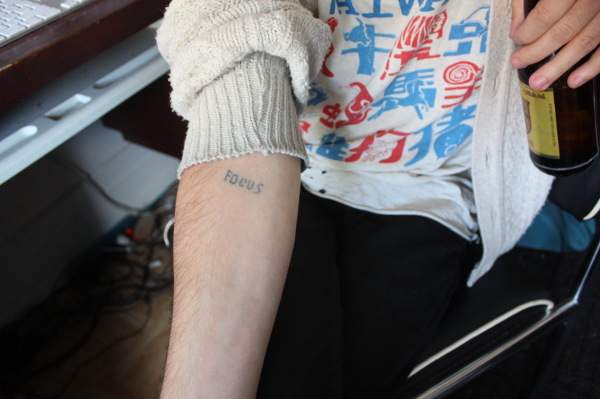 When I got it, I was really in that focus zone. Now it's harder to focus in general. But I have it here, so now I can't not focus. At the same time, the tattoo is sort of blurry. So it becomes this double-edged message. Sometimes life is pretty fucked, but you just gotta see what's in there anyways — and sometimes you have to focus.
Tapes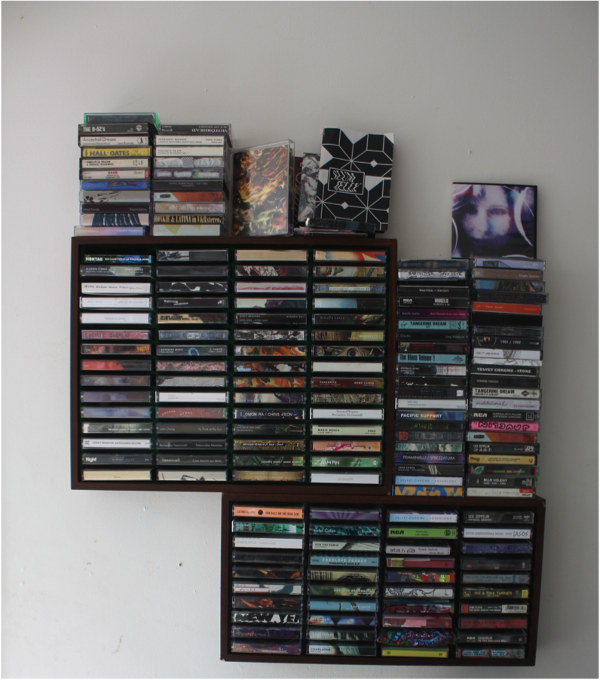 Du joyeux terrain de chasse de Christina Bell:
(Traduit par les retours d'électricité d' Aliké Harel)
« Ralentir radicalement », c'est le dogme au cœur de la révélation symphonique qu'est l'œuvre récente de Hobo Cubes de Francesco de Gallo. Ce nouveau son est une expérience dans l'art de prendre délibérément son temps. Inspiré par leurs connexions artistiques, de Gallo s'est joint à Taiwan d'Edmondton pour nous offrir un split sur vinyle. Des éléments élaborés séparément peuvent fusionner de façon magique. Fruit d'un abandon total aux aléas de la collaboration, ce 12 pouces du label torontois Pleasence Records est la preuve concrète de ce phénomène, d'abord dans la fluidité de cette rencontre entre artistes, puis dans l'approche collaborative même d'Hobo Cubes pour ce projet. Du processus complexe d'assemblage, de déconstruction et de mise en couches, émerge un paysage sonore complexe. Bien que ce son bigarré subsiste dans un monde qui lui est propre, nous avons exploré avec indulgence la constellation de « choses » ayant contribué au tableau. Ajustez vos sens. Écoutez cette piste tout en laissant planer votre regard sur ces images magnifiques.
Labyrinths de Jorge Luis Borges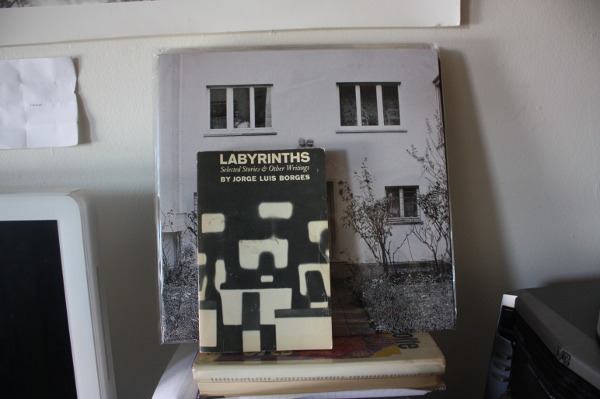 Mon ami Ryan m'a prêté ce livre de Borges avant même que je connaisse l'auteur. Il n'y a pas vraiment de lien avec cet album, mais je sens simplement qu'après cette lecture, je n'ai plus été dans le même état d'esprit. J'ai voulu explorer un son minimaliste mais de conception plus profonde. Ce qu'écrit Borges est hyper illustratif, mais presque abstrait. De plus, j'adore les labyrinthes et le concept de dédales. C'est peut-être le point de départ de la lenteur dans ma vie. Récemment, j'ai trouvé cette édition à vendre et elle a la même couverture que celle que mon ami m'avait prêtée.
Synthétiseur (Roland JX-3P) // Contrôleur (PG-200)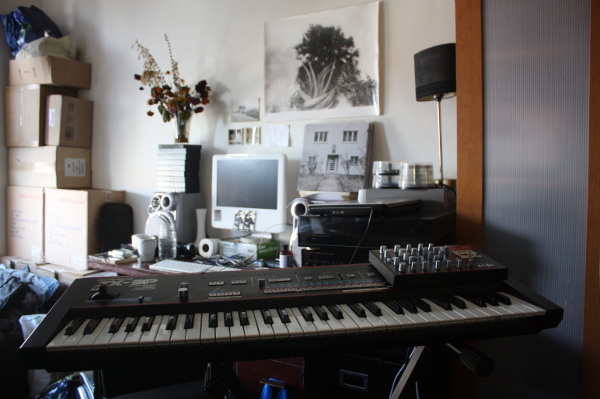 J'ai acheté ce synthétiseur d'un gars à Montréal. Il était entreposé depuis dix ans et je l'ai eu pour pas cher du tout, mais j'ai ensuite dû le faire réparer, ce qui a coûté vraiment cher. Le contrôleur qu'on peut acheter séparément, je l'ai eu de mon ami Christian. Son ami l'avait trouvé et le lui avait donné, et il me l'a donné par la suite. Par contre, j'ai dû obtenir un fil spécial d'Italie. Malheureusement, tout ça se déroulait au moment où Poste Canada était en grève. J'ai dû attendre deux mois avant de pouvoir m'en servir. Le contrôleur m'a ouvert la porte sur un nouveau monde sonore en me permettant de manipuler davantage le synthétiseur. C'est possible de faire ça en jouant avec les circuits du synthétieur, mais je ne suis pas doué avec ces trucs. Le contrôleur est plus pratique. On peut l'entendre un peu sur l'album.
Le sax alto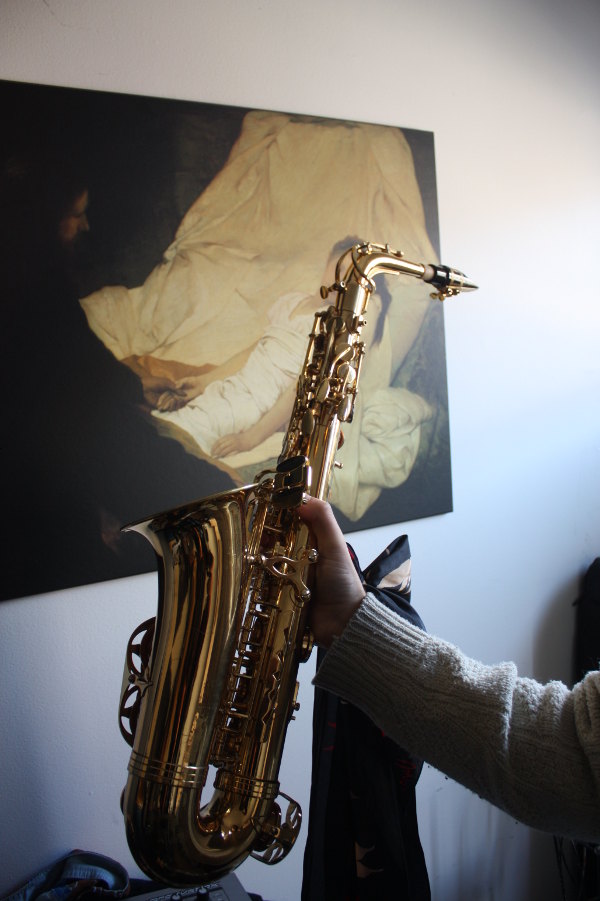 J'ai appris avec ce saxophone. C'est celui que j'utilisais en tournée et c'est celui avec lequel je jouais à Calgary le jour où Alex Dirty Beaches(http://weirdcanada.com/tag/dirty-beaches/) a proposé qu'on fasse une tournée ensemble. J'ai joué avec ce saxophone lors de ma première tournée avec Dirty Beaches. Pendant un concert en France, nous jouions dans une petite salle sur un bateau. L'ambiance était malade et à la fin j'ai fait une genre de pirouette punk bizarre et je l'ai échappé. Au concert d'après, je me demandais « pourquoi est-ce que le son est tout… merde, j'ai brisé le sax ». C'était chiant, mais c'est quelque chose que les gens ont retenu du spectacle. Je pourrais le faire réparer mais je ne l'ai jamais fait, parce qu'au fond de mon cœur, je veux un saxophone ténor — pour ce son plus grave.
Le tatouage « Focus »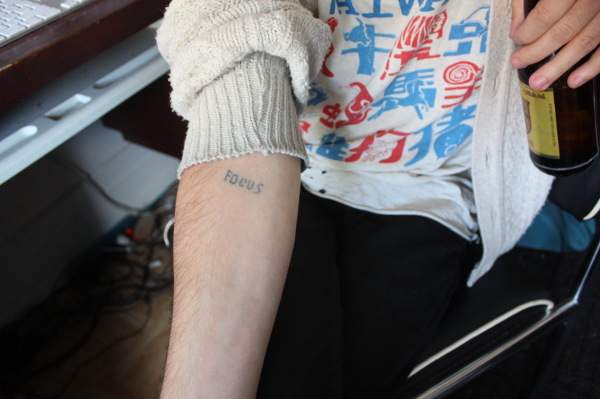 Quand je l'ai fait faire, j'étais vraiment dans une phase de concentration. Maintenant, c'est généralement plus difficile de rester concentré. Mais je l'ai, donc je ne peux pas ne pas être concentré. En même temps, le tatouage est un peu flou. Donc, ça devient un peu un message à double sens. Parfois, la vie est un vrai foutoir, mais tu dois quand même voir ce qui s'y trouve malgré tout — et parfois il faut se concentrer.
Les cassettes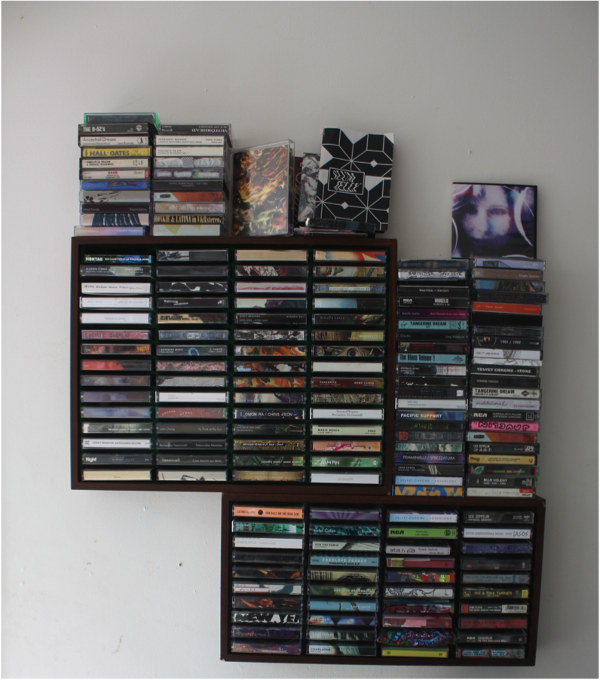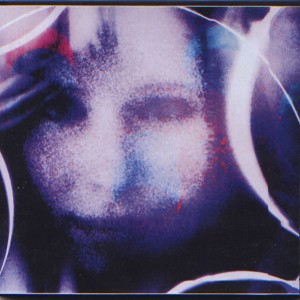 Nouveau Zodiaque
Nouveau Zodiaque EP
Montréal , QC
From the medina full of flowers of Hugo Hyart:
(Translated by the half-common, half-occult co-existence of Hugo Hyart)
Subterranean behemoth Hobo Cult Records presents four new pieces by Xarah Dion of Les Momies des Palerme in her Nouveau Zodiaque alias, each containing an entire universe. These songs arise from a half-common, half-occult co-existence of synthesisers, rhythm machines, Arabic, Albanian and Turkish instruments, plus Dion's diva-esque chants. "Au Parc Jarry" could be a new visit to "À la claire fontaine", while "Combustible" conjures mist darkening into big clouds full of rain. A meeting of modern, ancient and timeless.
De la médina fleurie d'Hugo Hyart:
Le béhémoth souterrain Hobo Cult Records présente quatre nouvelles pièces par Xarah Dion des Momies de Palerme, sous le nom de Nouveau Zodiaque, chacune porteuses d'univers différents. Ces morceaux donnent lieu à des coexistences mi-courantes-mi-occultes entre synthétiseurs, boîtes à rythme et instruments arabes, albanais et turcs, sur lesquelles viennent s'enfiler pareils à des draps flottants, les chants lyriques et divaesques de Dion. « Au Parc Jarry » pourrait être une nouvelle viste « À la claire fontaine », tandis que « Combustible » invoque une brume qui s'assombrit en de gros nuages de pluie. Une rencontre entre le moderne, l'ancien et l'intemporel.
Nouveau Zodiaque – Au Parc Jarry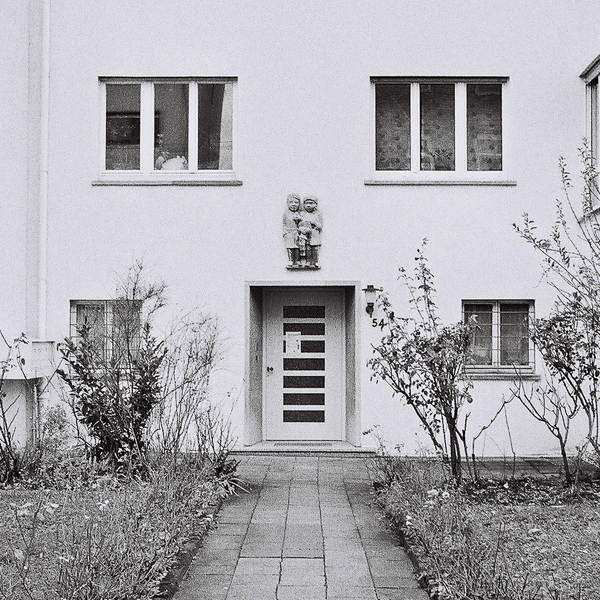 Hobo Cubes // Taiwan
Split 12"
Montreal, QC // Edmonton, AB
From the split personality of Kevin Hainey:
There's a refreshingly assured and refined air about this split slab of wax for Montreal's resident synth geometry major Hobo Cubes and outta nowhere Edmonton newcomers Taiwan.
Given the endless flow of tapes, CD-Rs, splits, tours and press Hobo Cubes has gotten out there over the years it's almost tough to swallow that this is only the project's first full LP side. Nonetheless, main man Fracesco de Gallo (also a sometime member of Dirty Beaches and the dude behind the Hobo Cult cassette label) sounds as reserved as anyone could hope to be on his first commitment to the 12″, like he's got all of the time in the world and nowhere in particular to be. A spacious, vacuous and explorational journey through keyboard concrete, Hobo Cubes' brilliant side forsakes familiar trends in dreamy synth-scapes and robotic repetition in favour of stranger 20th century-inspired lands, benefitting all the more for its adventurous composition and stringent individuality.
Taiwan have already become synonymous with Angelo Badalamenti around these parts, and David Lynch's musical collaborator and soundtrack composer is without a doubt the creative launching pad for these fresh young cats. From the opening strains of their side you can imagine Laura Palmer searching for her diary in an eerie house. Yet what Taiwan add to the homage is their desire to build brief epics that haven't been blasted this darkly and elegantly since the post-rock explosion heydays of the late '90s. When you boil it down, Taiwan are lurking closer to a heaven where everything is fine than the otherworldly horrors of The Black Lodge, but that doesn't mean there aren't many fine surprises to be found in the kaleidoscopic 20-minute song cycle they've recorded for us in crystalline quality.
Du dédoublement de la personnalité de Kevin Hainey :
(Traduit par les reniflements sans fin d'Andréanne Dion)
Une rafraichissante assurance et un raffinement émanent de ce split sur vinyle par Hobo Cubes, spécialistes montréalais de la géométrie des synthétiseurs, et Taiwan, nouveaux venus d'Edmonton, surgis de nulle part.
Vu le flot sans fin de cassettes, de CD-R, de splits, de tournées et de publicité associé depuis des années à Hobo Cubes, il est presque difficile à avaler qu'il s'agisse là de leur première face de 33 tours complète. Néanmoins, le leader Fracesco de Gallo (le type derrière le label de cassettes Hobo Cult, parfois membre de Dirty Beaches) apparaît aussi réservé que n'importe qui à son premier enregistrement sur vinyle, comme s'il avait tout le temps du monde devant lui et nulle part en particulier où aller. Vaste voyage exploratoire de la froide brutalité du synthétiseur,Hobo Cubes délaisse les répétitions robotiques et les paysages de rêves synthétiques familiers pour des terres plus étranges inspirées du 20e siècle, qui bénéficient des compositions aventureuses et de leur individualité rigoureuse.
Taiwan rime déjà avec Angelo Badalamenti en ces contrées, et le collaborateur musical et compositeur de David Lynch est sans aucun doute la rampe de lancement créative qui propulse ce jeune groupe. Dès les notes d'ouverture, on imagine Laura Palmer en train de chercher son journal intime dans une maison inquiétante. Pourtant, ce que Taiwan ajoute à cet hommage est leur désir de composer des chansons courtes mais épiques, qui rappellent par leur sombre élégance l'explosion post-rock à la fin des années 90. Quand on y regarde de près cependant, Taiwan flirte davantage avec un petit coin de paradis où tout va bien qu'avec les horreurs mystiques de la Black Lodge, mais cela ne veut pas dire qu'il n'y a pas de belles surprises cachées dans le cycle musical kaléidoscopique de 20 minutes que le groupe a enregistré pour nous dans une qualité cristalline.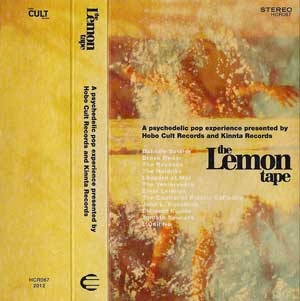 Various Artists
The Lemon Tape
Montreal, QC
From the citric acid flashback of Jesse Locke:
Paisley rays of avant-pop sunshine emanate from this overflowing homage to the Age of Aquarius. Montreal's best and brightest contribute a tune (or two, or three) under a variety of guises, all filed under psych, cosmic and library music taxonomy. From Brave Radar's hazy afternoon bliss-outs to JLK's biker blaze and multiple turns from label founder Christian Richer, this meticulous mixtape is a tie-dye dream come true. All in all, Asaël Robitaille steals the show and proves his secret weapon status with a grip of winners from his various projects. Wake up sucking on a lemon with a grin from ear to ear.
Des flashbacks d'acide citrique de Jesse Locke: (Traduit par Odile Leclerc)
Des rayons de soleil d'avant pop de Paisley émanent de cet hommage débordant à l'Age of Aquarius. Le meilleur et le plus brillant de Montréal contribue à une chanson (ou deux, ou trois) sous une variété de prétextes, toutes remplis de sous psych, de taxonomie musical cosmique et de bibliothèque. Des complètes béatitudes d'après-midi flou de Brave Radar à la splendeur de motard de JLK et de multiples tours du fondateur de label Christian Richer, la cassette mixe est un rêve teint aux nœuds devenu réalité. En tout, Asaël Robitaille vole la vedette et prouve le statu de son arme secrète avec une poigne de gagnant de ses projets variés. Réveillez-vous entrain de sucer un citron avec un sourire fendu d'une oreille à l'autre.
Bataille Solaire – Harpe Pierreries Chatoiement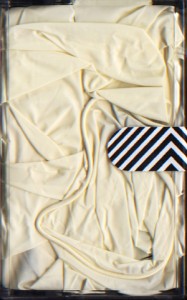 Escapists
HPPD Island
Montreal, QC
From the archipelago of Jesse Locke:
Swaddling their inaugural cassette in a surgical glove cocoon, Montreal's newest modular synth and electronics power duo scramble brains like Ramsay does eggs. The inspired mind-meld of Frank "Hobo" De Gallo and Jesse "Meat Parade" Osborne-Lanthier oozes from ear to ear with effervescent washes, high-pitched squeaks and interplanetary gabber in a post-space-rave chillout room. The totemic objects encased within offer a time capsule from the year 2046. O.R. They?
De l'archipel de Jesse Locke: (Traduit par Odile Leclerc)
Emmaillotant leur cassette inaugurale dans un cocon de gants chirurgical. La plus récente synth modulaire de Montréal et l'électronique duo en puissance brouillent les cerveaux comme Ramsay le fait pour des œufs. La fonte d'esprit inspiré de Frank ''Hobo'' De Gallo et "Meat Parade" de Jesse Osborne Lanthier suintent d'oreille à oreille avec des lavages d'effervescence, des grincements aigues et de gabber interplanétaire dans une pièce de détente de rave post espace. Les objets de totem enfermés dedans offre une capsule temporelle de l'année 2046. O.R-t'ils?
Escapists – An Ergoline Sky (excerpt)
---