Tag: hobo cult records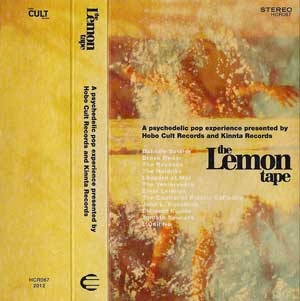 Various Artists
The Lemon Tape
Montreal, QC
From the citric acid flashback of Jesse Locke:
Paisley rays of avant-pop sunshine emanate from this overflowing homage to the Age of Aquarius. Montreal's best and brightest contribute a tune (or two, or three) under a variety of guises, all filed under psych, cosmic and library music taxonomy. From Brave Radar's hazy afternoon bliss-outs to JLK's biker blaze and multiple turns from label founder Christian Richer, this meticulous mixtape is a tie-dye dream come true. All in all, Asaël Robitaille steals the show and proves his secret weapon status with a grip of winners from his various projects. Wake up sucking on a lemon with a grin from ear to ear.
Des flashbacks d'acide citrique de Jesse Locke: (Traduit par Odile Leclerc)
Des rayons de soleil d'avant pop de Paisley émanent de cet hommage débordant à l'Age of Aquarius. Le meilleur et le plus brillant de Montréal contribue à une chanson (ou deux, ou trois) sous une variété de prétextes, toutes remplis de sous psych, de taxonomie musical cosmique et de bibliothèque. Des complètes béatitudes d'après-midi flou de Brave Radar à la splendeur de motard de JLK et de multiples tours du fondateur de label Christian Richer, la cassette mixe est un rêve teint aux nœuds devenu réalité. En tout, Asaël Robitaille vole la vedette et prouve le statu de son arme secrète avec une poigne de gagnant de ses projets variés. Réveillez-vous entrain de sucer un citron avec un sourire fendu d'une oreille à l'autre.
Bataille Solaire – Harpe Pierreries Chatoiement
The Haiduks
Use Up My Time
(Directed By: Moduli TV)
Montreal, QC
From the time wastidity of Jesse Locke:
Like a third generation DGC, Rarities boot melting on Kevin Shields' dashboard, the debut transmission from Montreal's Haiduks is the sound of a popsicle turned to sweet, sweet sugar juice. Switching planes from the ambient bliss-out of his primary project, Élément Kuuda, Christian Richer kicks his amp into overdrive with this unstoppably awesome shoegaze pop fist-pumper. The accompanying visuals from Frank "Hobo Cult" Ouellette flick through sun-bleached memories from a found-footage family vacation, serving up a pitch-perfect song/video combo. I want to jump in a lake.
De la perte du temps de Jesse Locke:
(Traduit par les vacances d'été de Maya Keshav)
Comme une botte DGC, Rarities troisième génération qui fond sur le tableau de bord de Kevin Shields, la première retransmission de Haiduks de Montréal est le son d'une glace à l'eau qui se transforme en jus sucré, sucré, sucré. En changeant dimensions depuis l'ambiance bienheureuse de son principal projet, Élément Kuuda, Christian Richer accélère son amplificateur avec cette chanson poing-agitant shoegaze et irrésistiblement génial. Les visuels qui l'accompagne de Frank "Hobo Cult" Ouellette montre rapidement un flot de souvenirs décolorés par le soleil du found footage des vacances en famille, en créant une combinaison parfaite chanson/vidéoclip. J'ai envie de sauter dans un lac.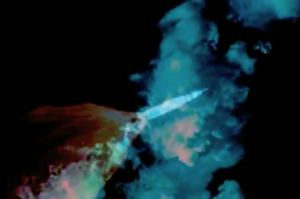 ARCSECONDS
Astronauts
(Directed By: Moduli TV)
Calgary, AB
From the astro-pop sounds of Aaron Levin:
Moduli TV, the videophonic arm of Hobo Cult Records, has been pumping out eye-piercing visual manipulations at an astounding rate; fifty videos (and counting) in the last nine months, an average of almost two videos a week. Their latest, for Calgary-artist ARCSECONDS, transcends the beat-up betamax manipulation, mutating the moon-lading granular into electronic waves of cosmic debris. The trip is a brilliant match to the ascending harrow of "Astronauts," whose mellow genesis gradually descends into ambient revelations.
Des sons astro-pop d'Aaron Levin:
(Traduit par Odile Leclerc)
Moduli TV, le bras vidéophonique d'Hobo Cult Records, a fait couler à flot d'éblouissante manipulations visuelles à un rythme étonnant: cinquante vidéos (et comptant) dans les derniers neuf mois, une moyenne de presque deux vidéos par semaines. Leur plus récent, pour l'artiste de Calgary ARCSECONDS, transcende la manipulation usagée betamax, mutant le chargement lunaire granuleux en onde électroniques de débris cosmiques. Le voyage est un brillant assemblage vers la herse ascendante de "Astronauts", dont la douce genèse descend graduellement vers des révélations ambiantes.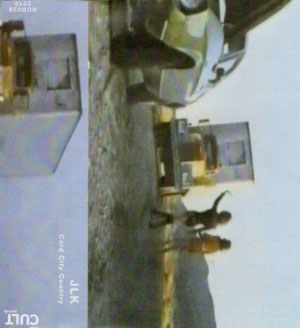 JLK
Cold City Country
Montreal, QC
From the country karaoke of Aaron Levin:
Blown-out wastoid guitaroke from the femme half of Velvet Chrome. Using forgotten country tapes as a back-drop for her destructed guitar explorations, Jane L. Kasowicz croons for the disparate nihilism of urban cowboys. Swirling vocals float above dusted guitar riffs while the steel clamour of JLK's exploration drills into your psyche. Her western reconnaissance hits hard mid-way through "Shake The Devil Out" and solidifies the experiment as a piece of reverberated genius. SADDLE UP.
Du karaoké country d'Aaron Levin:
(Traduit par Maya Keshav)
C'est le guitar-oké camé et explosé de la moitié femme de Velvet Chrome. En utilisant les cassettes oubliées de country en tant que toile de fond pour ses explorations détruites de guitare, Jane L. Kasowicz chantonne pour le nihilisme disparate des cowboys urbaines. Le chant tourbillonnant plane au-dessus de riffs sapoudré de guitar pendant que le chahut en acier de l'exploration de JLK perce ton esprit. Sa reconnaissance western cogne au milieu de "Shake The Devil Out" et solidifie l'expérience en tant que morceau de génie réverbéré. Sellez-y!

JLK – Shake the Devil Out

JLK – Distortions For Frankie Laine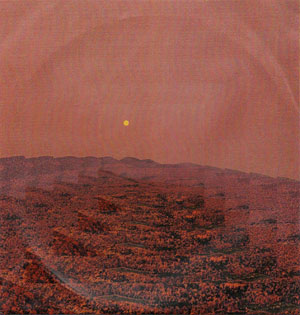 Parallel Pyres
Parallel Pyres
(Self Released)
Montreal, QC
From the fast-build of Aaron Levin:
Another Montreal-Beijing connection reigns supreme here at Weird Canada HQ. Parallel Pyres' self-titled debut is a looping pop fantasy of eccentric panoramas. Busted Casio drums slowly build into a brilliant hooked-filled chaos of repetition that shines through the churning fidelity. The wide palette of pop simplicity will grant heavy doses of play in both sweat dripping basements and Casino lobbies. There is a Hobo Cult connection and it makes a lot of sense.
De la vitesse d'Aaron Levin: (Traduit par Maya Keshav)
Une autre connexion entre Montréal et Beijing se trouve au siège de Weird Canada. Le début éponyme de Parallel Pyres est un fantasme de pop bouclé de panoramas excentriques. La batterie Casio cassée prend la vitesse et devient un chaos brillant et rempli d'accros de répétition qui brille à travers la fidélité agitée. La grande palette de simplicité pop demandera multiples écoutes dans les sous-sols trempé de sueur ainsi que dans les vestibules des casinos. Il y une connexion avec Hobo Cult et ça a beaucoup du sens.

Parallel Pyres – Homebodies

Parallel Pyres – Swimming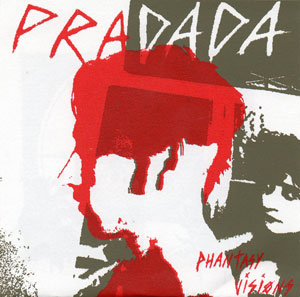 PRADADA
Phantasy Visions
Montreal, QC
From the phantastic visions of Aaron Levin:
Phantasy Visions commandeers the disturbed ritual-waves emanating from the depths of a cosmic jungle-vortex. Busted drums churn through a minor-key cult-fest that rivals The Pink Noise for its basement-macabre. PRADADA wins by reaching new levels of phantasmic antipathy within the layers of echo and destruction. A disturbing record not for the light of spirit and a certified contender for strangest album of the year. Forward all psychological damage claims to Hobo Cult mainstay Francesco de Gallo.
Des visions phantastiques d'Aaron Levin: (Traduit par les échos de Maya Keshav)
Phantasy Visions réquisitionne les ondes rituelles et perturbées qui émane du fond d'un tourbillon cosmique de la jungle. La batterie foutue célèbre un festival-culte de mode mineur qui rivalise avec The Pink Noise pour son sous-sol de macabre. PRADADA gagne par atteindre les nouveaux niveaux d'antipathie phantasmatique dans les couches d'écho et d'anéantissement. Un enregistrement perturbant qui n'est pas pour les esprits faibles et un concurrent certifié pour l'album le plus bizzarre de l'année. Envoyez toutes affirmation du psychotraumatisme à Hobo Cult a/s de Francesco de Gallo.
---