Tag: hobo cubes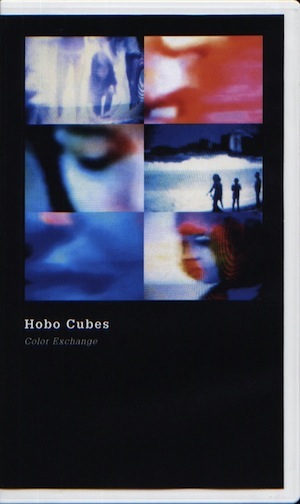 Hobo Cubes
Color Exchange
Montreal, QC
From the VCR dungeon of Jesse Locke:
It's hard to pinpoint any kind of hallmark in the ever-swelling body of Hobo errata, spawning endless outgrowths from the hyperactive hands of Cult leader Frank Ouellette. Yet one thing you can count on across the awe-inspiring multitude of multi-format releases, solo/collab projects and transfixing videos is a hazy atmosphere of unease filtering in like night terrors at the edges of sleep. The Color Exchange VHS feels like a culmination of sorts in its 30-minute voyage through the liminal realms of late night transmissions as pan and scanned visions of distressed facial close-ups, sinister statues and bikini-clad beach babes get the creeper treatment with a stomach-churning synth soundtrack to match. 50 copies! Get it while it's hot…
Du dongeon VCR de Jesse Locke::
(Traduit par Odile Leclerc)
C'est difficile de définir une quelconque sorte de marque dans l'éternellement corps enflant d'Hobo errata, faisant naître des excroissances infinies de mains hyperactives du leader de culte Frank Ouellette. Encore une chose sur laquelle vous pouvez compter à travers la multitude de sorties multi-format inspirante de fascination, des projets solo/ en collaboration et de vidéos pétrifiants est une atmosphère brumeuse de malaise s'infiltrant à l'intérieure comme des terreurs nocturnes aux bords du sommeil. Le VHS de Color Exchange est ressenti comme un genre de culmination dans son voyage de 30-minutes à travers les royaumes liminaux des transmissions tard dans la nuit alors que des plateaux et des visions scannées des conclusions faciales en détresse, de sinistres statues et des minettes de plage en bikini obtiennent le traitement d'obsédé avec une bande sonore de synth à qui retourne l'estomac à égaler. 50 Copies! Attrapez le pendant que c'est chaud…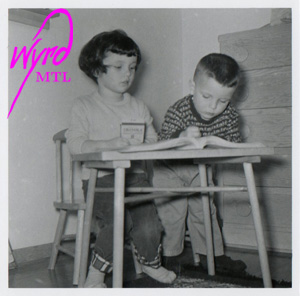 Wyrd MTL
2011 Mixtape
(Self Released)
Montreal, QC

With less than a week until
Wyrd MTL
we're excited to offer a quickie sampler mix spotlighting the 10 artists from this year's inaugural lineup. All have been previously featured on Weird Canada, and will appear in the flesh on Monday, June 20 at La Sala Rossa.
Grip your tickets
!
[audio:http://weirdcanada.com/binary/WYRD-MTL-2011-MIX.mp3|titles=Wyrd MTL 2011 Mix (track-listing below)] Wyrd MTL 2011 Mix
Track-listing
[00:00] :: Lantern – "I Don't Know"
[03:50] :: Ultrathin – "Glass City"
[06:40] :: Dreamcatcher – "Dr. Clawk"
[10:15] :: Hobo Cubes – "Through The Ages"
[12:57] :: Dirty Beaches – "Coast to Coast"
[17:17] :: The Friendly Dimension – "Executive Koala"
[20:25] :: Shortpants Romance – "Heatwave"
[21:15] :: Man Made Hill – "Er Her"
[23:20] :: D'eon – "Thousand Mile Trench"
[29:08] :: Headaches – "Poor Decisions"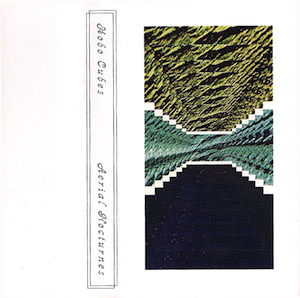 Hobo Cubes
Aerial Nocturnes
Montreal, QC
From the sixth bible reading of Jesse Locke:
Hobo head honcho Frank Ouellette has stepped up production as of late, even by his own inexhaustible standards. This cassette for the mighty Digitalis finds him drifting through retro-future synth modes, tickling plastic through a series of otherworldly paeans to the Kosmische Musik forefathers. Traversing time ("Through The Ages"), space ("Hybrid Nebula") and sea ("Skylab (Aqua Overview)"), Aerial Nocturnes hits its apex on the eight-minute "Stone Pegasus", a softly undulating underwater blissando complete with seagulls cooing in the distance. Grip…
De la sixième lecture de la bible de Jesse Locke: (Traduit par les mouettes chantonnants de Maya Keshav)
Frank Ouellette, le roi de Hobo, augmente sa production récemment, même par rapport à ses propres normes inépuisables. Avec cette cassette pour le grand Digitalis, on le trouve errant à travers les modes synthé retro-futur, chatouillant la plastique dans une série d'hymnes éthérés aux pères de Kosmische Musik. En traversant le temps ("Through the Ages"), l'espace ("Hybrid Nebula"), et la mer ("Skylap (Aqua Overview)"), Aerial Nocturnes atteint l'apogée avec le morceau de huit minutes "Stone Pegasus", un glissandoré aquatique et doucement ondulant même avec les mouettes chantonnants au loin. Achetez-le…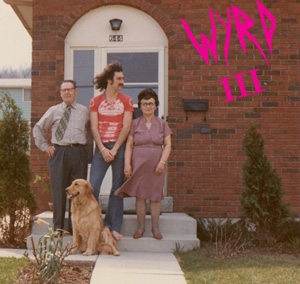 Today is your last day to vote. These final hours are ripe to give you one more reason to believe. BOOM: our keystrokes are bursting with galvanized fervor as we present the official traveling line-up for Wyrd III and the brand new Wyrd Montreal:
///// WYRD III /////
Red Mass
Dirty Beaches
GOBBLE GOBBLE
Wyrd Visions
Sex Church
Famines
Long, Long, Long
Hobo Cubes
Bernardino Femminieli
Velvet Chrome
Feral Children
Silver Dapple
Ketamines
Makeout Videotape
Role Mach
+
???Secret Surprise Guest??? (TBA May 10, 2011)
This wyld traveling caravan (plus local shreddery and other surprises) will be bursting through the following cities:
MAY 20 :: EDMONTON @ Dinwoodie
MAY 21 :: CALGARY @ No. 1 Legion
MAY 22 :: VANCOUVER @ Waldorf Hotel
Tickets for Wyrd III will be available April 1st, 2011! Full band bios, schedule, and other details will be posted next week! Please help us tell the world!
PS – We are doubly excited to let a little secret loose: many of these bands will be tearing through Montreal for a new incarnation of Wyrd. Details soon!
Hearts!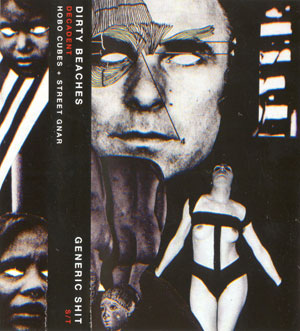 Dirty Beaches + Hobo Cubes + Street Gnar // GENERIC SHIT
Decadent // GENERIC SHIT
Montreal, PQ // Sydney, NS
From the street gnar of Gabriel Jasmin:
Soaked in foggy layers of synths and minimal percussion, Side A's bound-to-greatness collaboration of Montreal's underground champions Dirty Beaches and Hobo Cubes is deeply hypnotic. The flute and synth leads hit the spot and take you far into exotic dreams, while the Suicide-inspired "Stye Eye" pick up the pace, a true highlight on the tape. Nothing too affectionate to be found on Side B. Philip Tarr (from Mess Folk fame) growls his way through the merciless opener "Songs About Shooting Up Prescription Pills". The brain-melting, grueling material from his solo moniker Generic Shit doesn't stop there. Terror! Violence! Dirt! Destruction! Vomit! Death-noise-grind-punk? Yeah, something like that.
Des quelques neurones restantes de Gabriel Jasmin:
(Traduit par Odile Leclerc)
Un véritable rêve léthargique de claviers brumeux et de quelques percussions minimales, difficile de douter de la qualité d'une cassette où la face A est une collaboration de deux poids lourds de l'underground montréalais, Dirty Beaches et Hobo Cubes. Les leads de synthétiseur ou de flute plongent dans les profondeurs du néant hypnotique. Le rythme accélère dans la seconde pièce, Stye Eye, un morceau mémorable avec une performance vocale digne d'Alan Vega. Du bon stock. Rien d'affectueux au menu de la face B, qui fera plutôt fondre quelques neurones avant de tout anéantir sur son passage. Philip Tarr (membre de Mess Folk) gueule et rugit à travers la première pièce Songs About Shooting Up Prescription Pills. Tout est consommé dans cette unique parution solo sous le nom Generic Shit. La terreur! La violence! La saleté! La destruction! Le vomi! Du death-noise-grind-punk, disons ? Oui, peut-être.
Dirty Beaches + Hobo Cubes + Street Gnar – Stye Eye
Dirty Beaches + Hobo Cubes – Folding Landscapes
GENERIC SHIT – Songs About Shooting Up Prescription Pills
---