Tag: hobo cubes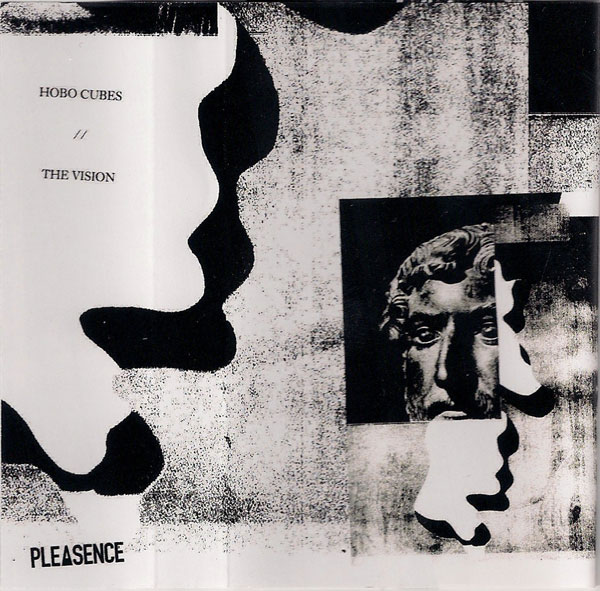 Hobo Cubes
The Vision
Montreal, QC
From the home drone of Josh Silver:
The standard puzzle is made up of a regularized series of pieces. Each piece severed from its greater system takes on a life of its own: a sail fragment becomes a patch of cloudy sky or a ship's mast is mistaken for a window frame. The undulating drones of The Vision construct an assemblage of puzzle pieces, slicing up jazz solos and excess takes to be recombined and morphed. Here a saxophone becomes a sweeping wave of sound and a drum section becomes a mountainous accent breaking through the formal drone-zone patina.
Du drone personnel de Josh Silver:
(Traduit par Jessica Grenier)
Un casse-tête se compose généralement d'une série de pièces de base. Chaque pièce séparée de l'ensemble devient une forme de vie autonome : un fragment de voile peut devenir une parcelle d'un ciel nuageux, ou le mat d'un navire être pris pour le cadre d'une fenêtre. Le drone ondulant de The Vision assemble les pièces d'un casse-tête, sectionnant des solos de jazz pour en refondre/métamorphoser les excès. Ici, un saxophone devient une vague de son déferlante, une batterie, un accent colossal défonçant la surface de la drone-zone.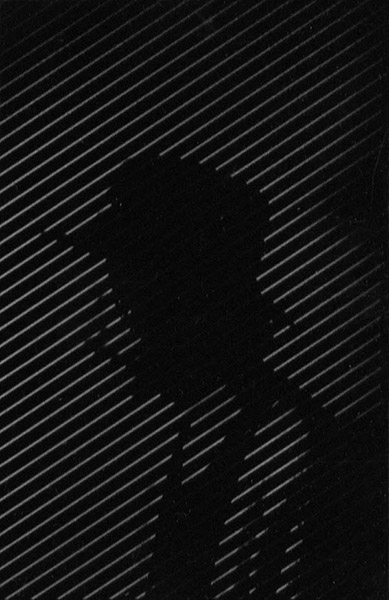 Hobo Cubes
Untitled C.90
Montréal, QC
From the formless perception of Jonathan Park:
Our headmaster dwells in a cement palace called Sewer Club. Bugs crack through our toes as we are sent to the meeting point. Dripping pipes scratch our fetish of morbidity and churn our soul. The sullen beats of our rat ancestors become more audible and weave in and out of our sensory perception. Six-foot tall cockroaches are dancing in the middle of the sewer to the bass drum's pulse. Let us be formless in this dark, scum-covered cave once the sacrifice has commenced.
De la perception informe de Jonathan Park:
(Traduit par les antennes de Jessica Grenier)
Notre chef habite un palace de ciment appelé le Sewer Club. Nos orteils écrasent des bestioles en cheminant vers le point de rencontre. Les tuyaux dégoulinants chatouillent nos fétiches morbides et barattent notre âme. Les bêtes solennelles, nos ancêtres rats, se font entendre de plus en plus, ondulant à la limite de notre perception sensorielle. Des coquerelles de six pieds dansent au milieu des égouts, suivant les pulsations de la grosse caisse. Laissons-nous devenir informes, dès que le sacrifice commence, dans cette cave crasseuse et obscure.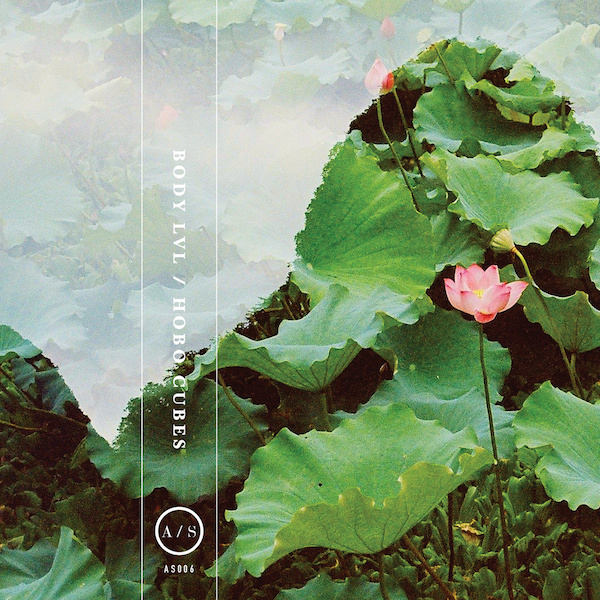 Body Lvl // Hobo Cubes
Split
Saskatoon, SK // Montréal, QC
From the astral projection of Jonathan Park:
Francesco de Gallo joins Will Kaufold and Mehta Youngs for a journey into astral projection. Body-numbing swells of synthesis propel for a mind-massage and murmuring field recordings stir the pot to create a prerequisite for the full-cleanse ritual. Reverberated bells ring over rhythmic machinery while we are met with a blooming guise. All frequencies begin to disintegrate. There is no rest for the weary as we fall deep into our trip.
De la projection astrale de Jonathan Park:
(Traduit par Jacinthe Laplante)
Francesco de Gallo s'associe à Will Kaufold et Mehta Youngs le temps d'un voyage astral. La houle engourdissante de la synthèse pousse à un massage de l'esprit et les champs murmurent des enregistrements qui brouillent les cartes pour créer les conditions nécessaires à un rituel complet de purification. Le son des cloches résonne plus fort que la machinerie rythmique pendant que nous nous retrouvons face à des formes qui s'épanouissent. Toutes les fréquences commencent à se désintégrer. Impossible de se reposer malgré la fatigue alors que nous nous enfonçons dans notre trip.

Hobo Cubes – Semblance, Is Ripe With Blooming Gestures (excerpt)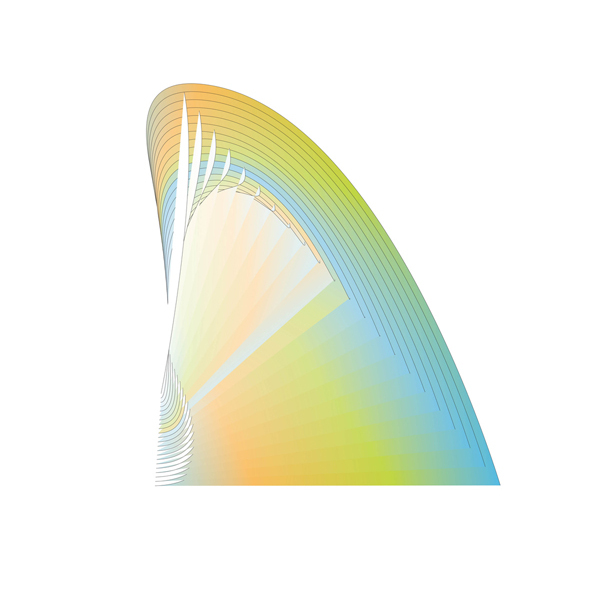 Hobo Cubes
Apex Ideals
(Debacle)
Montréal, QC
From the subtle sleep of Jesse Locke:
WC OG Francesco de Gallo sets down 12 inches of arachnidian mind-massage for the second time in less than a year. The warble-jam haunted house plunderphonics of his Ala Vjiior alias are replaced here with something subtle and formless, yet the lingering neck-chills continue to pulse and bleep from the cracks. "Structures in Stasis" plays Bloody Mary with the circuit-bent Speak & Spell spirit of Cthulhu, summoning the gatekeeper into this rainbow netherzone.
Du sommeil subtil de Jesse Locke:
(Traduit par Peter Particule)
Pour la seconde fois en moins d'un an, Francesco de Gallo – un vieux de la vieille chez Weird Canada – met en place 12 pouces de massage cérébral arachnéen : un album subtil, aux contours flous, dont les frissons persistants le long de l'échine continuent de jaillir des fissures sous forme de bips et de pulsations, et qui vient succéder au magma grésillant qui hante la house-collage possédée de son alias Ala Vjiior. « Structure in Stasis » joue à Bloody Mary avec l'esprit de Dictée Magique trafiquée de Cthulhu, suppliant à genoux le gardien de l'entrée de ces abysses multicolores.
Ephemera of Francesco de Gallo
Existing during the recording of Hobo Cubes // Taiwan – Split 12"
Montréal, QC
[photos: Aliya Kahsay]
From the happy hunting ground of Christina Bell:
The dogma of slowing right down is at the root of the symphonic revelation that is Hobo Cubes' Francesco de Gallo's recent work. The new sound is an experiment in deliberate unhurriedness. Inspired by artistic connections, de Gallo paired up with Edmonton's Taiwan to release a 12" split. Things that are independently constructed can merge together in magical ways. Fully succumbing to the wayward spirit of collaboration, the 12" released by Toronto's Pleasence Records demonstrates physical proof of this phenomenon in the fluid conjoining of artists — but also in Hobo Cubes' approach to his contribution. Through the involved process of collaging, deconstructing and layering, intricate soundscapes emerged. And although this variegated sound occupies a world of its own, we indulgently explored the nexus of "stuff" that contributed. Align your senses. Listen to this track while you float through these gorgeous photos.
Labyrinths by Jorge Luis Borges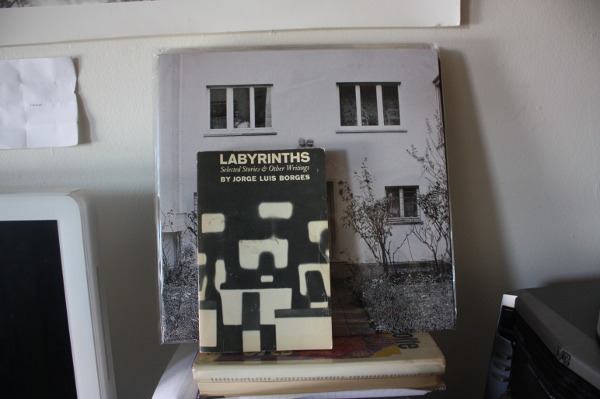 My friend Ryan lent me this Borges book before I knew his writing at all. It doesn't really directly have anything to do with the album but I just feel like after I read this I had a different state of mind. I wanted to go into more minimal but deeper sounds conceptually. Borges' stuff is super illustrative but almost abstract. Also, I just love labyrinths and the concept of the maze. Maybe this marked the beginning of the slowness in my life. I recently found this copy for sale and it has the same cover as the one my friend lent me.
Synthesizer (Roland JX-3P) // Controller (PG-200)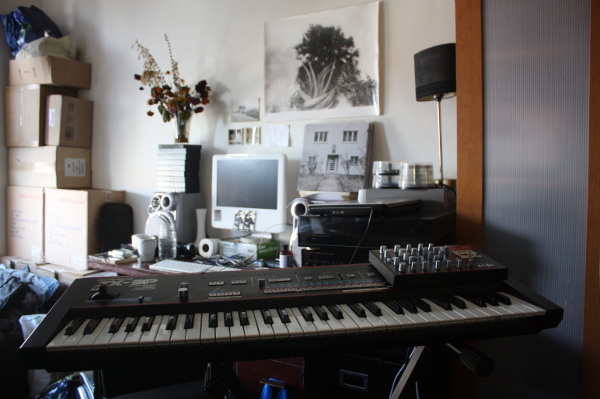 I bought the synth from a guy in Montreal. It had been in storage for 10 years and I bought it really cheap but then had to get it fixed and that cost a lot of money. The controller, which you can buy separately, I got from my friend Christian. His friend found the controller, and gave it to him, so he just gave it to me. But, I had to get a specific cable from Italy. Unfortunately this was during a time when Canada Post was on strike, so I had to wait for like two months until I could even use it. [The controller] truly opened up a different world of sounds because I could manipulate the synth more. It's possible to manipulate the synth from inside but I don't have that logic. I don't want to get inside the synth. The controller is just hands-on. You hear it a little bit on the album.
Alto-Sax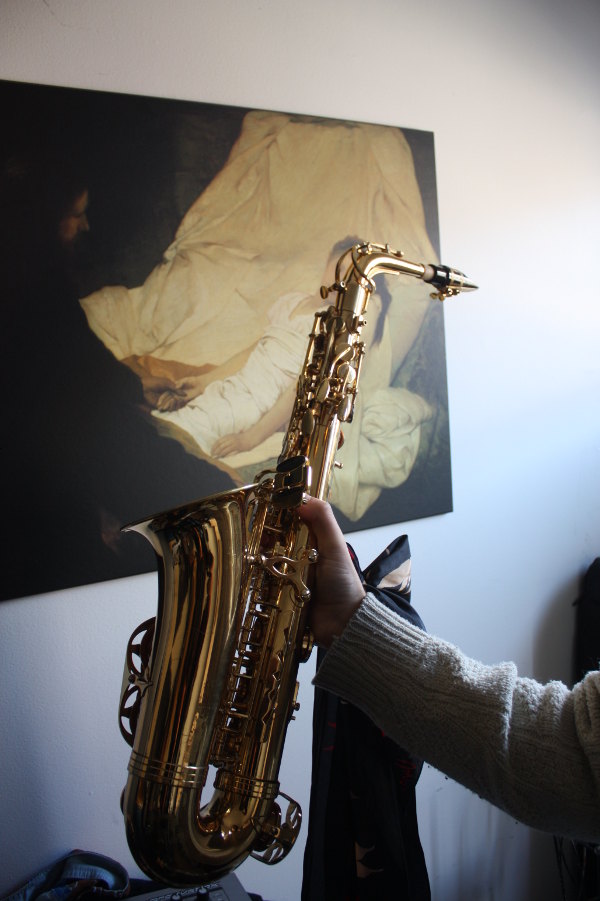 I learned on this saxophone. This is the one I was using to tour a little bit and it's what Alex Dirty Beaches saw me playing in Calgary when he said we should tour together. The first tour [with Dirty Beaches] was done with this sax. One show in France we were playing in this small venue inside a boat. The show was so crazy and at the end of the set I pulled off this weird punk move and dropped the sax. During the next show I was like "why is the sound all… fuck, I broke the sax." It sucked, but it's something that people remember from that show. I could get it fixed, I just never have, because in my heart I know I want a tenor sax — that heavier sound.
"Focus" Tattoo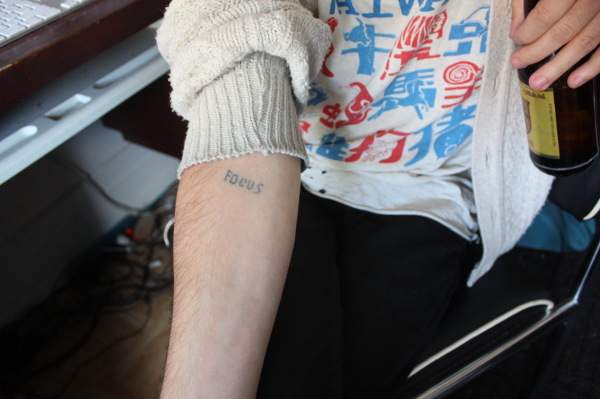 When I got it, I was really in that focus zone. Now it's harder to focus in general. But I have it here, so now I can't not focus. At the same time, the tattoo is sort of blurry. So it becomes this double-edged message. Sometimes life is pretty fucked, but you just gotta see what's in there anyways — and sometimes you have to focus.
Tapes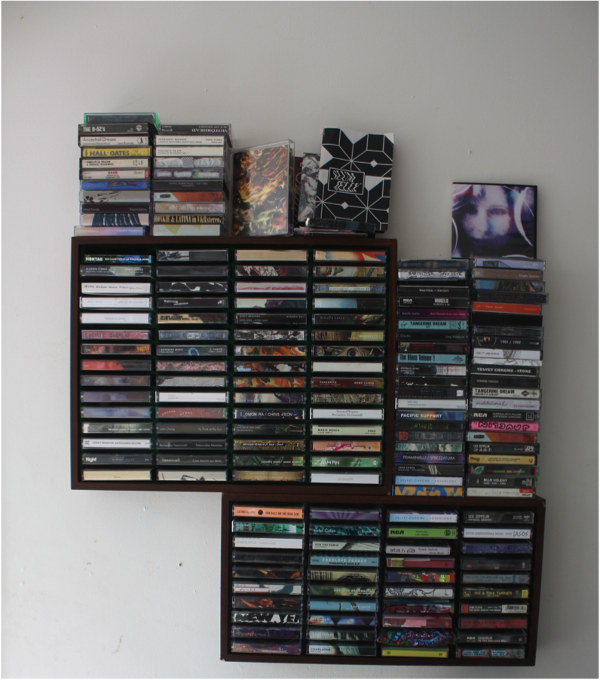 Du joyeux terrain de chasse de Christina Bell:
(Traduit par les retours d'électricité d' Aliké Harel)
« Ralentir radicalement », c'est le dogme au cœur de la révélation symphonique qu'est l'œuvre récente de Hobo Cubes de Francesco de Gallo. Ce nouveau son est une expérience dans l'art de prendre délibérément son temps. Inspiré par leurs connexions artistiques, de Gallo s'est joint à Taiwan d'Edmondton pour nous offrir un split sur vinyle. Des éléments élaborés séparément peuvent fusionner de façon magique. Fruit d'un abandon total aux aléas de la collaboration, ce 12 pouces du label torontois Pleasence Records est la preuve concrète de ce phénomène, d'abord dans la fluidité de cette rencontre entre artistes, puis dans l'approche collaborative même d'Hobo Cubes pour ce projet. Du processus complexe d'assemblage, de déconstruction et de mise en couches, émerge un paysage sonore complexe. Bien que ce son bigarré subsiste dans un monde qui lui est propre, nous avons exploré avec indulgence la constellation de « choses » ayant contribué au tableau. Ajustez vos sens. Écoutez cette piste tout en laissant planer votre regard sur ces images magnifiques.
Labyrinths de Jorge Luis Borges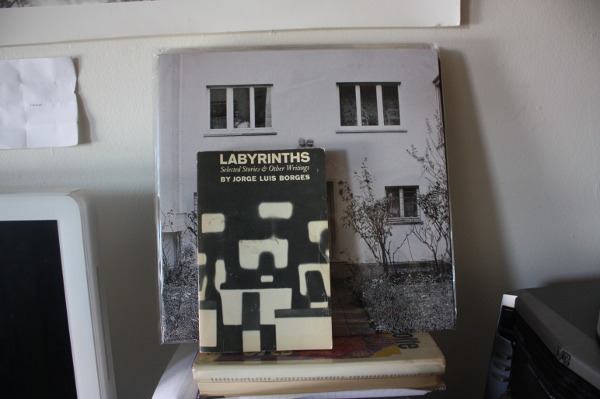 Mon ami Ryan m'a prêté ce livre de Borges avant même que je connaisse l'auteur. Il n'y a pas vraiment de lien avec cet album, mais je sens simplement qu'après cette lecture, je n'ai plus été dans le même état d'esprit. J'ai voulu explorer un son minimaliste mais de conception plus profonde. Ce qu'écrit Borges est hyper illustratif, mais presque abstrait. De plus, j'adore les labyrinthes et le concept de dédales. C'est peut-être le point de départ de la lenteur dans ma vie. Récemment, j'ai trouvé cette édition à vendre et elle a la même couverture que celle que mon ami m'avait prêtée.
Synthétiseur (Roland JX-3P) // Contrôleur (PG-200)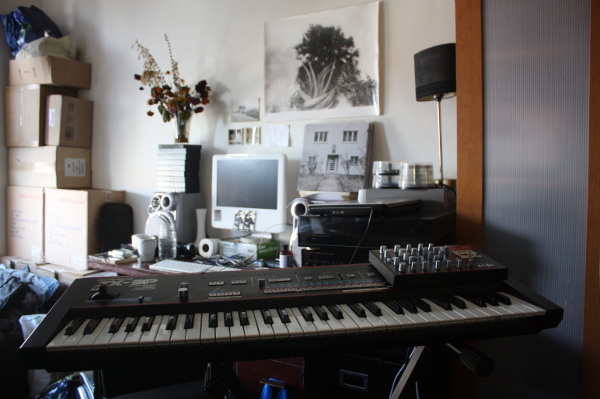 J'ai acheté ce synthétiseur d'un gars à Montréal. Il était entreposé depuis dix ans et je l'ai eu pour pas cher du tout, mais j'ai ensuite dû le faire réparer, ce qui a coûté vraiment cher. Le contrôleur qu'on peut acheter séparément, je l'ai eu de mon ami Christian. Son ami l'avait trouvé et le lui avait donné, et il me l'a donné par la suite. Par contre, j'ai dû obtenir un fil spécial d'Italie. Malheureusement, tout ça se déroulait au moment où Poste Canada était en grève. J'ai dû attendre deux mois avant de pouvoir m'en servir. Le contrôleur m'a ouvert la porte sur un nouveau monde sonore en me permettant de manipuler davantage le synthétiseur. C'est possible de faire ça en jouant avec les circuits du synthétieur, mais je ne suis pas doué avec ces trucs. Le contrôleur est plus pratique. On peut l'entendre un peu sur l'album.
Le sax alto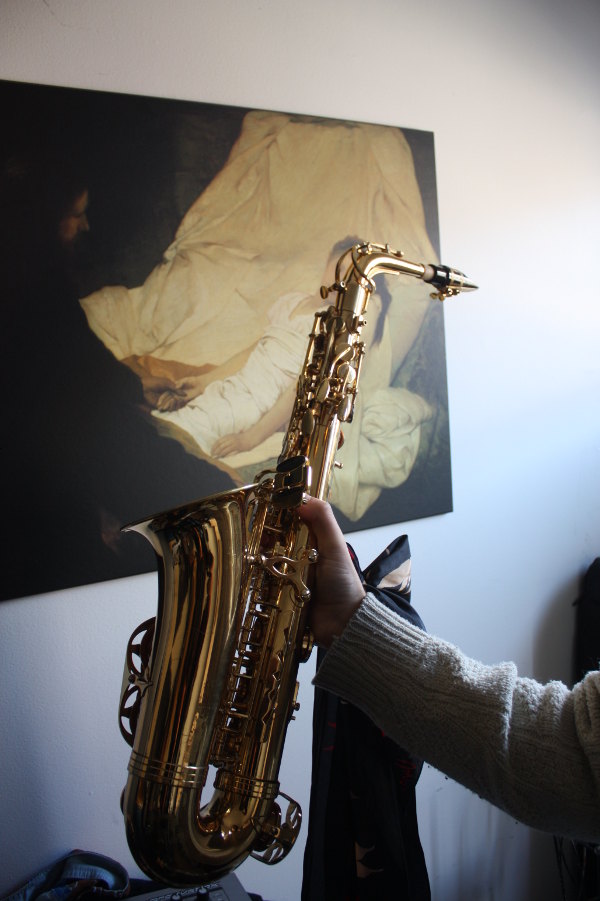 J'ai appris avec ce saxophone. C'est celui que j'utilisais en tournée et c'est celui avec lequel je jouais à Calgary le jour où Alex Dirty Beaches(http://weirdcanada.com/tag/dirty-beaches/) a proposé qu'on fasse une tournée ensemble. J'ai joué avec ce saxophone lors de ma première tournée avec Dirty Beaches. Pendant un concert en France, nous jouions dans une petite salle sur un bateau. L'ambiance était malade et à la fin j'ai fait une genre de pirouette punk bizarre et je l'ai échappé. Au concert d'après, je me demandais « pourquoi est-ce que le son est tout… merde, j'ai brisé le sax ». C'était chiant, mais c'est quelque chose que les gens ont retenu du spectacle. Je pourrais le faire réparer mais je ne l'ai jamais fait, parce qu'au fond de mon cœur, je veux un saxophone ténor — pour ce son plus grave.
Le tatouage « Focus »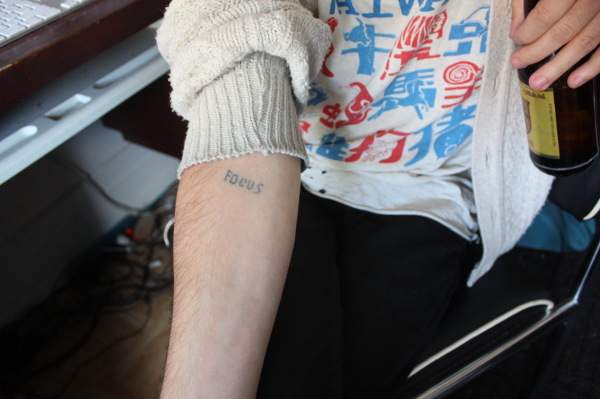 Quand je l'ai fait faire, j'étais vraiment dans une phase de concentration. Maintenant, c'est généralement plus difficile de rester concentré. Mais je l'ai, donc je ne peux pas ne pas être concentré. En même temps, le tatouage est un peu flou. Donc, ça devient un peu un message à double sens. Parfois, la vie est un vrai foutoir, mais tu dois quand même voir ce qui s'y trouve malgré tout — et parfois il faut se concentrer.
Les cassettes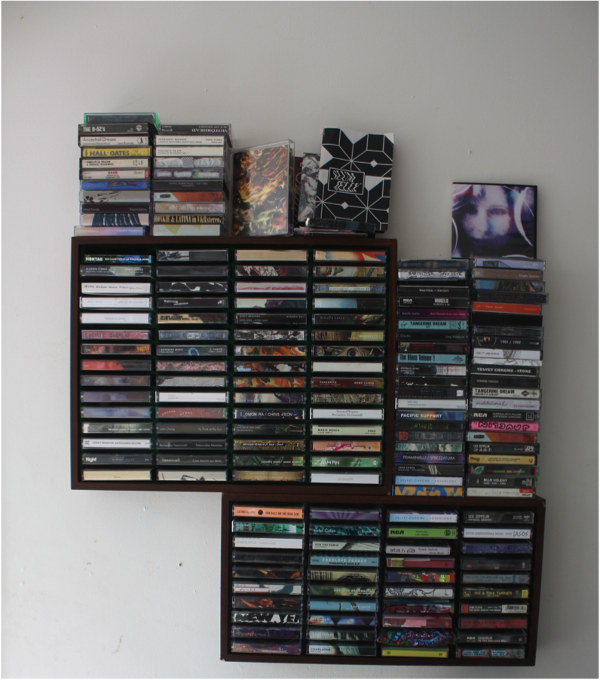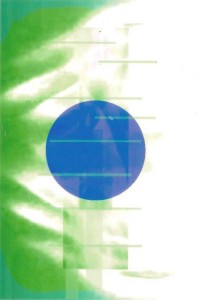 Hobo Cubes
Rapid Glow
Montréal, QC
From the sensations' fix of Hugo Hyart:
This is a tape made of sensations: an astral voyage into the mind, divided in sequences through subliminal and subconscious lands. Listening is recommended from a comfortable position, secure from all possible distractions in a familiar and reassuring environment. Float in your infinity-shaped cranial box plunged into matter modulated by undulations and flashes of scintillating colours in varying intensities. Forms take shape and disassemble into other forms. Close your eyes for a few minutes, and look, they are open.
Des sensations résolues de Hugo Hyart:
Ce tape est fait de sensations : un odyssée astral, à l'intérieur de l'esprit, divisé en séquences, au travers de pays subliminaux et subconscients. Une position allongée et confortable , loin de toutes sources de divertissement ou d'interruption est recommandée, dans un environnement familier et rassurant de préférence. On flotte dans sa boîte crânienne, aux contours infinis, baigné dans une matière modulée par des ondulations et des flashes de scintillantes couleurs d'intensités variables. Des formes se dessinent et se désagrègent en d'autres formes. Fermez les yeux cinq minutes, et regardez, les voilà ouverts.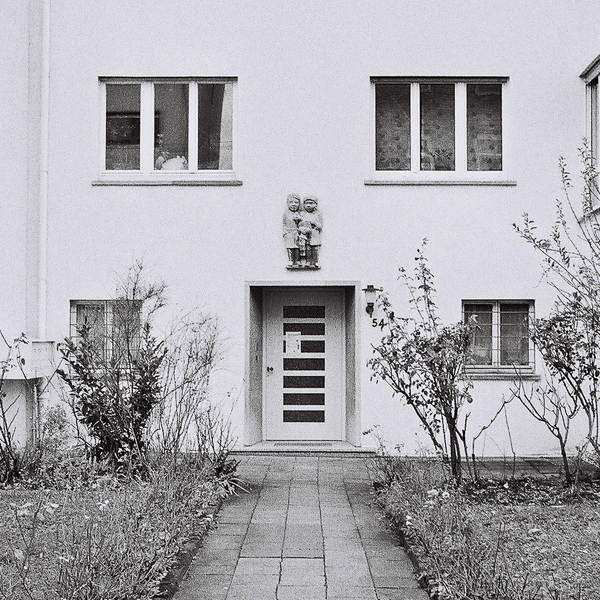 Hobo Cubes // Taiwan
Split 12"
Montreal, QC // Edmonton, AB
From the split personality of Kevin Hainey:
There's a refreshingly assured and refined air about this split slab of wax for Montreal's resident synth geometry major Hobo Cubes and outta nowhere Edmonton newcomers Taiwan.
Given the endless flow of tapes, CD-Rs, splits, tours and press Hobo Cubes has gotten out there over the years it's almost tough to swallow that this is only the project's first full LP side. Nonetheless, main man Fracesco de Gallo (also a sometime member of Dirty Beaches and the dude behind the Hobo Cult cassette label) sounds as reserved as anyone could hope to be on his first commitment to the 12″, like he's got all of the time in the world and nowhere in particular to be. A spacious, vacuous and explorational journey through keyboard concrete, Hobo Cubes' brilliant side forsakes familiar trends in dreamy synth-scapes and robotic repetition in favour of stranger 20th century-inspired lands, benefitting all the more for its adventurous composition and stringent individuality.
Taiwan have already become synonymous with Angelo Badalamenti around these parts, and David Lynch's musical collaborator and soundtrack composer is without a doubt the creative launching pad for these fresh young cats. From the opening strains of their side you can imagine Laura Palmer searching for her diary in an eerie house. Yet what Taiwan add to the homage is their desire to build brief epics that haven't been blasted this darkly and elegantly since the post-rock explosion heydays of the late '90s. When you boil it down, Taiwan are lurking closer to a heaven where everything is fine than the otherworldly horrors of The Black Lodge, but that doesn't mean there aren't many fine surprises to be found in the kaleidoscopic 20-minute song cycle they've recorded for us in crystalline quality.
Du dédoublement de la personnalité de Kevin Hainey :
(Traduit par les reniflements sans fin d'Andréanne Dion)
Une rafraichissante assurance et un raffinement émanent de ce split sur vinyle par Hobo Cubes, spécialistes montréalais de la géométrie des synthétiseurs, et Taiwan, nouveaux venus d'Edmonton, surgis de nulle part.
Vu le flot sans fin de cassettes, de CD-R, de splits, de tournées et de publicité associé depuis des années à Hobo Cubes, il est presque difficile à avaler qu'il s'agisse là de leur première face de 33 tours complète. Néanmoins, le leader Fracesco de Gallo (le type derrière le label de cassettes Hobo Cult, parfois membre de Dirty Beaches) apparaît aussi réservé que n'importe qui à son premier enregistrement sur vinyle, comme s'il avait tout le temps du monde devant lui et nulle part en particulier où aller. Vaste voyage exploratoire de la froide brutalité du synthétiseur,Hobo Cubes délaisse les répétitions robotiques et les paysages de rêves synthétiques familiers pour des terres plus étranges inspirées du 20e siècle, qui bénéficient des compositions aventureuses et de leur individualité rigoureuse.
Taiwan rime déjà avec Angelo Badalamenti en ces contrées, et le collaborateur musical et compositeur de David Lynch est sans aucun doute la rampe de lancement créative qui propulse ce jeune groupe. Dès les notes d'ouverture, on imagine Laura Palmer en train de chercher son journal intime dans une maison inquiétante. Pourtant, ce que Taiwan ajoute à cet hommage est leur désir de composer des chansons courtes mais épiques, qui rappellent par leur sombre élégance l'explosion post-rock à la fin des années 90. Quand on y regarde de près cependant, Taiwan flirte davantage avec un petit coin de paradis où tout va bien qu'avec les horreurs mystiques de la Black Lodge, mais cela ne veut pas dire qu'il n'y a pas de belles surprises cachées dans le cycle musical kaléidoscopique de 20 minutes que le groupe a enregistré pour nous dans une qualité cristalline.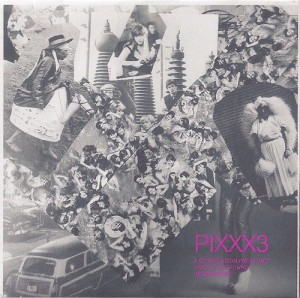 Various Artists
PIXXX3
Asterisk, Canada
From the fractured columns of David Ferris:
Following a sacral network of obscure contours to somewhere in the middle of Calgary and Vancouver (perhaps in some rune-filled terminus), the members of USSR congregate and document themselves. PIXXX3 finds them frozen like statues buried under the ash of some great Pompeii, caught unawares in the midst of some unknown millenarian liturgy, their ritualized poses interlocking through unknown geometries towards a transcendental logic. Hobo Cubes' bubbling opening overlooks an abyss of tenebrous depths and sonorous chambers, explored by the voices of Aaron Sereda and Josh Fraser. Burro's pall of desert dissonance collapses into Mongst's expansive drone. Country and Western offers Teutonic excursions while Cadillac Spring blasts damaged acrid folk. Everything fits. Highly recommended: listen to the whole thing here.
Des colonnes fracturées de David Ferris: (Traduit par les mèmes de Maya Keshav)
En suivant un réseau sacré de contours obscurs à quelque part au milieu de Calgary et Vancouver (peut-être dans un terminus rempli de runes), les membres d'USSR se rassemblent et se documentent. Avec PIXXX3, on les retrouve immobiles comme les statues enterrées sous les cendres d'un grand Pompeii, surpris au milieu d'une liturgie millénariste mal connue, avec leurs poses ritualisées qui s'imbriquent à travers les géométries inconnues vers une logique transcendantale. L'ouverture bouillonnante de Hobo Cubes donne sur un abîme de fonds ténébreux et de chambres sonores, exploré par les voix d'Aaron Sereda et de Josh Fraser. Le voile de dissonance désert de Burro s'écroule dans le drone étendu de Mongst. Country and Western offre les excursions teutonnes alors que Cadillac Spring fait marcher à fond le folk âcre. Tout marche. Vivement conseillé: écoutez en entier ici.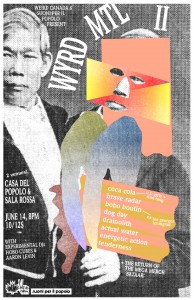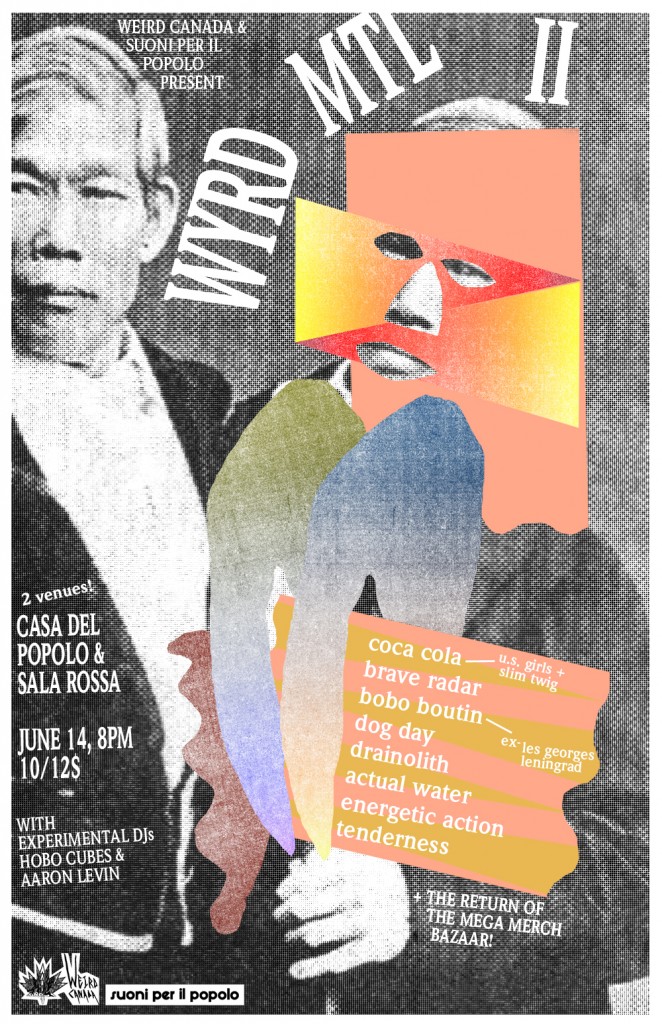 [yframe url='http://www.youtube.com/watch?v=_USSTf10pnI']
Meet The Bands From
Wyrd MTL II
[Compiled By: Gabriel Jasmin]
Montreal, QC

In preparation for our Montreal invasion, we asked all the Wyrd MTL II artists to submit a short introduction about them and their upcoming performance at the festival. The video gives a sneak peek into the imminent wyrdness waiting to take over Casa del Popolo and Sala Rossa this Thursday June 14.
In addition to the video, Montreal's preeminent purveyour of experimental synthesis, Hobo Cubes, has put together a mix of sounds from artists playing Wyrd MTL II. You can catch Hobo Cubes DJ'ing alongside Aaron Levin outside the Casa stage. We can't wait to see all of you in just a few days!
[soundcloud url="http://api.soundcloud.com/tracks/48014197″ params="auto_play=false&show_artwork=true&color=ff00a7″ width="100%" height="166″ iframe="true" /]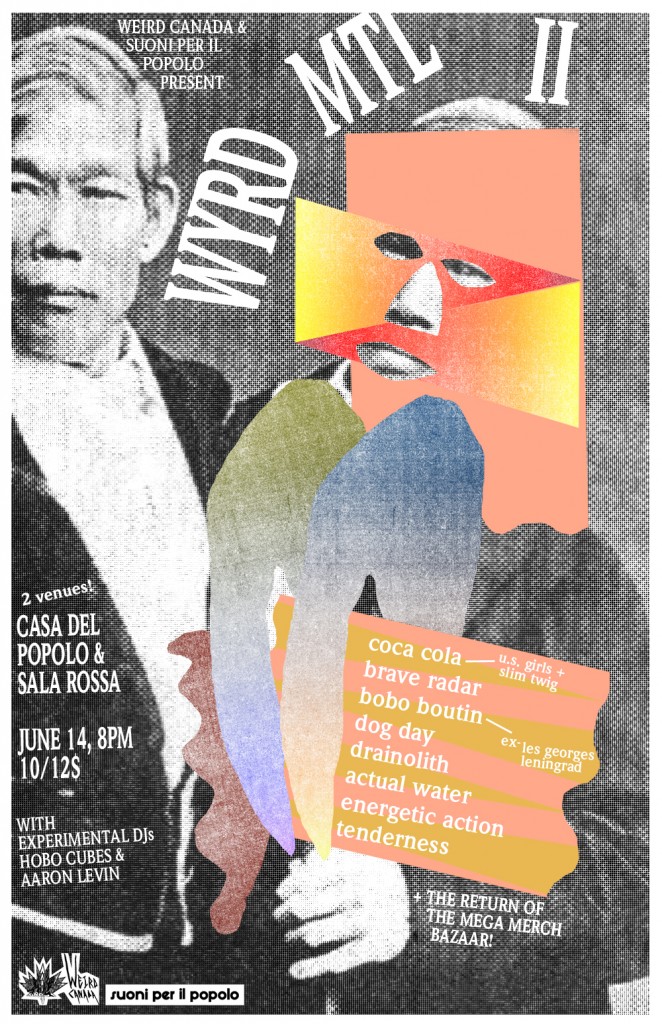 Wyrd MTL II
Thursday June 14, 2012
Montreal, QC
We are excited to announce the second annual
Wyrd Montreal
festival occurring
Thursday, June 14 2012
! Once again, we have teamed with beloved experimental music festival
Suono Per Il Popolo
to offer a multi-stage showcase of boundary pushing artists from the northernly fringes. Alongside the returning
Mega Merch Bazaar
(featuring a selection of Canada's best record labels) Weird Canada will be taking over both
La Sala Rossa
and
Casa del Popolo
simultaneously for a one-night-only cornucopia of sinusoidal delight. This will allow fans the chance to bounce back and forth between the two bars conveniently located across the street from one another. Should fans find themselves needing a respite between wondrous electronics and/or bludgeoning chaos, experimental DJs Aaron Levin and Hobo Cubes will take residency in Casa del Popolo delivering a strange brew of new age, electronic, and avant psychedelics.
Date: Thursday June 14, 2012
Venue #1: La Sala Rossa (4848 Boulevard Saint-Laurent, Montreal)
Venue #2: Casa del Popolo (4873 Boulevard Saint-Laurent, Montreal)
Cost: $10 (adv.) / $12 (door)
Doors: 8pm
Lineup
La Sala Rossa
Brave Radar
Dog Day
Actual Water
Coca Cola (U.S. Girls + Slim Twig)
Casa del Popolo
Drainolith
Energetic Action
Tenderness
Bobo Boutin
Artist Bios
Coca Cola (U.S. Girls + Slim Twig) (Toronto)
Continuing Wyrd's philosophy of unique collaborations, we're proud to include a rare performance by this duo known as Coca Cola. Combining the rhythmic polyphonies of Toronto's Slim Twig with the miasmic chaos of U.S. Girls, Coca Cola conjure an arpeggiated ethos of Cluster-inspired jammery. Expect a fantastic array of electronic drone and perturbed psychedelics.
Actual Water (Toronto)
Born in the depths of Ben Cook's (Fucked Up, Young Guv, Bitters) epic space in East Toronto, Actual Water's jangled power-pop transforms their 12-string anthems and insatiable marimba-laced punk into vocal bonanzas and summery attitudes. Every song is laced with their flowering '60s slacker vibes and live the whole calamity is wrapped by frontman Tony's enigmatic 'tude. Stoked!
Drainolith (Montreal)
Drainolith is the multi-throned oscillating 8-bit transmigration of Montreal native Alex Moskos (ex-guitarist for the now defunct AIDS Wolf). Diving deep into polyrhythmic hood jams and clamouring solos of synthetic marvel, Drainolith hams heavy, agnostic experimentalism into a creative vehicle the world may or may not be ready to digest.
Energetic Action (Edmonton)
Edmonton, Alberta is home to many improbable entities, and Energetic Action's revisionist goth-punk paradigm is no exception. Straddling the unknown line between The Pop Group and This Heat, their impossible rhythms and extravagant performances wrap an undisturbed nascency into music hardened by generations of nuclear waste. A certified western anomaly.
Brave Radar (Montreal)
Local Montreal darlings Brave Radar have kept quiet a long time. So long, in fact, that we reluctantly started to believe their demise. We can barely conceive they'll be back on stage with brand new oblique pop sweetness.
Bobo Boutin (Montreal)
Ex-Les Georges Leningrad drummer Bobo Boutin inhabits a delirious world of warped electronics. One man, yet an overwhelming performance slowly mounting into a frenzy of nightmarish proportions.
Dog Day (Halifax)
Dog Day's bent alt-rock resonates with grand designs. Seth and Nancy are husband and wife, a charming duo who constantly keep slinging sharp and heavy anti-heroic hooks at every corner.
Tenderness (Toronto)
With bizarre loop sampling wizardry, cracked electronics and sexy sax swoons, Chrissy Reichert redefines any conceivable notions of contemporary R & B. Tenderness is not to be missed, because true originality comes in small doses.
---