Tag: hip-hop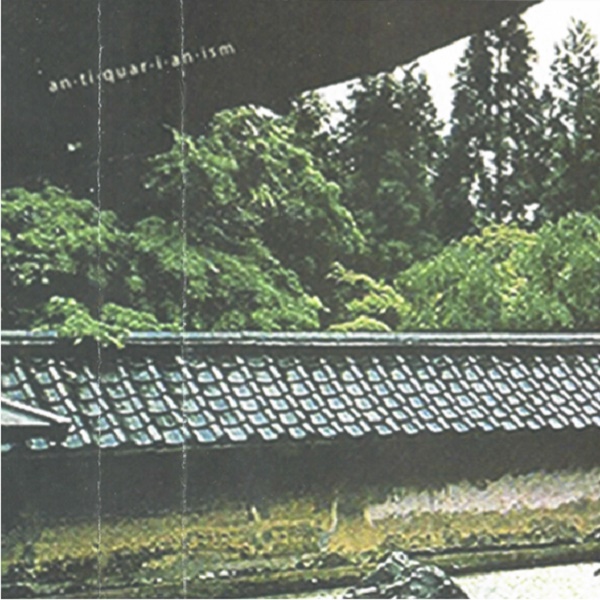 Spliff Jacksun
an·ti·quar·i·an·ism
(Self-Released)
Montreal, QC
From the screen burn of Cory Lefebvre:
Feel the click. Hear the magnetic sigh. Stare into a wave of static. A colour palette previously unknown emerges from a degraded tropical scale of tones. The long forgotten remnants of a screen burn stare back at you. Distorted by a sea of dead and dying phosphorous pixels, always looping back to the same fixed image. Every flaw reiterated and magnified in choral unison. The state of impermanence made permanent, imprinted on this tape of last week's Law & Order.
Par la brûlure d'écran de Cory Lefebvre:
(Par les papillons stomacaux réitérés d' Émily Traichel)
Ressentez le clic. Écoutez le soupir magnétique. Contemplez une vague de parasites statiques. Une palette de couleurs jusqu'alors inconnue émerge d'une échelle dégradée tropicale de tons. Tombés dans l'oubli, les restes d'une brûlure d'écran vous renvoient le regard. Distorsionnés par une mer de pixels phosphoreux morts et mourants, revenant toujours en boucle à la même image fixe. Chaque défaut réitéré et magnifié en choeur. L'état d'impermanence rendu permanent, gravé sur cette cassette du Law & Order de la semaine passée.
Spliff Jacksun – Emerald Formations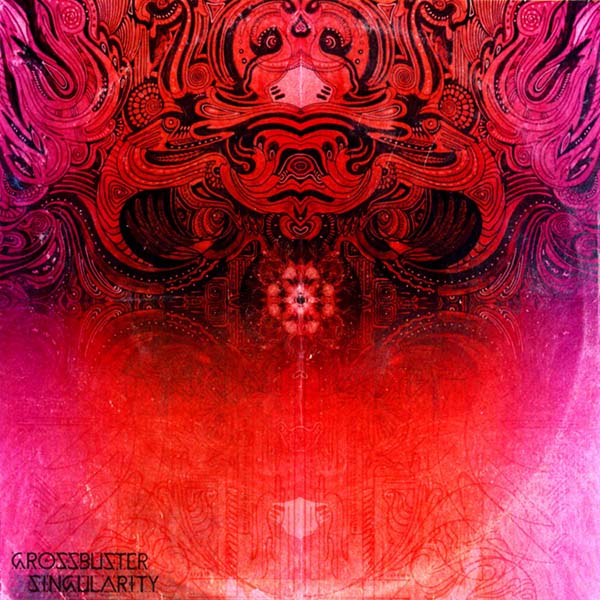 Grossbuster
Singularity
(Self Released)
Victoria, BC
From the rapid fingertips of Johnnie Regalado:
Take a mad stack of rare tapes and boil them down in the brain basin, rinse 'em through the rhythm veins, and fire 'em off through rapid fingertips . Grossbuster blasts an injection of the raw and analogue into a dose of dance music rarely heard on island time. Fresh loops lapping waves of bliss mist against the shores of our audible bays.
Du bout des doigts rapides de Johnnie Regalado:
(Traduit par la non-insulaire Mylène Quevillon)
Prenez une quantité folle de cassettes rares et faites les bouillir dans le bassin du cerveau, rincez-les à travers le rythme des veines, et faites les éclater par un mouvement rapide du bout des doigts. Grossbuster fait exploser une injection de sons crus et analogiques en une dose de musique dance rarement entendu au rythme de l'île. Un nouveau circuit de clapotis de vagues de brouillard extatique contre les rives de nos calanques audibles.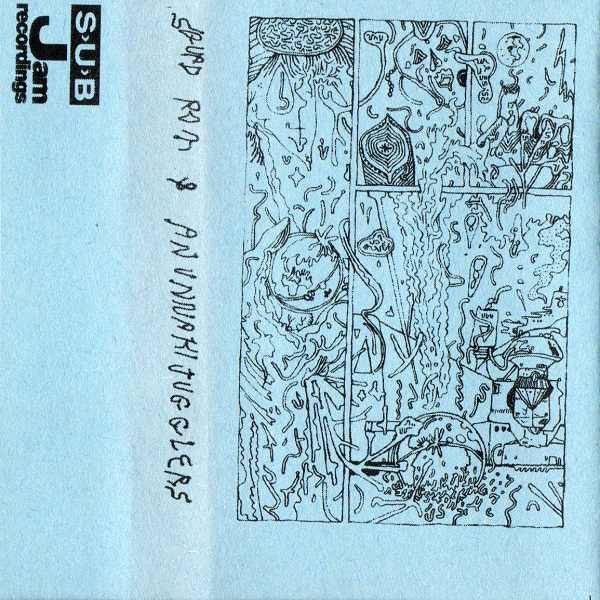 squad ROM / Anunnaki Jugglers
Split
(Sub Jam Recordings)
Montréal, QC
From the dispelling light of Kevin Hainey:
Quite possibly the strangest tape in the constant stream of strange tapes I've spun this year, hip hop precedes to plant its odd future roots in Montreal's noise underground with this split of mixed up trickery and mashed beat stashes. Beaming in ancient pop texts from forgotten but not unloved R&B girl groups of the 90s like TLC, and is that En Vogue? Anunnaki Jugglers lay down an alien energy grid of synthesized insanity onto their warped sub-club mixes, effectively ghetto-izing the glamorous into an amorphous new form of post-everythang mayhem. It's got screwed tape beats mighty enough to trap a bear. The squad ROM side is even weirder, slowing down Genesis, Phil Collins and Peter Gabriel hits into a sizzurp crawl to spit warped and manipulated raps and drawls over-top. Truly mystifying madness from inter-dimensional madcap Rodney Deschamps of punk squads No Negative and Holy Cobras. squad ROM passed out handmade Squid Row tapes of chopped and screwed reggae and hip hop during his time in Ottawa, but now he's calling it in to Montreal, and the super bomb Sub Jam Recordings have answered the call. Definitely a tape divided in heaven.
De la lumière dissipatrice de Kevin Hainey:
(Traduit par Jessica Grenier)
C'est possiblement la cassette la plus étrange parmi le flot constant de cassettes étranges que j'ai fait tourner cette année. Sur ce split mélangeant ruses et quantité de rythmes écrasés, le hip-hop plante ses racines futuristes bizarroïdes dans le noise underground montréalais. S'inspirant d'anciens textes pop de groupes R&B féminins des années 90 oubliés mais appréciés, comme TLC et est-ce que c'est En Vogue?, Anunnaki Jugglers dessinent une grille énergétique extraterrestre de folie synthétique dans leur mix sub-club tordu, ghetto-isant totalement le glamour pour en faire une nouvelle forme informe de post-tout-ça; avec des rythmes ralentis puissants comme des pièges à ours. Le côté de squad ROM est encore plus bizarre, ralentissant les succès de Genesis, Phil Collins et Peter Gabriel jusqu'à ce qu'ils aient l'air de marcher à quatre pattes imbibés de sizzurp et enveloppés de salive et de rap modifiés pour finalement dessiner dessus. C'est une folie réellement déroutante de Rodney Deschamps, délirant interdimensionnel des groupes punk No Negative et Holy Cobras. Squad ROM a distribué des cassettes faites à la main de Squid Row, des enregistrements de reggae et de hip-hop chopped and screwed pendant qu'il était à Ottawa, mais il remet maintenant ça à Montréal, et la super bombe de Sub Jam Recordings a répondu à l'appel. Cette cassette est assurément un mix parfait.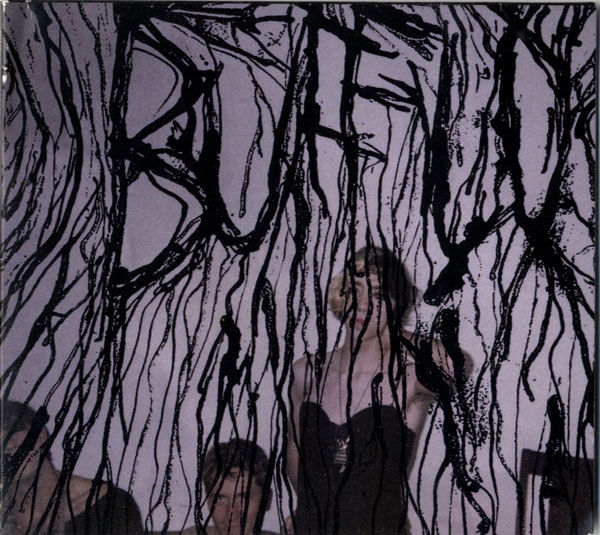 Montreal's Bufflo create a unique and dimly-lit, claustrophobic world
Bufflo
Unseam'd
Montréal, QC
From the electro-autotune spheres of Cassilou Landra:
Canada seems to lack a cohesive, internet-accessible, forward-thinking hip-hop underground, but that doesn't mean the genre is lacking here. Unseam'd, the debut from Montreal's Bufflo, is diversely crafted and mature in composition, creating a unique and dimly-lit, claustrophobic world that exists somewhere between the cracks of James Blake's early singles, Edgard Varese, Drake, and noise-rap pioneers Madvillain and Cannibal Ox (along with newer acts like Death Grips and CLPPNG). Flourishes of live cello add a warm layer of melancholy as the syrup for this potent noise-beat-pop hybrid, projecting onto the big screen but glitching out from a shotty projector at the budget theatre; this is experimental music first and foremost and its most inviting traits of hip-hop diversity, film-score introspection, and the occaisonal house beat can't undermine its obvious debt to the Spheres.
Des sphères de l'accord automatique électro de Cassilou Landra:
(Traduit par l'ignorance de Geneviève Faubert)
Même si le Canada semble dépourvu d'une scène hip-hop underground, avant-gardiste, unie et accessible par internet, ça ne veut pas dire que le genre fait défaut ici. Avec son premier album Unseam'd, la formation montréalaise Bufflo nous offre une œuvre variée et mature, un univers unique, tamisé et oppressant qui se situe quelque part entre les premières chansons de James Blake, Edgard Varese, Drake et les pionniers du rap bruitiste Madvillain et Cannibal Ox (en plus de nouveaux groupes tels que Death Grips et CLPPNG).
Des fioritures de violoncelle en direct ajoutent une dimension chaleureuse et mélancolique, une sorte de couche enveloppante, à ce genre bruitiste-beat-pop hybride et puissant, projeté sur grand écran à l'aide d'un projecteur de mauvaise qualité au cinéma à tarif réduit. Il s'agit d'abord et avant tout de musique expérimentale, et ses traits de caractère les plus invitants – hip-hop varié, introspection sur la musique de film et rythmes « house » occasionnels – n'arrivent pas à dissimuler l'influence incontestable de l'harmonie des sphères.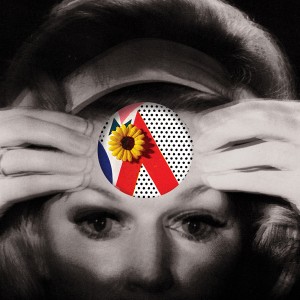 U.S. Girls
Free Advice Column
Toronto, ON
From the incidental boogie of Jesse Locke:
Meg Remy's latest transmission is another paradigm-shifting blast of powerful and empowering POP. Following last year's A+++ long-player GEM and the trunk-rattling "Island Song" remix she's now teamed with the notorious Onakabazien as overtime partners in crime. His dusted soul strut and blunted beats on the first three tunes of this EP swirl around Remy's passionate trills like a rhinestone cape, while "Disco 2012" brings Louis Percival's echo raps to the forefront on a melancholy mirrorball lament. GRIP.
De la danse accidentelle de Jesse Locke:
(Traduit par les déboires académiques d'Andréanne Dion)
La plus récente transmission de Meg Remy est une autre explosion de pop libératrice et puissante qui déplace les paradigmes. Après l'excellent disque GEM de l'année dernière et le cliquetant remix de « Island Song », elle fait maintenant équipe avec le célèbre Onakabazien, complice des heures supplémentaires. Sur les trois premières chansons de ce EP, son soul poussiéreux et ses rythmes émoussés tourbillonnent autour des trilles passionnées de Remy comme une cape en strass, alors que « Disco 2012 » met en avant le rap en écho de Louis Percival sur une complainte mélancolique en boule disco. À SAISIR.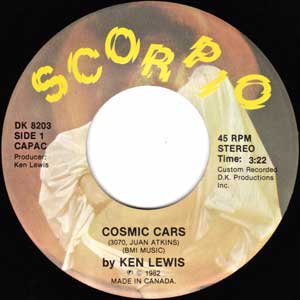 Ken Lewis
Cosmic Cars b/w Best Beat
(Scorpio Records)
Toronto, ON
Originally Released: 1982

Ken Lewis' reverent cover of
Cosmic Cars
released in 1982, the same year as the original
Cybotron 45
, proves that people were almost immediately feeling Juan Atkins' electric ripples just North of the assembly line. Released on Scorpio Records, home of countless dubious disco, boogie rap and dub records with peculiar provenance, Ken's whip is more deluxe DeLorean than hot Spinner, his cruising spin more Grace Jones than
The Normal
. Although his version almost mechanically reproduces the original, it feels like a glossy photograph of a photocopy; the recording less raw and in-the-red, the drum machine less biting, the cold-creep synth noises replaced by a cold-sweat guitar riff. Still, Ken's facsimile evokes a dystopian future, not the super-industrial cyber-sexuality of
Cronenberg
, but a world of simulacra coated in a vacuous veneer of replicated pleasures, like Ryu Murakami's depictions of Tokyo. Still this record bumps and burns when played loud, so thumb a ride if you ever see this avant-coupe roll by.
[audio:http://weirdcanada.com/wp-content/uploads/2011/09/Weird_Canada_-_Ken_Lewis_-_Cosmic_Cars.mp3|titles=Ken Lewis – Cosmic Cars] Ken Lewis – Cosmic Cars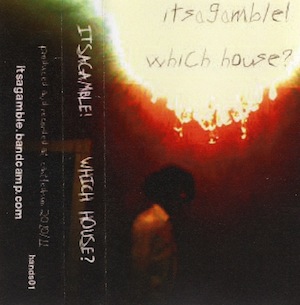 itsagamble!
Which House?
London, ON

Wedding hip-pop beats to the screams of mortally wounded modems, itsagamble! is the arbiter of an arranged marriage ("Do you, fried circuit board, take this fat beat…?") that has blossomed into love. Leaving behind
flora
and fauna, Rob Ross chronicles the mating rituals of robots: the tentative caress of electrons across a
breadboard
, melodrama chopped then screwed to a wall of electromagnetic interference ("Baby Maker"), and slow jamming ("Fox") that builds breakbeats out of sex-chimes, all glazed in Kraftwerkian synth flavours. Which House? hops valences quicker than a supercharged particle but keeps it somewhere within the sphere drum'n'bass'n'saw wave'n'laser'n'I could go on…
Tin foil chewers
, bite down on this.
[audio:http://weirdcanada.com/wp-content/uploads/2011/09/Weird_Canada_-_itsagamble_-_Baby_Maker.mp3|titles=] itsagamble! – Baby Maker
[audio:http://weirdcanada.com//binary/Weird_Canada_-_itsagamble_-_Fox.mp3|titles=] itsagamble! – Fox
[audio:http://weirdcanada.com//binary/Weird_Canada_-_itsagamble_-_When_Did_I_Disappear.mp3|titles=] itsagamble! – When Did I Disappear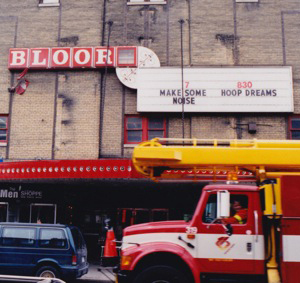 Make Some Noise
A Toronto Rap Documentary
[Directed By: Andrew Munger]
Toronto, ON
Originally Released: 1994

To the casual observer, Toronto rap history can be traced like this: Maestro blew up (then) "Northern Touch" dropped and made stars out of Kardi BaKardi and
Choclizie
(then) Drake became the biggest rapper in the world. Well, somewhere in between
"Symphony in Effect"
and "Northern Touch" there was a burgeoning underground hip hop community in Toronto that, thanks to filmmaker Andrew Munger, has been documented and preserved. The film follows then up-and-coming Toronto rap groups like
Ghetto Concept
, Nu Black Nation and MVP, creating what now stands as a time-capsule peek into 90's Toronto hip hop. Sixteen years after Munger's
Make Some Noise
premiered at
TIFF
, the film is finally getting proper distribution (well, if the Internet counts as distribution) through some of the folks at
Ugsmag
. Check for appearances by a baby-faced Mos Def, a thugged-out Jelleestone and a freestyle from
Mr. Canadian Idol
! You can check the flick below or click
here
. I've also included some scans of photos and newspaper clippings from the time of release.


From the skewed pop of Aaron Levin:
Beneath the reverberated echoes of Slim T's hazy swagger undulate the shards of pop cultures theatrical past. Culled from hours of vintage soundtrack LPs, A Sheik in Scores is the third volume in Slim Twig's musically bedded explorations. Sway to the wildly dense psychedelic metronome as punchy beats carry the skewed pop sensibilities into a timeless oblivion of baroque swashes, broken guitar leads, and busted grooves. Packaged beautifully in a micro clam-shell. Grip to the max.
[audio:http://weirdcanada.com/wp-content/uploads/2010/11/02-Honey-Suckle-Rose.mp3|titles=Slim Twig – Honey Suckle Rose] Slim Twig – Honey Suckle Rose
[audio:http://weirdcanada.com/wp-content/uploads/2010/11/10-Once-My-Ladys-Wish-Is-Done.mp3|titles=Slim Twig – Once My Lady's Wish Is Done] Slim Twig – Once My Lady's Wish Is Done
MC A-Okay
DOPE M.O.B
(In Time)
Edmonton, AB
Originally Released: 1991


From the random career raps of Christopher Bateman:
Considering our distance from Hip Hop's 80's epicentre, you can hardly blame Edmonton for taking so long to start rapping. More than a decade after the Sugarhill Gang kicked down the door wavin' the Kaopectate, Edmonton's MC A-Okay amassed a crew of West-enders to lay-down what would become some of Edmonton's earliest rap recordings. A-Okay's DOPE M.O.B demo is super-impressive, sounding like a random from any American city (read: Eric B and Rakim) and includes classic posse cuts from the DOPE (Disciples Of Poetic Expression) Mob, hard raps about being a drug dealer ("Guess Who's Coming to Your Town"), and your basic pop-rap fan-fare ("Move the Groove" was eventually picked up for the successful-in-Canada We United to Do Dis album by Simply Majestic). With as few as 20 copies made (my copy was even found missing the actual cassette!) DOPE M.O.B stands as a rare and wonderful view into the beginnings of a prairie-town's rep. Essential back-cover scan. Yes, that's a recycled Parental Advisory sticker.
[audio:http://weirdcanada.com/wp-content/uploads/2010/10/1NE-D.O.P.E.-MOB.mp3|titles=MC A-Okay – D.O.P.E. MOB] MC A-Okay – D.O.P.E. MOB
[audio:http://weirdcanada.com/wp-content/uploads/2010/10/1NE-GUESS-WHOS-COMING-2-YOUR-TOWN.mp3|titles=MC A-Okay – Guess Who's Coming 2 Your Town] MC A-Okay – Guess Who's Coming 2 Your Town
---