Tag: heaven for real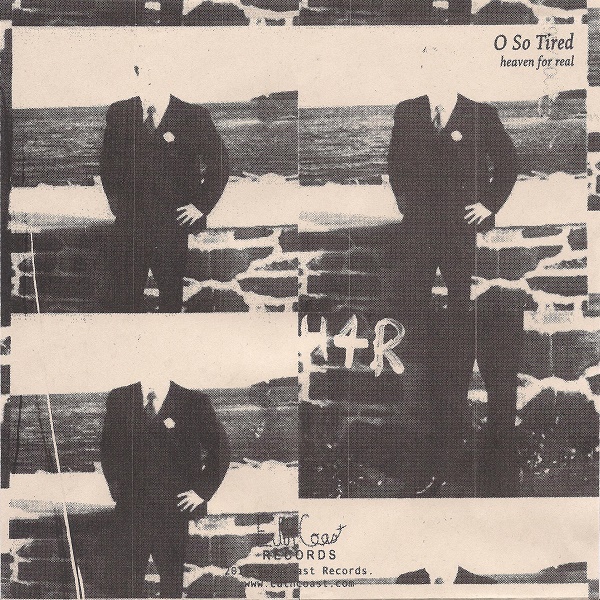 Heaven For Real // Homebody
Split
Halifax, NS
From the gnawed appendages of Piper Curtis:
Tired and roadworn, Heaven For Real trudge along an open roadway, dusty and without an end in sight. Directionless and meandering. Sunrises melt into sunsets, the passing of each day constant and unrelenting. They shed their skins, feet dragging, trying to find something, or some place, destination unknown. Their loss is palpable, yet there is no yearning, only an exhausted search.
Something comes into view and the pace quickens. They break into a run, only to be faced again with loss as it fades: a mirage.
The road continues.
Des appendices rongés de Piper Curtis:
(Traduit par les entrailles ravagées de Marie-Pier Chevrier)
Fatigués de toujours rouler, Heaven For Real se traînent le long des kilomètres de route, poussiéreux et à perte de vue, en errance dans les méandres. Aurores qui se fondent en crépuscules, le cours des jours et sa constance impitoyable. Ils changent de peau, traînant des pieds en quête d'un quelque chose, d'un quelque part inconnu. Leur perte est palpable, mais aucun désir en vue, rien d'autre que cette quête épuisée.
Quelque chose à l'horizon, le pas s'accélère. Ils commencent à peine à courir que la vision se perd déjà. Mirage…
Et la route continue.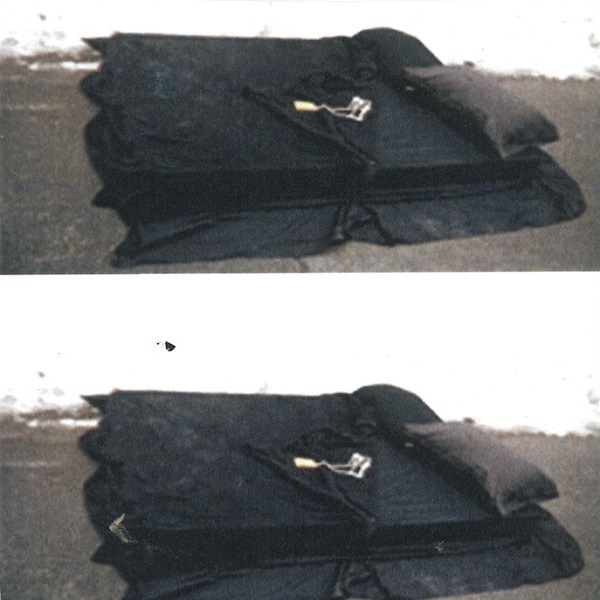 Heaven For Real
Heaven For Real's Live Underground
(Self Released)
Halifax, NS
From the genetic mutation of Claire Marie Guimond:
A rock show in an alternate universe where evolution has deleted social anxiety. Standing close to someone if you want to. Speculating hesitation in a song, like it's a quirk: how could it be that we were so affected? But sometimes the melody doesn't join up right. Maybe this new tension in your sides is the expression of some locked-up ancient gene… Triggered by something you're not sure but it'll come slowly, frail and remembering everyone here is ninety-nine percent the same as you.
De la mutation génétique de Claire Marie Guimond:
(Traduit par Jehane Yazami)
Un spectacle de rock dans un univers parallèle, où l'évolution a supprimé toute forme d'anxiété sociale. Être debout et proche de quelqu'un, si c'est ce que tu désires. Faire allusion à l'hésitation dans une chanson, c'est un type de bizarrerie étrange: comment est-ce possible de se sentir si affecté? Mais certaines fois, la mélodie ne se joint pas proprement. Peut-être que cette nouvelle tension sur tes cotés est l'expression d'un gène ancien, qui était enfermé… Déclenché par quelque chose dont tu n'es pas sûr, mais qui viendra lentement, fragile et avec la réalisation que tout le monde ici est à quatre-vingt-dix-neuf pour cent pareil comme toi.

Heaven For Real – Live at Oasis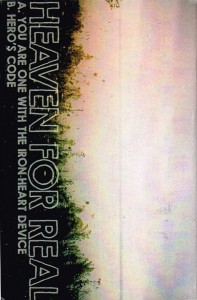 Heaven For Real
Hero's Code
Halifax, NS
From the iron heart device of Max Cotter:
Hero's Code is a mathematically calculated insurrection waged on every mediocre house show ever booked. It may be the music blowing your mind or the fact that you left your ear plugs at home. One way or another, whoever's basement this is will be going up in flames tonight while we dance to sounds as sharp as the broken glass underfoot and pop hooks as pervasive as the smell of mold and sweat. Heaven For Real's spontaneity gets straight to the point with precision and a simple message: grip this, buckle in, and groove to its meandering-yet-meticulous tidal riffs.
Du cœur d'acier de Max Cotter:
(Traduit par la pensée sinueuse mais méticuleuse de Virginie Langlois)
Hero's Code est une insurrection méthodique menée à l'assaut de toutes les soirées house pas terribles. Soit vous avez le souffle coupé par la musique, soit vous regrettez d'avoir oublié vos bouchons d'oreille à la maison. En tout cas, quel que soit le lieu choisi pour la performance, attendez-vous à ce que la salle s'embrase ce soir lorsqu'on va se mettre à danser au rythme de sonorités aussi acérées que du verre brisé sous le pied et d'accroches pop aussi puissantes que l'odeur de moisissure et de sueur. La spontanéité de Heaven For Real's va droit au but avec précision et un message simple : emparez-vous de la musique, accrochez-vous et laissez-vous porter par le raz-de-marée sinueux mais méticuleux des riffs.
Heaven For Real – You Are The One With The Iron Heart Device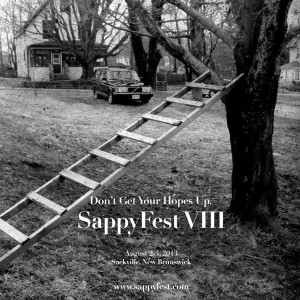 Various Artists
SappyFest VIII
(August 2-4, 2013)
Sackville, NB
From the swan pond of Jesse Locke:
Don't get your hopes up. Those humble words serve as both tagline and mantra for Sackville, NB's annual gathering, yet prove tough to follow with this year's stacked line-up! The next wave of Halifax crashes in with Monomyth, Heaven For Real, Old & Weird and hazy-brained hip-hop crew Weirdo Click. Toronto's Tranzac jazz scene is repped by Alex Lukashevsky and island-timed troupe Eucalyptus (captained by Brodie West), while the forecast for Colin Stetson shows volcanic blowouts. JFM and Karneef bring the brain-warping beats, and for softer ear-candy, catch soul sister Snowblink, Construction & Deconstruction or ol' faithful Chad. But wait… 2013's dark horse could be Sackville locals Kappa Chow, the latest project from the motley Killer Haze crew, with a name swiped from Pootie Tang. Wa da ta!
p.s. Need a pause from the music? Skip on down to Why Nowhere?, Sappy's self-dubbed 'smalltown music conference' featuring a panel from WC's own Marie LeBlanc Flanagan!
De la mare aux cygnes de Jesse Locke:
(Traduit dans la nostalgie des festivals d'été par Andréanne Dion)
N'ayez pas trop d'attentes. Ces paroles modestes sont à la fois le slogan et le mantra du rassemblement annuel de Sackville au Nouveau-Brunswick, mais s'avèrent pourtant difficiles à respecter vu l'impressionnante programmation de cette année! La prochaine vague de musiciens d'Halifax déferle avec Monomyth, Heaven For Real, Old & Weird et le collectif hip-hop des brumes Weirdo Click. La scène jazz Tranzac de Toronto est représentée par Alex Lukashevsky et Eucalyptus, la troupe aux rythmes des îles dirigée par Brodie West, alors qu'on se prépare à des éruptions volcaniques avec Colin Stetson. JFM et Karneef s'amènent avec leurs rythmes à vous tordre le cerveau, et pour vous régaler de sons plus doux, ne manquez pas Construction & Deconstruction, les reines de la soul Snowblink ou encore le bon vieux Chad. Mais attendez… la surprise de 2013 pourrait bien être le groupe local de Sackville, Kappa Chow, le plus récent projet de la bande hétéroclite de Killer Haze, avec leur nom tiré directement du film Pootie Tang. Wa da ta!
p.s. Besoin de prendre une pause de la musique? Allez faire un tour à Why Nowhere? la "conférence musicale de petite ville" de Sappy, où Marie LeBlanc Flanagan de WC animera une discussion!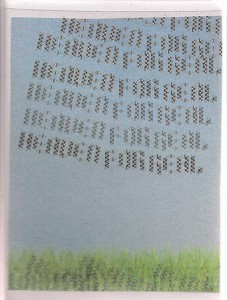 Heaven For Real
Wanton
(Self Released)
Halifax, NS
From the tangled post-isms of V. Rachel Weldon:
Rather than a long, modernist tangled web, each song on Wanton is its own flippant little narrative, snubbing grandiose post-isms for no-phony pop prose. "Love Solo" walks on air out of the gate, melting wavy distortion over the carefree voice of a young crush. "Owner" is a three-act play, cut into pieces and shuffled around on the floorboards in a burst of creative catharsis. Dynamic, sporadic and unpredictable, the plot progression of Wanton's closing and (sort-of) title track unfolds alineary, with bursts of conflict on either side of the sandwich meat, a stylistic reversal of its seminal influences. The brothers Grundy have done it again.
Des post-ismes entremêlés de V. Rachel Weldon:
(Traduit par le sandwich végé de Nicolas Coutlée)
Plutôt que de former une large toile moderne et intriquée, chaque morceau sur Wanton raconte sa propre petite histoire frivole, préférant aux grandioses post-ismes une prose pop certifiée authentique. « Love Solo » se pavane joyeusement dès les premières enjambées, la voix désinvolte d'un jeune amoureux surfant les vagues de distorsion. « Owner », une pièce en trois actes, est découpée en morceaux et reconfigurée à même les planches dans un élan cathartique de créativité. Dynamique, sporadique et imprévisible, la progression narrative de la chanson finale et (en quelque sorte) titre de Wanton se dévoile de manière non-linéaire, prise en sandwich entre deux feux conflictuels, un revirement stylistique de ses influences séminales. Les frères Grundy frappent encore.
---