Tag: heaven for real – hero's code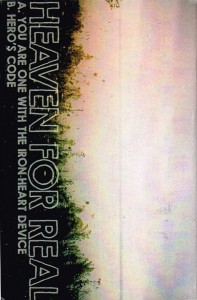 Heaven For Real
Hero's Code
Halifax, NS
From the iron heart device of Max Cotter:
Hero's Code is a mathematically calculated insurrection waged on every mediocre house show ever booked. It may be the music blowing your mind or the fact that you left your ear plugs at home. One way or another, whoever's basement this is will be going up in flames tonight while we dance to sounds as sharp as the broken glass underfoot and pop hooks as pervasive as the smell of mold and sweat. Heaven For Real's spontaneity gets straight to the point with precision and a simple message: grip this, buckle in, and groove to its meandering-yet-meticulous tidal riffs.
Du cœur d'acier de Max Cotter:
(Traduit par la pensée sinueuse mais méticuleuse de Virginie Langlois)
Hero's Code est une insurrection méthodique menée à l'assaut de toutes les soirées house pas terribles. Soit vous avez le souffle coupé par la musique, soit vous regrettez d'avoir oublié vos bouchons d'oreille à la maison. En tout cas, quel que soit le lieu choisi pour la performance, attendez-vous à ce que la salle s'embrase ce soir lorsqu'on va se mettre à danser au rythme de sonorités aussi acérées que du verre brisé sous le pied et d'accroches pop aussi puissantes que l'odeur de moisissure et de sueur. La spontanéité de Heaven For Real's va droit au but avec précision et un message simple : emparez-vous de la musique, accrochez-vous et laissez-vous porter par le raz-de-marée sinueux mais méticuleux des riffs.
Heaven For Real – You Are The One With The Iron Heart Device
---