Tag: heather lune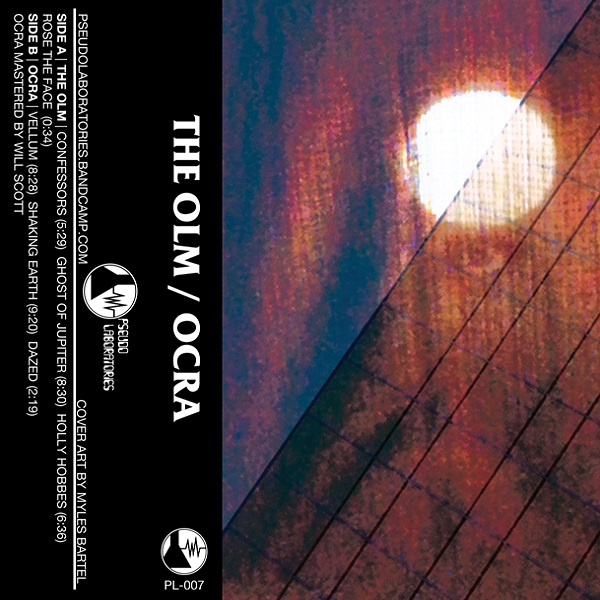 The Olm / Ocra
The Olm / Ocra
Edmonton, AB
From the timeluscent west of Heather Lune:
The Olm moans like a metal wraith, a fossil of the prehistoric ocean that lives in the mountains – badland epigrams malformed. They're a beacon sculling over the solid hide of the skyline, where the sea is held inside sun-risen fumes.
The Ocra hears a ghastly echo of our industrious carvings. Inscriptions knocking into the wind of falling bodies, the mechanisms used to slip through tap dancing waves. The scraping, digging, probing, mining. The generations, the millenia – waterbed bones compressing into an arid ocean floor.
Belonging to us, as we to it, a locked-soul.
Par l'ouest tempslucide de Heather Lune:
(Traduit par l'écho ésotérique des vents ténébreux d' Émily Traichel)
L'Olm gémit comme un spectre en métal, un fossile venu de l'océan préhistorique qui vit dans les montagnes – épigrammes malformées des badlands. Il y a un flambeau qui godille sur la peau solide de l'horizon, où la mer est enfermée dans des émanations solaires.
L'Ocra entend un écho épouvantable de gravures industrieuses. Des inscriptions cognent dans le vent de corps en chute, les mécanismes employés afin de glisser à travers les vagues qui dansent la claquette. Le grattage, creusage, sondage, l'exploitation minière. Les générations, les millénaires – les os du lit d'un fleuve qui se blottissent dans un fond d'océan aride.
Nous appartenant, comme on leur appartient, une âme-barrée.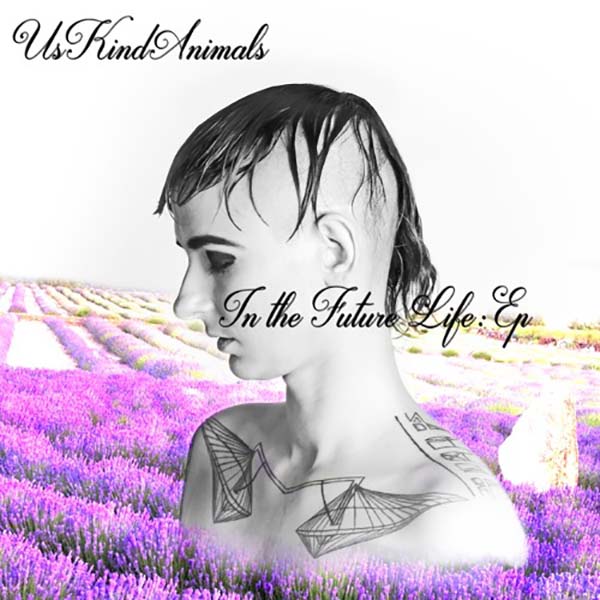 UsKindAnimals
In the Future Life EP
(Self-Released)
Montréal, QC
From the 4am catharthis of Heather Lune:
Is it holy to dance? Flee a frozen night in the dark underground chambers, to carve into the archaic beats and feel so new, so modern. And the summer comes: the long long sun, you need to get drunk in that hot light with desperation. But the anxiety as the frost creeps in again, the sun slips. In the manic chill, UsKindAnimals sing wild hymns to the soul over blindness-seeking carnal rhythms. Hear the auld disco dirge of ecstatic mourning? It's the death dance of winter, a skeleton shaking yourself out of your own cold corpse.
De la purge matinale de Heather Lune:
(Traduit par Sergio Calla)
La danse est-elle sacrée ? Fuir des tunnels souterrains pendant une nuit glaciale pour s'intégrer dans les sons archaïques afin de se régénérer et de se moderniser. Puis l'été arrive avec ses rayons de soleil étendus, donnant envie de se soûler désespérément dans cette lumière chaude pour encore une fois angoisser au départ du soleil et à l'arrivée du gel. Dans cette frénésie frisquette, UsKindAnimals chantent à l'âme des hymnes sauvages cherchant aveuglement des mélodies bestiales. Faire un deuil euphorique en écoutant de la bonne vieille musique d'enterrement? C'est la macabre danse hivernale. Un squelette qui vous secoue pour vous faire sortir de votre propre corps refroidi.
UsKindAnimals – Animal Dream feat. Emilie Monnet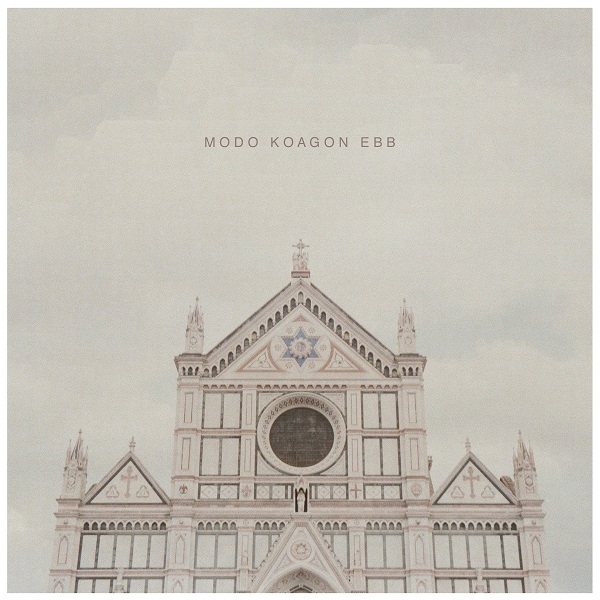 Modo Koagon
Ebb
(Self-Released)
Guelph, ON
From the last breath of Heather Lune:
The field recordist curls up after a long life and goes to sleep. The moment – the fall – the rise – the bridge – the break – eternally suspended in the midst of infinite sound.
A toy xylophone, screaming shoreline wind, liquid sliding on skin, dead radio whirling the drain, while stirring the spoon chinks the glass, razors buzz, the jazz cd skips, the car and the sound the land makes as you pass through it, insects in trees, blades on ice, the gutters melting, tapping typewriter, the beep of the life support machine, the clock on the wall.
You discover the moment of death – that split second before the jump, forever.
Du dernier souffle de Heather Lune:
(Traduit par le gargarisme salé de Julie Mayer)
Le preneur de son se pelotonne après une longue vie et s'endort. L'instant – la chute – l'ascension – la transition – la rupture – l'homme est éternellement suspendu au milieu d'un son infini.
Un xylophone jouet, le hurlement du vent en provenance du rivage, le glissement d'un liquide sur la peau, une radio à plat s'écoule en tourbillons par la bonde, la cuillère fait tinter le verre lorsqu'on la remue, des rasoirs qui bourdonnent, le CD de jazz saute, l'auto et le son que la terre produit alors que vous passez dessus, les insectes dans les arbres, des lames de patin sur la glace, des gouttières fondent, les bruits de frappe d'une machine à écrire, les bips de l'appareil veillant au maintien des fonctions vitales, l'horloge accrochée au mur.
Vous découvrez l'instant de la mort – cette fraction de seconde avant le grand saut, à jamais.
Modo Koagon – Ebb (For Wilhelm and Ellen)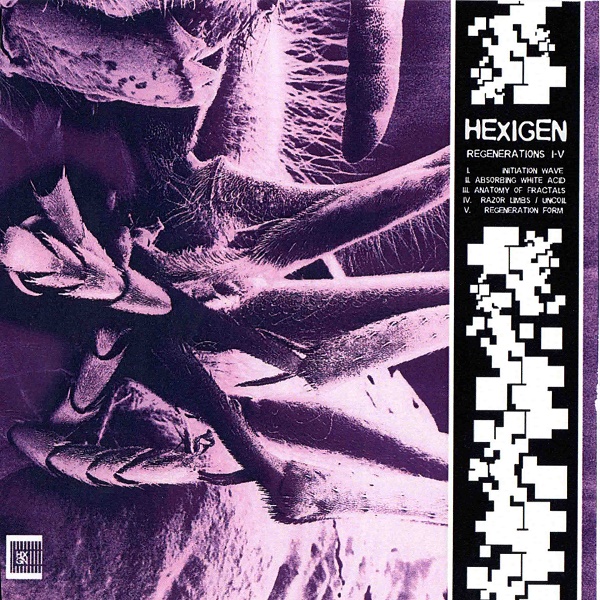 Hexigen
Regenerations I-V
(Self-Released)
Brampton, ON
From the spasming futures of Heather Lune:
It feels like electricity thudding into your body through the nerves of your fingertips. It rockets up into the ticklish base of your brain.
Brampton's Hexigen releases a semi-improvised rainstorm of droning airborne frictions showering out of a near-future dystopia, from a time when the few remaining habitable areas of the earth have been enclosed in impenetrable low-lying domes.
The air, the rain, the sun: just cold and distant projections in the encased and gasping remnants of our dimming organic world. Our once soft bodies now composed of 60% cybernetic parts.
All touch so cold and plastic — but we will long to feel the texture of skin, and shriek for it in our coded dreams.
Des avenirs spastiques de Heather Lune:
(Traduit par la frittata sans patates de Julie Mayer)
C'est une sensation comparable au martèlement de l'électricité qui traverse ton corps par les nerfs situés au bout de tes doigts. Ça se propulse jusqu'à la base chatouilleuse de ton cerveau.
Hexigen, groupe originaire de Brampton, lance une pluie diluvienne semi-improvisée de frictions bourdonnantes portées par le vent. Ces dernières coulent, tel un jet de douche, d'une dystopie de l'avenir proche, d'un temps où le peu de zones habitables restantes de la Terre sont enfermées sous d'impénétrables dômes de faible altitude. L'air, la pluie, le soleil : que des projections froides et distantes dans les vestiges mis sous verre et haletants de notre monde organique déclinant. Nos corps jadis tendres sont désormais composés à 60 % de pièces cybernétiques.
Tout contact est si froid et plastique, mais nous nous languirons de ne pas sentir la texture de la peau, et la réclamerons à grands cris dans nos rêves encodés.
Hexigen – RGN i: Initiation Wave
---