Tag: healing power
Eucalyptus
Fascination in Sound
Toronto, ON
From the smoky speakeasies of James Lindsay:
On his most recent blow job, sax man Brodie West takes his easygoing solarium-jazz ensemble, Eucalyptus, away from the tropical lounges they previously haunted to smokier speakeasies. Here, the septet gives the arrangements more freedom to nod and sway away under the dim lights of table candles. This whirl-around feels slightly sad, as if the night is almost over and the music knows it. It reluctantly unwinds itself while it's still dark, before the sun comes up and the basement-bar's patrons have to face the day.
Des bars clandestins enfumés de James Lindsay:
(Traduit par les journées ensoleillées de Julie Forget)
Sur sa plus récente petite gâterie, le saxophoniste Brodie West déplace son orchestre de jazz solarium Eucalyptus loin des bars tropicaux qu'ils ont hantés dans le passé, et se rend dans des bars clandestins plus enfumés. Ici, le septuor laisse les arrangements plus libres de se balancer et de tituber sous la lumière faible des chandelles sur les tables. Ce tourbillon semble plutôt triste, comme si la nuit était presque terminée et que la musique le savait. Il se déroule avec réticence pendant qu'il fait encore noir, avant que le soleil se lève et que les clients du bar souterrain doivent affronter le jour.

Eucalyptus – Fascination in Sound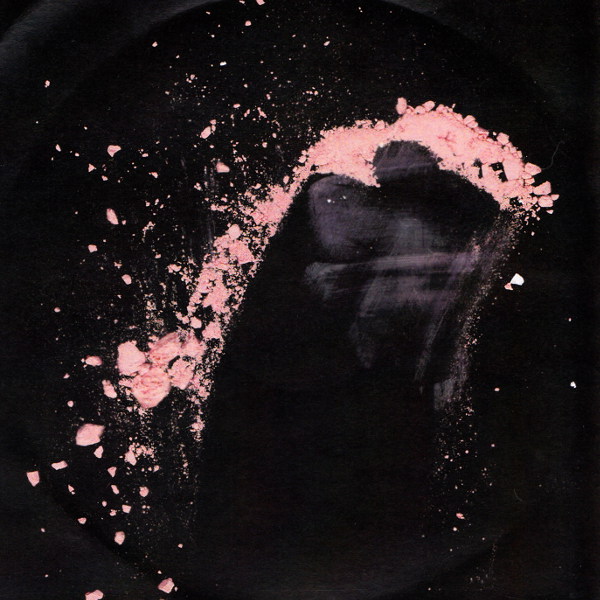 Colin Fisher
Original Face
Toronto, ON
From the threadbare undergarments of Joshua Robinson:
Tempered and seasonally diminutive like the fissures in our skin and the bags under our eyes, Toronto's Colin Fisher orchestrates miasmatic aggregates into olfactory innuendo, hinting at a deep reach into the bowels of genre fusion to withdrawal an aesthetic that is equal parts free-form performance and orchestrated aural pragmatism. There is a subtle ineffability about Original Face, as if Fisher is indeed walking the precipitous narrow between performative poetics and inferred intention; a musicality that is heard, felt, and seen all within the same breath.
Hinting at the genres and creativities embodied by the likes of Colin Stetson and Brodie West to the calamitous post-rockery of a jazz-infused Godspeed You! Black Emperor and the (somewhat) acoustic quietudes of label-mate Doc Dun, Colin Fisher has figuratively sewn himself into the neo-classical post-rock undergarments of our northernly attire and is perfectly at home in our collective vestiary.
Des sous-vêtements râpés de Joshua Robinson:
(Traduit en solidarité par Nadine Tkatchevskaia)
Tempéré et diminutif de façon saisonnière comme les fissures dans notre peau et les poches sous nos yeux Colin Fisher de Toronto orchestre des sommes miasmatiques dans un sous-entendu olfactif, en laissant entendre une atteinte profonde aux entrailles de la fusion des genres et un retrait vers l'esthétique partagée équitablement entre la performance improvisée et le pragmatisme auditif orchestré. Il y a une ineffabilité subtile à propos de Original Face, comme si Fisher traçait l'escarpement étroit entre la poétique performative et l'intention inférée; une musicalité qui est entendue, sentie et vue à l'intérieur d'un même souffle.
En faisant un clin d'oeil aux genres et aux créativités incarnés par Colin Stetson et Brodie West jusqu'au post-rock calamiteux de Godspeed You! Black Emperor rempli de jazz et aux quiétudes (presque) acoustiques de son partenaire de label Doc Dun, Colin Fisher s'est cousu, au sens figuré, dans les sous-vêtements néo-classiques du post-rock de notre tenue Nordique et se sent bien à l'aise dans notre vestiaire collectif.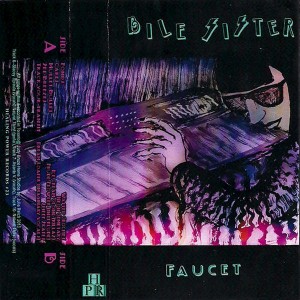 Bile Sister
Faucet
Toronto, ON
From the see breeze of Jesse Locke:
Julie Reich a.k.a. Bile Sister a.k.a. DJ Garbage Body is the shades-clad cortex of a circuit-fried storm. Jacked in to the mutated matrix of dancefloor declassification, she channels her inner Chandra with the puckered pluck of half machine lip moves. These Casiotone clone killers are now in the process of full band re-make/re-model, so keep an eye on the blockspace and seize the steeze.
De la brise de vue de Jesse Locke:
(Traduit par l'œil de la tempête de Virginie Langlois)
Julie Reich alias Bile Sister ou encore DJ Garbage Body est l'œil d'une tempête en furie qui se serait dissimulé derrière des lunettes de soleil. Connectée à la matrice mutante d'une musique dansante sans genre ni forme clairement défini, elle canalise son Chandra interne grâce à un mouvement des lèvres nerveux digne de l'album half machine lip moves. Ces adeptes du Casiotone sont passés d'un projet solo à un groupe proprement dit, alors gardez un œil sur ce qui se passe dehors et laissez-vous porter par le courant.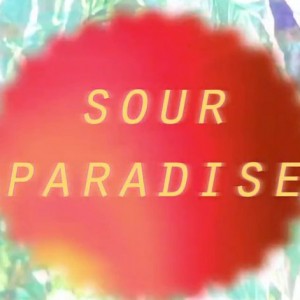 From the plastic buckets and paint cans of Sander Cohen:
In Sub-Saharan African music, drums play a significant role. Not just as a backbone for the music itself or a stimulus to kinetic movement, but also as a symbol of cathartic conditioning. The act of engaging with complicated cross-beats and polyrhythms, whether through playing or dancing, prepares one for keeping positive and grounded when dealing with life's challenges. These rhythms represent the heartbeat and fabric of community and human life, a fabric that is currently sewn thin and tearing under global inequality and environmental degradation.
Toronto's Petra Glynt knows this form of cathartic conditioning very well and with the help of a few friends, her video for "Sour Paradise" strives to unite under the power of communal drums; drums built from paint cans and plastic buckets, the drums of the everyday people. Bursting with psychedelic imagery that shares stylistic similarities with Paw Tracks-related video projects, such as Animal Collective's ODDSAC and Prince Rama's "Never Forever", it's no surprise that several ladies of the Maracatu Mar Aberto percussion ensemble were also a big help behind the scenes. More than anything, the celebration of community is what sticks; helping each other through this candycane wasteland called life. What better way to do that than music, art, dance, and most of all, drums.
Des seaux en plastique et des pots de peinture de Sander Cohen:
(Traduit par les pas de danse de Julie Forget)
Dans la musique subsaharienne d'Afrique, le tambour joue un rôle significatif. Il n'est pas seulement la colonne vertébrale de la musique ou le stimulus du mouvement cinétique, mais il se voit aussi être un symbole de conditionnement cathartique. L'acte d'engager le dialogue avec des cross-beats et des polyrythmes compliqués, soit en jouant ou en dansant, aide à rester positif et raisonnable lorsque confronté aux difficultés de la vie. Ces rythmes représentent le battement de cœur et le tissu de la population et de la vie humaine, un tissu cousu de façon mince en ce moment et qui se déchire dans l'inégalité mondiale et dans la dégradation environnementale.
La Torontoise Petra Glynt connaît très bien cette forme de conditionnement cathartique. Avec l'aide de quelques amis, elle a produit la vidéo « Sour Paradise » dans le but d'unir sous le pouvoir du tambour collectif; un tambour fait de pots de peinture et de seaux en plastique, le tambour des gens ordinaires. Apparaissant soudainement avec une imagerie psychédélique qui partage des similarités avec des projets de vidéo liés à Paw Tracks comme « ODDSAC » d'Animal Collective et « Never Forever » de Prince Rama, plusieurs femmes de l'ensemble de percussions Maracatu Mar Aberto ont été, sans surprise, d'une grande aide dans les coulisses. Plus que tout, la célébration de la communauté est ce qui reste; l'entraide dans ce terrain vague de cannes de bonbon appelée la vie. Quoi de mieux pour le faire que d'utiliser la musique, l'art, la danse et surtout, les tambours.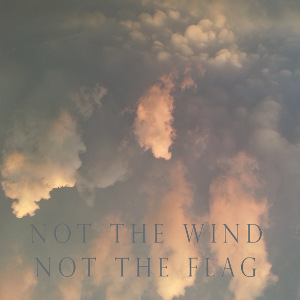 Not the Wind, Not the Flag
Garments of Light
Toronto, ON
De la cabane secrète d' Eamon Quinn:
(Traduit de la sonde spatiale de Justine Gabias)
Aussi expansif, mystérieux et joyeux que la pochette signée Victoria Cheong, le nouveau CD de Not The Wind, Not The Flag nous arrive gracieuseté des esprits allumés de chez Healing Power Records. Dans cette galaxie temporelle de nu jazz cosmique transporteur, on peut presque apercevoir Colin Fisher (cordes et autres trucs) et Brandon Valdivia (percussions) se retirer dans une cabane secrète, façon A Beautiful Mind. Là-bas, ils s'inspirent des liens dissimulés entre les piles savamment disposées d'émouvants ESP-Disks, de cassettes nouvel-âge égarées et de la collection personnelle Nonesuch Explorers de la sonde Voyager.
Mas Aya
Kairos
Toronto, ON
From the origami anthropology of Trevor Blumas:
Vast histories collide in Mas Aya's origami anthropology, enfolding time into a singular and supreme moment: Kairos. The latest effort by Brandon Valdivia stitches together scepters of sound with pulsing digital heartbeats; a heavenly soul wed to an earthly body in an eternal and loving matrimony. There is an equally discreet sense of protest and resistance against certain dark forces, but this album's immediate sense of optimism entrusts Mas Aya as our shining saviour of the terrestrial plane, yielding the universal power of rhythm to combat the darkening skies ahead. As the cosmic giggle larks around us, we can all take comfort and solace within the safety of this kairos.
De l'anthropologie d'origami de Trevor Blumas:
(Traduit par les touches de Julie Forget)
De vastes récits se heurtent dans l'anthropologie d'origami de Mas Aya, enveloppant le temps dans un moment suprême et singulier : le Kairos. Le dernier effort de Brandon Valdivia combine des sceptres de son et des pulsations cardiaques digitales ; une âme divine qui épouse un corps terrestre dans un éternel mariage d'amour. Il existe un sentiment de protestation discret contre certaines forces sombres autant qu'un sentiment de résistance à celles-ci, mais le sens immédiat d'optimisme de cet album fait de Mas Aya notre brillant sauveur de l'avion terrestre, produisant le pouvoir universel du rythme pour combattre les ciels sombres qui se trouvent devant. Alors que le rire cosmique fait l'idiot, nous pouvons tous nous réconforter et nous consoler dans la sécurité de ce kairos.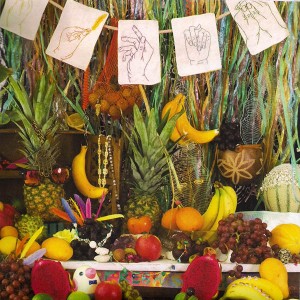 Various Artists
F R U I T S
Toronto, ON
From the Carmen Miranda rights of Jesse Locke:
This platter flows over with a prismatic array of bodacious sounds and mixed mood-inducers from Toronto's female class of fall 2013. The nine exclusive tunes include Isla Craig's soft shimmer, Bile Sister wave-dancing in her rave cave, and a freshly bucked 'n' blended devotional banger from Tenderness. The righteous Lido Pimienta leads the charge with martial snares and multi-tracked vocals that could summon the revolution, while the all-powerful Petra Glynt booms through a blacklit underground opera hall. Grip this disc quick and get a bonus baggie of bath salts from the krautrock-inspired scents of Spa Kosmische.
D'après les droits Carmen Miranda de Jesse Locke:
(Traduit dans un rythme tordant de Dominic MPILÉ)
Ce disque résonne de façon remarquable au moyen d'une gamme prismatique et d'une sensibilité inductrice jouées par des Torontoises de la cuvée printemps 2013. Les neuf chansons exclusives incluent le doux chatoiement d'Isla Craig, l'onde dansante à caractère rave de sous-sol de Bile Sister, et le tout nouveau lancement de ruade tordant, plein de dévotion de Tenderness. La vertueuse Lido Pimienta mène la cadence avec des pièges martiaux et de multiples pistes vocales qui pourraient appeler à la révolution, pendant que l'omnipotente Petra Glynt retentit dans une salle d'opéra souterraine éclairée à contre-jour. Procurez-vous rapidement ce disque et obtenez en bonus un sac de bain de sel au parfum d'inspiration krautrock de Spa Kosmische.
Tenderness – Orphans Howling in the Wild (Bucked & Blended Mix)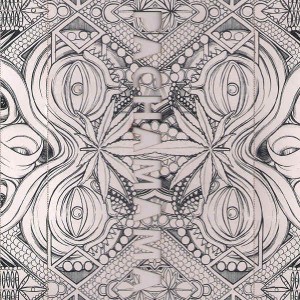 Pachamama
Pachamama
Toronto, ON
From the earnest appetite of Moshe Rozenberg:
Most artists beat around a theme with deliberate, cryptic poetry. Pachamama revolt in plain language, preventing any contortion of their lyrical disposition: a love for mother nature and distaste for humankind's self-destructive, self-serving bearings. The duo of Brandon Valdivia and Alexandra Mackenzie address these issues with synergetic vocals that call and respond unity. Their lyrical repetition on opener "A Dream A Belief" reflects an earnest appetite for change and the subsequent frustration. They hammer mantra after mantra into the ground, anchoring root architecture and divulging their environmental loyalty. On "Garbage", Valdivia and Mackenzie let out a wonderful vocal harmony with the phrase "twenty thousand faces of the displaced workers." In this parallel moment, Pachamama manage to set their heavy themes to thoughtful, delicate melody; these balanced bits are their finest. Sonically, theirs is an amalgamation of layered drums, vocals, flutes and miscellaneous percussive samples pleasantly manipulated beyond recognition. They blend New Age meditative qualities with a spirit reminiscent of Reggae in its political consciousness and outright criticism of prevalent wrongdoings. For me, songs like "At What Cost" are the best blend: stick clicks, dingy kalimba and thunderous auxiliary drumwork communicating strength with brute intensity.
De l'appétit sincère de Moshe Rozenberg:
(Traduit par le langage clair de Hugo Hyart)
La plupart des artistes tournent autour d'un même thème en le rabâchant avec la même poésie délibérément cryptique. Pachamama se révolte en langage clair, en prémunissant leurs paroles de toutes contorsions : un amour de mère Nature couplé d'un dégoût pour les comportements autodestructeurs et égoïstes de l'être humain. Brandon Valdivia et Alexandra Mackenzie abordent ces problèmes avec des voix en synergie qui appellent et se mettent à l'unisson. Les vers répétés sur « A Dream A Belief », le morceau d'ouverture, reflètent un appétit sincère pour le changement et aussi la frustration qui en découle. Mantra après mantra, le duo martèle le sol pour y ancrer ses racines et mettre au grand jour sa loyauté environnementale. Sur « Garbage », Valdivia et Mackenzie déploient une harmonie vocale merveilleuse en entonnant « twenty thousand faces of the displaced workers » (vingt mille visages de travailleurs déplacés). Parallèlement, Pachamama parvient à poser ses thèmes graves sur des mélodies délicates; ces moments de pur équilibre comptent parmi leurs meilleurs. Leur musique est un amalgame de couches de batterie, de voix, de flûtes et de divers échantillons percussifs manipulés avec ludisme et rendus méconnaissables. Les qualités méditatives du New Age se fondent ici avec la conscience politique du Reggae et sa critique sans concession à l'égard des malversations qui prévalent. Pour moi, des chansons comme « At What Cost » incarnent le meilleur des mélanges : claquements de baguettes, kalimba défraichi et percussions auxiliaires tonitruantes communiquent leur force avec une intensité brute.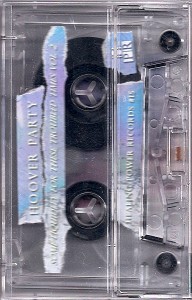 Hoover Party
Some Liquidity for these Troubled Times, Vol. 2
Toronto, ON
From the tiny chakras of James Lindsay:
The devout drones heard here are what's left after Hoover Party takes apart the historical kaleidoscope of psychedelic music and tinkers with its spare parts. Some happy hums hold hands with extraordinary organs around a bonfire for the soul. Here, the sparks dance like tiny chakras, writing positive cursive in the night air. Another great chapter in Healing Power's omnibus of Toronto electric-spirituals.
Des minuscules chakras de James Lindsay:
(Traduit par les étincelles dansantes d'Andréanne Dion)
Les bourdonnements fervents que l'on entend ici sont ce qui reste après qu'Hoover Party a démonté le kaléidoscope historique de la musique psychédélique et a bricolé avec ses pièces de rechange. De joyeux fredonnements et un orgue extraordinaire se tiennent par la main autour d'un feu de joie pour l'âme, où les étincelles dansent comme de minuscules chakras en écrivant des messages positifs en cursives dans l'air nocturne. Voici un autre formidable chapitre de l'anthologie spirituelle-électrique torontoise de Healing Power.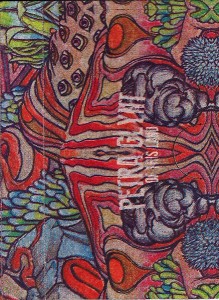 Petra Glynt
Of This Land
Toronto, ON
From the sour paradise of Aaron Levin:
Let the tendrils of nuclear dust settle and submit our ears to the altar of magnetic tape. With ceremonial guile, consciousness coalesces unto blown-out rhythmania as Petra Glynt's grand summoning fills the void with circuitous distortion. Drum-dance into euphoria. The emergent fractals will guide us into the inevitable Griptopia.
Du paradis aigre d'Aaron Levin:
(Traduit par la vision fragmentée d'Andréanne Dion)
Laissons retomber les volutes de poussière nucléaire et offrons nos oreilles sur l'autel de la bande magnétique. Avec une ruse cérémonielle, la conscience se fond en une rhythmania déjantée, alors que la grande messe de Petra Glynt emplie le vide de sa distorsion sinueuse. Dansons au rythme des tambours jusqu'à l'euphorie. Les fractales émergentes nous guideront vers l'inévitable Discotopie.
---