Tag: hawkeyes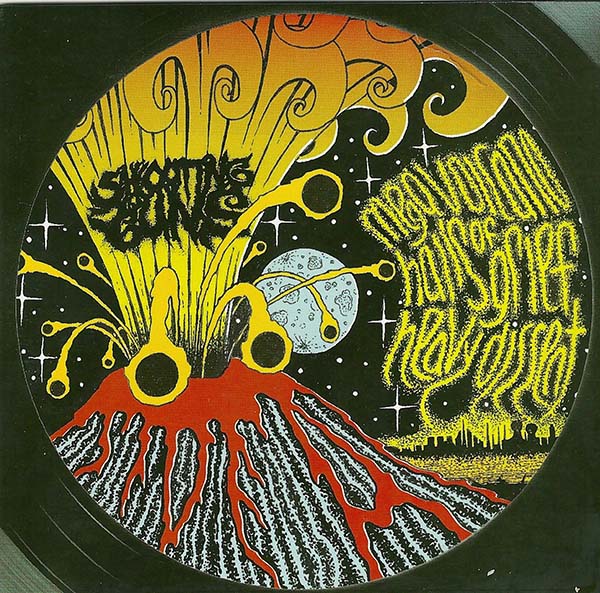 Shooting Guns // Hawkeyes
Brothers of the Nod
Saskatoon, SK // Waterloo, ON
From the bawkwind hootleg of Josh Rohs:
You've been lied to. Observe your compass needle. Magnetic declination nods to the truer north: the exact midpoint between Waterloo and Saskatoon. There stands a megalith, coloured obsidian and cloaked in undulating fuzz fraternal. A loudspeaker spews out Brothers of the Nod's outerstellar overdrive, seeping more booze than a Hawkwind bootleg. Doom-kosmische dirtbags of the world, unite.
De l'enregipirement strate présentant Hawkwind de Josh Rohs:
(Traduit par l'aurore boréale de Julie Mayer)
On t'a menti. Observe l'aiguille de ta boussole. La déclinaison magnétique fait un clin d'oeil au nord plus vrai que le nord vrai: le point milieu exact entre Waterloo et Saskatoon. À cet endroit se dresse un mégalithe, une obsidienne colorée enveloppée dans un ondoyant fuzz fraternel. Un haut-parleur crache la suractivité hors-stellaire de Brothers of the Nod et suinte plus de gnôle qu'un enregistrement pirate présentant Hawkwind. Marginaux doom-kosmische, unissez-vous!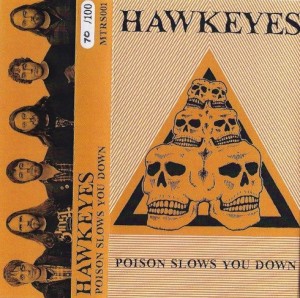 Hawkeyes
Poison Slows You Down
(Self Released)
Waterloo, ON
From the elephant march of Javier Fuentes:
No amount of sunbathing or vitamin supplements can prepare the body for the gut-shifting force contained within Hawkeyes' black hole riffs. Running the earth's energy fields through a chain of fuzz pedals and phasers, notes swirl violently in a spectacle that recalls memories of a recent tornado. The lurching advances of screaming frequencies march down decimated paths to the beat of thundering rhythms that hit the ground like flashes of dry lightning. Obsidian squalls enter the sightlines in the form of a distant mirage. The illusion creeps closer and closer, yet the real image barely takes a step forward. Quit looking ahead, you've already sunk to the earth's core.
De la marche éléphantesque de Javier Fuentes:
(Traduit des ondes électromagnétiques de Catherine Gaucher)
Aucune quantité de rayons solaires ou de suppléments vitaminiques ne peut préparer votre corps à la force aspirante contenue dans les accords dignes d'un trou noir d'Hawkeyes. Transformant les champs de l'énergie terrestre à l'aide d'une chaîne de pédales fuzz et de modulateurs de phase, les notes s'agitent violemment dans un spectacle qui rappelle le souvenir d'une récente tornade. De chancelantes progressions de fréquences perçantes empruntent une route décimée et la cadence de leurs rythmes tonitruants frappent le sol tels des éclairs. Des rafales d'obsidiennes traversent notre champ de vision sous la forme d'un lointain mirage. L'illusion se rapproche de plus en plus près, mais l'image réelle avance à peine. Cessez de regarder au loin, vous vous êtes déjà enfoncés dans le noyau de la Terre.
---