Tag: hard rock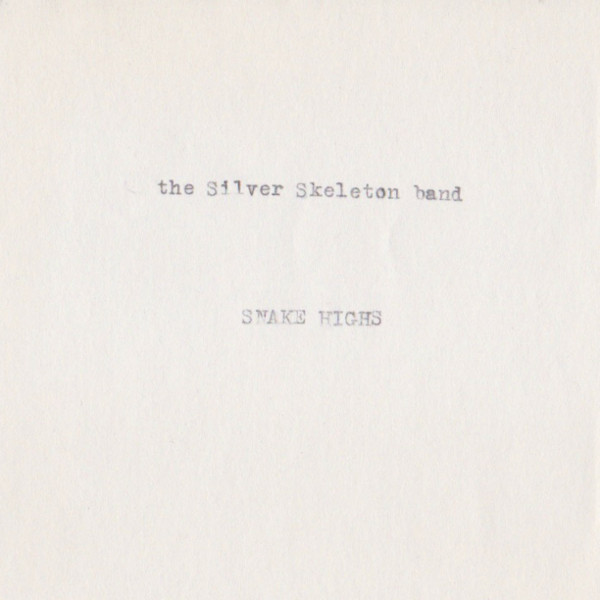 Nick Dirksen and the gang have returned with another collection of ghoulish shanties that cast spells on your corporeal functions and drive you to dance. Next thing you know, you're throwing back strange brews with Dante at his Inferno beach party to welcome the recently deceased. These dudes surely surf the same lysergic waves as Dennis Wilson and the dark side of the Beach Boys, as their cult of nostalgia worships and apotheosizes the shadowy transgressions of the venerated past.
The Silver Skeleton Band
Snake Highs
(Self Released)
Vancouver, BC
From the ghoulish shanties of Trevor Blumas:
Nick Dirksen and the gang have returned with another collection of ghoulish shanties that cast spells on your corporeal functions and drive you to dance. Next thing you know, you're throwing back strange brews with Dante at his Inferno beach party to welcome the recently deceased. These dudes surely surf the same lysergic waves as Dennis Wilson and the dark side of the Beach Boys, as their cult of nostalgia worships and apotheosizes the shadowy transgressions of the venerated past.
Des chansons de marin macabres de Trevor Blumas:
(Traduit par Andréanne Dion)
Nick Dirksen et sa bande sont de retour avec une nouvelle collection de chansons de marin macabres qui jettent un sort sur vos fonctions corporelles et qui vous poussent à danser. Tout à coup, vous êtes sur la plage en train de boire des boissons étranges avec Dante, à un party de bienvenue pour les récemment défunts. Ces gars surfent sans doute sur les mêmes vagues lysergiques que Dennis Wilson et le côté sombre des Beach Boys, alors que leur culte nostalgique adore et glorifie les transgressions obscures d'un passé vénérable.
The Silver Skeleton Band – Isolation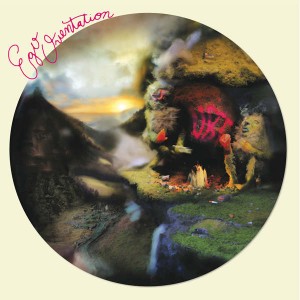 UBT
Ego Orientation
Montréal, QC
From the cool cave stomp of Jesse Locke:
Following his reign as riff-wielding high Priestess, Mikey Heppner has left the kingdom of metal for the paisley-punk patch. As UBT (née Uncle Bad Touch) the trio thumbs a ride to the intersection of Bolan, Lynott and McGuinn, but this is Psychedelic Psunday taken over by the brats. That damn flute is sure to steal the limelight, but credit is due to the cowbell, the handclaps and the effortless hooks. Two lighters up. Crucial grip. Psychic Handshake EFF TEE DOUBLE YEW.
Du tapage des cavernes de Jesse Locke:
(Traduit par les motifs cachemire de Vincent Rondeau)
Après avoir manié le sceptre du riff chez Priestess, Mikey Heppner a quitté le royaume du métal pour élire domicile dans les pâturages du punk aux motifs cachemire. Le trio UBT (anciennement Uncle Bad Touch) se dirige vers l'intersection de Bolan, Lynott et McGuinn sur le pouce, mais ici, c'est comme si les jeunes morveux avaient pris le contrôle de Psychedelic Psunday. La maudite flûte va probablement voler la vedette, mais il faut aussi souligner l'apport de la cloche à vache, des claps et des mélodies accrocheuses à souhait. Sortez vos lighters et de grâce, saisissez cette soucoupe. Psychic Handshake FTW.

UBT – The Boys Are Out For Blood
UBT – John The Painter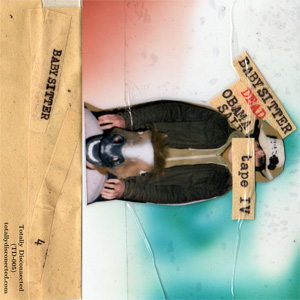 Babysitter
Tape IV
Victoria, B.C.
From the witch's finger of Jesse Locke:
The latest chapter in the Babysitter's club saga finds Victoria's finest sticking to the plot with a few fresh twists. Tape IV's revolution rock riff-o-rama is as gloriously busted as ever, teeming with teenage lobotomy jangle and howled manifestos to tear down the walls. Yet this time around, the band also dims the lights for a jellybean slow dance with your junior high squeeze, then smokes out the gym for the eight-minute blazer jam "Marijuana Overdrive." Lock up your daughters and look for these hooligans crossing Canada in the fall.
Du doigt de sorcière de Jesse Locke:
(Traduit par Odile Leclerc)
Le dernier chapitre dans la saga des Babysitters trouve les plus raffinés de Victoria suivant l'intrigue avec quelques tournures fraîches. Le riff-o-rama de rock révolution de Tape IV est aussi glorieusement éclaté que jamais, grouillant de cliquetis de lobotomie d'adolescence et a hurlé manifeste pour mettre les murs à terre. Mais encore cette fois, le groupe tamise aussi les lumières pour un danse slow de jellybean avec votre pincement de junior secondaire, puis enfume le gymnase pour le jam blazer de huit minutes ''Marijuana Overdrive.'' Enfermez vos filles et faites attention à ces voyous traversant le Canada durant l'automne.
[audio:http://weirdcanada.com/wp-content/uploads/2011/07/Weird_Canada-Babysitter-01_born_superior.mp3|titles=Babysitter – Born Superior] Babysitter – Born Superior
[audio:http://weirdcanada.com/binary/Weird_Canada-Babysitter-10_1000_girls.mp3|titles=Babysitter – 1000 Girls] Babysitter – 1000 Girls
[audio:http://weirdcanada.com/wp-content/uploads/2011/07/Weird_Canada-Babysitter-04_Waste.mp3|titles=Babysitter – Waste] Babysitter – Waste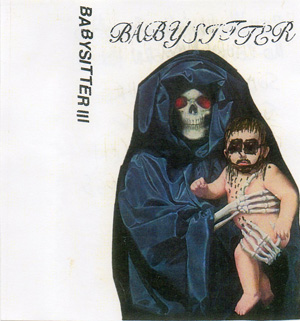 Babysitter
Tape III
(Self Released)
Victoria, BC
From the sibling rivalry of Joni Sadler and Aaron Levin:
Babysitting is a rite of passage for many suburban teens, much like drinking covert beer and jamming the Stooges is for many more a rebellious youth. It's not a stretch to think that the dudes of Babysitter spent their formative years doing just that – listening to beer-drenched shreddery built from minimal beats, lacerating riffs and howling vocals. Thankfully, they play it all with enough recklessness and discipline to make it seem genuinely wild, permeating your mind with brilliant teenage nostalgia.
De la rivalité légère entre Joni Sadler et Aaron Levin: (Traduit par la sœur plus talentueuse de Maya Keshav)
Le baby-sitting, c'est un rite de passage pour nombreux ados de banlieue, tout comme boire de la bière secrète et passer les Stooges l'est pour nombreux ados plus rebelles. Ce n'est pas ridicule de supposer que les gars de Babysitter ont passé leurs jeunesses à faire exactement ça: écouter le shred trempé de bière construit des rythmes minimaux, les riffs déchirants et le chant hurlant. Heureusement, ils jouent tout ça avec assez d'abandon et de discipline pour qu'il y ait l'air réellement fou, en pénétrant ta tête avec la nostalgie brillante de l'adolescence.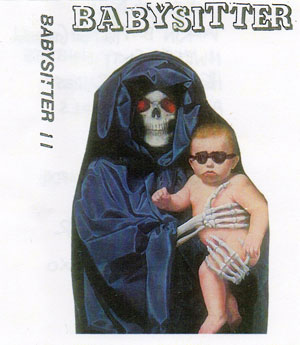 Babysitter
Babysitter II
(Self Released)
Victoria, BC
From the gnu generation of Aaron Levin
Leaping over formidable heaps of genre-fuckery, Victoria's Babysitter have eclipsed the cresting waves of our modern pop singularity. Babysitter II is an enslaving excursion into hybridized pop-punk and thrash-it-yourself hard-rock with the wildest hook-filled gruntfoolery that-side of anywhere. Tuneless jangles permeate the anthemic hooks ("never gonna die! never gonna die! never gonna die!") while ripping leads, busted solos, and unmitigated rhythmania hurl Babysitter II through your aural ethosphere. A real favorite around Weird Canada HQ, spawning multiple e-mail threads and putting into question my e-mail organization skills (lesson: if you don't hear back, try again). GRIPORDIE!!!!
Writer's Byline Writer's Name:
(Traduit par Translator's Name)
French Review

Babysitter – Nineteen Sixty Nineties


Babysitter – Talkin' 'Bout the New Generation


Babysitter – Angel of Death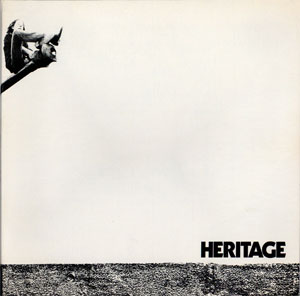 Christmas
Heritage
(Daffodil)
Oshawa, ON
Originally Released: 1970
From the spirited christmas of Aaron Levin:
Bob Bryden's recorded legacy is a humbling testament to the zenith of teenage creative potential. At the age of eighteen, Bob walked into a studio to record his fourth LP, the second under the banner of his hand-picked band Christmas (having already recorded two LPs as a leading member of Reign Ghost). Heritage remains a brilliant synthesis of lysergic hard-rock and the emerging streams of progressive shreddery. Crisp, punchy drums burst through the continuous leads, crunchy guitar, and trademark machine-gun bass lines to reveal an imaginative, surprising, and radiant vision of pop musics' future. One of the best and most creative records released in Canada and a great way to start adventuring within Byrden's amazing career.
Du Noël plein d'entrain d'Aaron Levin: (Traduit par l'héritage de Maya Keshav)
La contribution enregistrée de Bob Bryden est un témoignage au zénith du potentiel créative adolescente qui rend humble. À l'age de 18 ans, Bob est entré dans un studio pour enregistrer son quatrième LP, le deuxième sous le drapeau de son groupe trié sur le volet, Christmas (ayant déjà enregistré deux LPs en tant que membre principal de Reign Ghost). Heritage reste une synthèse brillante du hard-rock lysergique et des courants émergents du shred progressif. La batterie croquant et pêchue transperce les mélodies continues, la guitare croustillante, et les mélodies de basse caractèristique à l'air d'une mitrailleuse pour révéler une vision imaginative, surprenante, et radieuse de l'avenir de la pop. Un enregistrement parmi les meilleurs et les plus créatifs publiés au Canada, et une merveilleuse façon de commencer à s'aventurer dans la carrière extraordinaire de Bryden.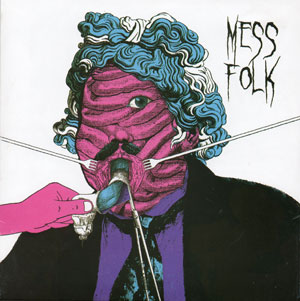 Mess Folk
Modern Man 7″
Sydney, NS
From the modern methods of Aaron Levin:
Another strange tangent for Sydney's unruly mastodon whose flagrant exposé into rock's genetic grammar will drop needles and crank heads. The tar-pond ensemble jumped into the studio for a deluxe release on France's Plastic Spoon Records, resulting in a strangely clear vision into the damaged mind of lead songwriter Philip Tarr; blistering hard-rock riding a drug-laced 70s high cut with modern nihilism and philosophical solos. RIPPIN'.
DDes méthodes modernes d'Aaron Levin:
(Traduit par Odile Leclerc)
Une autre tangente étrange pour l'incontrôlable mastodonte de Sydney dont le flagrant exposé dans la grammaire génétique du rock va faire jouer les vinyles et faire tourner les têtes. L'ensemble de marre-de-goudron a sauté dans le studio pour une sortie de luxe sur les Plastic Spoon Records de France, résultant en une vision étrangement claire dans l'esprit endommagé du compositeur en chef Philip Tarr; du brûlant hard-rock chevauchant une haute couture lacée de drogue des années 70 avec un nihilisme moderne et des solos philosophe. DÉCHIRANT.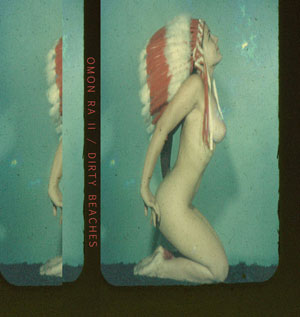 Omon Ra II / Dirty Beaches
Omon Ra II / Dirty Beaches
Montreal, QC // Vancouver, BC
From the staff of (omon) Ra, as wielded by Aaron Levin:
Omon Ra II lands in Montreal and immediately unleashes a seething explosion of post-hyperbole psych-punk: relentless equalizer rejection and blazing guitar shreddery battling for every magnetic millimeter. Meanwhile, Dirty Beaches departs Montreal for sunny Vancouver and metamorphoses into wild nullophonic mystic rockisms; wasted, minimally-greased rockabilly for deadbeat cowboys and vintage thuggery. An odd paring, but this isn't the first time the Omon moniker sat beside something equally disparate. Mind = blown.
Du bâton de (omon) Râ, manié par Aaron Levin:
Omon Ra II arrive à Montréal et lance immédiatement une explosion cinglante de psych-punk post-hyperbole: le rejet d'égaliseur incessant et la déchiqueterie torride de guitare combattent pour chaque millimètre magnétique. Au même temps, Dirty Beaches quitte Montréal pour le Vancouver ensoleillé et se transforme en rockessences mystiques, nullophoniques et folles; c'est le rockabilly bourré et minimalement graissé pour les cowboys bons à rien et la brutalité rétro. C'est un jumelage bizarre, mais ce n'est pas la première fois que le nom Omon s'est assis à côté de quelque chose également disparate. B o u l e v e r s a n t .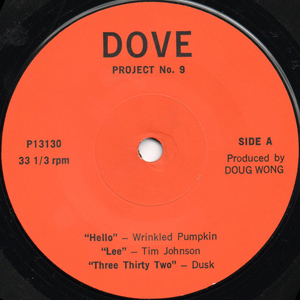 Various Artists
Dove Project No. 9
Calgary, AB (Originally Released: 1970)
From the partially-ordered, semi-continuous grippage of Aaron Levin:
We have witnessed the possessed meanderings of teenagers pushed to the creative fringe for years. It's not uncommon these days for some residential weirdo to emerge from their suburban cave with a MySpace full of damaged sounds teetering on the edge of unsanity. This was not the case for Canada's underground rock scene of the 60s, whose output pales numerically to our American counterparts, owing to a lack of custom pressing plants and home-recording equipment. Which is why it's incredible that Calgarian Doug Wong, at the tail end of 1969, when psychedelic music delivered its last blow to the world's unsuspecting youth, decided to package the last issue of his high-school newspaper with a 7″ of school "rock bands" (I've posted the full story here). The resulting 7″ has become a truly bewildering artifact of Canada's marginalized fringe music community: a compilation of unfettered teenage expression; trashy, face-melting, fuzz-drenched glorious hard-rock mingling amongst Dylan-inspired folk and sunshine pop. A beautiful peak into the small lives of folk-club weirdos at a time when their sounds usually withered and vanished. Amazing and incredibly rare. This is the third time I've written about this record and it still astounds me.
Du grippage semi continu et partiellement ordonné d'Aaron Levin:
(Traduit par Maya Keshav)
Nous avons été témoins des méandres possédées d'adolescents poussés à la lisière du créatif pendant des années. Ce n'est pas non-commun ces jours pour un quelconque bizarroïde résidentiel d'émerger de sa grotte de banlieue avec un Myspace plein de sons endommagés se balançant sur le bord de la folie. Ce n'était pas le cas pour la scène rock clandestine des années 60 au Canada, dont les résultats palissent numériquement face à notre contrepartie Américaine, le devant à un manque d'habitude pressant les plantes et l'équipement d'enregistrement maison. Voilà pourquoi c'est incroyable que le Calgarien Doug Wong, à la fin de 1969, quand la musique psychédélique livrait son dernier coup à la jeunesse innocente de monde, décidait d'emballer la dernière parution du journal de son école secondaire avec un 7'' du ''groupe rock'' d'école (j'ai publié l'histoire complète ici.) Le 7'' résultant est devenu un artéfact vraiment ahurissant de la communauté de musique en lisière marginalisée du Canada : une compilation de libres expressions d'adolescents; de sales solos de guitare, du glorieux hard-rock trempé de flous se mélangeant parmi le peuple inspiré de Dylan et de lumière de pop. Un magnifique regard dans les petites vies des bizarroïdes de club à un temps où leurs sons fanaient et disparaissaient habituellement. Stupéfiant et incroyablement rare. C'est la troisième fois que j'ai écrit cet enregistrement et il m'ébahit encore.
Sundance Reunion – I'm Leaving
---