Tag: hand drawn dracula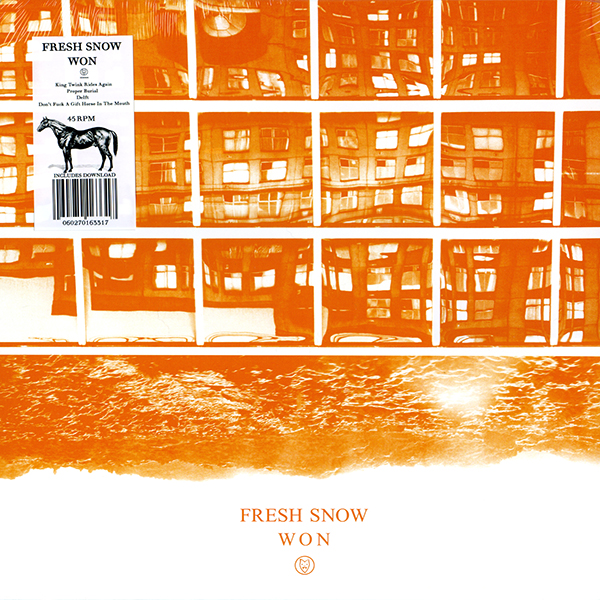 Fresh Snow
WON
Toronto, ON
From the frozen technology of Brendan Lehman:
City streets, forest paths; in and out, up and down. Running from one dirty thrill to the next euphoric hell. Fresh Snow is the score to your chase, sprinting with you as the graceful noise tears down walls and trees alike. Yet still, the sun will rise tomorrow.
De la technologie gelée de Brendan Lehman:
(Traduit par le soleil pensif de Maya Keshav)
Les rues de la ville, les chemins forestiers; ici et là, en haut et en bas. En courant d'un frisson louche vers le prochain enfer euphorique. Fresh-Snow est la bande sonore de ta chasse, qui court à toute vitesse avec toi pendant que les bruits gracieux démolissent les murs et les arbres. Mais tout de même, le soleil se lèvera demain.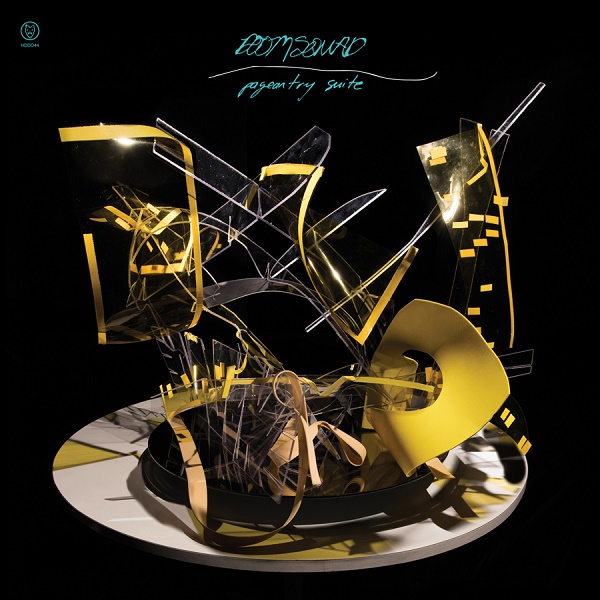 Doomsquad
Pageantry Suite
Toronto, ON
From the sleep deprived trips of Mitch Jackson:
There's a scene in what is objectively the greatest Canadian movie of all time, Hard Core Logo, where a goat is murdered in a bloody, drug induced ritual with a chainsaw. The scene is trippy, frightening and puts you in a weird kind of trance that you can't really escape; until you snap out of it and realize that a goat was murdered and you drank its blood. This EP is kind of like that.
Des voyages en manque de sommeil de Mitch Jackson:
(Traduit par les crises de somnambulisme de Julie Mayer)
Il y a une scène, dans ce qui est (d'un point de vue objectif) le plus grand film canadien de tous les temps, Hard Core Logo, où une chèvre se fait trucider à l'aide d'une tronçonneuse lors d'un rituel sanglant accompli sous l'influence de la drogue. La scène est trippante, épeurante et te plonge dans une sorte de transe bizarre de laquelle tu ne peux pas vraiment t'échapper; jusqu'à ce que tu t'en sortes et que tu te rendes compte qu'une chèvre s'est fait trucider et que tu as bu son sang. Cet EP, c'est à peu près ça.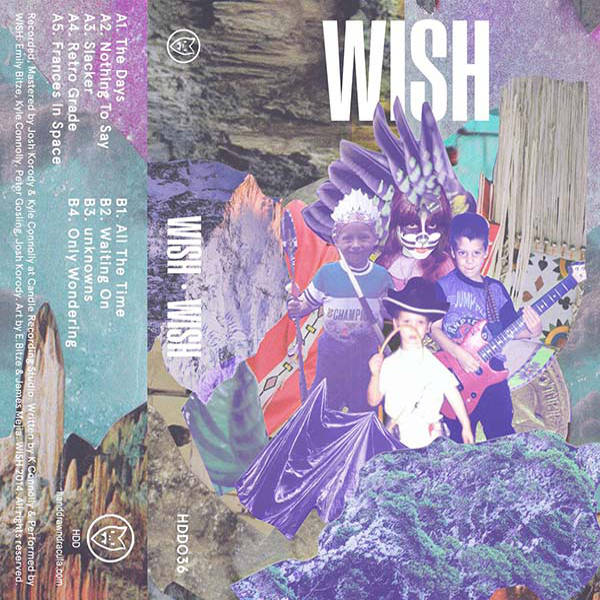 From the faded pink noodle of Trevor Blumas:
Comprising members of Beliefs, Milk Lines, and Decades, WISH shreds your youth through a cheese grater and melts it onto a scratched up CD. They cut, copy and time-stretch your first high and place it into your permanent present. Memories of those post-raided-liquor-cabinet-head-spins are turned into a ride at Disneyland. Cool off from those pre-responsibility slacker summers by skinny-dipping in WISH's noise pool. Their soft bedroom vocals, apple-bong ejaculate guitars, and joy-riding rhythms create the perfect temperature to float in with a faded pink noodle and a cherry cola laudanum cocktail.
De la nouille rose décolorée de Trevor Blumas:
(Traduit par la piscine gonflable de Jessica Grenier)
Composés de membres de Beliefs, de Milk Lines, et de Decades, WISH frottent ta jeunesse sur une râpe à fromage et la fondent en un CD grafigné. Ils copient/collent ton premier high et l'étirent jusqu'à ce qu'il devienne un présent perpétuel. Les souvenirs de vertiges « post-abus de fort » sont changés en manège de Disneyland. Repose-toi de ces préresponsabilités estivales de paresseux en sautant tout nu dans la piscine de bruit de WISH. Ces douces voix de chambre à coucher, ces éjaculats de guitares en pomme-pipe et ces rythmes de balade en voiture créent le climat parfait pour se laisser flotter sur une nouille rose décolorée avec un cocktail laudanum-coke aux cerises.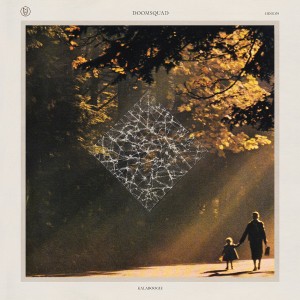 Doomsquad
Kalaboogie
Toronto, ON // Montréal, QC
From the heard terminus of Adam Bradley:
Born from the marriage of Moon and Crocodile, they emerge fully formed from the holy soil of eroded aeons. The bones of all beings rattle, their cells vibrating, muscles trembling. Skies heathered dark, lighting explodes across the earth as these three beings, contrived of the same infinite blood, rise higher, higher. Six iridescent eyes penetrate the minds of every man, woman, child. Their mouths move in union, with words heard heavily and forever: "Hear. The Terminus Approaches. So Now. Dance."
Du terminus entendu d'Adam Bradley:
(Traduit par Vincent Rondeau)
Nés de la rencontre de la lune et du crocodile, ils jaillissent à l'état adulte hors du sol sanctifié des éternités corrompues. Chaque créature sent ses os tressaillir, ses cellules vibrer, ses muscles trembler. Sous la bruyère sombre des cieux, une explosion d'éclairs parcourt la terre et ces trois êtres, engendrés du même sang infini, s'élèvent toujours plus haut. Six yeux irisés pénètrent l'esprit de chaque homme, femme et enfant. Leurs bouches prononcent à l'unisson ces mots, qui résonnent pesamment et perpétuellement : « Hear. The Terminus Approaches. So Now. Dance. » (« Entendez. Le terminus approche. Alors maintenant. Dansez. »)

Doomsquad – Head Spirit (for our Mechanical Time)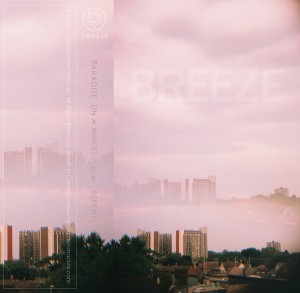 Breeze
Paradise / Repent
Toronto, ON
From the disembodied now of V. Rachel Weldon:
Rapid. Eye. Movement. Breeze's dreamy debut cassingle is a siren song from rose-tinted utopia. Running, or dancing, it inspires oscillatory movement, limbs pumping with ecstatic strokes, and a meter that reverberates throughout from wall to hollow tissue wall of sound. On the two-track cassette from Toronto label Hand Drawn Dracula, dreamweaver Josh Korody opens the perceptual door, and leads us on a stroll through the poppy field. White sneakers, splattered with the romantic muck of teenage nostalgia, disembodied now, tread the bent stems. And as we gaze at them, they become conductors, gorging on static, free floating sole-up atop the interference. Faces smear in your peripherals as your eyelids flicker like bat wings. No one's smiling, but everyone feels fine.
De la désincarnée Rachel Weldon:
(Traduit par l'éternelle adolescente Audrey Roy)
Mouvement. Rapide. De l'œil. L'onirique première cassette single de Breeze est un chant de sirène s'échappant d'une utopie teintée en rose. Que ce soit en courant ou en dansant, cette chanson inspire des mouvements frénétiques et oscillatoires aux membres du corps, qu'ils soient de briques ou de dentelles dans le mur de son, une pulsation miroite. Sur la cassette à deux morceaux de l'étiquette torontoise Hand Drawn Dracula, Josh Korody, tisseur de rêves, ouvre une porte perceptuelle et nous emmènent en balade dans un champ de coquelicots. De vielles baskets blanches vides, tâchées romantiquement de nostalgie adolescente et d'insouciance piétinent ces jolies fleurs et les brisent de leur poids. En les suivant du regard elles deviennent des conducteurs, se gorgent d'électricité statique, flottent librement, et disparaissent comme au-dessus d'interférence. Au coin de l'œil, des visages apparaissent, alors que les paupières battent à la vitesse d'ailes de chauve-souris. Personne ne sourit, mais tout le monde va bien.
Breeze – Paradise (in a while)
Beliefs
Beliefs
Toronto, ON
From the fuzzy lovechild of V. Rachel Weldon:
Not long after MBV's 22-years-in-the-making follow up, Toronto's Beliefs conceive their own nu-gaze lovechild, baptized in these and other seminal influences. The layers of fuzzy lo-fi insulation dreamily wash over the subdued vocal harmonies, sleeve-tugging at teenage angst, heartache and emotional lethargy, virtually utopian as they fizzle out in self-defeat. This is noise for the early morning, stained with insomnia and cigarettes — music for yesterdays, not tomorrows.
De l'enfant illégitime de l'amour fuzz de V. Rachel Weldon:
(Traduit de façon nostalgique par Catherine Debard)
Peu de temps après que MBV nous offre la tant-attendue-rêvée-fantasmée suite à Loveless, le groupe torontois Beliefs conçoit son propre rejeton néo-gaze, baptisé dans un large bassin d'influences primordiales. Les vagues isolantes de fuzz lo-fi déferlent comme un rêve sur les harmonies vocales tamisées, rendant hommage aux névroses adolescentes, aux cœurs brisés et aux léthargies émotionnelles, virtuellement utopiques tandis qu'elles s'essoufflent et se désagrègent. Voilà du bruit pour les matins cernés, tachés d'insomnie et de cigarettes – de la musique pour les journées passées, et non pour celles de demain.
---