Tag: hamilton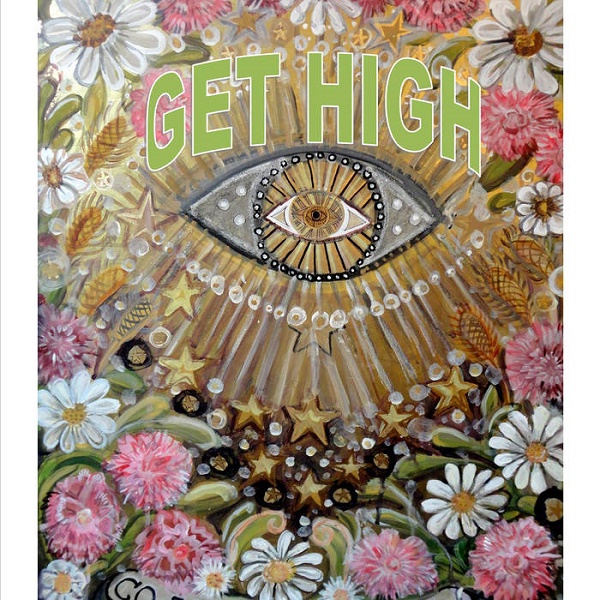 Juliana Lachance
Get High
(Self-Released)
Hamilton, ON
From the gentle whip of Doreen Girard:
Get High is a collection of eight songs from Hamilton, Ontario's Juliana Lachance. This Sweet Music springs from below the water, a distant sound you unconsciously follow while wading into shallow pools and marking the soft sand with smaller foot shaped pools. Anointed with the liquid timbre of reverb bathed bandura and vocals, you sink slowly into the warmth and current, feeling the gentle whip of a sturgeon across your skin as it endures its endless swim.
Par le léger fouet de Doreen Girard:
(Traduit par l'ivresse féérique d' Émily Traichel)
« Get High » est une collection de huit chansons par Juliana Lachance de Hamilton en Ontario. Cette belle musique jaillit des profondeurs, un son lointain que l'on suit par instinct, en traversant des étendues d'eau peu profondes et en marquant le sable mou de petites nappes d'eau en forme de pieds. Oint du timbre liquide de la bandura et du chant baignés dans la réverbe, on s'immerge tranquillement dans la chaleur et dans le courant, sentant le léger fouet d'un esturgeon nous frôler la peau, lui qui endure sa nage éternelle.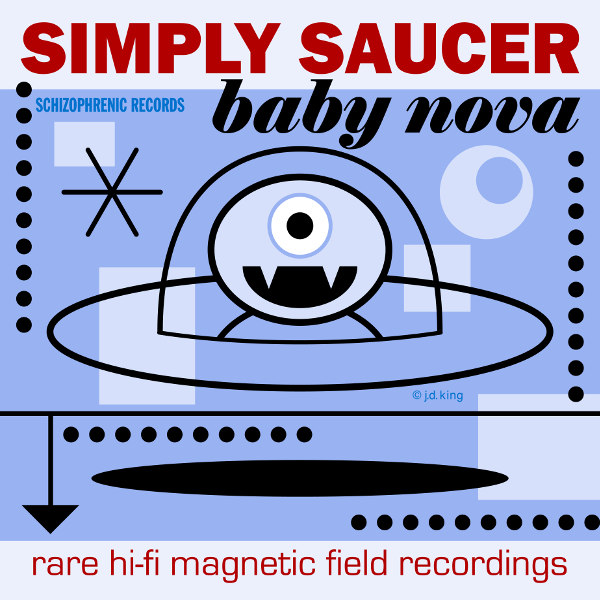 Simply Saucer
Baby Nova
Hamilton, ON
From the stellar remnants of Jesse Locke:
The cosmic late pass handed to Hamilton's outerstellar statesmen Simply Saucer extends to this EP, with songs written between '74-76, recorded in 2011, and finally released in 2014. The Baby Nova sessions were laid down at Detroit's Ghetto Recorders, with the reformed touring group at a tough-as-nails zenith. Local luminary McKinkey Jackson lends some pounding keys and swirling B3 to a pair of tunes, but the real standouts are the gut-churning title track and gentle lull of "I Take It", previously channeled in lysergic fashion by the UK's Earthling Society. Hitch a ride on this scorching hot spacecraft.
Des restes stellaires de Jesse Locke:
(Traduit par la macabre supernova d' AnneMarie Papillon)
Le billet de retard cosmique remis à Simply Saucer s'étend jusqu'à ce EP avec des chansons écrites entre 1974 et 1976, enregistrées en 2011 et sorties en 2014. Les sessions Baby Nova ont pris place au Ghetto Recorders de Détroit avec l'ancien groupe de tournée à son plein apogée. La sommité locale McKinkey Jackson a prêté quelques martèlements de clés et un tournoiement de B3 sur deux chansons, mais ce qui marque le plus est la macabre chanson-titre « I Take It » et sa douce accalmie, morceau précédemment canalisé de façon lysergique par Earthling Society du Royaume-Uni. Demande un lift sur ce vaisseau spatial torride.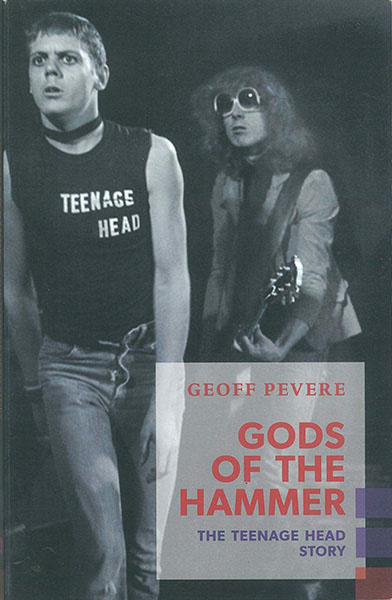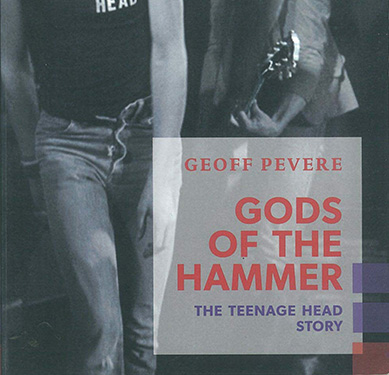 Gods of the Hammer: The Teenage Head Story
Geoff Pevere
136 pages, soft-cover, perfect bound
Toronto, ON
From the hormone-addled mind of Brian Fauteux:
From Hamilton to Toronto and beyond, Gods of the Hammer is a journey through the ups and downs of Teenage Head. With a basement-born work ethic Teenage Head emerged in the late 1970s with an urge to react against the "old ways of making noise". This reaction was propelled by sites that helped build a scene around the band. The Ontario College of Art, the basement of the Colonial Tavern on Yonge Street, and the Horseshoe Tavern.
Pevere is present in the story of Teenage Head, as a fan both then and now. He cuts in with thoughts on and memories of the band then and now. We experience the release of Teenage Head in 1979 when the recorded album was though to not match the intensity of the band's live show. Today, Pevere tells us that the album has reached "classic status." His "ears hear it differently now than they did back then."
Punk's place in popular music history is full of stories about sounds and scenes in New York and the U.K. but Canada remains fairly undocumented and under-appreciated. This is changing for the better with the help of Gods of the Hammer.
De l'esprit sous l'influence des hormones de Brian Fauteux:
(Traduit par la froideur logique de Louis-Félix Pellerin)
De Hamilton à Toronto et plus loin encore, Gods of the Hammer est un périple à travers les hauts et les bas de Teenage Head. Avec une déontologie qui a vu le jour dans un sous-sol, Teenage Head a émergé dans les années 70 avec une forte envie d'aller à l'encontre des "anciennes méthodes de création du son". Cette réaction a été amorcée par des sites qui ont contribué à créer une scène autour du band comme l'Université de l'École de l'art et du design d'Ontario, le sous-sol de la Colonial Tavern sur la rue Yonge et la Horseshoe Tavern.
Pevere est un fan, alors et maintenant, avec une présence intégrale dans l'histoire de Teenage Head. Il s'interpose avec les pensées et les souvenirs du groupe, alors et maintenant. On revit [la sortie de Teenage Head en 1979] (https://www.youtube.com/watch?v=v45OxMvZOpQ, lorsqu'il était dit que l'album studio n'accotait pas l'intensité des représentations en direct du groupe. Selon Pevere, l'album est aujourd'hui considéré comme un "classique". Ses "oreilles l'entendent différemment qu'ils l'entendaient dans le temps."
La place du punk dans l'histoire de la musique populaire est abondante d'histoires de sons et de scènes provenant de New York et du Royaume-Uni, mais le Canada reste non documenté et sa vraie valeur échappe à plusieurs. Mais, avec l'aide de Gods of the Hammer, la situation est en train de changer pour le meilleur.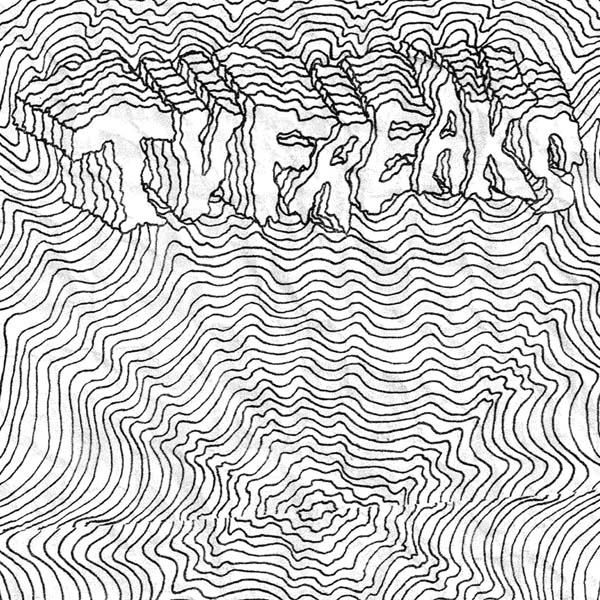 TV Freaks
Leeches 7″
Hamilton, ON
From the freak scene of Joel French:
The Freaks have never let me down. Beer. Blood. Sweat. Tears. Ponchos. Mayhem in underground parking garages. They party like maniacs and bring an energy everywhere they go. Their music hits hard and carries with it everything they are. No exceptions. Hosehead did a killer job in picking up this three-song banger of a 7".
De la scène freak de Joel French:
(Traduit par l'affolement de Julie Forget)
The Freaks ne m'ont jamais laissé tomber. Bière. Sang. Sueur. Larmes. Ponchos. Le désordre dans des stationnements souterrains. Ils fêtent comme des fous et débordent d'énergie partout où ils vont. Leur musique frappe fort et transporte avec elle tout ce que le groupe représente. Sans exception. Hosehead a fait un travail du tonnerre en sortant ce vinyle 7" de trois morceaux qui déchire.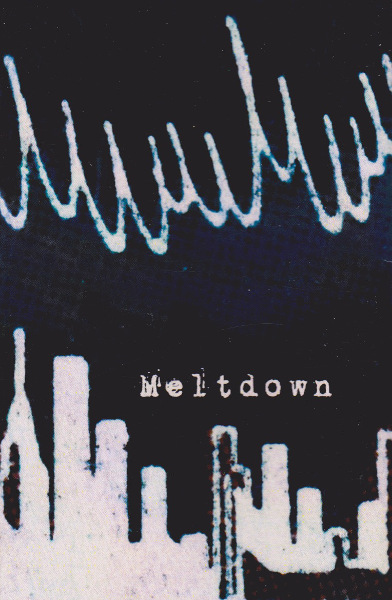 Longform mood-pieces rise to meet the crescendo of spaced-out galaticisms in this offering from the ever-astral Terrapin Recordings. Elements of post-rock, shoe- and psych-gaze coalesce above the spitting flames of lysergic spirit quests. These are deserts vast and open, air sparse and dry, oases of hallucinogenic fodder flashing and dissipating amidst the spiraling of sights masked as sounds. Chimeric pipe dreams flash with bright lights as dark skies swallow the infinite horizon, marking the great leap to castles in the sky.
No Shoes & One Sock
Meltdown!
Hamilton, ON
From the lysergic spirit quests of Joshua Robinson:
Longform mood-pieces rise to meet the crescendo of spaced-out galaticisms in this offering from the ever-astral Terrapin Recordings. Elements of post-rock, shoe- and psych-gaze coalesce above the spitting flames of lysergic spirit quests. These are deserts vast and open, air sparse and dry, oases of hallucinogenic fodder flashing and dissipating amidst the spiraling of sights masked as sounds. Chimeric pipe dreams flash with bright lights as dark skies swallow the infinite horizon, marking the great leap to castles in the sky.
Des quêtes spirituelles lysergiques de Joshua Robinson:
(Traduit par Andréanne Dion)
De longues chansons atmosphériques s'élèvent pour se mêler à une apogée galactique défoncée dans cette offrande des toujours stellaires Terrapin Recordings. Des éléments post-rock, shoe-gaze et psych-gaze s'unissent au-dessus des flammes étincelantes projetées par des quêtes spirituelles lysergiques. Ce sont des déserts vastes et ouverts où l'air est sec et se fait rare, où des oasis de consommations hallucinogènes apparaissent pour ensuite se dissiper au milieu de visions qui s'élèvent en spirales, déguisées en sons. Des utopies chimériques brillent d'une lumière vive, alors que le ciel noir avale l'horizon sans fin qui marque le grand saut à faire pour atteindre les châteaux qui flottent dans le ciel.

No Shoes & One Sock – Alpha (excerpt)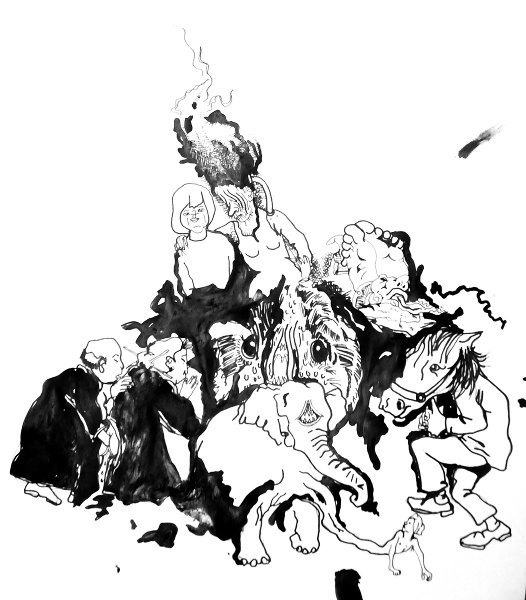 From the gloomy cave of James Lindsay:
The long awaited, highly anticipated long player from Hamilton's champions, WTCHS, feels like their patient maturation has finally paid off. After a string of well curated split cassettes, 7"s and a lathe, It's Not a Cross, It's a Curse! finally delivers lengthier, meatier recordings that can hold a candle to the intensity of their pummeling live shows. What once was gloomy cave-pop has been blown-up into cavernous death-rock that hits as hard as METZ's noise-grunge, while still carrying a similar musicianship and melodic charm in the spirit of the Dischord post-hardcore ilk. Hear and see them now before the rest of the world takes them away.
De la caverne glauque de James Lindsay James Lindsay:
(Traduit en direct du sous-sol lugubre de Louis-Félix Pellerin)
Le LP tant attendu des champions de Hamilton, WTCHS, donne l'impression que leur sereine maturation a fini par porter ses fruits. Après une série de cassettes split et de vinyles bien organisés ainsi qu'un tour, It's Not a Cross, It's a Curse! sort enfin des enregistrements plus longs et plus substantiels dont l'intensité est comparable à leurs représentations live. Ce qui était auparavant du pop de sous-sol morne s'est transformé en death rock caverneux aussi frappant que le noise-grunge de METZ, tout en conservant le charme mélodique dans l'esprit du posthardcore de Dischord, ainsi qu'une qualité musicale similaire. Écoutez-les, regardez-les avant que le reste du monde ne les emporte.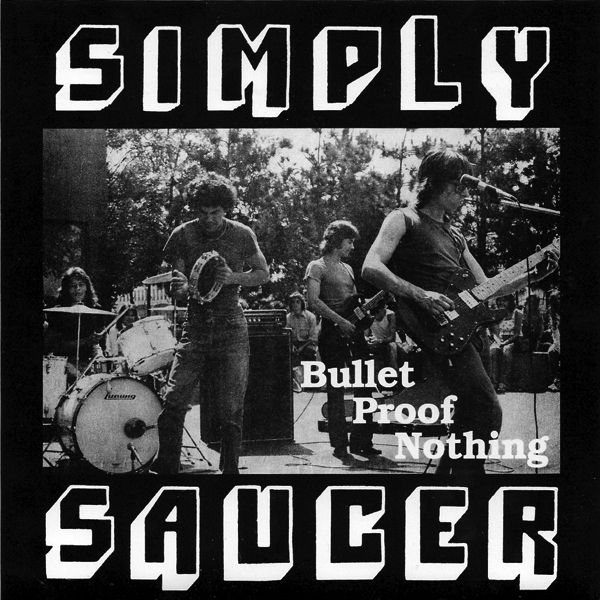 Simply Saucer
Bullet Proof Nothing
Hamilton, ON
From the point blank target of James Lindsay:
Here's a fantasy 7" that never was, but should have been, from Hamilton's once lost but now found golden sons, Simply Saucer. This song and its notorious chorus, from the group's legendary posthumous LP Cyborgs Revisited, finds the Steeltown cosmic-punks phasing out of their usual MC5 interstellar overdrive and basking in the warm glow of a big star. The b-side delivers a revved up live version that makes you want to add a date to your time machine's itinerary. Many thanks to Mammoth Cave for making this happen, and to Ugly Pop for coming up with the "what if" single concept.
De la cible à bout portant de James Lindsay:
(Traduit avec la plume enchantée de Geneviève Simard)
Voici un disque vinyle 7 pouces qui n'a jamais été fantasmé, mais qui aurait dû l'être, de la part des précieux fils d'Hamilton Simply Saucer, autrefois perdus, mais maintenant retrouvés. Cette chanson des membres célèbres du légendaire LP posthume Cyborgs Revisited montre les punks cosmiques de Steeltown qui abandonnent leur habituel MC5 interstellar overdrive pour se délecter de l'éclat chaleureux de Big star. La face B comprend une version en spectacle survoltée qui donne envie d'ajouter une date à l'itinéraire de sa machine à remonter le temps. Un grand merci à Mammoth Cave pour avoir permis à ce vinyle de voir le jour, et à Ugly Pop pour avoir trouvé le concept du single « what if ».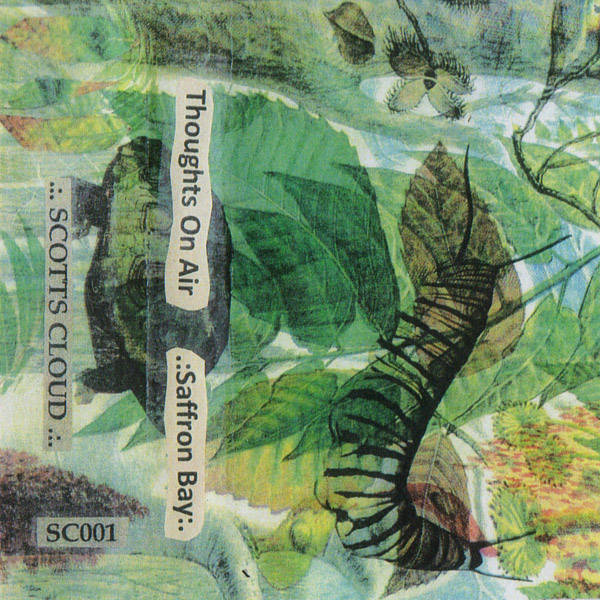 Thoughts On Air
Saffron Bay
(Scott's Cloud)
Hamilton, ON
From the psychic connections of Kevin Hainey:
On which Scott Cloud of Hammer, ON continues his elegiac ascent into the heavenly clouds of his namesake via Thoughts On Air, his hypnagogic melding of trance, drone, psychedelia, and glistening folk shanties. This cassette features two side-long trips across the light fantastic, and you're certainly bound to find yourself closer to the holy spirit of humankind having experienced it. Purely hypnotic chord hammering over river beds of murky tape music, and the voice of an angel shining through it all. Great stuff from the distant stars radiating its alien response.
Des connexions psychiques de Kevin Hainey:
(Traduit par Alike Harel)
Sur cet album, Scott Cloud de Hamilton (Ontario) poursuit son ascension homérique vers la voûte céleste — en toute aptonymie — grâce à Thoughts On Air, alliage léthargique de trance, de drone, de psychédélique et de ritournelles bien rissolées de flibustiers. La chorégraphie fantastique se prolonge sur toute la face A, puis la B… et, expérience personnelle à l'appui, vous vous sentirez assurément près du grand Esprit de l'humanité. Le martèlement des accords vous hypnotise carrément et suit le cours d'une rivière au son discordant de la bande magnétique; une voix d'ange perce la nuée musicale d'un bout à l'autre. Une bonne cuvée en provenance des confins de l'univers, où une forme de vie extraterrestre entonne une réponse aux humanoïdes.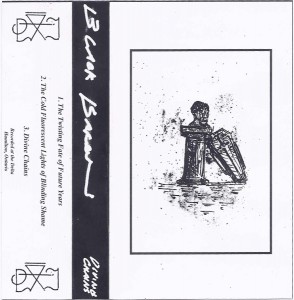 Black Baron
Divine Chains
Hamilton, ON
From the cold fluorescent light of Chizz Mbamalu:
From the second the drumsticks count the time in, you're swept into the underworld of Black Baron's Divine Chains. This tape is full of gloomy, droning vocals, atmospheric swells and thick, chunky drums that romanticize loaded subjects such as self-loathing and self-awareness. Each catchy, guitar-slathered song bleeds seamlessly into the other, as we are invited into their unspeakable journal entries. "The Cold Fluorescent Lights of Blinding Shame" combines speedy picking, barely-there bass and urgent drumming, giving a summery feel to the foreboding lyrics. The title track employs that same hornet-esque sound but slows it down, giving more priority to the dreamy guitars, passionate drumming and sombre lyrics of being trapped and trying to escape from pain.
This four-song tape ends as fast as it begins, which is incredibly necessary. Its purpose is to take you through the emotions you push deep down inside you, the ones you ignore. Black Baron reminds you that it's necessary to bring out your demons in order to understand yourself.
De la froide lumière fluo de Chizz Mbamalu:
(Traduit par Marcin Lasinski)
Dès le moment où les baguettes commencent battre la mesure, on est emporté vers le monde souterrain de Divine Chains par Black Baron. Cette cassette est pleine de chants sombres et ronronnants, de vagues d'ambiance et d'une batterie aux sonorités épaisses, idéalisant des sujets chargés comme la haine de soi et la conscience de soi. Chaque chanson entraînante est enduite de guitares qui se dissolvent les unes dans les autres pendant que nous sommes invités à consulter des extraits épouvantables de leurs journaux intimes. « The Cold Fluorescent Lights of Blinding Shame » est un mélange de picking rapide, de basse à peine audible et de batterie urgente, donnant un air estival aux paroles inquiétantes. La chanson-titre utilise le même son frelonesque mais le ralentit, donnant plus de priorité aux guitares chimériques, à la batterie passionnée et aux paroles sombres qui décrivent la sensation d'être pris au piège en tentant d'échapper à la souffrance.
Cette cassette de quatre chansons se termine aussi vite qu'elle a commencé, ce qui est absolument nécessaire. Elle a pour but de te guider à travers tes émotions refoulées, celles que tu ignores. Black Baron te rappelle que c'est nécessaire de faire ressortir tes démons afin de te connaître toi-même.

Black Baron – The Cold Fluorescent Light Of Blinding Shame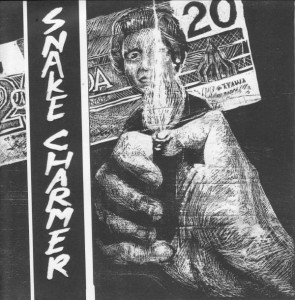 Snake Charmer
7"
(Self Released)
Hamilton, ON
From the heralded cacophony of Liam Kennedy:
Dateline: Hardcore Hamilton. What's audible is a powerful energy release manifesting in squealing feedback and blast beats. What's apparent from the cover art and lyrics is an anger with Canada's militarism contrasted with an internationally promoted peacemaker image. This cacophony may herald the welcome return of political hardcore. The relative lack of political music in general leaves the impression of generational apathy towards how much and how quickly our country has changed. When the sky bled and nature screamed for Edvard Munch he knew the world was alive. At the very least, this strident frustration feels like it cares. Consider both sides of Snake Charmer's 7" a rival national anthem.
De la proclamation cacophonique de Liam Kennedy:
(Traduit des signes avant-coureurs de Catherine Gaucher)
Lieu de rédaction : Hardcore Hamilton. Ce qui est audible, c'est une puissante libération d'énergie se manifestant par de grinçantes réverbérations et des rythmes explosifs. Ce qui ressort de l'imagerie de la pochette et des paroles des chansons est une colère contre le militarisme du Canada contrastant avec la prédication de son image pacificatrice mondialement. Cette cacophonie peut annoncer le retour bienvenu d'un hardcore conscient politiquement. L'absence globale de musique à contenu politique laisse une impression d'apathie générationnelle par rapport à combien notre pays a changé et à quel point il l'a fait rapidement. Quand le ciel saigna et quand la nature cria pour Edvard Munch, il eut conscience que le monde était vivant. À tout le moins, cette stridente sensation de frustration lui donne le sentiment que l'univers est attentif. Considérez chaque côté du 7 pouces de Snake Charmer comme le rival d'un hymne national.
---