Tag: halifax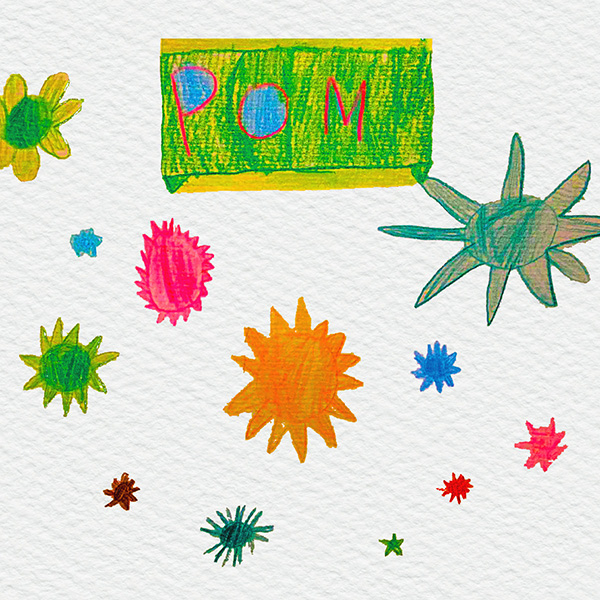 POM
POM EP
Self-released
Toronto, ON
From the archives of Mike Roi's Äppärät:
The Internet. Digital echoes become reflections of ourselves from the ideals (and flaws) of our bodies in the form of endless retweets, reactions and likes. This is nothing new, but POM find the beauty and horror lying in this relationship rallying to infinity. The syncopated rhythms of POM's instrumentals feel coolly calculated, but underscored by it all is the incongruent marriage of the real and the programmed. Its incompatibility knows no limits, but there is a thrill in the known and unknown beauty created by the shifting powers of control. "Take time to look inside – you're mine".
Archivée dans l'äppärät de Mike Roi:
(Traduit par l'encrier kaléidoscopique de Julie Mayer)
L'Internet. Les échos numériques deviennent les reflets de nous-mêmes, les idéaux (et les travers) de nos corps sous forme de gazouillis partagés, de réactions et de « J'aime » sans fin. Ça n'a rien de nouveau; POM a découvert la beauté et l'horreur se cachant derrière cette relation d'échanges à l'infini. Le duo semble avoir calculé de sang-froid sa musique instrumentale aux rythmes syncopés. Cependant, le tout met en évidence le mariage incongru du réel et du virtuel, de l'improvisation et de la programmation. Cette incompatibilité ne connaît aucune limite, mais un délicieux frisson réside dans la beauté connue et inconnue créées par le pouvoir changeant de l'emprise. « Prends le temps de regarder à l'intérieur; tu es à moi »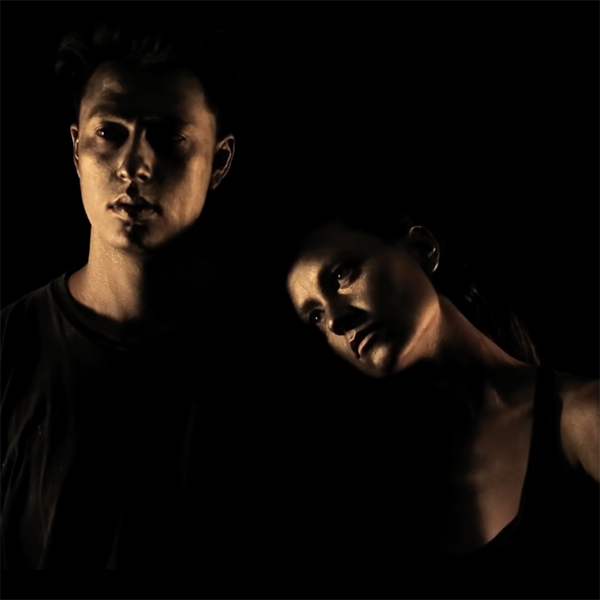 Hey Mother Death
Deranged My Love
Snake Power
Halifax, NS
From the neon obsession of Gabe Girard:
Complementing the idyllic, honeymoon, cinnamon heart notion of love – written in the stars – is an equal and opposing force. Not so much written but scrawled in the margins, deranged love is a connection all its own. A la Hey Mother Death's spirited new video release, it takes the form of neon obsession, forestry escapism and insectoid paranoia. Not for the faint of heart. All you need is love.
De l'obsession du néon de Gabe Girard:
(Traduit par Ryleigh Lightbourn)
Complément à la notion d'amour idyllique, lune de miel, et cœur à la cannelle – écrite dans les étoiles – est une force égale et opposée. L'amour dérangé, qui n'est pas exactement écrit, mais plutôt griffonné dans les marges, est un tout autre type de relation. La toute nouvelle vidéo de Hey Mother Death prend la forme d'une obsession de tout ce qui est néon, d'un exutoire en forêt et d'une paranoïa insectoïde. Ce n'est pas fait pour les cœurs sensibles. Vous n'avez besoin que d'amour.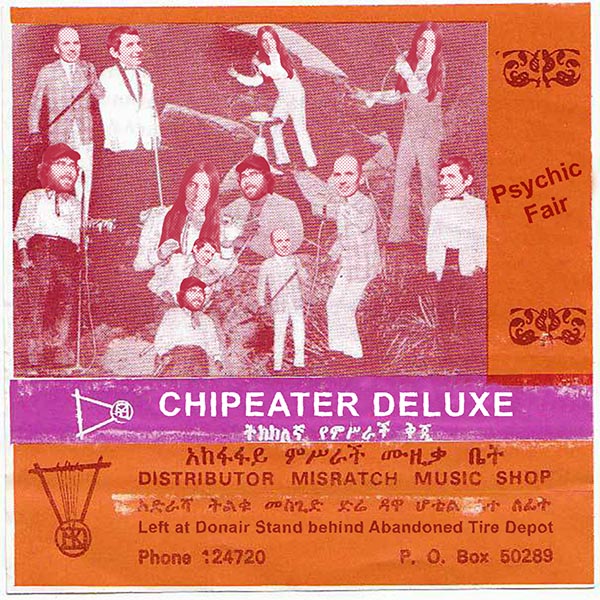 Psychic Fair
Chipeater Deluxe
(Self-Released)
Halifax, NS
From the radar scans of Gabe Girard:
Deep within the caves, recesses, and exposed bedrock strata of the peninsula known as Halifax lie several geological anomalies. Tunnels without entrance or exit. Long dark passages too coarsely shaped, too needlessly circuitous to be of manmade origin wind and bore themselves deep into the earth. At length, they culminate in spacious halls possessing strange resonant qualities. Ground-penetrating radar scans have located some of these halls. One such hall, of particular interest to resident geologist Josh Salter, has been dubbed The Echo Chamber. According to locals, this chamber has been emanating its distinctive vibrations for years. Field recordings have turned up interesting results. For now, these recordings are our only glimpse into what lies beneath.
Des balayages radar de Gabe Girard:
(Traduit par la spéléologue Maya Keshav)
Au fond des grottes, des alcôves et des strates exposées de la roche mère sur la péninsule qui s'appelle Halifax se trouvent plusieurs anomalies géologiques. Des tunnels qui n'ont ni entrée ni sortie. Des passages longs et sombres en forme trop crue, trop inutilement sinueuse pour être créés par l'homme s'enroulent et se creusent au fond extrême de la terre. Plus tard, ils aboutissent dans les corridors spacieux qui possèdent des qualités bizarrement sonores. On a localisé quelques-uns de ces corridors grâce aux balayages radar qui peuvent percer la terre. Un tel corridor, d'un intérêt particulier pour le géologue résident Josh Salter,, était surnommé The Echo Chamber (la chambre de réverbération). Selon les gens du coin, cette chambre dégage ses vibrations distinctives depuis des années. Les enregistrements sur place ont révélé des résultats intéressants. Pour le moment, ces enregistrements sont notre seul aperçu de ce qui se trouve en dessous.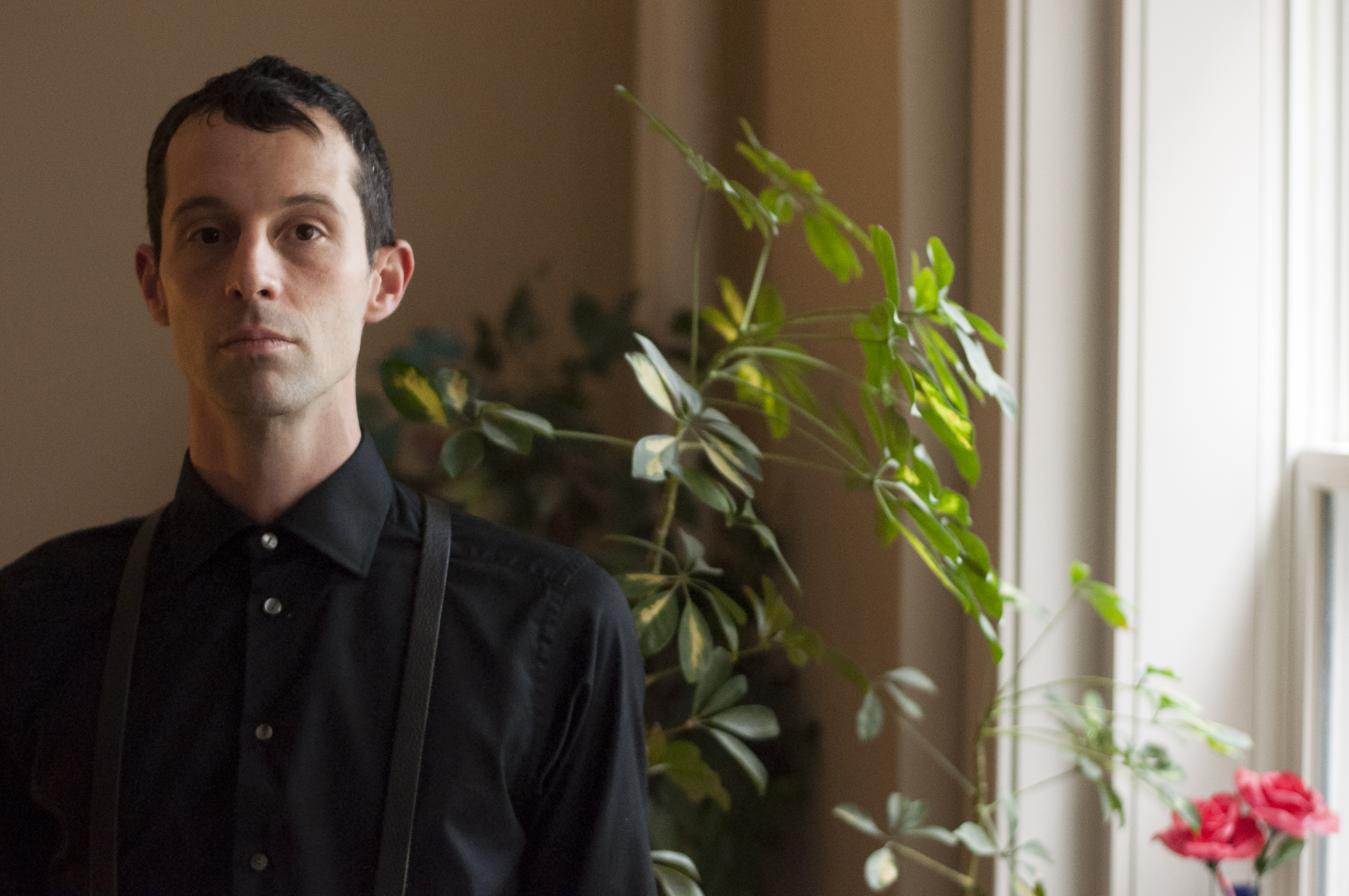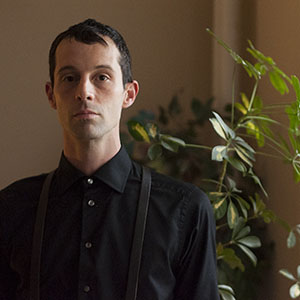 Ephemera of JFM
Existing before, during, and after the recording of Blood Moon
(Photos by: Alex Van Helvoort)
Halifax, NS
From the chill pill journey of Jonathan Park:
Here at Weird Canada, there is an eternal meadow that constantly emits wyrdo frequencies. If you turn the radio dial to 101, you'll hear the yellow sunshine of audio/visual artist Jesse Frank Matthews. For the last six+ years, Matthews has been amassing recorded and found sound for the JFM archives. Much like his visual work, he utilizes his sampler like an x-acto knife; creating audio collages by cutting up, looping and meshing source material. His first debuted cassette Compost was dropped on DIVORCE Records in 2011. Since then he's put out a handful of releases and began collaborating with Broken Deer's Lindsay Dobbin and Secret Colours' Evan Cardwell in JOURNEYS. He was nice eenuff to have us into his space and show us artifacts that have a significant impact on his creative process and daily living.
Take a chill pill, lie down in our meadow and enjoy the melted hypno-grooves under Blood Moon.
Sam & Mr. B Suitcase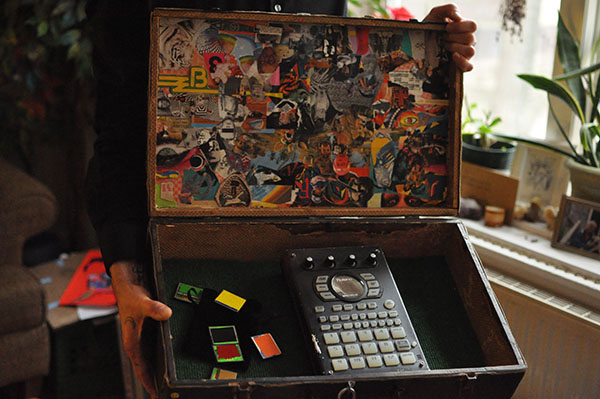 I've used this same old SP 404 sampler since 2010 when I started this JFM project. It's gone through a couple paint jobs, and the ragged suitcase it's been living in was given to me (full of booze) years ago by Mr. B prior to leaving for a Rattail tour in 2011. Every JFM song thus far has been written and recorded with this sampler, and every show I've played has been out of this suitcase. I've recently been on the hunt for some new gear, after receiving my first Canada Council grant a few months back.
The Studio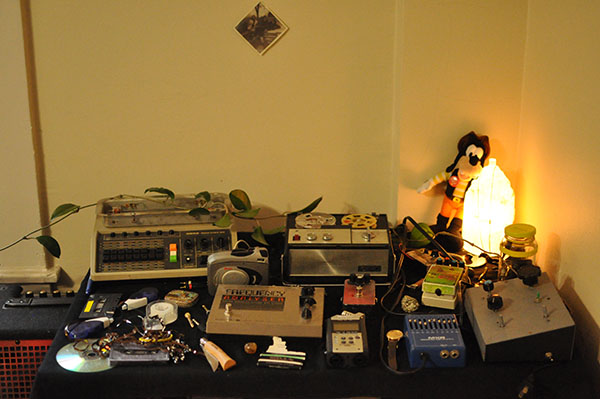 Pictured here is my studio, in its entirety. Spot if you can: Goofy (given to me by my Niece and Nephew), 'Dino-box' chorus/reverb unit (bought at Songbird Music for $25 before they shut their doors), Lucia Stephen's Optimus walkman (records in stereo & has a speaker on it!), Wite-out rollers, handmade tape loops, Frequency Analyzer, MXR EQ, reverb tank, and some other FX and recording devices. Treating, physically manipulating and re-amping the source material is a huge part of my process, I work with the individual sounds until I am satisfied.
Deborah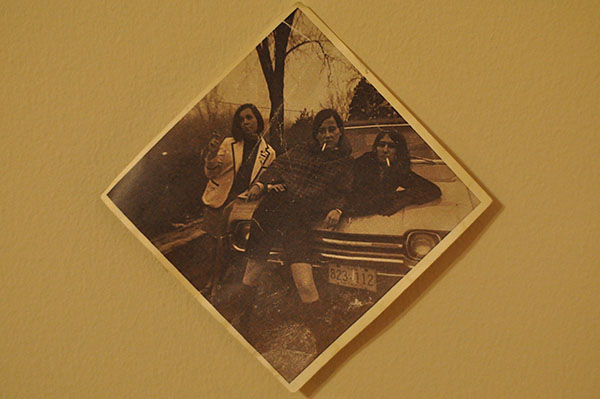 This photograph was taken in the 1950s by my grandfather Frank Dawe, my Mother (Deborah Jane Dawe) is the one in the middle. Not sure how she got away with the 'prop' cigarette, but she looks pretty bad ass.
Ring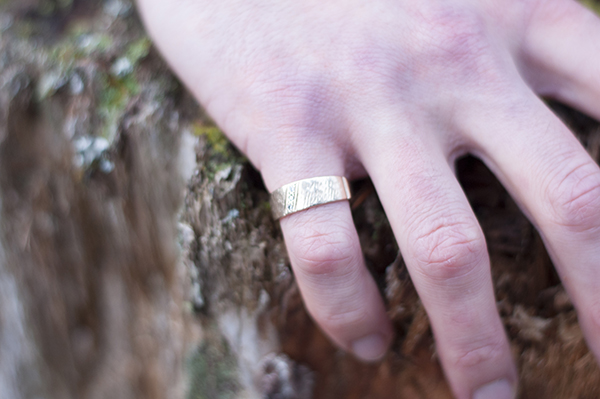 Few days go by that I forget to wear this beautiful piece of my history, my parents' wedding ring. It is the most special thing I own. Seen here on an ageing tree stump in Point Pleasant, a large park on water with trails to get lost in and beaten paths to ride on. I come here in all types of weather, as it's quite close to my apartment.
Matthew's Bugle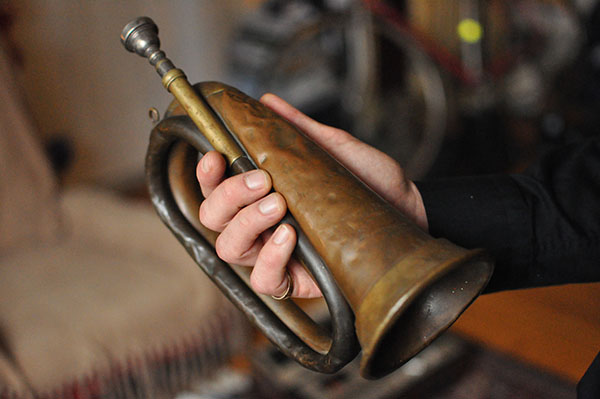 This bugle was made by Boosey & Co. in Toronto in the 30s and given to my grandfather George Matthews during his stint in WWII. It used to hang in my Father's electronics workshop in our basement when I was growing up, and it was one of the first things I put a bottle-cap contact mic on.
Dawe's Snuff Tin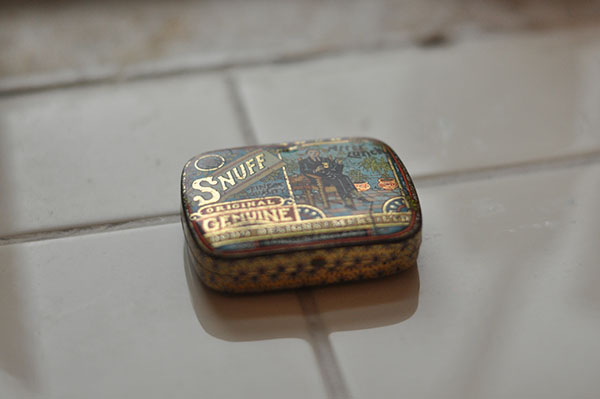 Many strange 'treats' have graced this miniature vintage Snuff tin/pill box. Used by Frank Dawe for his 'after lunch' treats in the 1970s, it's been used by me since the 1990s. What's left in the snuff?
Fuschia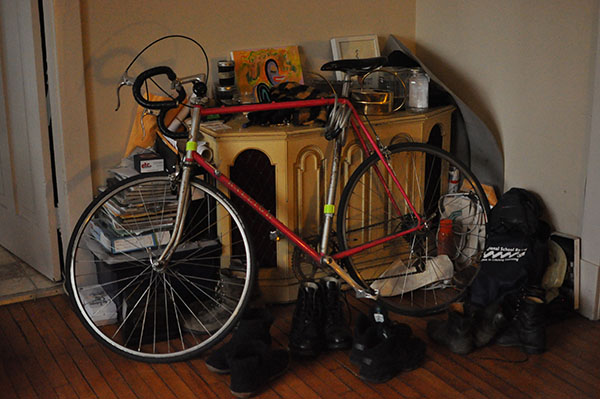 Anyone who knows me, knows I have always loved riding my bike. I was even a courier in downtown Toronto for a while in 2012, and have had more bikes stolen than you could imagine. I bought this gorgeous old Raleigh from Nathan Cameron last year. Fuschia is sleeping now because it's Winter.
Black Dice Tape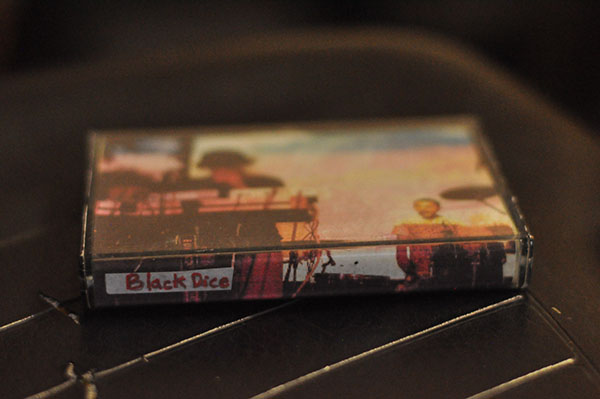 This tape was made by Evan Cardwell and given to me for my birthday in 2004. It's a live recording of a Black Dice set from their 'Creature Comforts' period. You can clearly hear the audiences in their ebbing delight and confusion over the course of the half an hour set. The B side is all the early 7"s and the 'Wastered' 12" which I bought at their Montréal show that same year. I've nearly worn it to pieces.
Berkhout & Welland Canal Monster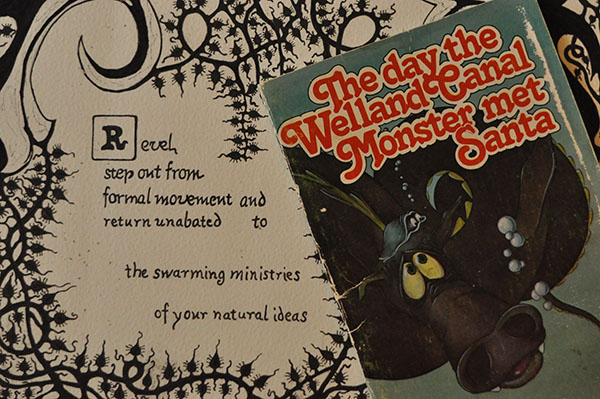 There are two items classic Niagara Region items on display here; a lucid poem given to me by Greg Berkhout in 2003 and a copy of 'The Day the Welland Canal Monster Met Santa' given to me by Kim Delaat. Having an affinity for all lore involving Loch Ness Monsters (Gaasyendietha), this story used to be read live on CKTB in the late 70s and early 80s and was soon turned into this much more compact pamphlet version, available then at the grocery store and dentist office.
Father's Marantz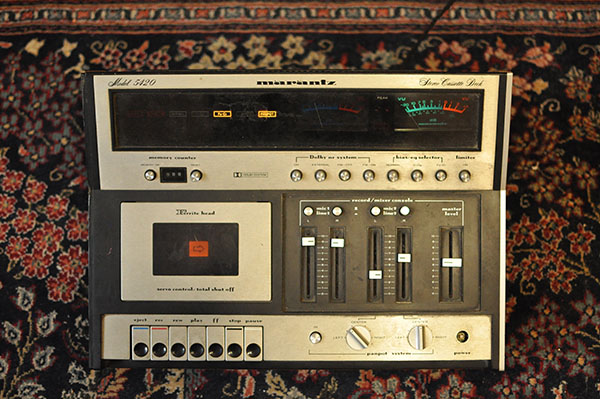 Story goes that my Father and his best friend Gumby drove to California in the late 70s to purchase this Marantz stereo cassette recorder. I have used this endlessly in my work and with every band I've ever played in. It sounds so vivid and is such an important part of my early experiences both listening to, and creating music. Later feeding my curiosity in dub effects, playing a mixer as an instrument and tape as a tactile medium.
Par le voyage narco-calmant de Jonathan Park:
(Traduit par l'ivresse printanière d'Émily Traichel)
Ici à Weird Canada, il y a une prairie éternelle qui émet en permanence des fréquences bizarres. Si vous tournez le cadran de la radio au 101, vous entendrez la couleur du soleil de l'artiste audio-visuel Jesse Frank Matthews. Au cours des six dernières années et plus, Matthews a passé son temps à amasser des sons enregistrés et trouvés pour les archives JFM. Tout comme son ouvrage visuel, il utilise son échantillonneur comme un couteau x-acto; créant des collages audios en découpant, bouclant et engrenant le matériel source. Sa première cassette Compost est sortie avec DIVORCE Records en 2011. Depuis, il a sorti une poignée de morceaux et a commencé à collaborer avec Lindsay Dobbin de Broken Deer et Evan Cardwell de Secret Colours dans JOURNEYS. Il a été assez gentil pour nous accueillir dans son espace et nous montrer les artéfacts qui ont un impact significatif sur son processus créatif et sa vie quotidienne.
Prenez un calmant, étendez-vous dans notre prairie et jouissez des grooves hypnotiques vaporeux sous la lune de sang.
Sam et la valise de Monsieur B.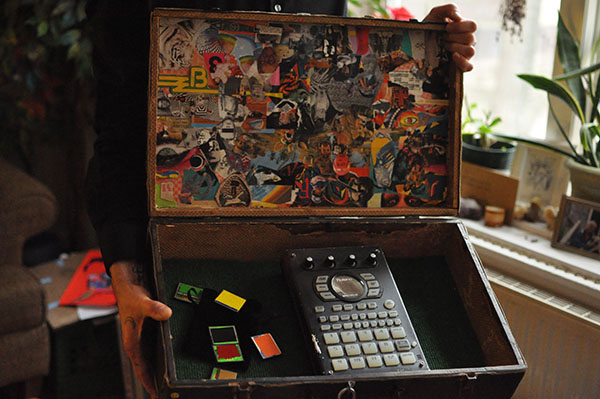 J'utilise le même vieil échantillonneur SP 404 depuis 2010 lorsque j'ai lancé ce projet JFM. Il a connu quelques retouches de peinture et la valise dépenaillée dans laquelle il vit m'a été donnée (pleine de booze) il y a des années par Monsieur B. avant de partir pour une tournée de Rattail en 2011. Jusqu'ici, toutes les chansons JFM ont été écrites et enregistrées avec cet échantillonneur, et chaque spectacle que j'ai joué est sorti de cette valise. Depuis quelque temps, je suis à la recherche d'équipement neuf notamment parce j'ai reçu ma première subvention du Conseil du Canada il y a quelques mois.
Le Studio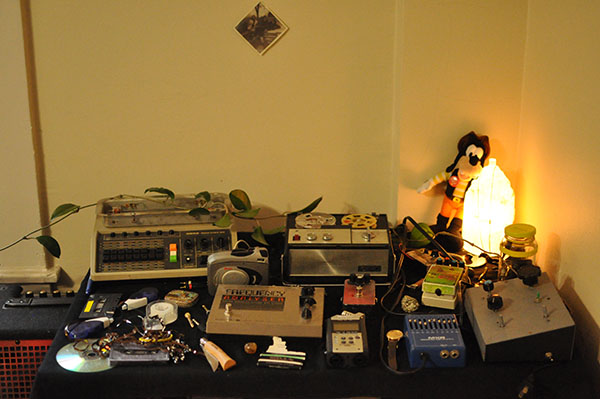 Photographié ici est mon studio, dans son intégralité. On y voit (à vous de les repérer!) : Goofy (que ma nièce et mon neveu m'ont donné), une unité de choeur/réverbe 'Dino-boîte' (achetée à Songbird Music pour 25 $ avant qu'ils ferment leurs portes), le walkman Optimus de Lucia Stephen (qui enregistre en format stéréo et est équipé d'un haut-parleur!), des rouleaux de Wite-out, des boucles de ruban faites à la main, un analyseur de fréquence, MXR EQ, un réservoir de réverbe, et quelques autres appareils FX et d'enregistrement. Le traitement, la manipulation physique et la ré-amplification du matériel source constituent une immense partie de mon processus, je travaille les sons de façon individuelle jusqu'à ce que je sois satisfait.
Deborah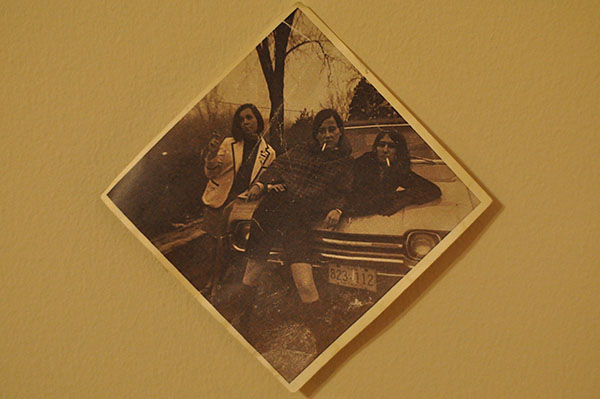 Cette photo a été prise dans les années 50 par mon grand-père Frank Dawe, ma mère (Deborah Jane Dawe) se trouve au milieu. Je ne sais pas comment elle a réussi à passer avec sa fausse cigarette, mais elle a une méchante allure.
Bague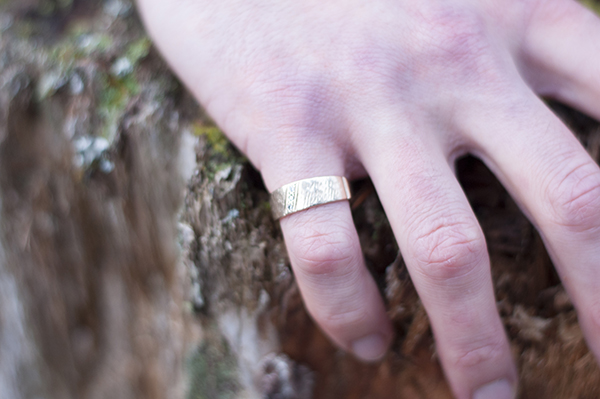 Peu de journées passent où j'oublie de porter ce beau morceau de mon histoire, l'alliance de mes parents. C'est la chose la plus précieuse que je possède. On la voit ici sur une souche d'arbre vieillissante à Point Pleasant, un grand parc au bord de l'eau avec des sentiers sur lesquels on peut se perdre et des chemins pour faire du vélo. Je viens ici par tous les temps, c'est assez proche de mon appartement.
Le clairon de Matthew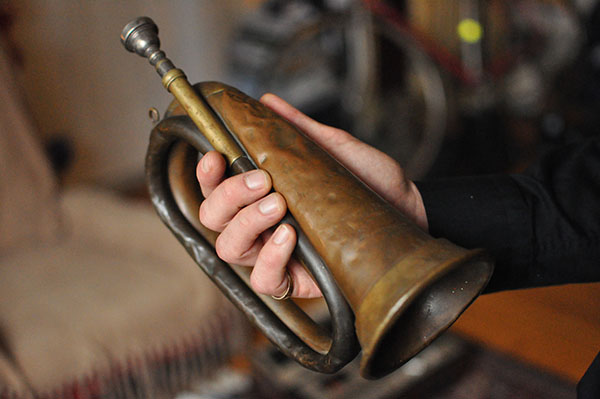 Ce clairon a été fabriqué par Boosey & Co. à Toronto dans les années 30 et a été donné à mon grand-père George Matthews pendant sa période de service durant la deuxième guerre mondiale. Quand j'étais petit, il était accroché dans l'atelier électronique de mon père au sous-sol, et c'est une des premières choses sur lesquelles j'ai fixé un micro de contact bricolé avec des bouchons.
La tabatière de Dawe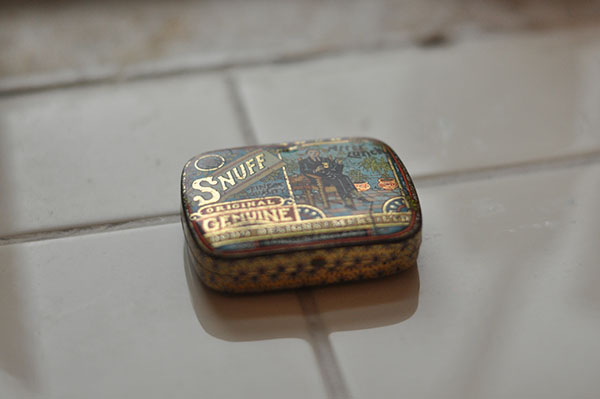 De nombreuses étranges 'friandises' ont honoré cette tabatière/boîte à pilules miniature ancienne. Utilisée par Frank Dawe pour ses friandises après le dîner dans les années 70, je m'en sers moi-même depuis les années 90. Qu'est-ce qu'il reste dans le tabac?
Fuschia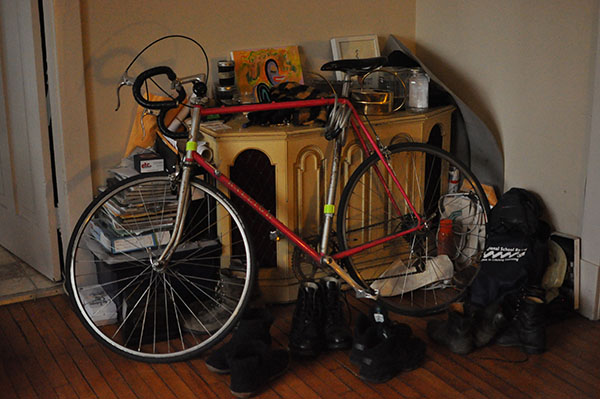 Ceux qui me connaissent savent que j'ai toujours adoré faire du vélo. J'ai même été coursier au centre-ville de Toronto pendant quelque temps en 2012, et je me suis fait volé un nombre inimaginable de bicyclettes. J'ai acheté une vieille Raleigh sublime de Nathan Cameron l'année passée. Fuschia dort pour l'instant car c'est l'hiver.
Cassette Black Dice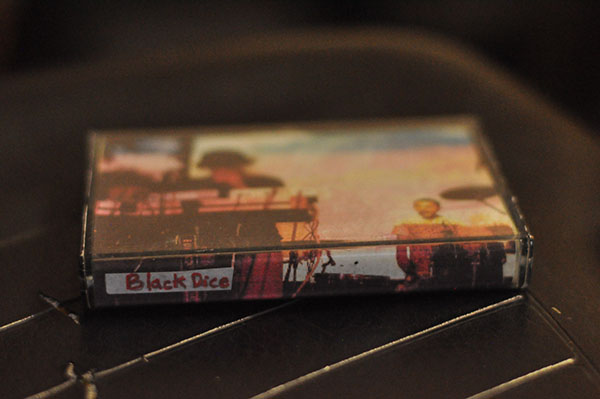 Cette cassette a été faite par Evan Cardwell et m'a été offerte pour mon anniversaire en 2004. C'est un enregistrement en direct d'un concert de Black Dice pendant leur période 'Creature Comforts'. On peut clairement entendre les spectateurs dans leur reflux de plaisir et de confusion tout au long de la demi-heure de leur concert. Sur la face B figurent tous les anciens 7 pouces et le 12 pouces 'Wastered' que j'ai achetés à leur spectacle à Montréal la même année. La cassette tombe quasiment en morceaux tellement je l'ai écoutée.
Berkhout & le monstre du canal de Welland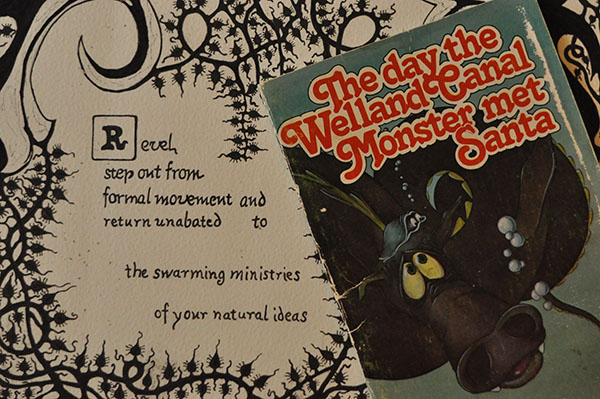 Il y a deux items classiques de la région de Niagara qui sont exposés ici; un poème lucide qui m'a donné Greg Berkhout en 2003 et une copie de 'Le jour où le monstre du canal de Welland a rencontré le Père Noël' offert par Kim Delaat. Ayant une affinité pour toute connaissance traditionnelle liée aux monstres du Loch Ness (Gaasyendietha), cette histoire était lue en direct sur CKTB à la fin des années 70 et au début des années 80. Elle est ensuite parue dans cette version brochée compacte; on pouvait la trouver à l'épicerie et chez le dentiste.
Marantz de papa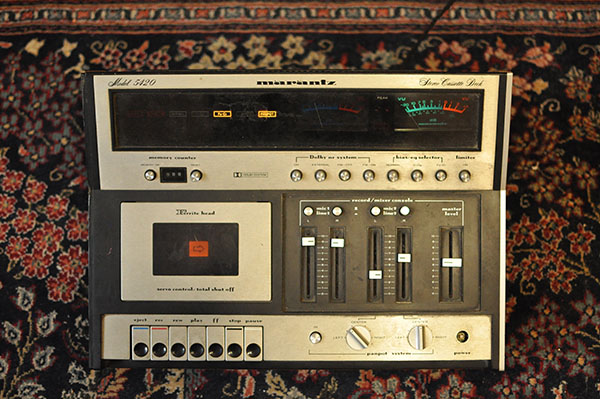 On raconte que mon père et son meilleur ami Gumby se sont rendus en auto jusqu'en Californie vers la fin des années 70 pour acheter cet enregistreur stéréo cassette Marantz. Je n'ai jamais cessé de l'utiliser pour mon travail et avec tous les groupes auxquels j'ai participé. Il a vraiment un son captivant et a joué un rôle très important depuis mes débuts, que ce soit pour écouter de la musique ou pour créer de la musique. Plus tard, il a alimenté ma curiosité pour les effets dub, le fait de jouer avec un mixeur comme instrument et l'idée d'une cassette en tant que médium tactile.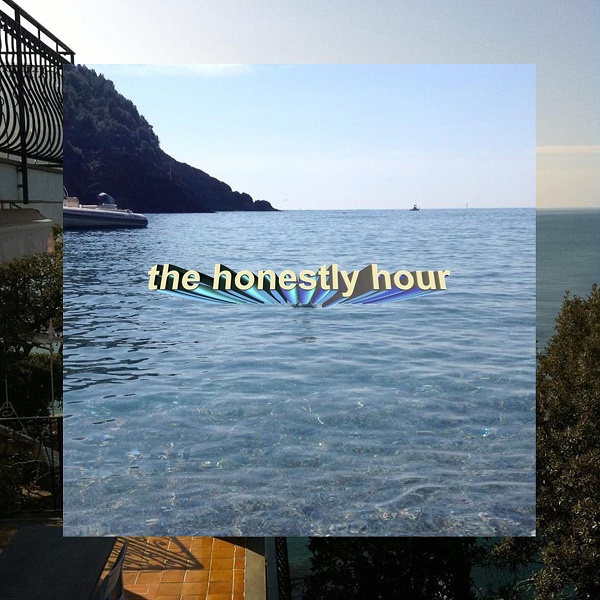 No Problem
The Honesty Hour
(Self-Released)
Halifax, NS
From the flu saturated state of Caleb John Schriver:
No Problem's college rock leanings and post-teenage yearnings equate to a back-to-school fever dream in the honestly hour. From purchasing shoes to inviting Kurt Inder to after parties, these young Truro boys conjure up a delirium where things like "cheapcruise.dad.com" can only make sense. No Problem couples songwriting prowess and their own "popsicle rock" to create a serenity, likened to waking up from a mid-day nap, dehydrated with one sock on and barely still on the bed. This nap is satisfying, like unrolling the cuffs of your pants and only finding a little bit of lint.
De l'état saturé de la grippe de Caleb John Schriver:
(Traduit par l'angoisse adolescente de Maya Keshav)
Les tendances de rock à l'université et les désirs postadolescence de No Problem équivalent à un rêve fiévreux de la rentrée scolaire dans the honestly hour. De l'achat de chaussures jusqu'à l'invitation de Kurt Inder aux afters, ces jeunes garçons de Truro font apparaître un délire où les choses comme "cheapcruise.dad.com" ont du sens. No Problem couple la prouesse parolière à son propre "popsickle rock" pour créer une sérénité, qui nous fait penser à quand on se réveille d'une sieste de iournéei, déshydraté avec seulement une chausette et tout juste sur le lit. Cette sieste est satisfaisante, comme quand on déroule ses revers de pantalons et on trouve juste un petit peu de peluche.
No Problem – She Can't Help Herself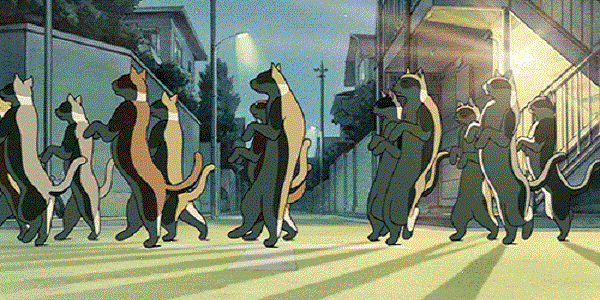 sarah denim
Finding Out
(directed by: sarah denim)
Halifax, NS
From the transformed paws of Brian Cleveland:
"Follow me." We begin a hypnotic feline trance to a place where everyone loves you. 189 seconds: find yourself, know yourself, love yourself, and believe in yourself. It takes a particular skill to make a popping piece of broken electronic sounds to match a silent film. Who knew a cat would provide the best advice to stand up for yourself and speak from the heart.
Des pattes transformées de Brian Cleveland:
(De la transe féline d' Odile Leclerc)
« Suivez-moi. » Nous commençons une transe féline et hypnotique vers un endroit où tout le monde t'aime. 189 seconds: trouve-toi, connais-toi, aime-toi et crois en toi. Ça prend un talent particulier pour faire correspondre un morceau de sons électroniques brisés qui saute à un film silencieux. Qui savait qu'un chat fournirait le meilleur conseil pour s'affirmer et parler du fond du cœur.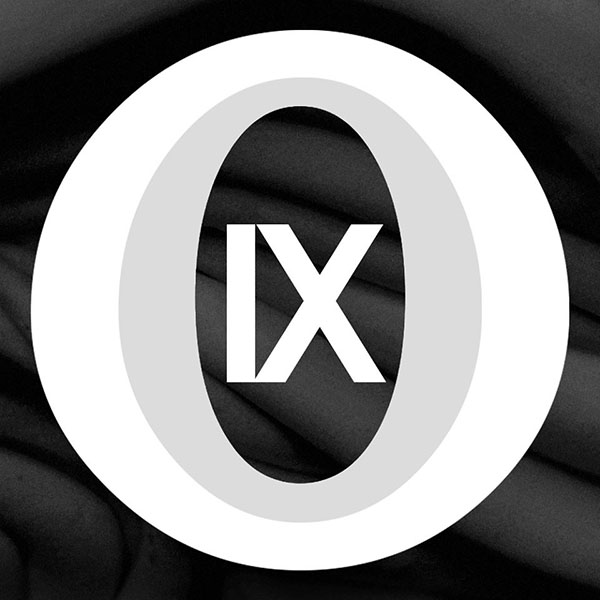 OBEY Convention IX
May 26-29, 2016

Illustrations by Keyu Shane Song

Halifax, NS
From the flailing limbs of Piper Curtis:
Harsh walls of noise overpower us, bodies shaking, our bones drummed upon. A mad dog howls, snarling… gyrating to the off kilter, out of control beats. We are spiraling in all directions at once, inhabiting this space, reclaimed momentarily each year.
A swarm of drones descends upon the city. The murky harbour washing ashore punks, jazzers, and weirdos from every depth.
Swirling together in this pool, we OBEY. We give over to the noise as it envelops us, and cradling us reminds us that we have a place. Together in this space, our minds and ideas are freed.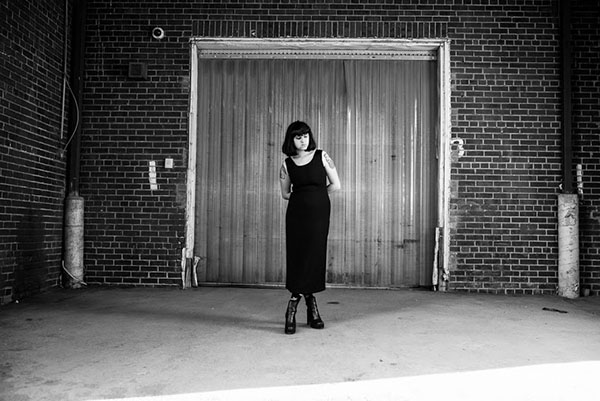 "I think it is a special thing to have a festival that can truly disturb your routine, and shake up your mind, as well as offer you an opportunity to support local experimental acts [and] offer a rare taste of faraway music." – Catherine Colas (Carmen)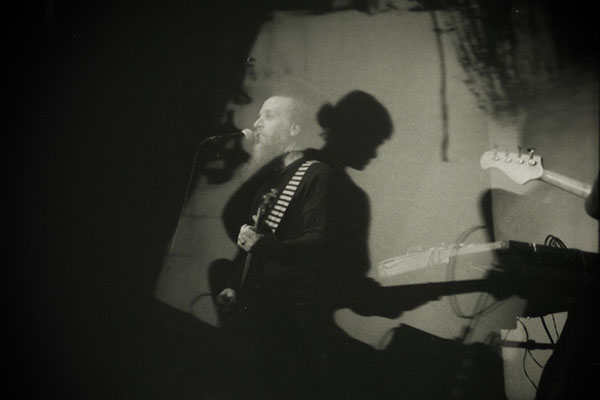 "I'm super, super happy that this was able to happen – it came together and I'm really happy to be here." – Leah Buckareff (Nadja)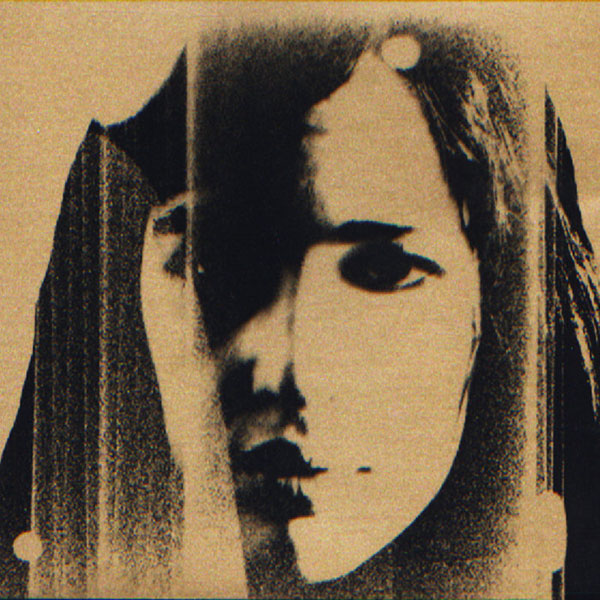 "I had a really good time, actually. I guess I had some stuff to let out and people seemed to be very into it, so it's great. It's nice to see people dancing. This is a great festival." – Marie Davidson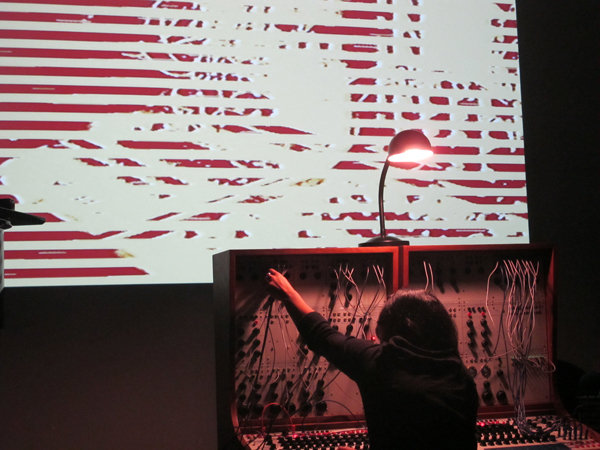 "It's nice to play in spaces that are meant for listening, with audiences that actually want to listen." – Sarah Davachi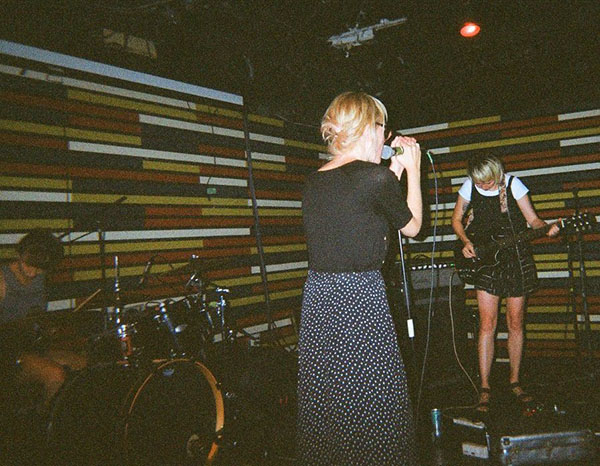 "It was really cool to open for Zs – we were really excited for this." – Grace Brooks (Shining Wizard, Lung Butter)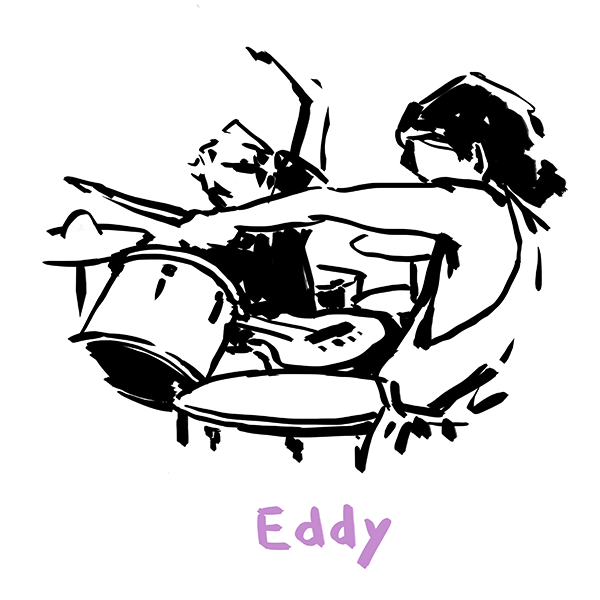 "I spent the last 4 days just crying." – Nick Dourado (Eddy, xxvii, Century Egg)
Des membres agitant de Piper Curtis:
(Traduit par Odile Leclerc)
De durs murs de son nous conquièrent, nos corps tremblent alors que nos os se font tambouriner. Un chien fou hurle, grogne… tournoi sur une fausse note, sur des battements hors de contrôle. Nous volons en spirale dans toutes les directions à la fois, habitant cette espace, momentanément réclamés chaque année. Un essaim de drones descendent sur la ville. Le port boueux s'échouant sur les rives en prenant des punks, des jazzers et des weirdos de toutes les profondeurs.
Tournant ensemble dans cette piscine, nous obéissons (OBEY). Nous nous abandonnons au bruit alors qu'il nous enveloppe et nous berce, nous rappelant que nous avons une place. Ensemble dans cet espace, nos esprits et nos idées sont libérés.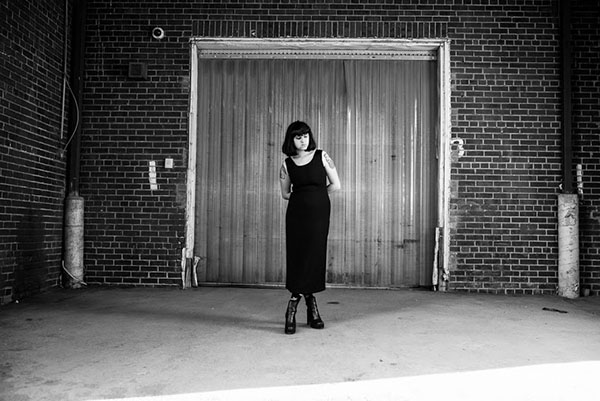 ­« Je pense que c'est une chose spéciale d'avoir un festival qui peut vraiment déranger votre routine et brasser votre esprit et vous offrir une opportunité de soutenir des performances expérimentales locales et offrir une opportunité rare d'écouter une musique lointaine. » -Catherine Colas (Carmen)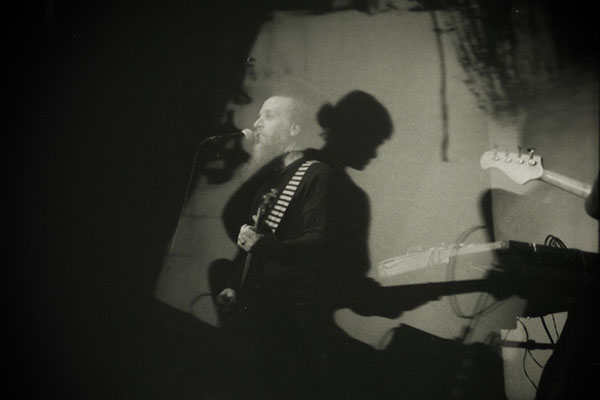 « Je suis super, super contente que ceci fût en mesure d'arriver- Tout a pris forme et je suis réellement contente d'être ici. » -Leah Buckareff (Nadja)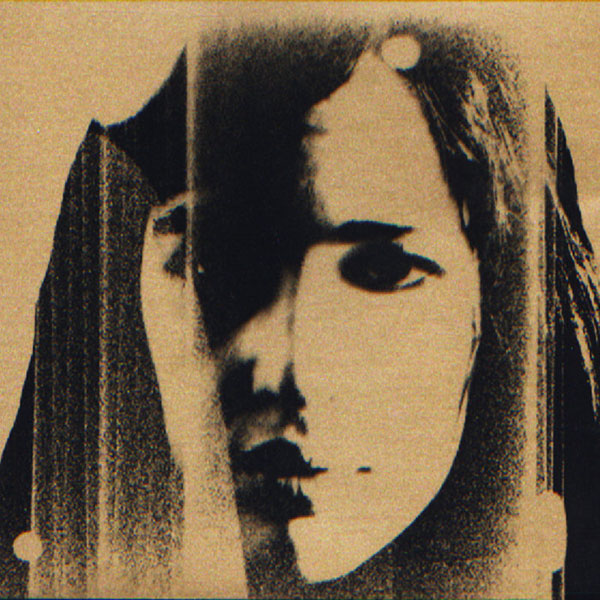 « J'ai vraiment passé du bon temps, en fait. J'imagine que j'avais des trucs à laisser sortir et les gens semblent aimer ça, c'est génial. C'est bien de voir des gens danser. C'est un super festival. » -Marie Davidson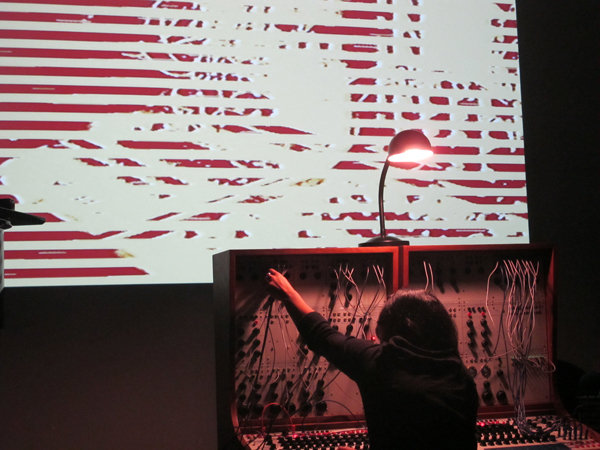 « C'est bien de jouer dans des espaces faites pour écouter avec un public qui veut réellement écouter. » – Sarah Davachi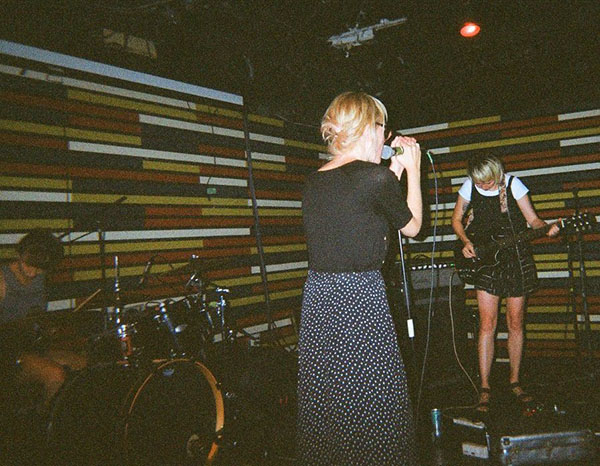 « C'était vraiment cool d'ouvrir pour Zs- Nous étions vraiment excités pour ça. » – Grace Brooks (Shining Wizard, Lung Butter)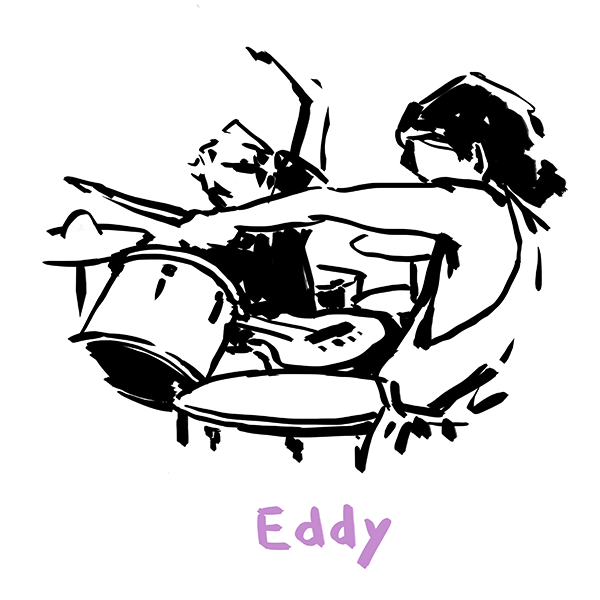 « J'ai passé les quatre derniers jours à simplement pleurer.'' – Nick Dourado (Eddy, xxvii, Century Egg)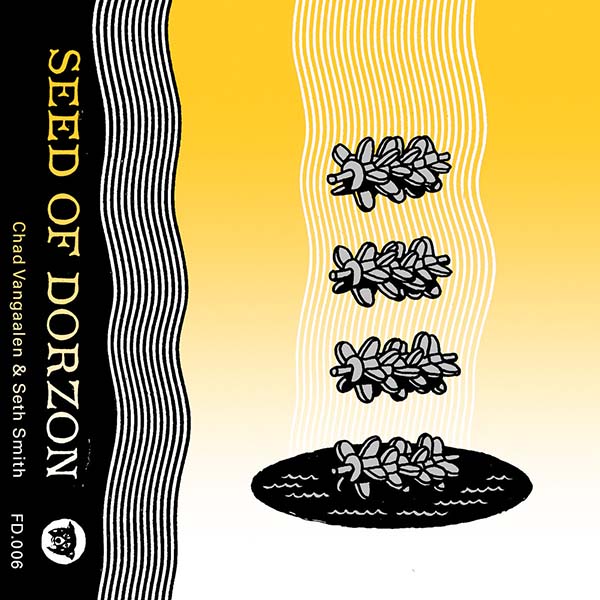 Chad VanGaalen & Seth Smith
Seed of Dorzon
(fundog)
Calgary, AB // Halifax, NS
From the Dusty Mind of Bobby Andrews:
Furious tones and manic cerebral vibrations from Chad Vangaalen and Seth Smith, Seeds of Dorzon is a two-part narrative leaving the listener breathless. Stretching beats across a vast landscape created within the ear, the listener ruminates on the conflict within. Cranked vibrations met with an expert level of grace, Seed of Dorzon erupts the emotional core of being, blossoming the imagination.
De l'esprit poussiéreux de Bobby Andrews:
(Traduit par Lanstratoran Mes!)
Avec des tons furieux et des vibrations cérébrales animées, Seeds of Dorzon, de Chad Vangaalen et Seth Smith est récité en deux parties qui coupent le souffle. Avec des pulsations qui s'allongent à travers un paysage créé par notre écoute, l'auditeur rumine sur le conflit intérieur. Des vibrations montées sont accueillies avec un niveau de grâce élevée. Ce disque fait jaillir le noyau émotionnel de l'âme, permettant l'épanouissement de l'imagination.
Chad VanGaalen & Seth Smith – Part I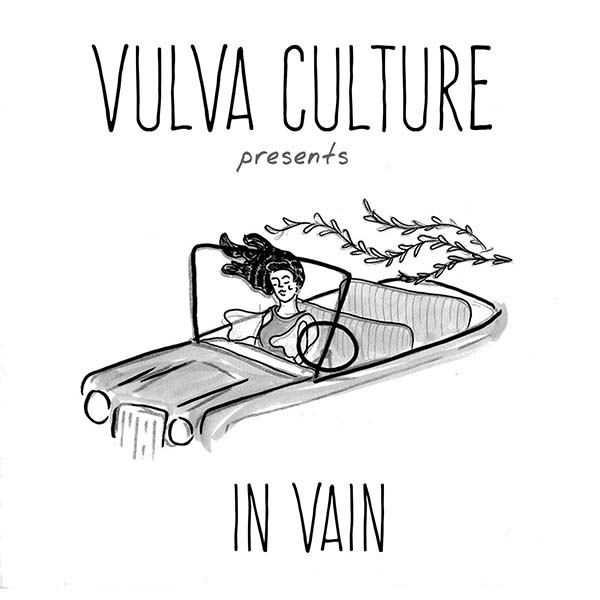 Vulva Culture
In Vain
(Self-Released)
Halifax, NS
From the academically distracted delerium of Caleb John Schriver:
Vulva Culture's In Vain syndicates the eerie, melodic, and anxious sound of Halifax's North End district. Early shoegaze and doo wop jazz meet at the Lynchian Road House in a fly-by-night covert romance.
Reverberating guitar riffs and operatic vocals ring out like rusted springs of old furniture, where reclining rhythms wear on your posture. In Vain is a safe haven for emotional deluge, an incubator of familiar comfort built by somber feelings and propelled by the beauty found in coming to terms with what ails you.
Du délire académiquement distrait de Caleb John Schriver:
(Traduit par le fredonnement anxieux de Mathieu Bédard )
In Vain de Vulva Culture regroupe les sonorités étranges, mélodieuses et anxieuses du quartier North End d'Halifax. Du shoegaze primitif et du jazz doo wop se rencontrent dans un bar routier lynchien, le temps d'une romance illicite et secrète.
Les riffs de guitare réverbérés et les chants lyriques retentissent comme les ressorts rouillés de vieux meubles, dont les rythmes inclinables usent votre posture. In Vain est un abri sécuritaire pour déluge émotionnel, un incubateur de réconfort familier construit en hébergeant des sentiments perturbés, propulsé par la beauté qu'on trouve à accepter ce qui fait mal.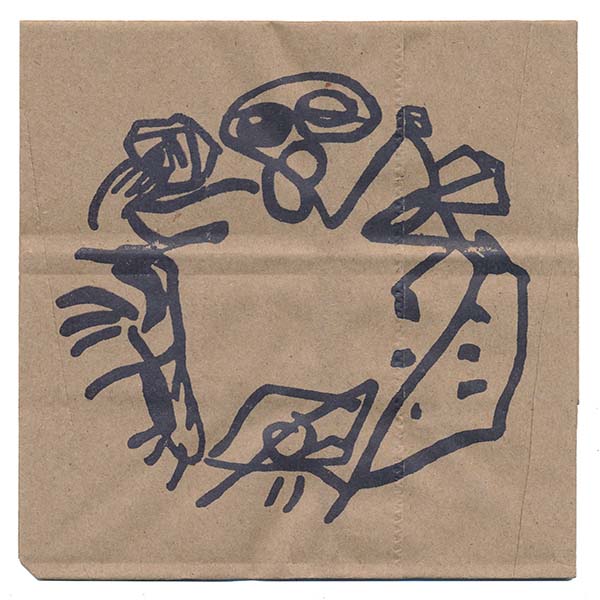 Catbag
Missing Holes
(Self-Released)
Halifax, NS
From the ancient fluids of Magnus Tiesenhausen:
In a dim sub-level zone, a new consciousness arises out of different micro bacteria and algae. It is you and I. Catbag, performing the role of the cauldron-stirrers, remove smoking items from the brine. Everything suddenly seems very immediate, very close. Magic order reveals itself in the discarded piles of relics. M. Wiebe's voice comes to us, a reassurance of human thought in the primordial sludge. We stumble on the path, but stay true to our course. We negotiate with the giant insects and leeches. It's not a safe record, but it's comforting. It's a place to rest in unease, it's a place of acceptance. Fear is familiar. The missing hole is filled by an absence.
Des fluides antiques de Magnus Tiesenhausen:
(Traduit par Julie Mayer)
Dans une zone souterraine dont l'éclairage est tamisé, une nouvelle conscience émerge de différentes micro bactéries et algues. C'est toi et moi. Les membres de Catbag, jouant le rôle de touilleurs de casseroles, enlèvent des choses fumantes de la saumure. Tout semble soudain très immédiat, très proche. Un ordre magique se révèle dans les piles de reliques abandonnées. La voix de Mitchell Wiebe nous parvient, une parole rassurante de pensée humaine dans la boue primordiale. Nous trébuchons sur le chemin, mais restons fidèles à notre trajectoire. Nous négocions avec les insectes géants et les sangsues. L'album n'est pas un disque sûr, mais il est réconfortant. C'est un endroit où l'on se repose dans le malaise, un lieu d'acceptation. La frousse est familière. Le trou manquant est empli d'absence.
---