Tag: halifax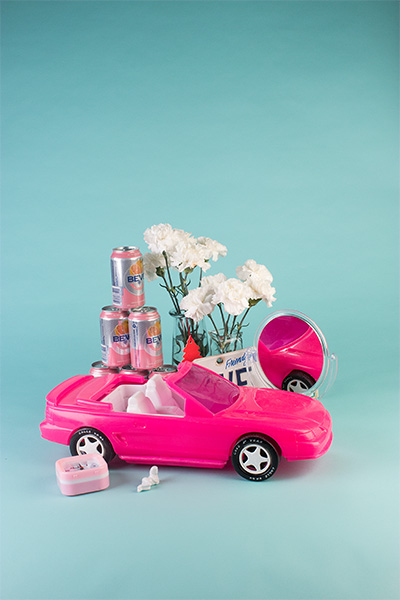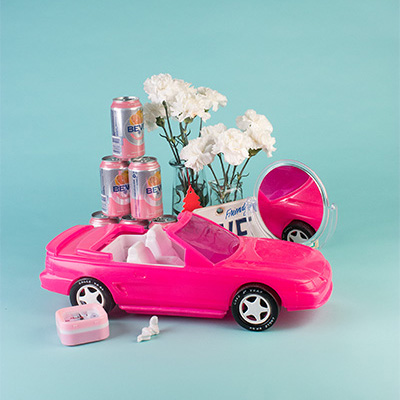 Christina Bosowec
Dodge Spirit
Anna Leonowens Gallery, NSCAD
Halifax, NS // Montréal, QC
From the dry-goods pantry of Sophie Wonfor:
Weird Canada: If you were stranded on an iceberg, would you rather have snacks or a beverage?
Christina Bosowec: Snacks. Doritos and nibs.
A recent addition to Montréal (via Winnipeg and Halifax), Christina Bosowec responds to the unrecognized allure of inanimate objects: revealing something both serene and vibrant. Her first solo show, "Dodge Spirit", materialized in the Anna Leonowens this spring like a memory you didn't know you had (including a heap of donuts for the opening night gallery-goers). An expressly personal but unsentimental examination of her first car, Bosowec describes the show as "a memorial that celebrates the existence of the Dodge Spirit." It embodies not only the spirit of an object, but the spirit of her work. A spirit whose inexplicable beauty will have you transfixed and asking: Why is this fuchsia Barbie car so elegant? How have these cans of grapefruit soda given you the opportunity to pause and contemplate?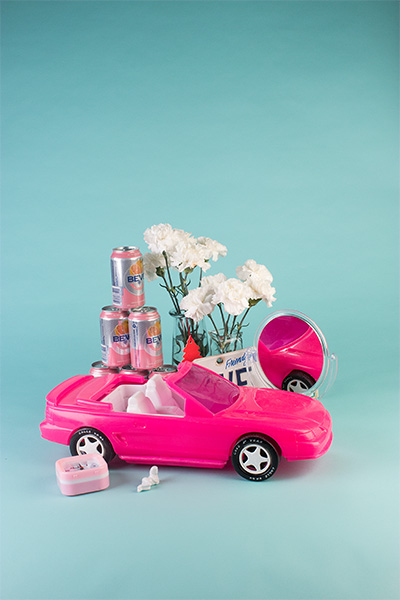 co-credit: Brandon Brookbank
Bosowec tunes into the mysterious power within her chosen objects: "The practice of collecting, selecting and arranging [..] ultimately reflects my orderly nature." This consideration is a constant thread throughout her entire body of work, and the soft materiality of the Scrunchie Body Tube and Sponge Me Up is particularly compelling. There is an urge to experience these works in the real, although the documentation—much of which is through collaboration with friends and fellow artists Brandon Brookbank and Kyle Alden Martens —is nearly as tactile and seductive as a sponge in the hand.

co-credit: Kyle Alden Martens
For Bosowec, the sponge has been much more useful as subject than cleaning tool: "My investigation of objects began with my obsession with the sponge. I began exploring usual and recognizable stacked configurations of sponges and worked towards conceptualizing this obsession by recreating the sponge stacks in alternative materials that resembled the same color palette as the sponges."
credit: Jordan Blackburn
Bosowec quietly asks you to reconsider everyday objects—to consider the meaning we place upon them—calling attention to how this gives objects power: "I feel that the power of an object is defined by the meaning that is placed on the object; this could be determined in the object's physicalness/characteristics, use or sentiment. Dodge Spirit is less about sentiment and more about the physicality of the Dodge and how external objects can come together to commemorate the Dodge and acknowledge its existence. The physicalness of the car attributes to the power that exists in the spirit of the car."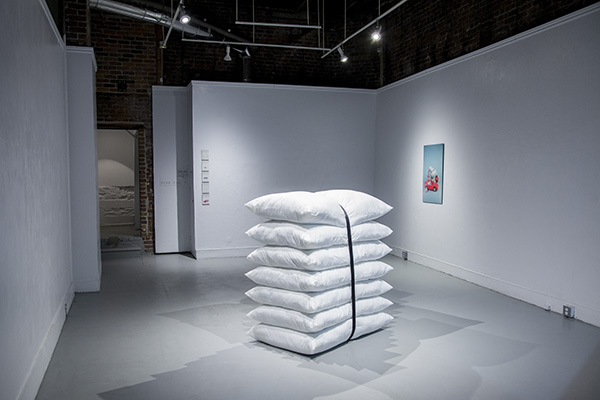 credit: Jordan Blackburn
Par le garde-manger de produits secs de Sophie Wonfor:
(Traduit par la gaufre eucharistique d'Émily Traichel)
Weird Canada: Si vous étiez coincés sur un iceberg, aimeriez-vous mieux avoir des collations ou un breuvage?
Christina Bosowec: Des collations. Des Doritos et des nibs.
Une arrivée récente à Montréal (via Winnipeg et Halifax), Christina Bosowec réagit à l'allure méconnue d'objets inanimés : révélant quelque chose à la fois serein et vivant. Sa première exposition en solo, « Dodge Spirit », s'est matérialisée dans la galerie Anna Leonowens ce printemps comme un souvenir que nous ignorions avoir (y compris un tas de beignes pour les présents à l'ouverture). Une enquête expressément personnelle, mais dépourvue de sentiment sur sa première voiture, Bosowec décrit l'exposition comme « un mémorial qui célèbre l'existence de l'Esprit Dodge. » Elle incarne non seulement l'esprit d'un objet, mais l'esprit de son ouvrage. Un esprit dont la beauté inexplicable vous fascinera et vous vous demanderez : Pourquoi cette voiture Barbie fuchsia est-elle si élégante? Comment ces canettes de soda au pamplemousse vous ont-elles donné la chance de vous arrêter et de contempler?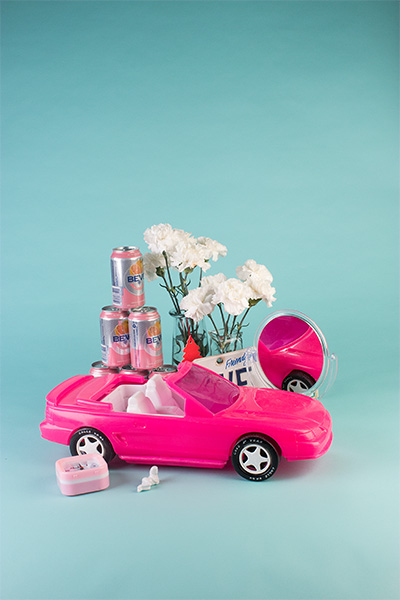 référence secondaire : Brandon Brookbank
Bosowec se rapproche des pouvoirs mystérieux de ses objets choisis: « La pratique de rassembler, de sélectionner et d'arranger [..] en fin de compte reflète ma nature ordonnée. » Cette considération s'agit d'un fil conducteur dans l'ensemble de son œuvre, et la matérialité souple du Scrunchie Body Tube et Sponge Me Up est particulièrement captivante. Il y a un désir ardent de vivre l'expérience de ces œuvres en personne, bien que la documentation—dont la plupart est en collaboration avec des amis et des collègues artistes Brandon Brookbank et Kyle Alden Martens — est presqu'aussi tactile et séduisante qu'une éponge dans la main.
référence secondaire : Kyle Alden Martens
Pour Bosowec, l'éponge a été bien plus utile en tant que sujet qu'en outil de nettoyage : « Mon enquête sur les objets a commencé par mon obsession avec l'éponge. J'ai commencé à explorer des configurations empilées d'éponges usuelles et identifiables et j'ai travaillé vers la conceptualisation de cette obsession en recréant les piles d'éponges dans des matériaux alternatifs qui ressemblaient à la même palette de couleurs que les éponges. »
référence : Jordan Blackburn
Bosowec nous invite discrètement à réexaminer les objets de tous les jours—à considérer la signification que nous leurs assignons—attirant l'attention sur la façon dont cela donne du pouvoir aux objets: « Je crois que le pouvoir d'un objet est défini par la signification qui y est attribuée; ceci pourrait être déterminée par la réalité physique et les caractéristiques d'un objet, par son utilité ou sentiment. Dodge Spirit a moins à voir avec le sentiment, mais plutôt avec la physicalité du Dodge et la façon dont les objets externes peuvent êtres rassemblés pour commémorer le Dodge et reconnaître son existence. La réalité physique de la voiture attribue le pouvoir qui existe dans l'esprit de la voiture. »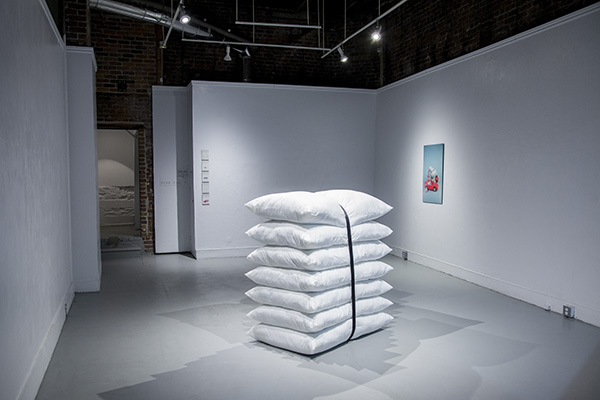 référence : Jordan Blackburn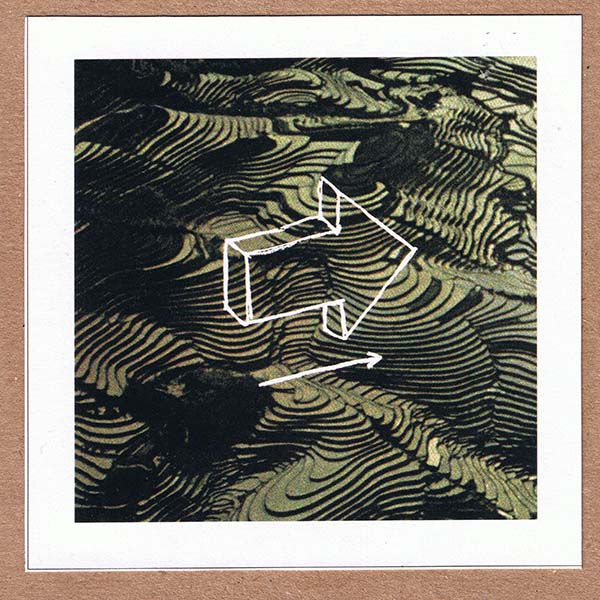 Mauno
Rough Master
(Self Released)
Halifax, NS
From the symphonic sear of Benjamin Anderson:
The stake blazes alight. All around voices like blacksmiths' strikes sing and smoulder on. Cries of "witchcraft" untangle themselves from the din. Bloodthirst glints like an oil slick across irises. The flames are licking your feet, the sear is symphonic; it feels of soaring strings. All for conjuring up tones that shape-shift and maneuver in and out of the ear like a salt water tide gurgling through a rusted pipe. Night is a muscle; you burn in the flex of it.
Du brûlement symphonique de Benjamin Anderson:
(Traduit par Louis-Félix de Chevigny, qui scande avec la foule enflammée)
Le bûcher s'enflamme. Autour de lui, tel un forgeron qui fait chanter son enclume, fusent des voix. Des accusations de «sorcellerie» jaillissent du tumulte. Des yeux qui pétillent d'une lueur assoiffée de sang, telle une nappe de fioul qui s'étend sur leurs iris. Les flammes te lèchent les pieds, leur brûlure est symphonique; tel des cordes en délire. Tout cela évoque des tons qui se métamorphosent et manœuvrent le canal auditif telle une marée d'eau salée qui gargouille dans un tuyau rouillé. Tu brûles dans le fléchissement du muscle de la nuit.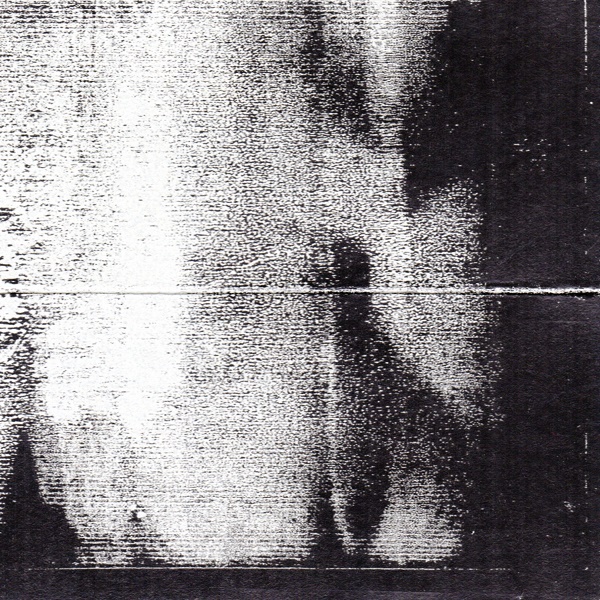 Moss Harvest
Moments Of Inertia
Halifax, NS
From the relentless density of Mark Gillis:
Driving along the coastline, an opaque and impenetrable fog wraps you inside a hazy cloak. Once tender waves crash precipitously on the shore, overflowing with impatience and animosity. The lines on the pavement dissolve into nothing. Trapped, with your senses smothered by the relentless density. There is no option but to push forward, into the isolation, into seclusion, hoping to see a sign of light, but the fog never breaks. You're stuck here forever.
De la densité implacable de Mark Gillis:
(Traduit par Wanying Zhang)
Pendant qu'on conduit le long du littoral, un brouillard obscur et impénétrable t'enveloppe dans un voile flou. Une fois les vagues douces s'écrasent à la hâte sur la rive, qui déborde d'impatience et d'animosité. Les lignes sur la chaussée s'évanouissent. Piégé, avec vos sens étouffés par la densité implacable. Il n'y pas de choix sauf d'avancer, dans l'isolement, dans la solitude, en espérant apercevoir un signe de la lumière, mais le brouillard ne se dissipe jamais. Tu es coincé ici pour toujours.
Moss Harvest – Dusk, Shrouded In Fog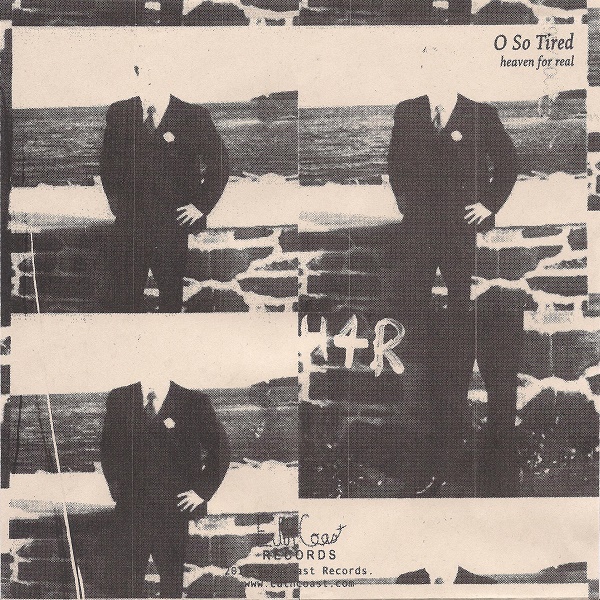 Heaven For Real // Homebody
Split
Halifax, NS
From the gnawed appendages of Piper Curtis:
Tired and roadworn, Heaven For Real trudge along an open roadway, dusty and without an end in sight. Directionless and meandering. Sunrises melt into sunsets, the passing of each day constant and unrelenting. They shed their skins, feet dragging, trying to find something, or some place, destination unknown. Their loss is palpable, yet there is no yearning, only an exhausted search.
Something comes into view and the pace quickens. They break into a run, only to be faced again with loss as it fades: a mirage.
The road continues.
Des appendices rongés de Piper Curtis:
(Traduit par les entrailles ravagées de Marie-Pier Chevrier)
Fatigués de toujours rouler, Heaven For Real se traînent le long des kilomètres de route, poussiéreux et à perte de vue, en errance dans les méandres. Aurores qui se fondent en crépuscules, le cours des jours et sa constance impitoyable. Ils changent de peau, traînant des pieds en quête d'un quelque chose, d'un quelque part inconnu. Leur perte est palpable, mais aucun désir en vue, rien d'autre que cette quête épuisée.
Quelque chose à l'horizon, le pas s'accélère. Ils commencent à peine à courir que la vision se perd déjà. Mirage…
Et la route continue.
---