Tag: guitar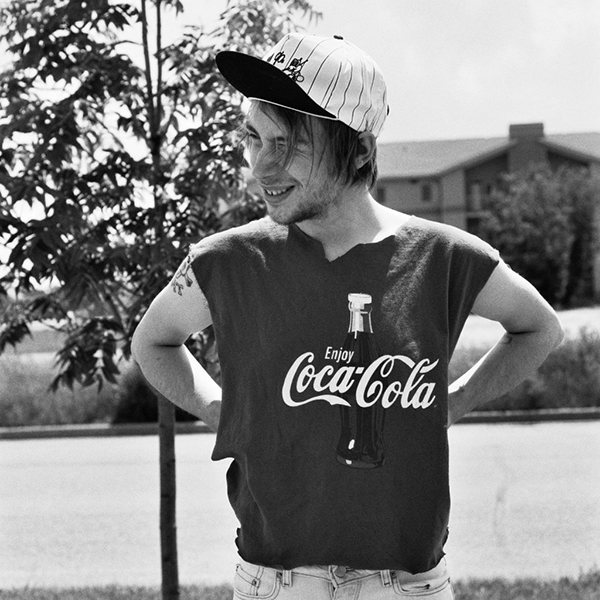 Holding Hands
EP?
(Self-Released)
Montréal, QC
From the ferry secrets of Claire Marie Guimond:
I'm explaining it all on the passage. Ninety minutes of water feels like a mirror when you ride it out to the infinite mainland, and like a photo when you ride back home, like right now, see it? On the island the flowers bloom in winter. Why are you shivering? Is it what I said? It's windier on this side of the boat. I can't see a thing through the forest smoke. Scattered shouting sounds urgent, too low to hear, but I understand completely. Are you igniting something? From this angle it's like your arm's on fire. Hey, you can tell me anything. Smoke and fog look the same to me. You're gonna burn right through to the car deck. Did all that make sense, am I communicating well?
Des secrets du traversier de Claire Marie Guimond:
(Traduit par le miroir infini de Maya Keshav)
J'explique tout en traversier. Quatre-vingt-dix minutes de l'eau donnent l'impression d'être un miroir quand tu tiens le coup jusqu'au continent infini, et d'être une photo quand tu reviens chez toi, comme maintenant, tu le vois? Sur l'île les fleurs éclosent en hiver. Pourquoi tu frissonnes? J'ai dit quelque chose? Il y a plus de vent de ce côté du bateau.. Je peux rien voir à travers la fumée de la forêt. Les cris éparpillés ont l'air urgent, trop bas pour entendre, mais je comprends complètement. Tu mets le feu à quelque chose? Depuis cet angle, ton bras a l'air d'être en feu. Tu sais, tu peux me dire n'importe quoi. La fumée et le brouillard se ressemblent, selon moi. Tu vas brûler jusqu'au pont-garage. Tout ça a du sens, je communique bien?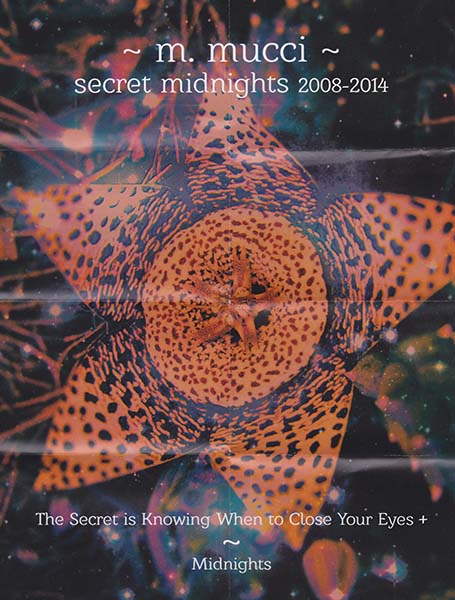 M. Mucci
Secret Midnights
Guelph, ON
From the mesmerized apertures of Joshua Robinson:
Side B of this release was previously written about here.
Slowly, ever so slowly, thought takes form. Nadirs of fleeting melody particulate, each fleck of minute detail whisking away from its source; whisking away from itself. Slowly, ever so slowly, these details coalesce and emerge just as they fray at the seams and come to rest as tablatures too delicate to decipher. The re-release of this material is not only an acknowledgment of its quality, it is the recognition of how fragile permanence (as memory) can be. Incarnate tones tiptoe over themselves, their brittleness that which indentures their longevity. For all that is young and quiet, grow old and fond. For all that is fleeting and transient, stay still.
Des ouvertures ensorcelantes de Joshua Robinson:
(Traduit par Mylène Quevillon)
Lentement, toujours plus lentement, les pensées prennent forme. Les nadirs des particules d'une mélodie fugace, chaque détail minuscule qui passe transporté loin de sa source; transporté loin de son centre. Lentement, toujours plus lentement, ces détails s'amalgament et se décomposent, se déposent en tablatures trop petites pour être déchiffrées. La réédition de ces oeuvres n'est pas seulement un gage de leur qualité, c'est aussi la reconnaissance de la fragilité de la permanence et de la mémoire. Les tonalités incarnées s'entrechoquent, créant une fragilité qui diminue leur longévité. Étant donné que tout ce qui est jeune et tranquille vieillit et se gâte. Étant donné cette fugacité éphémère, restez immobile.
M. Mucci – The Secret is Knowing When To Close Your Eyes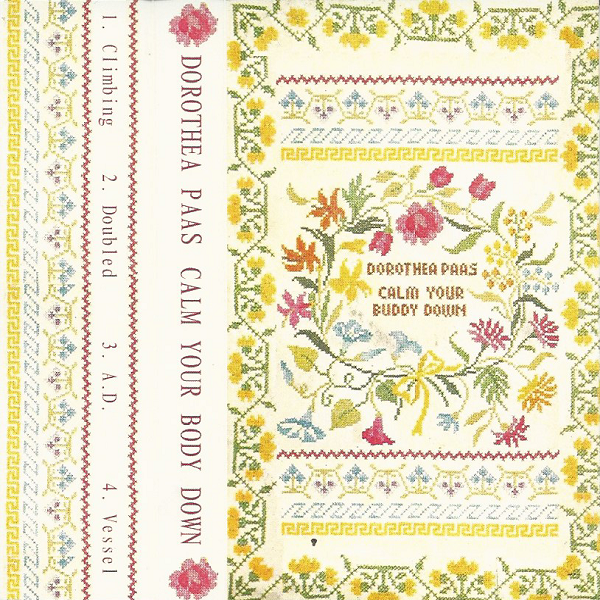 Dorothea Paas
Calm Your Buddy Down
(Self-Released)
Toronto, ON
From the pulsing skull of Adam Bradley:
Crunchy turtle Sunday mornings. Cold coffee sips and house plants swaying green in cool Spring window breeze. Swollen unsure memories pore over the night before. A small kiss, a rip in your favourite old t-shirt, accidentally smashed highball glass. Regretful rolling into wistful, the soft ache in the skull pulsing out questions. Denim and plaid clad reaper sits in a chair close by, whispering dead-leaf nostalgic elegies. Stained and heavy curtains billow while dust motes drift on yellow beams.
Sorti des pulsations du crâne d' Adam Bradley:
(De l'hémisphère gauche de Diane Beaupré)
Dimanches matins paresseux. Gorgées de café froid et plantes tirant sur le vert dans la fraîche brise printanière. Souvenirs confus de la veille. Un petit bec, un trou dans votre t-shirt préféré, un verre accidentellement cassé. Les regrets font place à la mélancolie, la douleur lancinante sous vos cheveux bat au rythme des questions. Jeans et chemise à carreaux jetés sur une chaise récitent un poème automnal. Les rideaux épais et tachés se gonflent tandis que la poussière est poussée par le vent sur les poutres jaunes.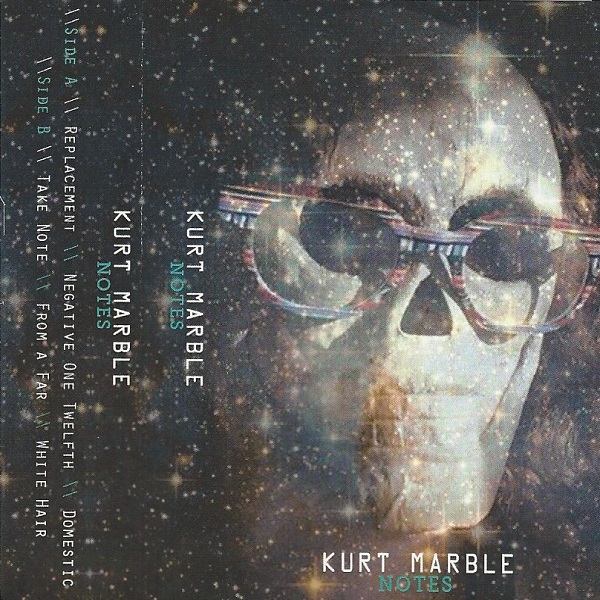 Kurt Marble
Notes
(Self Released)
Toronto, ON
From the impeccable hyperbole Adam Bradley:
Huck the holy hatchet slow-mo into the event horizon. Cement fisted, muscles taut, teeth cracking. A flash of lightning light and a tremendous boom. Kurt Marble emerges from the seething black sphere, all beings of hot, golden energy. Six songs of adamantine garage rock godliness lie herein, slashing on harsh curvature, pummeling like ancient anger. Giant riffs quake, an Olympian voice belts in echo, pensive moments seep through the cracks. The golem comes, prepare thy ears.
De l'hyperbole impeccable d' Adam Bradley:
(Traduit par Jessica Grenier)
La hachette sacrée est lancée, au ralenti, dans l'horizon des événements. Poings de ciment, muscles prêts, dents fendillées : Kurt Marble émerge de la sphère noire nébuleuse en une créature d'énergie rouge et or. Voici six chansons consacrées au rock de garage adamantin, tronçonnant les courbures brutes et martelant telle une rage ancienne. Un tremblement de riffs titanesques fait écho à une voix olympienne; des instants pensifs s'infiltrent par les crevasses. Le golem arrive, soyez avertis.
Adrian Verdejo
Modern Hearts: New Music For Electric Guitar
Vancouver, BC
From the black domino of Lael Johnston:
Tell me about the third. Tell me about the sixth. Dad failed me. Don't be defeated by laundry. Travel forwards, travel sideways, alone or with a friend. Canadian "Rye" Cooder. Apparently Greg Godovitz threw the original score of Tubular Bells in a fire. Mike singed his fingers pulling it out.
Lael Johnston is the Music Director at Chestermere High School Calgary.
Du domino noir de Lael Johnston:
(Traduit par l'As de trèfle de Joannie Pharand)
Parle-moi du troisième. Parle-moi du sixième. Mon père m'a laissé tomber. Ne vous laissez pas abattre par le lavage. Allez de l'avant, allez sur les marges, seul ou avec un ami. Le « Rye » Cooder canadien. Il semble que Greg Godovitz ait jeté la bande originale de « Tubular Bells » au feu. Mike s'est légèrement brûlé les doigts en le retirant.
Lael Johnston est le directeur musical de l'école secondaire Chestemere, Calgary.

Adrian Verdejo – The Black Domino (Rodney Sharman, 1988)
Adrian Verdejo – Septet For Six Electric Guitars and Bass (James Tenney, 1981)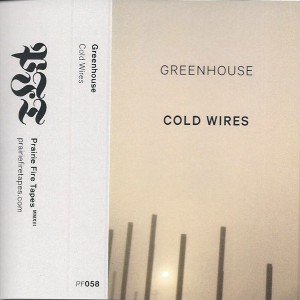 Greenhouse
Cold Wires
Winnipeg, MB
From the green apartment of Kevin Strang:
Winnipeg drone guitarist Curran Farris has become known for his signature tones and signals, elevating the listener in both live and recorded settings. Cold Wires continues his ethereal world of pedal worship, providing a musical base to a moment in which one can pause and be raised above the void of soundlessness in their mental make-up, looking down upon their thoughts as they are momentarily lifted into a lush musical landscape. Serving as the perfect follow up to his 2011 album Tired Forever, with Cold Wires Farris gives the listener another escape for 45 minutes and 14 seconds.
De l'appartement vert de Kevin Strang:
(Traduit par le cercle chromatique de Catherine Gaucher)
Curran Farris, guitariste drone originaire de Winnipeg connu pour le son distinctif de ses tonalités et signaux, est capable de soulever ses auditeurs autant en écoute live que sur enregistrement. Cold Wires est conséquent de son monde éthéré voué au culte des pédales et fournit une trame musicale propice à un moment où l'on peut faire une pause et, dans une constitution mentale, être élevé au-dessus du vide du silence, observant d'en haut les pensées pendant qu'elles s'élèvent momentanément dans un luxuriant paysage musical. Servant de parfaite suite à son album Tired Forever, paru en 2011, Farris, avec Cold Wires, offre à ses auditeurs une autre évasion de 45 minutes et 14 secondes.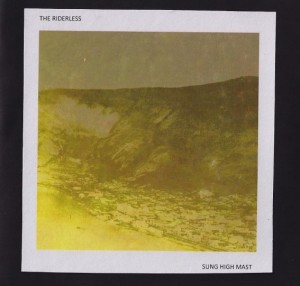 The Riderless
Sung High Mast
(Self Released)
London, ON
From the eavesdropping fauna of Javier Fuentes:
An autumn sunset peers in through the windows and onto the stable of instruments set out by the fire. Forest hymns cut through the rustling hush of the mountains as the repeating patterns entrance the eavesdropping fauna. The skin of each drum trembles as the wind outside picks ups strength, carrying nature's debris to resting places amongst shards of glass and discarded cans. Conversing notes stay deep in their discussion as they weave together an acoustic drone with patience and virtuosity. Seasons elapse into the subconscious without notice. No need to look outside, the cycle will run its course.
De la faune discrète de Javier Fuentes:
(Traduit par le spleen saisonnier de Virginie Langlois)
Le soleil couchant d'automne perce à travers les carreaux et se reflète sur les instruments disposés près du feu. Les hymnes de la forêt transpercent le murmure silencieux des montagnes alors que les motifs récurrents ravissent la faune venue écouter discrètement. La peau de chaque tambour tremble à mesure que dehors le vent se renforce, transportant les débris de la nature vers des aires de repos au beau milieu des tessons de verre et des vieilles boîtes de conserve. Le dialogue des notes se poursuit et, avec patience et virtuosité, celles-ci se mettent à tisser un drone acoustique. Sans prévenir, les saisons s'écoulent dans le subconscient. Inutile de regarder à l'extérieur, le cycle suivra son cours.
The Riderless – A Prized Gather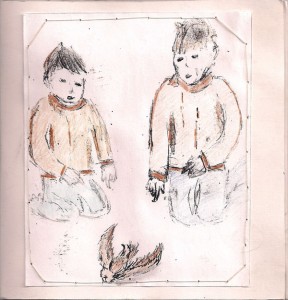 Poler Bear
So Long, Lonesome
(Self Released)
Saskatoon, SK
From the howling heart of Jesse Locke:
Poler Bear's So Long, Lonesome is the lamplight soundtrack for dark days and nights. There is so much evoked by these sparse compositions: quivering vocals inducing Elverum; field sampled children conjuring Camoufleur; austere acoustics providing the prairie response to Black Walls. File this labour of love under New New Sincerity and welcome an old friend inside from the cold.
Du coeur hurlant de Jesse Locke:
(Traduit par la froideur canadienne de Julie Forget)
L'album So Long, Lonesome de Poler Bear est la bande originale lumineuse pour les jours et les nuits sombres. Tant de choses sont évoquées dans ces compositions éparses : un chant tremblotant nous rappelle Elverum; des enfants qui batifolent dans un champ invoquent comme par magie Camoufleur; les guitares acoustiques austères offrent une réponse des Prairies à Black Walls. Classez ce travail fait avec amour dans New New Sincerity et accueillez un vieil ami provenant d'un monde froid.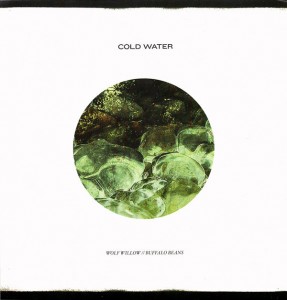 Cold Water
Wolf Willow b/w Buffalo Beans
Calgary, AB
From the gruff stuff of Jesse Locke:
That voice emanating from the mouth of Kevin Stebner might sound unreal, but this is a man who has earned his Beaver Badges and become fully grown. Slowing the post-hardcore roll of of his stalwart project while maintaining the inimitable qualities of new/old Canadiana, he stays frosty with the country-rock turns of Cold Water. The songs of this 7" are no longer seasonally appropriate, but their heart-on-flannel-sleeve feeling will stay with you year-round.
De l'attitude bourrue de Jesse Locke:
(Traduit avec la main sur le cœur de Dominic Mpilé)
Cette voix sortant de la bouche de Kevin Stebner peut sembler irréelle, mais voici un homme qui a gagné ses galons et mangé toutes ses croûtes. En ralentissant le rythme post-hardcore de son autre projet Stalwart Sons tout en maintenant la qualité inimitable de la griffe new/old Canadiana, il garde le cap avec le virage country-rock de Cold Water. Les chansons de ce 7" ne sont plus saisonnières, mais leurs émotions à fleur de peau resteront en vous toute l'année.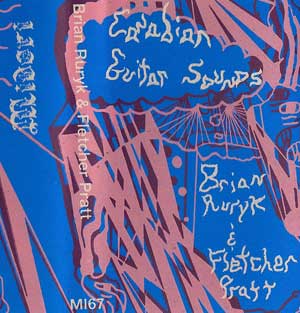 Brian Ruryk and Fletcher Pratt
Canadian Guitar Sounds
Toronto, ON // Winnipeg, MB
From the hate, guitar, etc. of Jesse Locke:
Toronto's storied six-string weakling and Winnipeg's notorious nightmare machinist junk it up on this flesh-crawling collab. The plainspoken title does little to prepare for the onslaught of shreddery lost in the tempest of tape loops and R2-D2 squeals. Bill Orcutt getting down with Bernard Bonnier is a start, but this is more like Mutant Concrète.
De la haine, la guitar, etc. de Jesse Locke: (Traduit par les cauchemars acoustiques de Maya Keshav)
L'avorton légendaire de six cordes de Toronto et le machiniste cauchemardesque mal famé de Winnipeg balancent grave avec cette collaboration qui nous donne des frissons. Le titre franc fait rien pour nous préparer pour l'assaut de shred perdu dans la tempête de boucles de cassette et de cris à la R2-D2. Si Bill Orcutt niquait Bernard Bonnier, ça serait un début, mais ceci est plutût comme Mutant Concrète.
Brian Ruryk and Fletcher Pratt – Canadian Guitar Sounds (excerpt)
---