Tag: guillaume morissette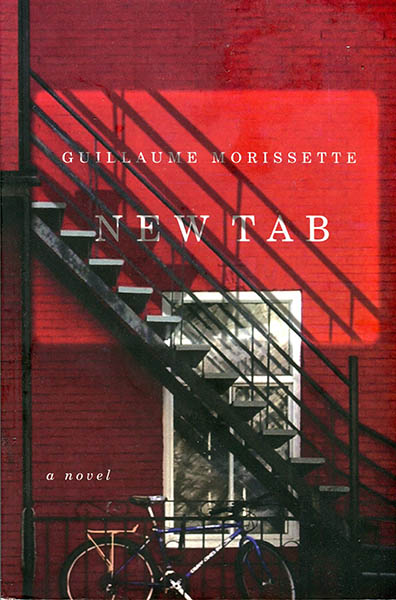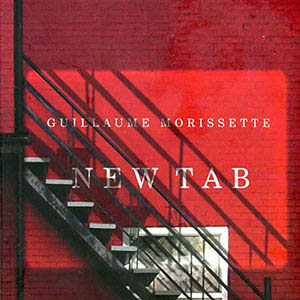 New Tab
Guillaume Morissette
212 pages, perfect bound
Montréal, QC
From the groove/routine/rut (D.C. al Fine) of Jordan Voith:
In New Tab, Morissette maintains a quotidian focus, and the effect is one of bittersweet boredom and comfort in familiarity. Protagonist Thomas navigates empty employment, abortive courtships, and casual substance abuse; it's an old landscape, arable for a type of solidary ease, but not much more. Comfort invites inertness, and inertness invites lack. In response, Morissette proffers a Seinfeldian zen as panacea. He gives the void a bear-hug (might as well get cozy with your most enduring companion), and in his embrace, absence starts to look an awful lot like substance. Sure, a steady diet of bad beer and worse hangovers might not be enough in the conventional sense, but when you think about it, it's not not enough, either. The universe abides, man.
Du rythme/de la routine/du ronron (D.C. al Fine) de Jordan Voith:
(Traduit par Jessica Grenier)
Dans New Tab, Morissette continue de s'intéresser au quotidien en dépeignant le confort de ce qui est familier et la douce amertume de l'ennui. La vie de Thomas, le protagoniste, est ponctuée de relations avortées, du manque d'emplois et de consommation occasionnelle de drogue. C'est un ancien paysage, parfait pour une certaine aisance solidaire, sans plus. Le confort invite l'inertie, et l'inertie amène le manque. Pour réponse, Morissette présente comme panacée une zénitute Seinfeldienne. Il donne un gros câlin au vide (aussi bien être à l'aise avec son compagnon le plus persistant); et dans cette étreinte, l'absence se met à ressembler énormément à de la substance. C'est sûr qu'au niveau conventionalité, une routine de mauvaise bière et de gueules de bois encore pires n'est peut-être pas suffisante, mais quand on y pense, ce n'est pas pas suffisant non plus. C'est simple, l'univers approuve.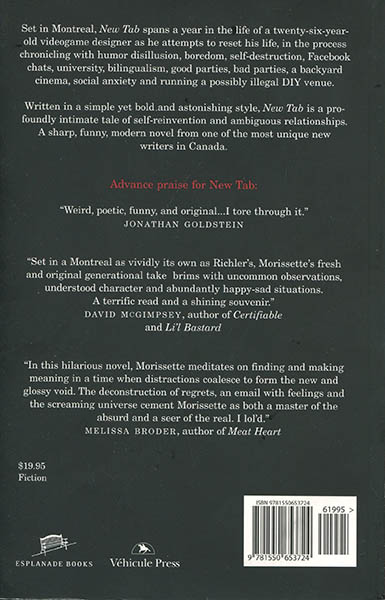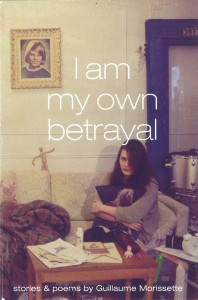 I Am My Own Betrayal
Written by: Guillaume Morissette
[102 pp., paperback, perfect bound]
Montreal, QC
From the resignation and resurrection of David Steinberg:
Sleepwalking through pop culture lugubriousnesses, avoidable faux-paux, and intentional bridge-burning, Guillaume Morissette's I Am My Own Betrayal rubs the dust from its eyes, confused, and with a bloody nose, but grinning upon the light of the new morning. Post-mortem, dream analysis, hung-over last-night-puzzle-piece configuring, the stories and poems within try to make sense of events, painful or pleasant, in the context of transitional analysis and Wrestlemania video games, though neither one more successful than the other. However, it would not be fair to paint too blue a picture of Morissette; you will find no self-pitying apathy here. There is pain and hope: "If life is a minefield, then happiness was probably running in it."
De la résignation et la résurrection de David Steinberg:
(Traduit par l'analyse des rêves de Vincent Rondeau)
Avançant à tâtons parmi la culture pop lugubre, les faux-pas faciles à éviter et les ponts brûlés, « I Am My Own Betrayal » de Guillaume Morrissette se frotte les yeux pour en ôter la poussière, confus et saignant du nez, mais souriant dans la lumière du matin. Post-mortem, à la manière de l'analyse des rêves ou d'un casse-tête intérieur de lendemain de brosse, les histoires et les poèmes de ce recueil tentent de donner un sens à des événements douloureux ou joyeux dans un contexte d'analyse transactionnelle et de jeux vidéo de Wrestlemania, même si ni l'un ni l'autre n'ont de succès. Mais il ne serait pas juste de montrer Morissette comme quelqu'un de trop las ou mélancolique : vous ne trouverez aucune apathie ni apitoiement ici. Il y a de la douleur comme de l'espoir : « si la vie est un champ de mines, le bonheur c'est de courir à travers ».
---