Tag: guelph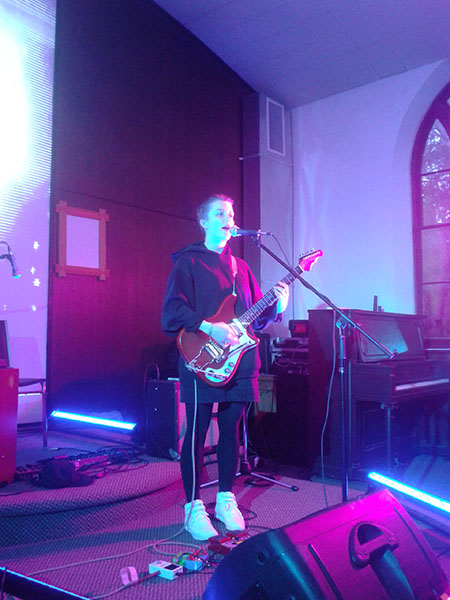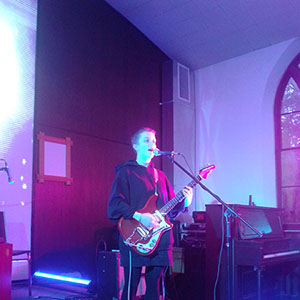 Kazoo Fest
(Photos and illustrations by: Andrea Manica)
Guelph, ON
From the creative warmth of Andrea Manica:
I travelled to Kazoo Fest in Guelph this year, arriving Thursday evening and staying til Sunday. I attended performances in vintage stores, cafes, art galleries, churches & even the ring at TNT Boxing. The range of musical acts, often paired with hypnotizing visuals took me to another world.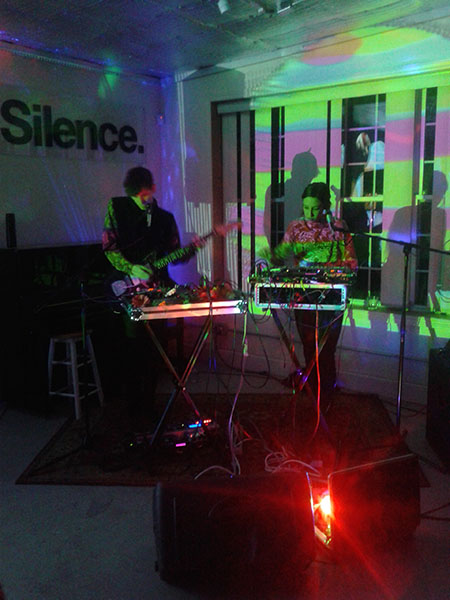 Zones at Silence (photo)
Zones played a melodic and colourful set at Silence.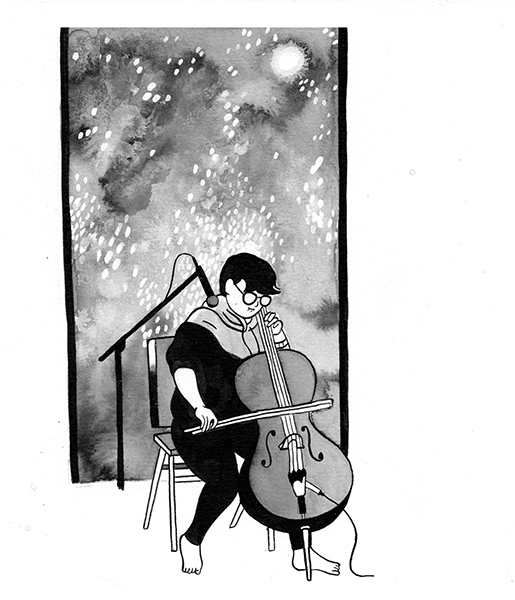 Cris Derksen (illustration)
Cris Derksen's dramatic and varied performance vibrated through Heritage Hall.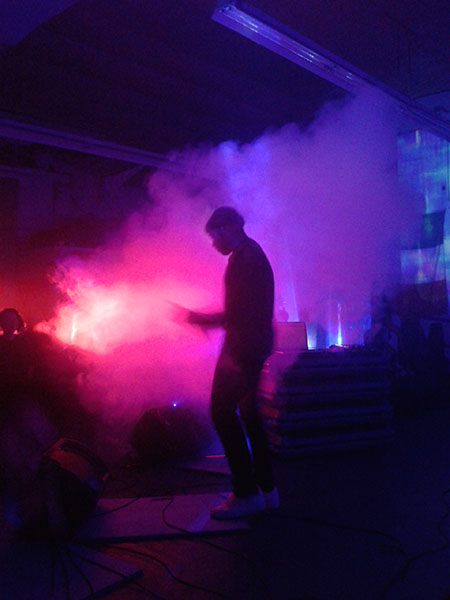 Keita Juma at TNT Boxing (photo)
Keita Juma got the crowd leaping at TNT Boxing.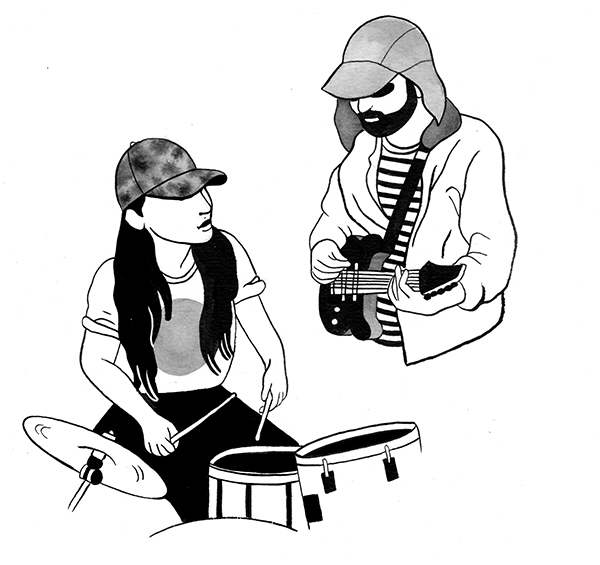 Cold on Pluto (illustration)
Cold on Pluto made us nod our heads in unison as they played their afternoon set at Take Time Vintage.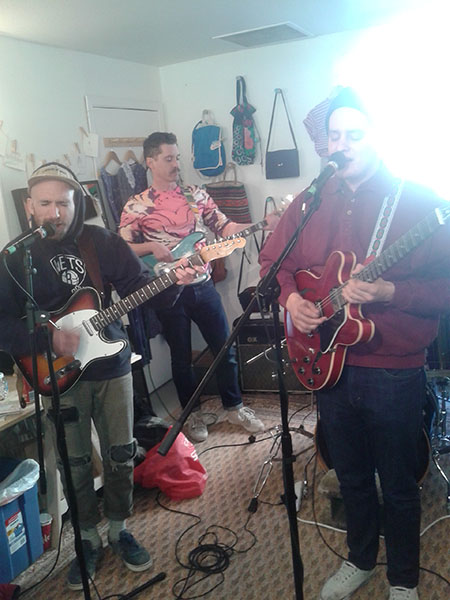 Bart at Outpost Vintage
Bart brought love, playing an upbeat surprise show at Outpost Vintage.
The weather was harsh, but each venue was bursting with creative warmth. The community came together, and its volunteers made the fest run smooth from start to finish. The pancake breakfast at Boarding House on Sunday morning was a chance to reminisce on the weekend's events, sipping coffee in the laid back atmosphere filled with musicians and artists.
De la chaleur créative d' Andrea Manica:
(Traduit par Maya Keshav)
J'ai voyagé à Kazoo Fest à Guelph cette année, en restant de jeudi jusqu'à dimanche. J'ai assisté aux concerts dans les friperies, les cafés, les musées d'art, les églises et même le ring de boxe TNT. La variété des numéros, souvent assortie aux visuels hypnotisants, m'a ébloui.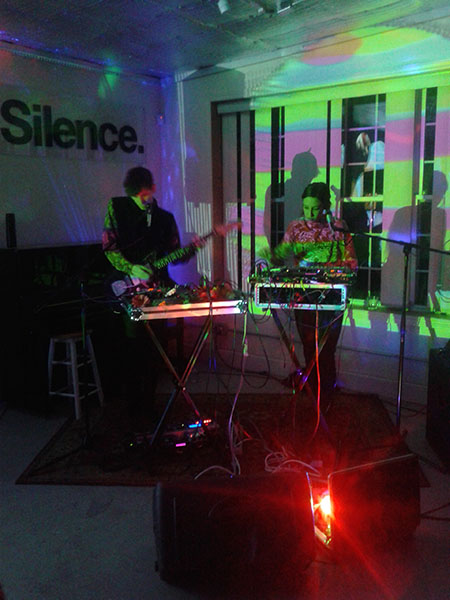 Zones à Silence
Zones a joué une prestation mélodique et colorée à Silence.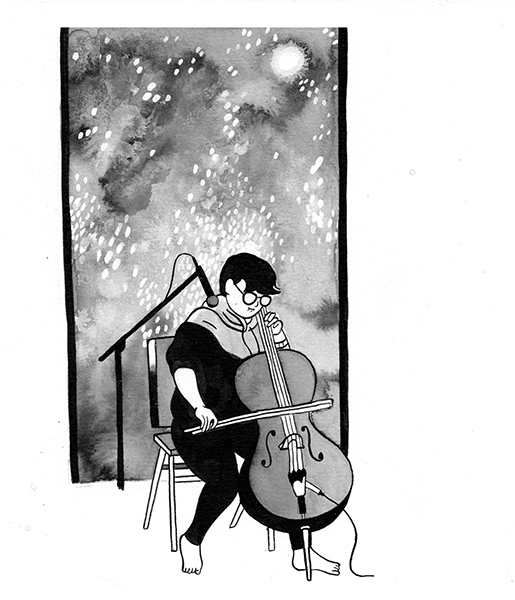 Cris Derksen (illustration)
Le concert dramatique et varié de Cris Dersken a vibré tout au long de Heritage Hall.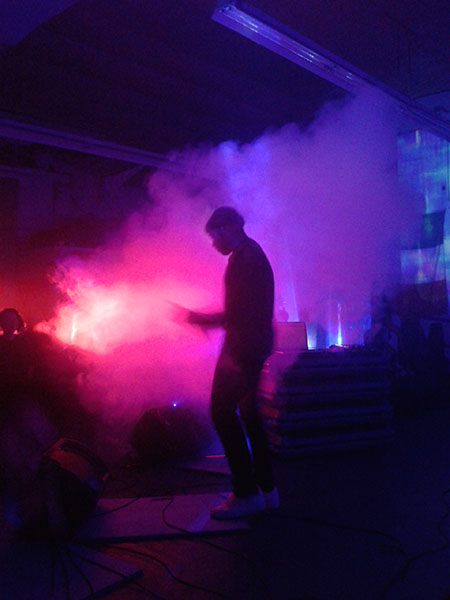 Keita Juma à TNT Boxing (photo)
Keita Juma a stimulé la foule à TNT Boxing.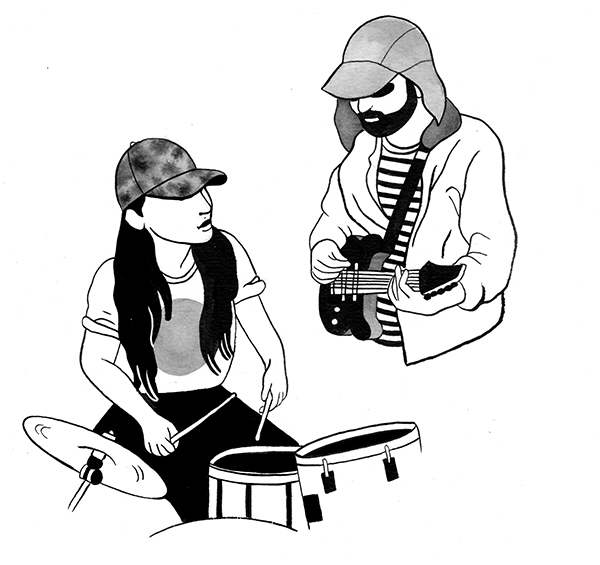 Cold on Pluto (illustration)
Cold on Pluto nous a fait hocher la tête à l'unisson pendant qu'ils jouaient leur prestation d'après-midi à Take Time Vintage.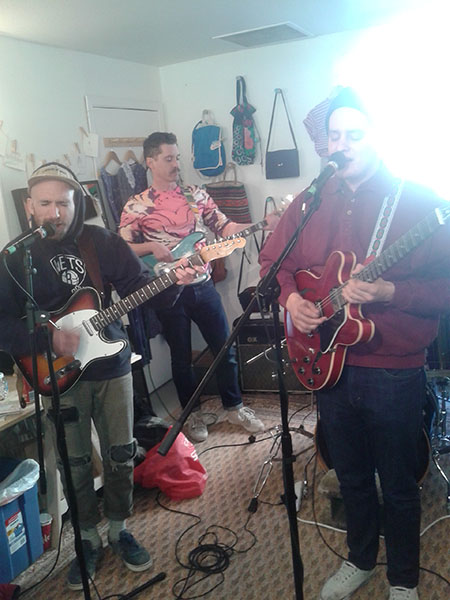 Bart à Outpost Vintage
Bart a amené de l'amour, en jouant une spectacle surprise et optimiste à Outpost Vintage.
Il faisait mauvais temps, mais chaque lieu se remplissait de la chaleur créative. La communauté s'est unie, et le festival s'est bien passé du début jusqu'à la fin grâce aux bénévoles. Le déjeuner des pancakes à Boarding House dimanche matin était notre chance de raconter des souvenirs des événements du weekend, en sirotant des cafés dans l'ambiance décontractée, avec les musiciens et les artistes qui nous entouraient.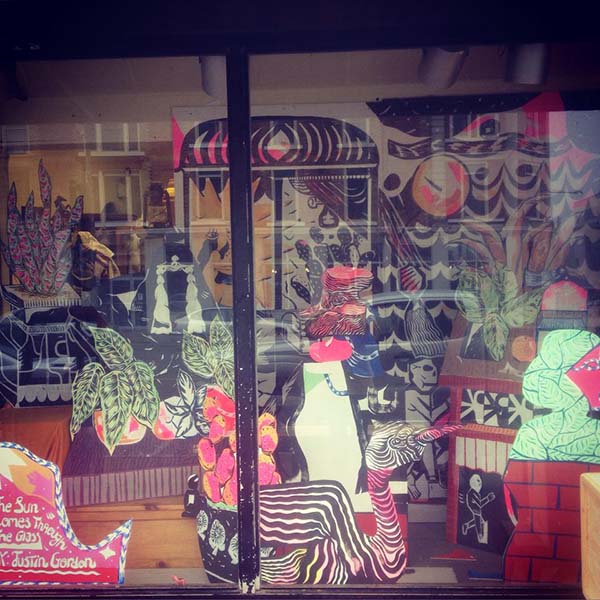 Justin Gordon

Montreal QB via Guelph ON
From the plush heart of Megan Arnold: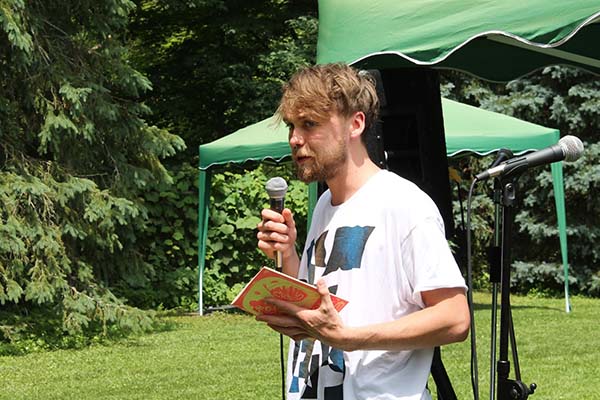 Justin Gordon at the "Hot Mess" comic launch at INCLINE/DECLINE fest in Guelph.
Cartoonists Justin Gordon and Megan Arnold met up at Incline/Decline Fest last summer, where Justin launched their most recent comic project, "Hot Mess." Together they found a nice tree on a hill during some downtime to talk about Justin's work—new and old—their tattoos, and their hometown of Guelph, Ontario.
————
You had something up for Kazoo! Fest 2015, and I noticed there's still a little bit left of it in Dis-A-Ray.
Yeah, the owner of Dis-A-Ray, Ray Mitchell, lends his window space to Kazoo! each year. I had a series of freestanding four-foot wood panels, and I cut the shapes out around them and painted the background so it was three-dimensional but still very flat and illustrative. It's called "The Sun Comes Through the Glass" and it was sort of a play on still lives, like recreating still lives and the idea of stillness coming into windows. I was kinda feeling like Kazoo! and festivals like Incline/Decline are so fast-moving that it's nice to have those breathing points.
In comparison to other places that you've lived, how do you feel about the Guelph art scene?
There are some great illustrators here. It's very small and very friendly. I feel very connected to other people who draw things and make animations. Marc Bell and Amy Lockhart were also living here for the last six or seven, maybe eight years. Having them living down the street from me really shaped the way that I think about art.
I can definitely see their influence in your style.
Yeah, there was a lot from Marc and Amy. But there's also younger illustrators, and a few people who do silkscreening. I've had some good collaborations with people and everyone is very receptive. Because it is a smaller city, things can have a big impact, and it keeps people working. I find it very laid-back here, in a way, where I think that maybe I'm craving an inner-city, confrontational thing, or like making art in response to other people. Whereas here it's sort of like "everything is cool and nothing sucks," and I wouldn't want to be the person that makes a response piece to someone. But I think that really helps generate an idea flow and some kind of lineage between people. But maybe I'm just romanticizing being a painter in an era that I couldn't fathom.


1. Sun Comes Through The Glass (window installation, Kazoo! Festival, Guelph 2015)
2. Sketch for upcoming project. 3. En Masse painting for NXNE (toronto, 2015) collaborators include: Jason Botkin, Waxhead, Bonar, Snail, Jerry Rugg.
What was your process like while working on "Hot Mess," which was launched at Incline/Decline?
It was very much in this way of re-enacting a 9-to-5 job but over a comic book. I was diligent with it. I was also considering a lot of feminist theory and queer theory and identity politics – like the way people express feeling about their bodies in change and transition. I felt like I was listening to a lot of people talk about how they fit into social spaces and how they fit into their bodies, so I was just trying to re-enact that through a lighthearted, accessible comic book, and trying to relate that with softer shapes and identifiable figures. It took me a month to make. I kind of wanted to make it as a classic comic book, where it's 6"x8" and 24 pages, and has nice opening credits.
Are themes of bodies and queer/feminist theory something that you work with a lot, or was it just a focus for "Hot Mess"?
I think they are. I'm trying to abstract a lot of things. It was a really big instigation for "Hot Mess." I feel like it's important for me to solidify my identity within that before I even start making things. There's really few reminders to breathe and drink enough water and rest and take time for yourself before you jump the gun and start to produce something.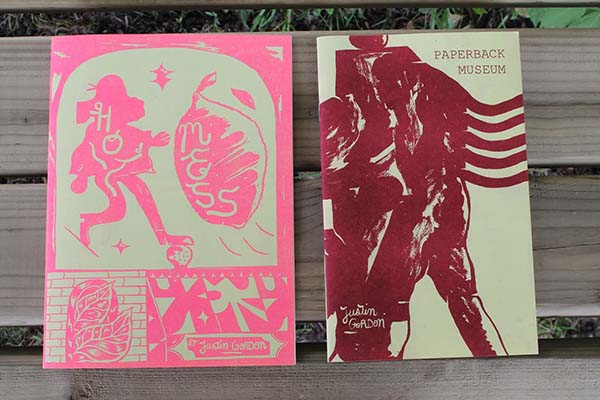 Hot Mess and Paperback Museum.
Do you have any more books planned?
My next book is gonna come out with Swimmers Group in Toronto and I'm gonna build things out of clay and paint more panels and take photos of them. I'd really like to have it be more like a gut instinct, or more about feeling than trying to maintain a certain format for it. 'Cause I think it's fun to play and good for your health to just experiment.
Is this one gonna have a narrative to it?
I think it's gonna be a lot of short pieces, allowing the narratives to come up with different mediums, like having painting be contained in its own colour schematic and placement, and then switching it for pencil drawings. Just allowing things to collect themselves. I'm going to school in Montreal next year to study art theory. It's sort of fun watching things change, and everything that you do recreates, reconstructs and informs what you would do after. And I think that's why it's funny to do an interview because I don't have any answers.
That's okay! Do you know when your next book will be done?
No. I might take some time with it. I might really feel it out. I feel like it's easy for me to get into production mode and lose the content a bit. Living in a cabin in the woods over the summer has given me enough space to look at what I've been doing and what things are about. So I'm gonna try to keep this small part of me that's like, "You're still in your cabin in the woods. Don't rush it."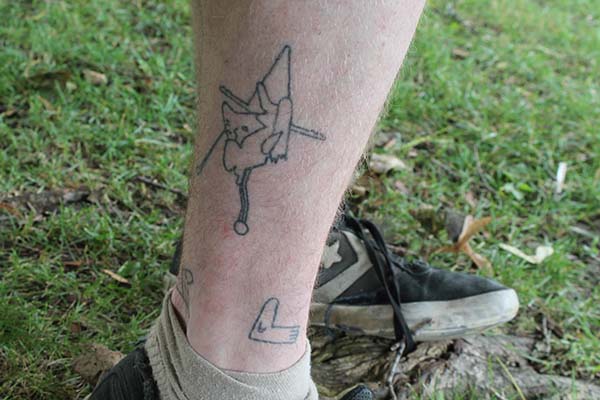 Justin's tattoo of a Patrick Kyle drawing.
Are there any of your contemporaries that you think people should know about?
Yeah! What Alicia Nauta is doing with the Klassic Kool Shoppe is the best. Folks should all know about Colour Code Printing – they do the best work. I like what Boogerbrie is doing. They seem really rad, and are really working with femininity in panel comics. Jesi the Elder is forever the best. I'm always a really big fan of what Patrick Kyle does. There's a lot of amazing and totally inspiring people. There is a subcultural community that has such amazing characters in it. It's really why I wanna make things ever, is just to be able to engage with those people.
Du coeur séduisant de Megan Arnold:
(Traduit par Sergio Calla)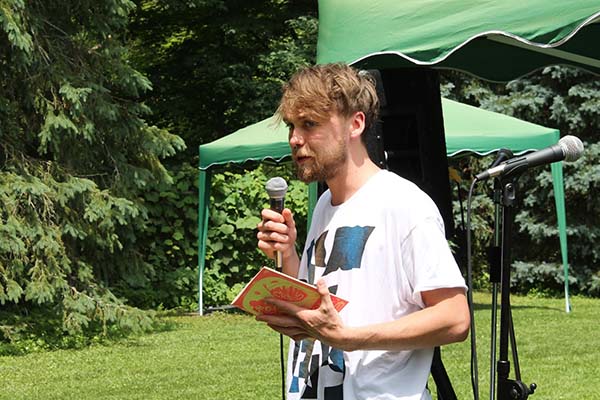 *Justin Gordon au festival Incline/Decline à Guelph pour le lancement de la bande dessinée « Hot Mess » *
Les caricaturistes Justin Gordon et Megan Arnold se sont retrouvés au festival Incline/Decline l'été dernier, où Justin a lancé son plus récent projet de bandes dessinées s'intitulant « Hot Mess ». Ils se sont installés sous un arbre sur une colline lors d'une pause afin d'échanger sur les projets récents et précédents de Justin, ses tatouages, et sa ville natale de Guelph en Ontario.
————
Vous avez fait quelque chose pour le festival « Kazoo » en 2015, et j'ai remarqué qu'il en reste encore un peu chez « Dis-A-Ray ». 
Oui, chaque année, le propriétaire de « Dis-A-Ray », Ray Mitchell, prête la vitrine de son commerce comme espace publicitaire à Kazoo!. J'avais une série de panneaux en bois mesurant quatre pieds de hauteur et j'ai coupé des formes autour et peint l'arrière-plan afin de donner une certaine illusion tridimensionnelle en gardant le tout plat et explicatif. Il est appelé « The Sun Comes Through the Glass » pour donner une apparence en quelque sorte d'inactivité et de bien recréer l'idée de l'immobilité qui entre par les fenêtres. Je me sentais un peu comme « Kazoo » et ce genre de festival comme Incline/Decline est en constant mouvement, il est agréable d'avoir ces moments de pause.
Quelle est votre opinion de la scène artistique à Guelph comparé aux endroits où vous avez déjà habité?
Il y a d'excellents illustrateurs ici. C'est très intime et très sympathique. Je me sens très lié avec d'autres dessinateurs et ceux qui font de l'animation. Marc Bell et Amy Lockhart ont également demeurés ici depuis six ou sept ans, peut-être même huit ans, et j'ai eu le plaisir de les côtoyer pendant plusieurs années. Ils ont influencé la façon dont je vois les arts par leur proximité.
Leur influence se démontre définitivement dans votre style.
Effectivement Marc et Amy ont donné beaucoup. Il y a aussi de jeunes illustrateurs et quelques personnes qui font de la sérigraphie. Il y a un bel esprit de collaboration et les gens sont très ouverts. Puisqu'il s'agit d'une petite ville, beaucoup de choses peuvent avoir un gros impact, ce qui peut encourage les gens à continuer leur travail. Je trouve ça très décontracté ici, au point d'avoir le gout d'un affrontement dans la ville en quelque sorte ou bien de réaliser des créations en réaction aux autres. Ici par contre, tout semble être cool, il n'y a rien de déplaisant et je ne voudrais pas semer de la controverse en réagissant à quelqu'un, mais je crois que ceci sert à générer des idées et un certain historique entre nous. Peut-être que j'idéalise être peintre dans une époque mystérieuse.

1. Sun Comes Through The Glass (installation de vitrine, Festival Kazoo, Guelph 2015)
2. Dessin pour un projet futur 3. La peinture « En Masse » pour le NXNE (Toronto 2015) les collaborateurs inclus : Jason Botkin, Waxhead, Bonar, Snail, Jerry Rugg
Expliquez-nous le cheminement du projet « Hot Mess » lancé au festival Incline/Decline?
C'était pas mal un travail de recréer une journée de travail de 9h à 17h, mais dans la création d'une bande dessinée avec des idées de théories féministes et queer et aussi de politique identitaire. Un peu comme la façon dont les gens s'y prennent pour s'exprimer sur l'évolution de leur physique lors de transition et de changement. J'avais le sentiment d'écouter tout le monde parler de la façon dont ils se situent dans les espaces sociaux et comment ils s'adaptent à leur image corporelle. C'est d'essayer de tout reconstituer par le biais d'une bande dessinée accessible et plaisante tout en tentant de relier l'ensemble avec des formes plus souples et des silhouettes reconnaissables. Ça m'a pris un mois pour la réaliser. J'ai voulu créer une bande dessinée classique de 6''x 8" de 24 pages, avec un générique d'ouverture agréable.
Travaillez-vous beaucoup avec les idées de théories féministes et queer et avec les corps ou bien était-ce un projet unique pour « Hot Mess » ?
Je crois que oui et j'essaie de rendre abstraites beaucoup de choses. Ce fut un facteur motivateur pour « Hot Mess ». J'ai l'impression que c'est important pour moi de solidifier mon identité même avant que je me mette à créer quelque chose. Il faut prendre le temps de respirer, s'hydrater et se reposer avant de faire le saut vers une création.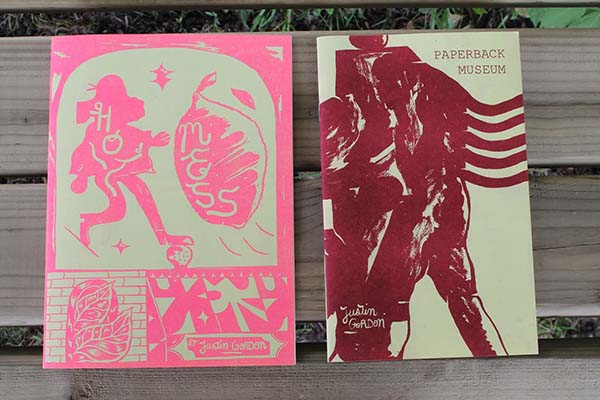 Hot Mess et Paperback Museum.
Avez-vous d'autres livres de planifiés ?
Mon prochain livre verra le jour avec la collaboration de Swimmers group à Toronto dont le but est de fabriquer des objets avec de l'argile et de peinturer plus de panneaux et de les prendre en photo. J'aimerais être plus spontané et faire confiance à mon intuition au lieu de garder la même tendance. Je crois que l'expérimentation est très plaisante et bonne pour la santé.
Est-ce qu'il y aura une narration?
Je pense que ce sera de courts extraits avec des récits qui diffèrent selon la plateforme. C'est comme une peinture ayant ses propres couleurs et son propre lieu pour ensuite faire le virage vers des dessins au crayon et voir comment ça se passe. L'année prochaine, je serai à Montréal pour suivre des cours sur la théorie des arts. Je m'amuse à voir les choses changer, car tout ce que l'on fait aujourd'hui nous amène aux créations de demain et à nos aspirations futures. Pour moi, c'est drôle de faire des entrevues, car je n'ai pas les réponses.
C'est correct ! Savez-vous quand votre prochain livre sera terminé ?
Non. Je prendrai le temps qu'il faut. Je vais y aller intuitivement. C'est trop facile pour moi de me mettre en « mode production » et de perdre du contenu. Avoir passé du temps dans un chalet dans le bois pendant l'été m'a donné la chance de me retrouver et de découvrir la vérité. Alors sans trop me ruer, je vais tenter de rester fidèle à moi-même.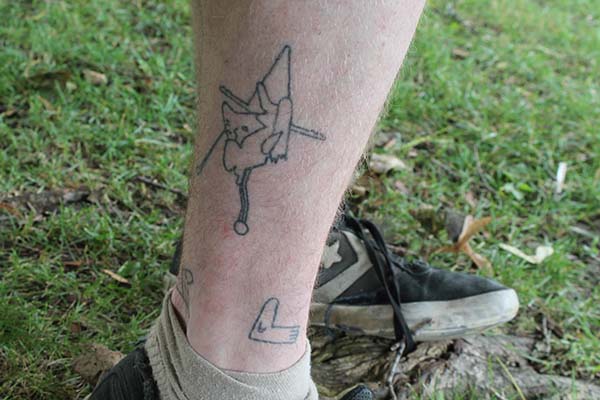 Le tatouage de Justin basé sur un dessin de Patrick Kyle.
Voulez-vous reconnaitre certains de vos camarades ?
Oui! J'aime beaucoup ce que Alicia Nauta fait avec Klassic Kool Shoppe. Tout le monde devrait connaitre le travail d'impression par code de couleur. C'est un travail impeccable. J'aime aussi les créations de Boogerbrie. Ils se démarquent par leurs vignettes avec un point de vue féministe. Jesi the Elder est l'une des meilleurs. J'ai une grande admiration pour le travail de Patrick Kyle. Il y a plein d'artistes qui sont une source d'inspiration incroyable. Il y a une communauté subculture qui a des superbes personnages. C'est pourquoi je fais des créations, afin de pouvoir côtoyer ce genre de personnes.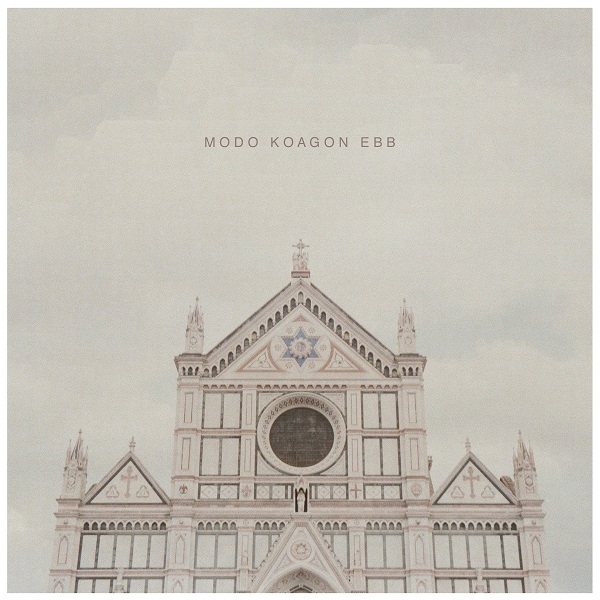 Modo Koagon
Ebb
(Self-Released)
Guelph, ON
From the last breath of Heather Lune:
The field recordist curls up after a long life and goes to sleep. The moment – the fall – the rise – the bridge – the break – eternally suspended in the midst of infinite sound.
A toy xylophone, screaming shoreline wind, liquid sliding on skin, dead radio whirling the drain, while stirring the spoon chinks the glass, razors buzz, the jazz cd skips, the car and the sound the land makes as you pass through it, insects in trees, blades on ice, the gutters melting, tapping typewriter, the beep of the life support machine, the clock on the wall.
You discover the moment of death – that split second before the jump, forever.
Du dernier souffle de Heather Lune:
(Traduit par le gargarisme salé de Julie Mayer)
Le preneur de son se pelotonne après une longue vie et s'endort. L'instant – la chute – l'ascension – la transition – la rupture – l'homme est éternellement suspendu au milieu d'un son infini.
Un xylophone jouet, le hurlement du vent en provenance du rivage, le glissement d'un liquide sur la peau, une radio à plat s'écoule en tourbillons par la bonde, la cuillère fait tinter le verre lorsqu'on la remue, des rasoirs qui bourdonnent, le CD de jazz saute, l'auto et le son que la terre produit alors que vous passez dessus, les insectes dans les arbres, des lames de patin sur la glace, des gouttières fondent, les bruits de frappe d'une machine à écrire, les bips de l'appareil veillant au maintien des fonctions vitales, l'horloge accrochée au mur.
Vous découvrez l'instant de la mort – cette fraction de seconde avant le grand saut, à jamais.
Modo Koagon – Ebb (For Wilhelm and Ellen)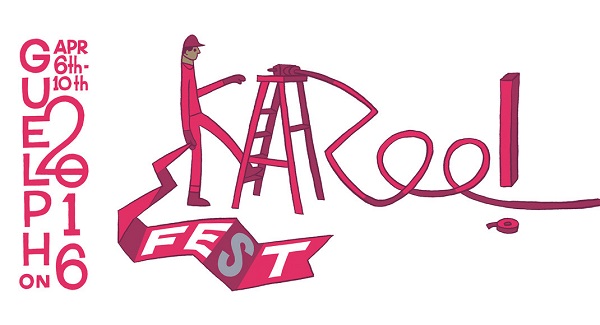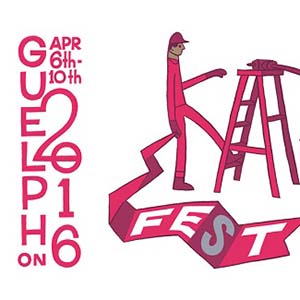 Kazoo! Fest 2016
Guelph, ON
From the ruling fingers of Sara Bortolon-Vettor:
Kazoo! Fest oozes out over 5 days in the intimate downtown core of Guelph. The 8th Kazoo! runs from April 6-10 2016, and soars to hit every weird sweet spot imaginable. An experiential annual delight, lifting our sneakers above the clouds.
What can you expect this year in the Royal City, where everything rules? A tightly curated lineup of everyone's favourite darlings, dreamers, stoners, visionaries, originators, best bad dads, experimenters, soul lifters, and heart tuggers are charming your ears over 5 blissed-out days.
Check out the Guelph Night Market (buy handmade stuff at night); Golden Bus Film Screenings (featuring Life of a Craphead's Bugs); contemporary dance; improv with The Making Box; the Kazoo! Print Expo; experiential art installations like the TrinkeTron 6750; plus live visuals and art gushing all over town.
Meet us at Vienna's for breakfast?
Par les doigts gouvernants de Sara Bortolon-Vettor:
(Traduit par les orifices fleurissants d'Émily Traichel):
Kazoo! Fest s'écoule le long de 5 jours dans l'intimité du coeur du centre-ville de Guelph. Le 8e Kazoo! a lieu du 6 au 10 avril 2016, et s'enligne pour toucher à tous les points forts du weird. Un délice annuel expérientiel, qui élève nos baskets par dessus les nuages.
À quoi pouvez-vous vous attendre cette année dans la cité royale, où régnent toutes sortes d'expression créative? Une programmation soigneusement sélectionnée des bien-aimés, rêveurs, stoners, visionnaires, initiateurs, méchants pères, expérimenteurs, leveurs d'esprit, et vibreurs de cordes sensibles préférés de tout le monde vous enchante les oreilles pendant 5 jours de félicité.
Découvrez le marché de nuit, le Guelph Night Market (achetez des items faits à la mains la nuit); les Golden Bus Film Screenings (en vedette, Bugs de Life of a Craphead); de la danse contemporaine; de l'impro chez The Making Box; l'exposition d'imprimerie de Kazoo!; des installations d'art expérientielles telle que le TrinkeTron 6750; et encore bien plus de montages visuels en direct et d'art qui jaillissent partout dans la ville. 
Rendez-vous chez Vienna pour le déjeuner?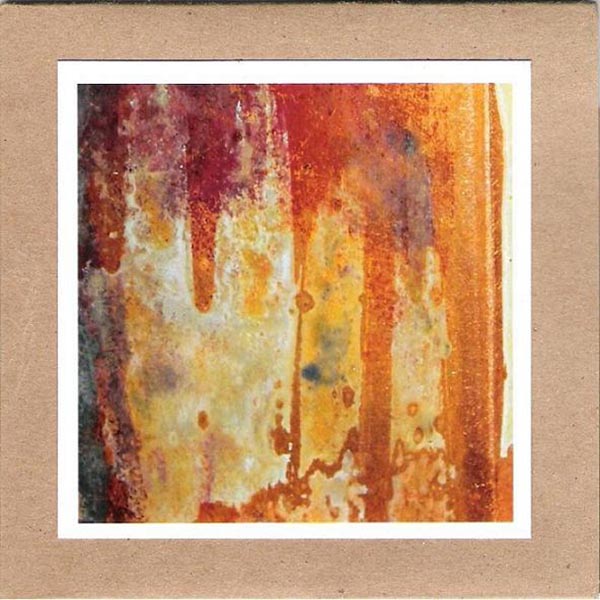 M. Mucci
Don't Be Afraid
Guelph, ON
From the dexterous string cycle laps of Trevor Angst:
"Starkest Darkness" is a song and an inspired cadence to an eponymous poem by Nathanael Larochette. It bands together the truth seekers who are boundlessly searching for pure self-expressionism, and calls to those who creatively jaunt through their unprecedented future. This extended collaborative intermezzo features the caesura of spoken word over M. Mucci's incessantly dexterous finger style pacing. It's your last impressioned coda. Don't Be Afraid is prominent in guitar and lap steel arrangements, assembling cymbal crashes and swells with orchestrated pipe organ drones.
De la corde qui tourne en boucle avec dextérité de Trevor Angst:
(Traduit par Moi Quevillon)
La chanson « Starkest Darkness » possède un rythme inspiré du poème éponyme écrit par Nathanael Larochette. Elle rassemble les chercheurs de vérité, ces êtres inlassablement en quêtent de l'expression personnelle la plus pure, et elle appelle ceux qui se baladent avec créativité vers un futur sans précédent. Cet intermezzo collaboratif prolongé nous offre une césure dans la création orale de M. Mucci constamment articulée virtuose du doigté avec cadence. C'est votre dernière impression – votre coda. La présence de guitare et d'arrangements lap-steel prévalent dans Don't Be Afraid, avec un drone ambiant d'orchestration de cymbales et d'orgue.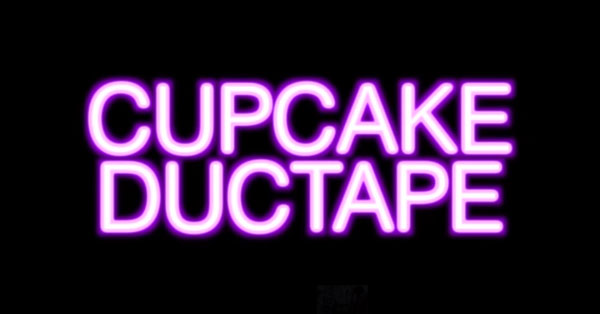 CUPCAKE DUCTAPE
Recipe for Disaster
(Directed by: Steph Yates)
Guelph, ON
From the faded out summers of Ben Burnett:
Deck out your back-to-school shoes with dollar store stickers. Dig out your old Furby and Tamagotchis. Fill a bag of old, ill-fitting clothes. Windshield-wipe all the clutter off your desk. Pop your packed lunch in the blender. Queue up this video. Empty all your judgements. Stand back. Prepare to press play again.
Des étés estompés de Ben Burnett:
(Traduit par la nostalgie scolaire de Julie Mayer)
Décore tes souliers achetés à l'occasion de la rentrée scolaire avec des autocollants qui viennent du Dollarama. Déterre ton vieux Furby et tes Tamagotchis. Remplis un sac de vieux vêtements mal taillés. Comme un essuie-glace, balaye dans un mouvement de va-et-vient tout le fouillis de ton pupitre. Emballe ton lunch dans un sac avant de le passer au mélangeur. Mets cette vidéo à la queue. Vide-toi de tout jugement. Tiens-toi à l'écart. Prépare-toi à appuyer sur « lecture » de nouveau.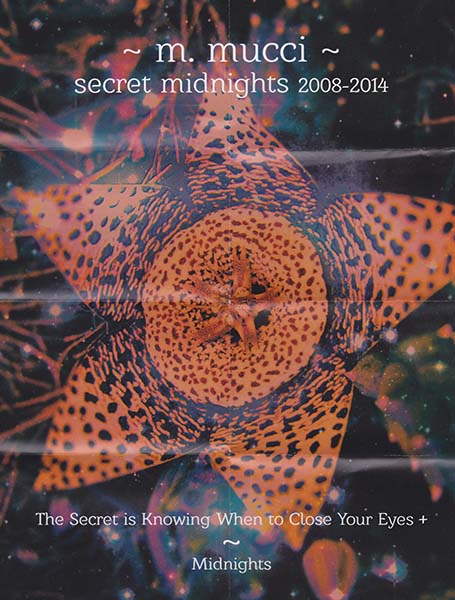 M. Mucci
Secret Midnights
Guelph, ON
From the mesmerized apertures of Joshua Robinson:
Side B of this release was previously written about here.
Slowly, ever so slowly, thought takes form. Nadirs of fleeting melody particulate, each fleck of minute detail whisking away from its source; whisking away from itself. Slowly, ever so slowly, these details coalesce and emerge just as they fray at the seams and come to rest as tablatures too delicate to decipher. The re-release of this material is not only an acknowledgment of its quality, it is the recognition of how fragile permanence (as memory) can be. Incarnate tones tiptoe over themselves, their brittleness that which indentures their longevity. For all that is young and quiet, grow old and fond. For all that is fleeting and transient, stay still.
Des ouvertures ensorcelantes de Joshua Robinson:
(Traduit par Mylène Quevillon)
Lentement, toujours plus lentement, les pensées prennent forme. Les nadirs des particules d'une mélodie fugace, chaque détail minuscule qui passe transporté loin de sa source; transporté loin de son centre. Lentement, toujours plus lentement, ces détails s'amalgament et se décomposent, se déposent en tablatures trop petites pour être déchiffrées. La réédition de ces oeuvres n'est pas seulement un gage de leur qualité, c'est aussi la reconnaissance de la fragilité de la permanence et de la mémoire. Les tonalités incarnées s'entrechoquent, créant une fragilité qui diminue leur longévité. Étant donné que tout ce qui est jeune et tranquille vieillit et se gâte. Étant donné cette fugacité éphémère, restez immobile.
M. Mucci – The Secret is Knowing When To Close Your Eyes
From the Guelph loving mind of Mike Deane:
I moved to Guelph from Edmonton in 2012, and after going to my first Kazoo! show (feat. Slim Twig, U.S. Girls, Legato Vipers, and The Furys), I realized that Kazoo! Fest was doing some of the most exciting and interesting musical programming in Guelph. After volunteering with Kazoo! Fest 2013 (with Sean Nicholas Savage, Doldrums, Jennifer Castle, Esther Grey, and more), I was sold: this was something that was both community-minded and challenging. I got involved with the festival shortly thereafter on a more official level. I still believe Kazoo! Fest is the most exciting thing in Guelph, as it brings together a group of people that truly believe in and love creative expression and try to bring their favourite music and art to a city that they value. It's entirely volunteer-run, it's 5 days of mostly all ages shows with affordable ticket prices, and there are 50+ bands, 1 dance performance, multiple visual arts events, multimedia events, a pancake breakfast and more. It's an amazing time in a small-ish Ontario town, and this year is definitely the most exciting that I could imagine.
1. Familiar Fiends – Hey Moocha
2. Badminton Racquet – You Boys and Your Quilts
3. Alanna Gurr and the Greatest State – Swimmer
4. New Zebra Kid – Romantic Illusions
5. Fist City – Debbie Get Yr Boa
6. Phedre – Supernatural
7. Darlene Shrugg – Freedom Comes in a Plastic Card
8. Last Ex – Girl Seizure
9. New Fries – Oil and Water
10. Bernice – Oh My Days
11. THOMAS (Love thy Will Be Done) – So Many Dreams About You
12. Fet.Nat – Poule Mange Poule
13. Lido Pimienta – I Want You to Do Well
14. BattleWulf – Captcha
15. Tyson and the Trepids – Live in the Dark
16. No Joy – Hare Tarot Lies
17. MOTEM – Chasm
18. Spencer Burton – Love is Fast
19. Tough Age – We're Both to Blame
De l'âme amoureuse de Guelph de Mike Deane:
(Des doigts éclairs de Flora Hammond)
Ancien résident d'Edmonton, j'ai déménagé à Guelph en 2012. Après avoir assisté à mon premier concert Kazoo! (Slim Twig, U.S. Girl. Legato Vipers et The Furys) j'ai réalisé que Kazoo! était responsable des programmations musicales les plus intéressantes et excitantes à Guelph. Après avoir été bénévole au Kazoo! Fest 2013 (qui a amené Sean Nicholas Savage, Doldrums, Jennifer Castle, Esther Grey et bien d'autres), j'étais conquis : c'est une expérience pleine de défis et taillée sur mesure pour et par sa communauté. Peu après, j'ai commencé à m'impliquer avec le festival à un niveau plus officiel. Je crois toujours que Kazoo! Fest est l'évènement le plus excitant à Guelph : il réunit un groupe d'individus qui aiment et croient réellement à l'expression créative et qui essayent d'amener leur musique et art préférés dans une ville qu'il chérissent. Le festival fonctionne entièrement grâce à ses volontaires. Cinq jours de concerts accessible —pour la plupart— à tous les âges et à tous les portes-monnaie, plus d'une cinquantaine de groupes, un spectacle de danse, plusieurs évènements d'arts visuels, des évènements multimédias, un petit déjeuner avec pancakes, et bien plus. Ce sont quelques jours fantastiques dans une petite ville d'Ontario, et cette année est définitivement la plus excitante que je puisse imaginer.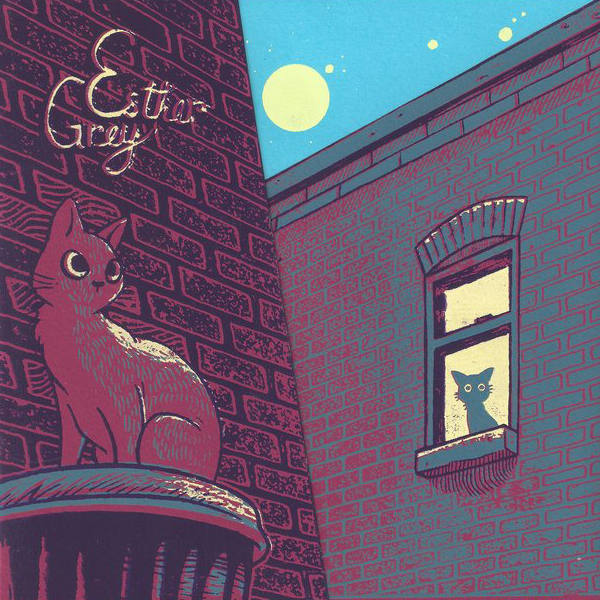 Esther Grey
Buttermilk 7"
Guelph, ON
From the Haunting Cave Stomp of Mike Deane:
Esther Grey could play the soundtrack to a medieval séance in a Bavarian forest. Haunting cave stomp drums and minor guitar stabs begin the ritual, as Steph Yates' ethereal, eerie, effortless vocals create something otherworldly and infectious. Surf and rockabilly elements are incorporated throughout the first two tracks, but "Night Calls" cements Esther Grey's sound as more baroque and carnivalesque than rock 'n roll. A true original, with songs sounding as old as the hills while still containing elements of some of their more daring contemporaries.
Des pas lourds dans une grotte hantée de Mike Deane:
(Traduit par Jessica Grenier)
Esther Grey pourrait faire la trame sonore d'une séance médiévale dans une forêt bavaroise. Les pas lourds d'une batterie dans une grotte hantée et les petits coups de guitare commencent le rituel; la voix simple, éthérée et féérique de Steph Yates créant une chose surnaturelle contagieuse. Des éléments surf et rockabilly parsèment les deux premières pistes, mais « Night Calls » cimente le son d'Esther Grey dans un genre plus baroque et carnavalesque que rock 'n roll. C'est un album réellement original, avec des chansons au son vieux comme le monde, mais contenant des éléments dignes de leurs contemporaines les plus audacieuses.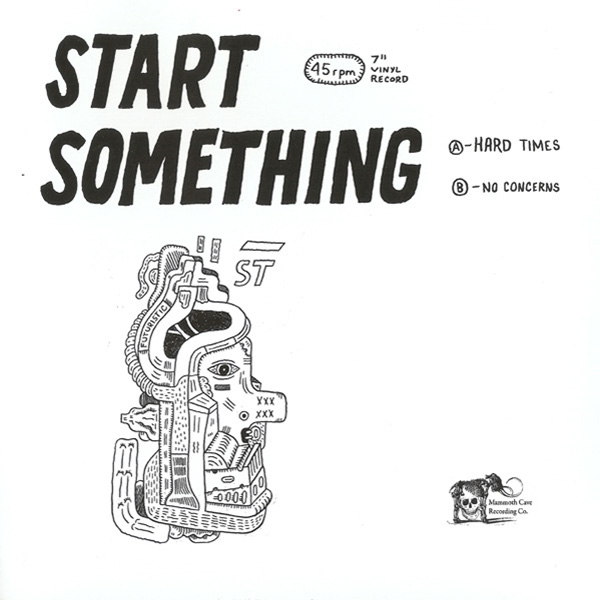 Start Something
Hard Times b/w No Concerns
Guelph, ON
From the hard rhymes of Jesse Locke:
The Hüsker Düdes in Start Something tear through their debut 7" like radical adults in search of a crowdsurf. Guelph's greatest drive time comedy duo Deaner and Dunster–plus drummer Ryan Masters–make up this econoline trio, revving up the punx with anthems of neck-vein popping intensity. Chainsaw riffs, tempo shifts, and art by Marc Bell = grip!
Des rimes brutales de Jesse Locke:
(Traduit par Jessica Grenier)
Les Hüsker Düdes de Start Something déchirent ce premier 7" comme des adultes radicaux en quête de crowdsurfing. Le drummer Ryan Masters et le meilleur duo comique – diffusé durant les heures de grande écoute – de Guelph, Deaner and Dunster forment ce trio en Econoline qui vient exalter les punx avec des hymnes à en faire exploser des jugulaires. Riffs tronçonnants, changements de tempo et illustrations de Marc Bell = fou!
---