Tag: groove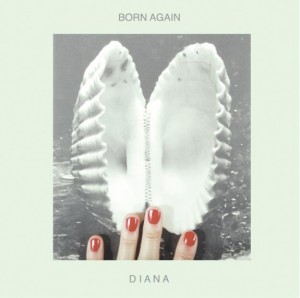 Diana
Born Again
Toronto, ON
From the summer breeze of Chris Sayer:
Toronto's Diana have released their first 12", pairing an unstoppable single with a remix by Doldrums. Joseph Shabason's experience with Destroyer shines through in snippets of jazz melodies, while Carmen Elle's vocals evoke hazy summer days. On the b-side, Doldrums' remix changes the vibe into eerie, fragmented electronic pop to create an almost unsettling feeling. If Michel Gondry decided to re-boot Mary Poppins, this could be the theme.
De la brise estivale de Chris Sayer:
(Traduit par les ronds de sueur de Nicolas Coutlée)
Le groupe torontois Diana vient de faire paraître son premier douze pouces regroupant un tube à toute épreuve accompagné d'un remix par Doldrums. L'expérience de Joseph Shabason au sein de Destroyer brille avec quelques percées de mélodies jazz, tandis que la voix de Carmen Elle évoque les jours d'été brumeux. Sur la face B, le remix de Doldrums fragmente l'ambiance en une inquiétante pop électro qui suscite presque un sentiment de déroute. Si Michel Gondry décidait de refaire Mary Poppins, ce pourrait en être le thème musical.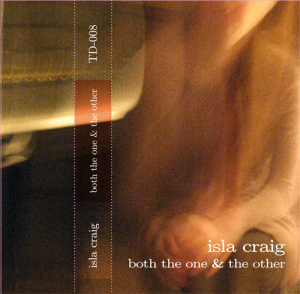 Isla Craig
Both The One & The Other
Toronto, ON
From the croaking heavens of Kevin Hainey:
Isla's crystal pipes have flexed far and wide o'er the years with such diverse local groups as dub-wise slow-grinders The Deeep, indie gospel urbanites Bruce Peninsula, psychedelic living theatre Transcendental Rodeo, smooth soul slingers O.G. Melody, or her own tantric folk meditation ensemble The Continental Drift. Still not convinced Craig is a humble underground sensation around these parts? This latest tape is a testament to her strongest asset. Recorded largely a cappella, accompanied by an intimate choir of pitch-point friends and only the faintest musical accents, Craig spins an intimate yarn with brooding groove. The flipside of this fabulous tape graciously includes Craig's 4-track demos for the album, providing an even warmer glance into her meditative creative process.
De la voix rauque de Kevin Hainey:
(Traduit par la sensation underground de Vincent Rondeau)
Isla est une diva de la région au coeur plein d'âme. Sa voix de cristal a beaucoup voyagé durant plusieurs années, s'intégrant à des formations locales allant du dub lent et intense de The Deep au soul satiné de O. G. Melody en passant par le gospel indie urbain de Bruce Peninsula, le théâtre psychédélique vivant de Transcendental Rodeo et même son propre ensemble de méditation tantrique folk, The Continental Drift. Si cela ne vous convainc pas encore de l'ampleur de la sensation underground qu'est Craig, cette nouvelle cassette met en valeur son plus grand atout : sa voix. Largement a cappella, avec l'accompagnement d'une chorale intime d'amis et quelques nuances musicales, la chanteuse déroule le fil d'un récit complexe sans pour autant paraître [prétentieuse](http://timheinthinks.files.wordpress.com/2012/05/pretentious.jpg). Sur la face B, on a la chance de pouvoir entendre les démos 4 pistes de l'album, question de jeter un coup d'oeil au processus créatif minutieux de Craig.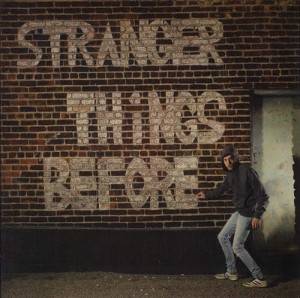 Rakam
Stranger Things Before
(Self Released)
Montreal, QC
From the precipitated groove of Jessie Stephenson:
Channeling the spirit of disco, funk and library music, Rakam conjures visions of nocturnal metropoles splashed with neon pink, gold and green. Stranger Things Before makes 14 offerings of back-alley side-stepping and finger-snapping melodies that haunt brains and headphones. Synths make passage from the realm of the smooth to the crispy, carried by portly bass expressions. Peppered throughout by direct communications with the organic, the occasional innocent guitar peeks out, if only to hide upon arrival of the precipitating groove. A veritable spectre of Montrealean cool.
Du groove précipité de Jessie Stephenson:
(Traduit par la poudre d'escampette de Nicolas Coutlée)
Puisant à même l'esprit du disco, du funk et de la « library music », Rakam convoque des visions de métropoles nocturnes éclaboussées de néons roses, dorés et verts. Stranger Things Before présente 14 offrandes de mélodies de voyous de ruelles et de claquements de doigts qui hantent les cerveaux et les casques d'écoute. Les synthés passent du royaume du langoureux au croustillant, portés par de généreuses courbes de basse. Pimentée d'un bout à l'autre par ses liens directs avec l'organique, la musique laisse poindre à l'occasion une guitare innocente, seulement pour se terrer de nouveau à l'arrivée du groove précipité. Un véritable spectre du cool montréalais.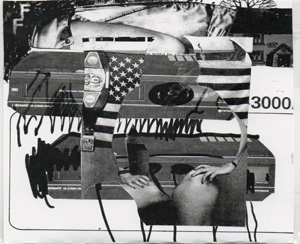 Man Made Hill
Future Florists
(Inyrdisk)
Toronto, ON

On the brink of a sexual explosion, Man Made Hill's warbled army of synthetic bone tweak the subconscious with unmitigated groove. Only Toronto could provoke such a paramount of reductive funk bursting with subterrestrial bass and
xenomorphic
rhythm, paving the way for incumbent beings of radiant grind. Brought to you in finely compacted form by
Inyrdisk
. Ultragrip.
---