Tag: grimes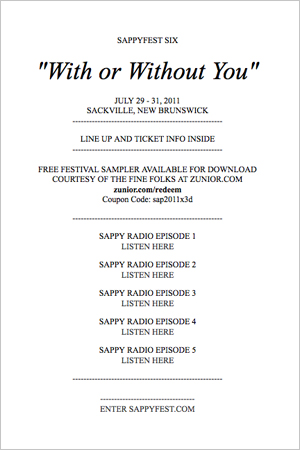 Various Artists
SappyFest 6
Sackville, NB

The small college town of
Sackville, New Brunswick
harbours a secret. Every summer while students shop for discount books in major cities, a cult-like gathering of outsiders convenes to celebrate strange sounds in large tents,
vaudeville theatres
,
small town cinemas
and
railside taverns
. Turning the concept of a multi-venue festival on its head each year, SappyFest finds not the alterna-side spaces where loud noises are welcome but puts all the plaid shirts, fuzz peddles and puddles of
beer
right on the main street. First hosting the
reunited Eric's Trip
in 2006, Sappy has grown and grown. This year's lineup promises not to disappoint, showcasing the luminaries of independent Canadian culture both new and old, familiar and not. Alongside as yet un-tauted gems such as
Cannon Bros
,
Hash Jesus
,
SILKEN LAUMANN
and
Wooden Wives
, this year's lineup boasts sets by current Weird Canada favourites
Jennifer Castle
,
Chad VanGaalen
,
Rich Aucoin
,
Gobble Gobble
,
Grimes
and
Quaker Parents
. And that's just the pop music. See you there?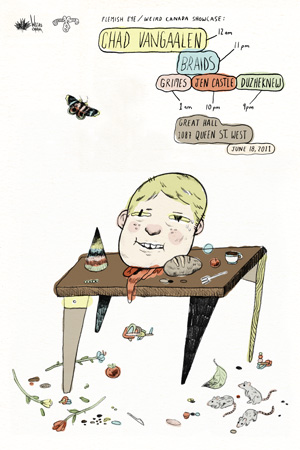 Weird Canada's expansion into the eastern cosmos won't stop at
Wyrd MTL
. On the Saturday before, we'll be stopping in Toronto for a very, very special show with the perennial Flemish Eye to celebrate Weird Canada's
Searchlight
victory. For easterners within the vicinity of Toronto, prepare for some heavy wig peeling:
9:00 :: GRIMES (Montreal, QC)
— Cosmic pop deity
— why we love her: here.
10:00 :: JENNIFER CASTLE (Toronto, ON)
— Mystic folk moves
— why we love her: here.
11:00 :: BRAIDS (Montreal, QC // Calgary, AB)
— Complex, undulating pulses
— why we love them: here.
12:00 :: CHAD VANGAALEN (Calgary, AB)
— The man. The mystery. The magnetism.
— why we love him: here.
01:00 :: DUZHEKNEW (Halifax, NS)
— Interdimensional pop warble
— why we love them: here.
Date: Saturday June 18, 2011
Location: The Great Hall
Doors: 8:00pm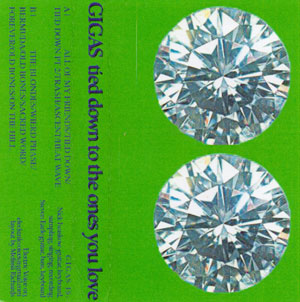 GIGAS
Tied Down to the Ones You Love
Dartmouth, NS

With unprecedented strokes of pop hyperbole, GIGAS'
lazer love
show is a prophetic vision of our micro-mall future. Only a roaming pack of teens soaked in the tainted innocence of a ouija-board romance could
conjure
such divine pressure waves; blown-out casio digitalia, cardinal vocal swaths, and a fantastic deus ex drum machina driving every track straight through your heart. Wrap your wounds in their
twilight gauze
and dance the death away beneath the hidden rapture of a Kate Bushian groove.
[audio:http://weirdcanada.com/binary/gigas-friends.mp3|titles=GIGAS – All of My Friends] GIGAS – All of My Friends
[audio:http://weirdcanada.com/binary/gigas-heat_wave.mp3|titles=GIGAS – Heat Wave] GIGAS – Heat Wave
A while back I wrote about Grimes' tour CDR Halfaxa. Well, as the tour CDR wasn't really officially available, I thought I'd step in and tell you that its been officially released in a beautiful digipack via Arbutus Records! Grip while supplies lasts!
PS – I'm back after a short GOBBLE FEST break.
Hearts,
Aaron Levin
Weird Canada / Cantor Records
Arbutus Records Showcase
Pop Montreal 2010
(Thursday September 30, 2010 @ The Rialto Theatre)
Montreal, QC
::web/sounds::


From the new indie of Aaron Levin:
In the closing tides of 2010 there are few festivals left. And as this little corner of a website gleaned a few weeks ago, Canada's premiere indie-music festival (Pop Montreal) came through with a succinct and telling slogan: Weird is the New Indie. The obvious correlation is incidental, but the shifting focus to emerging music is a welcomed modulation in agenda. And to further drive the point home, Pop Montreal and Weird Canada will be presenting a showcase from one of Canada's furthest reaching boutique imprints. Arbutus Records (home to Sean Nicholas Savage, Grimes, Silly Kissers and many more) has become an asylum for many westward ex-pats flourishing within the inexplicable fringe-pop spectrum and has occupied prime real estate within Weird Canada's own borders. The label has grown from an e-mail address and a cd burner to a veritable force within the diy pop explosion running its course through our collective consciousness. Arbutus' materials have appeared on Pitchfork, Gorilla VS Bear, Altered Zones, Stereogum, Weird Canada (ha!), etc. and I can say without hyperbole that many within the indie music community are anxiously awaiting to hear their future. So, with much excitement, I'd like to encourage all of our readers in-and-around the Montreal area to attend both Pop Montreal and one of the best showcases during the five-day festival. Sebastian Cowan has worked many magicks; for that we love him dearly. Congratulations!
Pop Montreal & Weird Canada Present
Arbutus Records Showcase
SILLY KISSERS
GRIMES (album release)
POP WINDS
BLUE HAWAII
Date: Thursday September 30th @ 9pm
Location: The Rialto Theatre
Price: Five Dollars (available at Phonopolis & Cheap Thrills)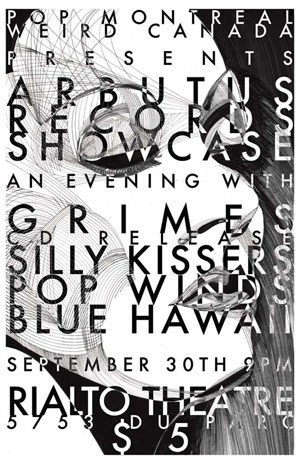 ---