Tag: gregory pike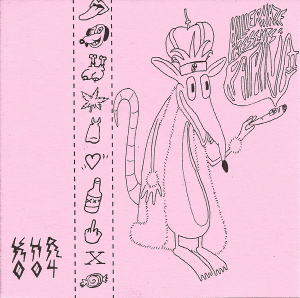 Various Artists
Rat King II
Sackville, NB
From the bubblegum grunge of Gregory Pike:
Aliens ruled. So did Terminator 2: Judgment Day. Heck, even D2: The Mighty Ducks proved that a sequel can surpass its predecessor. And while the first Rat King was great, Rat King II totally kills it. With twice the variety of bands than the last comp, déjà vu only intensifies while strolling down Bubblegum Grunge Lane, staring at the mirror until River Phoenix finally appears. Grippage times two to the power of two.
Du grunge gomme-balloune de Gregory Pike: (Traduit par Maya Keshav)
Aliens déchirait. Terminator 2: Judgment Day, aussi. Tabarnouche, même D2: The Mighty Ducks démontait qu'une suite peut dépasser son prédécesseur. Et même si le premier Rat King était grand, Rat King II déchire grave. Avec deux fois la variété de groupes qu'on a vu dans la dernière compilation, le déjà-vu s'intensifie quand tu marches dans la rue de grunge gomme-balloune, en regardant le miroir jusqu'à ce que River Phoenix apparaisse enfin. Il faut il faut il faut l'acheter.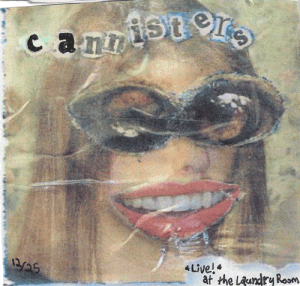 Cannisters
LIVE! at the Laundry Room
(Self Released)
Dartmouth, NS
From the mason jar of Gregory Pike:
The boys from the Dirty "D" (read: Dartmouth) are giving off some serious just-broke-up-with-your-long-time-specialfriend vibes. Not in a sad sense. Maybe a little bit. But mostly in the way your buddies cheer you up by coming with you to throw logs and tires in the river between sips of whiskey. They are the bonfire and you are the marshmallow. Let's rebound together.
Du pot maçon de Gregory Pike: (Traduit par Odile Leclerc)
Les garçons de Dirty ''D'' (Lisez: Dartmouth) dégagent cette sérieuse impression de viens-juste-de-rompre-avec-ton-vieil-ami-spécial. Pas d'une façon triste. Peut-être un peu. Mais surtout d'une manière dont vos potes vous encouragent en venant avec vous pour jeter des bûches et des pneus dans la rivière entre des gorgées de whiskey. Ils sont le feu de camp et vous êtes la guimauve. Reprenons ensemble.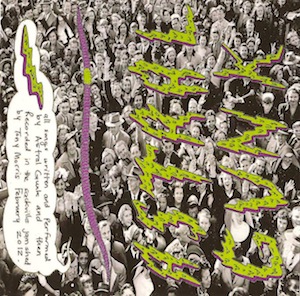 Astral Gunk
Astral Gunk
Sackville, NB

Sackville, New Brunswick
used to be a soporific, folk guitar-addled college town where
dreamy lullabies
made kids sway back and forth like the reeds of their breezy marshes. But
Astral Gunk
are not the chaste marsh children of yesteryear; they are creatures from the
freshly unshackled swamp
. And at night, through the fog and gale-force Maritime gusts, they emerge only to find refuge in a desolate railroad-side jam shack on the outskirts of town, there submerging themselves in noise and gnarlitude. I wish there had been more bands like this back when I did my undergrad there.
---