Tag: grand trine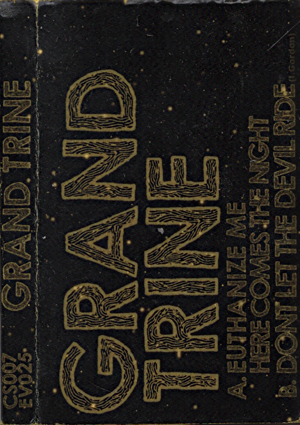 Grand Trine
Euthanize Me // Here Comes the Night b/w Don't Let The Devil Ride
Montreal, QC
From the hell bound highway of Jesse Locke:
Following a far too lengthy hiatus, the triumphant return of Grand Trine has been a glorious thing to witness. The world needs these leather jacket daddies (and mommies) and their tender tough love to remind us that rock 'n' roll still has teeth. Hitting the strip with a brand new line-up and a batch of neck-twisting noir-guitar tunes, these hellbound banditos ride into the witching hour and leave you coughing on fumes.
De la route de l'enfer de Jesse Locke: (Traduit par la fourné de tounes de Maya Keshav)
Après une pause beaucoup trop longue, le retour triomphal de Grand Trine est magnifique à voir. Le monde a besoin de ces papas (et mamas) en vestes en cuir et de leur amour rude mais doux pour nous rappeler que le rock a encore un véritable pouvoir. Avec une toute nouvelle programmation et une fournée de tounes noire-guitare étranglantes, ces bandits de l'enfer voyagent dans l'heure du crime et te faire tousser sur les fumées.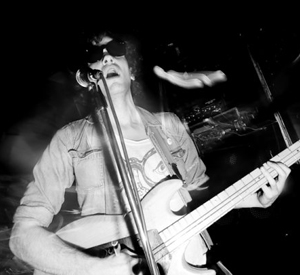 Tobias Richman (Grand Trine)

Montreal, QC
Way back in June, when Weird Canada was just a baby and myself a hopeful daddy, Grand Trine's Bruised Tongue debut was an easy target for the early review block. Their fastidious minimal-synth-mockery and blasted anthems had me swooning like my first MJ concert. So, it was my pleasure to publish Zachary Devereux Fairbrother's interview with Tobias Rochman, Grand Trine's leading bass-shredding vocalist. Zach plays with Omon Ra/Omon Ra II and has his own eccentric gravity well called Avant Lard. Because one back-rub begets another, keep your homepage set to Avant Lard and a special Weird Canada mix will soon be yours for the sexing.
Aaron Levin
Weird Canada / Cantor Records
————
Zachary: Your music both past and present has always incorporated images of mythology, spirituality, and magic. Along with music that is quite, "heady", and your new record, "Sunglasses," you say is a tribute to their "iconic symbol of rebellion." How do these images and symbols shape your art and life?
Tobias: When I said Sunglasses were an iconic symbol of rebellion I was referring to the instant detachment they provide. I suppose I was gesturing at a classic detachment equals enlightenment debate. But the bait was never taken. Even moving past that conversation (which never happened as I said) to detach equals to rebel. To defect. As a symbol in our culture we see it in everything from The Black Panther Party to The Jesus and Mary Chain. It is completely ingrained, understood and unquestioned. I wanted to use something obvious, blunt and digestible that conveyed this message or transmitted these values very clearly and instantly. I wanted caveman-like simplicity with no room for interpretation or imagination. All the pretentiousness aside it is also a very stupid name – which I love!
They don't as much shape my life as they do our culture as a whole. I guess trying to think about it right now, the last release I did for Divorce was 'Vision Correction' (with Be Bad) and after you get your eyes fixed there is usually a period of aftercare where your eyes can't process regular light and you have to wear polarized sunglasses for a week as your eyes are crusting over. Maybe unconsciously there is some greater concept being played out. Maybe 'Sunglasses' is just the next step. Or maybe I am obsessed with alterations and adornments to the "window of the soul" and what that might mean. I'm too close to it to know what it might say about me. Or maybe I am just grasping at straws here.
Honestly with our name being esoteric.. I make a conscious effort to eliminate overt spirituality (especially references) in this project. I don't want it to be corny and cheap. More and more I have been obliterating those themes to balance everything out. There are two projects I have seen recently which have a really in-your-face spiritual-jargon-wank-fest and both left a really bad taste in my mouth and helped me re-think the approach. I think it was Aleister Crowley, or maybe it is just a popular occult saying that goes "Those who know, say nothing." Very often the people who talk the most about these things, and are eager to talk the most about that them, know very little or nothing at all. I have no interest in exploiting occult symbolism. Or shticks in general for that matter. It's okay to just read books about strange topics of interest, without feeling the urge to ram it down the throats of your listeners.
I remember in a conversation we had that you said that you believe you can do anything with the power of rock and roll, or something to that extent. Can you expand upon this?
I'm sorry I don't remember that conversation. It sounds like awful Bono rhetoric out of context. You must have caught me in a moment where I was leaking idealism. I am fairly moody sometimes. I can tell you for sure that "Raw power's got a healin' hand. But raw power can destroy a man. Raw power is more than soul. Got a son called rock and roll. Raw power honey just won't quit. Raw power I can feel it." if that offers any insight on the topic.
You come from a musical lineage so to speak, your father played in garage rock band called "The Bohemians" in Montreal in the 1960's. You appear to be following in his footsteps. You've also mentioned to me that your saxophone player is a third generation saxophonist. How does this idea of lineage and personal heritage shape your personal mythos and your bands?
Well my father moved to Australia when I was in my early teens and we were not very close at that time. I think by moving to the city he was born in, playing the instrument he plays, and roughly the same style of music probably says something. I know Carl Jung says about children trying to live our their parents unlived dreams. I just don't see it as a negative thing. I had a good conversation with Alex from Dirty Beaches on this topic. He was telling me his father was a doo-wop singer and the only trace of this former life that survived was one photograph. But we we discussed the importance of that photograph to him and his development as an artist. And how Dirty Beaches started as an experimental project, and slowly evolved, release by release into a 1 man doo-wop act (although still modern & innovative in his setup). I suppose you could say something similar might be happening starting with very abrasive noise-rock with Be Bad and now moving or growing into more hook-based garage-rock in Grand Trine. But the transformation has been a little bit demented. For instance, I still bleed most times when I play. And although I am working on it I still struggle to sing and not yell. Maybe it's a lack of talent on my part. My biggest strength has always been choosing quality collaborators. I would love for Grand Trine to cover The Bohemians' B side "Say it" and to have that released as a 45rpm B side.
How has your new home of Montreal changed they way you make music? Thinking in terms of language, social environment, scenic institutions, and employment.
The most obvious influence it just the total stream of new ideas and music coming through constantly. You see all the legends Sonic Youth, Butthole Surfers, The Jesus Lizard, Sun City Girls and all of the best new bands in the underground Human Eye, Tyvek, Thee Oh Sees, Wet Hair etc.. You get to see everything and then decide for yourself what is good and why it is good. I have been able to see and meet lots of the people who I used to play on my radio show in Halifax. I feel like seeing and experiencing first hand is the best way to learn. And maybe just seeing that everyone who plays in these groups are just normal people (maybe with the exception of Timmy Vulgar from Human Eye who is a paint gargaling rock and roll animal).
The most obvious influence it just the total stream of new ideas and music coming through constantly. You see all the legends Sonic Youth, Butthole Surfers, The Jesus Lizard, Sun City Girls and all of the best new bands in the underground Human Eye, Tyvek, Thee Oh Sees, Wet Hair etc.. You get to see everything and then decide for yourself what is good and why it is good. I have been able to see and meet lots of the people who I used to play on my radio show in Halifax. I feel like seeing and experiencing first hand is the best way to learn. And maybe just seeing that everyone who plays in these groups are just normal people (maybe with the exception of Timmy Vulgar from Human Eye who is a paint gargaling rock and roll animal).
The underground/DIY/loft-scene here is amazing and sometimes shows can be like raves (with better music). 200 people. Byob. There is nothing better. There is just a general sense of being in the right place at the right time. You don't even have to say that out loud to your friends. Everyone just knows. The plotlines of future documentaries are being played out in front of our eyes. This is a special city in a special time.
Lastly, we are entering winter, a time for reflection, especially for many of those in the cold winters of interior Canada. You must be thrilled with how things have come together over the last year, what do you hope for 2010?
Grand Trine will have a string of vinyl eps and singles coming out during the winter months. After that we will start touring for longer periods of time. Actually all of our friends bands (Dead Wife, Ultra Thin etc) are starting to play more shows outside of the city and are all about to make the jump from release cassettes to vinyl. A lot of groundwork has been laid in 2009 to make 2010 as exciting as possible for everyone in the MTL scene. Its starting to feel like the weeks are passing like minutes. Right now I am just focused on making our 12″ release show the biggest party possible. That will be January 2010. We are just trying to find the right location to hold it. The line up has been confirmed and it's going to be new local power-duo The Homosexual Cops & the awesome new girl-group garage rock band The Peelies.
Zachary Devereux Fairbrother:
(Traduit par Odile Leclerc)
De retour en juin, quand Weird Canada n'était qu'un bébé et moi-même un père plein d'espoir, les débuts Bruised Tongue de Grand Trine était une cible facile pour le jeune bloc d'examen. Leur fastidieuse moquerie de synth minimale et les hymnes à fond m'ont fait vaciller comme mon premier concert de MJ. Alors, ce fût mon plaisir de publier l'interview de Zachary Devereux Fairbrother avec Tobias Rochman, le chanteur déchireur de basse en tête de Grand Trine. Zach joue avec Omon Ra/ Omon Ra II et il a son propre puits de gravitationnel excentrique appelé Avant Lard. Parce qu'un grattage de dos en engendre en autre, garder votre page d'accueil réglé sur Avant Lard et un mix spécial de Weird Canada va bientôt être le vôtre pour du sexting.
Aaron Levin
Weird Canada / Cantor Records
————
Zachary: Votre musique autant celle d'avant et de maintenant, a toujours incorporé des images de mythologie, de spiritualité et de magie. Avec la musique qui est assez "rigoureuse" et votre nouvel enregistrement, "Sunglasses", vous dites que c'est un hommage à leur "Symbole iconique de rébellion". Comment ces images et symboles transforment votre art et votre vie?
Tobias: Quand j'ai dit que Sunglasses était un symbole de rébellion je faisais allusion au moment de détachement qu'il donne. Je présume que je faisais signe qu'un détachement classique égale à un débat d'éclaircissement. Mais personnes ne mordit à l'hameçon. Même en passant par dessus cette conversation (qui n'est jamais arrivé, comme je l'ai dit) pour détacher des semblables à se rebeller. À abandonner. En tant que symbole de notre culture nous le voyons dans tout, partant de The Black Panther Party à The Jesus And Mary Chain. C'est complètement engrainé, compris et non questionné. Je voulais utilisé quelque chose d'évident, de cru et digestible qui communiquait bien ce message ou qui transmettait ces valeurs très clairement en instantanément. Je voulais une simplicité d'homme de caverne sans espace à l'interprétation ou l'imagination. Toute prétention de côté, c'est un aussi un nom vraiment stupide-lequel j'adore!
Ils n'ont pas vraiment transformé ma vie comme ils le font pour notre culture en tant qu'un tout. Je devine qu'essayer d'y penser maintenant, la dernière mise en vente que j'ai faite pour Divorce était 'Vision Correction' (avec Be Bad) et après que vos yeux soient ajustés, il y a généralement une période de suivi où vos yeux ne peuvent pas traiter la lumière normale et vous devez porter des lunettes de soleil polarisées pour une semaine pendant que vos yeux s'encroutent. Peut-être qu'inconsciemment il y a un concept plus grand prenant place. Peut-être que "Sunglasses" est simplement la prochaine étape. Ou peut-être que je suis obsédé avec les altérations et les ornements à la '' Fenêtre de l'âme'' et ce que ça pourrait dire. J'y suis trop près pour savoir ce ça pourrait dire à propos de moi. Ou peut-être je suis juste entrain de m'accrocher au moindre espoir ici.
Honnêtement, avec notre nomme étant ésotérique, Je fais un effort conscient pour éliminer une spiritualité transparente (spécialement des références) dans ce projet. Je ne veux pas que soit banal et bon marché. De plus en plus j'ai effacé ces thèmes pour équilibrer le tout. Il y a deux projets que j'ai vus récemment qui a vraiment un air de fête-de- branlettes -en-jargon-spirituel-dans-ta-face et les deux ont laissé un mauvais goût dans ma bouche et m'ont aidé à repenser l'approche. Je pense que c'était Aleister Crowley, ou peut-être c'est juste un occulte dicton populaire qui dit : "Ceux qui savent, ne disent rien." Très souvent, les gens qui parlent le plus à propos de ces choses et qui sont désireux d'en parler encore sont ceux qui n'en connaissent rien ou peu. Je n'ai pas d'intérêt à exploiter le symbolisme occulte. Ou à faire un numéro en ce qui me concerne. C'est correct de juste lire des livres sur des topiques d'intérêts étranges sans ressentir le besoin de l'enfoncer dans la gorge de votre auditoire.
Je me souviens dans une conversation que nous avions eu, vous aviez dit que vous croyez être capable de tout sans le pouvoir du rock and roll, ou quelque chose comme ça. Pouvez m'en dire plus à ce juset?
Je suis désolé, je ne me souviens pas de cette conversation. Ça sonne comme une affreuse rhétorique hors contexte de Bono. Vous devez avoir tombé sur moi dans un moment où j'avais une fuite d'idéalisme. J'ai des sautes d'humeur parfois. Je peux vous dire assurément que "le pouvoir brut a une main guérisseuse. Mais du pouvoir brut peut détruire un homme. Du pouvoir brut est plus que l'âme. L'a un fils appelé rock and roll. Le pouvoir brut chérie ne va pas abandonner. Le pouvoir brut je peux le sentir." Si ça peut offrir un aperçu du topique.
Vous venz d'une lignée musiquale si on veut, votre père jouait dans groupe rock de garage appelé "The Bohemians" à Montréal dans les 1960. Vous semblez suivre ses pas. Vous m'avez aussi mentionné que votre joueur de saxophone était un saxophoniste de troisième génération. Comment cette idée de lignée et d'héritage personnel transforme vos mythes personnels et ceux de votre groupe?
Bien, mon père a déménagé en Australie quand j'étais dans le début de mon adolescence et nous n'étions pas très proches à cette époque. Je pense qu'en allant dans la ville où il était né, jouant de l'instrument qu'il joue, et d'environ le même style de musique, ça dit probablement quelque chose. Je sais ce que Carl Jung dit à propos des enfants essayant de vivre les rêves inachevés de leurs parents. Je ne vois tout simplement pas ça comme une chose négative. J'ai eu une bonne conversation avec Alex de Dirty Beaches sur le sujet. Il me disait que que son père était un chanteur de doo-wop et que la seule trace son ancienne vie ayant survécue était une photo. Mais nous avons discuté de l'importance de cette photo pour lui et de son développement en tant qu'artiste.Et comment Dirty Beaches avait commencé comme un projet expérimental et avait tranquillement évolué, de parution en parution vers un acte de doo-wop d'un homme (bien qu'encore moderne et innovatif dans son installation). Je suppose que vous pourriez dire quelque chose de similaire pourrait être entrain d'arriver, commençant par un bruit-rock très abrasif avec Be Bad et maintenant entrain de bouger ou de se transformer en un rock de garage à base de crochet dans Grand Trine. Mais la transformation a été un petit peu démente. Par exemple, je saigne presque tout le temps quand je joue. Et bien que je travaille là-dessus, j'ai encore de difficulté à chanter et non crier. Peut-être c'est le manque de talent de ma part. Ma plus grande force a toujours été de choisir des collaborateurs de qualité. J'aimerais que Grand Trine fasse la couverture de The Bohemians' B side "Say it" et d'avoir cette parution comme 45rpm B side.
Comment est-ce que votre nouvelle maison de Montréal a changé la façon que vous faites de la musique? En pensant en termes de langage, d'environnement social, d'institutions scénique et d'emploi.
L'influence la plus évidente est simplement le total courant de nouvelles idées et de la musique survient constamment. Vous voyez toutes les légendes Sonic Youth, Butthole Surfers, The Jesus Lizard, Sun City Girl et tous les meilleurs nouveaux groupes dans le clandestin Human Eye, Twek, Thee Oh Sees, Wet Hair etc. Vous avez la chance de tout voir en ensuite de décider vous-même ce qui est bon et pourquoi c'est bon. J'ai été capable de voir et de rencontrer beaucoup de gens qui jouaient autrefois sur mon spectacle de radio à Halifax. Je sens que voir et faire l'expérience directement est la façon d'apprendre. Et peut-être que juste voir tout ceux qui jouent dans ces groupes sont simplement des gens normaux (sauf peut-être à l'exception de Timmy Vulgar des Human Eye qui est une peintre gargarisant du rock and roll animal). Les clandestins/DIY/scène-loft ici est génial et parfois les spectacles peuvent être comme des raves (avec de la meilleure musique). 200 personnes, Byob. Il n'y a rien de mieux. Il y a jsute un sens général d'être au bon endroit au bon moment. Vous n'Avez pas besoin de dire ça tout haut à vos amis. Tout le monde sait simplement. Les intrigues de futurs documentaires sont entrain de jouer devant vos yeux. C'est une ville spécial dans une époque spéciale.
Dernièrement, nous nous approchons de l'hiver, un temps pour réfléchir, spécialement pour plusieurs d'entre ceux qui sont dans les hivers froids du Canada intérieur. Vous devez être excité par le déroulement des choses durant la dernière année, qu'espérez-vous pour 2010?
Grand Trine va avoir une suite d'EP de vinyle et des solos qui vont sortir durant les mois d'hiver. Après ça, nous allons débuter à faire des tournées pour de plus longues périodes de temps. Actuellement, tous nos groupes amis (Dead Wife, Ultra Thin etc) commencent à faire plus de spectacles hors de la ville et sont tous sur le point de passer de parutions de cassettes aux vinyles. Beaucoup de préparations ont été faites en 2009 pour rendre 2010 aussi excitante que possible pour tout le monde dans la scène de MTL. Ça commence à paraître comme si les semaines passent comme des minutes. Maintenant, je suis juste concentré à rendre notre 12'' spectacle de parution le plus gros party possible. Ça va être en Janvier 2010. Nous essayons simplement de trouver le bon emplacement pour accueillir celui-ci. La ligne d'attente a été confirmée et ça va être le nouveau duo de choc local The Homosexual Cop et le nouveau groupe de filles génial, un groupe rock de garage les The Peelies.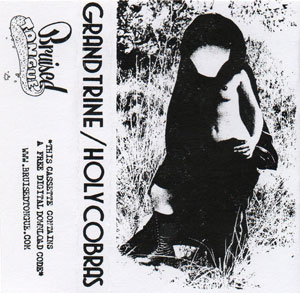 Grand Trine / Holy Cobras
Grand Trine / Holy Cobras Split Cassette
(Bruised Tongue)
Montreal, Quebec / Ottawa, Ontario
From the nostalgic words of Aaron Levin:
It's my first time in Montreal and I decide to see AIDS Wolf in their native environment. I spent no longer than thirty-seconds in the venue before my friend Graeme forces me to purchase this split cassette; it's practically sold out, bra, grip it! There is no preparation for the genre-mashing, sans-wave psychedelia pulsating through Grand Trine's side of the magnetic strip. RFID provides the hard-psych soundtrack to an apocalyptic car manufacturing plant, whereas Monochromatic Youth is a brilliant weird-punk interpretation of the 80s minimal synth scene. Grand Trine finish their side with Diamond Body Sunrise; a fuzz-drenched Montreal sound-scape of Red Crayola calibre. Ottawa, Ontario is the unlikely mother of Holy Cobras' 13-minute sound-collage-turned-distortion-freak-out. Unfortunately it does not reach the peaks that Grand Trine do. However, they provide a nice counterbalance to Grand Trine's mental abandonment. Both sides are highly recommended.
Des mots nostalgiques d'Aaron Levin:
(Traduit par l'esprit rétro de Maya Keshav)
C'est mon premier fois à Montréal et je me décide de voir AIDS Wolf dans dans leur habitat indigène. J'ai passé pas plus trente secondes à la salle avant que mon ami Graeme me force à acheter cette cassette; elles sont presques toutes vendues, mon ami, saisis-la! Il n'y a aucune préparation pour le psychédélisme genre-écrasant et sans-ondes qui pulse sur le côté de la ruban magnétique de Grand Trine. RFID fournit la bande-son hard-psych d'une usine automobile apocalyptique, alors que Monochromatic Youth est une interprétation brillante weird-punk de la scène synthée minimale des années 80. Grand Trine finit son côté avec Diamon Body Sunrise; un paysage sonore montréalais trempé-par-le-fuzz qui est le calibre de Red Crayola. Ottawa, Ontario est la mère improbable du collage-de-son-devenu-crise-de-distorsion de 13 minutes de Holy Cobras. Malheureusement il n'atteint pas les sommets de Grand Trine. Mais ils fournissent une belle compensation à l'abandon psychique de Grand Trine. Les deux côtés sont vivement recommandés.
Grand Trine – Monochromatic Youth
---