Tag: grand prairie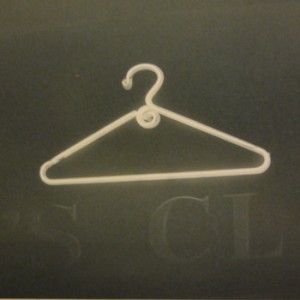 The Royal Iguana Fur
Bright White Coat Hanger
(Self Released)
Grand Prairie, AB
From the shut-in vitriol of David Ferris:
Somewhere in an unassuming Grande Prairie bedroom, Alex Linfield is seated in a fort made of vinyl. He invites you inside, closing the door behind him, and launches a searing side-glance into the rock 'n' roll canon. There is something voyeuristic about being there to watch this bedroom dancer, with his headphones still on, plowing through damaged covers and uncouth originals; it's as entertaining as a scurrilous rumor or indiscreet disclosure. This one-man psychogenic wrecking crew slams the door in the world's face, and you are the only person allowed to be there with him. Bright White Coat Hanger sits on the same side of a topological barrier that you haven't even been able to see since you were a surly teenager.
De la méchanceté grabataire de David Ferris: (Traduit par Maya Keshav)
Quelque part dans une chambre modeste à Grand Prairie, Alex Linfield s'assoit dans un fort en vinyle. Il vous invite d'entrer, en fermant la porte derrière, et il lance un coup d'œil torride dans le critère du rock. Il y a quelque chose de voyeursite, être ici pour regarder ce danseur de chambre, qui porte encore son casque audio, progresser à travers les reprises dommagées et les morceaux originaux: il est aussi divertissant qu'une rumeur ignoble ou une révélation sans tact. Cet équipe de démolition psychogène qui comprend un seul homme claque la porte dans le visage du monde, et t'es le seul qui est permis d'être là avec lui. Bright White Coat Hanger s'assoit à la même côté d'une barrière topologique que t'étais même pas capable de le voir depuis que t'étais un ado revêche.
The Royal Iguana Fur – Cesspool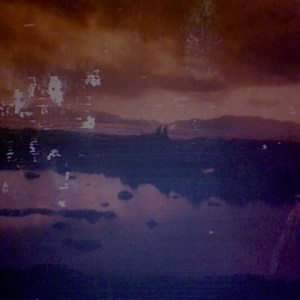 Goose Lake
Wakewind
(Self Released)
Grand Prairie, AB
From the interlocking hinterlands of David Ferris:
One could be forgiven in thinking the scene revolving around Grande Prairie is the result of some kind of immaculate conception. The most salient feature of the region is transience, and the terminal moraine left in the wake of musicians coming and going is being documented like the points of some constellation half-familiar to anybody who grew up in a remote city; an abstract map in search of territory. Goose Lake, Alberta — located near the intersection of Highway 658 and Township Road 614B — stares up into this solar apex, with guitars and voices and votive offerings to the remote.
D'arrière-pays qui s'imbrique de David Ferris:
(Traduit par Maya Keshav)
On serait excusé si on pensait que la scène qui tourne autour de Grande Prairie est le résultat d'une sorte d'Immaculée Conception. La caractéristique la plus saillante de la région est sa nature fugace, et la moraine terminale qui est laissé tombée derrière les musiciens allés et venus et en train d'être documenté comme les points d'une constellation à moitié familière à n'importe qui a grandi dans une ville retirée; une carte abstraite à la recherche d'un territoire. Goose Lake, Alberta— qui se situe tout près de l'intersection de Highway 658 et Township Road 614B— regarde ce sommet solaire, avec les guitares et les voix et les offrandes votives à ceux qui sont isolés.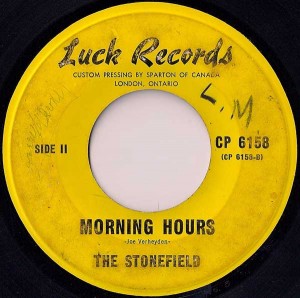 The Stonefield
Deep Shades of Blue b/w Morning Hours
(Luck Records)
Rycroft, AB
Originally Released: 1967
From the mourning hours of Aaron Levin:
Hailing from one of the most northernly outposts in Canada, The Stonefield remain an enigma within the Canadian garage-punk cosmos. An easy personal favorite and serious head-scratcher with its brutal fuzz massacre, dual piano weirdness, and bewildering A/B-side pairing. "Deep Shades of Blue" oozes an addictive, lysergic weariness with its mid-tempo somber organ stuck firmly in a minor-key while their drummer, seemingly in his own universe, augments the pacing with a complete disregard for drum pattern awareness. "Morning Hours", the track that has grippers sweating this single pretty hard, is equally confusing, with a relentless bawdy piano swirling beneath the primitive fuzz lead, secondary organ (two keyboards?!), and bleary vocals (singer Joe Verheyden has stated that he had a flu the day they recorded). The pièce de résistance hits mid-way through "Morning Hours" when one of the most intense and ridiculous fuzz-guitar solos totally drowns out the entire track. I once drove to The Hub of the Peace (Rycroft) on a mission to uncover the mystery behind the band and their insanely obscure 7″ to little success. They recorded in Edmonton and later reformed as The Exit, leaving the rest of the world to ponder the sheer awesomeness and absurdity of their legacy. I'd like to dedicate this post to my very close friend Jon Murphy who has brought a much needed light to many unknown 60s singles throughout Canada, including The Stonefield.
Des heures de deuil d'Aaron Levin: (Traduit par Maya Keshav)
Originaire d'un des avant-postes les plus nord au Canada, The Stonefield restent un énigme dans le cosmos du garage-punk canadien. C'est facilement un préféré personnel ainsi qu'un puzzle sérieux avec son massacre fuzz brutal, sa bizarrerie de piano double, et son jumelage déconcertant des faces A et B. "Deep Shades of Blue" émane une fatigue lysergique qui rend accro avec son orgue maussade mi-tempo coincé firmement en mode mineur pendant que leur batteur, qui a l'air d'être dans son propre univers, augmente le rythme avec un mépris total pour la conscience des patterns de batterie. "Morning Hours", le morceau qui fait suer les acheteurs de cet single, est aussi déconcertant, avec un piano paillard sans cesse qui tourbillonne sous le lead fuzz primitif, le deuxième orgue (deux claviers?!), et le chant brouillé (le chanteur Joe Verheyden a dit qu'il avait la grippe le jour qu'ils ont enregistré). Le summum est au milieu de "Morning Hours" quand un des solos fuzz-guitare les plus intenses et ridicules couvre complètement le morceau entier. Une fois j'ai conduit à The Hub of the Peace (Rycroft) en me donnant pour mission de dévoiler le mystère derrière le groupe et leur 7" extrêmement obscure, avec aucun succès. Ils ont enregistré à Edmonton et plus tard ils ont réformé en tant que The Exit, en laissant réfléchir le reste du monde sur la génialitude pure et l'absurdité de leur héritage. J'aimerais dédier ce poste à mon ami tellement proche Jon Murphy qui a apporté au jour plusieurs singles mal connus des années 60 partout au Canada, y compris The Stonefield.
The Stonefield – Morning Hours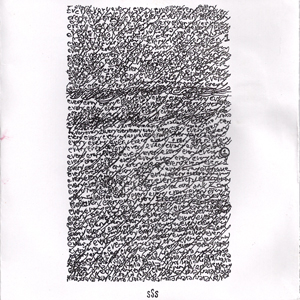 Matthew A. Wilkinson
sSs EP
(Self Released)
Grand Prairie, AB
From the magnetic fields of Jesse Locke:
Quick as a cricket, Grand Prairie's holiest warbler zaps us through the post with his latest enchantment. The sSs EP picks up right where the spellbinding Namers left off, spiraling into black echoes for a series of cinematic miniatures, scraped strings, plucked banjos and touched electronics. The creeping horror culminates in "Cen eTe neR", a nine-minute scorched earth awakening of cooing kitties and the post-rock dawn of its "secret song." Discover Alberta.
Des champs magnétiques de Jesse Locke: (Traduit par les chatons chantonnants de Maya Keshav)
Aussi vite qu'un grillon, le gazouilleur le plus sacré de Grand Prairie nous zigouille dans le courrier avec son dernier enchantement. L'EP sSs commence exactement où l'ensorcelant Namers a fini, en tourbillonnant dans les échos noirs pour une série de miniatures cinématographiques, de cordes grattées, de banjos frappés et d'électronique transformée. L'horreur insidieuse se termine par "Cen eTe neR", un éveil terre brûlée de neuf minutes, fait de chatons chantonnants et d'aube post-rock de sa "chanson secrète." Découvrez l'Alberta.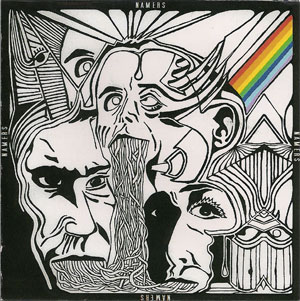 Matthew A. Wilkinson
Namers
(Self Released)
Grand Prairie, AB
From the brittle hands of Jesse Locke:
Surprise grip of the year. Softly diffusing from the northwestern margins of the Swan City (Grand Prairie), Matthew A. Wilkinson has upended Weird Canada HQ with his numinous folk incantations. Wordless murmurs melt into wasted drum circles, twinkling pianos and bent acoustic chant, as this boreal basement ritual summons malevolent deities of wavering gender. Songwriter, filmmaker and maybe even oracle, Wilkinson wields an unruly power. Lend him your ears.
Des mains cassantes de Jesse Locke: (Traduit par le rituel sous-sol de Maya Keshav)
C'est l'achat surprise de l'année. En émanant doucement des marges du nord-ouest de Swan City (Grand Prairie), Matthew A. Wilkinson a bouleversé le QG de Weird Canada avec ses invocations numineuses de folk. Les marmonnements sans mots fondent dans les cercles de percussion camées, les pianos scintillants et le chant tordu d'acoustique, pendant que ce rituel boréal du sous-sol fait apparaître les divinités malveillantes du genre fluctuant. Auteur-compositeur, cinéaste et même peut-être oracle, Wilkinson exerce un pouvoir ingérable. Écoutez ses histoires.
Matthew A. Wilkinson – Hand Over Hand
Matthew A. Wilkinson – Like This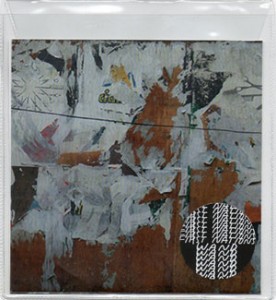 First Nations
Wand
Victoria, BC
From the bed smokes of Aaron Levin:
Stewing in the northern isolation of Grand Prairie, First Nations' popular brew sharply morphed into an ambitious platter of cross-provincial musicalia after lead singer Derek Janzen darted westward. Derek's dark velvet vocals are layered over ambitious mountains of rural mystics and sprawling piano pop while a dense harmonium and brooding kick hold Wand's ritual to pace. The album is a highly imaginative journey through Alberta's north, British Columbia's vacant island, and Canada's penchant for immortalizing creative brilliance on crisp discs of plastic-wrapped digital mirrors. This really should have come out of Calgary.
Des fumées de lit d'Aaron Levin: (Traduit par Odile Leclerc)
Mijotant dans l'isolation du nord de Grand Prairie, le bouillon populaire des Premières Nations s'est brusquement transformé en un ambitieux plateau de musicalie à travers la province après que le chanteur en tête Derek Janzen a foncé vers l'ouest. Les chants de sombre velours de Derek sont en couche au-dessus d'ambitieuses montagnes de mystiques ruraux et piano pop qui s'affale pendant qu'un harmonium épais et un coup de pied menaçant tiennent le rituel d'arpentement de Wand. L'album est une épopée grandement imaginative à travers le nord de l'Alberta, les îles vacantes de la Colombie-Britannique et le penchant du Canada pour l'immortalisation de la brillance créative sur des disques croustillants de miroirs digitales enveloppés de plastique. Ceci aurait vraiment dû sortir de Calgary.
First Nations – Cathedral Bells
---