Tag: glitch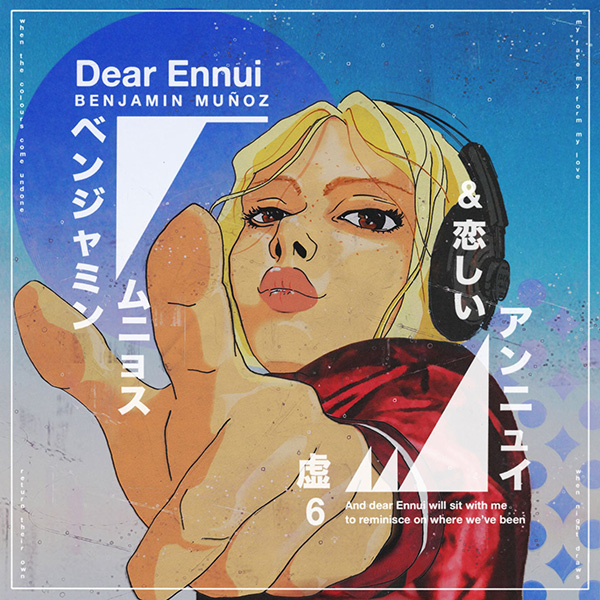 Benjamin Muñoz
Dear Ennui
Hamilton, ON
From the hygge of Rolf Klausener:
The chalky timbre of TUMS rattling in their bottle, the infinite drum roll of heavy rainfall: the right poly-rhythms have a way of both soothing us and sparking contemplation. With its heavy industrial past—echoes of primitive robots stamping out die-cast auto parts—Hamilton seemed destined to be Canada's home of arrhythmic pop. Benjamin Muñoz cobbles warm, percussive electro, where tumbling woodblocks spoon seamlessly with avant-garde jazz-breaks. Delayed pianos dovetail sampled vocals forging sweater-weather melodies. Easily at home among Berlin's Leaf Label, or Caribou's debut explorations as Manitoba, Dear Ennui offers daydream voyages on pleasantly unpredictable oceans, slave to rogue waves, and bound by no anchor.
De l'hygge de Rolf Klausener:
(Traduit par la saudade de Louis-Félix de Chevigny)
Le timbre crayeux d'un flacon de TUMS que l'on secoue, le roulement de tambour perpétuel d'une pluie battante: les bons motifs polyrythmiques apaisent et invitent à la contemplation. Avec son lourd passé industriel -lors duquel retentissait la résonance de robots primitifs martelant des pièces d'automobile moulées – Hamilton semblait destiné à être le foyer canadien du pop arythmique. Benjamin Muñoz nous concocte de l'électro percutante et chaleureuse dans laquelle s'harmonisent le wood-block et les interludes jazzy avant-gardes. Des mélodies de temps frisquet issues de l'accord entre des notes tardives de piano et des échantillons vocaux. Bien à sa place aux côtés de la maison de disque berlinoise Leaf Label, ou de Caribou à ses débuts, sous le pseudonyme Manitoba; Dear Ennui offre une rêverie de voyages sans ancre sur des eaux imprévisibles, esclave aux vagues scélérates.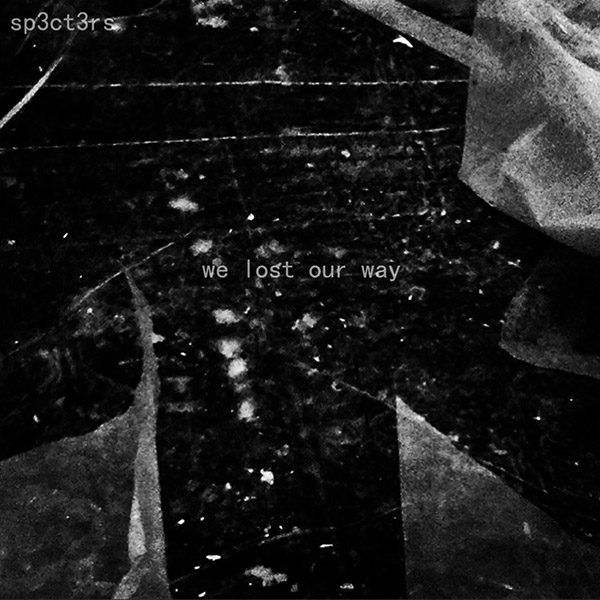 sp3ct3rs
we lost our way
Greenfield Park, QC
From the public appearance of Katie Jensen:
A glowing blue cloud suspended above a jagged metal junkyard. Abstract, scraped melodies rubbing together like the steel shoulders of old cars; rusted robin eggs rolling in a cream-spackled washbasin. The tenderness of fingertips drifting across peach-wrinkled eyelids, thin cotton sheets pulled over restless eyes. A mouth twitching and popping with tension, the copper tang of swallowed words, old scars where the teeth touched down, saving choice words for the lining of cheeks, clamp unyielding, pinching tighter and tighter, screams underwater converted into circular, silver bubbles, canine-gripped flesh, enamel instruments clattering, bowed instruments on metal, dried sand.
De l'apparition publique de Katie Jensen:
(Traduit par les quatre cents coups de Julie Mayer)
Un nuage d'un bleu éclatant suspendu au-dessus d'un dépotoir de ferraille dentée. Des mélodies abstraites et éraflées se frottent les unes aux autres comme les épaules d'acier des vieilles bagnoles; des œufs de merle rouillés roulent dans un lavabo colmaté au mastic. La tendresse des doigts flânant sur des paupières aussi ridées que la peau d'une pêche, de minces draps de coton tirés sur des yeux tourmentés. Une bouche tressaille et produit des bruits secs sous la tension, le goût ferreux de mots ravalés, d'anciennes cicatrices là où les dents se sont enfoncées, gardant des choix de mots à l'intérieur des joues, un serre-joint inflexible, serrant de plus en plus fort, des cris sous l'eau convertis en bulles d'argent sphériques, la chair mordue à pleines dents, le cliquètement d'instruments émaillés, des instruments à cordes sur du métal, du sable séché.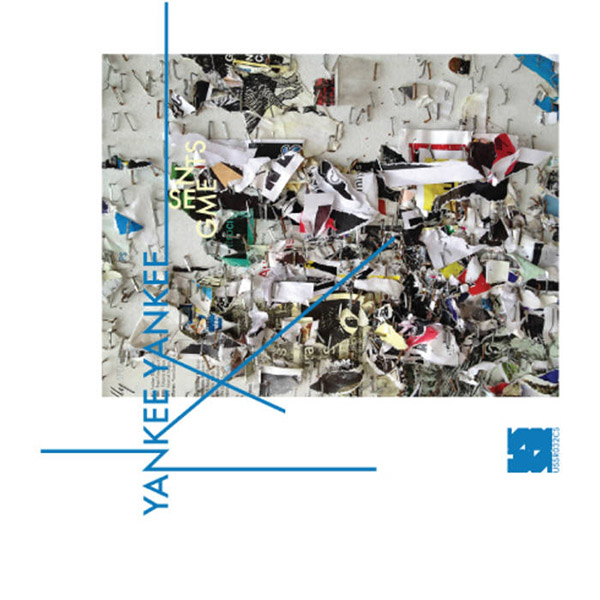 Yankee Yankee
Segments
Calgary, AB
From the guilty conscience of Katie Jensen:
Scram, scramble, flail. Slip into the grimy alley outside the reactor. Fingers digging into swirling space, mouths opening like dry fish. Waves of liquid synthesizers glide across polyphonic keys, drifting mercury desperately seeking cinnabar. Splintered chips making a slow transit across the sun, skin blistering, crust puckering. Rainbowed teeth floating into silicon space. Isolated letters tugged into orbit, tethered by minted floss. Thumbprint craters, alkaline water pooling in the hollows of eyes, a rippled disturbance, wobbling, tilted, reversing orbit. Eject into deep space via Calgary with the harsh ambient synths of Yankee Yankee's Segments.
De la conscience coupable de Katie Jensen:
(Traduit par les poissons de Maya Keshav)
Dégage, défile-toi, débats-toi. Passe dans la ruelle sale en dehors du réacteur. Les doigts puisent au fond de l'espace tourbillonnant, les bouches ouvrent comme des poissons secs. Les vagues de synthé liquide planent à travers les touches polyphoniques, le mercure vagabond qui cherche désespérément le cinabre. Les éclats qui font un voyage lent à travers le soleil, les ampoules sur la peau, les plis dans la croûte. Les dents arc-en-ciel qui volent dans l'espace en silicium. Les lettres isolées qui sont attirées à l'orbite, attachées à la soie dentaire à la menthe. Les cratères d'empreinte, l'eau alcaline qui s'accumulent dans les creux des yeux, un tapage ondulé, l'orbite chancelant, penchée, contraire. Propulse-toi en espace lointain via Calgary avec les synthés crus et enveloppants de Segments de Yankee Yankee.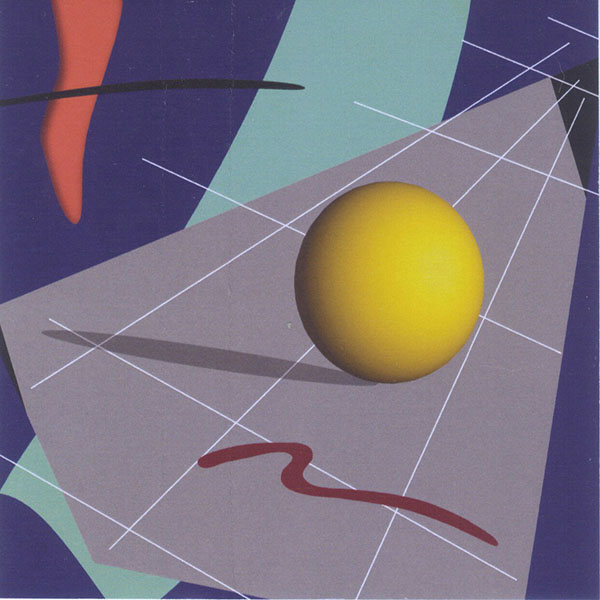 Bataille Solaire
Dolby's ON
Montréal, QC
From the metallic surfaces of Hugo Hyart:
A new Bataille Solaire tape has emerged! It is playful and sails percussive glitches and clinking textured lakes. Drilled and subwoofed, it sticks to your skin. Overwhelming sensations wash over you in waves, while inside, you awake to the surreal perfection of a world created through CGI environments. The entirety of your being is plunged into an aural world of abstract neutralizing and straightening material which presents an exhilarating path to reach enlightment.
Des surfaces métalliques de Hugo Hyart:
Une nouvelle cassette de Bataille Solaire a émergée ! Elle est joueuse et navigue sur des lacs de bugs percutants et de textures clinquantes. À la perceuse et au caisson de basse dans une autre version de ton corps qui te colle à la peau, des sensations de plénitudes arrivent en plage tandis qu'à l'intérieur tu te réveilles à l'envers du chaos dans un monde d'environnements générés à l'ordinateur. Le tout est plongé dans une abstracte matière neutralisante et lissante qui autorise un chemin hilarant pour attendre l'éveil.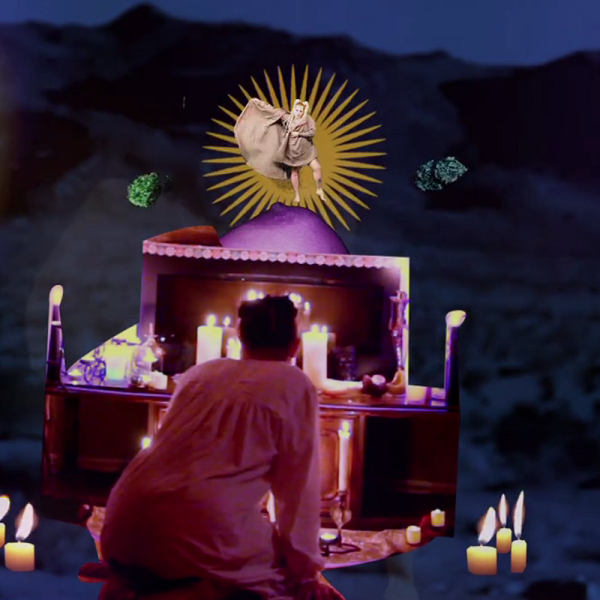 Psych-Ich Lie
Trolling
Montreal, QC
From the glitch libido of Johnnie Regalado:
From the acid-glitch sands of Arrakis to a twisted hall of family portraits, these apparitions portray all your favourite protagonists from all your worst nightmares. Synthetic sleep paralysis has never vibrated so sweet.
De la libido parasite de Johnnie Regalado:
(Traduit par Julie Mayer)
Des sables acides-parasites d'Arrakis vers un couloir tordu où sont accrochés des portraits de famille, ces apparitions dépeignent tous tes protagonistes préférés de tous tes pires cauchemars. La paralysie artificielle du sommeil n'a jamais vibré de manière si douce.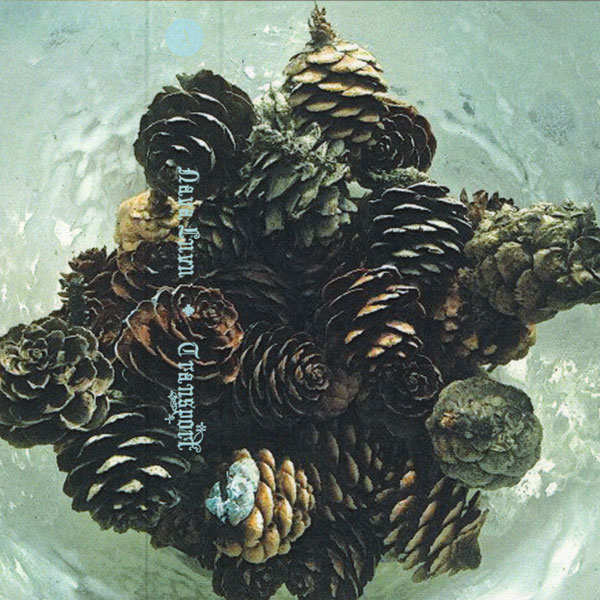 Nava Luvu
Transport
Yellowknife, NWT
From the illegible handwriting of James Beardmore:
Building on a prolific year and a half of self-released material, Transport is Nava Luvu's first release on Apothecary Compositions. The Yellowknife duo's process of improvising through headphones creates an intensely close and intricate experience that, despite playfully hopping between electronic genres, feels fluid and organic. Melodies mutate. Rhythms erode and unexpectedly give way to stuttering glitches. Synths bubble and seethe under washes of tape hiss. Themes emerge out of corroded loops. Interlocking layers and woozy panning create constantly shifting landscapes to explore.
De l'écriture illisible de James Beardmore:
(Par l'écriture en mouvance d Aliké Harel)
Après une année et demie généreuse en enregistrements indépendants, Nava Luvu livre Transport, son premier album avec Apothecary Compositions. Le duo de Yellowknife improvise par l'entremise d'écouteurs et fait vivre une expérience d'une proximité et d'une complexité de détails intenses, qui, malgré un jeu de va-et-vient entre les genres électroniques, reste fluide et naturel. Les mélodies entrent en mutation. Les rythmes s'érodent et font, sans prévenir, place à des accrochages saccadés. Les synthés bouillonnent et sifflent sous une pluie de bandes magnétiques chuintantes. Les thèmes émergent des boucles rouillées. Les couches entrecroisées et le fignolage abasourdissant créent un paysage en perpétuelle mouvance à explorer.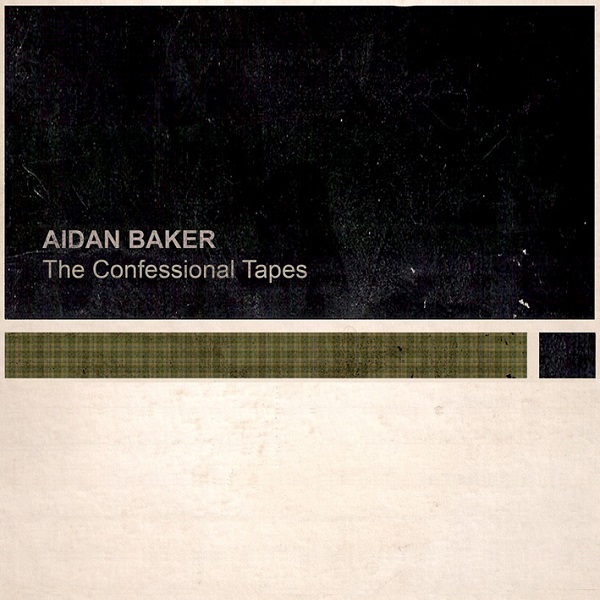 Aidan Baker
The Confessional Tapes
Toronto, ON
From the unfiltered musings of Griffin Martell:
Art is but an accident. This is an inevitable realization at the moment of creation. The creator proclaims life in the same breath that bemoans it. Aidan Baker, being no stranger to the contingency of creation, deftly cultivates material indifference on his Pleasence debut. Breathlessly gliding through gauzy passages of brush percussion and delicate jazz guitar, Baker confesses discrete yearnings and reflections. While a torpid, Lynchian ambience creeps in, errant clicks and squiggles accent the sonic landscape with sobering reminders of digital reality. Baker is firmly aware of his limitations yet he does not balk at them, he indulges them.
Des réflexions non filtrées de Griffin Martell:
(Traduit par les cocktails fleuris de Marie-Pier Chevrier)
L'art est tout sauf un accident. C'est l'inévitable réalisation au moment de la création. Le créateur [insuffle la vie] du souffle-même avec lequel [il la maudit]. [Aidan Baker], loin d'etre étranger au [caractère contingent de la création], cultive adroitement l'indifférence matérielle dès ses débuts musicaux avec [Pleasence]. Glissant, haletant, au travers de passages translucides de balais percussifs et de guitare jazz délicate, Baker fait de discrets aveux d'aspirations et de réflections. Alors qu'une ambiance Lynchesque léthargique vous envahit, d'ambulants cliquetis et gribouillis accentuent le paysage sonore de tristes rappels à la réalité numérique. Baker est bien conscient de ses limites sans pour autant s'y arrêter; au contraire, il leur donne libre cours.

Aidan Baker – I Want to See (More of You)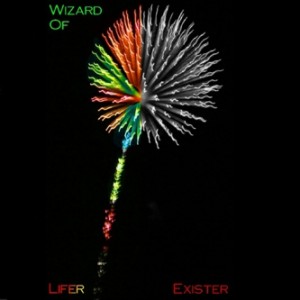 Wizard Of
Lifer / Exister
Toronto, ON
From the emerald city of James Lindsday:
Bob McCully personifies the lone wolf as spirit animal for the self-sufficient. Before expanding his other effort, Women in Tragedy, into a full band, he lingered in the shadows for years, making some of the most epic, yet criminally under-appreciated post-rock in Canada all on his lonesome. Wizard Of picks up where the electronic moments of Diane Arbus (the final solo output of WiT and earth-shattering double CD-R) left off. These are thinking man's beats, warping vocal samples around you like the goo from a glow stick splattered on the warehouse wall. Don't just sit there in the corner, dressed in black and ignoring the party, get up already! He's earned a dance from you.
De la ville d'émeraude de James Lindsday:
(Traduit par le fracassant Vincent Rondeau)
Bob McCully est l'image même du « loup solitaire », totem spirituel de l'autosuffisance. Avant que son autre projet Women in Tragedy devienne un groupe complet, il s'est occupé pendant des années à produire du post-rock hautement épique mais criminellement méconnu. Wizard Of s'inscrit dans la continuité du dernier album double de WiT, le fracassant Diane Arbus. Des rhythmes d'intellectuel, des échantillons vocaux déformés comme la glu d'un glowstick éclaté sur le mur d'un entrepôt. Ne reste pas là tout habillé en noir à ignorer le party, lève-toi et bouge! Tu lui dois au moins une danse.
---