Tag: geographing records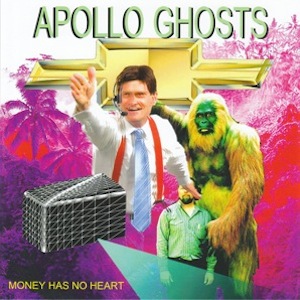 Apollo Ghosts
Money Has No Heart
Vancouver, BC
From the ultra koolness of Paul Lawton:
To quote the press release, this single is "an homage to the Vancouver punk scene circa 2007-2010… i.e. a post-30 interpretation of Nu Sensae/B-Lines/Chris-a-riffic… an allegiance to the Nanaimo 4-track scene and Lethbridge garage." The new wave of adjective-punk has arrived folks — post-adjective-punk, or perhaps more fittingly, subjectivity-punk; the end result of talented individuals swimming in the ocean of access, filtering music like baleen whales filter krill. Success in this new musical epoch will require talented people (people like Apollo Ghost's Adrian Teacher) to actually do something creative with all of this excess. It's not even December and I will already declare this the best 7" to come out in 2011. Impossibly good musics.
De la ultra Koolité de Paul Lawton: (Traduit par Odile Leclerc)
Pour citer la sortie de presse, ce solo est '' un hommage à la scène punk de Vancourver circa 2007-2010…i.e. une interprétation post-30 de Nu Sensae/B-Lines//Chris-a-riffic…… un allégeance à scène de 4 pistes de Nanaimo et le garage de Lethbridge.'' La nouvelle vague de punk adjectif est arrivée peuple—du punk post-adjectif, ou peut-être de façon plus appropriée, de la subjectivité punk; le résultat final d'individus talentueux nageant dans l'océan d'accès, filtrant la musique comme des fanons baleine filtrent le krill. Le succès dans cette nouvelle époque musicale requerra des gens talentueux (des gens comme Adrian Teacher de Apollo Ghost) pour actuellement faire quelque chose de créative avec tout cet excès. Ce n'est même pas décembre et je vais déjà déclarer que c'est le meilleur 7'' à sortir en 2011. Musiques impossiblement bonnes.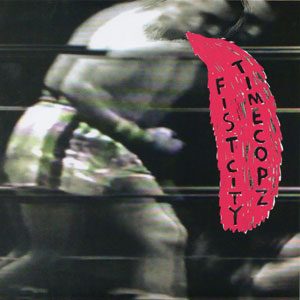 Fist City // Timecopz
Split 7″
Lethbridge, AB // Vancouver, BC
From the post-storm sun of Michael Deane:
It's like someone told both of these bands: "You only have five minutes to say everything you have planned for the next year," and they nailed it into the ground. Fist City's side has an amazing mix of precision and shambles, of dissonant guitar lines and totally uplifting sun-after-the-storm, muddy-voiced melodies. The trampling, mangled, spit-out warbling verses give way to trebly, simple guitar lines backing catchy-as-all-hell choruses. Timecopz keep pace with bratty, chunky, screamy garage-punk that stays away from all gimmick, giving nothing but two songs full of noisy, in-the-red energy. Group choruses and infectious verses mix punk's past with punk's future and give you punk rock for right now. MUST GRIP.
Du soleil après l'orage de Michael Deane:
(Traduit par Maya Keshav)
C'est comme si quelqu'un a dit aux les deux groupes: "Vous avez seulement cinq minutes pour dire tous ce que vous avez l'intention de dire cette année," et ils ont tapé dans le mille. La face de Fist City a un mélange incroyable de la précision et de la pagaille, des riffs dissonantes de guitare, et des mélodies embrouillées, soleil-après-l'orage, et complètement exaltantes. Les vers piétinants, lacérés, crachants et gazouillants cèdent aux mélodies aiguës et simples de guitare derrière les refrains trop entraînants. Timecopz tient le rythme avec le garage-punk gâté, trapu, et hurlant qui évite tous les stéréotypes, en donnant deux chansons trempées d'énergie bruitiste et dans le rouge. Les refrains de groupe et les vers entraînants mélange le passé du punk avec l'avenir du punk et vous donne le punk pour juste maintenant. ACHETEZ.

Timecopz – Shit City

Fist City – Iggy Pup
---