Tag: geneviève simard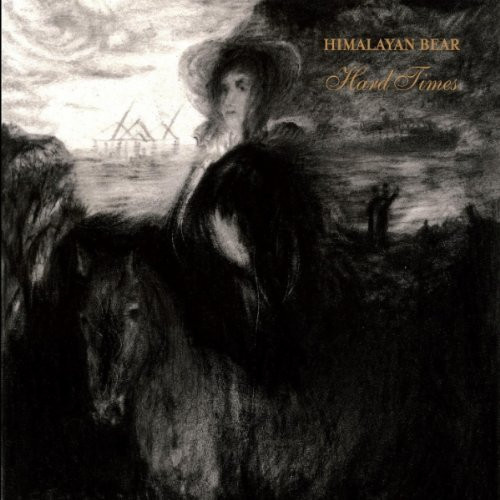 Himalayan Bear
Hard Times
Victoria, BC
From the hibernation stockpile of Johnnie Regalado:
The Himalayan Bear is the way west coast version of the Yeti, except this beast is more like a moseying minstrel. One you might find slinging beers or strumming guitars inside Victoria's Tavern of the Damned. One you've seen alongside the likes of other Victoria music heroes. On wax, Hard Times unspools like a grand tapestry. These songs strike a lingering loneliness that can only be understood through the crashing crescendos.
Des réserves d'hibernation de Johnnie Regalado:
(Traduit par la patte d'ours de Geneviève Simard)
L'ours de l'Himalaya est la version côte ouest du Yeti, sauf que cette bête fait davantage penser à un troubadour flâneur. Un de ceux que vous pourriez trouver à Victoria, dans la Tavern of the Damned, en train d'enfiler des bières ou de gratter sa guitare. Un de ceux que vous avez vus graviter aux côtés d'autres héros de la scène musicale de Victoria. Sur disque, Hard Times se déroule comme une imposante tapisserie. Les chansons assènent une solitude persistante qui ne peut être comprise que par le truchement des crescendo qui se fracassent.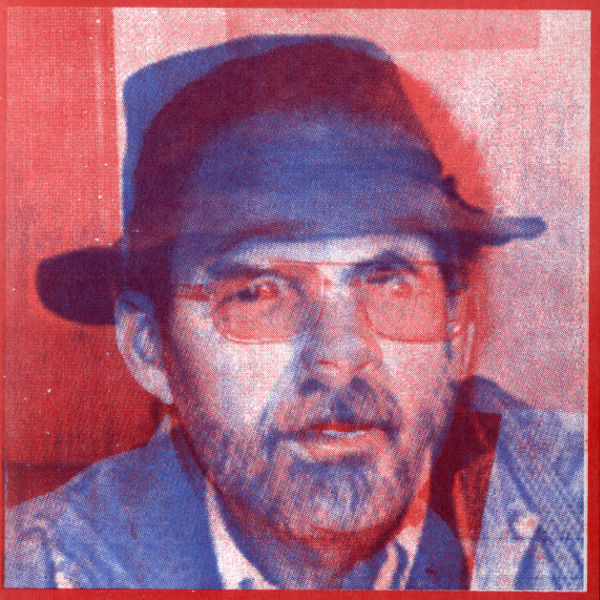 Michael Horwood
Musique Concrète Realizations by Michael S. Horwood of Two Poems by Robert Creeley
Toronto, ON
Originally Recorded 1968
From the patterned dimensions of Kevin Hainey:
Michael Horwood is a 20th century composer who began recording in the late '60s. Horwood composes multi-instrumental works and is particularly interested in percussion. One of his apples didn't fall too far from the tree, and son Jacob Horwood (Gastric Female Reflex, Claudio, sole proprietor of avant imprint extraordinaire Beniffer Editions) opened up his label's gates to his father's vaults back in 2007. That began with a live cassette dose of Music Gallery goodness from the percussion-led free-jazz quartet Convergence that Horwood Sr. served with during the late '70s and early '80s. An unforgettable Convergence LP followed.
This time around we have nearly 13 minutes of prime wax in white 7" form, wrapped in an eye-popping silkscreened gatefold executed to the max by Horwood Jr. "The Pattern" and "Dimensions" might be inspired by Robert Creeley's poems, but for 1968 these skewed chamber pieces for tapes, voices and alarming sounds were wonderfully contemporary when you consider the like-minded back-room madness being recorded at the time. In fact, you could compare the cut-up, spliced, re-arranged and flipped sensibilities at play within this EP's tight confines to be part and parcel of the same culture-chopping insanity that brought us the warped visions behind cut-up art-noise frontiersmen Gastric Female Reflex. Heady generational goodness!
Des dimensions modèles de Kevin Hainey:
(Traduit dans une ambiance feutrée par Geneviève Simard)
Michael Horwood est un compositeur du 20e siècle ayant commencé à enregistrer à la fin des années 60. Horwood compose des oeuvres multi-instrumentales et s'intéresse particulièrement aux percussions. Puisqu'on n'échappe pas facilement à sa descendance, son fils Jacob Horwood (Gastric Female Reflex, Claudio, unique propriétaire de l'extraordinaire étiquette de disque avant-gardiste Éditions Beniffer, a ouvert ses portes aux archives de son père en 2007, commençant par une cassette d'un divin enregistrement en direct de la Music Gallery du quartet percussionniste free-jazz Convergence dans lequel Horwood père a joué à la fin des années 70 et au début des années 80. Un inoubliable LP de Convergence a suivi.
Cette fois-ci, nous avons près de 13 excellentes minutes gravées sur un vinyle 7 pouces, emballé dans une époustouflante couverture en sérigraphie exécutée par Horwood fils. « The Pattern » et « Dimensions », ces morceaux de chambre distordus sur cassettes, ces voix et ces sons alarmants, bien qu'inspirés de poèmes de Robert Creeley, étaient magnifiquement contemporains en 1968 quand on considère la folie similaire qui était enregistrée à l'époque. En fait, on peut comparer la coupe, le collage, le réarrangement et les différentes sensibilités qui entrent en jeu dans les limites étroites du EP comme faisant partie intégrante de ces démentes coupes en culture qui nous ont aussi amenés les visions tordues du groupe art-noise, Gastric Female Reflex. Divine offrande générationnelle !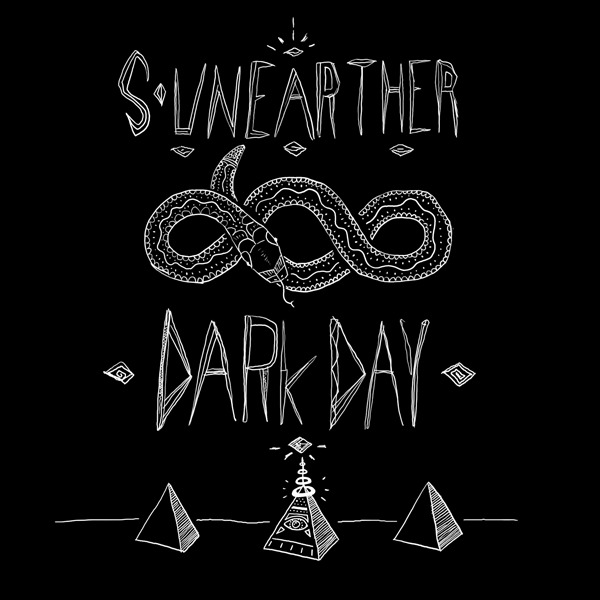 S-UNEARTHER
Dark Day
(Self Released)
Vancouver, BC
From the low chants of Doreen Girard:
This four-song cassette opens up in a hazy glow, searching for someplace to settle its beam across the fields it finds itself in. With its expansive textures, there are no easy hooks assembled here, but it finds itself rolling faithfully along, lulled by low chants and spare tones. At risk of drifting away, it's suddenly prodded along by the first sign of chord progressions and a drum beat. Almost as suddenly, it's over, deer scattered across the highway, farmers left interpreting the patterns left behind.
Des chants graves de Doreen Girard:
(Traduit de la plume enchantée de Geneviève Simard)
Cette cassette de quatre chansons s'ouvre dans une lueur floue, à la recherche d'un endroit où poser son faisceau dans les champs où elle se trouve. À l'aide de textures vastes, on ne retrouve pas d'accroches faciles, mais tout déferle fidèlement, bercés par des chants graves et des tonalités limitées. Lorsque le risque de partir à la dérive se présente, il cesse dès le premier signe de progressions des accords et le son de la batterie. Puis tout à coup, c'est fini, les cerfs se dispersent sur l'autoroute, laissant aux fermiers le soin d'interpréter les traces laissées derrière eux.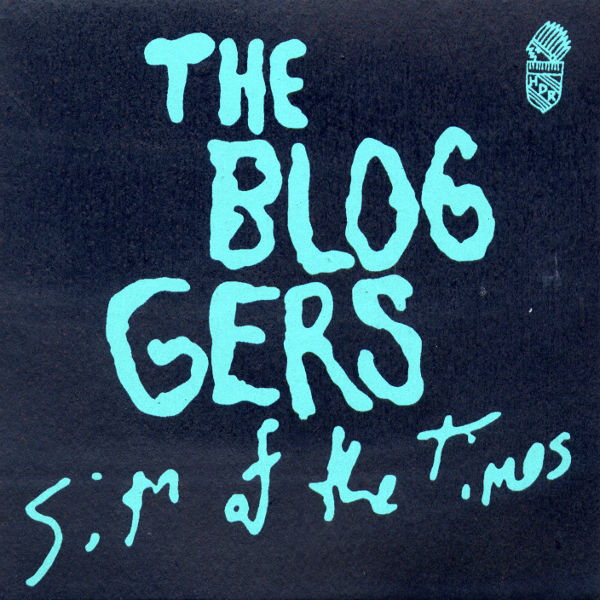 The Bloggers
Sign of the Times
Vancouver, BC
Released 2014, recorded 2006-2010
From the CSS style of Stephen Jersak:
I woke up and checked MySpace. Every morning there were new songs from The Bloggers. I downloaded them and played them on repeat on my skateboard to school. I MSN'd my friend Kathy about which ones she downloaded.
My cousin blogged about this mysterious band he'd seen, "mumbling and screaming totally bizarre lyrics, one of the guitars picking softly and the other one pretty much just feeding back… and then before you can figure out what's going on, the song sorta just falls apart and stops." They had four MySpace friends and no CSS style.
I messaged them and they sent me a CD-R, wrapped in a torn alt-weekly and labelled Nov 9/06: 41 tracks, not much overlap with what I'd downloaded. Other people got CDs too, and theirs were different. I snuck, underage, into a show in Vancouver and met Adam and Jeff and they mailed me another two CD-Rs. Dozens and dozens – impossible grosses – of songs by my new favourite band.
I put on an all-ages show for them in Abbotsford, and some of my friends started jamming with them. Hockey Dad Records put out a CD, 2007's The Bloggers, and I moved to Vancouver and even played with them for 20 minutes before Adam moved away. All their songs are being played for the first time, so a single jam can yield a score.
That process is inseparable from their unpredictable bursts of pop and noise, but it doesn't explain the limitless depths of quality. Hockey Dad just released the Sign of the Times CD+DVD, with over 600 songs. There are another thousand, these are just the best. Where do they get their magic?
Stephen Jersak has been putting harsh criticism on the internet as Jonny-Chance since 2005.
Du style CSS de Stephen Jersak:
(Traduit sans feuille de style par Geneviève Simard)
Je me suis levé et j'ai regardé MySpace. Chaque matin, on trouvait des nouvelles chansons de The Bloggers. Je les ai téléchargées et les ai fait jouer en boucle en me rendant en skate à l'école. J'ai écrit à mon amie Kathy pour lui demander celles qu'elle avait téléchargées.
Mon cousin a écrit sur son blogue sur ce mystérieux groupe qu'il avait vu, « marmonnant et hurlant des paroles tout à fait bizarres, une des guitares jouant doucement et l'autre faisant à peu près juste des retours de son… et avant qu'on puisse comprendre ce qui se passe, la chanson se met à se décomposer et s'arrête. ». Ils avaient quatre amis sur MySpace et aucun style CSS.
Je leur ai écrit un message et ils m'ont envoyé un CD-R, enveloppé dans un hebdomadaire alternatif déchiré et étiqueté Nov 9/06 : 41 pistes, très peu de celles que j'avais téléchargées. D'autres personnes ont reçu des CD, eux aussi différents. Je me suis faufilé, encore mineur, dans un spectacle à Vancouver, où j'ai rencontré Adam et Jeff qui m'ont envoyé deux autres CD-R. Des dizaines et des dizaines – un nombre incroyable – de chansons de mon nouveau groupe préféré.
J'ai organisé un spectacle pour des gens de tous âges à Abbotsford et certains de mes amis ont commencé à jouer avec eux. Hockey Dad Records a sorti en 2007 leur CD The Bloggers, et je suis déménagé à Vancouver où j'ai même joué vingt minutes avec eux avant qu'Adam ne s'installe ailleurs. Toutes leurs chansons sont jouées pour la première fois, donc un seul spectacle peut générer un score.
Ce processus est inséparable de leurs imprévisibles rafales de pop et de noise, mais ça n'explique pas les profondeurs illimitées de qualité. Hockey Dad vient de sortir le CD et DVD Sign of the Times, qui contient plus de 600 chansons. Il y en a mille de plus, mais celles-ci sont les meilleures. Où prennent-ils leur magie ?
Stephen Jersak fait des critiques sévères sur Internet sous le nom Jonny-Chance depuis 2005.

The Bloggers – Maps of the Stars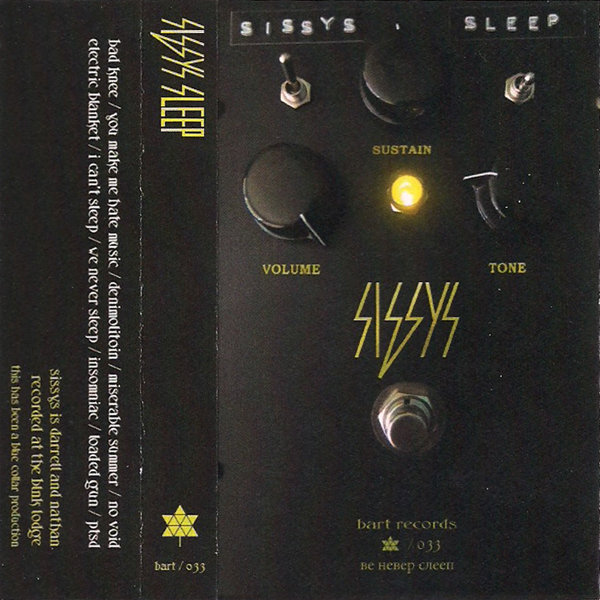 From the circuit schematic of Stephen Guy:
Here's the adult side of the Southern Albertan punk scene, where the most tasteful elements of turn-of-the-century post-hardcore are still savoured with forceful melancholy. This tape is called Sleep because Sissys can't get any of it. It's easy to imagine them staying up late with a soldering iron and a circuit schematic, searching for the best way to make their discomfort and exhaustion an aural sensation. Subjects addressed in addition to sleeplessness include creaky joints, expiring friendships, and boring songs. But Sissys are probably most annoyed when they're asked to turn down.
Du schéma de circuit de Stephen Guy:
(Traduit du sommeil court-circuité de Geneviève Simard)
Voici le côté adulte de la scène punk du sud de l'Alberta, où les meilleurs éléments du post-hardcore du tournant du siècle se savourent encore avec une forte mélancolie. Cette cassette s'intitule Sleep (dormir) parce que Sissys ne le font tout simplement pas. C'est facile de les imaginer tard le soir avec un fer à souder et un schéma de circuit, cherchant la meilleure façon de rendre en sensations auditives leur inconfort et leur épuisement. En plus de l'insomnie, les thèmes abordés comprennent les articulations qui craquent, les amitiés qui prennent fin, et les chansons ennuyantes. Mais Sissys sont probablement le plus irrités quand on leur demande de baisser le volume.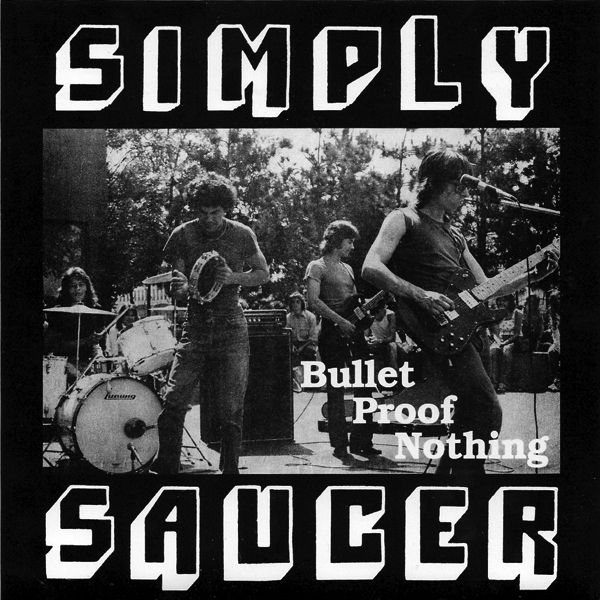 Simply Saucer
Bullet Proof Nothing
Hamilton, ON
From the point blank target of James Lindsay:
Here's a fantasy 7" that never was, but should have been, from Hamilton's once lost but now found golden sons, Simply Saucer. This song and its notorious chorus, from the group's legendary posthumous LP Cyborgs Revisited, finds the Steeltown cosmic-punks phasing out of their usual MC5 interstellar overdrive and basking in the warm glow of a big star. The b-side delivers a revved up live version that makes you want to add a date to your time machine's itinerary. Many thanks to Mammoth Cave for making this happen, and to Ugly Pop for coming up with the "what if" single concept.
De la cible à bout portant de James Lindsay:
(Traduit avec la plume enchantée de Geneviève Simard)
Voici un disque vinyle 7 pouces qui n'a jamais été fantasmé, mais qui aurait dû l'être, de la part des précieux fils d'Hamilton Simply Saucer, autrefois perdus, mais maintenant retrouvés. Cette chanson des membres célèbres du légendaire LP posthume Cyborgs Revisited montre les punks cosmiques de Steeltown qui abandonnent leur habituel MC5 interstellar overdrive pour se délecter de l'éclat chaleureux de Big star. La face B comprend une version en spectacle survoltée qui donne envie d'ajouter une date à l'itinéraire de sa machine à remonter le temps. Un grand merci à Mammoth Cave pour avoir permis à ce vinyle de voir le jour, et à Ugly Pop pour avoir trouvé le concept du single « what if ».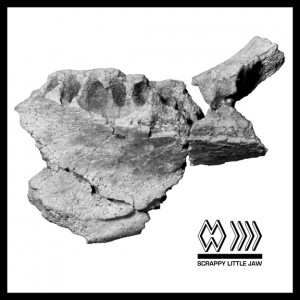 The Band Whose Name is a Symbol
Scrappy Little Jaw
(Self Released)
Ottawa, ON
From the tapered pants of Christopher Laramee:
Y'know the joy you get when you FINALLY check out a band that friends have been telling you to give a listen to for quite a while, then said band blows your head off? Ladies and gents, welcome to the pleasuredome, courtesy of Ottawa's THE BAND WHOSE NAME IS A SYMBOL (wicked nom de plume). These self-described "free psych rockers" achieve intense lift­off akin to some MAGIC LANTERN chatter, albeit sprayed with some noised boogie also reminding me of ETERNAL TAPESTRY. "Neu Sedan" goes quite a way to giving up the ghost as regards to the above inspiration. Hot spiral abounds here, sub­-metal riffage grabbing collars and shaking hard. TBWNIAS have released five albums in the last few years — vinyl only affairs, and whatever's on the Bandcamp. Sizzle away TBWNIAS, SIZZLE AWAY. Canada's best kept secret? No longer, folks. Also, any band that names jamz "Sask." and "Blues in Goddamn" has got their arrows pointed straight at my cold prairie heart. They should get together with Edmo's KRANG and trade eyeballs, NOW!!!
From the tapered pants of Christopher Laramee:
(Traduit avec la plume enthousiaste de Geneviève Simard)
Vous connaissez cette joie lorsque vous écoutez FINALEMENT un groupe de musique dont vos amis vous parlent depuis un bon moment et que leur musique vous jette par terre? Mesdames et messieurs, bienvenue dans ce lieu du plaisir, gracieuseté d'un groupe d'Ottawa, THE BAND WHOSE NAME IS A SYMBOL (super nom de plume). Ceux-ci, qui s'autoproclament des rockers « free psych », réussissent un décollage intense qui ressemble à du MAGIC LANTERN avec des mots, mais parsemé de quelques bruyants boogie qui font aussi penser à ETERNAL TAPESTRY. « Neu Sedan » fait beaucoup de chemin pour abandonner la ressemblance aux inspirations ci-dessus. De puissantes spirales abondent, des riffs sub-métal qui vous agrippent par le collet et vous tirent avec force. TBWNIAS ont sorti cinq albums au cours des dernières années, exclusivement sur vinyle, en plus de tout ce qui se trouve sur Bandcamp. Continue TBWNIAS, CONTINUE. Le secret le mieux gardé au Canada? Plus maintenant. En plus, un groupe de musique qui nomme ses chansons « Sask. » et « Blues in Goddamn », c'est comme une flèche pointée directement sur mon cœur froid des Prairies. Ils devraient rencontrer KRANG d'Edmonton et échanger leurs globes oculaires IMMÉDIATEMENT!!!

The Band Whose Name is a Symbol – Berlin, Ont
---