Tag: genevieve faubert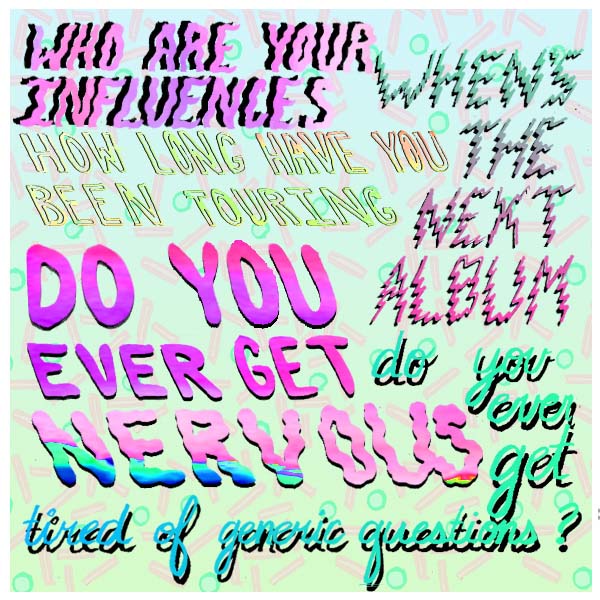 How to Interview
Alison Lang
Toronto, ON
From the weird Halloween cat show of Alison Lang:
Interviewing someone you've never met can be one of the scariest parts of covering the music scene. If you are shy/in awe of someone/not good on the phone/not in the mood/tired/hungover/under time constraints, the anticipation before you interview a musician can cause extreme anxiety. Then you actually have to do the thing.
Depending on the mood the musician is in, your interview can either be one of the most satisfying, inspiring conversations ever …or it can be totally horrible and you cringe your way to the end, praying for completion. Here's how to get the most out of your interviews:
1. Be prepared
This seems obvious but sometimes – especially when you are on a super-tight deadline – it is easier said than done. Whether you're interviewing someone for a zine or a newspaper or a blog, your life will be easier if you know as much as you possibly can about the person you're speaking with:
We are gifted to be living in the age of the Internet, where you can find out a lot of information easily and quickly. Read other stuff that's been written about the band.
Find the local paper or alt-weekly in their city and search those archives, dammit!
Go to zine archives and look around for fanzines that might have some pieces or stories from the bands. (Find the zine library or a good zine distro in or near your city. Anchor Archive Zine Library in Halifax, the Toronto Zine Library and QPIRG Concordia have a lot of resources both online and onsite. Maximum RocknRoll has an extensive web archive – for a small fee you can download a digital version of classic issues all the way back to '82.)
Check out show reviews from the plethora of Canadian music blogs out there – Exclaim, Grey Owl Point, Herohill, Southern Souls and more. If you know people who know the bands, talk to them. Find out what they love and hate.
2. Ease into the conversation.
Sometimes it's easiest to start things off by getting someone talk about something other than themselves and their work. Did the band/musician just play a cool festival recently? Ask them who they saw and who they loved. Did they eat the most amazing tacos? What a coincidence, you also love tacos. Are they super into cats? Tell them about the weird Halloween cat show you went to that one time. Be on the lookout for weird details that will lead to an interesting conversation– talk about a venue in Canada that you've both barfed in. If all else fails, talk about B.A. Johnston. Every musician in Canada has at least one B.A. Johnston story. These are conversational inroads. These are the jewels in your crown. Things to keep in mind:
It's ok to joke around and be a goof at first. Be disarming. Be yourself. If you're comfortable using a more formal "interviewer tone" that's fine if it works for you, but don't assume or pretend to know every reference and nuance that comes your way. Don't be scared to ask questions about stuff you haven't heard of – you'll get better answers!
If they are a band that gets interviewed a lot, they may have some unconscious barriers up, or they might be on their 8th interview of the day, and they're tired. If they are a band that is just starting out, this might be one of their first interviews, and they might be nervous too! Take it easy.
3. Try to ask the questions you need, but also ask the questions you want.
This is where reading old interviews with the band can help. They may get asked the same questions a lot – "What are your influences?" "What's it like being an all-female three-piece in a mostly male punk scene?" "Do you miss being at home?" Stuff like that. Sometimes this is unavoidable and you have to ask these questions to get the quotes you need for your story. Sometimes, though, certain questions can be re-phrased or avoided altogether and you can still have a good story.
If you're asking about being an all female three-piece, why not cite a specific event in the band's history and ask 'em for more detail about that? Why not, instead of asking about influences, mention a specific song from the band's record that reminds you of something else – a band you love, or an experience from your own life – and ask where their story came from?
Try not to recycle the same Q's if you can. Try to stump the band and surprise 'em.
And for sure, ask the crazy fanboy/fangirl questions you HAVE to know the answers to….but save 'em 'til the middle/end, once you've warmed them up and hopefully won them over.
4. Don't be afraid to stray away from your prepared questions.
If the conversation is going to an unexpected place, sometimes it's ok to let it go there – but sometimes it isn't. It's important to know when you should intervene and set the interview back on track.
If the musician is unleashing some philosophical and/or profound personal truths – or they're just telling a hilarious tale that might have nothing to do with any of their shows or their record – sometimes it's ok to just let it go there and enjoy what they're saying.
If they are launching into personal attacks or some kind of vendetta, this is not really something you can use in your story (unless you plan on getting the other side of the perceived grievance) so you may want to gently nudge them elsewhere.
5. For the love of God make sure your recorder is turned on and you have fresh batteries and/or make sure your phone is charged and make sure your recording app is on and running. EVERYONE MAKES THIS MISTAKE TRY NOT TO BECAUSE IT FEELS SO HORRIBLE.
6. Mark your spots in the conversation
You can do this by turning your recorder on and off, or some recorders will let you actually mark when a new question is asked. This will help you a lot when you're doing the transcribing, the most HATED PART of interviewing.
7. Don't get defensive.
Sometimes musicians are pissy or sassy or cranky or not very talkative. A lot of them will be talking to you from the road, and being on tour is exhausting and they are probably super tired and hungover or broke, or they might be coming off a bad show, or something else might be buggin' 'em. They're human. Don't take it personally – they don't know you, and it's not your fault they're in a shitty mood. It happens. If the interview seems to be going badly or stalling altogether, just try to get through your questions the best you can and wrap that shit up. If you have time, get an email address and mention you might follow up on a few things later, and they can reply to you when they want. Don't get snippy or cranky at them though, it won't help, and it might burn bridges down the road. Plus, you're the interviewer – you can take the high road.
8. Be gracious.
Unless the musician(s) were total unresponsive dicks, be grateful for your experience. Thank them. Thank the publicist who connected you. Let them know the interview went well (even if it was just ok). They want to know – it's part of the whole publicity game. Let the band/publicist know when your story is posted.
9. Make sure you're really LISTENING.
The interviewee may drop an interesting fact as an aside (maybe the fact that they're moving, or even that they might be leaving the band). Sometimes it's good to listen hard to pick up changes in tone, or little hints that the person might want you to ask about something that they're too shy/coy/anxious to bring out straightaway. Sometimes people need coaxing, and you need to be really listening to them to know when to jump in.
10. Don't be scared to go smaller/indie/local.
Everyone wants to interview their idols, but the most satisfying interviews are quite often the ones you don't expect – the road dogs who have an impassioned small-town fanbase, the locals who are just starting out and getting a tiny bit of buzz. These connections might last forever – one good experience can lead to you having a good rapport with a band for their entire career, and maybe they can help you out sometime too. If you put out good vibes during your interview you will invariably get something back in return. That's why we do this, right?
Interviewing is an amazing skill to develop, and if you approach it with the right preparation and mindset, it can be an immensely enriching experience regardless of the outcome. It will teach you how to be an active listener, and you will also learn insane things about what musicians do and get insights and stories that most people don't normally have the privilege of hearing. The skills of a good interviewer are also analogous to being a good conversationalist and can help you become a more empathetic, thoughtful human.
Alison Lang is the editor of Broken Pencil, a magazine that covers zine culture and the independent arts. The best interview she ever had was with voice actor Michael Winslow, who conducted half the interview in the voice of Stripe from Gremlins.
De l'étrange exposition féline d'Alison Lang:
(Traduit par Geneviève Faubert)
Interviewer une personnalité que tu n'as jamais rencontrée peut représenter l'un des défis les plus angoissants d'une couverture de la scène musicale. Que tu sois timide, en admiration devant l'artiste en question, mal à l'aise au téléphone, d'humeur peu encline, en proie à la fatigue, que tu aies la gueule de bois ou des échéances strictes à respecter, l'appréhension qui précède une interview peut causer une grande anxiété. Vient alors le moment de passer à l'action.
Selon l'humeur du musicien, l'interview peut se transformer en une conversation des plus inspirantes et gratifiantes… ou elle peut tourner au cauchemar et te faire grincer des dents en priant pour que ça en finisse. Voici divers conseils afin de tirer le meilleur parti de tes interviews :
1. Prépare-toi.
La préparation peut te sembler un facteur incontournable, mais il n'est pas toujours évident de bien se préparer, surtout si tu es confronté à une échéance serrée. Qu'elle soit réalisée pour un magazine, un journal ou un blog, l'interview se déroulera beaucoup mieux si tu te renseignes au préalable à propos des artistes en question :
Quelle chance de vivre à l'ère d'Internet : tu bénéficies ainsi d'un accès facile et rapide à une foule de renseignements. Lis les articles déjà publiés sur le groupe.
Trouve le journal local ou les hebdomadaires alternatifs de la ville du groupe et fouille dans les archives, bordel!
Consulte les archives de fanzines et recherche ceux pouvant contenir des articles ou des récits à propos du groupe. (Recherche la bibliothèque de fanzines, ou un bon distributeur, dans ta ville ou dans les environs. L'Anchor Archive Zine Library à Halifax, la Toronto Zine Library et le QPIRG (Quebec Public Interest Research Group) de l'Université Concordia offrent une multitude de ressources sur place et en ligne. Maximum RocknRoll regroupe des archives web bien documentées : moyennant une somme modique, tu pourras télécharger la version numérique de numéros classiques qui remontent à 1982.)
Consulte la myriade de blogues canadiens à la recherche de critiques de concerts : Exclaim, Grey Owl Point, Herohill, Southern Souls, etc. Communique avec tes connaissances qui entretiendraient des liens avec les membres d'un groupe. Apprends-en plus sur ce qu'ils aiment et ce qu'ils détestent.
2. Mets les gens à l'aise dès le départ.
Il est parfois plus facile d'entamer une conversation en faisant parler son interlocuteur d'autre chose que de lui-même ou de ses réalisations professionnelles. L'artiste ou les membres du groupe ont-ils participé à un festival cool ces derniers temps? Questionne-les à propos des concerts auxquels ils ont assisté ou des artistes qu'ils affectionnent. Ont-ils eu la chance de goûter aux meilleurs tacos? Quelle coïncidence : tu adores les tacos! Vénèrent-ils les chats? Parle-leur de cette étrange exposition féline à thématique Halloween à laquelle tu as déjà assisté. Sois à l'affût de ces détails bizarres qui mèneront à une conversation intéressante; par exemple, parle de cette salle de spectacle quelque part au Canada où l'artiste et toi avez tous deux vomi. Si rien de tout cela ne réussit, évoque B.A. Johnston. Tous les musiciens canadiens ont au moins une histoire de B.A. Johnson à raconter. Voilà quelques pistes de conversation, les armes secrètes dont tu disposes.
N'oublie pas les points suivants :
Il est tout à fait acceptable de blaguer et de faire le bouffon au début de l'interview. Use de charme et reste toi-même. Si tu es à l'aise avec le fait d'utiliser un ton plus formel, n'hésite pas si ça fonctionne pour toi, mais ne prétends ou ne présume pas connaître toutes les nuances et références dont on te parlera. N'aie pas peur de poser des questions sur ce que tu ne connais pas : tu recevras ainsi des réponses plus étoffées.
Si les membres du groupe sont abonnés aux interviews, ils se sont peut-être inconsciemment fixé des barrières, ou peut-être sont-ils fatigués après la huitième interview de la journée. Si tu as affaire à un nouveau groupe, il s'agit peut-être de la première interview des membres. Ils peuvent aussi afficher une certaine nervosité! Vas-y doucement.
3. Tente d'obtenir les réponses dont tu as besoin, mais pose aussi les questions qui te tiennent à cœur.
C'est ici que la lecture préalable de vieilles interviews du groupe peut te venir en aide. On pose peut-être souvent les mêmes questions : « Quelles sont vos influences? » « Comment un groupe composé de trois femmes évolue-t-il au cœur d'une scène punk qui compte surtout des hommes? » « Le confort de votre foyer vous manque-t-il? » Ces questions, et d'autres du genre, sont parfois inévitables dans l'obtention des citations dont tu as besoin pour ton article. Toutefois, tu peux parfois reformuler, ou tout simplement éviter, certaines d'entre elles et quand même mener à bien ton récit.
Si tu interroges les artistes sur le fait d'être un groupe constitué de trois femmes, pourquoi ne pas rappeler un événement spécifique de leur histoire pour obtenir plus de détails à ce sujet? Au lieu de les questionner sur leurs influences, fais mention d'une chanson particulière de leur album qui te rappelle autre chose (un groupe que tu aimes, ou une expérience que tu as vécue, par exemple) et demande-leur la source de leur inspiration.
Évite de toujours répéter les mêmes questions, dans la mesure du possible. Tente de prendre les membres du groupe au dépourvu et de les surprendre.
Bien sûr, pose toutes ces questions typiques de fan fini dont tu te dois de connaître les réponses… en prenant soin de les garder pour le milieu ou la fin de l'interview, une fois qu'ils seront réchauffés et que, espérons-le, tu auras gagné leur confiance.
4. N'hésite pas à t'éloigner des questions déjà préparées.
Si la conversation prend une tournure inattendue, il faut parfois laisser les choses aller, selon les circonstances. Il est important que tu saches quand intervenir afin de ramener l'interview sur la bonne voie.
Si l'artiste te confie des propos de nature philosophique ou personnelle, ou s'il te relate une histoire hilarante qui n'a peut-être rien à voir avec ses spectacles ou albums, le contexte te dictera parfois de laisser les choses suivre leur cours et d'apprécier l'histoire qui t'est racontée.
Si l'artiste se lance dans des attaques personnelles ou une quelconque vendetta, tu devrais peut-être le ramener gentiment sur la bonne voie, car ces propos ne te seront d'aucune utilité lors de la rédaction de ton article (à moins que tu ne veuilles obtenir l'autre version des faits du présumé conflit).
5. Je t'en supplie, assure-toi que ton enregistreur est en marche et que les piles sont neuves, ou que ton téléphone est chargé et que ton application d'enregistrement est en marche. CETTE ERREUR EST TRÈS COURANTE : ÉVITE-LA À TOUT PRIX OU TU VIVRAS UN MOMENT HORRIBLE.
6. Use de marqueurs de référence lors de la conversation.
Tu y arriveras en allumant et en éteignant ton enregistreur. Certains appareils te laisseront même créer une marque chaque fois qu'une nouvelle question est posée. Cette étape t'aidera beaucoup lors de la transcription de l'interview, la partie LA PLUS DÉTESTÉE du processus.
7. Ne sois pas sur la défensive.
Les musiciens sont parfois irritables, d'humeur massacrante ou peu bavards. Nombreux sont ceux qui seront en tournée lorsqu'ils te parleront : probablement fatigués, ils auront la gueule de bois et plus un sou en poche, leur plus récent concert se sera peut-être mal déroulé ou ils vivront une autre situation contraignante. Les artistes sont humains. Ne le prends pas personnel : ils ne te connaissent pas, et ce n'est pas ta faute s'ils sont d'humeur exécrable. Ce sont des choses qui arrivent. Si l'interview semble mal se dérouler ou encore stagner, fais de ton mieux afin de poser tes questions et de boucler l'entretien. Si le temps te le permet, demande un courriel aux musiciens en mentionnant que tu feras peut-être un suivi ultérieur sur certains points, auquel ils pourront répondre quand bon leur semblera. N'adopte pas une attitude hargneuse ou négative à leur égard, ce qui n'arrangerait rien et pourrait brouiller vos relations futures. C'est toi qui mènes l'interview, après tout : il ne tient qu'à toi de rester digne et de faire preuve de professionnalisme.
8. Témoigne de la gratitude.
À moins que les musiciens ne se soient comportés en parfaits bâtards insensibles, sois reconnaissant d'avoir passé ce moment en leur compagnie. Remercie les artistes, ainsi que l'agent de publicité qui t'a mis en contact avec eux. Dis-leur que l'interview s'est bien déroulée (même si tu l'as trouvée plutôt ordinaire). Ils veulent en savoir plus, ça fait partie du manège de la publicité. Informe le groupe ou l'agent de publicité de la date de parution de ton article.
9. Assure-toi de BIEN ÉCOUTER.
L'interviewé mentionnera peut-être au passage un fait intéressant (un déménagement ou le départ d'un membre du groupe, par exemple). Parfois, tu auras tout intérêt à tendre l'oreille afin de capter un changement dans le ton, ou de saisir une perche que l'artiste, trop timide, évasif ou anxieux, te tend à propos de sujets qu'il n'ose pas aborder directement. Tu devras parfois amadouer les gens, et une bonne écoute est nécessaire afin de saisir toutes les occasions de le faire.
10. N'aie pas peur de t'aventurer au coeur de la scène underground, indie ou locale.
Tout le monde rêve d'interviewer son idole, mais les interviews les plus gratifiantes sont souvent celles auxquelles on ne s'attend pas : les artistes en tournée perpétuelle qui comptent de fervents adeptes dans les petites villes ou les nouveaux groupes du coin qui génèrent un buzz à peine perceptible. Ces rapports pourraient durer au fil du temps : une bonne expérience t'amènera peut-être à tisser des liens solides avec un groupe tout au long de sa carrière. Peut-être même pourrait-il te donner un coup de pouce de temps à autre? Si tu dégages des ondes positives lors de l'interview, tu obtiendras invariablement quelque chose en retour. C'est la raison pour laquelle on fait des interviews, non?
L'art d'interviewer est une compétence extraordinaire à développer; si tu te prépares bien et que tu te présentes dans un bon état d'esprit, tu sortiras grandi de l'expérience, peu importe le résultat. Tu apprendras ainsi à faire preuve d'une écoute active, et tu découvriras des choses incroyables à propos de la vie de musicien, des histoires et des réflexions que la plupart des gens n'ont pas le privilège d'entendre. De plus, les aptitudes d'un bon intervieweur se transposent à l'art de la conversation et peuvent t'aider à devenir un être plus empathique et attentionné.
Alison Lang est la rédactrice en chef de Broken Pencil, un magazine sur la culture et les arts indépendants. Sa meilleure interview à vie a été celle de Michael Winslow, acteur spécialisé dans le doublage, qui a effectué la moitié de l'interview en empruntant la voix de Stripe du film Gremlins.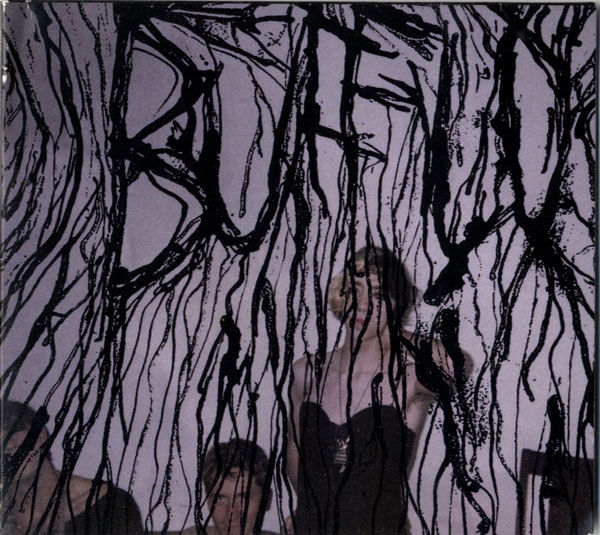 Montreal's Bufflo create a unique and dimly-lit, claustrophobic world
Bufflo
Unseam'd
Montréal, QC
From the electro-autotune spheres of Cassilou Landra:
Canada seems to lack a cohesive, internet-accessible, forward-thinking hip-hop underground, but that doesn't mean the genre is lacking here. Unseam'd, the debut from Montreal's Bufflo, is diversely crafted and mature in composition, creating a unique and dimly-lit, claustrophobic world that exists somewhere between the cracks of James Blake's early singles, Edgard Varese, Drake, and noise-rap pioneers Madvillain and Cannibal Ox (along with newer acts like Death Grips and CLPPNG). Flourishes of live cello add a warm layer of melancholy as the syrup for this potent noise-beat-pop hybrid, projecting onto the big screen but glitching out from a shotty projector at the budget theatre; this is experimental music first and foremost and its most inviting traits of hip-hop diversity, film-score introspection, and the occaisonal house beat can't undermine its obvious debt to the Spheres.
Des sphères de l'accord automatique électro de Cassilou Landra:
(Traduit par l'ignorance de Geneviève Faubert)
Même si le Canada semble dépourvu d'une scène hip-hop underground, avant-gardiste, unie et accessible par internet, ça ne veut pas dire que le genre fait défaut ici. Avec son premier album Unseam'd, la formation montréalaise Bufflo nous offre une œuvre variée et mature, un univers unique, tamisé et oppressant qui se situe quelque part entre les premières chansons de James Blake, Edgard Varese, Drake et les pionniers du rap bruitiste Madvillain et Cannibal Ox (en plus de nouveaux groupes tels que Death Grips et CLPPNG).
Des fioritures de violoncelle en direct ajoutent une dimension chaleureuse et mélancolique, une sorte de couche enveloppante, à ce genre bruitiste-beat-pop hybride et puissant, projeté sur grand écran à l'aide d'un projecteur de mauvaise qualité au cinéma à tarif réduit. Il s'agit d'abord et avant tout de musique expérimentale, et ses traits de caractère les plus invitants – hip-hop varié, introspection sur la musique de film et rythmes « house » occasionnels – n'arrivent pas à dissimuler l'influence incontestable de l'harmonie des sphères.
FM
Direct to Disc
Toronto, ON
Originally Released: 1977
From the real time of Jesse Frank Matthews:
In 2001 I took up playing the drums in order to get a psychedelic-heroin-punk band going with two talented Scotts I'd recently meet. We called ourselves The Strag and released one compact disc during our brief run, which we aimed to release on our own imprint, initially called 'Cut Throat Records'. I'd burned a few promotional copies and was eager to pass them to some clubs, then headed to a random show in Hamilton to try to secure an out of town show.
As I perused the records on the merch table I realized who was playing that evening — Nash the Slash (and SIANspheric or maybe Russian Futurists). It appeared that Cut-Throat Records was in fact already taken, and was the name of Nash's own label. We quickly changed our label name before the CDs got printed and distributed.
When I was 15 I inherited my father's eclectic LP collection. One of the real gems was a live recording made in Toronto in 1977 called Direct to Disc by a Canadian band called FM. Nash played in this band for years. I used one of my favourite passages from that record (listen below) as the main element behind a recent JFM track entitled "EENUFF". Only after the old LP sleeve was found again after misplacing it for years, I realized this FM record was in fact the first to not feature Nash, but a rather good imitator instead.
In my own practices I always use bits and pieces from life that engage and inspire me. I don't always know their respective origins and sometimes by the time I'm done I can't recall what it was to begin with. It's the thought that counts. R.I.P. Nash.
JFM lives out by the Atlantic ocean where he makes music for the jellyfish; a pirate without a ship.
Du temps bien réel de Jesse Frank Matthews:
(Traduit par le clavier gazéifié de Geneviève Faubert)
En 2001, je me suis mis à la batterie pour fonder un groupe punk héroïno-psychédélique, The Strag, avec deux gars talentueux nommés Scott que je venais de rencontrer. Au cours de notre brève existence, nous avons produit un disque compact que nous avions l'intention de lancer sur notre propre étiquette, qui s'appelait à l'origine « Cut Throat Records ». J'ai gravé quelques exemplaires promotionnels pour les remettre à des boîtes de nuit, puis je me suis rendu à un concert à Hamilton un peu par hasard afin de trouver un endroit où jouer en dehors de la ville.
C'est en parcourant les albums du stand de vente que j'ai appris qui jouait ce soir-là : Nash the Slash (avec SIANspheric, ou peut-être était-ce Russian Futurists). Apparemment, notre nom d'étiquette Cut-Throat Records était déjà utilisé par nul autre que Nash the Slash. Nous nous sommes empressés de trouver un nouveau nom avant l'impression et la distribution de nos albums.
À l'âge de 15 ans, j'ai hérité de la collection éclectique de disques vinyle de mon père. J'y ai découvert un trésor : Direct to Disc, un disque enregistré en direct à Toronto en 1977 par un groupe canadien du nom de FM, dont Nash a été membre pendant des années. L'un de mes extraits préférés du disque (à écouter ci-bas) a été l'inspiration principale d'une pièce de JFM intitulée "EENUFF". Ce n'est qu'en retrouvant la vieille pochette de l'album, des années plus tard, que je me suis rendu compte que ce disque de FM était en fait le premier album paru sans la contribution de Nash, et qu'il s'agissait plutôt d'une bonne imitation.
J'ai pris l'habitude d'incorporer à mes travaux des éléments glanés au hasard de la vie qui m'inspirent et me font réfléchir. Je ne connais pas toujours leur origine respective, et lorsque je termine un échantillonnage, il m'arrive parfois d'oublier de quoi il était question au départ. C'est la pensée qui compte. R.I.P. Nash.
JFM, pirate sans navire, habite la côte atlantique où il crée de la musique pour les méduses.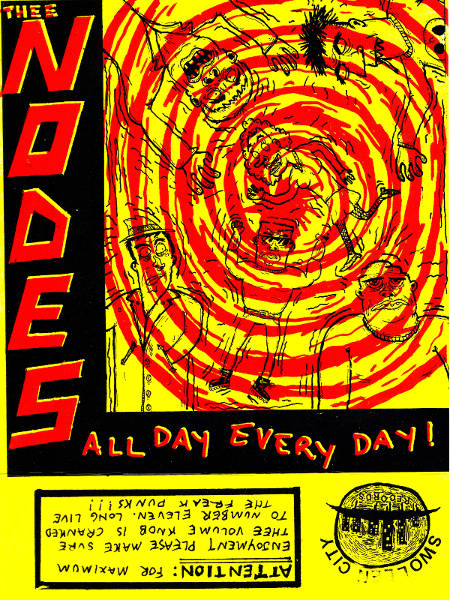 Thee Nodes
All Day Every Day!
Montréal, QC
From the paranoid sewage of Eamon Quinn:
The first release from Swollen City Records is already beyond sold out. Thee Nodes infect a mutant strain of performance-arty hardcore recalling the early '80s output of ROIR, with Mr. Node a misanthropic stand-in for HR, and the Brains' PMA swapped for the kinda furious paranoid sewage Flipper or Killdozer oozed over similarly confused/enthused audiences way back when.
Each of the six tunes, spread over "side dumb" and "side dumber", feature hilarious anti-social rants about hating the hip, smashing your head, breaking glass, and body issues — set over falling-over-itself high-gain riffage. The occasional panoramic dub vocal pops up, proving these dodes are savvier than the batstew of primitivist Dictators/Gizmos no-brain logic might imply.
It's tough to think of anything this side of the Butthole Surfers that can compete with Thee Nodes' gonzo live set for sheer menacing commitment to freaky R'n'R intensity. If you can't swing that, don't miss James "Uncle Sandy" Watts' bleak black & white depiction of our heroes roaming their depopulated concrete jungle home.
Des eaux usées paranoïaques d'Eamon Quinn:
(Traduit par l'arythmie de Geneviève Faubert)
Les exemplaires du premier album de l'étiquette Swollen City Records sont déjà tous écoulés depuis longtemps. La formation Thee Nodes, qui nous transmet une souche mutante de hardcore alliant art et prestation, rappelle l'univers du début des années 1980 de ROIR : Mr. Node agit à titre de doublure misanthrope d'HR, Flipper remplace les égouts paranoïaques et furieux de PMA (the Brains) et l'auditoire confus et enthousiaste évoque celui de Killdozer il y a de cela bien longtemps.
Les six chansons, réparties sur les deux faces « idiot » et « encore plus idiot » (« side dumb » et « side dumber ») contiennent des propos antisociaux hilarants qui traitent de haine envers le hip, du fait de vous cogner la tête, de briser des verres ou d'autres ennuis corporels, le tout orchestré au cœur de riffs ultrarapides à grand gain. On entend à l'occasion des voix panoramiques dub, preuve que les gars sont encore plus futés que le batstew des primitifs Dictators/Gizmos – aucune logique requise ici.
Depuis Butthole Surfers, difficile de penser à une formation pouvant rivaliser avec la folie scénique de Thee Nodes et son engagement brut et menaçant à rendre l'intensité dérangée du rock 'n' roll. Impossible d'assister à une prestation du groupe? Ne manquez pas le portrait glauque en noir et blanc que présente James « Uncle Sandy » Watts de nos héros vagabondant au cœur de leur jungle urbaine désertée.
From the allegorical allusion of Ely Rosenblum:
Canadian punk, noise and electroacoustics exist in closer proximity than we might expect. Is it time for them to come together in a union of aesthetics and sensibilities?
I took the title of this article from an online message board hosted by Concordia University. A user going by the name Tandora wrote the following:
The hiss and the snarl of a stranger sound
That gets in your willies and makes you growl
A snog for your pot to bandy your wares
These lips are crazy and ready to sneer;
Acousmatic and totally wild
A vulture to peck at their innards and to make you smile
Trippy and ekstatic a drug for you
To rip through the wisdoms that are no longer true.
How many here are old punks then?
Let me focus on the last line. It seems to encapsulate the beauty of the Canadian punk scene: desolate, yet endlessly far-reaching across the plains and rivers. This is how punk scenes developed in Canada, with a day's worth of driving between venues and fellow performers (for more on the isolation between music scenes in Canada, see Perfect Youth: The Birth of Canadian Punk by Sam Sutherland). And here on this message board a self-proclaimed 'old punk' searches for others, asking for recommendations of electroacoustic music that captures the ferocity of punk bands. This strikes me as a surprisingly progressive questions for an old punk, but maybe I don't know much about how old punks operate. So I'll ask my own version of the question: how many here are in search of a new Canadian punk?
As Canadian composer R. Murray Schafer referred to urban noise, 'sonic vulgarities' are pervasive throughout our big cities. Why do we as musicians continue to separate practices of music and environment (a musical-ecological movement that by and large manipulates nature sounds using electroacoustic techniques), and punk movements?
Are punk and punk scenes the urban incarnate? Why is punk that comes from rural environments so appealing? It is an element of shock value, surprise, a confluence of listener's delight?
How can Canadian punk shift towards some sort of techno-mindedness? Is punk too abrasive, or too fast for electroacousticians, or does electroacoustic music not afford the immediacy punks love?
I ask many questions because I am not keen on being prescriptive, just genuinely curious. Considering Canada's monumental connections to punk, noise and electroacoustics, it only makes sense for the three to meet somewhere amongst the provinces.
Two Scha(ef)fers: Electroacoustic Music and The Soundscape
What follows is a very brief and rough history of electroacoustic music.
Acousmatic, the term used in Tandora's poem, refers to sounds that have no perceptible source. Accordingly, acousmatic sound is found in electroacoustic music, pioneered by French composer Pierre Schaeffer's musique concrète. Using techniques such as tape manipulation, punch card computer programming, Schaeffer's legacy is in the use of any and all sounds as music. This infuriated other composers, and delighted artists at the vanguard of sound design. Musique concrète would heavily influence Canadian composers, and lead to an entirely new form of music-making of which recording was at its heart.
Pierre Schaeffer – "Études de bruits" (1948)
Canada is the proud home of some serious advancements in understanding the relationship between music, recording and environment. Simon Fraser University's emeritus and one of Canada's most eclectic educators, the aforementioned R. Murray Schafer, brought together composers in the communications department to raise awareness of noise pollution and our sonic environment. His team, known formally as members of the World Soundscape Project, developed compositional techniques and recorded environmental sounds all over the country. These led to the CBC broadcast of the aptly titled Canadian Soundscapes. Former WSP member Barry Truax continues this legacy as an active composer, and with his book Acoustic Communication (1994), his own manifesto on sound in the electronic age. Truax's students make their own soundscapes and contribute to the massive electronic archive of Canadian electroacoustic work. They even walk the same.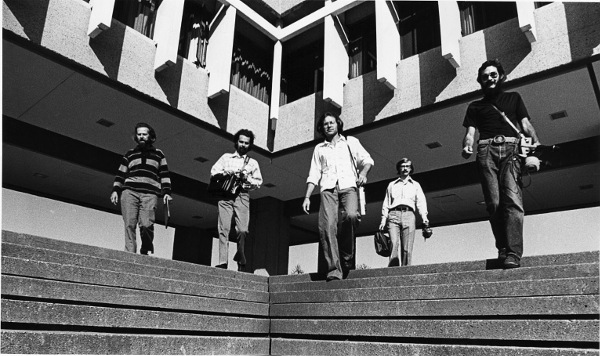 World Soundscape Project members R. Murray Schafer, Bruce Davis, Peter Huse, Barry Truax and Howard Broomfield strut across SFU campus, 1973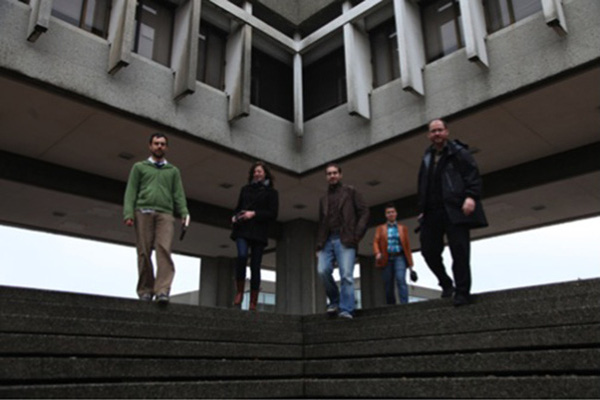 Students of the SFU Communications Department mimic their mentors, 2011
No Record: Canadian Noise
Canada is also home to noise music (or noise art, depending on your aesthetic/philosophical allegiances). London, Ontario's Nihilist Spasm Band is said to have sparked the development of a global Japanese noise scene, the godfathers of noise – though they do not consider their own work to be music. Founded as the official band of the Nihilist Party of Canada, they built their own instruments, wrote the soundtrack to a film titled "No Movie", and followed it up with their own album No Record.
Nihilist Spasm Band – "Dog Face Man"
For 25 years they were a bar band, a group of noisemakers, performers and entertainers for their friends and family. Each year they hosted No Picnic, a festival of the absurd. When they were informed that their bootlegged recording had made it around the world by Hiroshige Jojo (founder of the Osaka based Noise label Alchemy Records), they started touring. These performances influenced Japanoise, which has now become a genre of international interest (for more, read David Novak's Japanoise, 2012).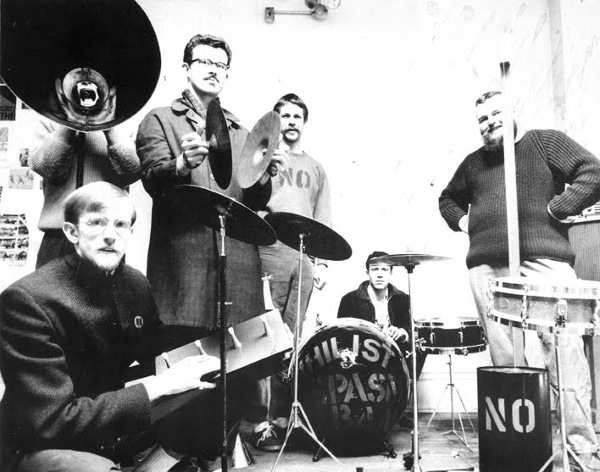 The Nihilist Spasm Band (then, 1966)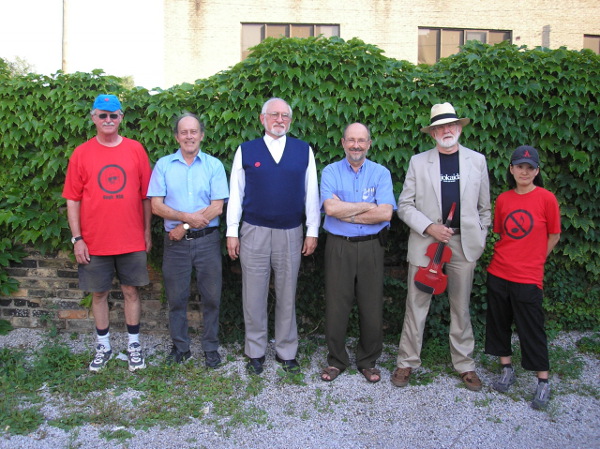 NSB members John Boyle, Murray Favro, Bill Exley, John Clement and Art Pratten, with Aya Onishi (now-ish, 2011)
Photos copyright 1966 Estate of Don Vincent. Reproduced by permission.
This past year I attended Queen's University Belfast Sonorities Festival. Throughout the three-day event, I heard some of the best electroacoustic composers perform at what is possibly the most technologically advanced music venue, the Sonic Lab (8.1 surround on the ceiling, the walls, the ground and in the basement). From their website: The ground level is a metal grid that allows sound to come from the basement level. It is therefore advised not to wear heels).
I also took part in a conference, the theme of which was Beyond Soundscape. I wondered then if moving beyond the soundscape wasn't leaving it behind, but reinterpreting it: making sonic vulgarities even more abrasive, and the quiet moments more palpable and tactile for all to experience. It seems serendipitous that punk and noise music would return to the acousmatic, and even embrace the soundscape be it through lo-fi recordings, howling distorted instruments, or manipulated environmental recordings. Digital distribution makes it easier to spread the word, about gigs, recordings and new ideas for music making (take this site as a prime example). I would love to hear what music could be synthesized from collaborations across genres and art forms in Canada, a land of quiet innovation.
Ely Rosenblum is a Canadian researcher of art, music and performance, as well as a filmmaker and sound recordist with experience combining anthropology and critical media practice. Ely trained in ethnographic filmmaking at the Centre for Visual Anthropology at Goldsmiths, University of London, where he co-founded ART/E/FACT, a publication and event series of art and anthropology. He is currently a Ph.D candidate in Music at the University of Cambridge under the supervision of Nicholas Cook, a doctoral fellow of Cape Breton University, and a 2014 visiting researcher at Smithsonian Folkways Recordings. Ely has directed documentary films and produced recordings for the Smithsonian Institution, the MIT Media Lab, the University of Cambridge, and CBC Radio 1.
De l'allusion allégorique d'Ely Rosenblum:
(Traduit par le silence trompeur de Geneviève Faubert)
Le punk, le bruit et l'électroacoustique canadiens ont plus de points communs qu'on ne pourrait le penser. Est-il temps qu'ils se rejoignent en une union d'esthétique et de susceptibilité?
Le titre du présent article est tiré d'un forum mis en ligne par l'Université Concordia. Un utilisateur nommé Tandora y a publié le passage suivant :
Le sifflement et le grondement d'un son étranger
Qui vous donne la chair de poule et vous fait grogner
Un baiser monnaie d'échange pour vos marchandises
Ces lèvres folles et prêtes à ricaner
Acousmatiques et complètement sauvages
Un vautour qui picore leurs entrailles et vous fait sourire
Psychédélique et en délire, une drogue pour toi
Afin de déchirer la sagesse qui n'existe plus
Alors, combien y a-t-il de vieux punks parmi nous?

Permettez-moi de me concentrer sur cette dernière phrase. Elle me semble incarner l'essence même de la beauté de la scène punk canadienne : une scène isolée, qui s'étend pourtant à l'infini au-delà des plaines et des rivières. C'est ainsi que les scènes punk du pays se sont développées, avec l'équivalent d'une journée de route entre les salles de spectacle et les artistes (pour plus de renseignements sur l'isolement des scènes musicales au Canada, consultez l'article de Sam Sutherland « Perfect Youth: The Birth of Canadian Punk ». Et voilà que, sur un forum, un homme s'autoproclame « vieux punk », et cherche des semblables et des suggestions en matière de musique électroacoustique qui arrive à capturer toute la férocité des groupes punks. Cette requête me surprend et me semble bien progressive de la part d'un vieux punk, mais peut-être que je ne connais pas grand-chose à leur façon de procéder. Laissez-moi reformuler ma propre version de la question : combien d'entre nous sommes à la recherche d'une nouvelle scène punk canadienne?
Les « vulgarités sonores », appellation donnée au bruit urbain par le Canadien R. Murray Schafer, envahissent nos grandes villes. En tant que musiciens, pourquoi séparons-nous toujours les pratiques musicales et environnementales (un mouvement musico-écologique qui, en gros, manipule les sons de la nature à l'aide de techniques électroacoustiques) des mouvements punks?
Les punks et leurs scènes éponymes sont-ils l'incarnation de la ville? Pourquoi le punk issu d'environnements ruraux nous attire-t-il autant? Est-ce un élément de choc ou de surprise, au confluent de nos plaisirs auditifs?
Comment le punk canadien peut-il s'orienter vers un genre de pensée techno? Le punk est-il trop abrasif ou trop rapide pour les amateurs d'électroacoustique, ou au contraire, celle-ci ne rejoint-elle pas l'immédiateté que les punks affectionnent tant?
Si je pose autant de questions, c'est par réelle curiosité : loin de moi l'envie d'être normatif. Vu les liens titanesques que le Canada entretient avec le punk, le bruit et l'électroacoustique, une rencontre de ces trois éléments, quelque part au hasard des provinces, me paraît toute naturelle.
Les deux Scha(ef)fer : la musique électroacoustique et le paysage sonore
Le passage suivant présente un historique bref et rudimentaire de la musique électroacoustique :
L'acousmatique, terme utilisé dans le poème de Tandora, fait allusion aux sons dénués de sources perceptibles. Ainsi, on retrouve le son acousmatique dans la musique électroacoustique, qui tire ses origines de la musique concrète du compositeur français Pierre Schaeffer. Fort de techniques telles que la manipulation de bandes magnétiques et la programmation par ordinateur de cartes perforées, l'héritage de Schaeffer réside dans l'utilisation de tous les sons en tant que musique. À l'époque, ce genre artistique rendait furieux les autres compositeurs, mais enchantait les artistes à l'avant-garde du design sonore. La musique concrète a exercé une grande influence sur les compositeurs canadiens, en plus de mener à une toute nouvelle forme de création musicale, dont la pierre angulaire était l'enregistrement.
Pierre Schaeffer, « Études de bruits » (1948)
Le Canada a été le fier témoin de certaines grandes avancées en matière de compréhension de la relation entre la musique, l'enregistrement et l'environnement. R. Murray Schafer, professeur émérite de l'Université Simon-Fraser et l'un des formateurs les plus éclectiques au pays, a rassemblé divers compositeurs du Département de communication afin de sensibiliser les gens à la pollution auditive et à l'environnement sonore. Les membres de l'équipe, officiellement connue sous le nom de Projet mondial d'environnement sonore (World Soundscape Project), ont élaboré des techniques de composition et enregistré des sons environnementaux partout au pays. Ces réalisations les ont menés à la diffusion d'une émission judicieusement intitulée Canadian Soundscapes (« Paysages Sonores Canadiens ») sur les ondes de CBC. Barry Truax, un ancien membre de WSP, propage toujours l'héritage grâce à ses activités de compositeur et à son livre « Acoustic Communication » (1994), manifeste sur le son à l'ère électronique. Les étudiants de Truax produisent leur propre paysage sonore et contribuent aux volumineuses archives électroniques des œuvres électroacoustiques canadiennes. Même leur façon de marcher est semblable à celle du prof.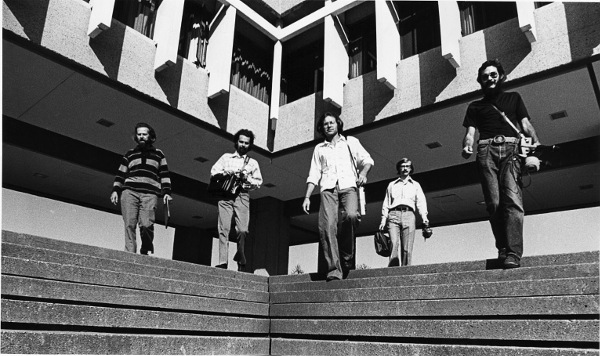 Les membres du World Soundscape Project R. Murray Schafer, Bruce Davis, Peter Huse, Barry Truax et Howard Broomfield se pavanent sur le campus de l'Université Simon-Fraser en 1973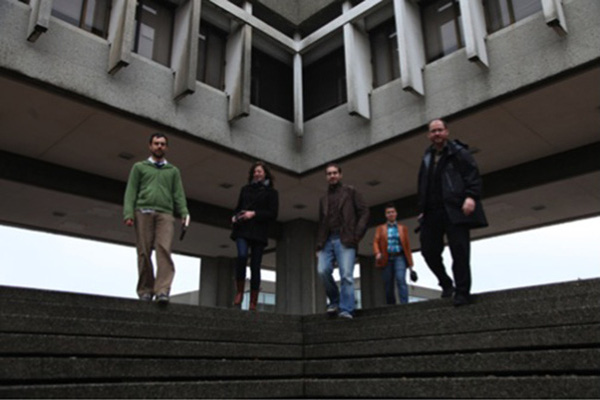 Des étudiants du Département de communication de l'Université Simon-Fraser imitent leur mentor en 2011
No Record : bruit canadien
La musique bruitiste (ou art bruitiste, selon vos allégeances esthétiques et philosophiques) est également présente au Canada. Le groupe Nihilist Spam Band de London, en Ontario, serait à l'origine du développement d'une scène globale de bruit japonais, les parrains du bruit, même s'ils ne considèrent pas leurs œuvres comme de la musique. Les membres du groupe, fondé en tant que groupe officiel du partie nihiliste du Canada, ont fabriqué eux-mêmes leurs instruments, composé la trame sonore du film « No Movie » puis lancé leur propre album intitulé No Record.
Nihilist Spam Band, « Dog Face Man »
Pendant 25 ans, ils ont fait la tournée des bars : un groupe de faiseurs de bruits et d'artistes qui se produisaient devant leurs amis et familles. Chaque année, ils organisaient l'événement No Picnic, un festival de l'absurde. Lorsque Hiroshige Jojo (fondateur de l'étiquette bruitiste Alchemy Records) leur a appris que leur enregistrement pirate avait fait le tour du monde, ils sont partis en tournée. Leur performance a alors influencé Japanoise, qui a depuis muté en un genre d'intérêt mondial (pour en savoir plus, consultez l'article « Japanoise » de David Novak paru en 2012).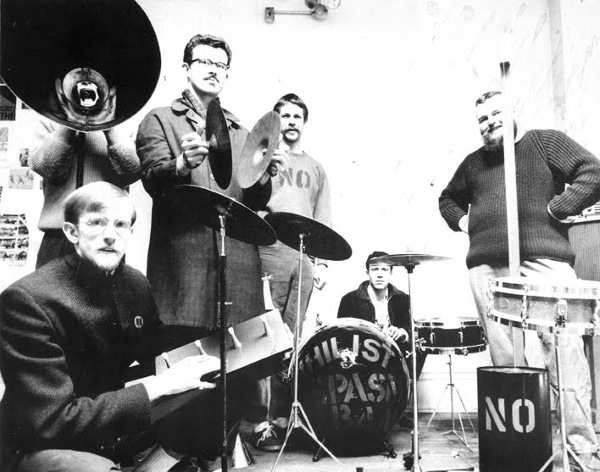 Le Nihilist Spasm Band (jadis, 1966)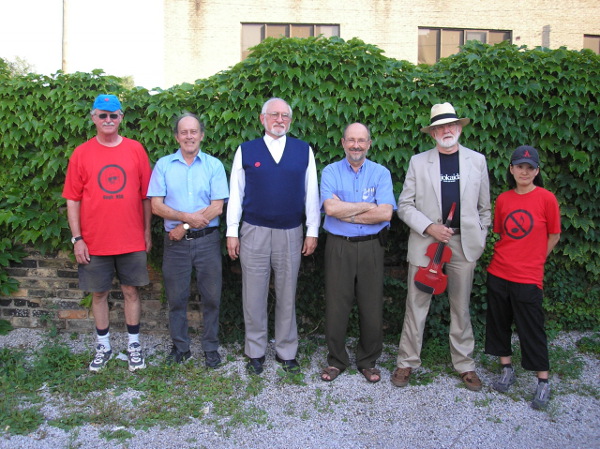 Les membres du NSB John Boyle, Murray Favro, Bill Exley, John Clement et Art Pratten, avec Aya Onishi (plus récemment, 2011)
Tous droits réservés, 1966 Estate of Don Vincent. Photos reproduites avec autorisation.
Au cours de la dernière année, j'ai assisté au Sonorities Festival de l'Université Queen's de Belfast. Pendant les trois jours qu'ont duré l'événement, j'ai pu entendre certains des meilleurs compositeurs électroacoustiques au Sonic Lab, peut-être bien la salle de concert la plus avancée en matière de technologie (une ambiophonie de 8.1 au plafond, sur les murs, le plancher et au sous-sol). Extrait tiré de leur site web : « Au niveau du sol se trouve une grille de métal qui laisse filtrer le son en provenance du sous-sol. Le port de chaussures à talons hauts n'est donc pas recommandé. »
J'ai également participé à une conférence qui avait pour thème « Au-delà du paysage sonore ». Je me suis alors demandé si le fait d'aller au-delà du paysage sonore consistait non pas à renoncer à celui-ci, mais plutôt à le réinterpréter d'une autre façon : émettre des vulgarités sonores encore plus abrasives et produire des moments tranquilles plus palpables et tactiles que tous pourraient ressentir. Je suis bien content que le punk et la musique bruitiste effectuent un retour à l'acousmatique, et qu'ils s'étendent aussi au paysage sonore par l'entremise d'enregistrements lo-fi, de hurlements d'instruments désaccordés ou d'enregistrements manipulés de sons environnementaux. Grâce à la distribution numérique, il est plus facile de tenir les gens au courant des prestations, des enregistrements et des idées nouvelles sur la production de musique (Weird Canada en est l'exemple parfait). Je serais curieux d'entendre la synthèse musicale engendrée par diverses collaborations entre les genres et les formes artistiques au Canada, terre d'innovation tranquille.
Chercheur canadien dans le domaine des arts, de la musique et de la scène, Ely Rosenblum est également cinéaste et preneur de son. Ses domaines d'expertise vont de l'anthropologie à la critique des pratiques médiatiques. Il possède une formation en cinéma ethnographique du Centre d'anthropologie visuel de Goldsmiths, à l'Université de London, où il a cofondé ART/E/FACT, une publication et une série d'événements sur les arts et l'anthropologie. Il est présentement candidat au doctorat en musique à l'Université de Cambridge sous la supervision de Nicholas Cook, un doctorant de l'Université du Cap Breton et chercheur invité en 2014 chez l'étiquette de disques Smithsonian Folkways Recordings. Ely a réalisé des documentaires et produit des enregistrements pour la Smithsonian Institution, le MIT Media Lab, l'Université de Cambridge et la chaîne de radio CBC 1.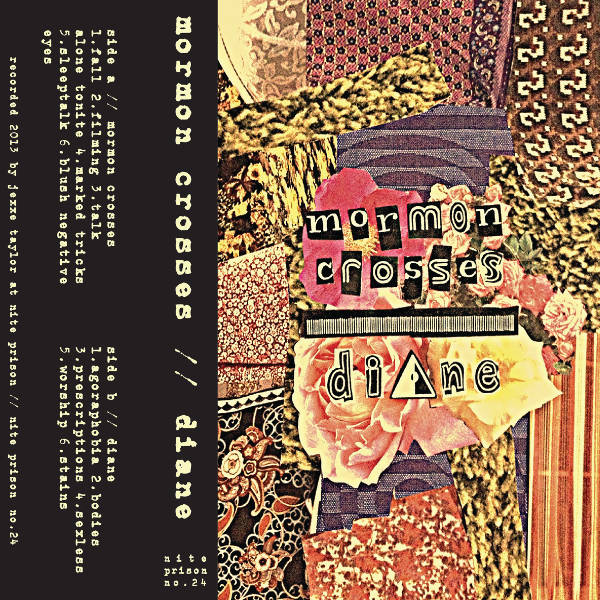 Mormon Crosses // Diane
Split Tape
(Nite Prison)
Vancouver, BC
From the crackling disdain of Kristian North:
Sometimes I wonder what the fuck is going on. I know these things are subjective, but I also question one's grasp on their own subjectivity when flooded with so much useless information, which begs questions like: Does anyone even make it through a song that isn't accompanied by HD visuals anymore? Can you get excited about music with 10 windows open? Do you even bother with bass or is it just iMac speakers, or your smartphone in a cup? A brief look at the ratios of your Bandcamp page stats should show you what the future of music listening looks like for us. Thanks, Steve Jobs!
Mormon Crosses and Diane are too warm and full of emotion for this cold, digital pseudo-reality. Your computer is cheap plastic and this music makes it a paperweight. Why would you waste your time with memes and YouTube nostalgia when you could be trying to play drums like Bryce? Hit the three-minute mark of "Blush Negative Eyes" and your computer speakers will crackle with disdain (and anyways, when was the last time you hit a three-minute mark on the Internet?). "Worship" contains a kind of explosive, youthful energy that tomorrow's tablet zombies will read about on their government mandated, surgically implanted, hitchhiker's guides to the boring galaxy. Buy the tape or go stream some minimal synth music from your grandma's Facebook page.
Du dédain crépitant de Kristian North:
(Traduit par l'effervescence puérile de Geneviève Faubert)
Veux-tu bien me dire ce qui se passe? Je sais que ces choses-là sont subjectives, mais je remets aussi en question le contrôle que nous détenons sur notre propre subjectivité lorsqu'autant de renseignements inutiles nous submergent. Des questions du genre s'ensuivent : peut-on encore écouter jusqu'à la fin une chanson dénuée d'effets visuels de haute définition? La musique arrive-t-elle à t'emballer lorsque l'écran devant toi affiche dix fenêtres différentes? Les sons graves comptent-ils pour toi, ou n'utilises-tu que les haut-parleurs de ton iMac, ou ceux de ton téléphone intelligent amplifiés par un gobelet? Un bref coup d'œil à la proportion des statistiques de ta page Bandcamp devrait suffire à te montrer à quoi ressemblera, selon nous, l'écoute musicale à l'avenir. Merci Steve Jobs! Mormon Crosses et Diane sont beaucoup trop vivants et remplis d'émotions pour cette pseudo-réalité froide et numérique. Ton ordinateur est fait de plastique bon marché, et ce genre de musique le transforme en presse-papiers. Pourquoi perdre ton temps avec la nostalgie des mèmes et de youtube quand tu pourrais t'exercer à jouer de la batterie comme Bryce? Écoute "Blush Negative Eyes" pendant plus de trois minutes, et ton ordinateur crépitera tout son mépris mais peu importe : à quand remonte la dernière fois où tu as écouté une chanson en ligne pendant plus de trois minutes? "Worship" possède une sorte d'énergie juvénile et explosive, que les zombies à comprimés de demain découvriront dans leur guide ennuyant du voyageur galactique imposé par le gouvernement et implanté par chirurgie. Achète la cassette ou va écouter de la musique minimale synthétique en lecture en continu sur la page Facebook de ta grand-mère.
---