Tag: gary cassettes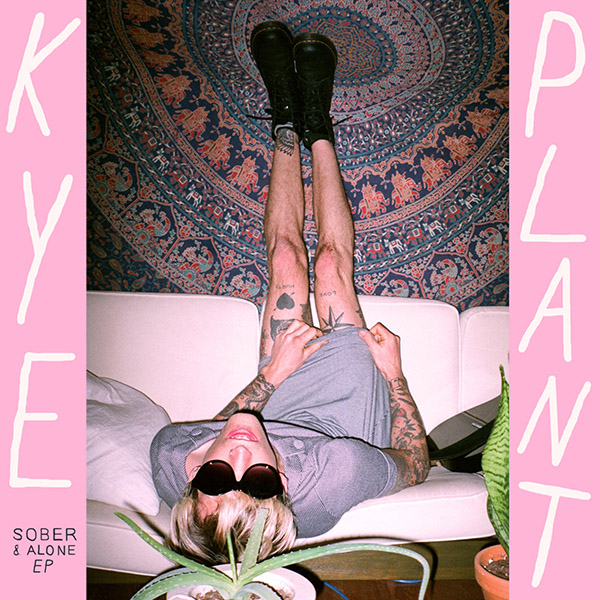 Kye Plant
Sober & Alone EP
(Gary Cassettes)
Victoria, BC
From the questioning self of Johnnie Regalado:
A soft breeze sneaks in an open window, turns the pages of the notebook on the bedside table, and lifts the solemn words out into the ether. Sing along with the sorrow. Nothing remembered is lost forever. Kye Plant's solo harmonies echo an important reminder: there's absolutely nothin' wrong with feelin' weird.
Du soi s'interrogeant de Johnnie Regalado:
(Traduit par les flocons épicés de Marie-Pier Chevrier)
Une douce brise se faufile par la fenêtre ouverte, tourne les pages du cahier de notes sur la table de chevet et en soulève les mots solennels dans l'éther. Chantez en harmonie avec le chagrin. Aucun souvenir n'est perdu à jamais. Les mélodies des solos de Kye Plant répètent un important rappel : il n'y a absolument rien de mal à se sentir étrange.
Kye Plant – The Gender Binary is a Jail Cell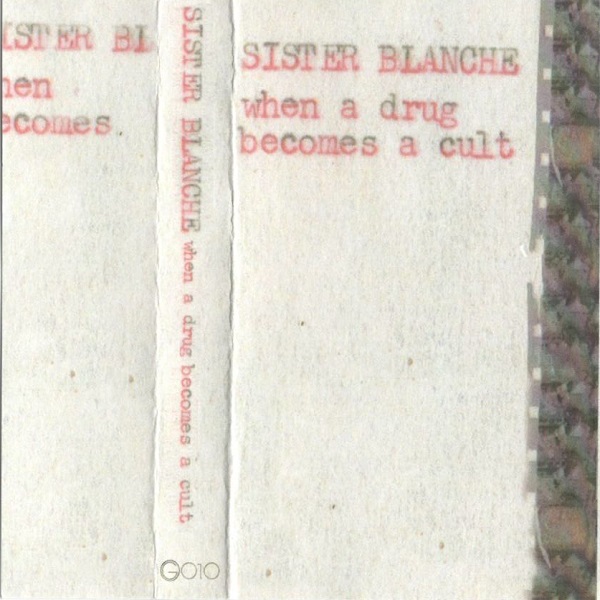 Sister Blanche
When a Drug Becomes a Cult
(Gary Cassettes)
Victoria/Vancouver, BC
From the gnawed appendages of Piper Curtis:
Wandering through a witchy haze, feet not quite touching the ground. Waves of discontent fill the air. Feeling intensely lovely, calm amongst unrest and agitation. There is a dissonance between us and this fuzzy dreamscape.
Static, moving all around. Witches watch through a shroud of fog. Dusk descended before we awoke here and remains, permeating.
Par les appendices rognés de Piper Curtis:
(Traduit par la scansion sabbatique de Benoit Arcand)
Errance dans une brume de sabbat, les pieds pas tout à fait au sol. Des ondes de discorde emplissent l'atmosphère. Le sentiment d'être ardemment aimable et posé dans ce tumulte, ce trouble. Il y a dissonance entre nous et ce paysage onirique flou.
La statique fluctuant tout autour. Des sorcières guettent à travers des linceuls de brouillard. Le crépuscule tombe avant que nous nous réveillions, et demeure, prégnant.
Sister Blanche – When A Drug Becomes A Cult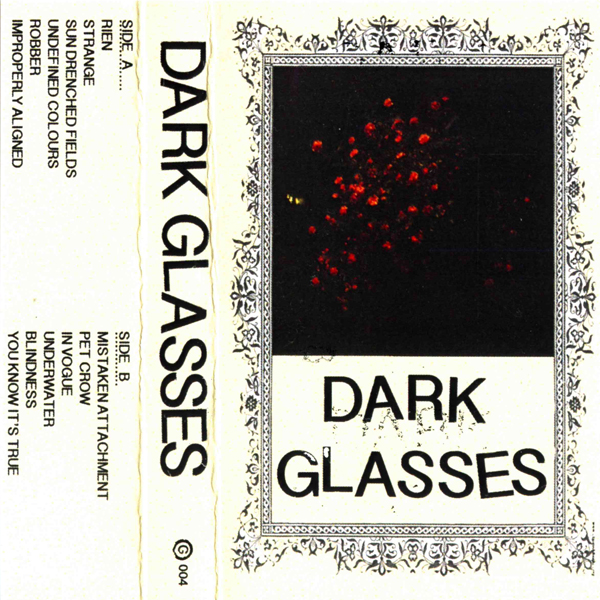 Dark Glasses
Dark Glasses
(Gary Cassettes)
Victoria, BC
From the tinted glass of Johnnie Regalado:
Slow things down and take a look at the world through a slightly darker hue. Fountain bassist, Declan Hughes, steps out from the shadows and into the shade with his debut release as Dark Glasses. A gathering of Victoria's post-punk usual suspects, this finely crafted tape is full of tunes that mutate from brooding, moody melodies into a perpetual downtempo dance party.
Des verres teintés de Johnnie Regalado:
(Traduit avec la tonalité légèrement plus sombre de Virginie Langlois)
Ralentissez la cadence et observez le monde habillé d'une tonalité légèrement plus sombre. Declan Hughes, bassiste de Fountain, sort de l'ombre sans s'exposer au soleil pour autant avec ce premier album du groupe Dark Glasses. Rassemblement des habituels suspects de la scène post-punk de Victoria, cette cassette finement ciselée regorge de chansons alternant entre mélodies sombres et maussades et musiques dansantes au downtempo perpétuel.
Dark Glasses – Mistaken Attachment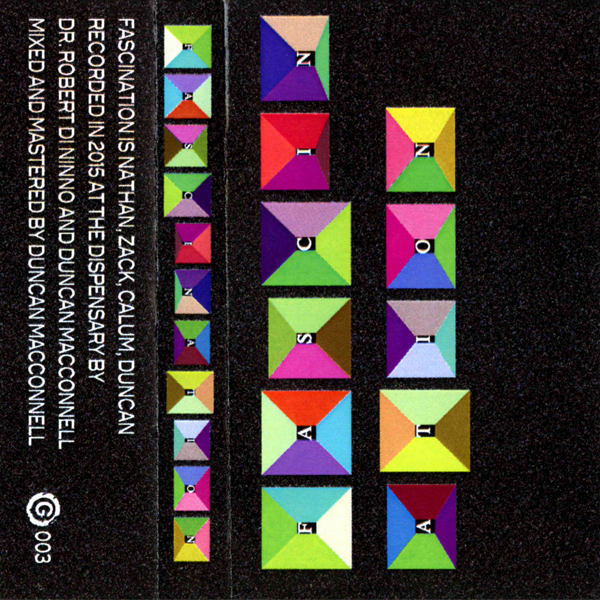 Fascination
Fascination
(Gary Cassettes)
Victoria, BC
From the slurred lurch of Johnnie Regalado:
An oft-times Slam Dunk-er has gathered his slithering pals and groovy brother (as opposed to the blues-y brother) for a quick hit tape full of hooks that dig in deep. These riffs bubble up with the surprising pressure of a not-so-dormant volcano. Piece by piece, the organ-punk vibes evolve until they're oozing over you with catchiness and you're suddenly living life along a brand new beat; slurred lurching, a blissed out stagger that gives you time to realize everything is so damn fascinating.
De la démarche traînante de Johnnie Regalado:
(Par le volcan tranquille d' Aliké Harel)
Un habitué Slam Dunk-eur a rassemblé ses copains à la langue fourchue et son frère au penchant groovy (par opposition à l'autre frère au penchant blues) pour un enregistrement éclair accrocheur riche en texture. Les riffs bouillonnent telle la lave étonnamment ardente au creux d'un volcan pas si dormant finalement. Pièce après pièce, les ondes sonores d'orgues-punk évoluent jusqu'à ce qu'elles exhalent une mélodie enivrante et, tout à coup, vous vivez à un rythme tout nouveau; oscillant, grisé, ce titubement de bonheur vous donne le temps de remarquer que tout est vachement fascinant.
Fascination – Wolf King and the One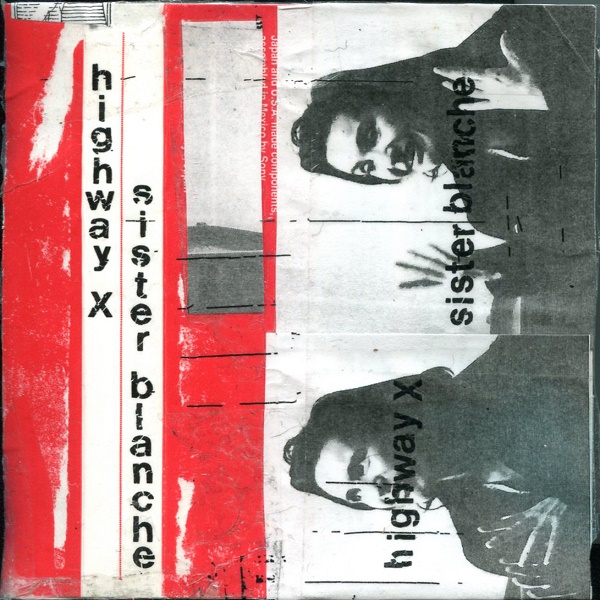 Highway X // Sister Blanche
Split
(Gary Cassettes)
Montreal, QC // Victoria, BC
From the patient suffering of Jesse Locke:
Highway X (Andy Vanier of Babysitter) and Sister Blanche (Morgan Cook of Yung Mums, Cindy Lee, and Androgynous Mind) make an apt pairing. Her mumblecore lullabies, incantations and Swope-style FX are buried under a thick fog of tape hiss like a (more) sinister Tickley Feather. Meanwhile, his guitar/sax jags, sandblasted dub, and lurching loops of mutant concrète add a melodic quality to previous offerings, yet still sound dug up from the sub-underground.
De la douleur patiente de Jesse Locke:
(Traduit par Jessica Grenier)
Highway X (Andy Vanier de Babysitter) et Sister Blanche (Morgan Cook des groupes Yung Mums, Cindy Lee et Androgynous Mind) vont bien ensemble. De son côté à elle, berceuses, incantations et effets à la Swope sont murmurés derrière un épais brouillard de sifflement, comme une Tickley Feather (en plus) sinistre. De son côté à lui, dub décapé, sax/guitare en dent de scie et boucles vacillantes de mutant concrète donnent une qualité mélodique à un ensemble clairement tiré des bas-fonds de l'underground.
---