Tag: garage
Casper Skulls
King of Gold
(Hip Priest Records)
Toronto, ON
From the peasant revolt of Rachel Bellone:
His majesty the King of Gold has ordered you to lend your ears to Casper Skulls. The title track keeps the pace of a slow and steady march before moving into a set of narrative lyrics with a familiar political unease . This is matched with guitar/bass tones and drum stylings that have a royal buzz about them. The vocals slice through the distortion, they sincerely want to be heard, especially in the playful call-and-response chorus in "King Of Gold." Casper Skulls taps into the swelling feeling in your head after a good cry.
De la révolte paysanne de Rachel Bellone:
(Traduit par Diane Beaupré)
Sa Majesté le King of Gold vous a ordonné de prêter l'oreille à Casper Skulls. La pièce du même titre débute avec un rythme lent et régulier avant d'entamer une narration aux accents familiers de malaise politique. Les tonalités des percussions qui accompagnent donnent un air royal à la pièce. La voix se fend à travers la distorsion, elle veut réellement se faire entendre, particulièrement quand elle joue à répondre à la guitare dans le refrain de King of Gold. Casper Skulls touche à ce sentiment d'avoir la tête pleine d'ouate lorsqu'on a pleuré un bon coup.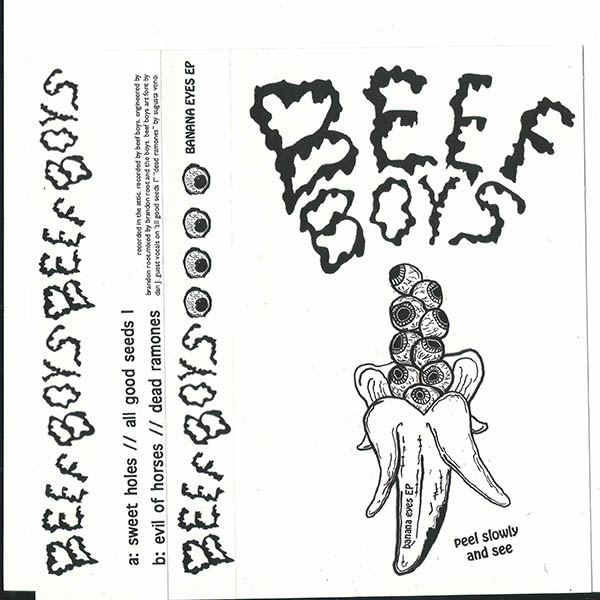 BEEF BOYS
Banana Eyes EP
(Four Eyes Recordings)
Peterborough, ON
From the anxiety ridden thought diarrhea of Mitch Jackson:
The last time I found myself in Peterborough I puked on the hood of someone's Buick. For the unacquainted, Peterborough is a safe haven in the surrounding Mad Max-esque shit storm of all terrain vehicles, and big lifted rigs. Beef Boys emanate from the underbelly of Peterborough, emerging through a slaughterhouse of reverb and fuzz, trading off surf and garage influences. They're decidedly greasy, and I have a sneaking suspicion that they all had a hell of a time tucking their flows into a bucket in minor league puck.
De la diarrhée causée par la pensée chargée d'anxiété de Mitch Jackson:
(Traduit par la surdose d'ipéca de Julie Mayer)
La dernière fois que je me suis retrouvé à Peterborough, j'ai vomi sur le capot de la Buick à quelqu'un. Pour ceux qui ne connaissent pas, Peterborough est un havre de paix situé dans le merdier Mad Max-esque débordant de véhicules tout-terrain et de grosses camionnettes qui font des cascades. Beef Boys émane des entrailles de Peterborough, émerge à travers un abattoir de réverbération et de fuzz et oscille entre des influences surf et garage. Les membres du groupe sont tout à fait louches et je commence à soupçonner qu'ils ont eu un mal fou à rentrer leur tignasse dans leur casque quand ils jouaient au hockey mineur.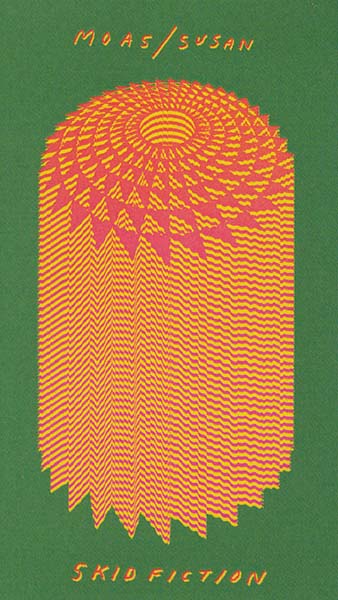 The Moas//Susan
Skid Fiction
Saskatoon, SK
From the crusty undulance of Joshua Robinson:
Dreamgaze. Post-finery. Soft tendrils emanating from an otherwise monstrous beast. This plastic coffer possesses a value equivalent to the effort required to reorient centripetal force. Its sinusoidal offering is the crispy clangor that all soft-served and crusty hounds too weak from offerings of stale scraps have been waiting for. It serves as testament to the fact that little is more important than the giants who walk among us: our peers as boisterous lo-fidelities too loud to ignore and too ardent to overlook. These minstrels are jovian in size; fictions factual; non-sequiturs whose static residuals entertain hopes for future Skid.
De l'ondulation croustillante de Joshua Robinson:
(Traduit par Julie Mayer)
Du dreamgaze. De la post-parure. De tendres vrilles émanant d'une bête par ailleurs monstrueuse. Ce coffre en plastique possède une valeur équivalente à l'effort requis pour réorienter la force centripète. Son offrande sinusoïdale est le beding-bedang croquant qu'ont attendu tous les enragés mous et croustillants rendus trop faibles à force de se contenter d'oblats de restes rassis. Cette cassette sert à témoigner du fait que peu de choses sont plus importantes que les géants qui marchent parmi nous : nos pairs, à savoir des chansons lo-fi chahuteuses trop bruyantes pour qu'on les ignore et trop passionnées pour qu'on n'en tienne pas compte. Ces ménestrels sont d'une taille jovienne. Des fictions factuelles, des coq-à-l'âne dont les résidus statiques entretiennent l'espoir sur le Skid à venir.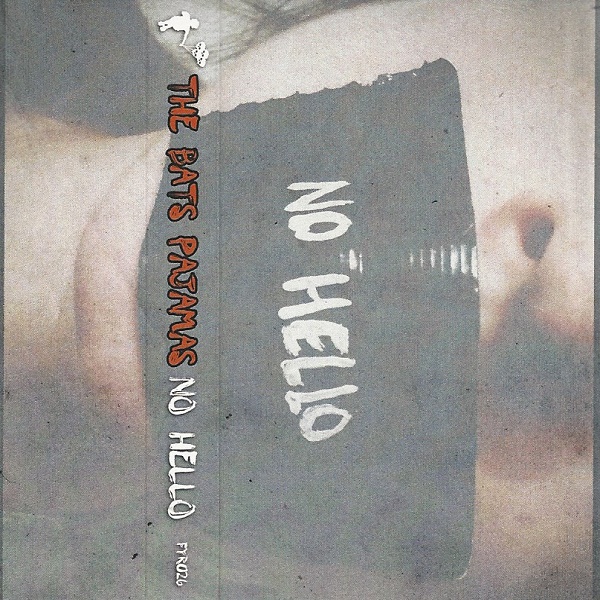 The Bats Pajamas
No Hello
Toronto, ON
From the curdled misanthropy of Adam Bradley:
A primo specimen of Toronto's malformed and curdled species of garage rock. Septic distortion and scummed up bass slop on top of misanthropic, snotty vocals. Kickin' shit over riffs. Window smashing ugliness. Skipped off again, pizza in the alleyway, beer in a bag. Slacker maniac grudge-grunge, hacking a lung, an infected mess bubbling up throbbing puce-goldenrod.
De la misanthropie caillée de Adam Bradley:
(Traduit par le yogourt glacé de Julie Mayer)
Un spécimen de première formé d'espèces torontoises difformes et caillées de garage rock. Une distorsion septique et une basse crasseuse se déversent sur des voix misanthropiques et snobs. Des riffs ravageurs. Une laideur de fenêtres fracassées. Encore à foxer l'école, à manger de la pizza dans la ruelle, une bière dans le sac. Du grunge rancunier, fainéant et maniaque qui charcute un poumon, bordel infecté d'où s'échappe une mousse de pulsations couleur puce-jaune paille.
The Bats Pajamas – Feel Like Shit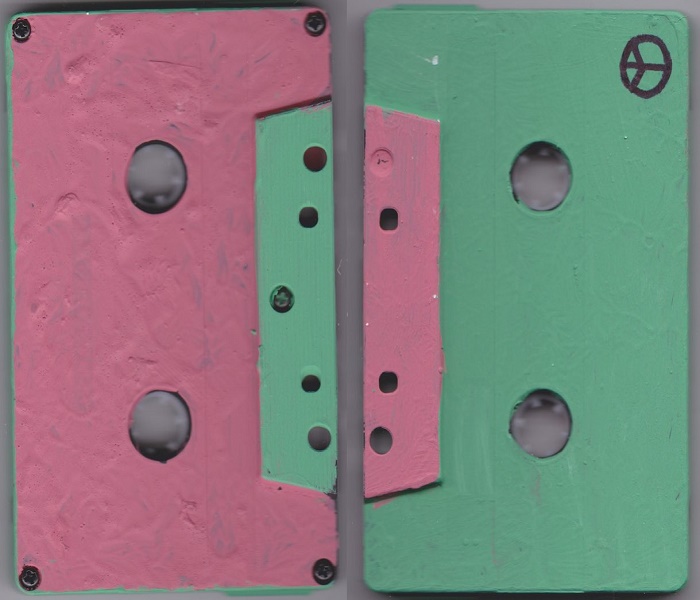 Leeky Tearducts
The Tape
(Self-Released)
Nelson, BC
From the frazzled socket of Eleanor Wearing:
The Leeky Tearducts don't really leak. Spit, churn, streak, explode? Yes. Bang, yell, thrash? Yes. Unfolding like a sudden thunderstorm, their notes strike with the power of a violent lightning bolt. Don't fear the storm. Don't run for cover. Let your body succumb to the short-circuiting sounds. Find yourself in a fast dancing frenzy. After all, sweat and rain are better than tears.
De la prise de courant sautée de Eleanor Wearing:
(Traduit par Zanoni Ngira)
Le tube « The leeky Tearducts » ne vous décevra pas. Ce morceau explosif vous fera chanter, vibrer et danser sans contrôle. Il fait du boucan et se fait entendre partout en battant des records. Comme une soudaine tempête, le morceau suit un rythme de tonnerre. N'ayez aucune crainte, laissez votre corps se faire guider aux sons court-circuit de la chanson, et vous serez pris d'assaut par une danse délirante. Après tout, la sueur et la pluie sont mieux que les larmes.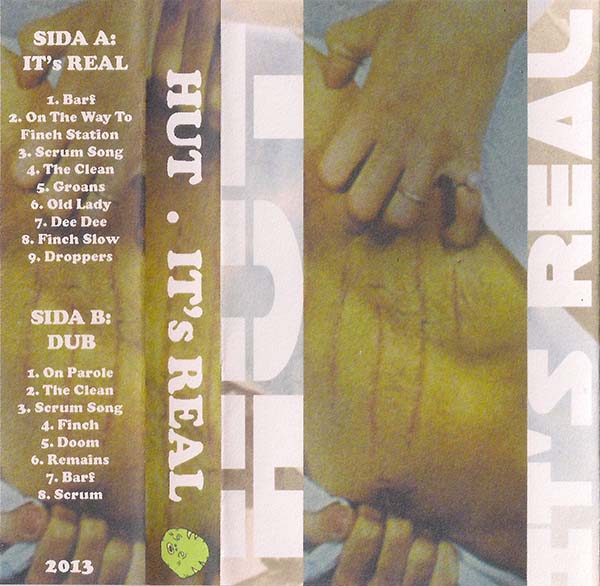 HUT
It's Real
(Daps)
Toronto, ON
From the crater cone of Katie Jensen:
This is what happens when bleach eats its way into a surfer's brain.
Amorphous bimbos sprinkle the dunes like fleshy beach fenceposts. No one is watching the skywriter spell out dirty words in a puff of warm pastel fudge.
A young man is stumbling towards you with a picnic basket filled with translucent water guns sloshing with saliva. He gestures for you to help him, but watch out. He'll pick your pockets and fill them with garbage from behind the washroom.
You have permission to fold yourself in half, to untwist your bowels, to smack your pink, shining gums against anything that moves. Everyone is waiting for you to show them how it's done.
Du cratère béant de Katie Jensen:
(Traduit par Jessica Grenier)
C'est ce qui arrive quand le décolorant réussit à gruger son chemin jusqu'au cerveau d'un surfeur.
Des potiches amorphes qui parsèment une plage comme les piquets de chair d'une clôture. Personne ne porte attention au pilote qui écrit des gros mots en nuages aux couleurs de chocolat chaud.
Un jeune homme avance vers toi en trainant difficilement un panier de pique-niques rempli de fusils à eaux débordants de salive. Il te fait signe de l'aider, mais fais attention. Il va te faire les poches, puis les remplir de cochonneries qu'il a trouvées derrière les toilettes.
Tu as le droit de te plier en deux, de défaire le nœud dans ton ventre, d'écraser tes gencives roses et brillantes sur tout ce qui bouge. Les gens attendent : montre-leur comment ça se fait.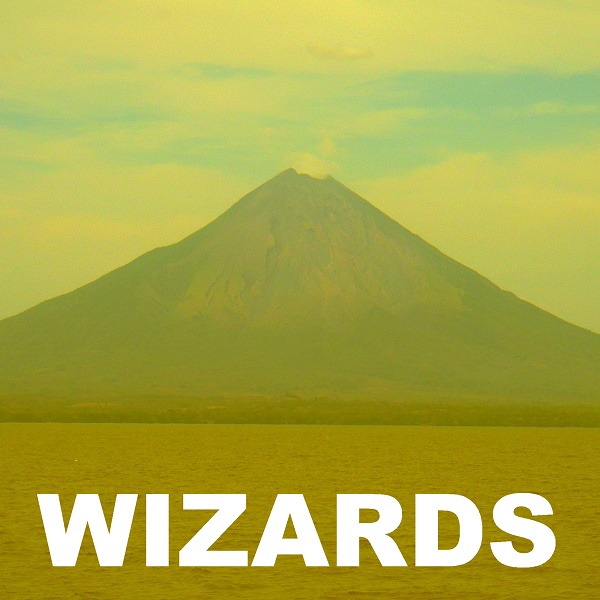 Wizards
SDRAZIW
Saskatoon, SK
The White Magic of Trevor Angst:
Bending out a few solo notes harder than any twelve year old ever could with his mountain bike's kickstand, Wizards croon immensely gothic. The guitar will meow and wisp dreamscapes. By the near end, Wizards will dispel your last impressions of that beauty.
SDRAZIW is a documented piece of Wizard's experimentation in action. Drifting away from the surf and shores of their EP and pulling towards the psych and ambient taproot, Wizards drop a collection of songs that stand individual, non adherent, riotous.
De la Magie Blanche de Trevor Angst:
(Traduit par l'hémisphère de Diane Beaupré)
En extirpant des notes plus tonitruantes qu'un enfant de douze arrive à le faire avec la béquille de son vélo de montagne, Wizards sonne gothique. La guitare miaulera et vous transportera aux pays des songes. Vers la fin, Wizards dissipera les dernières impressions de cette beauté.
SDRAZIW est la trace laissée par Wizard en pleine expérimentation. S'éloignant du surf et des rivages de leur EP et s'approchant des racines du rock psychédélique, Wizards nous offre une collection de chansons uniques et planantes.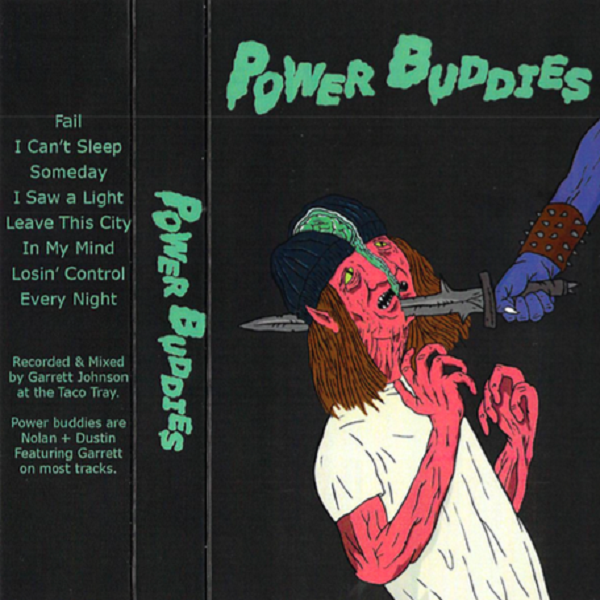 Power-Buddies
Power-Buddies
Edmonton, AB
From the refreshing jolt of Ali McReynolds:
Like pebbles between your toes, burger between teeth and peeling your legs off the sofa, Power-Buddies are a refreshing jolt in the sticky Alberta summer. The sonic clash of fuzzy guitar against an inviting rhythm will be enough motivation to get you out for river beers.
De la secousse rafraichissante d' Ali McReynolds:
Power-Buddies, c'est un peu comme avoir des cailloux entre les orteils, un burger dans la bouche ou le fait de détacher ses jambes collées sur le sofa : un choc rafraîchissant dans la moiteur de l'été albertain. Le clash sonique de la guitare fuzz associé à un rythme attrayant est une motivation suffisante pour vous faire sortir et aller boire des bières.
Power-Buddies – Leave This City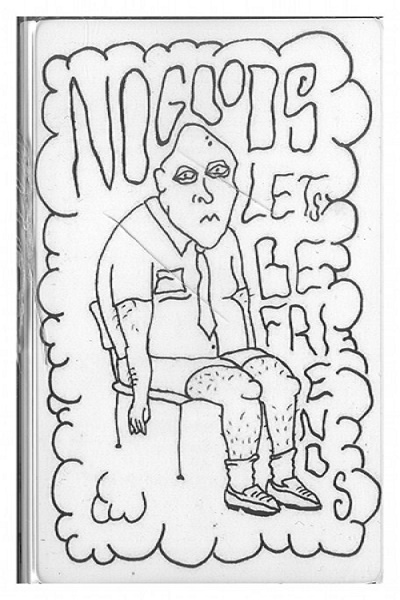 NoGoods
Let's Be Friends
Victoria, BC
From the phosphorescence of Noah Sherman:
NoGoods presents the type of psychedelic, high-intensity punk that can be enjoyed by your lonesome, or while you dance it out with dozens of tightly packed bodies in the sweaty confines of a garage somewhere – the latter being preferable. Try to not move your body when your hear the melodious, addicting guitar riffs, the pounding drums, and the familiar energy of the voice. If that sounds like a challenge, it's because it is.
De la phosphorescence de Noah Sherman:
(Traduit par le cerveau à moitié bon d' Alexis Maurice)
NoGoods présente un type de punk psychédélique à haute intensité pouvant être apprécié en solitaire, mais préférablement en dansant avec des douzaines d'autres humains coincés et suintants dans un garage quelque part. Essaie de ne pas te mettre à bouger sur ces riffs aux mélodies addictives, le tapage de la batterie et l'énergie familière du chanteur. Ça ressemble à un défi? C'en est un.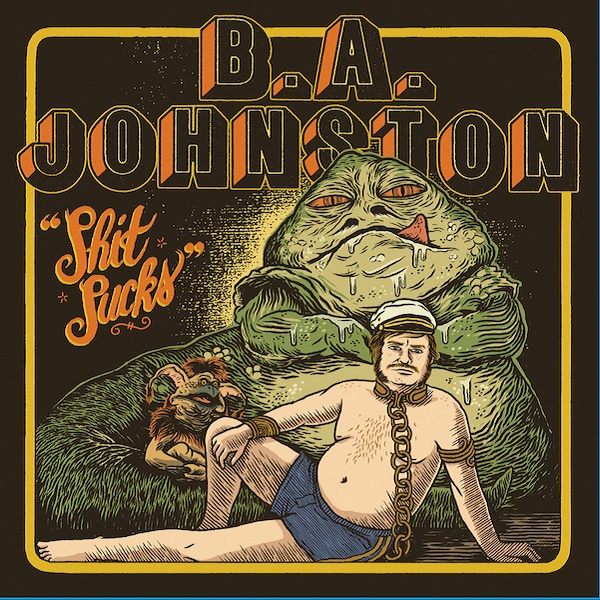 B.A. Johnston
Shit Sucks
Barrie, ON
From the very, very broke Mike Roy:
If you're familiar with the gospel according to B.A., then you already know what's in store for Shit Sucks. His tenth record utilizes simple acoustics and 8-bit blips circa 1982 to help you realize there's nothing wrong with buying the no-name brand of chips. The universals about shitty cats, skinny jeans, Fort Mac and drinking on your parents' dime are all too real, and not just because I had my mom wire me $20 last week so I could go to the bar. Long live King B.A. as he adds another jewel into his BK Crown.
Du très, très paumé Mike Roy:
(Traduit par Jessica Grenier)
Si tu connais déjà l'évangile selon B.A., tu sais ce que Shit Sucks te réserve. Son dixième enregistrement utilise une acoustique simple et des sons 8 bits sortis directement de 1982 pour te montrer qu'au fond, c'est correct d'acheter des chips No Name. L'universalité des chats merdiques, du Fort Mac, des skinny jeans et des bières achetées sur le bras des parents n'est que trop réelle – et je ne dis pas ça parce que j'ai demandé à ma mère de me virer 20 $ la semaine passée pour pouvoir aller au bar. Longue vie à B.A., le roi qui ajoute ici un autre joyau à sa couronne.
---