Tag: gabe girard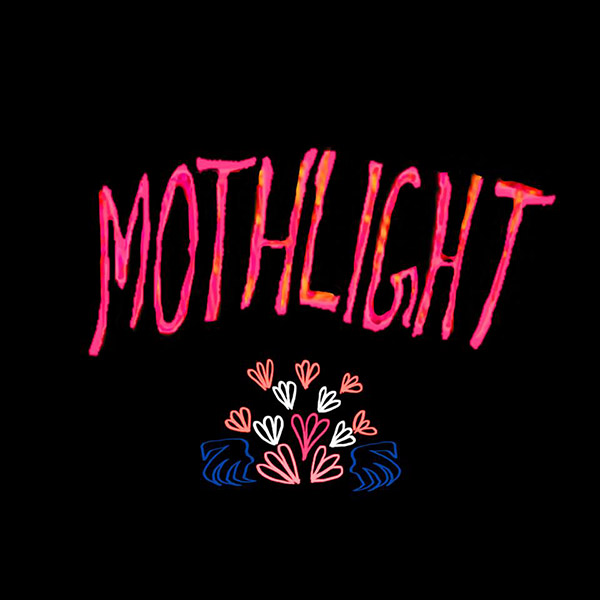 Mothlight
Daniela Madrid
(Photo credits: Chelsea Sweetin, Cecilia B., Kate Mada, Daniela Madrid & Jonathan Pawis)
Montréal, QC
From the safe happy heart of Gabe Girard:
Mothlight has been a fixture in the Montreal independent DIY music scene for years. Booking house shows, festivals, tours and sold out concerts in Montreal and across Canada, Mothlight has adhered to the vision of hosting community-oriented, not for profit events that showcase talent in relaxed, inclusive and safe(r)spaces. Not being able to distinguish whether you're in a friend's kitchen or at a concert has its advantages. We caught up with Daniela Madrid – the shadowy mastermind behind Mothlight – to shed some light on her creation.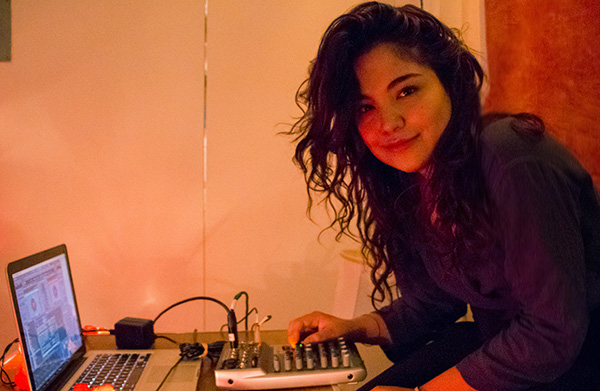 How did Mothlight begin?
Mothlight started out in November 2014, mostly as a house show concert series. We wanted to make an inclusive and serene space for people to play. The more shows we booked, the more a sense of community it started to build. From then on we branched out in Montreal with different DIYs and established organizations, communities, venues and galleries to book events. Some of these spaces were Le Plante, Poisson Noir, Articule and our own personal home that had a jam space in the basement (mothlight ☷ ʇɥƃılɥʇoɯ), . We also put on shows with local promoters Blue Skies Turn Black and Suoni per Popolo this past summer. We booked tours during that time and still continue to help bands touring Canada who reach out to us. Our latest event was in Vancouver at the Red Gate Arts Society on January 5th with Hallow Moon, Kim Gray & Zuzu's Petals.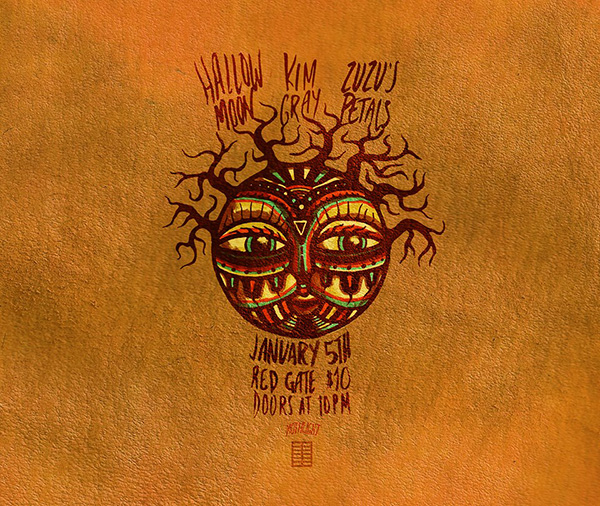 What are the motivating factors behind what you do?
I'm a freelance graphic designer, so it's a foundation for that. To be happy – Laughs – Our goal has always been to create an inclusive, comfortable performance space so that people who are anxious about displaying their music feel comfortable. We tend to focus on new and emerging musicians – Women/men, POC, non-binary people. We try to make a platform for artists, allowing them to be themselves. Having a safer space really helps the growth and evolution of music/arts. The music really blooms as a result.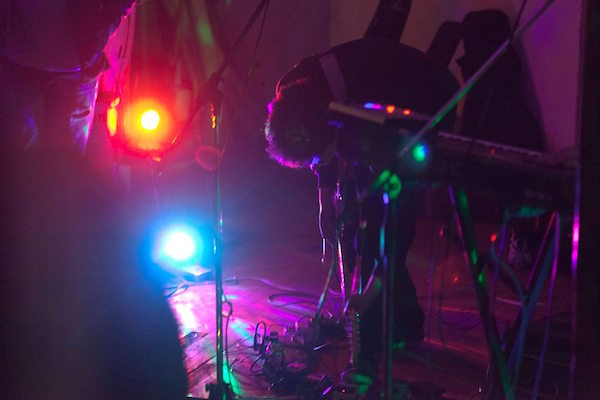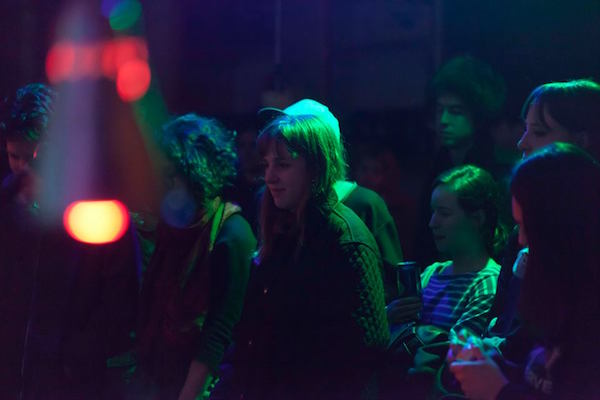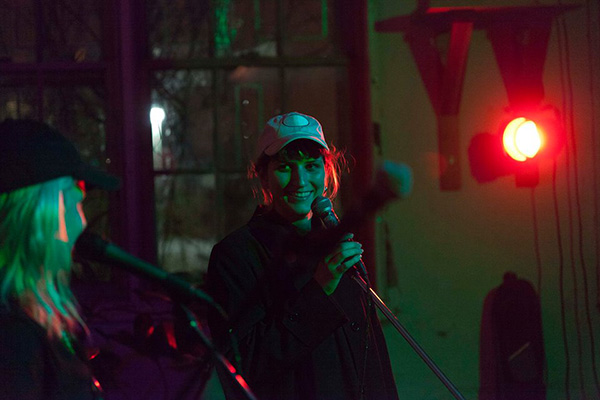 The intimate house show concept seems to really help with that.
We try to create a serene, vital setting. The atmosphere is important which is why each event brings in some aspects of herbal and aromatic medicine to set that ideal state. Very dim lighting with candles and herbal incense. It makes for a good feeling in the space for people to come into and makes them feel very much at ease. When people come in they talk about how relaxed they feel and sometimes even ask what is being used. We are bringing our lifestyle to the community in a sense — the shows draw from a lot of different crowds, every show is different. It's not just focused on one scene, there is a lot of variety.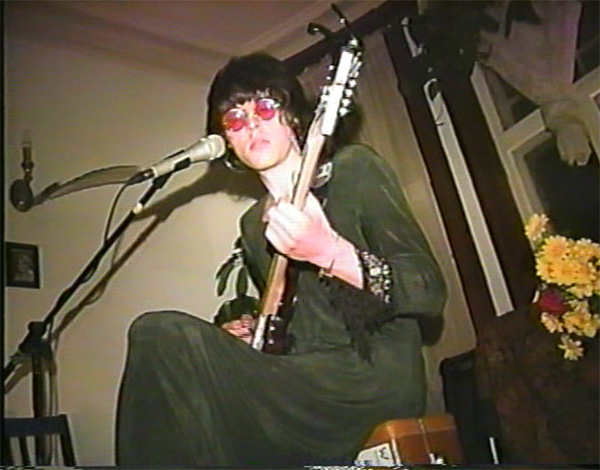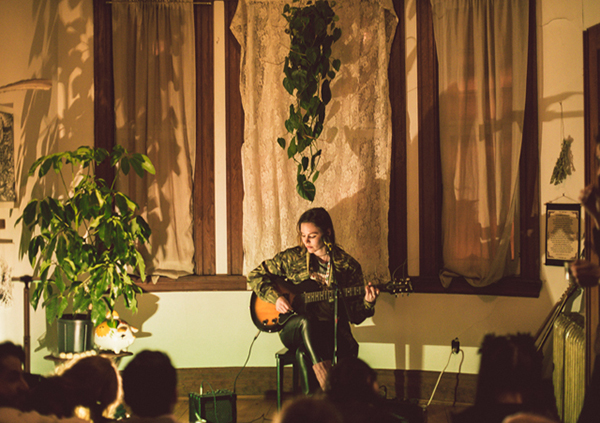 Is the house show aesthetic something you're still focused on?
Yes, a bit. Right now we're focused on booking events both in Montreal & Vancouver. Helping with bands who need assistance with their tours as well as new artists that would like to branch out. It's nice to help and makes it easier for emerging bands to make it across the country. The more we are expanding, the harder it can be to strictly adhere to the house show aesthetic – but whenever possible we bring the laid-back-calm atmosphere back, especially in Montreal which already has such a beautiful art community.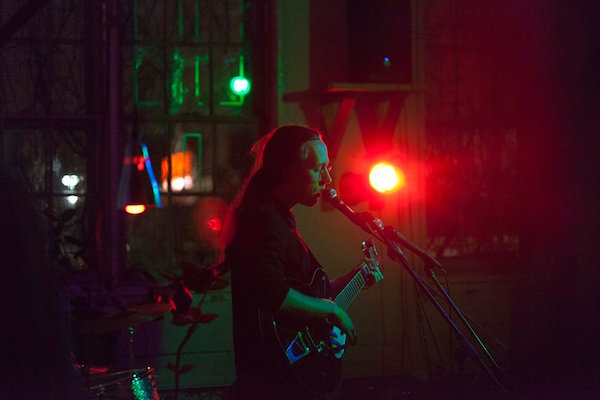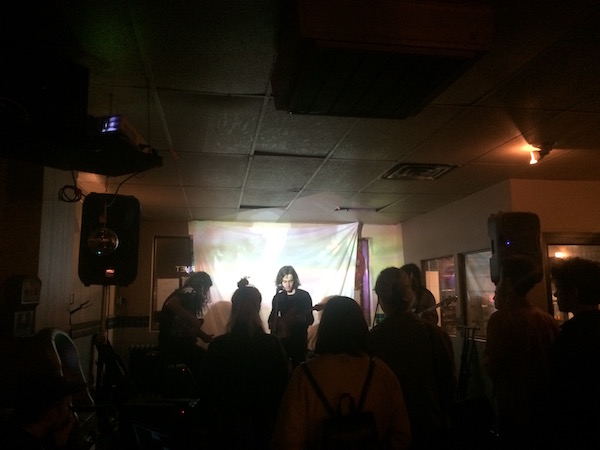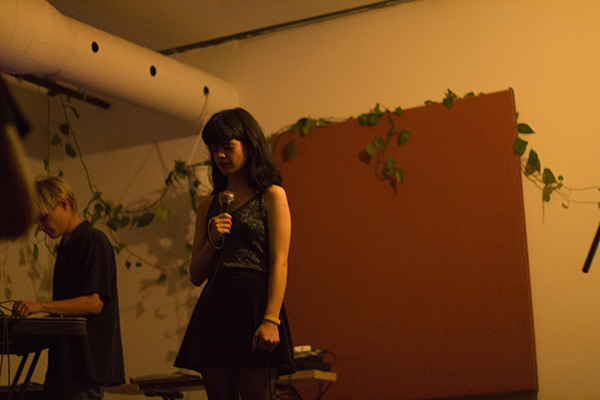 You decided to donate all of the proceedings from a recent show to the protestors at Standing Rock. Not a lot of bookers would do such a thing. Kudos!
Yes, fundraising is definitely something we are doing more and more of. The last show at Casa del Popolo with Kristian North was great! One of the members is about to head to the protest. I wanted to show support for their journey, the movement as a whole and in solidarity. In that same week we had also collaborated with the artist-run center known as Articule for a Feminist Cocktail Party fundraiser. One of the curators had mentioned that it was a first for the gallery to host music there and now we're looking forward to working with them again in the new year. At the end of the day, we pay all the artists as well as we can, trying to keep in mind the professional aspect and the artist's values. Having it DIY also makes it a lot easier.
If one were interested in booking a show with you, how could they get in touch?
If you're interested in booking a show or tour you can reach out to Daniela Madrid and her business partner SK (wishes to be anonymous but responds as well) at [email protected]
Website
FB Page
♡
Droit du coeur saint et sauf de Gabe:
(Traduit par les canicules de drone de Wyrd)
Mothlight représente un pilier de la scène musicale indépendante DIY de Montréal depuis des années. En organisant des « house shows », des festivals, des tournées et des concerts bondés à Montréal et à travers le Canada, Mothlight a maintenu sa vision d'origine, c'est-à-dire de promouvoir des talents émergents au sein d'évènements communautaires et sans but lucratif, toujours dans des environnements inclusifs, sécuritaires et détendus. Il y a des avantages à ne pas pouvoir distinguer si on est dans la cuisine d'un ami ou dans un véritable concert. On a rencontré Daniela Madrid – le génie énigmatique derrière l'opération Mothlight – afin d'y jeter un peu de lumière.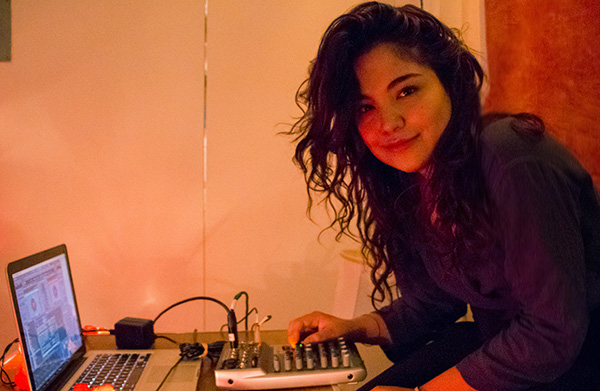 Comment Mothlight est né?
Mothlight a débuté en Novembre 2014, tout d'abord comme une série de « house shows. » On voulait créer un espace plus inclusif et serein pour que les gens puissent jouer. Plus on organisait des shows, plus on ressentait qu'on était en train de bâtir une communauté. De fil en aiguille, on a créé des liens avec d'autres organismes DIY, ainsi qu'avec des salles et des galeries plus établies. On a mis sur pied des shows à La Plante, au Poisson Noir, à Articule, et dans notre propre sous-sol, où il y avait un espace pour jammer (mothlight ☷ ʇɥƃılɥʇoɯ), On a aussi collaboré avec des promoteurs locaux comme Blue Skies Turn Black et Suoni per Popolo l'été passé. On a organisé des tournées, et on continue à aider des bands qui nous contactent lors de leur passage au Canada. Notre évènement le plus récent a eu lieu au Red Gate Arts Society, le 5 janvier avec Hallow Moon, Kim Gray & Zuzu's Petals.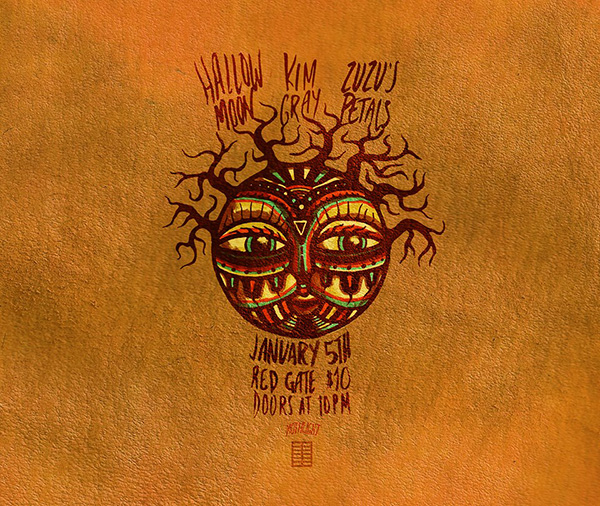 Quels sont les facteurs qui vous motivent à poursuivre Mothlight?
À la base, je suis conceptrice graphique indépendante. Afin d'être heureux – (rit) – notre but a toujours été de créer des espaces de concert inclusifs et confortables, pour que ceux qui sont anxieux d'afficher leur musique se sentent plus à l'aise. On se concentre sur les musiciens nouveaux et émergents – femmes/hommes, personnes racisées, personnes non-binaires. On essaie de créer une plateforme qui permet aux artistes d'être eux-mêmes. Plus les espaces sont sécuritaires, plus ils favorisent la croissance et l'évolution de la musique et des arts. Ça permet à la musique d'éclore.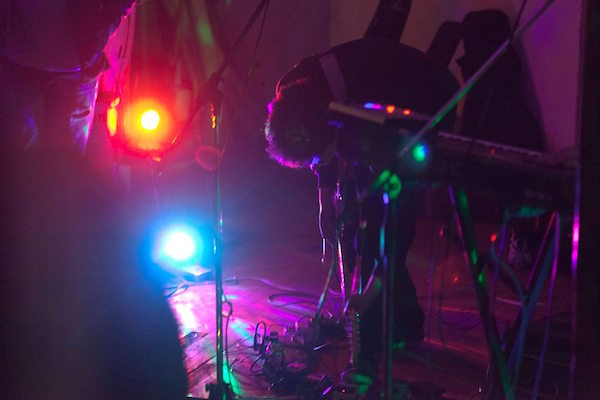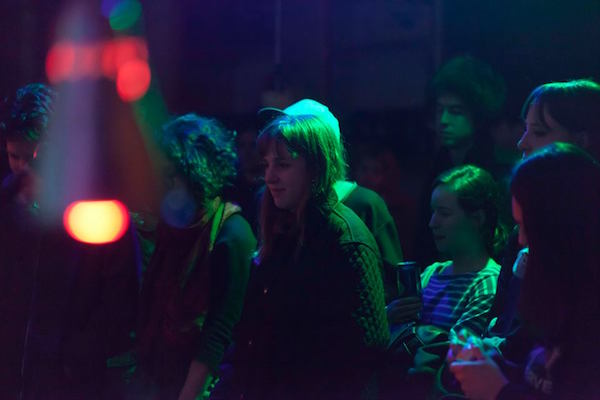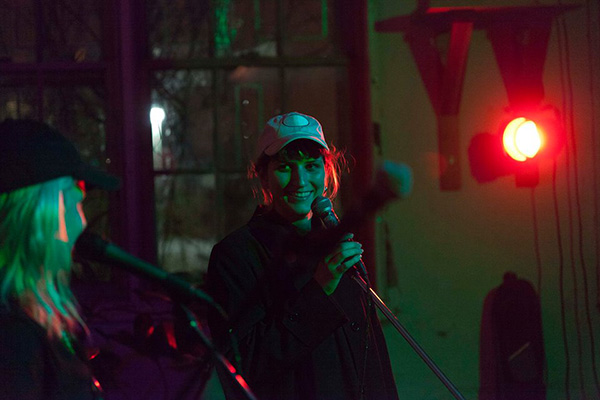 Le concept de « house show » intime semble aider avec ça…
On essaie de créer un contexte serein et vital. L'ambiance est primordiale – c'est pour cette raison qu'on agrémente chaque événement de plantes médicinales et aromatiques. On veut fournir les conditions idéales : lumière tamisée, chandelles, encens. Ça amène un bon feeling dans l'espace et ça met les gens à l'aise. Les gens nous parlent du fait qu'ils se sentent détendus et nous demandent le nom des herbes que nous utilisons. De cette façon, on intègre notre style de vie dans la communauté. Les shows rassemblent des gens de contextes divers, et chaque évènement est différent. On essaie de ne pas trop se restreindre à une seule scène, mais plutôt d'encourager la variété.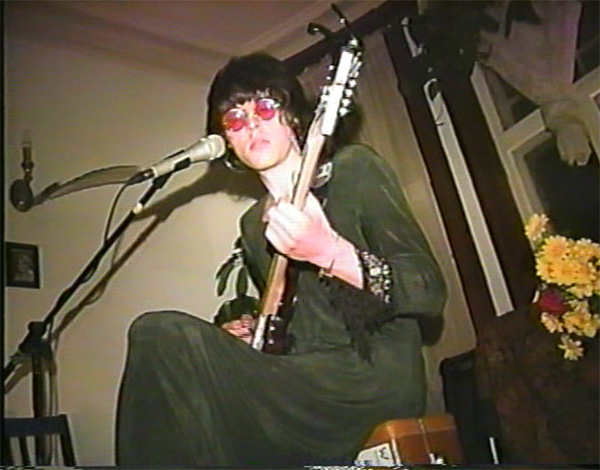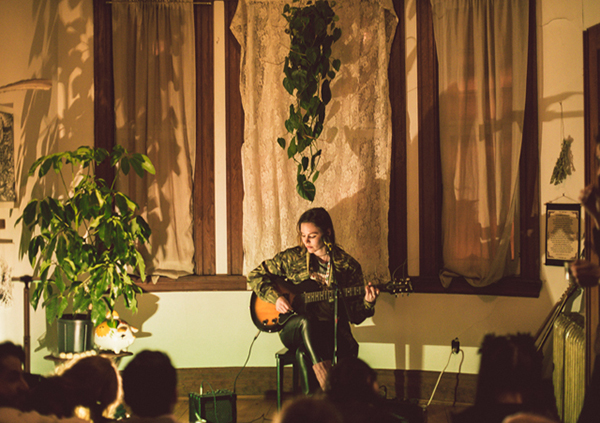 Êtes-vous toujours attachés à l'esthétique du « house show »?
Oui, un peu. Pour l'instant, on concentre nos efforts sur la planification d'évènements à Montréal et à Vancouver. Aider les bands qui ont besoin d'un coup de main avec leurs tournées, ainsi que les nouveaux artistes qui veulent se lancer. Ça fait du bien d'aider, et ça permet aux bands émergents de traverser le pays. Plus on grandit, plus c'est difficile d'adhérer strictement au model du « house show » – mais autant que possible, on ramène l'atmosphère décontractée et calme. C'est particulièrement simple à Montréal où il y a déjà une si belle communauté artistique.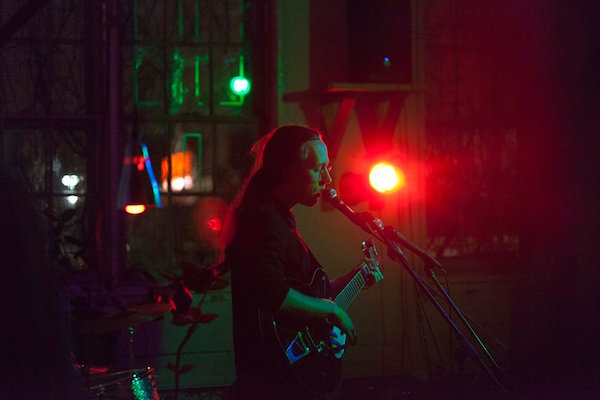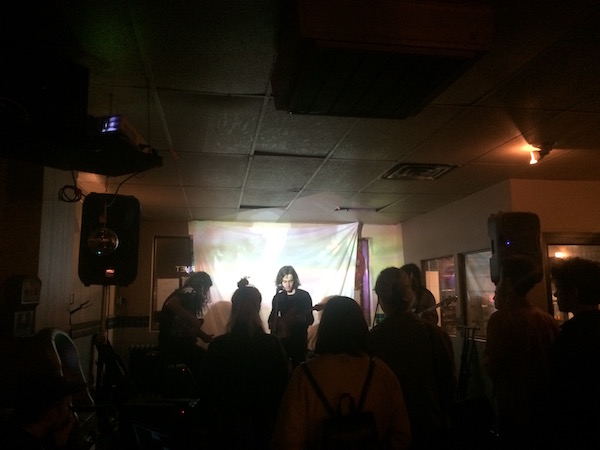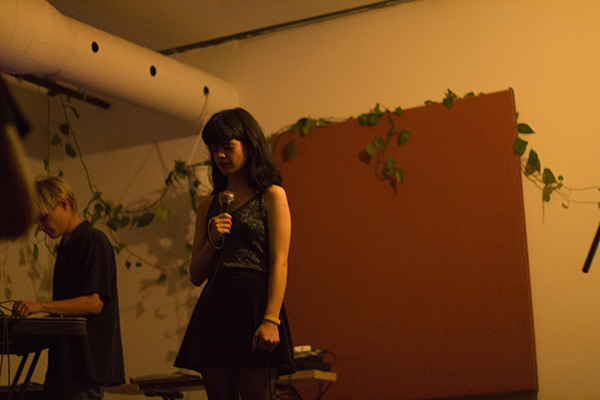 Vous avez décidé d'offrir tous les revenus d'un show récent aux manifestants de Standing Rock. Rares sont les bookers qui poseraient ce genre de geste. Kudos!
Oui, on entreprend de plus en plus de levées de fonds. Le dernier show à Casa del Popolo avec Kristian North était incroyable! Un des membres du band allait se joindre à la manif de Standing Rock. Je voulais soutenir son voyage et démontrer ma solidarité avec le mouvement en entier. Cette même semaine, on a collaboré avec le centre d'artistes autogéré connu comme Articule pour un cocktail party féministe – une autre levée de fonds. Une des curatrices a mentionné que c'était la première fois que la galerie accueillait un show. On a hâte de poursuivre notre collaboration avec eux dans la nouvelle année. Au bout du compte, on paie les artistes autant qu'on peut, en restant professionnels et en gardant les valeurs de l'artiste en tête. La vibe DIY facilite les choses.
Si quelqu'un veut booker un show avec vous, comment il/elle vous contacterait?
Si vous voulez organiser un show ou une tournée, vous n'avez qu'à contacter Daniela Madrid et son partenaire d'affaires SK (désire rester anonyme mais répondra aux courriels) à [email protected]
Site web
Page FB
♡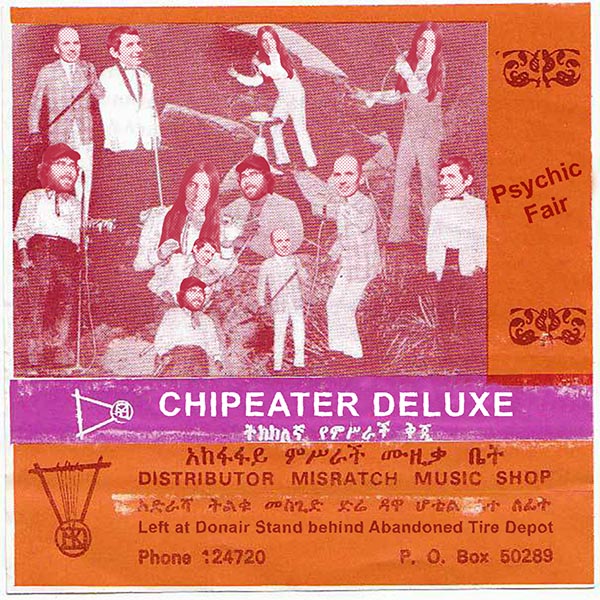 Psychic Fair
Chipeater Deluxe
(Self-Released)
Halifax, NS
From the radar scans of Gabe Girard:
Deep within the caves, recesses, and exposed bedrock strata of the peninsula known as Halifax lie several geological anomalies. Tunnels without entrance or exit. Long dark passages too coarsely shaped, too needlessly circuitous to be of manmade origin wind and bore themselves deep into the earth. At length, they culminate in spacious halls possessing strange resonant qualities. Ground-penetrating radar scans have located some of these halls. One such hall, of particular interest to resident geologist Josh Salter, has been dubbed The Echo Chamber. According to locals, this chamber has been emanating its distinctive vibrations for years. Field recordings have turned up interesting results. For now, these recordings are our only glimpse into what lies beneath.
Des balayages radar de Gabe Girard:
(Traduit par la spéléologue Maya Keshav)
Au fond des grottes, des alcôves et des strates exposées de la roche mère sur la péninsule qui s'appelle Halifax se trouvent plusieurs anomalies géologiques. Des tunnels qui n'ont ni entrée ni sortie. Des passages longs et sombres en forme trop crue, trop inutilement sinueuse pour être créés par l'homme s'enroulent et se creusent au fond extrême de la terre. Plus tard, ils aboutissent dans les corridors spacieux qui possèdent des qualités bizarrement sonores. On a localisé quelques-uns de ces corridors grâce aux balayages radar qui peuvent percer la terre. Un tel corridor, d'un intérêt particulier pour le géologue résident Josh Salter,, était surnommé The Echo Chamber (la chambre de réverbération). Selon les gens du coin, cette chambre dégage ses vibrations distinctives depuis des années. Les enregistrements sur place ont révélé des résultats intéressants. Pour le moment, ces enregistrements sont notre seul aperçu de ce qui se trouve en dessous.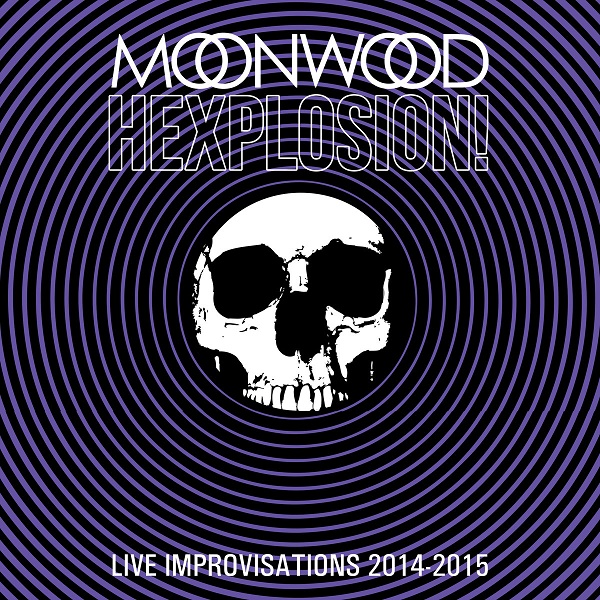 Moonwood
Hexplosion
Toronto, ON
From the impro-drone of Gabe Girard:
The world of improvised drone tends to employ the services of laptops, prerecorded samples and electronics in favour of live instrumentation. The world of impro-drone in the West is, for the most part, a digitized wonderland of electronics, synths and CPUS. Moonwood certainly use their share of binary vibrations, but to come across a live instrumental band that achieves that level of heart BPM reducing, out-of-body experience inducing, whimsically meandering drone that we all know and love is a rare thing indeed.
Par le drone-impro de Gabe Girard:
(Traduit par le méandrement fantasque d' Émily Traichel)
Le monde du drone improvisé a tendance à utiliser les services des ordinateurs portables, des échantillons pré-enregistrés et de l'électronique au profit de l'instrumentation en direct. Le monde du drone-impro dans l'ouest est, pour la plupart, un pays des merveilles de l'électronique, des synthés et des UCs. Moonwood se servent certainement de leur part de vibrations binaires, mais le fait de croiser un groupe live qui atteint un tel niveau de drone réducteur-de-BPM-du-coeur, inducteur-d'expérience-extra-corporelle et fantasquement méandre, que nous connaissons et aimons tous, est effectivement une chose rare.
Moonwood – Cosmic Ratio (2015.5.29)
Moonwood – Set the Overdrive For The Dark Side of the Nile (2015.01.09)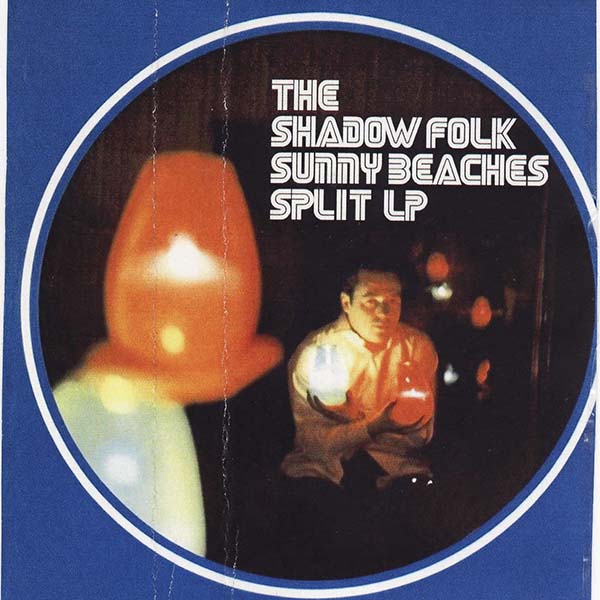 Shadow Folk // Sunny Beaches
Split
Halifax, NS
Des gains capitaux de Gabe Girard:
(Traduit par le chocolat chaud de Julie Mayer)
La Nouvelle-Écosse passe son flambeau de sensibilité pop rock à un autre groupe de mécréants slameurs. Toute la crème de Poncho records figure sur ce split album de The 13th Basement of Hell. Shadow Folk et Sunny Beaches distillent le Kool-Aid, le réduisent, le coupent avec du Tang et se piquent avec. Oseriez-vous en prendre? L'aimeriez-vous?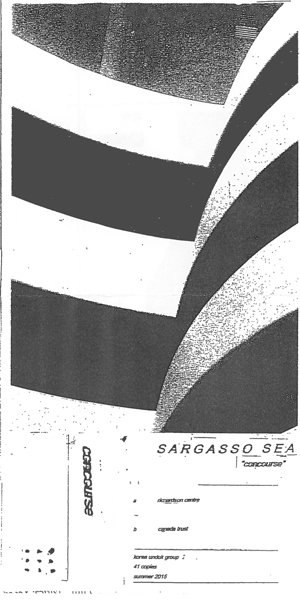 Sargasso Sea
Concourse
Winnipeg, MB
From the ashtray doors of Gabe Girard:
Sargasso Sea explores a continuous, pulsing theme on Concourse, a highway singularity stretching the length of one's imagination. Street light interference plays off the rounded edges of a windshield. Red, green and yellow provide temporary release from the inexorable grey-black of overpass-highway repetition. For best results, listen at night within the ashtray-door, padded-seat confines of a 1992 Dodge Shadow.
Des portes-cendriers de Gabe Girard:
(Traduit par Aliké Harel)
Sargasso Sea explore une veine aux pulsations continues sur Concourse dont la singularité s'allonge telle de grandes artères aussi loin que l'imagination le permet. L'interférence des lampadaires vacille sur le pourtour convexe d'un pare-brise. Le rouge, le vert et le jaune procurent un répit temporaire de l'inexorable grisaille noire de viaducs et d'autoroutes successifs. Pour un résultat optimal, écoutez la nuit blotti contre la porte-cendrier sur le siège rembourré d'une Dodge Shadow 1992.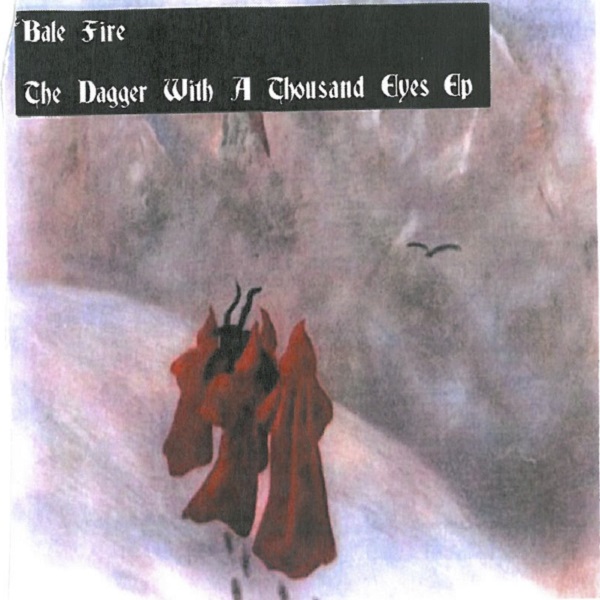 Bale Fire
The Dagger With a Thousand Eyes
(Self-Released)
Lakefield, ON
From the dusty tomes of Gabe Girard:
Light the candles, burn the sage, splash the sacred lair with pentagrams and archaic materials. Sometimes the only way to viably conclude an evening is with ritual recitations of forgotten occult poetry and lore. Hear Aleister Crowley's invocations and prayers set to unnerving ambience: music and poetry with the uncanny ability to cast shadow where light once was. Paradoxically dark and ecstatic, the narrator of The Dagger With a Thousand Eyes comes close to some of The Great Beast's own poetry recordings.
Des tomes poussiéreux de Gabe Girard:
(Traduit par Jessica Grenier)
Allumer les chandelles, brûler la sauge, répandre les matériaux archaïques et les pentagrammes dans le repère sacré. Parfois, la seule façon valable de conclure une soirée est la récitation rituelle de poésie et de folklore occulte oublié. Écoutez l'ambiance inquiétante des prières et des incantations d'Aleister Crowley : une musique et une poésie à la capacité singulière de projeter des ombres où régnait auparavant la lumière. Le narrateur de The Dagger With a Thousand Eyes, paradoxalement sombre mais extatique, se rapproche de certains enregistrements de poésie de La Grande Bête.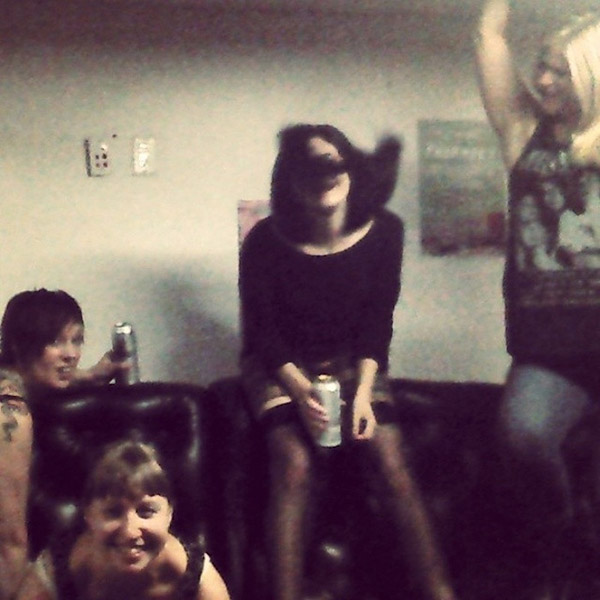 Glad Rags
Glad Rags
(Self-Released)
Vancouver , BC
From the infatuated dude bros of Gabe Girard:
This compliment of raucous Vancouver riotgrrls lets you in on a little secret, and its not the one you were looking for. Infatuated dude-bros beware, they will show you the pavement just as fast they show you the door, should you overstep your bounds. Somewhere between Liliput and the Ramones, Glad Rags' debut EP is a celebration of Popsicles, Meat Legs, femme firebrands and punk rock. With their full length release coming up this fall, The Glad Rags will be an act to watch out for. Not for the faint of hearrrt.
Des chums de gars amourachés de Gabe Girard:
(Traduit par Jessica Grenier)
Ce cadeau des tapageuses riot grrrls de Vancouver vous confie un petit secret, et ce n'est pas celui que vous auriez souhaité. Chums de gars amourachés, soyez prévenus : si vous dépassez les limites, elles vous jetteront dehors pour vous faire embrasser l'asphalte. Quelque part entre Liliput et les Ramones, le premier EP de Glad Rags célèbre les Popsicles, les jambes-viande, les fouteuses de trouble et le punk rock. Avec un album complet qui sortira l'automne prochain, Glad Rags sera un groupe à surveiller. mes sensibles s'abstenirrr.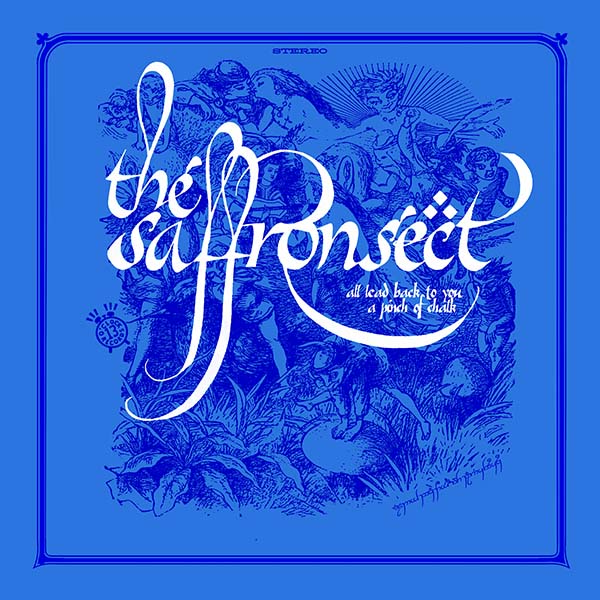 The Saffron Sect
All Lead Back To You b/w A Pinch of Chalk
Toronto, ON
From the one nights stands of Gabe Girard:
13 O'Clock Records, Austin's psych-pop repository extraordinaire indulges us with something more than a one night stand. The Saffron Sect alternate between sultry open-ended jams and glittering hooks loaded with bait attractive enough to catch fish for days. Not just faithful rehashes of 50s, golden era pop/rock psychedelia, this 7" inch carves out its own trajectory. Fishing for a good time starts with throwing in your line.
En direct des histoires d'un soir de Gabe Girard:
(Traduit par Diane Beaupré)
13 O'Clock Records, extraordinaire vitrine de la musique pop psyché d'Austin nous offre bien plus qu'une aventure d'un soir. Saffron Sect passe des improvisations endiablées aux mélodies accrocheuses qui nous hantent pendant des jours. Ce vinyle ne présente pas de reprises remâchées des succès de l'âge d'or du rock pop psychédélique, il trace son propre chemin. Il faut sortir des sentiers battus pour découvrir des trésors.
Nava Luvu
Blanket
(Self-Released)
Yellowknife, NWT
From the semi-conscious state of Gabe Girard:
A prolonged meditation on a droning, pulsing theme as inexorable as the frigid climate from which it hails, Nava Luvu offer Blanket – a cure for the common cold, among other ailments. They blur the line between tracks, opting for a record that could start and end anywhere you please. Allow yourself to be lulled into a pleasant, semi-conscious state, free from the burden of urban sprawl and inner city haste.
De l'état semi-conscient de Gabe Girard:
(Traduit par les yeux clos de Jessica Grenier)
Une méditation prolongée sur fond de pulsation bourdonnante aussi inexorable que le climat aride duquel il provient, Nava Luvu nous offrent Blanket, un remède pour soulager les rhumes, entre autres maladies. Ils ont brouillé la limite entre les pistes, optant pour un album qui pourrait commencer et finir où vous le souhaitez. Laissez-vous bercer jusqu'à un agréable état semi-conscient, libéré de la précipitation des grandes villes et du poids de l'étalement urbain.
Ronda Rindone
Gestation
(Self Released)
Toronto, ON
From the marital issues of Gabe Girard:
Enter a husband and wife in the middle of a deep discussion, marital issues spilling over into the debate. Instead of communicating with words, however, these lovers work it out with a bass clarinet, drum kit and a trombone. This image, supplemented with artistry and fearless improv, encapsulates the duo passages that begin Ronda Rindone's Gestation. They really do sound like genuine conversation, which of course is one of the goals of playing "new music" or "free jazz". A la Eric Dolphy, Rindone explores the entire tonal pallet of her horn, making the cumbersome bass clarinet sound as easy to play as a recorder. Joined by two cellos, two bass players and two drummers; this experimental, bass heavy ensemble creates complex, other-worldly textures with ease.
Des problèmes conjugaux de Gabe Girard:
(Traduit par Jessica Grenier)
Un couple marié en pleine conversation sérieuse, où se bouillonnent des problèmes conjugaux : plutôt que de communiquer avec des mots, ces amoureux s'expriment avec une clarinette basse, une batterie et un trombone. Cette image, à laquelle s'ajoutent talent artistique et improvisation audacieuse, encapsule la double voie inaugurant Gestation de Ronda Rindone. On croirait vraiment entendre une conversation – ce qui est bien sûr l'un des objectifs quand on joue du « new music » ou du « free jazz ». Rappelant Eric Dolphy, Rindone explore l'éventail de possibilités sonores de son cuivre, donnant l'impression qu'on peut jouer d'une encombrante clarinette basse aussi facilement que d'un magnétophone. Cet ensemble expérimental constitué majoritairement de basses – s'y joignent deux violoncelles, deux contrebasses et deux batteries – sait créer aisément des textures complexes et irréelles.
---