Tag: fuzz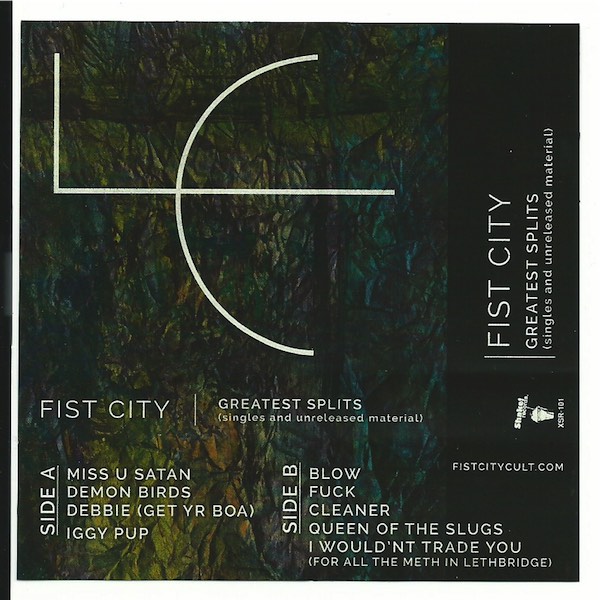 Fist City
Greatest Splits
Lethbridge, AB
From the ginger ale pizza bong runoff of Mitch Jackson:
If any band truly represents the pinnacle of all that is weird and good in Canada, it would be Fist City. Greatest Splits lets the Satan worshiping reptilian fiends inject terror into the hearts and minds of I AM Canadian™ Canada over riffs, noise and anthems buried underneath the fires and fuzz of hell. But that fuzz can only cover up so much of the unholy union. You too will realize that you miss Satan and you'll take him back at the Lethbridge Denny's tonight. Let him baptize you in meth and grand slams.
Des restants de bong, pizza et gingerale de Mitch Jackson:
(Traduit par les bribes sautillantes de Marie-Pier Chevrier)
S'il existe un groupe qui sache illustrer la somme de tout ce qui ce fait d'étrangement beau au Canada, il s'agit bien de Fist City. Greatest Splits laisse les bêtes reptiliennes satanistes injecter la terreur dans les coeurs et les esprits de I AM Canadian™ par-dessus les riffs, le bruit et les hymnes qu'enterrent les feux et les furies de l'enfer. Mais cette furie ne peut couvrir l'entièreté de cette union damnée. Vous réaliserez que Satan vous manque aussi et vous l'accueillerez à nouveau au Denny's de Lethbridge ce soir. Laissez-le vous baptiser de meth et de grands slams.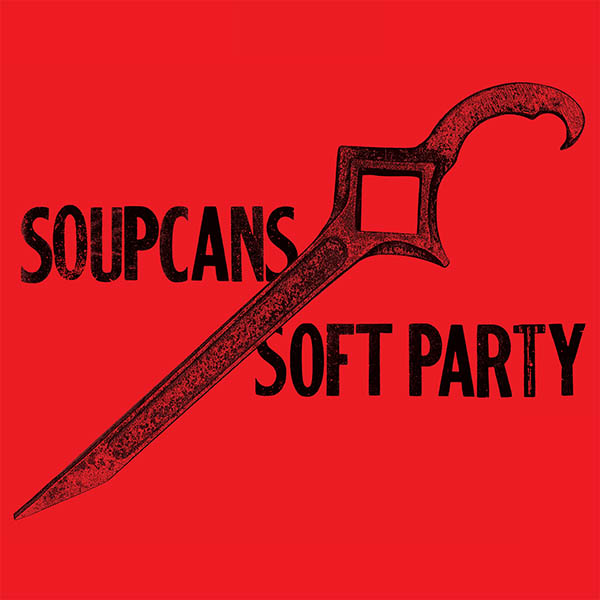 Soupcans
Soft Party
Toronto, ON
From the dank cold cellar of Mitch Jackson:
Word association would suggest a connection between Soupcans and Andy Warhol. That kind of product placement has no place on Soft Party, except if that product placement is for ear plugs. The brutal noise that persists throughout is lifted up by a constant flow of pure meat and potatoes sludge, like they are building a pipeline from the Campbell's Chunky soup factory right into the core of Hogtown, drowning Rob Ford on the Gardiner. Get your spoons ready.
De la cave froide et humide de Mitch Jackson:
(Traduit par le hache-viande plastique de Mackenzie Smedmor)
Les champs lexicaux suggéreraient un lien entre Soupcans et Andy Warhol. Ce genre de placement de produit ne se trouve nulle part sur Soft Party, à moins qu'il s'agisse de placement de produit pour des bouchons d'oreilles. Le bruit brutal qui persiste tout au long est soulevé par un déluge constant de purée viande et de boue de patates, comme s'ils construisent un pipeline de l'usine de la soupe Chunky de Campell's directement au cœur de Hogtown et font noyer Rob Ford sur la Gardiner. Préparez vos cuillères!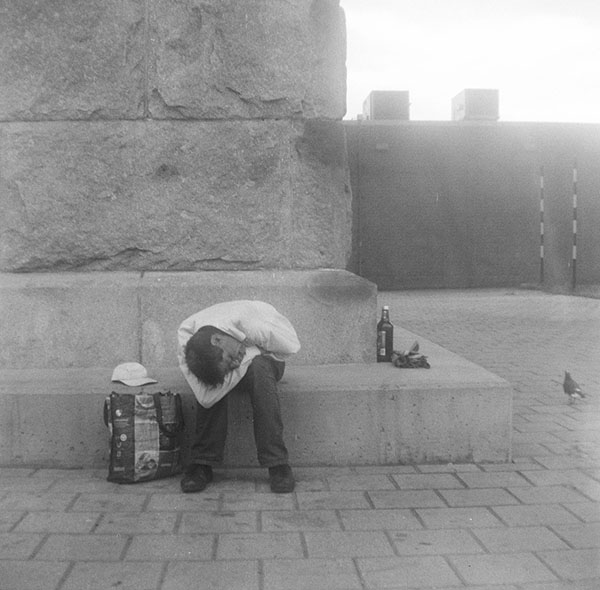 Stegosaurus
PUMMELED
Saint John, NB
From the Riverside dispatches of Ben Burnett:
Like the restless, Bukowski-esque malcontents of the 90's that preceded them – Kasher, Malkmus, Brock, – Stegosaurus desperately want to shed their own skin. Pummeled is a diary of Port City drudgery. Heavy with escapist fantasies, they're too pessimistic to be dreamers. This is a dirty, cathartic processional marching towards a darker horizon.
Des répartitions riveraines de Ben Burnett:
(Traduit par Mylène j'ai besoin de vacances Quevillon)
Tels les insatisfaits et les mécontents des années 90, du genre Bukowski, qui les ont précédés – Kasher, Malkmus, Brock, – Stegosaurus souhaite désespérément se renouveler. Pummeled est le journal de la lutte d'une ville portuaire. C'est la catharsis d'une marche processionnelle morose, vers un horizon encore plus sombre.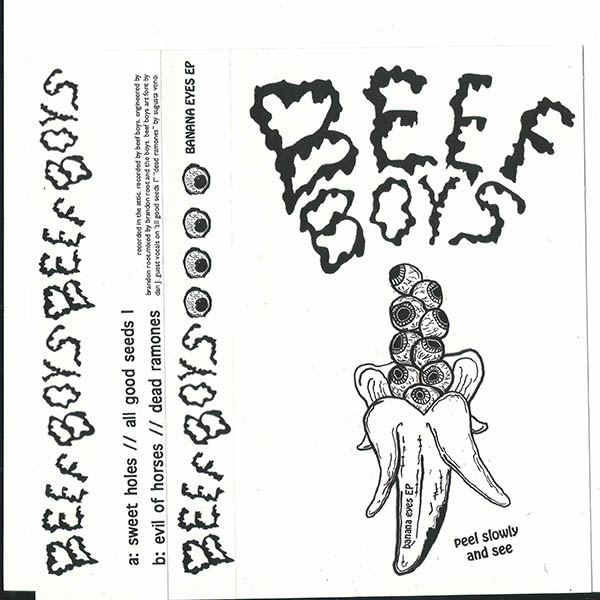 BEEF BOYS
Banana Eyes EP
(Four Eyes Recordings)
Peterborough, ON
From the anxiety ridden thought diarrhea of Mitch Jackson:
The last time I found myself in Peterborough I puked on the hood of someone's Buick. For the unacquainted, Peterborough is a safe haven in the surrounding Mad Max-esque shit storm of all terrain vehicles, and big lifted rigs. Beef Boys emanate from the underbelly of Peterborough, emerging through a slaughterhouse of reverb and fuzz, trading off surf and garage influences. They're decidedly greasy, and I have a sneaking suspicion that they all had a hell of a time tucking their flows into a bucket in minor league puck.
De la diarrhée causée par la pensée chargée d'anxiété de Mitch Jackson:
(Traduit par la surdose d'ipéca de Julie Mayer)
La dernière fois que je me suis retrouvé à Peterborough, j'ai vomi sur le capot de la Buick à quelqu'un. Pour ceux qui ne connaissent pas, Peterborough est un havre de paix situé dans le merdier Mad Max-esque débordant de véhicules tout-terrain et de grosses camionnettes qui font des cascades. Beef Boys émane des entrailles de Peterborough, émerge à travers un abattoir de réverbération et de fuzz et oscille entre des influences surf et garage. Les membres du groupe sont tout à fait louches et je commence à soupçonner qu'ils ont eu un mal fou à rentrer leur tignasse dans leur casque quand ils jouaient au hockey mineur.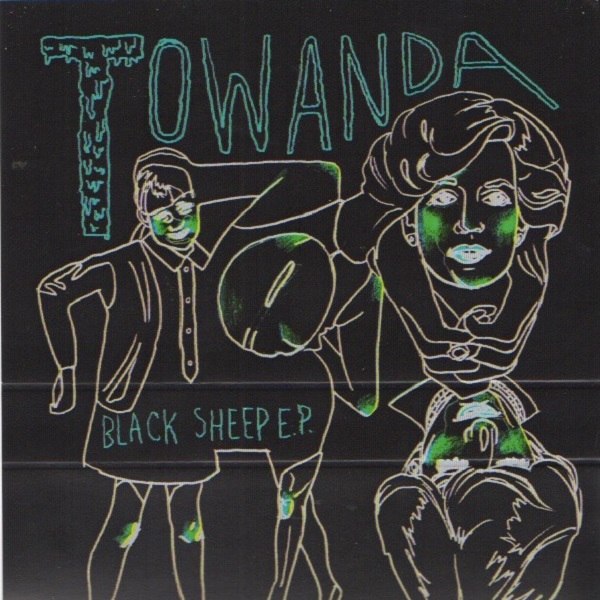 Towanda
Black Sheep
Montreal, QC
From the visual reveries of Simon Provencher:
Evoking rich gouache painted by the best preschoolers in the class, Black Sheep is lively, rich, energetic and almost naïve in its simplicity. This album gives us a powerful brushstroke of vocals that resonates through textured distortions, creating impressive feline rhythms. Without a doubt, there is a ton of creative genius behind and inside the haze of Towanda.
Des rêveries plasticiennes de Simon Provencher:
(From the Bescherelle of Zoë Christmas)
Rappelant une gouache épaisse, peinte par le plus talentueux des enfants de la garderie, Black Sheep est vif, immédiat, énergique et presque naïf par sa simplicité. On obtient, dans la galette, un puissant coup de pinceau vocal étoffé par des distorsions aux textures de carton mouillé et des rythmes fauves redoutables. Un génie créatif indéniable est évident derrière et dans le fuzz!
Arbutus
Bedroom Safari
Vancouver, BC
From the swirling tongue of Katie Jensen:
Palm trees tickle the beach with long, feathery fronds. The golden sun drips slowly, like an egg slipping off the counter. A youthful relic floats; trapped in sea foam, bobbing like a toy. If you could ( rewind your life, where would you press pause? Would you pull out the magnetic ribbons by the handful, watch the plastic spools whir and try to smudge out the mistakes? No sung hymn is holy enough to purify your heart.
De la langue tourbillonnante de Katie Jensen:
(Traduit par Jason Rule)
Des palmiers chatouillent la plage avec leur long feuillage plumeux. Le soleil d'or s'égoutte lentement, comme un oeuf glissant d'un comptoir. Une empreinte de jeunesse flotte, piégée dans l'écume de la mer, dansant comme un jouet . Si vous pouviez revenir en arrière, où voudriez-vous appuyer sur pause? Est-ce que vous feriez sortir les rubans magnétiques par poignées, en regardant le bourdonnement des bobines de plastiques et en essayant de maculer les erreurs? Aucun hymne chanté n'est assez sacré pour purifier votre coeur.
From the smoke-drenched greasy hair of Eddie & Alexis:
(Translated by Eddie & Alexis)
Dionysos is considered the first Québécois rock band with a full repertoire of originals. Proof may still be required, but they sure didn't need any covers! A bunch of stoner drifters from Valleyfield fuelled by Deep Purple and Mexican Gold took over the studio of Donald Lautrec, the king of yé-yé pop in Québec. There they recorded six heavy psychedelic progressive monsters, tightly wrapped in blues. Through the hypnotic organ spirals ("L'âge du Chlore") and bursts of fuzzed-up guitar ("Narcotique") singer Paul-André Thibert delivers a roaring worker's poetry on "Suzie," a song with lyrics always rhyming with its title. Yet we can't ignore P-A's performance on flute and harmonica. Most of the time, awkward, out of breath or flaky aren't great terms when it comes to music, but P-A gets to the core of these concepts as a raw, free, back-of-the-bus poet. Tripping way over the known parts of Québec rock at the time, Dionysos transcends Black Sabbath and Aut'Chose to become a revolted god who will fall into oblivion after its time.
Eddie & Alexis:
Dionysos serait le premier groupe rock québécois à avoir un répertoire entièrement francophone et formé de compositions. On ne sait pas si c'est complètement vrai, mais c'est tout un groupe rock et ils n'ont en effet pas besoin de faire de reprises. Une bande de zonards stoneurs de Valleyfield carburant au Deep Purple et au Mexican Gold ont pris d'assaut les studios de Donald Lautrec, le roi du yé-yé au Québec, avec un éventail de morceaux progressifs et psychédéliques solidement ancrés dans le blues. À travers des spirales d'orgues Hammond hypnotiques (L'âge du Chlore) et des déflagrations de guitare électrique (Narcotique), le chanteur Paul-André Thibert nous délivre une performance rugissante de poésie ouvrière. Notamment, dans Suzie, leur premier single, où il s'évertue à faire rimer toutes les lignes en i et laisse donc place à des phrases mémorables. On s'en voudrait également de ne pas donner une mention honorable à toutes les apparitions de flûte à bec et d'harmonica. En temps normal, les termes essoufflé, hésitant et mal à l'aise ne sont pas très bien vus pour parler d'instruments de musique, mais c'est mal connaître Thibert. En ses qualités de poète cru et libre, il réussit à en tirer le maximum et à puiser l'essence même de ces concepts. Voyageant bien au-delà des terres connues du rock québécois de l'époque, Dionysos transcende Black Sabbath et Aut'Chose et devient un dieu révolté qui tombera pourtant dans l'oubli.
Dionysos – Narcotique [extract]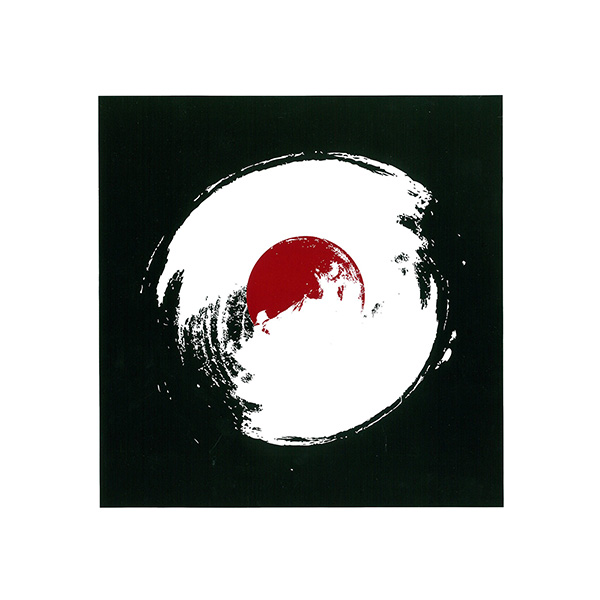 Sudbury's Geyser are soaked in as much whiskey and youth as distortion and haze, guitars buzzing and basses swirling before kicking in the door to sharp hooks and unruly vocals.
Geyser
Geyser EP
Sudbury, ON
From the rivers and skies of Brendan Lehman:
First in the catalog of Sudbury DIY imprint Radiclaw Records, the fuzz-tastic three-piece Geyser rock with an energy rarely seen. Soaked in as much whiskey and youth as distortion and haze, guitars buzz and basses swirl before kicking in the door to sharp hooks and unruly vocals: an homage to a bygone decade. Cold nights power gritty anthems, indignant to their backdrops, longing for the next chance to put the top down, throw the map away, and just ride.
Des cieux et des rivières de Brendan Lehman:
(Traduit par Jessica Grenier)
D'abord aperçu dans le catalogue DIY de Radiclaw Records (de Sudbury), le fuzz-tastique groupe tripartite Geyser rock avec une énergie rarement vue. Baignant autant dans le whiskey et la jeunesse que dans une distorsion brumeuse, les guitares bourdonnent et les basses tourbillonnent avant de transpercer la porte à coup de crochets et de voix désordonnées : un hommage à une décennie révolue. Des hymnes brutaux aux nuits froides, s'insurgeant de leurs paysages dans l'attente brûlante du prochain saut dans la décapotable pour jeter la carte et rouler droit devant.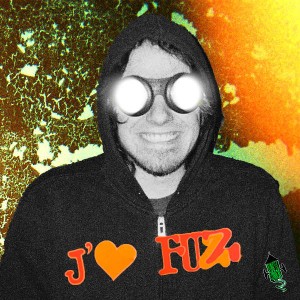 Various Artists
J'm le Fuzz
Asterisk, Canada
From the parochial paper of Hugo Hyart:
(Translated by Hugo Hyart)
Fuzz. As a watchword, in many forms: space grunge, ambient modular, hard stoned garage, pünk rawk, droney spatial, etc. (whatever you want). Different colours collide: dreamy fuzz, drossy fuzz, fuzz in trance, fuzz gazing at its shoes, fuzz pop, fuzz out of its orbital trajectory, fuzz phaser, hyperactive fuzz, black fuzz metal, fuzz and Diana Ross, exultant fuzz with examples in no particular order. A pleasurable rock 'n' roll 'n' hardcore post-punk booster shot opens the way for a trip from inner self to outer space through distorted jungles and lunar plains, hybrid nebulas and supernovae in breakdown. This spray-painted CD encases a first class compilation of international guests from the same dimensional plan. The serial compilers and publishers at Jeunesse Cosmique (by the numbers: 11 releases this year, including three compilations) put together a panoramic journey spotlighting rare celestial objects from a fuzz galaxy!
Du feuillet paroissial de Hugo Hyart:
Le Fuzz. En mot d'ordre, à toutes les sauces: grunge de l'espace, ambiant modulaire, garage planant, pünk rawk, spatial bourdonnant…peu importe ce dont vous avez envie. Différentes teintes se confrontent: fuzz onirique, fuzz crasseux, fuzz en transe, fuzz shoegaze, fuzz pop, fuzz à réverbe, fuzz sorti de sa trajectoire orbitale, fuzz phaser, fuzz hyperactif, fuzz métal, fuzz et Diana Ross, fuzz qui exulte par exemples dans le désordre. Une agréable piqûre de rappel rock'n'roll post-punk hardcore ouvre la voie à un voyage du moi intérieur vers le cosmos, à travers des jungles déformées et des plaines lunaires, des nébuleuses hybrides et des supernovas qui s'effondrent. Cet album peint à la bombe renferme une compilation de première classe, avec quelques invités internationaux venus du même plan dimensionnel. Les compilateurs et éditeurs en série de Jeunesse Cosmique, qui ont sorti 11 projets cette année, dont 3 compilations, ont mis au point un parcours panoramique qui met en valeur des objets célestes rares tirés d'une galaxie fuzz!
Ylang Ylang – Visionary Capsule for Two
---