Tag: fringe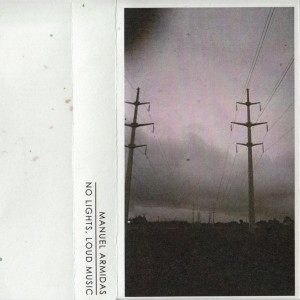 Manuel Armidas
No Lights, Loud Music
Montréal, QC
From the wool mind of Catherine Debard:
(Translated by Catherine Debard)
Less is more. Tear your heart out. Drink (a lot of) wine with friends. Stay up too late. Stay true to your feelings. Care. Walk across a red light, cars coming quickly. Feel the adventure. Be sincere. Stay simple, lo-fi. Imperfection is beauty. Get inside an abandoned house. Feel the void that used to be plenty. Invent stories. Shout. Howl. The voice is far in the distance. The voice is whispering softly. The voice is broken. The voice is lucid and true. Break your heart, rings on the table of coffees past and to come. Rings of smoke elevate from tiny balconies. Raise the pain. Fumble towards love. Your pain is equal to my pain, is equal to a thousand million heartaches sewn as one. Being human is complex, confused, in all its fragiliy. The guitar is the perfect instrument to soothe, calm. Feel the shadows of Bonnie 'Prince' Billy, Loren Connors, Devendra Banhart. The lo-fi free-folk of Manuel Armidas' No Lights, Loud Music is an intimate opus recorded in 2011.
De l'esprit laineux de Catherine Debard:
La simplicité. Prendre son coeur et l'arracher. Boire (beaucoup) de vin avec des amis. Se coucher trop tard. Rester vrai envers ses émotions. S'intéresser. Se soucier. Traverser une rue sur la lumière rouge, les voitures qui foncent. Sentir l'aventure. Être sincère, être lo-fi. Les imperfections forment la beauté. S'infiltrer dans une maison abandonnée. Sentir le vide qui a déjà été plein. S'inventer des histoires. Crier. Hurler. La voix est lointain. La voix chuchote, la voix est brisée. La voix est lucide et vraie. Briser son coeur. Les cernes de cafés passés et futurs sont sur la table. Les cercles de fumée s'évaporent de minuscules balcons. Élever la tristesse. Tâtonner vers l'amour. Ta douleur est égale à ma douleur, est égale à mille millions de coeurs brisés cousus ensemble. Être un humain, complexe, confus, dans toute sa fragilité. La guitare est l'instrument parfait pour apaiser, calmer. On sent les ombres de Bonnie 'Prince' Billy, Loren Connors, Devendra Banhart. L'opus intimiste free-folk lo-fi de Manuel Armidas, No Lights, Loud Music, a été enregistré en 2011.
Manual Armidas – My Days (Mad Days)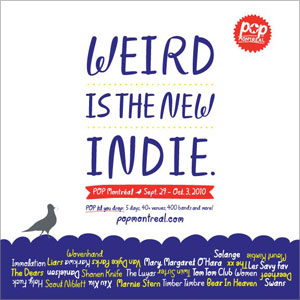 Arbutus Records Showcase
Pop Montreal 2010
(Thursday September 30, 2010 @ The Rialto Theatre)
Montreal, QC
From the new indie of Aaron Levin:
In the closing tides of 2010 there are few festivals left. And as this little corner of a website gleaned a few weeks ago, Canada's premiere indie-music festival (Pop Montreal) came through with a succinct and telling slogan: Weird is the New Indie. The obvious correlation is incidental, but the shifting focus to emerging music is a welcomed modulation in agenda. And to further drive the point home, Pop Montreal and Weird Canada will be presenting a showcase from one of Canada's furthest reaching boutique imprints. Arbutus Records (home to Sean Nicholas Savage, Grimes, Silly Kissers and many more) has become an asylum for many westward ex-pats flourishing within the inexplicable fringe-pop spectrum and has occupied prime real estate within Weird Canada's own borders. The label has grown from an e-mail address and a cd burner to a veritable force within the diy pop explosion running its course through our collective consciousness. Arbutus' materials have appeared on Pitchfork, Gorilla VS Bear, Altered Zones, Stereogum, Weird Canada (ha!), etc. and I can say without hyperbole that many within the indie music community are anxiously awaiting to hear their future. So, with much excitement, I'd like to encourage all of our readers in-and-around the Montreal area to attend both Pop Montreal and one of the best showcases during the five-day festival. Sebastian Cowan has worked many magicks; for that we love him dearly. Congratulations!
Pop Montreal & Weird Canada Present
Arbutus Records Showcase
SILLY KISSERS
GRIMES (album release)
POP WINDS
BLUE HAWAII
Date: Thursday September 30th @ 9pm
Location: The Rialto Theatre
Price: Five Dollars (available at Phonopolis & Cheap Thrills)
Du nouvel indie d'Aaron Levin:
(Traduit par Maya Keshav)
À la fin de l'année 2010 il n'y reste pas beaucoup de festivals. Et comme ce petit coin d'un site-web a découvert il y a quelques semaines, le meilleur festival d'indie pop du Canada (Pop Montreal) a créé un nouveau slogan bref et révélateur: Weird is the New Indie. La corrélation claire est accidentelle, mais le centre d'attention déplace à la musique émergente, et c'est une modulation bienvenue dans le programme. Et pour le démontrer plus encore, Pop Montréal et Weird Canada vont présenter une vitrine d'un des repiquages boutiques les plus influents du Canada. Arbutus Records (qui accueille Sean Nicholas Savage, Grimes, Silly Kissers, et beaucoup plus) est devenu un asile pour plusieurs expatriés de l'ouest qui prospèrent dans la gamme inexplicable du fringe-pop, et il a occupé un immobilier de premier choix entre les frontières de Weird Canada. Le label a commencé en tant que courriel et graveur, et il est maintenant devenu une énergie véritable dans l'explosion diy pop qui coule dans notre conscience collective. Les albums d'Arbutus apparaissent sur Pitchfork, Gorilla VS Bear, Altered Zones, Stereogum, Weird Canada (ha!), etc. et je peux dire sans hyperbole que plusieurs dans la communauté de musique indie ont tellement hâte d'entendre leur avenir. Alors, avec grand enthousiasme, j'aimerais encourager tous nos lecteurs dans la région montréalaise à assister à Pop Montréal ainsi qu'une des meilleures vitrines pendant le festival de cinq jours. Sebastian Cowan a travaillé vraiment beaucoup; pour ça on l'aime tellement. Félicitations!
Pop Montréal & Weird Canada présentent
Arbutus Records Showcase
SILLY KISSERS
GRIMES
POP WINDS
BLUE HAWAII
Date: jeudi 30 septembre à 21h00
Lieu: Théatre Rialto
Prix: Cinq Dollars (disponible à Phonopolis & à Cheap Thrills)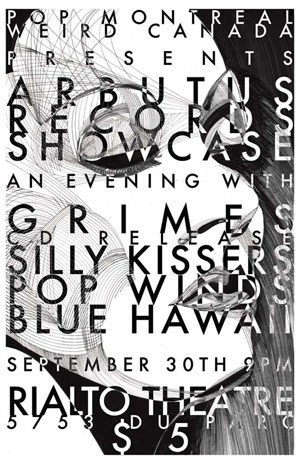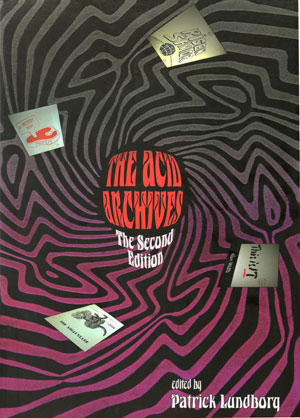 The Acid Archives [2nd Ed.]
Edited by: Patrick Lundborg
(Lysergia)
Stockholm, Sweden
Published: 2010
From the acidic archives of Aaron Levin:
The Acid Archives is the definitive guide to North America's musical underground. In succinct and thrilling prose (from which Weird Canada took much inspiration) an entire generation (1965-1982) of diy and minor-to-major-label long-playing visionaries across all boundaries are captured and documented. Scattered within the 5,000+ reviews of fringe-psych curiosities lies the ultimate guide to the Canadian underground. From Aaron Space to Warpig, Bent Wind to John Lyle, and Jeremy Doremouse to Christmas, the Acid Archives enshrines vintage Canada's unique indie soundscape. It's a crucial document of vintage Canadiana and a must own for anyone remotely interested in the indie culture of yore. I estimate approximately 400 reviews of archaic Canadiana. The 2nd Edition is a welcomed improvement on the black-and-white original; 400 colour pages, 1,000 additional reviews, essays and the fan-favorite top-ten lists. There are two Weird Canada references in the book; if you can find them I'll send you an LP reviewed in the archive. An exciting and phenomenal read. If you're on this website, you should own this book.
Des archives acides Aaron Levin:
(Traduit par Odile Leclerc)
The Acid Archives est un guide définitif vers les souterrains musicaux de l'Amérique du Nord. Dans une brève et excitante prose (duquel Weird Canada s'est beaucoup inspiré) une génération entière (1965-1982) de DIY et de label mineur-à-majeur de visionnaires qui jouent depuis longtemps à travers toutes limites sont capturés et documentés. Dispersés dans plus de 5000 critques de curiosités de psych marginal se trouve le guide ultime vers les souterrains Canadiens. De Aaron Space à Warpig, Bent Wind à John Lyle, et Jeremy Doremouse à Christmas, les Acid Archives conservent les anciens paysages sonores indie du Canada. C'est un document crucial du classique Canadiana et un doit-avoir pour n'importe qui ne serait-ce qu'un peu intéressé dans la culture indie d'antan. J'estime qu'approximativement 400 critiques de l'archaïque Canadiana. La 2e édition est une amélioration bienvenue sur le noir-et-blanc original; 400 pages de couleurs, 1000 révisions additionnelles, des rédactions et listes de top-dix préférées des fans. Il y a deux références de Weird Canada dans le livre; si vous pouvez les trouver je vous enverrai un LP révisé dans l'archive. Une lecture excitante et phénoménale. Si vous êtes sur le site web, vous devriez posséder ce livre.
---