Tag: fresh snow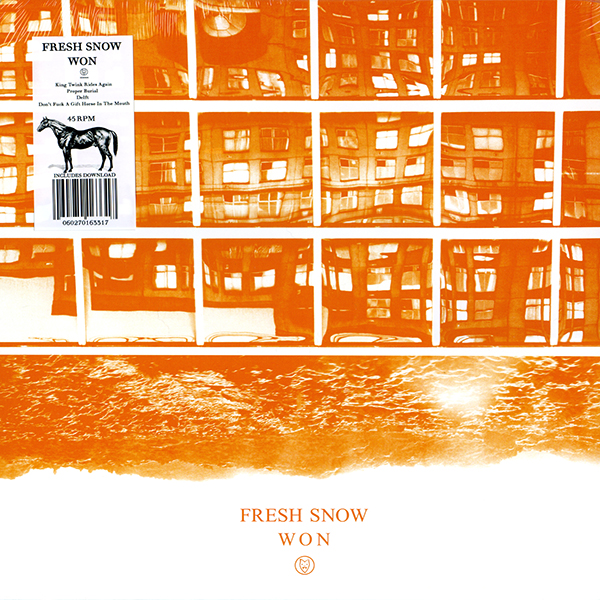 Fresh Snow
WON
Toronto, ON
From the frozen technology of Brendan Lehman:
City streets, forest paths; in and out, up and down. Running from one dirty thrill to the next euphoric hell. Fresh Snow is the score to your chase, sprinting with you as the graceful noise tears down walls and trees alike. Yet still, the sun will rise tomorrow.
De la technologie gelée de Brendan Lehman:
(Traduit par le soleil pensif de Maya Keshav)
Les rues de la ville, les chemins forestiers; ici et là, en haut et en bas. En courant d'un frisson louche vers le prochain enfer euphorique. Fresh-Snow est la bande sonore de ta chasse, qui court à toute vitesse avec toi pendant que les bruits gracieux démolissent les murs et les arbres. Mais tout de même, le soleil se lèvera demain.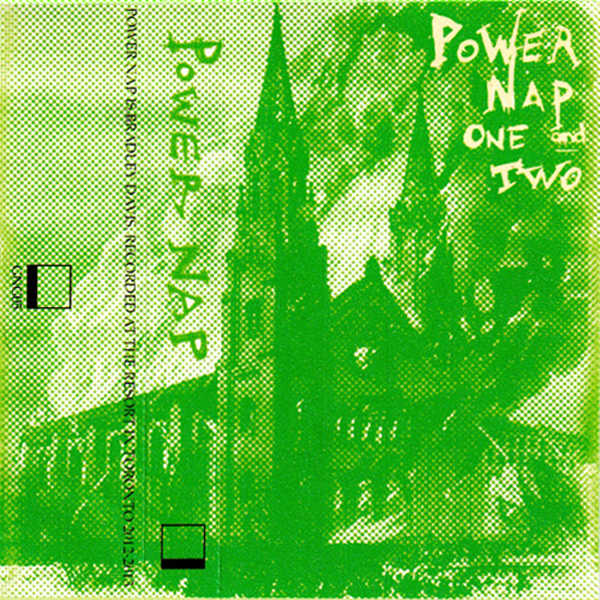 Bradley Davis of Fresh Snow engages on a cerebral tour of drones and synths.
Power Nap
One and Two
(Grunge Records)
Toronto, ON
From the moth-eaten gloves of Farah Barakat:
One and Two is the solo debut from Bradley Davis of Fresh Snow. Engaging on a cerebral tour of drones and synths, "One" begins with the steady chime of a gong. The echo carries into its next chime. A rhythm builds, bringing to mind Ottawa's iconic doom metal band Buried Inside. "Two" has a more guitar-driven and sinister feel, at one point accompanied by a brief verse that Davis sings himself. Albeit a sweet moment in the transition, it holds bittersweet menace, like the seconds after a nightmarish scene in a David Lynch film. Davis's technique goes beyond simply adding layers, opting for multi-instrumental and multi-dimensional soundscapes.
Des gants grugés par les mites de Farah Barakat:
(Traduit par la veste pleine de trous de Louis-Félix Pellerin)
One and Two est le début solo de Bradley Davis de Fresh Snow. S'engageant dans une tournée cérébrale de drones et de synthés, « One » commence avec le son régulier d'un gong qui résonne d'un coup à l'autre. Un rythme se crée, rappelant Buried Inside, le groupe ottavien iconique de doom metal. La guitare mène la danse dans « Two », qui a un air plus sinistre et qui, à un certain moment, est accompagné par un bref couplet chanté par David. Ça a beau sembler être un moment tendre incrusté dans la transition, comme les quelques secondes qui suivent une scène cauchemardesque dans un film de David Lynch, c'est aussi un moment rempli de terreur aigre-douce. La technique de Davis va au-delà d'un simple ajout de couches, optant plutôt pour des paysages sonores multi-instrumentaux et multidimensionnels.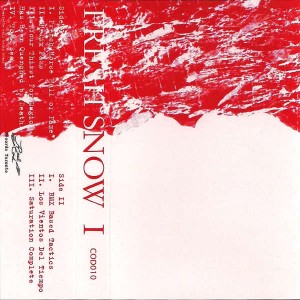 From the methadone serenity of Trevor Blumas:
I'm unsure whether the dudes in Fresh Snow conceived of an over-arching narrative for their debut album, but I certainly read it that way. Cassette-exclusive opener "French Horse Hall of Fame" lets you know immediately what kind of wild ride you'll be embarking on. Upon my first listen, I suddenly felt a sensation similar to that moment in the dentist chair, when the wonderfully numbing drugs begin to take over your body and the instruments of destruction start to mangle your teeth like a demolition site. The blissful screaming of the feedback symphony, which unrelentingly churns like an infinitely hollow stomach, only dissipated at moments to allow some genuinely groovy rhythms to carry me into a buzzsaw of enlightenment. I found myself in Nirvana, and it actually happened to look a lot like '70s era Berlin. Methadone serenity at times, stick-up at Checkpoint Charlie the rest.
De la sérénité de méthadone de Trevor Blumas:
(Traduit par les instruments de la destruction de Vincent Rondeau)
Je ne sais pas si les gars de Fresh Snow ont pensé à une histoire centrale pour leur premier album, mais c'est comme ça que je l'interprète. Le premier morceau (format cassette seulement) « French Horse Hall of Fame » donne immédiatement le ton de l'aventure effrénée qui suit. En l'écoutant pour la première fois, je me suis senti comme dans la chaise du dentiste, quand les analgésiques enveloppent peu à peu le corps tandis que les instruments de la destruction commencent à broyer les dents. Le cri bienheureux du feed-back symphonique bouillonnant comme un estomac infiniment creux se dissipe momentanément et des rythmes accrocheurs vous mènent vers le nirvâna des scies mécaniques. Oui, j'ai connu l'illumination, et ça ressemblait beaucoup à Berlin dans les années 70. Un peu de sérénité à la méthadone, beaucoup de hold-up à Checkpoint Charlie.
Fresh Snow – Your Thirst For Magic Has Been Quenched By Death!
---