Tag: free folk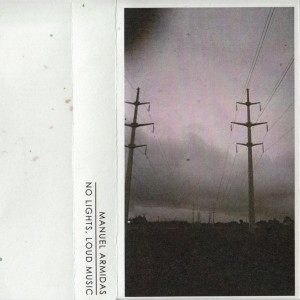 Manuel Armidas
No Lights, Loud Music
Montréal, QC
From the wool mind of Catherine Debard:
(Translated by Catherine Debard)
Less is more. Tear your heart out. Drink (a lot of) wine with friends. Stay up too late. Stay true to your feelings. Care. Walk across a red light, cars coming quickly. Feel the adventure. Be sincere. Stay simple, lo-fi. Imperfection is beauty. Get inside an abandoned house. Feel the void that used to be plenty. Invent stories. Shout. Howl. The voice is far in the distance. The voice is whispering softly. The voice is broken. The voice is lucid and true. Break your heart, rings on the table of coffees past and to come. Rings of smoke elevate from tiny balconies. Raise the pain. Fumble towards love. Your pain is equal to my pain, is equal to a thousand million heartaches sewn as one. Being human is complex, confused, in all its fragiliy. The guitar is the perfect instrument to soothe, calm. Feel the shadows of Bonnie 'Prince' Billy, Loren Connors, Devendra Banhart. The lo-fi free-folk of Manuel Armidas' No Lights, Loud Music is an intimate opus recorded in 2011.
De l'esprit laineux de Catherine Debard:
La simplicité. Prendre son coeur et l'arracher. Boire (beaucoup) de vin avec des amis. Se coucher trop tard. Rester vrai envers ses émotions. S'intéresser. Se soucier. Traverser une rue sur la lumière rouge, les voitures qui foncent. Sentir l'aventure. Être sincère, être lo-fi. Les imperfections forment la beauté. S'infiltrer dans une maison abandonnée. Sentir le vide qui a déjà été plein. S'inventer des histoires. Crier. Hurler. La voix est lointain. La voix chuchote, la voix est brisée. La voix est lucide et vraie. Briser son coeur. Les cernes de cafés passés et futurs sont sur la table. Les cercles de fumée s'évaporent de minuscules balcons. Élever la tristesse. Tâtonner vers l'amour. Ta douleur est égale à ma douleur, est égale à mille millions de coeurs brisés cousus ensemble. Être un humain, complexe, confus, dans toute sa fragilité. La guitare est l'instrument parfait pour apaiser, calmer. On sent les ombres de Bonnie 'Prince' Billy, Loren Connors, Devendra Banhart. L'opus intimiste free-folk lo-fi de Manuel Armidas, No Lights, Loud Music, a été enregistré en 2011.
Manual Armidas – My Days (Mad Days)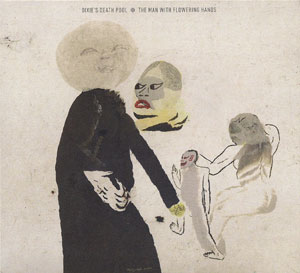 Dixie's Death Pool
The Man With Flowering Hands
Vancouver, BC
From the wilting wisps of Jesse Locke:
Shuffling and smiling through a moon-hung Ren. Faire when the dandelion wine has kicked in for the minstrels, electroacoustic jazzbo Lee Hutzulak dips into that crazy river. Tucked underneath his faded poncho, the twinkle-eyed lifeguard of Dixie's Death Pool unleashes a squadron of steam punk arachnids to undertake his mystical bidding. Rev up your electric flute, grab a Mackie Blackjack and get jiggy.
Du feu follet de Jesse Locke: (Traduit par les pissenlits pompettes de Maya Keshav)
En traînant les pieds et souriant à travers une Ren. Faire trempé de lune quand le vin de pissenlit a commencé d'affecter les ménestrels, le jazzbeau électroacoustique Lee Hutzulak saute dans ce rivière fou. Caché au-dessous de son poncho délavé, le sauveteur avec les éclats dans les yeux de Dixie's Death Pool déclenche un escadron d'arachnides steam-punk pour faire ses ordres mystiques. Alors montez en régime votre flûte électrique, prenez un Mackie Blackjack et dansez la gigue.
Dixie's Death Pool – Paper That Folds Itself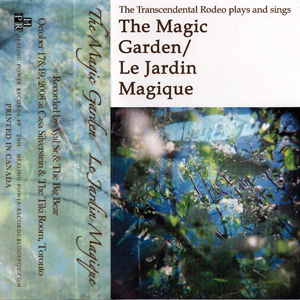 The Transcendental Rodeo
Plays and Sings: The Magic Garden / Le Jardin Magique
Toronto, ON
From the heavenly gates of Kevin Hainey:
Sounds of chimes, gongs, angelic voices male and female. An unseen hand pulls back a curtain, exposing a room filled with beaded sights and melting lights, incense stenches and the smells of foods fit for gods. The sound's engaging the movement of all in attendance, who are involved in the humanitarian orchestra of peaceful sound happening right now, for the sacrifice of the burdens put on us. Heightened by the senses, organized folk freedom makes you feel aware of emotions you seemed to have forgotten. Someone hands you some reefer, another points out an acoustic guitar sitting alone with no one to strum it, and before you know it you're part of a living landscape of tantric Babylonian psychedelic meditation. A warm beating heart of an ensemble led by the skilled Doc Dunn in a cold cage of a city. Feel these babies breathe, Side A from a living room, Side B including an audience. Put down that plastic fork you're holding, its comfort food will never satisfy you again. Come heal your soul in these pure vibrations.
Des portes célestes de Kevin Hainey: (Traduit par le marché babylonien de Maya Keshav)
Le carillon, le gong, les voix angéliques masculines et féminines. Une main invisible tire un rideau, en dévoilant une salle pleine de merveilles ornées et de lumières fondues, de puanteurs d'encens et d'odeurs des nourritures dignes des divinités. Le son cause le mouvement de tout le monde de présent, qui s'impliquent dans l'orchestre humanitaire de son tranquille qui se passe maintenant, pour le sacrifice des charges qui pèsent lourd sur nous. Intensifiée par les sens, la liberté organisée de folk te donne un sentiment de connaissance des emotions que tu avais l'air d'avoir oubliées. Quelqu'un te donne un pétard, quelqu'un d'autre te montre une guitare acoustique qui reste seule sans personne pour le gratter, et avant que tu le saches tu t'impliques dans un paysage vivant de méditation tantrique psychédélique babylonienne. Un cœur pulsant et chaleureux d'un ensemble guidé par le doué Doc Dunn dans une cage froide d'une ville. Regarde respirer ces bébés, la face A d'un salon, la face B inclut u public. Laisse tomber cette fourchette plastique que tu tiens, son bon petit plat va jamais te satisfaire encore. Viens guérir ton âme avec ces vibrations pures.
The Transcendental Rodeo – Magic (Excerpt 01)
---