Tag: frankie teardrop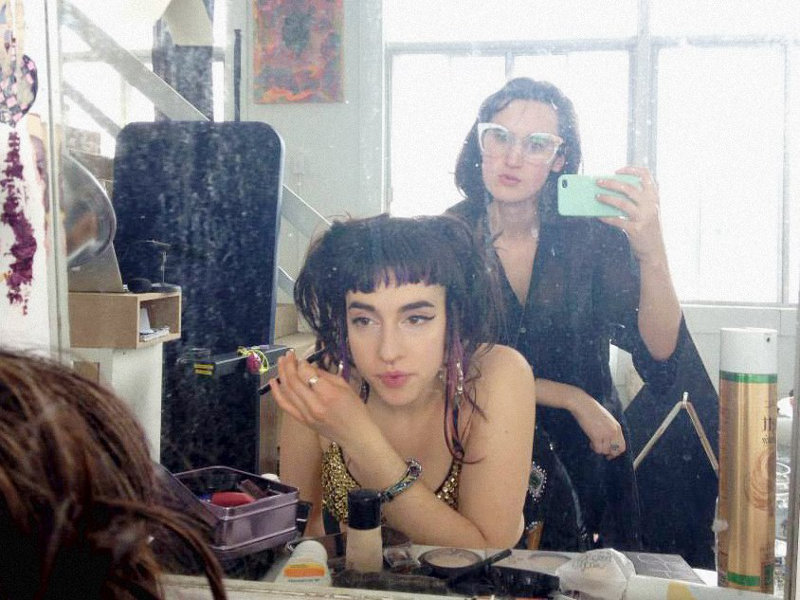 Frankie Teardrop and Samantha Garritano
Founders of Slut Island
Various Venues // June 5-13
Montréal, QC
From the slut heart of Catherine Debard:
About a month ago, I saw there was a call for women / queer / non-conforming artists for a festival called Slut Island in Montreal. I applied quickly because it represents a really important cause for me, as a woman, as a musician, and as a person. I was stoked to learn that I was accepted to play the festival. Here is a little chat with Frankie Teardrop and Samantha Garritano, the founders of Slut Island.
How did you come up with the idea of a FEMME FEST? Did you feel there was a gap to fill in Montreal's music scene?
We feel there is a gap to fill that extends way out of Montreal or any music scene. Sometimes women are made to feel like their access to 'the music scene' in general lies within their ability to 'act like one of the guys'. I (Sam) can attest to this when considering my own female experience. To feel empowered by my femininity rather than shameful about it took a lot of resistance and rejection of the ridicule and shame that society places on it.
Presenting in feminine ways, such as wearing heels and a lot of makeup, puts women in a position of objectification and we are preprogrammed to take away their agency when observing these markers of femininity. Being a femme* and feeling empowered by it and doing it for yourself and not for the purpose of being an object of the male gaze feels like a whole other ball game. It takes a lot of personal deconstruction to reach this point– for example: when we are all conditioned from a young age to call someone a 'pussy' when they don't want to do something, that is literally using female genitalia to shame or embarrass someone for having personal boundaries, which is totally fucked up. How can this make someone feel proud of their femininity? Femmes deal with a lot of bullshit on the day to day– I feel like this is an entire other interview in itself and it's actually really hard to sum up the complexities of this word in a paragraph.
The notion of a FEMME FEST is basically creating a space where there is no place for stigmatization of femininity– a reminder to confront our internalized misogyny, celebrate all the fabulous femmes for continuing to present in a way that feels comfortable to them, and not allowing it to make them feel less worthy of respect.
*For those less familiar with the term, femme in this context means someone who acts and presents in a feminine manner; this person does not have to identify as 'female' to identify as a 'femme.'
Slut Island is described as a queer event. Could you explain what it implies?
Again this is a huge topic so we will do our best to keep it short and sweet. A queer event means there is absolutely no tolerance for any disrespect towards anyone based on their race/class/gender/sexuality/body; any way you chose to act or present yourself so long as it causes no form of harm to anyone in any way is totally fair game. In a mainstream context the word 'queer' tends to just mean 'gay', but it has become an umbrella term which encompasses a lot more than that in modern feminist discourse. We just want our performers and attendees to be people who reject all the prejudice society has instilled in us and rather think critically about the way we think about ourselves and others, deconstruct our harmful patterns, and work constantly on resisting patriarchy and its negative effects on our self image and world views.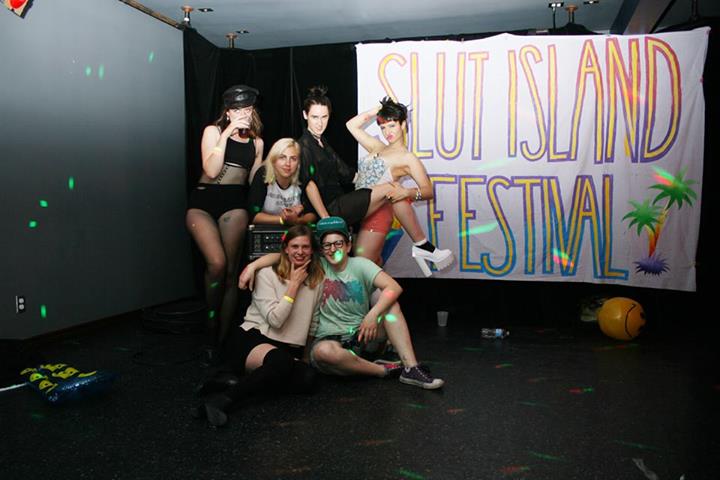 You talk about femme celebration, anti slut shaming, and body positivity. How do you want this positive vibe to manifest itself during the events?
In the imagined magical utopia that is Slut Island, people who represent a wide range of body types will feel free to dress and act as sexy as they feel and not be plagued by the notion that feeling good about your body is reserved for the tiny percent of the population who possess the mainstream perception of what a 'good body' is. This utterly unrealistic standard hinders everyone, although specifically female presenting people from feeling good about themselves on the daily. Not only does our society shame promiscuous women (sluts), but it also dictates what 'type' of body is the kind we're supposed to flaunt, so like, fat sluts are EXTRA not okay? The absurdity of this social norm is utterly infuriating and we, like many women, are so sick of the effects these standards have on our brains and self image. Fat-phobia is such a casual part of our everyday lives– it's horrible, it's oppressive and it needs to stop. No one should feel like their body isn't the right one to feel sexy in… FUCK THAT SHIT. We aren't expecting to put an end to patriarchy by having a festival–ideally, people will see it as a reminder that these things exist and to continue working on changing them. Again, this show is being put on for an by people who reject all that garbage, so hopefully it will manifest in everyone encouraging one another to feel good in whatever they show up in–be it a potato sack or a bikini, whatever.
Tell us a little bit about the line-up. How did you curate the events?
This was the hardest part! We did a submissions call out and received so many incredible responses. The resulting line-ups were our attempts at grouping such dramatically different acts into ways that make sense. To heavily oversimplify each night, this is sort of what you can expect:
June 5th at Playhouse, featuring Ghost Taco, Pretty Boys, Sigh Down One, Brother Moon, Sister Sun and FAKES and DJs Sass War and K7K8. This is more of a punk/performance art night. Expect vaginal soundscapes, blood curdling vocals, etc.
June 6th at La Vitrola has a more electronic, post-punk, no wave kind of vibe with Douce Angoisse, Dekoder, Food Stamps and Cheap Wig. Visuals throughout the night by the amazing J'VLYN, MCd by Peaches Lepage (who will become your queero). Jams brought to you by DJBOYZCLUB and Babi Audi.
The special edition matinee at Il Motore on Sunday, June 8th is a rad progression of five acts starting with more raw/vocal centric acts and progressing to a darker kind of electronic drone set with Charlotte Day Wilson, Empty Disco, Xania, Phoebe & Tanya and Gambletron. To sweeten the deal on this day, we have Domina Kalika and friends recruiting for the League of Lady Wrestling Montreal, with a mini battle and safe play workshop. This day is PAY WHAT YOU CAN at a wheelchair accessible venue.
June 12th at Piccolo Rialto is more of a glamourous dance pop kind of vibe with Lydia Ainsworth, TOPS, The Wayo, Light Fires and Jef Barbara. DJ/MC Mikiki Mikiki and DJ Like the Wolf are legendary queer babes who will blow your mind.
Closing the festival on June 13th at Playhouse is White Poppy, Big Sissy, YlangYlang and Syngja who will seriously activate all of your senses. Expect to hypnotized by all of these performances– analog projections by Zuzu Knew, theremin!!!!, wild vocals: serious trip. Also, in case you can't tell by their amazing DJ names, Miley Highrus and Compton Chic will get you wavvy.
Du coeur de slut de Catherine Debard:
(Traduit par Catherine Debard)
Il y a de cela à peu près un mois, j'ai vu un appel de soumissions pour un nouveau festival à Montréal, Slut Island, demandant à des artistes femmes/queer/non-conformistes en tout genres d'appliquer . J'ai rapidement soumis ma musique, le festival rejoignant totalement mes valeurs en tant que femme, musicienne et tout simplement en tant que personne. J'ai été franchement contente d'apprendre que j'allais jouer! Voici une courte discussion avec les deux fondatrices de l'évènement Frankie Teardrop et Samantha Garritano.
Comment êtes-vous arrivé avec cette idée de FEMME FEST? Est-ce que vous sentiez qu'il y avait un trou à combler dans la scène musicale Montréalaise?
Nous croyons qu'il y a des lacunes bien au-delà de Montréal, ou de n'importe quelle scène musicale. Parfois, les femmes sont amenées à se sentir comme si leur accès à "la scène musicale" en général dépendait de leur habileté à "agir comme les garçons". Je (Sam) peux en attester en considérant ma propre expérience. Ressentir un certain pouvoir par ma propre féminité au-lieu d'en être embarrassée m'a pris beaucoup de résistance et de rejet contre tout le ridicule et l'humiliation que la société y infuse. Se présenter d'une façon féminine, comme par exemple porter des talons hauts et beaucoup de maquillage, place la femme dans une position d'objectivation et nous sommes préprogrammés à enlever à une personne son agentivité dès que nous observons chez elle ces signes de féminité. Être une femme et y prendre du pouvoir et le faire seulement pour soi et non dans le but d'être un objet pour le regard masculin, c'est tout un autre combat. Ça prend beaucoup de déconstruction personnelle pour atteindre ce point. Voici un exemple: Nous sommes tous conditionnés depuis notre jeune âge à traiter quelqu'un de "pussy" quand il ne veut pas faire quelque chose. C'est littéralement utiliser les organes génitaux féminins pour humilier ou embarrasser quelqu'un pour avoir des limites personnelles et c'est franchement n'importe quoi. En quoi ça peut rendre une personne fière de sa féminité? Les femmes doivent composer avec un tas de conneries sur une base quotidienne, je sens que c'est une tout autre entrevue en soi et qu'en fait, c'est assez difficile d'énumérer toutes les complexités de ce mot en un paragraphe. La notion de "FEMME FEST" est à la base de créer un espace où il n'y a pas de place pour la stigmatisation de la féminité et c'est un rappel de confronter notre mysoginie internalisée et célébrer toutes les fabuleuses *femmes qui continuent à se présenter d'une façon qui leur est confortable et ne pas se laisser traiter avec moins de respect qu'elles méritent.
*Pour les gens moins familiers avec le terme, "femme" dans ce contexte, signifie quelqu'un qui agit et se présente de façon féminine. Cette personne n'a pas à s'identifier comme du "sexe féminin" pour être une "femme".
Slut Island est décrit comme un évènement queer. Pourriez-vous expliquer ce que ça implique?
Encore une fois le sujet est chaud, nous allons faire de notre mieux pour garder ça "short and sweet". Un évènement queer signifie qu'il n'y a absolument aucune tolérance pour le manque de respect vis-à-vis n'importe qui, basé sur sa nationalité/classe/genre/sexualité/corps; c'est peu importe la façon que vous voulez agir ou vous vêtir, du moment que ça ne blesse personne d'aucune façon. Dans un contexte plus populaire, le mot "queer" signifie "gai" mais c'est devenu un terme général qui englobe beaucoup plus que ça dans les discours féministes modernes. Nous voulons que nos performeurs et que notre public soient des personnes qui rejettent les préjugés que la société a instillé et qui réfléchissent plutôt de façon plutôt critique sur la manière que nous nous percevons ou percevons les autres, qu'ils déconstruisent les habitudes nuisibles et travaillent constamment à rejeter le patriarcat et son effet négatif sur l'image que nous avons de nous-mêmes et sur notre vision du monde.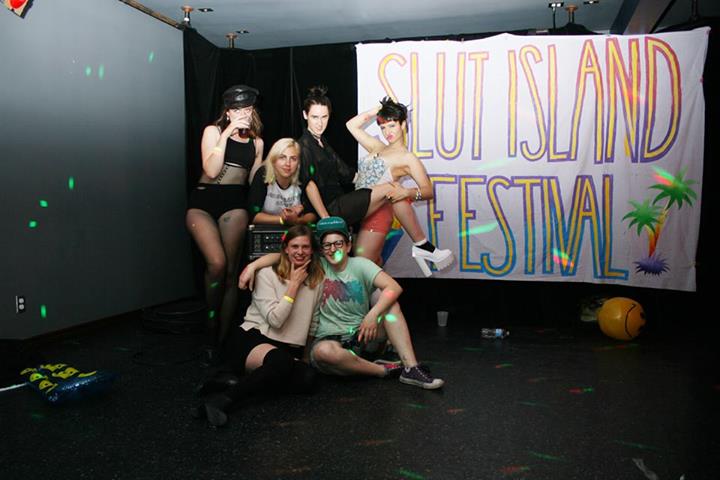 Vous parlez de "célébration de la femme", d'anti-humiliation de la slut et de positivisme du corps, comment voulez-vous que cette énergie positive se manifeste durant les évènements?
Dans le monde utopique magique qu'est Slut Island, des gens qui représentent un vaste éventail de types de corps se sentent libres de s'habiller et d'agir de façon aussi sexy qu'ils le veulent sans être assaillis par la notion que ce sentir bien envers son propre corps est réservé à l'infime pourcentage de la population qui possède les caractéristiques populaires de ce qu'est "un beau corps". Ce standard complètement irréaliste entrave tout le monde, quoique spécifiquement les gens qui se présentent de façon féminine, les empêchant de se sentir bien envers eux-mêmes sur une base quotidienne. Non seulement notre société humilie les femmes "aux moeurs légères" (sluts), mais elle dicte également le "type" de corps de nous devrions exhiber: ça veut dire que les grosses sluts c'est VRAIMENT pas correct? L'absurdité de cette norme sociale est tellement frustrante et nous, comme tant d'autres femmes, sommes exaspérées des effets que ces normes ont sur nos cerveaux et sur notre image de soi. La phobie du gras prend une place tellement banale dans notre vie au quotidien, c'est horrible, c'est oppressant et ça doit cesser. Personne ne devrait se sentir comme si son propre corps n'est pas le bon pour se sentir sexy… FUCK THAT SHIT. Nous ne nous attendons pas à cesser le patriarcat en organisant un festival, idéalement, les gens le verront comme un rappel que ces choses existent et qu'ils continueront à travailler à les changer. En fait, ces spectacles sont mis sur pieds par des gens qui rejettent toute cette merde alors, avec chance, cette attitude va se manifester en ayant tout le monde encourageant autrui à se sentir bien peu importe la façon qu'ils se présentent, que ce soit dans un sac de patates ou dans un bikini.
Parlez-nous un peu de la programmation. Comment avez-vous pensé les évènements?
Ça a été le plus compliqué! Nous avons fait un appel aux soumission et avons reçu tant d'incroyables réponses. La programmation qui en découle représente notre tentative de regrouper des artistes dramatiquement différents en des évènements qui se tiennent. Pour simplifier à outrance chacune des soirées, voici ce à quoi à s'attendre :
Le 5 juin au Playhouse, avec Ghost Taco, Pretty Boys, Sigh Down One, Brother Moon, Sister Sun, FAKES et les DJs Sass War et K7K8, ce sera une soirée plus punk/performance. Il faut s'attendre à des ambiances sonores vaginales, des voix à retourner le sang, etc.
Le 6 juin à la Vitrola aura une atmosphère plutôt électronique, post-punk, no wave avec Douce Angoisse, Dekoder, Food Stamps et Cheap Wig. Les visuels tout au long de la soirée seront faits par l'incroyable J'VLYN et l'animation par Peaches Lepage (qui deviendra votre queero). Il y aura également du good vibe par DJBOYZCLUB et Babi Audi.
La matinée au Il Motore, le dimanche 8 juin, est une progression géniale de cinq artistes, débutant avec des actes plus crus et centrés sur la voix et progressant peu à peu dans vers une ambiance de drone électronique obscure avec Charlotte Day Wilson, Empty Disco, Xania, Phoebe & Tanya et Gambletron. Pour adoucir le tout, nous avons Domina Kalika et ses amies qui recrutent pour la Ligue de Lutte Féminine de Montréal avec un court match et un atelier pour jouer prudemment. Cette journée est PAY WHAT YOU CAN (Donnez-ce-que-vous-voulez) et est dans une salle de spectacle accessible pour les chaises roulantes.
Le 12 juin au Piccolo Rialto, ce sera une soirée plus chic dance pop avec Lydia Ainsworth, TOPS, The Wayo, Light Fires et Jef Barbara. DJ/MC Mikiki Mikiki et DJ Like the Wolf sont des queer babes légendaires qui vont vous éblouir.
Pour conclure le festival, le 13 juin au Playhouse, White Poppy, Big Sissy, Ylang Ylang et Syngja vont sérieusement activer tous vos sens. Attendez-vous à être hypnotisés par ces performances, projections analogues de Zuzu Knew, thérémine!!!!!, vocaux sauvages: méchant trip. Aussi, au cas où vous n'auriez pas vu leurs noms de DJs trop chouettes : Miley Highrus et Compton Chic vont vous faire bouncer.
---