Tag: francophone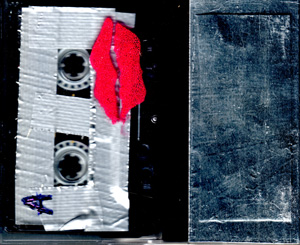 Géraldine
Baiser avec un miroir
(Autoproduit/Indépendant)
Montreal, QC
From the reversed face of Benoit Poirier:
On November 2010, Géraldine, her doll voice and her accomplice Navet Confit put out Sold-out Capitalisme, an intriguing and complex LP of playful gaffer pop and hooded grunge. Five months later, they take out the four-tracks and are back with a tape on which they revisit and thrash down a bunch of the songs from the album with a Casio and a beatbox. The result is a far more spontaneous and jauntier rendering that goes from proto to post while keeping things simple enough to scare the little kids and make the artsy ones dance. (Best of all, side B contains the same tunes as side A, but in reverse – miroir!)
De la face à l'envers de Benoit Poirier:
En novembre 2010, Géraldine, sa voix de poupée et son acolyte Navet Confit ont fait paraître Sold-out Capitalisme un LP instrumenté, intriguant et complexe de gaffer pop ludique et de grunge cagoulé. Cinq mois plus tard, ils sortent leur four-tracks et reviennent avec une cassette sur laquelle ils reprennent et salissent plusieurs des pièces de l'album avec un Casio pis une boîte à rythmes, pour un rendu spontané et encore plus amusé qui va du proto au post tout en gardant les choses assez simples pour faire peur aux enfants et faire danser les artsy kids. (Pis le côté B contient les mêmes tounes que le côté A, mais à l'envers – miroir!)

Géraldine – Tendance

Geraldine – Sold-Out

Geraldine – Ecnadnet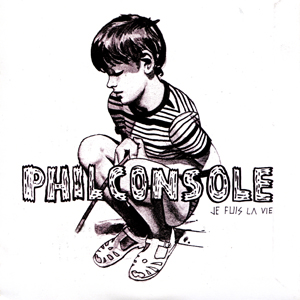 Phil Console
Je fuis la vie
((Les Records Public Squaw)
Montreal, QC
From the fruits of Benoit Poirier:
With a generosity that can only be compared to his height, Phil Console sprinkles his post-garage jangle with no-wave moves by using an instrument that takes us all back to when the foot-stomping fun began: the banjo. With riffs that formally rally generations (everybody loves a banjo), a relentlessly minimal floor-tom + snare drum setup and chant-along choruses inspired from (his) crying baby, Je fuis la vie is the most punk of the four EPs released between 2009 and 2010 by M. Console, but he invites you to appreciate (download) them all at here.
De la fuite de Benoit Poirier
:
Avec une générosité qui n'a d'égale que ses 6'quelques", Phil Console approche ses tounes post-garage avec une légère intention no-wave, soulignée entre autres par un instrument qui remonte à la source du tapage de pied :
le banjo
. Avec des riffs serrés qui traversent formellement les âges (tout le monde aime le banjo), une batterie floor-tom + caisse claire minimaliste mais implacable et des chœurs inspirés d'un (son) bébé qui pleure, ce deuxième d'une série de 4 maxis est le plus punky du lot, mais M. Console vous invite à apprécier (télécharger) le reste aussi :
http://www.mediafire.com/philconsole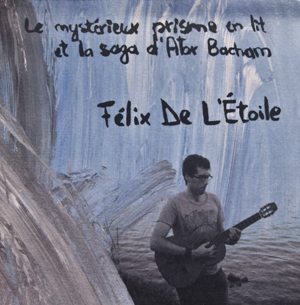 Félix de l'Étoile
Le Mystérieux Prisme en Lit et la Saga d'Ator Bacham
Montreal, QC
From the psychedelic pilgrimage of Gabriel Jasmin:
Le Mystérieux Prisme en Lit et la Saga d'Ator Bacham is singer-songwriter Félix de l'Étoile's first album, filled with hallucinatory visions and all-out surrealist prose. He staggers loosely through a wide variety of musical genres, from a psychedelic-Indian-garage freak-out jam to interplanetary progressive groove. His signature lo-fi, controlled-chaos, heavily layered production somehow manages to retain the album's coherence. From inside his bedroom studio, Félix de l'Étoile travels to angular horizons of psychedelic wonderlands. Join Ator Bacham in his saga. It's a trip well worth taking.
Du pèlerinage psychédélique de Gabriel Jasmin:
Le Mystérieux Prisme en Lit et la Saga d'Ator Bacham est le premier album du chansonnier solo Félix de l'Étoile, sur lequel il nous partage ses visions hallucinogènes et sa plume franchement surréaliste. C'est un vrai dédale chancelant de styles musicaux, passant d'un délire garage-indien-psychédélique au groove progressif interplanétaire. C'est sa signature dense, chaotique et lo-fi qui permet de maintenir la cohésion de l'album. De son studio de chambre à coucher, Félix de l'Étoile traverse les horizons d'espaces psychédéliques et angulaires. Suivre Ator Bacham dans sa saga, c'est un voyage qui vaut la peine d'être écouté.
Félix de l'Étoile – Brasse ton Corps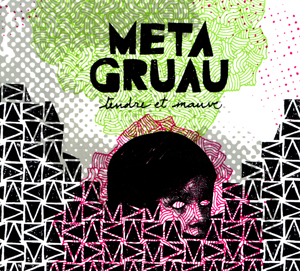 Meta Gruau
Tendre et mauve
(Flange Patrol)
Montreal, QC
From all the tenderness of Benoit Poirier:
Montreal's left-field electro-rock scene has been drawing attention since the late Georges Leningrad put it on the map, and then Duchess Says and We Are Wolves took the torch. Meta Gruau fits in this line of fine music providers but sets itself apart with a more constructed form (easy), a plastic poetry and a louder rhythm. And they also proudly silkscreened their 500 CD covers. By integrating uncanny but danceable synths, the whole thing oscillate to either make you move, close in on you or make you feel gazed upon if you pay too much attention. Dance, don't listen with headphones. But then again, it's your choice.
De la tendresse de Benoit Poirier
:
L'électro-rock oblique montréalais attire l'attention depuis un bail, grâce au défrichage de feu Les Georges Leningrad, à la prise du flambeau de
Duchess Says
et à l'ascension pop de
We Are Wolves
. Meta Gruau s'inscrit dans cette lignée mais se démarque avec une forme plus construite (facile), une poésie plastique et un rythme plus lourd. Ils ont l'avantage d'avoir eux-mêmes sérigraphié leurs 500 pochettes. En intégrant des synthés rythmés par une inquiétante étrangeté , l'ensemble oscille, si bien que tu peux danser, te sentir enveloppé ou encore observé si tu prêtes trop attention. Danse, écoute pas ça avec des écouteurs. Pis encore, c'est de tes affaires.
---