Tag: folk-rock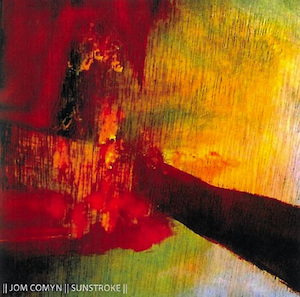 Jom Comyn
Sunstroke EP
Edmonton, AB
From the brutalist centre of Jared Majeski:
Mentioned before are the utterances and inspirations one communicates through simple habitation of an isolated, brutalist centre like Edmonton. Pleasantly mercurial, Jom Comyn's disparate croonerism makes us venture not waaaaaaay up, but way in; another rural-reared summation of despair, darkness, love and family. Sunstroke fuses steady melody ("Hatchet in the Garage"), sharp-toned proggy instrumentation ("Heatstroke") and neighbourly back-up; all of course lathed with that familiar subtly of Jim Cuming's monochromatic vocals. Wherever your tiny existence rests each night, remember to collect dust, soak up the eternal cold and take heed of your surroundings.
Du centre brutaliste de Jared Majeski: (Traduit par Odile Leclerc)
Mentionné avant sont les énonciations et les inspirations qu'une personne communique à travers de simple habitation d'un centre isolé et brutaliste comme Edmonton. Agréablement mercuriel, le chantonnement disparate nous fait nous aventurer pas biiennn en haut, mais bien dedans; une autre addition de désespoir, de noirceur, d'amour et de famille. De l'insolation fusionne une mélodie stable ("Hatchet in the Garage"), de l'instrumentation prog au timbre tranchant (''Heathstroke'') et de soutien de voisin; tous bien évidemment latté de ce subtil familier des vocales monochromatiques de Jim Cuming. Peu importe où votre petite existence se repose chaque nuit, souvenez-vous de ramassez de la poussière, trempez le froid éternel et prenez garde à ce qui vous entoure.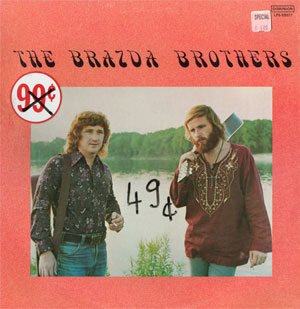 The Brazda Brothers
The Brazda Brothers
(Dominion)
??, ON
Originally Released, 1973
From the Russian imports of Aaron Levin:
These two Russian hippie-bros emigrate to Ontario and release an album celebrating the pastoral scenery of their new home. With thick, stilted Ruskie accents and strange instruments (Cordovox?) they weaved twelve streams of folk-rock textures in dedication to our unique landscape. Their foreign perspective is the album's greatest strength; take their journey and visualize the vast industrial heartland through outside, lysergic eyes. The resulting innocence, both serene and moving, place the Brazda Brothers alongside other nationalized fringe-folk canon whose trails into uncharted territory shaped our anomalous soundscape (Riverson, Ptarmigan, PCC, etc). The band claims that 5,000 copies were pressed but the number of known copies states otherwise. Released on a budget label concerned mostly with fiddle and children LPs. I flipped my lid when I found a sealed copy of this!
Des impôts russes d'Aaron Levin: (Traduit par l'espionne Russe qui est Maya Keshav)
Ces deux hippie-frères émigrent en Ontario et publient un album qui célèbrent les paysages pastoraux de leur nouveau chez-eux. Avec les accents russes guindés et les instruments bizarres (le Cordovox?) ils tissent douze flots des textures trad-rock dédiés à nos paysages uniques. Leur perspective étrangère est la force de l'album; faites leur voyage et voyez le coeur vaste et industrialisé avec leurs yeux étrangers et lysergiques. L'innocence qui résulte, aussi sereine qu'émouvante, met les frères Brazda aux rangs des autres groupes fringe-trad maintenant nationalisés, les chemins desquels dans un territoire inexploré ont formé nos paysages difformes (Riverson, Ptarmigan, PCC, etc). Le groupe soutient qu'ils ont imprimé 5 000 numéros mais la quantité des numéros connus dit autrement. Enregistré avec un label budget qui publie pour la plupart les LPs du violon et pour les enfants. J'était bouleversé quand j'ai trouvé ce LP scellé!
The Brazda Brothers – 20th Century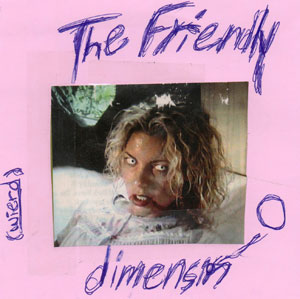 The Friendly Dimension
Choose Your Own Adventure
(Self-Released)
Halifax, NS
From the unidimensional freak show of Aaron Levin
Take a collection of B-sides and rarities by a group with only one official release and you have a snapshot of our wasted youth. Choose Your Own Adventure is a voyeurs guide to summers spent trolling sidewalks for personal anthems. There is truth in the dirty concrete beat to death by the endless footsteps of teenagers. Visit any mall and you'll hear it: resilient visions of psychotropic folk-rock, catalysts for our lazy, veiled teendom, and subconscious grooves pulling us back to summers of hidden cigarettes and hairspray secrets. We've all been teenagers bored to death by a world with too much to offer. Let The Friendly Dimension be your guide. If you want to enter their audible vortex, click here. If you're suspicious of what they're offering and would like to win free stuff from the internet, click here.
Du musée unidimensionnel des horreurs d'Aaron Levin:
(Traduit par Maya Keshav)
Ramasse une collection de faces B et de choses rares d'un groupe avec un seul enregistrement et voilà un aperçu de notre jeunesse perdue. Choose Your Own Adventure est un guide pour les voyeurs aux étés passés en cherchant les trottoirs pour un hymne personnel. Il y a de la vérité dans le rythme sale de béton auquel les ados marchent jusqu'à la mort avec les pas interminables. Rends visite à n'importe quel centre commercial et tu l'entendras: les visions résistantes du trad-rock psychotrope, les catalyseurs pour notre adolescence paresseuse et voilée, et les tounes subconscientes qui nous transportent aux étés de cigarettes cachées et de secrets de laque. On a été tous des ados qui s'ennuyaient à mourir par un monde avec trop d'offrir. Laisse être ton guide The Friendly Dimension. Si t'as envie d'entrer leur tourbillon audible, clique ici. Si t'es méfiant de ce qu'il offre et t'as envie de gagner les choses gratuites de l'internet, clique ici.
The Friendly Dimension – Samurai
The Friendly Dimension – Hero in my Head
---