Tag: folk-psych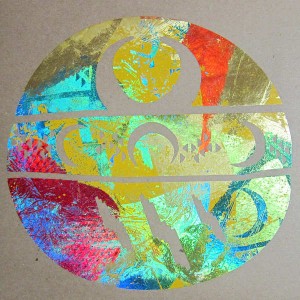 From the sky father yod of Jesse Locke:
The good Doc Dunn casts a sunbeam of soli on this transcendental rambler into the everloving dawn. Tecumseh is a double-dipped dose of avant-trad ecstasis and EZ listening lift-off for country-fried cosmonauts with a trusty harmonica as its guiding star. After years of percolation, this Healing Power platter is a gift for the ages, complete with art lovers' editions-of-one foil gleam sleeves. Read the full tale from the flowing pen of Kevin Hainey, get thee to a turntable and get gone.
Du père céleste de Jesse Locke:
(Transcendé par Vincent Rondeau)
Ce cher Doc Dunn nous revient en lançant des rayons de solos vers l'aube bienveillante avec cette collection de divagations transcendantales. Tecumseh offre une dose double d'extase avant-trad et d'easy-listening planant pour cosmonautes panés, sous l'égide vigilante d'un harmonica. Après des années de percolation, cette galette mémorable (sur Healing Power) est offerte dans une variété de pochettes uniques brillantes pour les amateurs d'art. Kevin Hainey raconte la légende en détail ; pour le reste, rendez-vous à une table tournante et partez à l'aventure.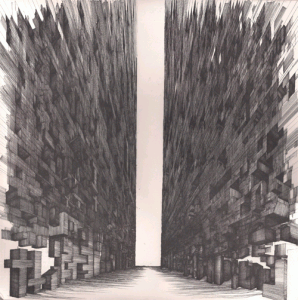 Black Walls
Acedia
Etobicoke, ON
From the crushing placidity of Mark Teo:
Acedia dives into the depths of Ken Reaume's psyche, and it's a sprawlingly gorgeous — if occasionally unsettling — place. Teenage skate-vid ephemera (see "Brian Lotti," narrated by the legend himself) intersects with finger-picked guitar cascades; sparse drum robotics, as on "Hiatus" or "Sun to Rise," underscore crushingly placid vocals, recalling Red House Painters after a three-day chemical bender; "Pines" is a blackened vocal choir for the Godless, before being washed away in whitecaps of white noise. Acedia's final chapter, "Mark's Song," is a full-blown Sunday morning existential crisis: It cracks the blinds to Reaume's sunny finger-picking, before the previous night's minor-key regrets slowly seep in. Beautiful, blackened psych-folk for the self-loathing.
De le flegme dévastateur de Mark Teo: (Traduit par la dévastation flegmatique de Maya Keshav)
Acedia saute dans les entrailles de l'âme de Ken Reaume, et c'est un endroit merveilleusement étendu— même si c'est occasionnellement perturbant. Les éphémères skate-vidéo d'ado (veuillez voir "Brian Lotti", raconté par la légende elle-même) se croisent avec les flots de guitare doigtée; la robotique rare de batterie, comme dans "Hiatus" ou "Sun to Rise", souligne le chant terriblement placide, en rappellant Red House Painters après une tornade chimique de trois jours; "Pines" est une choral noircie pour ceux qui sont sans dieu, avant qu'il soit enlevé par les crêtes de bruit blanc. Le dernier chapitre d'Acedia, "Mark's Song", est une crise existentielle véritable de dimanche matin: Il ouvert les stores aus grattements de doigt insouciants de Reaume, avant que les regrets en mode mineur de la nuit dernière gouttent lentement. Le beau psych-folk noirci pour tout le monde qui a haine de soi-même.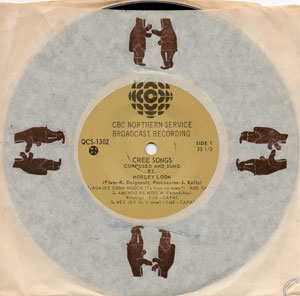 Morley Loon
Cree Songs
(CBC Northern Service Broadcast Recording)
??, NWT
Originally Released: 197?
From the northernly service of Aaron Levin:
Mystic folk-psych drifting between a Native American tradition and the first wave of acoustic lysergia. Morley's intimate Cree singing is augmented by woven strands of ethereal flute, hand percussion, and melancholic guitar, conjuring a dense empathetic miasma. One of the most affecting records I've ever heard. Found in a pile of CBC Northern Broadcast Recording 7″s I received from a friend and the only of its kind I've ever encountered. If you know anything about Morley Loon (who unfortunately passed away some years ago), please get in touch. A short history of recording sessions in this series can be found here (PDF). 500 copies pressed and distributed as promos.
Du service du nord d'Aaron Levin: (Le mode en rafale de Odile Leclerc)
Le trad-psych mystique qui flâne entre une tradition autochtone et la première vague d'acoustique-lysergique. Le chant cri et intime de Morley et augmenté par les éléments tissés de flûte céleste, des percussions à main, et de guitare mélancolique, en évoquant un miasme intense et empathique. Un des enregistrements les plus émouvants que j'ai jamais entendus. Je l'ai découvert dans un tas des 7" de CBC Northern Broadcast Recording que j'ai reçu d'un ami et c'est le seul de son genre que j'ai jamais rencontré. Si vous connaissez quelque chose à propos de Morley Loon (qui est malheureusement mort il y a quelques ans), s'il vous plaît, contactez-moi. Une courte histoire des séances d'enregistrement dans cette série se trouve ici (pdf). 500 numéros étaient imprimés et distribués en tant que promos.
Morley Loon – Agajee Dona Nooch (To hunt no more?) // Morley Loon – Deb Skum (My Own)
---