Tag: Flora Hammond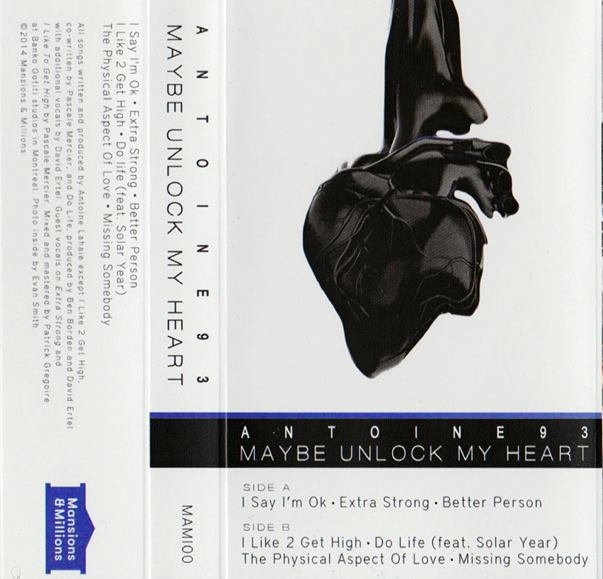 Antoine93
Maybe Unlock My Heart
Montréal, QC
From the (un)locked heart of Cassilou Landra:
One of the more interesting developments in 2014 was the rise of London label PC Music. Taking equal cues from mainstream pop (Carly Rae Jepsen, Calvin Harris), 20th century contemporary classical (Morton Feldman, Contan Noncarrow), and contemporary electronic music (Hudson Mohawke, Night Slugs), their unique brand of experimental pop resonated and polarized listeners enough to suggest a sea change in the way experimental and pop music is combined and digested.
A key player in Canada's pop renaissance is Montreal-based Antoine93. In a new joint venture with industry bigwigs Mansions and Millions and Summer Cool Music, Antoine fuses his love of Celine Dion and some darker strains of electronic club music into a blackened but never burnt, smooth smoke of emotional turmoil; like soothing aloe vera on charred skin. The songwriting flaunts naked emotion and balladry influence without falling to MOR slop, sounding a lot like the way people wish Sam Smith sounded. Minimal club atmospherics, jagged rhythms, and angular cut-up vocals dominate many tracks but seek to serve a greater purpose than just texture. It seems like those wordless oohs and aahs are really just the words that need to be said to the ones you love, but can't. By revealing so much of himself, Antoine serves to remind us of the things we wished we yelled to our lovers as they left our sides. But it's just a little too late.
Du cœur (dé)verrouillé de Cassilou Landra:
(Des yeux vera de flora aloe hammond)
La montée du label londonien PC Music a été un des développements musicaux les plus intéressants de 2014. S'inspirant à parts égales de la pop mainstream (Carly Rae Jepsen, Calvin Harris), de la musique classique contemporaine du 20e siècle (Morton Feldman, Contan Noncarrow), et de la musique électronique contemporaine (Hudson Mohawke, Night Slugs), leur marque unique de pop expérimentale a suffisamment résonné et polarisé leur audience pour suggérer un changement radical en ce qui concerne la façon dont musiques expérimentales et pop sont combinées et digérées.
Le montréalais Antoine93 est un acteur important dans la renaissance pop canadienne. Dans une nouvelle aventure conjointe avec les gros bonnets de l'industrie Mansions and Millions et Summer Cool Music, Antoine fusionne son amour pour Céline Dion et pour certains courants obscurs de musique club électronique en une douce fumée —noircie, mais jamais brûlée— d'agitations émotionnelles; pareil à un aloe vera apaisant sur de la peau calcinée. La composition musicale exhibe émotions pures et influences de ballade sans échouer à suggérer une esquisse brouillonne de musique de variété. Antoine 93 ressemble énormément à ce qui semble manquer au son de Sam Smith. Atmosphères de clubs de minimale, rythmes déchiquetés et coupures angulaires dominent de nombreux morceaux, mais cherchent à atteindre un but plus élevé qu'une simple texture sonore. Ces oohs et aahs silencieux sont juste les mots que l'on a besoin de dire à ceux qu'on aime, mais qu'on garde en soi. En révélant une si grande part de lui-même, Antoine nous rappelle l'existence des phrases que l'on aurait aimé crier à nos amants alors qu'ils nous abandonnaient. Mais il est juste un peu trop tard.
Antoine93 – Do Life (feat. Solar Year)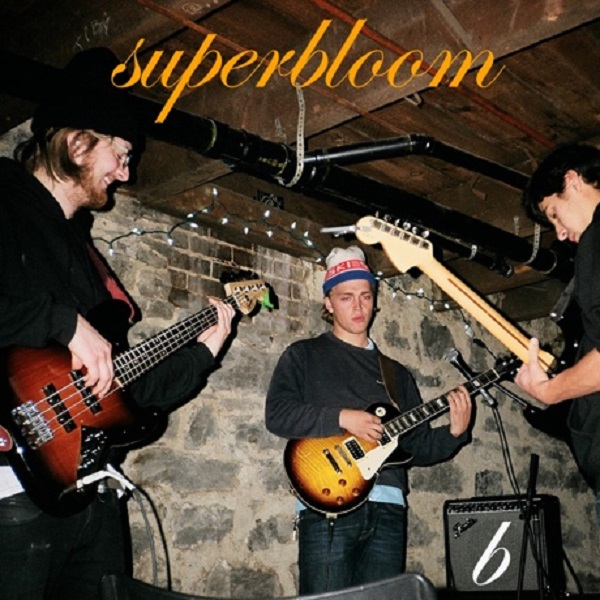 Superbloom
Always With My Friends
Montreal, QC
From the 1989 – 2009 of Kanye Christ:
Seeing Superbloom live is like taking a bite of Big Mac. There's a sense of juvenile toilet humour and a certain raw punk energy to otherwise hazy and sincere afternoon pop-rock jams. Hailing from the City of Champions and spending their formative years bumming around Edmonton's music scene of the time as well as pumping out grindcore and power-violence under the name Detroit, Superbloom's phenomenal first single is titled Always With My Friends. It sounds a lot like their friends consist of the Happy Mondays, the Stone Roses, and Washed Out which helps to provide a childhood fantasy that kids even decades apart can enjoy and soak in.
Du 1989-2009 de Kanye Christ:
(Du coeur choux-fleur de Flora Hammond)
Voir Superbloom en concert, c'est comme mordre dans un Big Mac. Flairant l'humour juvénile pipi-caca, ces tounes pop-rock sincères d'après-midi brumeux présentent une certaine énergie punk brute. Originaire de la Ville des Champions, Superbloom a passé ses années de formation à jouer ici et là au sein de la scène musicale d'Edmonton, tout en libérant grindcore et powerviolence sous le nom de Detroit. Premier single phénoménal de Superbloom, Always With My Friends laisse croire à une amitié avec les Happy Mondays, les Stone Roses et Washed Out, aidant à forger des rêves d'enfance que tous les jeunes —même issus de décennies différentes— peuvent embrasser dans l'abandon.
From the Guelph loving mind of Mike Deane:
I moved to Guelph from Edmonton in 2012, and after going to my first Kazoo! show (feat. Slim Twig, U.S. Girls, Legato Vipers, and The Furys), I realized that Kazoo! Fest was doing some of the most exciting and interesting musical programming in Guelph. After volunteering with Kazoo! Fest 2013 (with Sean Nicholas Savage, Doldrums, Jennifer Castle, Esther Grey, and more), I was sold: this was something that was both community-minded and challenging. I got involved with the festival shortly thereafter on a more official level. I still believe Kazoo! Fest is the most exciting thing in Guelph, as it brings together a group of people that truly believe in and love creative expression and try to bring their favourite music and art to a city that they value. It's entirely volunteer-run, it's 5 days of mostly all ages shows with affordable ticket prices, and there are 50+ bands, 1 dance performance, multiple visual arts events, multimedia events, a pancake breakfast and more. It's an amazing time in a small-ish Ontario town, and this year is definitely the most exciting that I could imagine.
1. Familiar Fiends – Hey Moocha
2. Badminton Racquet – You Boys and Your Quilts
3. Alanna Gurr and the Greatest State – Swimmer
4. New Zebra Kid – Romantic Illusions
5. Fist City – Debbie Get Yr Boa
6. Phedre – Supernatural
7. Darlene Shrugg – Freedom Comes in a Plastic Card
8. Last Ex – Girl Seizure
9. New Fries – Oil and Water
10. Bernice – Oh My Days
11. THOMAS (Love thy Will Be Done) – So Many Dreams About You
12. Fet.Nat – Poule Mange Poule
13. Lido Pimienta – I Want You to Do Well
14. BattleWulf – Captcha
15. Tyson and the Trepids – Live in the Dark
16. No Joy – Hare Tarot Lies
17. MOTEM – Chasm
18. Spencer Burton – Love is Fast
19. Tough Age – We're Both to Blame
De l'âme amoureuse de Guelph de Mike Deane:
(Des doigts éclairs de Flora Hammond)
Ancien résident d'Edmonton, j'ai déménagé à Guelph en 2012. Après avoir assisté à mon premier concert Kazoo! (Slim Twig, U.S. Girl. Legato Vipers et The Furys) j'ai réalisé que Kazoo! était responsable des programmations musicales les plus intéressantes et excitantes à Guelph. Après avoir été bénévole au Kazoo! Fest 2013 (qui a amené Sean Nicholas Savage, Doldrums, Jennifer Castle, Esther Grey et bien d'autres), j'étais conquis : c'est une expérience pleine de défis et taillée sur mesure pour et par sa communauté. Peu après, j'ai commencé à m'impliquer avec le festival à un niveau plus officiel. Je crois toujours que Kazoo! Fest est l'évènement le plus excitant à Guelph : il réunit un groupe d'individus qui aiment et croient réellement à l'expression créative et qui essayent d'amener leur musique et art préférés dans une ville qu'il chérissent. Le festival fonctionne entièrement grâce à ses volontaires. Cinq jours de concerts accessible —pour la plupart— à tous les âges et à tous les portes-monnaie, plus d'une cinquantaine de groupes, un spectacle de danse, plusieurs évènements d'arts visuels, des évènements multimédias, un petit déjeuner avec pancakes, et bien plus. Ce sont quelques jours fantastiques dans une petite ville d'Ontario, et cette année est définitivement la plus excitante que je puisse imaginer.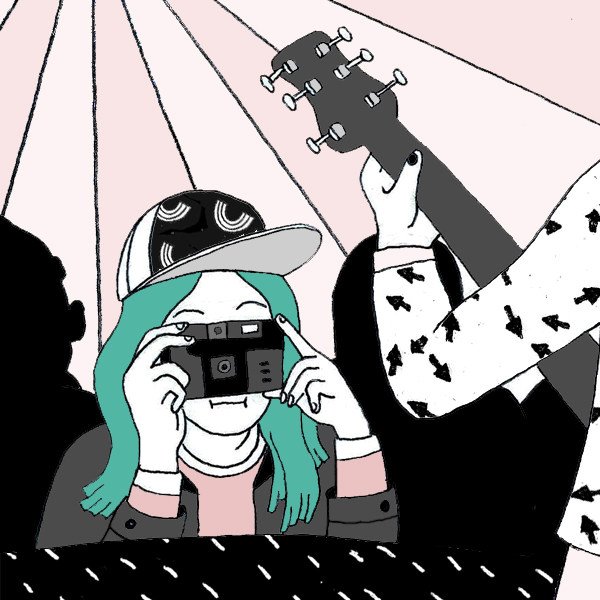 How To Start Taking Concert Photographs
Penny Clark
Toronto, ON
Cover Art: Andrea Manica
From whatever of Penny Clark:
Piece editors: Edited by Maegan, Matthew, Ariel, Magnus & Jarrett during a How To How-To workshop for CJSF 90.1 FM in Vancouver, BC.
I am an amateur photographer who knows very little about the mechanics of photography other than what I've picked up from taking a boatload of photos. But! I have had my photos published in multiple publications, including festival program guides, CITR 101.9's magazine half Discorder Magazine, and The Globe & Mail. So if you want to take some concert photos and you have no idea what you're doing with a camera, do not let that stop you! Here are some of things I've picked up while bumbling around with a camera that might help you as you get started.
I use a DSLR camera that was several models out of date when I bought it in 2009. The auto-focus doesn't work and (most of the time) neither does the flash. But that's okay! It does the trick and it produces a quality image. When I take concert photographs, my objectives are to a) Get a shot of each band where everyone looks cool and b) Annoy the artists and audience members as little as possible.
These are the steps I take in pursuit of these objectives:
1) Setting up the shot.
In low-light scenarios such as a music concert, black and white photography is everyone's friend. This prevents odd colourations from ruining what could be a good photo and makes everyone's cheekbones look better. Be my guest and take colour photos but make sure you grab a couple in b/w, just in case.
High angles are also an asset. In general, people in photos just look better from above. I don't know why. Try getting on your toes when you're taking the shot or looking for a higher place around the sides of the stage to prop yourself up. If that's not available, try holding your camera higher up but if your camera uses a viewfinder instead of a display window, be conscious of where you're aiming the lens or you'll end up taking a picture of some disembodied heads.
2) Quality control: Just because you can take a million photos doesn't mean you should. Here's why: Every time you hold up your camera, you are blocking the view of the people behind you. Flash photos are conspicuous and they can tend to disrupt the flow of the performance, for both the audience and the artists. Don't rely on good odds. With a bit of patience and set up, you can get a good photo on purpose. When you get home and have to upload and sort through one thousand pictures, you will hate yourself.
3) Be a part of the crowd. As a rule, people are generally pretty tolerant of photographers but don't push your luck. It's not worth ruining everyone else's night. Instead, try dancing into the audience to take your picture. If that's not for you (you don't dance), learn the key unobtrusive photographing stations. These are generally located toward the far sides of the stage. Take shots from both sides.
4) Share your work. Volunteer as photographer for blogs and magazines. Put pictures on your own Flickr and Tumblr but also consider putting a note asking people to ask for permission to use your photos. I used to just leave my photos up for unqualified grabs but eventually I began finding them published without even being aware that anyone had liked my photographs well enough to publish them.
Taking photos can be a really fun way to enjoy a show and it's awesome and satisfying when they turn out. So go forth and try it out!
Penny Clark is the How-To Editor at Weird Canada and plays power chords in a band called Tough Age. She has been taking amateur photos since 2008 and some of these can be found in Discorder Magazine, The Globe & Mail, the Vancouver Fringe Festival and the New Forms Festival program guides, and on the cover of the Korean Gut 7" called Lava Flow, out on Kingfisher Bluez.
Des whatever de Penny Clark:
(Traduit par Flora Hammond)
Comment prendre des photos de concert lorsque l'on débute en photographie
Je suis photographe amateure et m'y connais très peu en photographie : ce que j'ai appris, je l'ai appris en prenant photo après photo après photo. Pourtant, mon travail est apparu dans de nombreuses publications, incluant des programmes de festivals, le magazine de CITR 101.9 Discorder Magazine et The Globe & Mail. Même si tu penses ne pas savoir ce que tu fais lorsque tu tiens une caméra, photographie sans arrêt! Voici quelques astuces que j'ai apprises en caracolant de fosse en fosse, caméra en bandoulière —j'espère qu'elles encourageront tes débuts.
J'utilise toujours un appareil réflex. Il était déjà dépassé de plusieurs modèles lorsque je l'ai acheté en 2009, la mise au point automatique ne fonctionne pas (la plupart du temps), le flash non plus. Cela dit, ce n'est vraiment pas un problème, il fait quand même des photos de qualité. Quand je prends une photo lors d'un concert, mes objectifs sont, a) de saisir un cliché de chaque groupe où tous les membres sont visibles et paraîssent à leur avantage b)de déranger les artistes et le public aussi peu que possible.
Voici les étapes qui me permettent d'atteindre au mieux ces objectifs :
1) Anticipation des prises de photos. Dans les scénarios tels un concert, la lumière se fait rare, le noir & blanc est ton meilleur ami. Il évite que des couleurs étranges ruinent une bonne photo qui serait autrement réussie—et qui n'a pas l'air d'avoir un visage plus saillant et sexy en noir et blanc? N'hésite pas à prendre des photos en couleurs, mais juste au cas où, assure-toi que tu as aussi quelques clichés en noir et blanc.
Les prises de vues en hauteur sont aussi un atout. Je ne sais pas pourquoi, mais en général, un sujet apparaîtra sous son meilleur jour lorsqu'on le capture de haut. J'essaye de me dresser sur la pointe des pieds pour prendre mes photos ou bien de localiser un point élevé à proximité de la scène. Si cette option n'est pas envisageable, je tiens mon appareil en hauteur. Attention : si tu utilises un appareil avec un viseur plutôt qu'un écran d'affichage, sois attentif lorsque tu positionnes ton objectif sinon tes photos risquent de n'être qu'un nuage flou de têtes sans corps.
2) Contrôle de qualité : Ne prends jamais une tonne de photos juste parce que tu as un appareil numérique. Voici pourquoi :
À chaque fois que tu brandis ton appareil, tu bloques le champ de vision des personnes qui se trouvent derrière toi.
Utiliser le flash lorsque l'on prend une photo passe rarement inaperçu et peut interrompre la continuité de la performance, aussi bien pour le public que les artistes.
Ne compte pas trop sur la chance. Avec un peu de patience et d'installation au préalable, il est possible de planifier la prise d'une bonne photo.
Tu vas te détester lorsque tu rentres chez toi et que tu te retrouves avec un millier de photos à télécharger et trier.
3) Fonds-toi dans la foule! Les gens sont généralement très tolérants vis-à-vis des photographes, mais ne prends pas le risque de les froisser inutilement. Ça ne vaut pas la peine de gâcher la soirée de tout le monde autour de toi. Essaye plutôt de danser avec le reste du public pour prendre tes photos. Si ça n'est pas vraiment ton style et que toi et la danse ne faites pas équipe, apprend à repérer les endroits où tu peux prendre des photos sans obstruer la vue des autres spectateurs. Ils se trouvent souvent sur les côtés extrêmes de la scène : prends des photos depuis la gauche ainsi que la droite.
4) Partage ton travail. Propose-toi comme photographe bénévole pour des blogues et des magazines. Poste tes photos sur ton Flickr et Tumblr et réfléchis à la possibilité d'ajouter une légende précisant que l'on devrait demander ta permission avant d'utiliser tes photos. Dans le passé, je laissais la liberté à n'importe quelle publication d'utiliser mon travail, mais j'ai commencé à trouver mes photos publiées un peu partout, dans des publications où personne n'avait jugé utile de me prévenir.
Prendre des photos peut-être une super façon de profiter d'un concert et de les voir à nouveau une fois le moment passé est extrêmement satisfaisant. N'hésite pas et lance-toi !
Penny Clark est l'éditrice « How to » de Weird Canada et joue des power chords dans le groupe Tough Age. Elle prend des photos en amatrice depuis 2008 et l'on peut retrouver certaines d'entre elles dans Discorder Magazine, The Globe & Mail, les guides du Fringe Festival de Vancouver et du New Forms Festival et la couverture du single de Koren Gut « Lava Flow », disponible chez Kingfisher Bluez.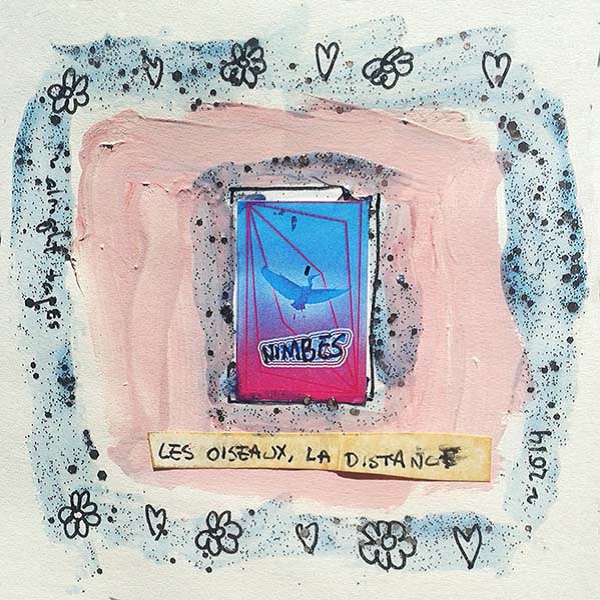 Nimbes
Les Oiseaux, La Distance
Québec, QC
From the sprawling paralysis of Aaron Levin:
Les Oiseaux, La Distance is a sprawling guitar-pop floater from the shoegaze vortex of Québec. Nimbes' reverbed-soaked bellowings emerge from the dissonant moments before choice, abandonment, and paralysis. Les Oiseaux, La Distance's magnetic tape will render all hopeless, buried below warm blankets of minor-key deliverance.
Depuis la paralysie tentaculaire d'Aaron Levin:
(Des nuages hésitants de Flora Hammond)
Les Oiseaux, La Distance est un corps flottant tentaculaire en provenance du vortex shoegaze de Québec. Les échos des mugissements humides créés par Nimbes émergent de l'instant précédant le choix, l'abandon et la paralysie. Les Oiseaux, La Distance annihilera tous vos espoirs. Votre seul désir, enfin, sera de vous enfouir sous de chaudes couvertures aux tonalités mineures de délivrance.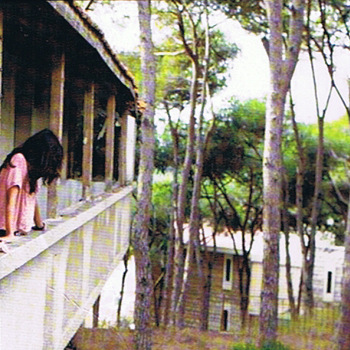 Ostrea Lake
Dear Outside The Woods EP
(Self Released)
Halifax, NS
From the wordless feet-stamping of Benjamin Anderson:
Frontman Elias Abi Daoud affectionately uncurls fingers of smoke into the inky night, drifting off into dreams of bonfires and walking mandolins. Partly recorded in Agricola Street's illustrious Open Mic House, partly recorded deep in the woods, Ostrea Lake's second EP is a despondent labourer, wordlessly stamping its feet in the thin mist of dawn on the Halifax Harbour. With a new EP due out in the spring on All We've Got Records, this is a group to keep a heavy-lidded eye on.
Des Foulées Sans Mots de Benjamin Anderson:
(Des plumes imperméables de Flora Hammond)
Le chanteur Elias Abi Daoud délie délicatement des doigts de fumée dans la nuit noir encre et s'égare au milieu de rêveries de feux de joie et mandolines. Enregistré dans la rue Agricola à l'illustre Open Mic House, mais aussi aux confins d'une sombre forêt, le second EP d'Ostrea Lake est un ouvrier abattu qui, à l'aube, sans mot dire, appose l'empreinte de sa démarche lourde au creux de la brume du port d'Halifax. Un nouvel EP est attendu au printemps chez All We've Got Records: gardez vos yeux entr'ouverts sur la trajectoire de ce groupe.
---