Tag: flemish eye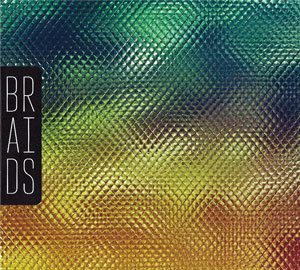 From the non-native language of Gabriel Jasmin:
From whispers to screams, Braids' Native Speaker encapsulates an immense array of emotion. The album maintains a wet and undulating pulse, a backbone for dense, overlapping melodies, akin to classic minimalist composers. Over a year in the making, not a single texture or sound was left unpolished by the band's distinctive minutiae throughout the process of writing, recording and mixing. Reaching an emotional climax in the haunting "Lammicken", a standout song for singer Raphaelle Standell-Preston's powerful delivery, it is clear that the young quartet have an unsettling and unique talent to communicate sensibility through sound.
De la langue maternelle de Gabriel Jasmin:
(Traduit par Odile Leclerc)
Passant des soupirs aux cris, l'album Native Speaker, de Braids, abonde dans sa variété d'émotions. Ayant passés près d'un an en production, aucun son ni texture n'ont pas été peaufinés par les oreilles minutieuses des quatre membres du groupe, qui ont tout autoproduit. L'album jouit donc d'une richesse ondulatoire et aqueuse, un paysage peuplé de denses mélodies entrecroisées qui rappellent certains compositeurs minimalistes classiques. L'émotion culminant dans «Lammicken», une démonstration tourmentante de la voix puissante de Raphaelle Standell-Preston, le jeune quatuor prouve son talent unique pour communiquer la sensibilité par le son.

BRAIDS – Lemonade

BRAIDS – Lammicken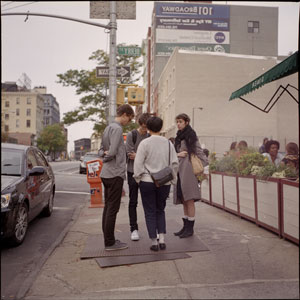 Interview with: Austin Tufts, Katie Lee, and Raphaelle Standell Preston
From: Braids
(conducted by: Gabriel Jasmin)
Montreal, QC
[Photo: Landon Speers]
Montreal by way of Calgary quartet
Braids
make chilling, meticulously crafted pop music. Layering angelic four-part vocal harmonies over swirling synths, twinkling pianos, tropical guitars and stuttering, sophisticated rhythms, their arrangements are lush and obsessively detailed. The eye of this storm is frontwoman Raphaelle Standell Preston — also the voice behind
Blue Hawaii
— imbuing Braids' songs with Bjorkian banshee shrieks, unexpected ululations and pigtailed curlicues. This week sees the release of their long-awaited debut LP on New York's Kanine and Calgary's
Flemish Eye
, a mini-tour supported by Long, Long, Long, and a lengthier jaunt into the U.S. Weird Canada's Gabriel Jasmin sat down with the band for an interview.
Jesse Locke
Managing Editor
Texture Magazine / Weird Canada
texturemagazine.ca / weirdcanada.com
(more…)
From the pubic strain of Aaron Levin:
From the strained, harrowing winces fluttering throughout "China Steps," to the obliterated guitar wrenching on "Drag Open," Women's sophomore perturbation is a decimating paradigm shift within pop musicalia's gothic waters. Mesmeric bass lines forge an unstoppable avant-pop matrix transfiguring all notions of stringed cacophony; harmonies dust their standing waves with glimmers of luminous decay; and an endless supply of static coalesces their rock abandon. For all its minor-key desolation, Public Strain is not without its hopeful glimmers; the singular listening experience is cemented with bursts of sunlight through splintering corsets of lysergia. Women have pushed broken destroyed annihilated all boundaries to liberate a brilliant array of chromatosed sinusoids.
De l'élongation pubienne d'Aaron Levin:
(Traduit par Maya Keshav)
Des grimaces claquées et éprouvantes qui battent pendant "China Steps", jusqu'à l'arrachement détruit de guitare de "Drag Open", la perturbation adolescente de Women est une révolution conceptuelle qui décime les eaux gothiques du pop musicalia. Les mélodies hypnotiques de basse façonnent une matrice irrésistible d'avant-pop qui transfigure toutes notions de cacophonie cordée; les harmonies sapoudrent leurs ondes stationnaires de miroitements de décomposition lumineuse; et une source intarissable de larsen se fond avec leur abandon rock. Malgré toute sa désolation en mode mineur, Public Strain n'est pas vide de miroitements d'espoir; l'expérience unique d'écoute est cimentée avec les éclats du soleil entre les corsets écailleux du LSD. Women ont repoussé cassé détruit anéanti toutes les limites pour libérer un étalage brillant de sinusoïdes chromatiques.

Women – China Steps

Women – Drag Open
---