Tag: fixture records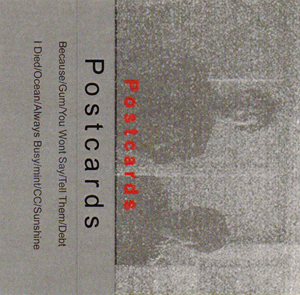 Postcards
Postcards
Montreal, QC
Lie: Edmonton doesn't have summers. It feels like it, though. And as we enter into another forever-long snowy paralysis, the leather pants and busty corsets begin to hide behind North Face and Sun Ice and I'm forced to question: what do goths do without summer? Segue into Postcards debut cassette on Montreal's everything-they-do-is-beautiful Fixture Records. Postcards have little to do with goths or their creative-leathers (that I know about), but they have secretly found the intersection between The Cure and Beat Happening and it's the real soundtrack to The Lost Boys; dreamy summery backings that push weary, emotional murmurings into popular heights, breaking all shadows cast by beach pants and trench coats. It's the weirdest depresso party album gleaning creative vices at undiscovered crossroads. It's also got plenty of angular pop lurking around all 12 corners (reminiscent of other releases on the label). What more can you ask for? Fixture Records have delivered yet another trophy in the pop foray. Go and buy the cassette while I make another leather beach-ball.
Aaron Levin:
(Traduit par la boîte à rythmes de Odile Leclerc)
Mensonge: Edmonton n'a pas d'étés. On dirait, pourtant. Et alors que nous entrons dans une autre éternelle paralysie neigeuse, les pantalons de cuir et les corsets généreux commence à se cacher derrière North Face et Sun Ice et je suis forcé de demander; qu'est-ce que les gothiques font sans l'été? Seguez dans la cassette des débuts de Postcards sur tout –ce-qu'ils-font-est-magnifique de Fixture Records à Montréal. Postcards n'a rien à avoir avec les gothiques et leur cuir créatif (pour ce que j'en sais), mais ils ont secrètement trouvé l'intersection entre The Cure et Beat Happening et c'est la vraie bande sonore pour The Lost Boys; des accompagnements estivaux rêveurs qui poussent de las murmures émotionnels vers des hauteurs populaires, brisant toutes les ombres jetées par des culottes de plage et de longs manteaux. C'est l'album de fête de déprime la plus bizarre glanant des vices créatifs à la croisée des chemins. Elle a aussi beaucoup de pop angulaire rôdant autour de ses 12 coins (rappelant les autres mises en vente sur l'étiquette). Qu'est-ce que vous pouvez demander de plus? Fixture Records a livré encore un autre trophée dans la percée pop. Allez et achetez la cassette pendant que je fais un ballon de plage en cuir.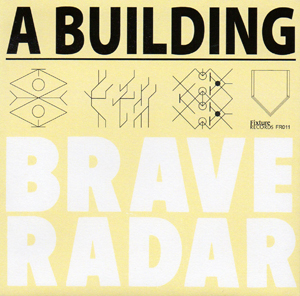 Brave Radar
A Building
Montreal, QC
Aaron Levin:
Daring portrayals of angular pop lurk around every corner of A Building. Montreal's Brave Radar perfected the immensely difficult and hugely rewarding dialectical synthesis of jarring tonality and warm, sunday afternoon coffee-in-triplicate pop. Thus, it's fitting they released a beautifully designed digipak on Fixture Records, Canada's finest boutique fringe-pop emporium. Within the swirls of keyless harmonies and wasted guitar-mockery lay hidden phrases of pop's greatest secrets; Brave Radar discovered music's reticent obsessions and they're not afraid to wrap it in audible mysteries, drowning them in seas of lo-fidelity. Dive right in, reveal their secret leviathan, and find yourself addicted to the manic portrait of known sounds.
Aaron Levin:
( Traduit par la boîte à rythmes de Odile Leclerc)
Des portraits osés de pop angulaires rôdent alentours de chaque coin de A Building. Brave Radar de Montréal ont perfectionné l'immensément difficile et gigantesquement gratifiante synthèse dialectique de tonalités discordantes et de tiède pop de café en trois exemplaires d' après-midi de dimanche. Ainsi, il est adéquat qu'ils sortent un digipak magnifiquement conçu sur Fixture Records, la plus fine boutique du Canada d'emporium de pop à frange. Dans les tourbillons d'harmonies sans touches et des moqueries perdues de guitare reposent des phrases cachées des plus grands secrets du pop; Brave Radar a découvert les obsessions réticentes de la musique et ils n'ont pas peur de l'envelopper dans des mystères audibles, les noyant dans des mers de lo-fi. Plongez directement dedans, dévoilez leur Léviathan secret et retrouvez vous accro au portrait maniaque de sons connus.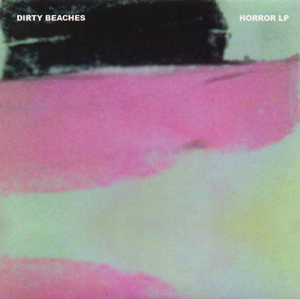 Dirty Beaches
Horror
Montreal, QC
Somewhere deep within the Montreal subway system lurks the one-man-chamber that is Dirty Beaches. I say "deep" because I cannot imagine Horror being recorded outside of some disturbing corner previously forgotten by civil servants and hobos. Harking back to the cavernous solitude of Arthur Russell, Horror departs from the reverb-bellowing to relish in minor-key melodica and hazy room-scapes. Anyone who has ever picked up a melodica has wanted to make this record. They've also realized how difficult it is to actualize these sounds; invitational rhythms to a ruptured dystopia built on echo and cosmic background radiation. You could play this in the most horrific and terrible place on earth and we'd still be curious enough to bare the environment just to see what's going on. Excellent material courtesy of Fixture Records.
Dirty Beaches – Window Rail Seats
Quelque part dans les fonds du métro montréalais se cache la chambre-solo qui est Dirty Beaches. Je dis "dans les fonds" parce que je peux pas imaginer que Horror est enregistré dehors d'un coin troublant auparavant oublié par les fonctionnaires et les clodos. En rappelant la solitude caverneuse d'Arthur Russell, Horror dévie des hurlements réverbérants pour savourer le mélodica en mode mineur et les paysages des salles floues. Quelqu'un qui a déjà touché un mélodica avait envie de créer cet enregistrement. Il s'est aussi rendu compte qu'il est super difficile de concrétiser ces sons; les rythmes attirants à une dystopie fissurée construite avec les échos et le rayonnement cosmique. Tu pourrais le passer dans l'espace le plus terrifiant et terrible et on sera assez curieux d'ouvrir l'environnement pour voir ce qui se passe. La substance excellente grâce à Fixture Records.
Dirty Beaches – Window Rail Seats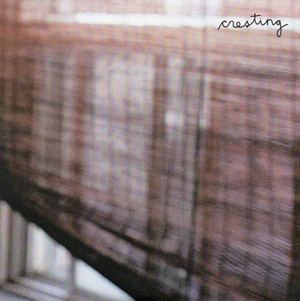 Cresting
An E.P.
Montreal, QC
I was not prepared for Cresting's beautiful basement-pop macabre. I had a fist-full of spaghetti (dinner related) half-way through An E.P. when I suddenly realized my whole environment had changed. The combinations of cassette-warmth and sharp, repetitive percussion drenched in brilliant grey-scale low-end formed continuous sequences of pop hyperbole too advanced for my supper preparations. With this in mind, An E.P. is suitable for: late-night/early-morning bike-rides, not being homeless and waking up in a park at 2pm, realizing you got punched in the face because you're 16 and deserved it, blowing cigarette smoke into a flashlight so you can pretend you're film-noir, and contemplation. I'm at the contemplation stage of my Cresting cycle so let me gush: this album is thoroughly convincing, clever, innocent, wonderful, pastiche, subtle, and vivid. Do the right thing and listen while you're sitting down. And make sure you purchase the beautifully packaged CD from Fixture Records whose aesthetic reminds me that compact discs are still a viable format.
J'étais pas prête pour le sous-sol-pop merveilleusement macabre de Crestings. J'avais une poignée des spaghettis (lié au souper) au milieu du An E.P. quand je me suis rendue compte tout à coup que mon environnement entier a changé. Les combinaisons de la cassette-chaleur et la percussion aiguë et répétitive trempé par l'echelle-de-gris bas-de-gamme a formé les séquences ininterrompues d'hyperbole pop trop avancé pour mes préparatifs du souper. Dans cet esprit, An E.P. est approprié pour: les tours à vélo en nocturne ou tôt le matin, ayant une domicile et se réveillant dans un parc à 14h, réalisant que t'as reçu un coup de poing à la visage parce que t'as 16 ans et tu l'as mérité, soufflant la fumée de cigarette dans une lampe de poche pour que tu puisses imaginer que t'es film-noir, et la contemplation. Je suis à l'étape de contemplation dans mon cycle Cresting alors laisse-moi babiller: cet album est complètement convaincant, naïf, merveilleux, pastiche, subtil, et vif. Fais la bonne chose et écoute pendant que tu t'assieds. Et fais attention que t'achètes le CD merveilleusement emballé de Fixture Records, l'esthétique duquel me rappelle que les disques compacts sont encore un format viable.
---