Tag: fixture records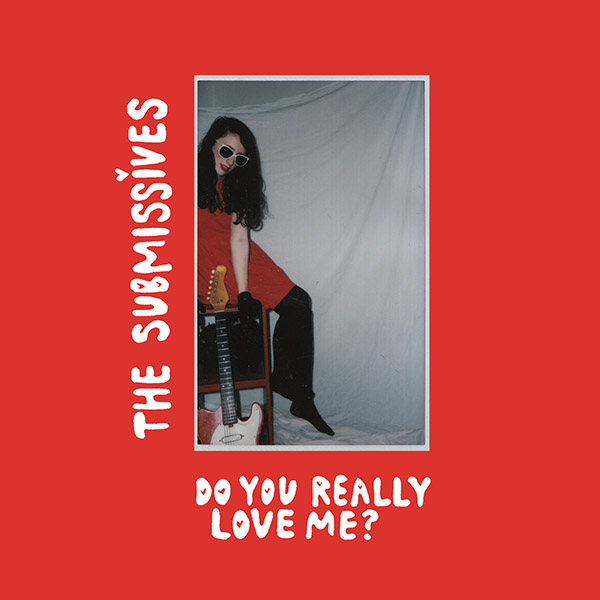 The Submissives
Do You Really Love Me?
Montréal, QC
From the Lovesick Daydream of Eleanor Wearing:
The Submissives' Do You Really Love Me? is the soundtrack to a never ending road trip towards an unreachable destination. Sun beats through dirty car windows. Soft air conditioning hums and sighs as the passengers do the same. Heat melts from a lazy blue expanse, conjuring highway mirages and lucid daydreams. Sweet stale air seeps and suffocates, whispering secrets to the reluctant beat of hands against knees. Finally, the sun slinks out of sight. Stars clatter and clink into place. But there is no rest for the lovesick so the car surges ahead, towards an elusive paradise.
Du rêverie languit d'amour du Eleanor Wearing:
(Traduit par Alison McReynolds)
Do You Really Love Me? de The Submissives est la bande-originale d'un road trip ayant une destination hors de portée. Le soleil tapait à travers des vitres sales. Un climatiseur doux chantonnait et soupirait pendant que les passagers faisaient de même. La chaleur fondait d'une étendue bleue et paresseuse évoquant des mirages de la grande route et de rêveries lucides. L'air doux et rassis coule et nous étouffe chouchotant des secrets aux battements réticents de mains qui frappent sur les genoux. Finalement, le soleil s'éclipse de vue. Les étoiles cliquettent et tintent en place. Mais il n'y a pas de repos pour celui qui souffre d'amour alors la voiture continue de l'avant vers un paradis élusif.
The Submissives – Do You Really Love Me?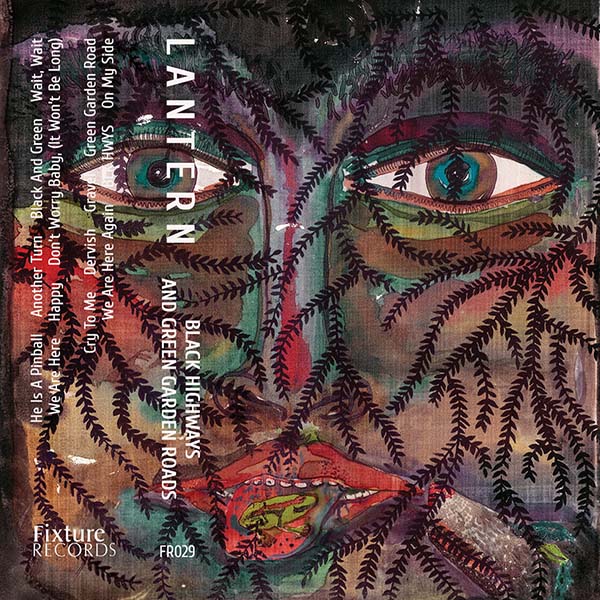 Lantern
Black Highways and Green Garden Roads
Montréal, QC
From the dual citizenship of NPJ:
Another turn, and we are here (again). Lodged in the center of Freelove's green garden, Lantern emits earthly delights from a steady flame. The glow illuminates multiple pathways, leaving the direction of our decision completely up to us, and the result of our decision completely up to them. Don't worry baby, BLK HWYS are on our side.
De la double citoyenneté de NPJ:
(Traduit des jardins verts d' Odile Leclerc)
Un autre virage et nous y serons (encore). Logée au centre du jardin vert de Freelove, Lantern émet des délices terrestres venant d'une flamme constante. La lueur illumine de multiples sentiers, nous laissant la liberté de diriger notre décision et la liberté de leur laisser le résultat de notre décision. Ne t'inquiète pas bébé, BLK HWYS est de notre côté.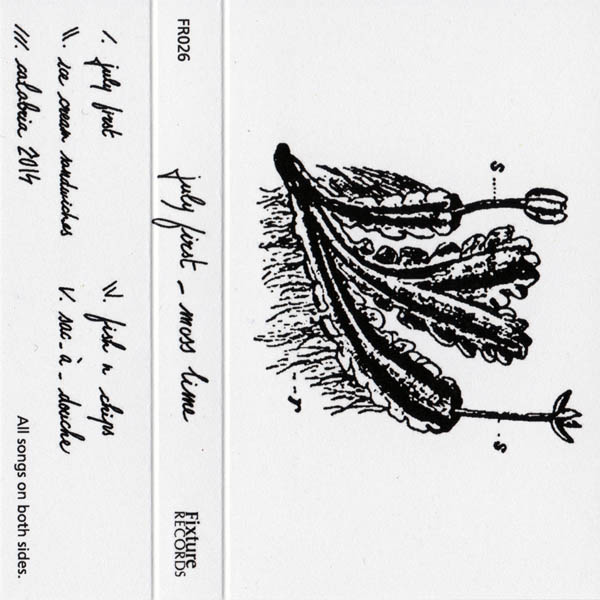 Moss Lime
July First
Montréal, QC
From the lounging sprawl of Evan Matthews:
Moss Lime are a characteristicly cosmopolitan Montreal crew, formed in spare time while hanging through the city's playground summer. Murmuring chants calling back and forth over angle-surfing guitars and an ESG-sensible rhythm section recall double dutch tall cans in a parc before a late night swim in someone else's pool. These songs have an influence-honest, naturalistic vibe. From the call & response lilt of "Ice Cream Sandwiches" to the tape-delay drone of "Fish N Chips" to the reimagining/improvement of Euro-pop song "Calabria", each one will charm you with a shared memory of wet heat, cutoffs and iced coffee.
Du divan où est avachi Evan Matthews:
(Traduit par l'orteil étiré vers la télécommande de Jessica Grenier)
Moss Lime est un groupe montréalais typiquement cosmopolite, formé lors des temps libres passés à profiter des terrains de jeu urbains durant l'été : des murmures se répondent par-dessus des guitares qui surfent en équilibre ainsi qu'une section rythmique rappelant ESG évoquent une soirée dans un parc à boire des grosses cannettes de Double Dutch avant d'aller squatter la piscine de quelqu'un d'autre. Ces chansons exhalent des ondes de naturalisme et d'honnêteté. De la cadence question-réponse de « Ice Cream Sandwiches » au drone en boucle de « Fish N Chips » en passant par la reprise/amélioration de la chanson pop européenne « Calabria », chaque pièce vous séduira en partageant un souvenir de chaleur humide, de shorts en jean et de cafés glacés.

Moss Lime – Ice Cream Sandwiches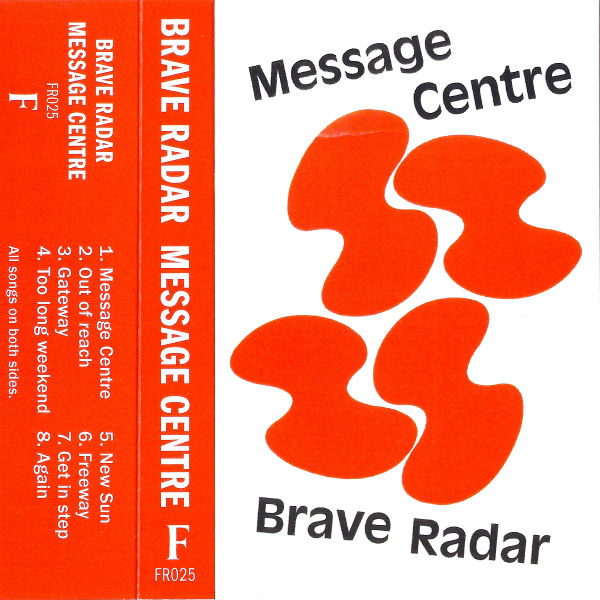 Brave Radar
Message Centre
Montréal, QC
From the sincere appreciation of Josh Boguski:
In the five years since their previous broadcast, Brave Radar have honed a persistently subdued sound, reappearing at the forefront of our interest with the future classic Message Centre. Despite its timeless tonality, this heap of pop clumps winks at the obscurity of its predecessors. Be sure to thank Tessa and Conor for founding Fixture before preparing to drift off to the world's most radical lullaby.
De l'appréciation sincère de Josh Boguski:
(Traduit par les berceuses les plus radicales de Hugo Hyart)
Pendant les cinq années qui se sont écoulées depuis leur dernière transmission, Brave Radar ont aiguisé un son qui persiste en subtilité, et redeviennent un intérêt de premier plan grâce au futur classique Message Center. Malgré sa tonalité intemporelle, cet amas de sons pop fait un clin d'oeil à l'obscurité de ses prédécesseurs. N'oubliez pas de remercier Tessa et Conor pour avoir fondé Fixture avant de vous préparer à dériver dans les berceuses les plus radicales au monde.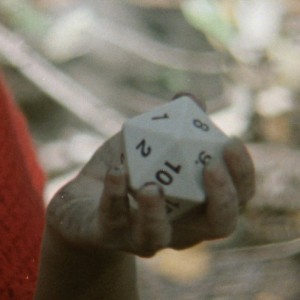 Freelove Fenner
"All Things Break Through"
[Directed by Caitlin Loney and Peter Woodford]
Montréal, QC
From the buried treasures of Shonda White and Johnnie Regalado:
Freelove Fenner's Do Not Affect A Breezy Manner has spawned a smorgasbord of visual delights, all of which delve into that dreamy physicality of using real film. On "All Things Break Through" the combination of audio and visual forms a teaser for what resembles a '60s mystery television episode starring Montreal's JLK in an even more mischievous Alice in Wonderland motif. Take chance and spin the 20-sided dice.
Des trésors enfouis de Shonda White et Johnnie Regalado:
(Traduit par les réminiscences donjonnées de Nicolas Coutlée)
L'album Do Not Affect A Breezy Manner de Freelove Fenner nous convie à un banquet de délices visuels, qui puisent leur saveur dans la physicalité onirique de la pellicule. Les images et la musique de « All Things Break Through » forment une sorte de bande-annonce pour une télésérie à suspense des années 60, mettant en vedette la Montréalaise JLK dans une version encore plus friponne d'Alice au pays des merveilles. Tentez votre chance et roulez votre dé à vingt faces.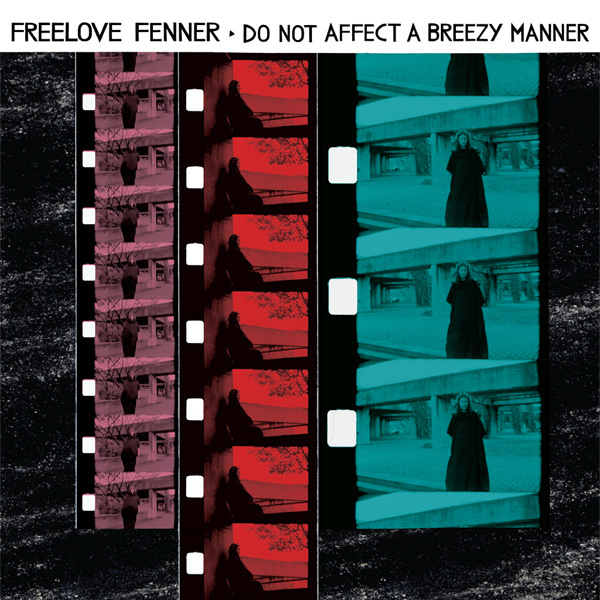 Ephemera of: Freelove Fenner
Existing during the recording of: Do Not Affect A Breezy Manner
Montréal, QC
From the nimble digits of Nick Schofield:
With an element of style, shoulder sway to the basement haze of Freelove Fenner's latest LP, Do Not Affect a Breezy Manner. The Mile-End trio deliver dry-as-bone tone with an audible sepia filter courtesy of the Bottle Garden's analog gear. Straight to tape, Caitlin Loney tracks ultra-caj vox over starry-eyed drums and tightly wound guitar riffs. Meanwhile, de facto producer George Harrison Cat purrs approvingly from behind an Otari MX70 8-track machine and takes stock of the diminishing Quantegy 456 supply. In line with Rule 9, DNABM is a felicitous release, neither fanciful or plain. We popped the bottle with the band to imbibe the elements that produced their instant fixture record.
Freelove Fenner – All Things Break Through
Freelove Fenner – George Harrison Cat
Mr. Brown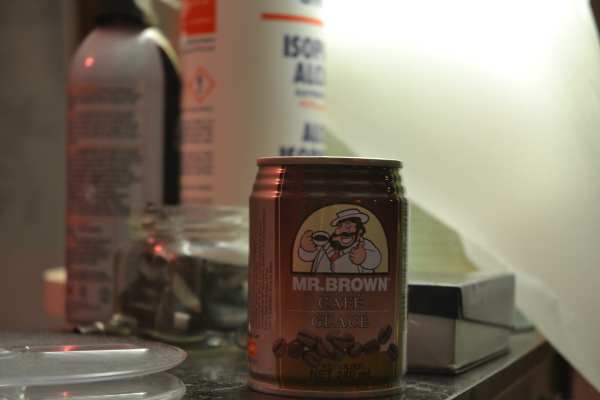 We would drink this a lot during recording sessions. It's like a coffee/milk beverage. You gotta shake it. It's in a very small can and I think it's made in Taiwan. They're at certain deps. You can even mix it with vodka. Caitlin
Tambourine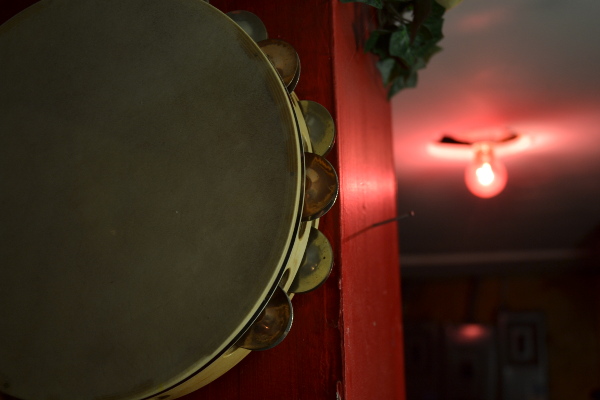 There's always space for a tambourine, even though there's only eight tracks. We make room for it. Caitlin
People are usually scandalized when they find out that I paid over $100 for a tambourine. It did feel pretty painful at the time, but I've used it on almost every song we've recorded. It's a very underrated instrument. People always think of it as an afterthought but for us it's sometimes as important as the drum kit. A lot of our all-time favourite songs have nice tambourine. Peter
Super 8 still/cover art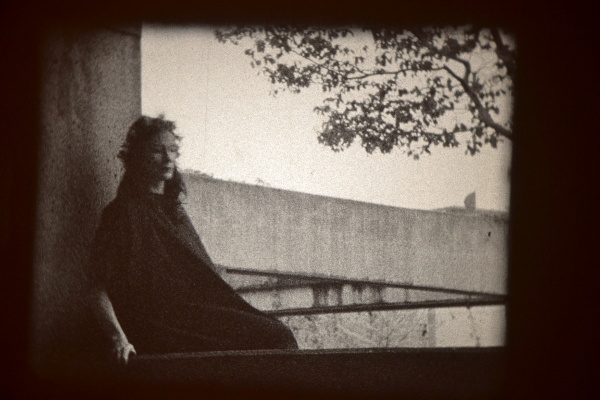 These are scanned Super 8 strips from our video for "In The Sound". We just took stills from that and photographed them with a macro lens for the album's cover art. It's filmed in Parc Viger, the name of the sculpture is the Agora. It's just this bizarre nuevo-Greek structure. I think the word Agora refers to public space. It's basically me in this black robe and vines in my hair. It's a Quebecois architect that designed this space. Caitlin
I do think it's an endangered space; there are some plans to demolish it. As it is right now, it's mostly a brutalist park that heroin addicts like to hang out at. But it's one of my favourite places in Montreal, though. I wish more people would hang out there. Peter
Tape machine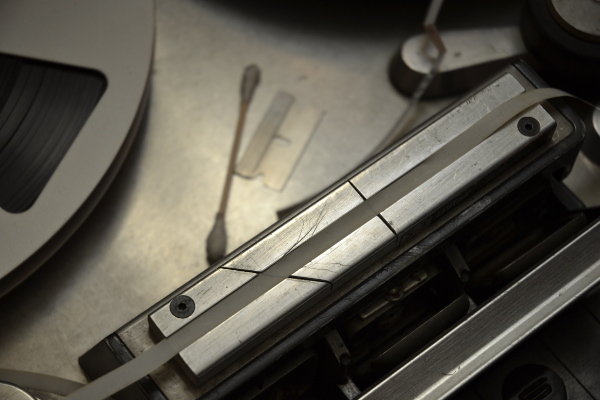 This is the part of the tape machine where we do the cutting on the Studer. The splicing block tends to get worn out from razor blades. It's from making loops. This machine's from 1965; it's been used a lot. Peter
There are usually q-tips everywhere. And for people who don't understand they're for cleaning equipment they think we're really gross dirtbags who have an ear-cleaning fetish. We just constantly have to clean the tape heads. The tape will be rolling and Peter will yell "did you clean the heads?" It's a common thing you hear in the house. Caitlin
Practical Techniques For The Recording Engineer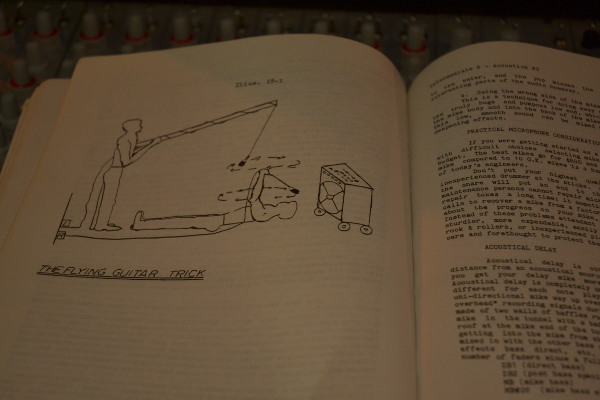 One of my favourite recording books is Sherman Keene's Practical Techniques For The Recording Engineer. He played bass in the band Spirit and worked at Ike Turner's recording studio. It was self published in the '70s; it was typed out. The illustrations in the book look like they were done by a deranged child. He would have the most wonderful advice. Stuff like "don't do too many drugs when you're recording or the client will haggle at the end of the session." This is also coupled with superb technical advice. It's probably the best technical recording book I've ever seen. Peter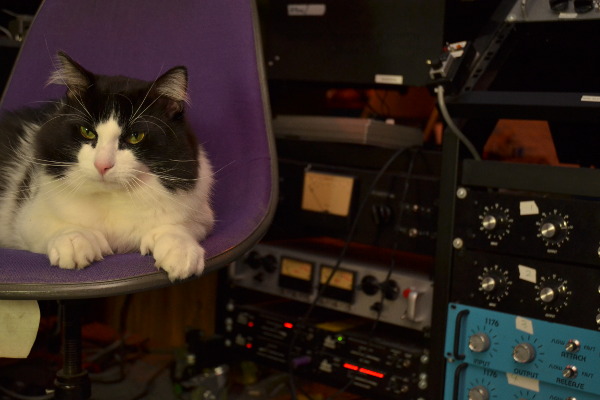 There are probably a lot of songs about him, two on this record. He's pretty special. He's like our boss, I guess. Caitlin
I've written at least five songs about him. Peter
Des chiffres agiles de Nick Schofield:
(Traduit par la nostalgie douce de Catherine Debard)
Avec une touche de style et un roulement d'épaules élégant, descendons dans le sous-sol embrumé de Freelove Fenner, encore imprégné de leur nouveau LP Do Not Affect a Breezy Manner. Le trio du Mile-End livre un son très sec, recouvert d'un doux filtre sepia, gracieuseté de l'équipement analogique de the Bottle Garden. Caitlin Loney dépose sa voix naturellement décontractée directement sur le ruban, au-dessus de la batterie aux yeux étoilés et des riffs de guitares comme des blessures soigneusement dessinées. Pendant ce temps, le producteur de fait George Harrison le Chat ronronne derrière son 8-pistes Otari MX70 et observe la lente diminution des réserves de Quantegy 456. Dans la lignée de Rule 9, DNABM est un album heureux, sans être fantaisiste, ni simplet. Nous avons ouvert une bouteille avec le groupe afin d'imbiber les éléments environnants qui se trouvent dans leur album.
Freelove Fenner – All Things Break Through
Freelove Fenner – George Harrison Cat
Mr. Brown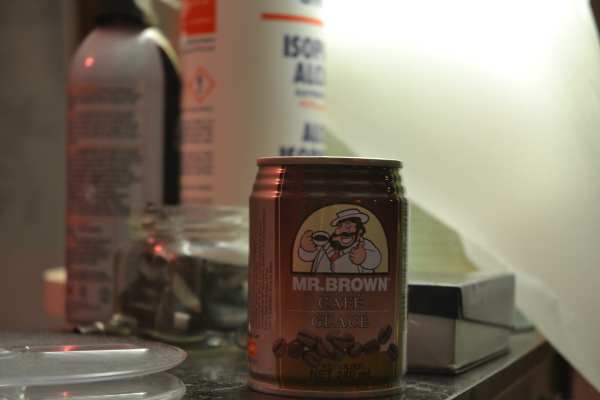 Nous en buvions beaucoup durant nos sessions d'enregistrement. C'est une boisson qui ressemble à un mélange de café et de lait. Il faut la secouer. C'est dans une toute petite boîte de conserve et je crois que ça vient de Taiwan. On peut en trouver dans certains dépanneurs. On peut même la mélanger avec de la vodka.Caitlin
Tambourin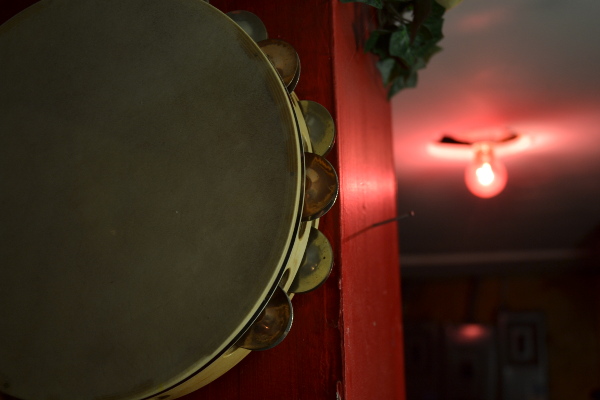 Il y a toujours de l'espace pour du tambourin, même s'il n'y a que huit pistes. Nous faisons de la place pour lui.Caitlin
Les gens sont généralement scandalisés lorsqu'ils apprennent que j'ai payé plus de 100 $ pour un tambourin. Ça a été assez douloureux sur le coup, mais je l'ai utilisé sur presque toutes les chansons que nous avons enregistrées. C'est un instrument très sous-estimé. Généralement, les musiciens y pensent après coup, mais pour nous, c'est parfois aussi important que la batterie. Beaucoup de nos chansons préférées (à vie) contiennent du tambourin. Peter
Image fixe de Super 8 / Visuel de la pochette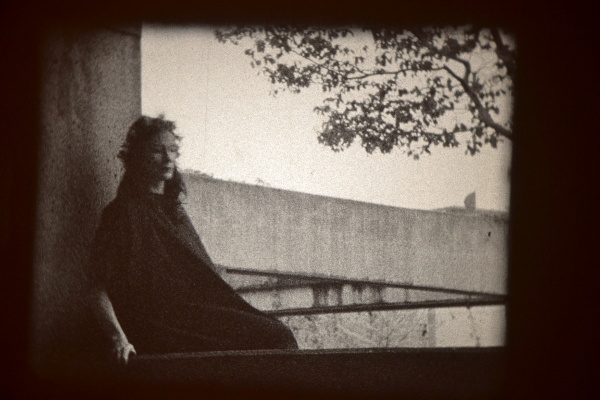 Ce sont des bandes de Super 8 scannées de notre vidéo pour la chanson "In The Sound". On a choisi des images puis on les a photographiées avec une lentille macro pour faire la pochette de l'album. Ça a été filmé au Parc Viger, le nom de la sculpture est "L'Agora". C'est une sorte de structure néo-grecque bizarre. Je crois que le terme "Agora" fait référence à l'espace public. C'est essentiellement moi dans une robe noire avec de la vigne dans les cheveux. C'est un architecte québécois qui a conçu l'espace. Caitlin

Je crois que c'est un endroit en danger; il existe déjà des projets visant à démolir cet espace. Dans son état actuel, c'est principalement un parc inspiré de l'architecture brutaliste où les toxicomanes aiment bien traîner. Ça reste tout de même l'un de mes endroits préférés à Montréal et j'aimerais que plus de gens viennent s'y promener. Peter

Magnétophone

C'est la partie du magnétophone qui permet de faire le montage sur Le Studer. Les blocs de découpage ont tendance à être usés à cause des lames de rasoir. C'est à force de faire des boucles. Cette machine date de 1965, elle a été beaucoup utilisée. Peter

Il y a généralement des cotons-tiges partout. Pour ceux qui ne comprennent pas : c'est pour nettoyer l'équipement, pas parce qu'on est des fétichistes du nettoyage d'oreilles! On doit constamment nettoyer les têtes de bande magnétique. Le ruban sera en train de dérouler et Peter va hurler "As-tu nettoyé les têtes?" C'est une chose qu'on entend souvent à la maison. Caitlin

Practical Techniques For The Recording Engineer

L'un de mes livres préférés sur l'enregistrement est Practical Techniques For The Recording Engineer de Sherman Keene. L'auteur a joué de la basse dans le groupe Spirit et a travaillé dans le studio d'enregistrement de Ike Turner. Il a publié lui-même son livre durant les années 70, tapé à la machine à écrire. Les illustrations ont l'air d'avoir été faites par un enfant un peu perturbé. Ce livre est truffé d'excellents conseils tels que "ne prenez pas trop de drogue lorsque vous enregistrez sinon le client va tenter de marchander à la fin de la session." Ajoutez à ça des conseils techniques superbes et ce livre est probablement l'un des meilleurs livres sur les techniques d'enregistrement que j'aie jamais vu. Peter

Il y a probablement beaucoup de chansons sur ce chat, deux sur cet album. Il est assez spécial. C'est notre patron en quelque sorte.

Caitlin

J' ai écrit au moins cinq chansons sur lui. Peter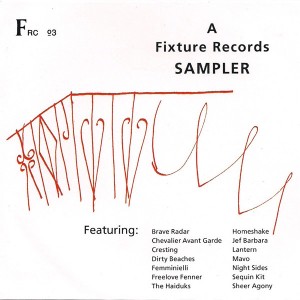 Various Artists
A Fixture Records Sampler
Asterisk, Canada
From the bewildered benevolence of Joseph Stephenson Taylor and Jesse Locke:
Gliding above, below and beside in a stream of benevolent jams, this is the accompaniment for the walking person, the sitting person, the busy and the bored. The Fixture Records "sampler", as they have so humbly put it, is home to 22 magnificently diversified tunes. It boasts a roster of names great and great, some bewilderingly great. Elder statespeople like Brave Radar, Mavo and Freelove Fenner — whose see-sawing Siouxsie-style riffage of "Sheperdess" is a standout here and on their latest LP — shuffle next to relative newcomers like the Haiduks, Night Sides and Homeshake — whose slinky seduction could melt any mixtape. Femminielli, Chevalier Avant Garde and Jef Barbara bring a dash of dangerous glamour, while Dirty Beaches hearkens back to his hazy days of yore. The jangular jawns of Sheer Agony close out this set with fizzical fitness, yet the show can't be stolen when it's stacked front to back.
De la bienveillance étrange de Joseph Stephenson Taylor and Jesse Locke:
(Traduit des jours d'antan de Stéphanie Trottier)
Défilant par-dessus, par-dessous et tout près d'un courant de jams bienveillants, voici l'accompagnement de celui qui marche, de celui qui est assis, de celui qui s'affaire et de celui qui s'ennuie. Le « sampler » de Fixture Records, comme il a été si humblement désigné, nous offre 22 morceaux magnifiquement diversifiés. Il se vante d'un répertoire de grands noms, grands et d'un grand déconcertant. Des démagogues anciens tels que Brave Radar, Mavo et Freelove Fenner – dont le riff de « Sheperdess » de style Siouxsie oscillant est mis de l'avant sur leur dernier LP – se mêlent aux nouveaux venus comme les Haiduks, Night Sides et Homeshake – dont la séduction sinueuse ferait fondre tout mixtape. Femminielli, Chevalier Avant Garde et Jef Barbara apportent une touche dangereuse de glam, alors que Dirty Beaches remonte à ses jours brumeux d'antan. Le tintement anguleux de Sheer Agony clôture l'album avec un entraînement fizzical. La vedette ne peut toutefois pas être volée lorsqu'elle joue du début à la fin.
Homeshake – She Can't Leave Me Here Alone Tonight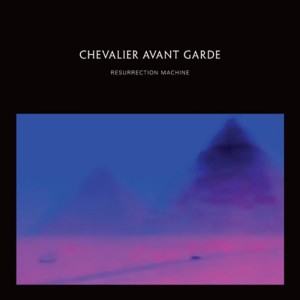 Chevalier Avant Garde
Resurrection Machine
Montréal, QC
From the bedroom goth-disco of Pavan Brar:
Melancholy and bliss permeate the entirety of Resurrection Machine, infiltrating the body via the auditory organs and spreading throughout. On their newest release, Chevalier Avant Garde show a great command of the ability to transduce lows into mid-tempo grooves, a transformative process impelling one to both dance and sulk. A composite of ambient electronics and reverbed post-punk vocals, the band's collective consciousness echoes from within to without, emitting cold psychical waves which set up a suitable aura to welcome the arrival of fall.
De la chambre disco gothique de Pavan Brar:
(Traduit par l'inspiration de Julie Forget)
La mélancolie et le bonheur imprègnent Resurrection Machine en entier, en infiltrant le corps par les organes auditifs et en s'y étendant d'un bout à l'autre. Dans leur plus récente parution, les membres de Chevalier Avant Garde maitrisent parfaitement l'art d'accélérer les grooves lents, un processus de transformation qui incite autant à danser qu'à se renfrogner. Mélange de musique électronique ambiante et de voix post-punk reverbérée, la conscience collective du groupe résonne de l'intérieur vers l'extérieur en émettant de froides vagues psychiques qui créent une ambiance propice à l'accueil de l'automne.
Chevalier Avant Garde – Rose Rider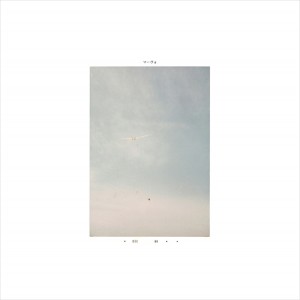 Mavo
Mavo 7"
Montreal, QC
From the soy caption of Jesse Locke:
Montreal-via-Lethbridge-via-Osaka's Mitz Takahashi is a modern day renaissance man: carpenter, comedian and C86 fuzz-pop aficionado. On this long-percolating 7", he and Mavo bandmate Conor Prendergast (Brave Radar, Fixture co-CEO) twist out three immaculately crafted tunes that were well worth the wait. Mitz's self-aware humour is placed on the front burner with hooky jangle serving as backdrop for lyrical/musical nods to the Fall, Velvets, and the life of an international slacker. "Hey white boy, what you doin' in Chinatown? Hey white boy, what you doin' in Parc-Ex?"
De la légende de soja de Jesse Locke :
(Traduit du balcon d'Andréanne Dion)
Entre Montréal, Lethbridge et Osaka, Mitz Takahashi est un homme de la Renaissance contemporaine : il est charpentier, comédien et amateur de fuzz-pop C86. Sur ce 7" longuement filtré, lui et son acolyte de Mavo, Conor Prendergast (Brave Radar, co-PDG de Fixture), offrent trois chansons parfaitement confectionnées qui se révèlent en avoir valu l'attente. L'humour d'autodérision de Mitz est mis de l'avant, et les cliquetis accrocheurs servent de toile de fond aux clins d'œil lyriques et musicaux faits à the Fall, aux Velvets et à un mode de vie de fainéant international. "Hey white boy, what you doin' in Chinatown? Hey white boy, what you doin' in Parc-Ex?"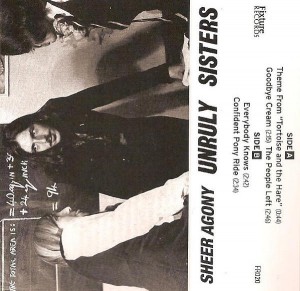 Sheer Agony
Unruly Sisters
Montréal, QC
From the crush and the voices in chorus of Hugo Hyart:
Classic pop vibes. Good old Syd included, feel free to invoke all the great masters, known or not, of the genre you can think of. Listening to this handful of songs lasting almost 11 minutes put together, you'll be heartened and ready to have a wonderful afternoon in style, be it sunny or cloudy/rainy.
Du béguin et des voix en choeur de Hugo Hyart:
(Traduit par Hugo Hyart)
Des ondes pop classiques. Ce bon vieux Syd inclue, n'hésitez pas à invoquer tous les grands maîtres du genre, connus ou pas, auxquels vous pouvez penser. A l'écoute de cette poignée d'airs ne durant que presque 11 minutes mis bout à bout, vous serez réconfortés et aurez chaud au cœur, prêts à passer avec classe un merveilleux après-midi, qu'il fasse beau ou qu'il fasse moche.
Sheer Agony – Theme From Tortoise and the Hare
---