Tag: fist city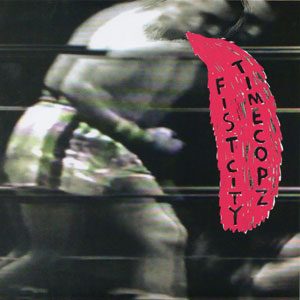 Fist City // Timecopz
Split 7″
Lethbridge, AB // Vancouver, BC
From the post-storm sun of Michael Deane:
It's like someone told both of these bands: "You only have five minutes to say everything you have planned for the next year," and they nailed it into the ground. Fist City's side has an amazing mix of precision and shambles, of dissonant guitar lines and totally uplifting sun-after-the-storm, muddy-voiced melodies. The trampling, mangled, spit-out warbling verses give way to trebly, simple guitar lines backing catchy-as-all-hell choruses. Timecopz keep pace with bratty, chunky, screamy garage-punk that stays away from all gimmick, giving nothing but two songs full of noisy, in-the-red energy. Group choruses and infectious verses mix punk's past with punk's future and give you punk rock for right now. MUST GRIP.
Du soleil après l'orage de Michael Deane:
(Traduit par Maya Keshav)
C'est comme si quelqu'un a dit aux les deux groupes: "Vous avez seulement cinq minutes pour dire tous ce que vous avez l'intention de dire cette année," et ils ont tapé dans le mille. La face de Fist City a un mélange incroyable de la précision et de la pagaille, des riffs dissonantes de guitare, et des mélodies embrouillées, soleil-après-l'orage, et complètement exaltantes. Les vers piétinants, lacérés, crachants et gazouillants cèdent aux mélodies aiguës et simples de guitare derrière les refrains trop entraînants. Timecopz tient le rythme avec le garage-punk gâté, trapu, et hurlant qui évite tous les stéréotypes, en donnant deux chansons trempées d'énergie bruitiste et dans le rouge. Les refrains de groupe et les vers entraînants mélange le passé du punk avec l'avenir du punk et vous donne le punk pour juste maintenant. ACHETEZ.

Timecopz – Shit City

Fist City – Iggy Pup
Fist City
Hunting You
Lethbridge, AB
From the meth municipality of Aaron Levin:
The gnarly, driving pop sinusoids of Lethbridge's Fist City have finally entombed themselves in one eternal polyvinyl groove. Their catch drips in the ecstatic distortion flowing through the Southern Albertan hotbed, but it's Hunting You's torrid leads and dualic vocals that make them a beacon for all things adjective-punk. Well tuned heads will be plugged into their ardent pop sensibilities and otherworldly weirdness, levitating their grey matter to the next level of pop consciousness; a B-Side burner you'll be playing in the shower, popping on a two-wheeler, and jamming down main street throwing fists and launching space rockets. Quintessential grippage from the small library of beautiful no-field Canadiana.
De la municipalité méthamphétamine d'Aaron Levin: (Traduit par la rue principale de Maya Keshav)
Les sinusoïdes noueuses et percutantes de Fist City de Lethbridge se sont finalement enterrées dans une rainure polyvinyle éternelle. Leur proie coule dans la distorsion ravie qui déborde du foyer de l'Alberta du sud, mais ce sont les mélodies torrides et le chant dualique de Hunting You qui le fait flambeau pour tout ce qui est adjectif-punk. Les têtes à l'écoute seront branchées à leur style fervent de pop et leur bizarrerie éthérée, qui font léviter leur matière grise au prochain rang de conscience pop; une face B étonnant que tu vas passer dans la douche, à vélo, en dansant sur la rue principale pendant que tu agites le poing et lances les fusées. Une cassette quintessencielle de la petite bibliothèque de Canadiana hors de tout.
---