Tag: festivities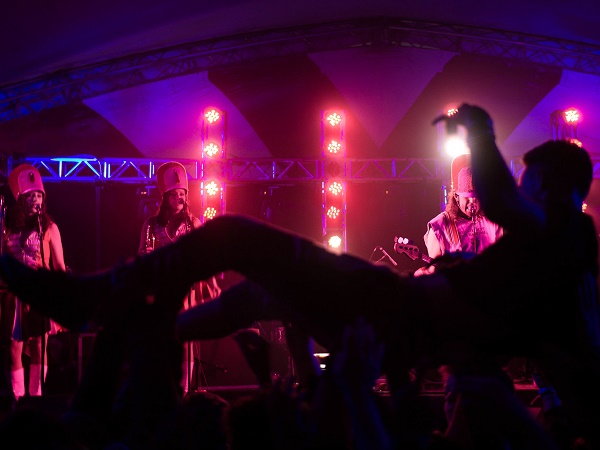 Dawson City Music Festival (DCMF)
Dawson City, YK
From the frost bitten toe of Preacher Katie:
Set in the whiskey drinking miner's heart, Dawson City Yukon gathers travellers, gamblers, ramblers, huskies and artists alike to celebrate the 38th annual Dawson City Music Festival. Once the epicentre of the Klondike Gold Rush, Dawson City's scenery hasn't changed too much. Smoke a cigar while the piano is drunk because you're in a surreal dream set in 1896.
Walk from venue to venue on the dirt roads in the midnight sun with a backdrop of colourful saloons, mountains and the vast Yukon river. Get tipsy and listen to the festival's all-Canadian line-up, either in an old stain glassed church, a circus tent, a grassy knoll by the river, or stroll to other offbeat stages scattered throughout Dawson City. With a familial sideshow of eccentric characters, this music festival is one for the rusty bucket list.
"I love how very extraordinary lives are lived so casually here" Mozart's Sister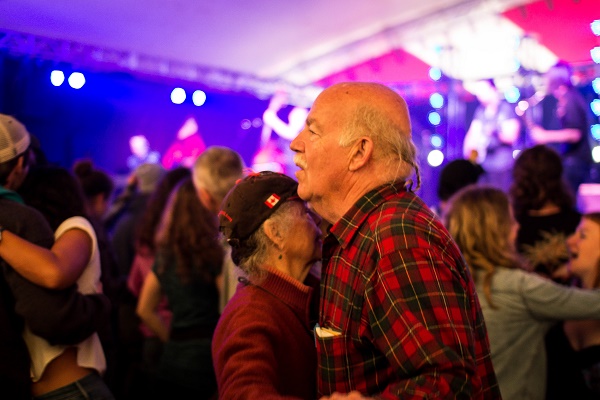 Photo Credit: Preacher Katie
A stolen intimate moment at the Minto Park Mainstage tent area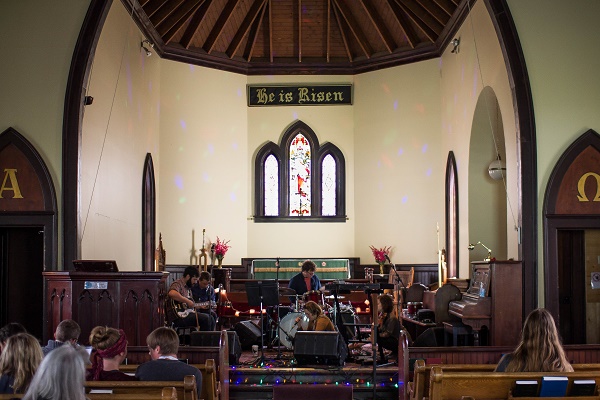 Photo Credit: Preacher Katie
During an Effective Effects performance, Merganzer, Mozart's Sister and Old Cabin joined forces for an experimental set where they asked the crowd to tell them about a dream they have had, then the musicians interpreted the audience member's dream through unique sounds. This session resonated through St. Paul's Anglican Church with beautiful acoustic.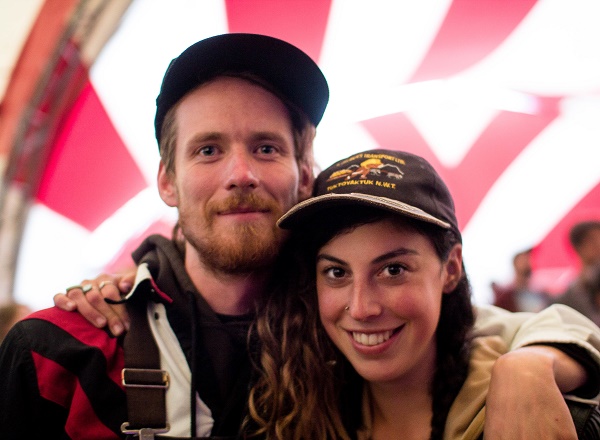 Photo Credit: Preacher Katie
Two locals' perspective on the festival Justin Apperley (Left) Emily Cypher (Right).
Justin Apperley (Local attendee) "The festival always brings a massive influx of people to the city, I like seeing it come alive with a new energy".
Emily Cypher, Owner of Bonana Jellybeans DIY, a caravan/gallery space "I loved being a vendor and showing off the artistic talents of the north in my new caravan store. Our town is the best kept and not so kept secret heaven and it's always cool to open the doors for a bit and see what magic happens!"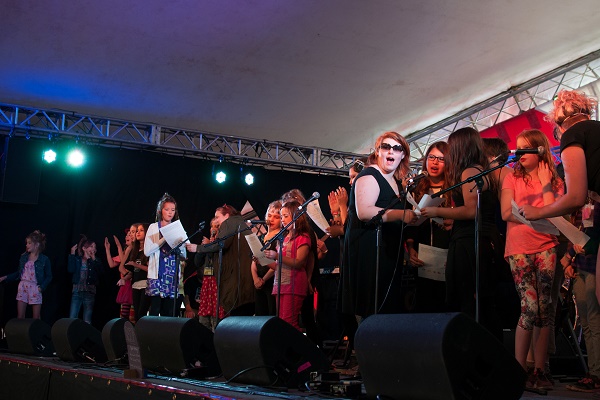 Photo Credit: Aaron Woronuik
Yukon Girls Rock Camp perform on DCMF's Mainstage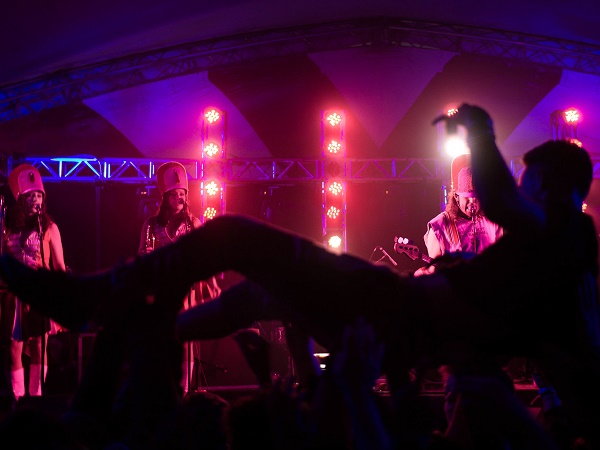 Photo Credit: Preacher Katie
The Wet Secrets from Edmonton had audience members surfing the crowd.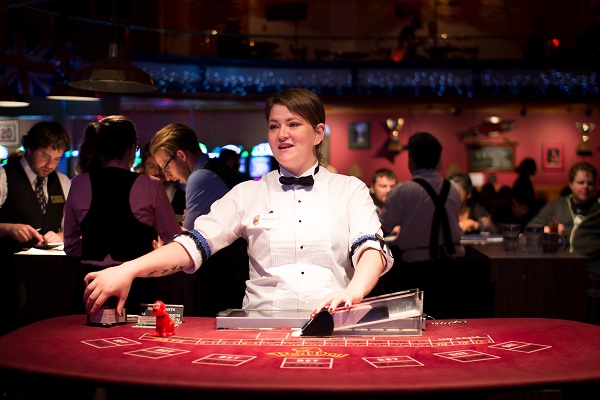 Photo Credit: Preacher Katie
A blackjack dealer at Diamond Tooth Gerties
It's hard to sleep when the sun doesn't set and you're wandering around a dim lit town drunk. The rarest part of DCMF is that when the festivities end, the town doesn't. Play blackjack at the saloon and watch Cancan dancers perform for you at Gerties Diamond Tooth Saloon, watch more music at The Pit with local bands like The Midnight Sons or do a shot with a real frost bitten toe in it at The Downtown Hotel. You will never want to leave.
De l'orteil avec une engelure de Preacher Katie:
(Traduit par Maya Keshav)
Se déroulant dans le cœur d'un mineur buveur de whiskey, La Cité de Dawson au Yukon rassemble les voyageurs, les gageurs, les radoteurs, les huskies et les artistes voisins pour célébrer le 38e Festival de Musique de Dawson City. Autrefois l'épicentre de la ruée vers l'or du Klondike, le décor de Dawson City n'a pas tellement changé. Fumer un cigare pendant que le piano est saoul parce que vous êtes dans un rêve surréel se déroulant en 1896.
Marchez de site en site sur les routes de terre dans le soleil de minuit avec en arrière plans des saloons colorés, des montagnes et le vaste Yukon. Devenez pompette et écoutez le programme entièrement Canadien du festival, soit dans une vieille église aux vitres tachées, une tente de cirque, une butte de gazon près de la rivière, ou promenez-vous aux autres scènes différentes éparpillées à travers la Cité de Dawson. Avec un spectacle familial de personnages excentriques, ce festival de musique en est un pour une bucket list rouillée.
« J'aime à quel point les vies extraordinaires sont vécues avec tant de désinvolte ici. » Mozart's Sister.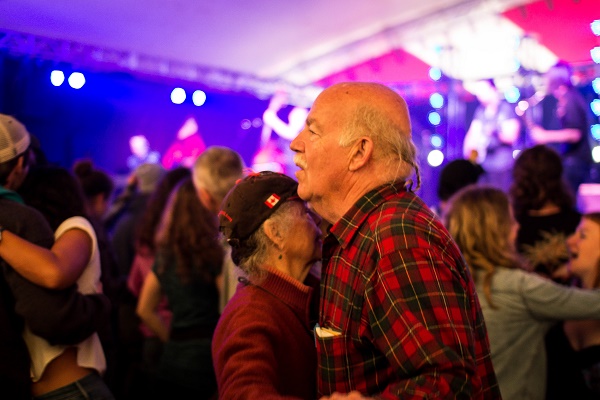 Crédit photographique: Preacher Katie
Un moment intime volé dans la zone principale de la tente de Minto Park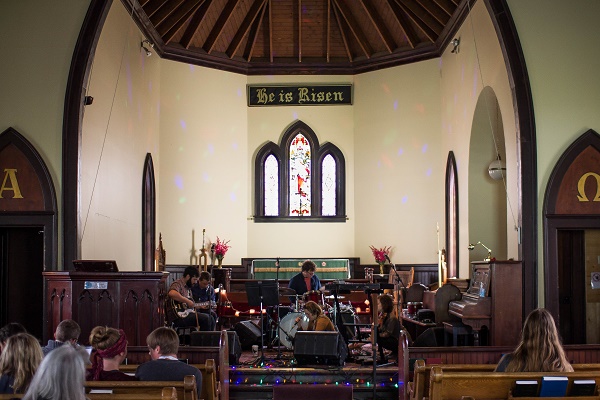 Crédit photographique : Peacher Katie
Durant une performance de Effective Effects, Merganzer, Mozart's Sister et Old Cabin ont joint leurs forces pour un ensemble expérimental où ils ont demandé à la foule de leur parlé à propos d'un rêve qu'ils ont eu, puis les musiciens ont interprété le rêve du membre de l'audience à travers des sons uniques. Cette session a résonné à travers l'église anglicane de St. Paul avec des sons acoustiques magnifiques.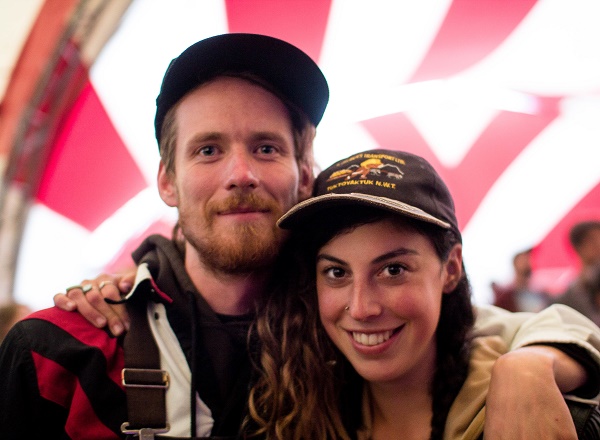 Crédit photographique: Preacher Katie
La perspective de deux locaux sur le festival, Justin Apperley (à gauche) et Emily Cypher (à droite)
Justin Apperley (participant local) « Le festival apporte toujours un flux massif de gens à la cité, j'aime les voir prendre vie avec une nouvelle énergie. »
Emily Cypher, propriétaire de Bonana Jellybeans DIY, un espace caravan/gallerie « J'aime être une vendeuse et mettre en valeur mes talents artistiques du nord dans mon nouveau magasin caravan. Notre ville est un paradis secret et bien connu en même temps et c'est toujours cool d'ouvrir les portes pour un moment et voir la magie! »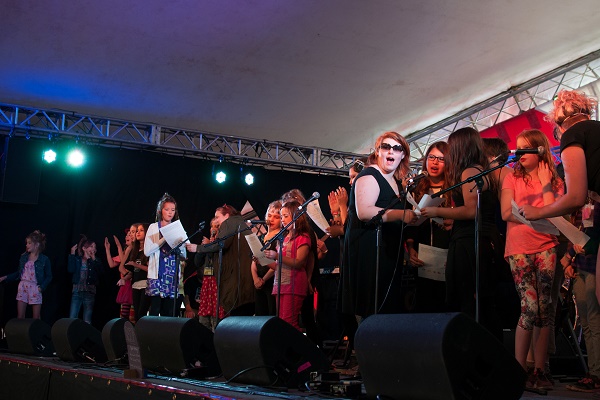 Crédit photographique: Preacher Katie
Un camp Rock Feminin du Yukon performe sur la scène principale de DCMF.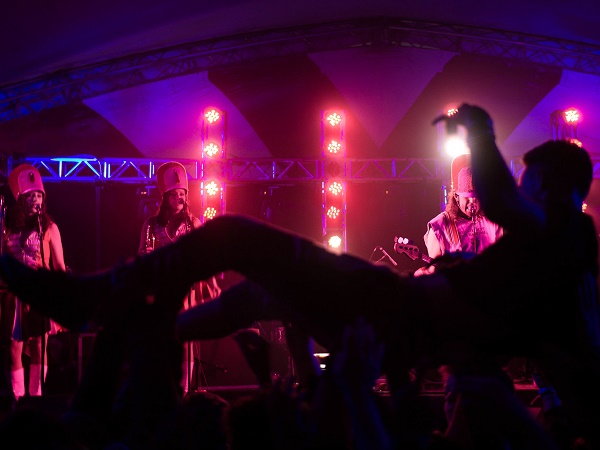 The Wet Secrets d'Edmonton avait des membres du public surfant la foule.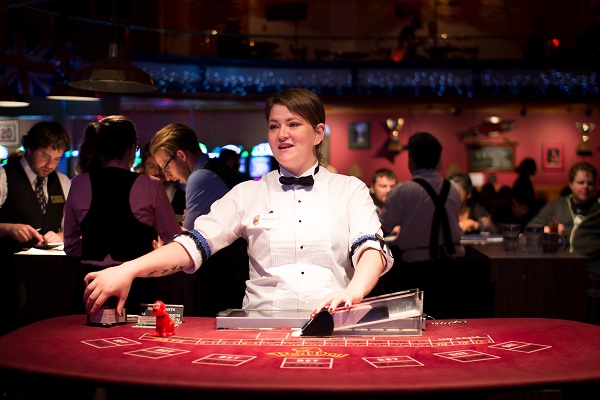 Crédit photographique: Preacher Katie
Un croupier de blackjack à Diamond Tooth Gerties
C'est dur de dormir quand le soleil ne se couche pas et que vous errez autour d'une ville faiblement éclairée, saoul. La partie la plus rare de DCMF c'est quand les festivités se terminent, la ville n'arrête pas. Jouez au blackjack au saloon et regardez les danseuses de cancan performer pour vous au saloon Gerties Diamond Tooth, regardez plus de musique au The Pit avec des groupes locaux comme The Midnight Sons ou faites un cul sec avec un orteil vraiment gelé à l'hôtel du centre-ville. Vous ne voudrez jamais partir.
Sled Island
Various Artists
Calgary, AB
From the excited ears of Matthew Swann:
Since 2007, Sled Island's thoughtful, eclectic programming and independent spirit have fused with Calgary's youthful energy to produce a one-of-a-kind festival experience. Each June, the five-day music and arts festival brings together a community of over 250 bands, comedians, filmmakers and artists as well as over 30,000 attendees in more than 35 venues, transforming the city into an arts lover's paradise that has earned rave reviews from artists, fans and media from across the globe.
From the excited ears of Matthew Swann:
(Traduit par GT)
Depuis 2007, réfléchi, programmation éclectique Sled Island et esprit indépendant ont fusionné avec énergie de la jeunesse de Calgary pour produire une expérience du festival unique. Chaque Juin , le festival de musique de cinq jours et les arts rassemble une communauté de plus de 250 groupes, comédiens, cinéastes et artistes , ainsi que plus de 30.000 participants dans plus de 35 lieux, transformant la ville en un paradis pour les arts amant qui lui a valu des critiques élogieuses d' artistes, les fans et les médias de partout dans le monde.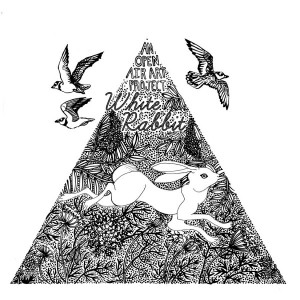 6th Annual White Rabbit Celebration
Aug 7th – Aug 16th
(Photos by Eli Gordon, Illustration by Anna Bald)
Red Clay Farm, Upper Economy, NS
From the Blaring Third Eye of Jonathan Rotszstain:
White Rabbit is wild ocean waves crashing opposite deep woods. You're listening to 92 Nothing FM. First, there is the residency. Ten or so artists selected to come to Red Clay, Parasborough way. Site specific and found material projects are encouraged. Seven feverish days pass: discussion, labour and summer rites. Last comes the festival. Intimate gives way to audience, an explosion of song, feast and triumph. Long nights on the Bay of Fundy, world's highest tides.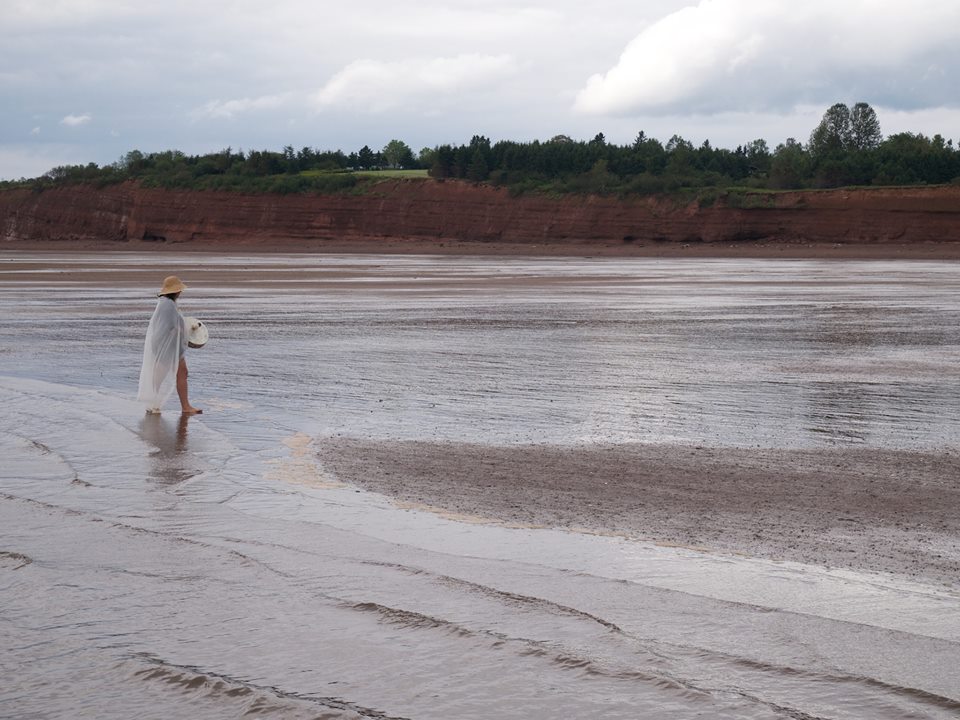 Lindsday Dobbin walks the beat.
Lindsay Dobbin drums forward as the water rises. Backwoods Nova Scotia all lit up. Kate Walchuk knows. She's your KJ rocking Jefferson Airplane's song of the same name on repeat. Feed your head.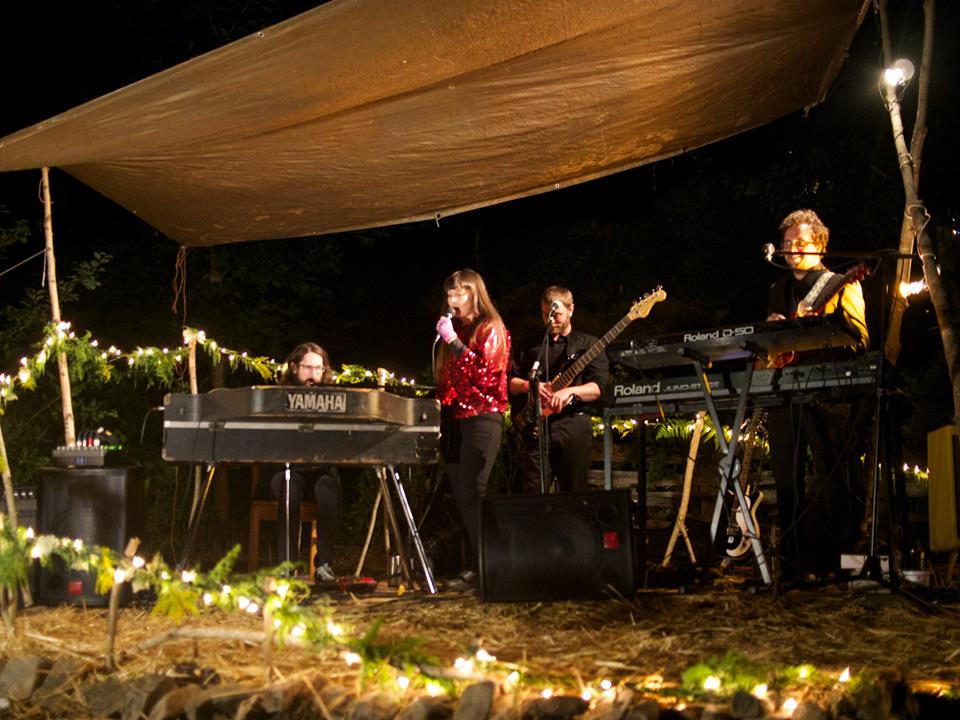 Alana Yorke, you got this.
There's a little stage illuminated by candles. Alana Yorke belting piano cheese. Tears roll down cheeks. Falling for it. The meadow is for dancing. Big stage, undulating boys—EFG —fake ESG. Groove backwards. DJ Goldilocks. Holy shit. Body movement. Great feelings.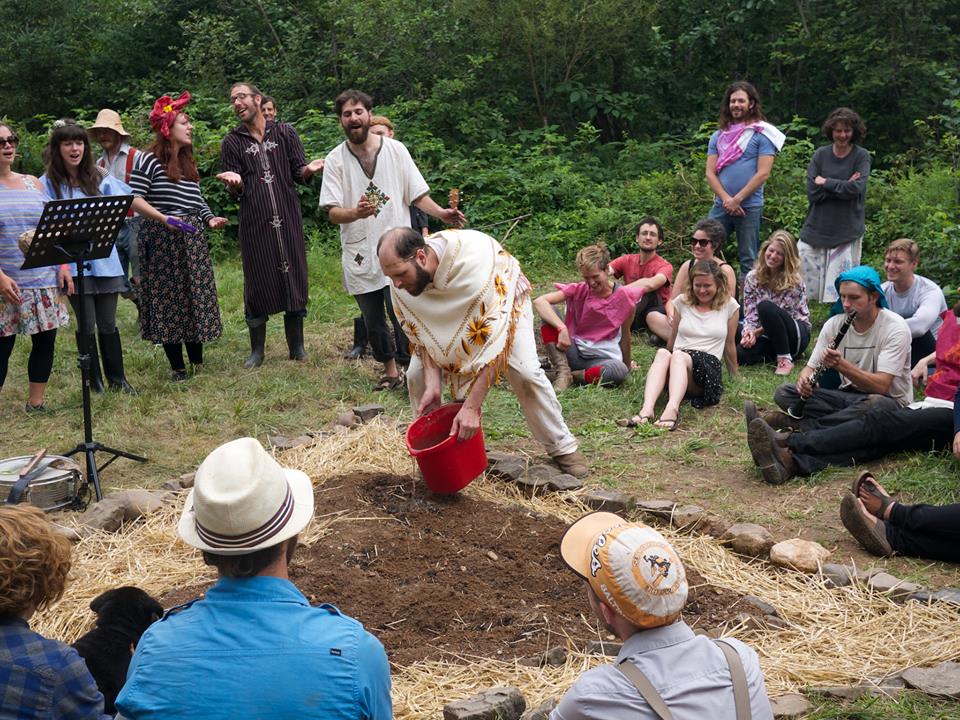 Gurotszta and the Great Garlic Gazing.
Next morning, pancake breakfast. We praise the sun, soil and water and ceremoniously plant garlic. Truly incredible experience. I'm a believer.
Du troisième œil tonitruant de Jonathan Rotszstain:
(De la plaine qui pousse au milieu de Flora Hammond)
White Rabbit est un océan sauvage dont les vagues s'échouent contre une forêt profonde. Vous écoutez 92 Néant FM. D'abord la résidence. Une dizaine d'artistes sont sélectionnés pour se rendre à Red Clay, Parasborough way. Interactions locales et projets d'objets trouvés sont encouragés. Sept jours fiévreux passent : discussions, labeur et rites d'été. Enfin, vient le festival. L'intimité est remplacée par un public, une explosion de chants; festins et triomphe. De longues nuits au cœur des marées imposantes de la Baie de Fundy.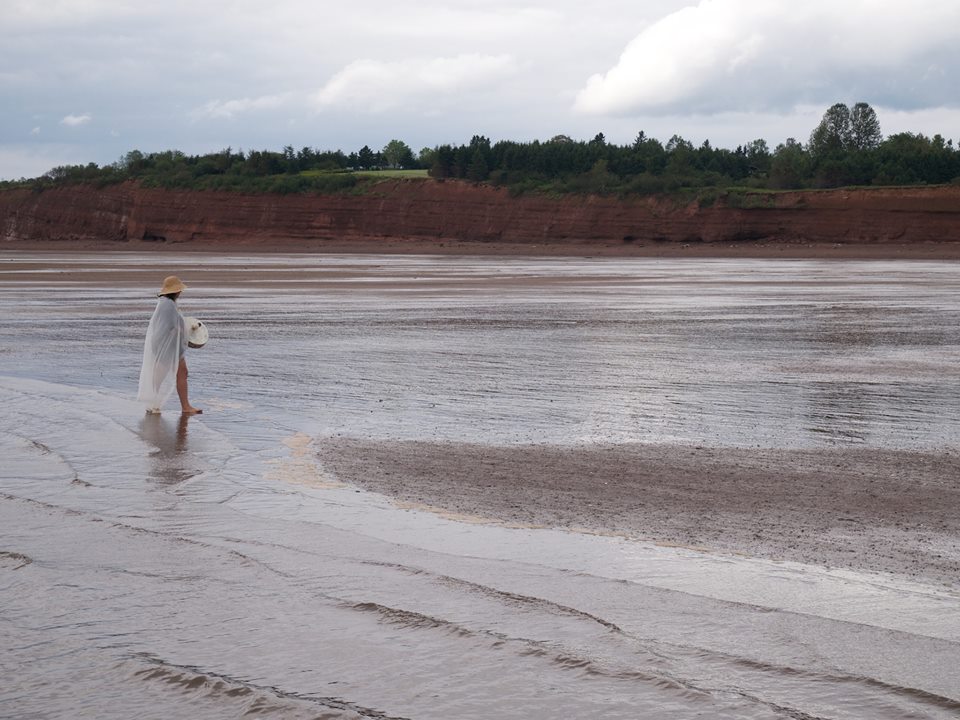 Lindsay Dobbin promène le rythme.
Lindsay Dobbin marche son tambour pendant que la marée monte. Un trou de nouvelle écosse tout allumé. Kate Walchuk sait. Elle est votre KJ, jouant à l'infini la chanson homonyme du festival par Jefferson Aiplaine. Nourrissez vos pensées.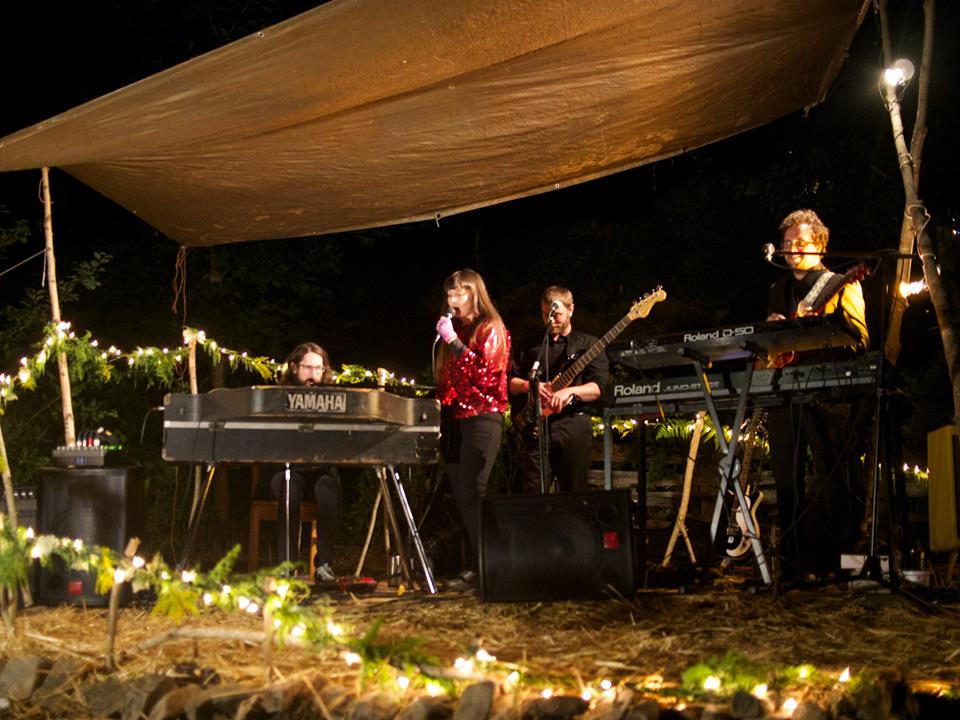 Alana Yorke sait quoi faire.
Il y a une petite scène illuminée par des bougies. Alana Yorke epoustouflante au piano. Les larmes coulent le long des joues. J'y crois. La plaine pousse pour qu'on y danse. Grande scène, garçons ondulants —EFG— ersatz d'ESG. Danse renversée. DJ Goldilocks. Holy shit. Mouvements du corps. Émotions du cœur.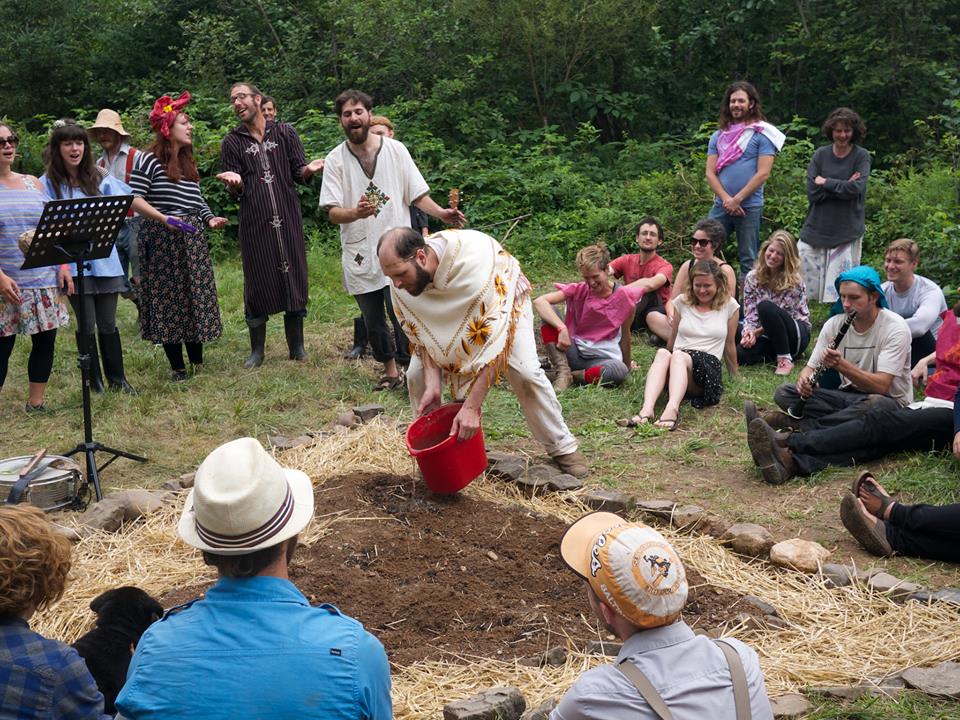 Gurotszta et la grande observation de l'ail.
Le matin suivant, déjeuner aux pancakes. Nous prions soleil, terre et eau et plantons cérémonieusement des bulbes d'ail. Une expérience simplement incroyable. J'ai la foi.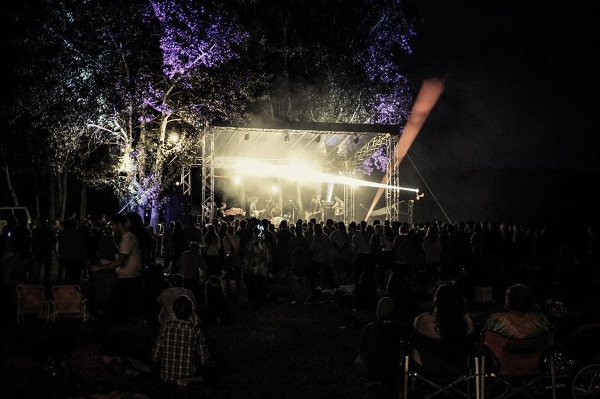 River & Sky
July 18-20, 2014
Field, ON
From the wild blue yonder of Preacher Katie:
"Thou shalt not do" was never whispered amongst the gathering of animals, children, artists, vendors and audience members in the forest of Field, Ontario at the River & Sky Festival. The freedom of expression and civil disobedience was an undercurrent that lingered through the small community atmosphere; this free rein resulted in a mannerly Temporary Autonomous Zone that stonewalled typical structures of control at festivals. No one was harmed, no one was a weirdo, no one OD'd, and an aggressive security guard waving his finger at you had nothing to do with this.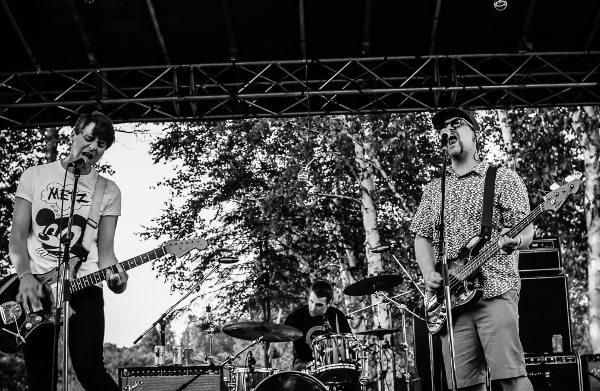 "I've never poured so much beer on my head as I did at this festival. I also discovered I can fit a 12-pack of beer in my jean jacket." – Neil Bednis (Geyser)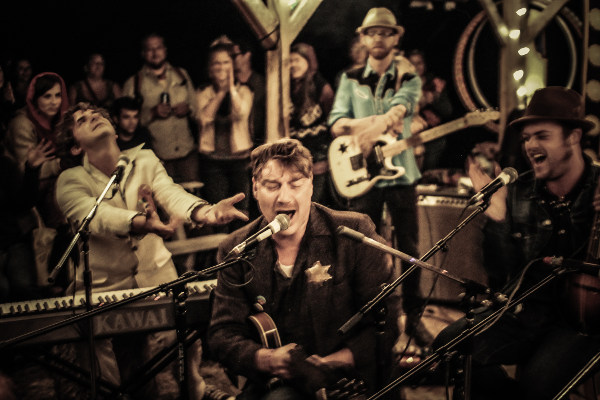 "I loved playing on a beach with the sand under my feet. I liked the idea of a 360 degree stage." – Charlie Glasspool (The Silver Hearts)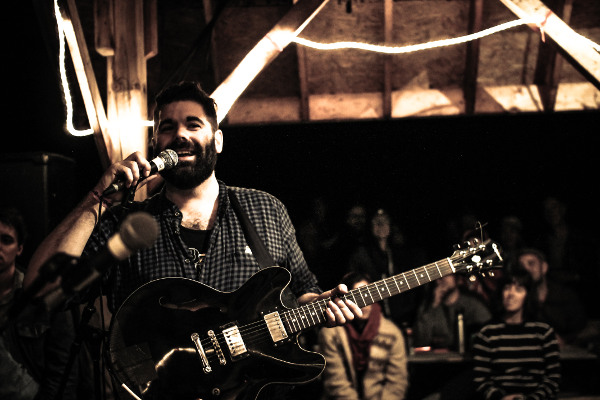 "The Ketamines had an amazing time playing on the beach all night long. We still have sand in our gear, which is a nice reminder that not every show is terrible." – Paul Lawton (The Ketamines)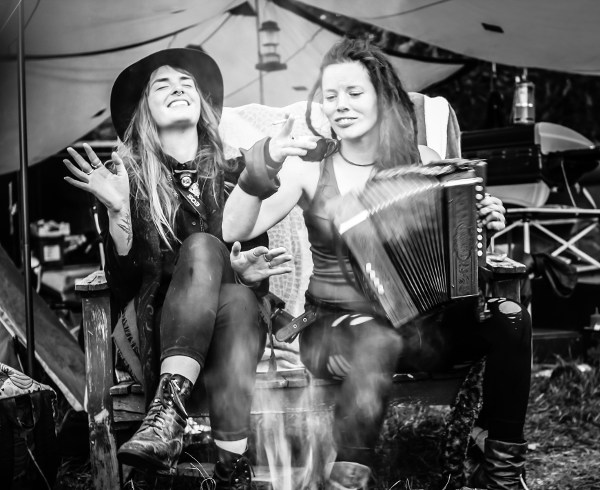 "Any festival where paddle boats are free, dogs are lingering everywhere, and I feel like I am in my own backyard is OK in my Jack Daniels drink." – Jalene Plamondon (Volunteer)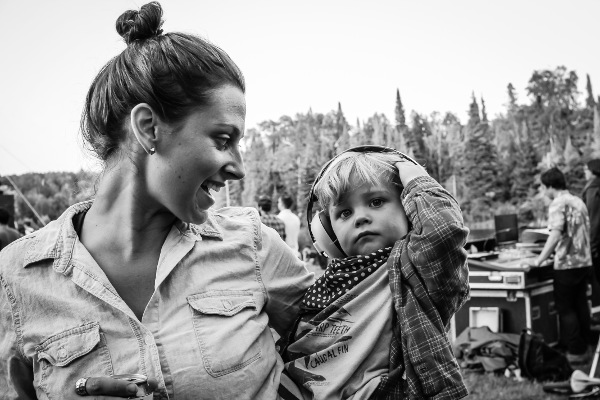 "I love the community feel of the festival, and how family-friendly it is. It is amazing now to see my little one becoming part of that community too." – Jessica Nadel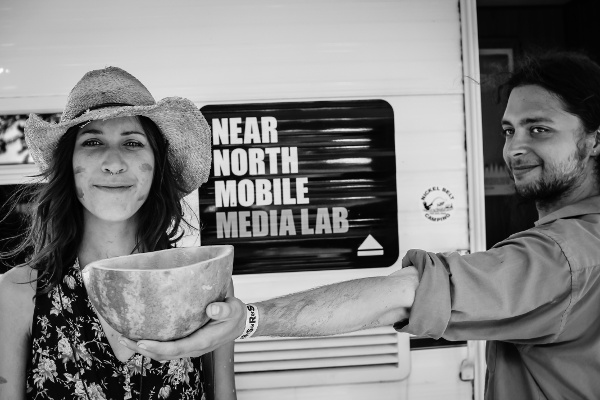 "The Mobile Media Lab embodies everything that River & Sky does – freedom, openness, and capturing natural experiences. That's what it's all about, right? Giving people a chance to get themselves out there and explore." – Brendan Lehman
Par les grands espaces célestes de Preacher Katie:
(Traduit par Nadine Tkatchevskaia)
« Tu ne feras point » n'a jamais été murmuré parmi le rassemblement d'animaux, d'enfants, d'artistes, de vendeurs et de membres du public dans la forêt de Field, Ontario au Festival River & Sky. La liberté d'expression et la désobéissance civile étaient des thèmes communs qui sont restés dans l'ambiance de petite communauté. Ce climat s'est réalisé dans la création d'une zone autonome temporaire qui a déchiré, dans le style des émeutes de Stonewall les structures de contrôle typiques des festivals. Personne n'a été blessé, personne n'était bizarre, personne n'a fait une overdose, et le gardien de sécurité qui pointait les gens du doigt n'y a été pour rien.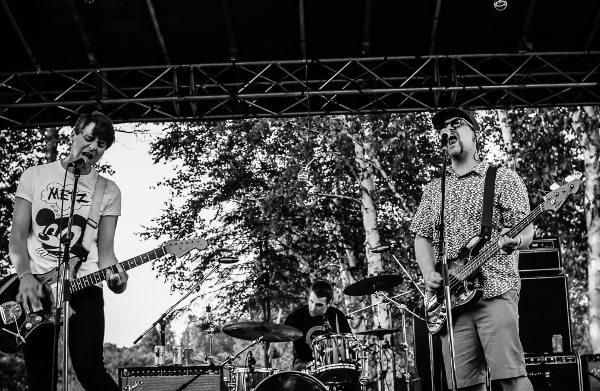 « Je n'ai jamais versé autant de bière sur ma tête qu'à ce festival. J'ai aussi découvert que je peux mettre douze bières dans ma veste en jean. » – Neil Bednis (Geyser)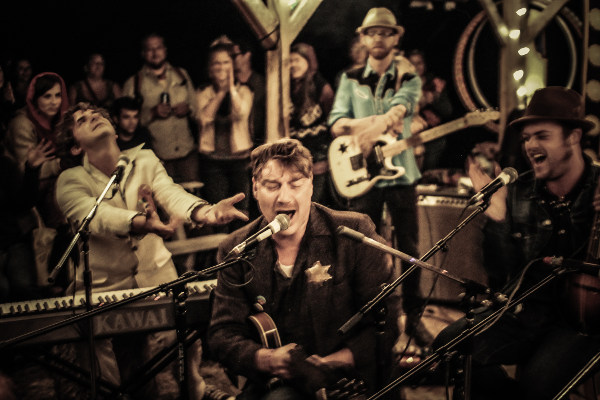 « J'ai adoré jouer sur la plage avec le sable sous mes pieds. J'ai aimé l'idée d'une scène à 360 degrés. » – Charlie Glasspool (The Silver Hearts)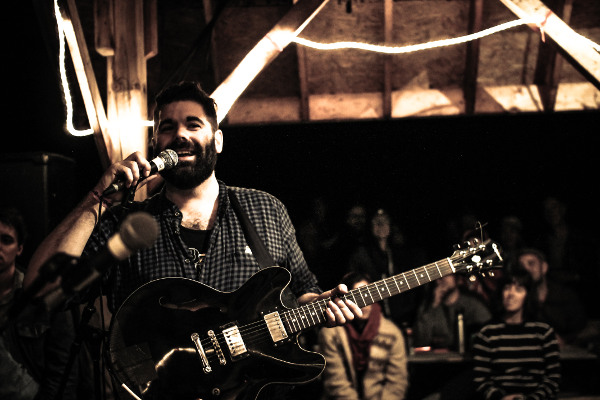 « The Ketamines se sont bien amusés à jouer sur la plage toute la nuit. Nous avons encore du sable dans nos instruments – un bon rappel que tous les shows ne sont pas aussi terribles. » – Paul Lawton (The Ketamines)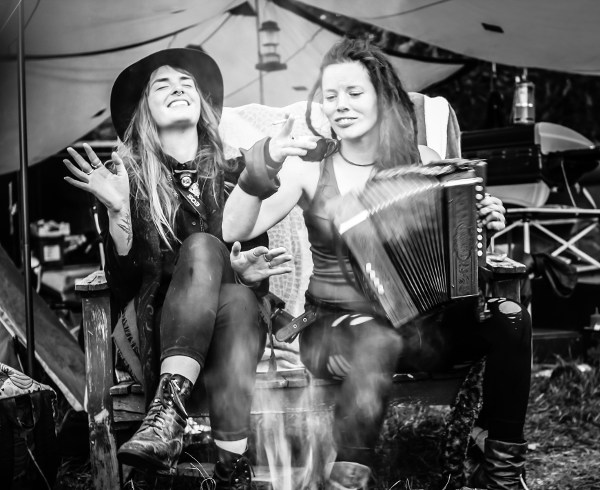 « Lorsqu'à un festival, il y a des pédalos gratuits, des chiens partout et que je me sens comme dans ma cour arrière, c'est bien dans ma boisson Jack Daniels. » – Jalene Plamondon (Bénévole)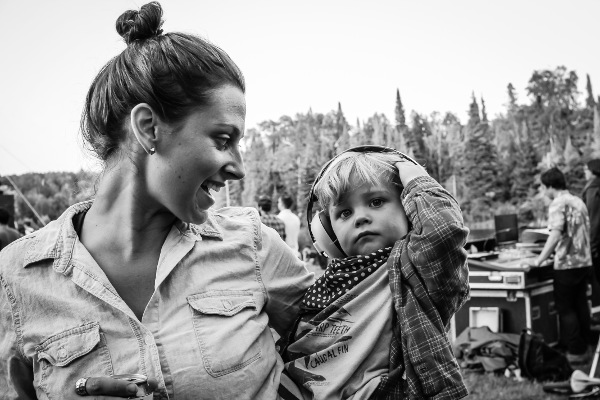 « J'aime le fait que le festival est comme une communauté et qu'il est accessible aux familles. Il est extraordinaire de voir que mon enfant fait désormais partie de cette communauté aussi. » – Jessica Nadel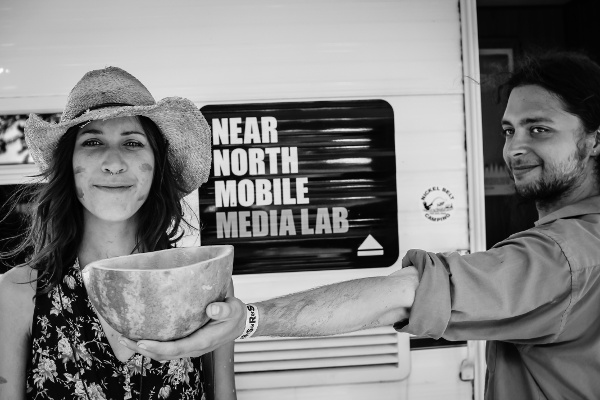 « The Mobile Media Lab illustre tout ce qui fait River & Sky : la liberté, l'ouverture, les expériences naturelles. C'est de ça dont il s'agit, non? Donner aux gens la chance de s'y retrouver et d'explorer. » – Brendan Lehman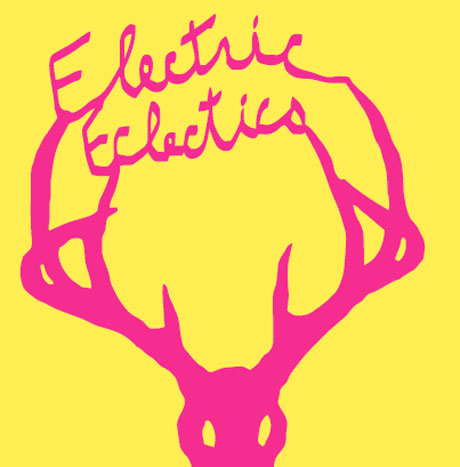 Various Artists
Electric Eclectics
(August 1-3, 2014)
Meaford, ON
From the shimmering delight of Julia Dickens:
Picture a neon soaked field rave with all of your best friends in glitter and gold, sleepy afternoons, noisy meditative drones and sheer shimmering musical delights, all within the solemn beauty of a southern ontario farm. Sweet folky sets, layering landscapes of sound evolving to clashing, smashing dissonance, wild hip shakers bringing you into a night of lysergic drenched dance jams under a sky full of stars.
Electric Eclectics, the avant garde festival of experimental music and art is upon us. Sweet warm winds off the great lakes pull freaks and dreamers away from city exhaust fumes to the quiet magic of Meaford. Absorb a smattering of off-kilter sounds and strange pop from the likes of WTCHS, Ice Cream, Hoover Party, Fresh Snow, Erin Sexton, Jef Barbara, Not the Wind Not the Flag, Loom, Blunt Chunks, and Paul Dutton.
Soak in the synaesthetic bliss of sonic installation and aural sculptures; bask in the waters of the Meaford beach; devour Nepalese treats and food truck BBQ delights. Snatch a spot at the screening of Public Slaw, a film from the wizard brains of Andrew Zukerman and Winston Hacking. In the dark shadows of the night, the glimmering DJ sets of HVYWTR, Petra Glynt and HIGHWORLD will spiral you through the fourth wall and onto the astral plane, protected under the watch of Vanessa Rieger's Nightlifeguard.
Bring camping gear and expect to sleep at sunrise.
Un aperçu d'Electric Eclectics du délice miroitant de Julia Dickens:
(Traduit des têtes ensoleillées de Catherine Debard and Marcin Lasinski)
Imaginez un rave dans un champs trempé de soleil néon avec vos meilleurs amis en costumes étincelants et baignés d'or. Des après-midis ensommeillés, du drone noise mais méditatif et des délices musicaux chatoyants, tout ça dans la beauté solennelle d'une ferme dans le sud de l'Ontario. Des prestations folk douces, des couches de paysages sonores qui évoluent et se frictionnent, dissonance magnifique, des danseuses sauvages qui vous guident vers une nuit lysergique gorgée de danse et de mouvements libres sous un ciel rempli d'étoiles.
Electric Eclectics, le festival avant-garde de musique expérimentale et d'art commence bientôt. Les vents doux et frais balayent les grands lacs et poussent les rêveurs et les weirdos hors des fumées que transpire la ville vers la magie tranquille de Meaford. Aspirez les sons détraqués et le pop étrange avec WTCHS, Ice Cream, Hoover Party, Fresh Snow, Erin Sexton, Jef Barbara, Not the Wind Not the Flag, Loom, Blunt Chunks, and Paul Dutton.
Laissez-vous baigner dans la béatitude synesthésique des installations sonores et des sculptures orales; faites-vous dorer au soleil sur les plages de Meaford; dévorez des mets népalais et des délices de BBQ de rue. Câlez-vous dans un siège à la projection de Public Slaw, un film tiré des cerveaux de mages de Andrew Zukerman and Winston Hacking. Dans les sombres ombres de la nuit, les sets de DJ étincellants de HVYWTR, Petra Glynt et HIGHWORLD vont vous aspirer dans la quatrième dimension et vous attirer dans un avion astral, protégé par la sauveteuse nocturne Vanessa Rieger. Apportez votre équipement de camping et attendez-vous à vous coucher au lever du soleil.
Electric Eclectics Preview by Wyrd on Mixcloud
Tracklist:
1. "In the province of the mind, there are no limits" – Not the Wind, Not the Flag
2. ")" – Erin Sexton
3. "We are at the fucking beach" – Gambletron and Johnny Nawarcaj
4. "Special Special For YOU" – Gambletron
5. "3" – Hoover Party
6. "Wholesome" – LOOM
7. "Pray For My Love To Find Me" – Blunt Chunks
8. "Overkilmer/Some Girls" – WTCHS
9. "Saturation Complete" – Fresh Snow
10. "Plastic" – Ice Cream
11. "I Know I'm Late" – Jef Barbara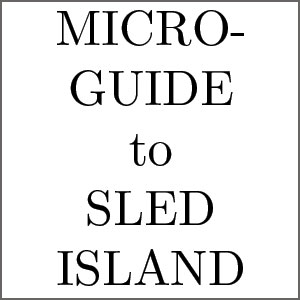 As Western-Canada's premier festival quickly approaches (or, rather, starts today), we thought we'd prepare the world's smallest guide to the Canadian underground. Below is a printable and foldable PDF to help you make your way through Sled Islands vast program of emerging Canadiana. The guide aims to highlight emerging sounds from our northern zone and may cause geographic fanaticism. Use at own risk.
Download: Weird Canada's Micro-Guide to Sled Island 2012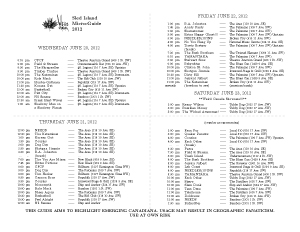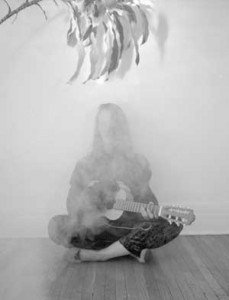 Jennifer Castle
Western Tour
+ Vancouver, BC
+ Edmonton, AB
+ Calgary, AB

Standing by our never-ending infatuation with all things
Jennifer Castle
, Weird Canada is proud to partner with
Flemish Eye
,
Beatroute Magazine
, and
Sled Island
in presenting three evenings of ethereal reverberations. For the lucky druidics mingling around Vancouver, Edmonton, and Calgary, we welcome your participatory magik while this otherworldly hippie goddess from the east conjures her delicate, finger-picked minimalism. Please, join us.
## Vancouver, BC
– Date: Thursday, September 29, 2011:
– Location: Electric Owl Social Club (928 Main St.)
– With: The Ruffled Feathers, David Vertesi
– Price: $10 / $12
– Link: facebook
– Presented By: Beatroute Magazine & Weird Canada
## Edmonton, AB
– Date: Friday, September 30, 2011:
– Location: ARTery (9535 Jasper Ave.)
– With: Kris Ellestad, Smoke+Band, Mark Templeton
– Price: $10
– Link: facebook
– Presented By: Weird Canada & Flemish Eye
## Calgary, AB
– Date: Saturday, October 1, 2011:
– Location: Cantos Music Foundation
– With: Kris Ellestad
– Price: $10
– Link: facebook
– Presented By: Sled Island
---