Tag: feral children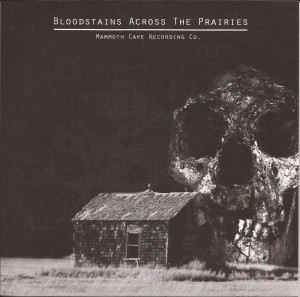 Various Artists
Bloodstains Across the Prairies
Saskatchewan, SK // Winnipeg, MB
From the prairie cryptography of Taylor Burgess:
Mammoth Cave gives us another great 'stain of the nation — the fourth entry of their barely-registers-before-it's-gone, minute-long song-a-thon. This time, Saskatoonians and Winnipeggers each take a side of the 7", drawing a line on either side of a border called 'garage rock'. Members of the keystone province crank their amps to 17 with absolutely no nonsense, but the Toontowners are taking mad trips left and right, getting bleary-eyed and psyched-out with post-hardcore hangovers. Neither side is taking prisoners. Think you're tough? Listen to Atomic Don's diamond dog doo-wop or Auld Beak's top-of-the-lung laments without crying. Think you're solid? Listen to This Hisses' chilling post-punk gallop or Trees' auditory existential crisis without trippin'. But the majority of these tunes, like the Haunted Souls' hyper-speed wooly bully or Plague Rats Throughout History's warped pogo-proto-punk, will leave your rug cut into confetti. WC mainstays Feral Children and Microdot have also included cuts of their usual shimmering/pummeling weirdo ephemera. Srsly, grippppppppit.
De la cryptographie des prairies d'Taylor Burgess: (Traduit par Maya Keshav)
Mammoth Cave nous donne une autre grande tache du pays— la quatrième entrée dans leur toune-a-thon d'une minute qui est tout juste entendu avant qu'il disparaisse. Cette fois-ci, les Saskatonians et les Winnipégois prennent chacun une face du vinyle, en dessinant une ligne sur chaque côté de la frontière qui s'appelle le garage rock. Les membres de la province en forme de clef de voûte augmentent leur ampli avec aucunes bêtises, mais les Toonvillois font les trips fous dans toutes les riections, en devenant sonnés et camés avec les gueules de bois post-hardcore. Aucune face font des prisonniers. Tu crois être robuste? Écoute la doo-wop chien-diamant d'Atomic Don ou les lamentations à tue-tête d'Auld Beak sans pleurer. Tu crois être fiable? Écoute le galop effrayant de post-punk de This Hisses ou la crise existentielle auditoire de Trees sans avoir un trip. Mais la plupart de ces tounes, comme la brute foutue hyper-rapide de Haunted Souls ou le pogo-proto-punk tordu de Plague Rats Throughout History, va déchirer ton tapis en confettis. Les piliers de WC Feral Children et Microdot ont inclus en plus les extraits de leurs éphémères chatoyantes/ tabassantes bizarres comme d'habitude. Sans déc, sautez dessus.
Stephen Cooley – Gets Us Nowhere
Atomic Don and the Black Sunrise – Evelyn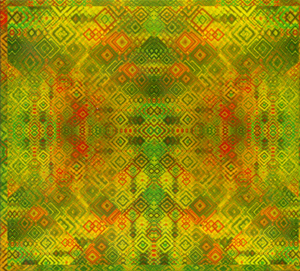 Feral Children
Feral Children
(Self Released)
Saskatoon, SK
From the boson ra of Aaron Levin and Jesse Locke:
Saskatchewan's bosonic youth continue their fluorescent acceleration into celestial pop abandon. Dirty boots tumble in an Electrolux spin cycle of voltaic hiccups and stadium-sized axe swings, swirling atop candy-coloured halos to illuminate the cranium of feral brainchild Ryan Davidson. Church of the Kaos Pad cult is in session, so leave your reductions at the gate and get cleansed.
Du boson ra d'Aaron Levin et de Jesse Locke: (Traduit par les bottes sales de Maya Keshav)
Les jeunes bosoniques de la Saskatchewan continuent leur accélération fluo dans l'abandon céleste de pop. Les bottes sales roulent dans un lave-linge electrolux d'hoquets voltaïques et de balancements de hache de taille d'un stade, en tourbillonnant sur les auréoles de couleur bon-bon pour illuminer le crâne de l'enfant sauvage Ryan Davidson. L'église du culte Kaos Pad tient séance, alors laissez tomber vos reductions au portail et venez pour devenir purifié.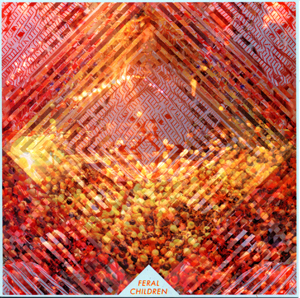 Feral Children
Reverb b/w Ancient Videotape
Saskatoon, SK
From the vespertine beach of Jared Majeski:
If you've ever seen Ryan Davidson (a.k.a. Feral Children) perform, you've watched the life cycle of a cosmic organism; layers upon layers of unsullied resonance and yearning psychedelic beauty. Now surrounded by a trio of musicians, Davidson has a freshly decadent invitation to discovery. A-side "Reverb" (re: BANGER) sublimates into a driving, noisy cluster of Britannian modernity. "Ancient Videotape" is a slow, virgin treasure awash on vespertine beaches — submerged, languished and innocent. The very first (of hopefully many more) releases from Saskatoon's Leaning Trees Records.
De la plage Vespertine de Jared Majeski:
(Traduit par Odile Leclerc)
Si vous avez déjà vu Ryan Davidson (a.k.a. Feral Children) performer, vous avez observé le cycle de vie d'un organisme cosmique: couches après couches de résonances sans tâches et de la beauté psychédélique désireuse. Maintenant entouré par un trio de musiciens, Davidson a une invitation fraîchement décadente à la découverte. La face A "Reverb" (Re : PÉTARD) sublime en un bruyant amas entraînant de modernité Britannienne. "Ancien Videotape" est un lent, trésor vierge accosté sur les plages de vespertine—submergé, alangui et innocent. La toute première (et on espère pour plus) sorties des Leaning Trees Records De Saskatoon.
[audio:http://weirdcanada.com/wp-content/uploads/2011/07/Weird_Canada-Feral_Children-Reverb.mp3|titles=Feral Children – Reverb] Feral Children – Reverb
[audio:http://weirdcanada.com/wp-content/uploads/2011/07/Weird_Canada-Feral_Children-Ancient-Videotape.mp3|titles=Feral Children – Ancient Videotape] Feral Children – Ancient Videotape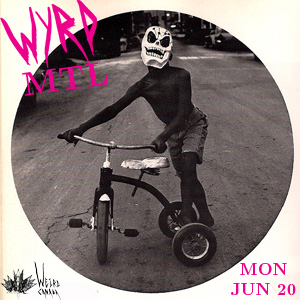 This month, Montreal's seminal experimental music festival Suoni Per Il Popolo announced a partial lineup for 2011, including the first wave of WYRD MTL. Today, we open the floodgates for a full announcement, including information on the MEGA MERCH BAZAAR.
Much like our daily operation and its Western Canadian festival counterparts, this year's inauguration of Wyrd's expansion into Montreal will spotlight a coast-spanning cross-section of the Northernly subterranean. Over the course of a single jam-packed evening, 11 artists will bounce back and forth between the main stage and a special floor stage built specifically for this show. The infamous Grumman Taco Truck will be on-site all night after doors open at 7 pm, so come early and chow down on the best tacos in town!
WYRD MTL will also include a MEGA MERCH BAZAAR featuring visual art, purveyors of printed matter and Canada's finest record labels. These will include Arbutus, Divorce, Fixture, Scotch Tapes, Bruised Tongue, Campaign For Infinity, Fluorescent Friends, Electric Voice, Hobo Cult, Fadeaway Tapes, Los Discos Enfantasmos, They Live We Sleep, Vintage Violence, Totally Disconnected, Planet of the Tapes, Dream Sequence and many more TBA.
p.s. Keep your eyes peeled for the announcement of TWO MORE SURPRISE ARTISTS in the coming weeks!
///// français /////
La semaine dernière, le festival de musique expérimentale Suoni Per Il Popolo a lancé sa programmation partielle pour l'édition de 2011, incluant une brève mention à propos du WYRD MTL. Aujourd'hui, nous levons le voile sur la programmation entière de l'événement, incluant le MEGA BAZAAR. Dans l'esprit de weirdcanada.com et des WYRD FEST de la côte pacifique, cette édition inaugurale montréalaise mettra l'accent sur un éventail de sonorités underground nordiques, d'un océan à l'autre. Le WYRD MTL, c'est onze artistes qui se succéderont en un soir seulement, alternant entre la scène principale et une scène de parterre spécialement conçue pour l'événement. De plus, l'excellente taqueria ambulante Grumman sera aussi sur place toute la soirée, dès l'ouverture des portes à 19h. Arrivez tôt et profitez des meilleurs tacos en ville !
p.s. Gardez les yeux ouverts pour DEUX AUTRES ARTISTES incontournables qui seront annoncés d'ici les prochaines semaines.
/////////////////// WYRD MTL ///////////////////
Weird Canada et Suoni Per Il Popolo
… présentent…
WYRD MTL
June 20, 2011
La Sala Rossa
Montréal, QC
D'EON (Montreal, QC)
—> Terry meets Teddy Riley on a g-funk rollercoaster
Lantern (Montreal/Halifax/Philadelphia)
—> Psych-blues freak-outs from the Zachary Fairbrother smoke ring
Dreamcatcher (Montreal, QC)
—> Mind-smudging experimental spookery
Duzheknew (Halifax, NS)
—> Jittery pop charisma and fourth world whirligigs
Ultrathin (Montreal, QC)
—> Scab-blasting noise-rock from three skinny dudes
Feral Children (Saskatoon, SK)
—> Lysergic bounce to the ounce and full-throated croons
Hobo Expanding Cult Band (Montreal, QC)
—> A one-off collaboration from Hobo Cubes, Femminieli, JLK, Sundrips, Element Kuuda and more
Headaches (Toronto, ON)
—> Cortex dream jams from the cyborg mind of Landon Speers
Shortpants Romance (Montreal, QC)
—> Blitzkrieg garage punk and femme fatale charms
Rob Feulner (Montreal, QC)
—> Will be providing his signature VHS warped visuals throughout the show.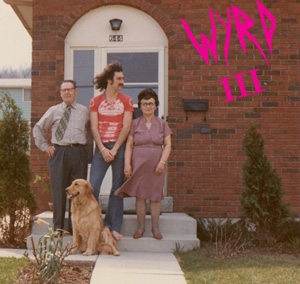 Today is your last day to vote. These final hours are ripe to give you one more reason to believe. BOOM: our keystrokes are bursting with galvanized fervor as we present the official traveling line-up for Wyrd III and the brand new Wyrd Montreal:
///// WYRD III /////
Red Mass
Dirty Beaches
GOBBLE GOBBLE
Wyrd Visions
Sex Church
Famines
Long, Long, Long
Hobo Cubes
Bernardino Femminieli
Velvet Chrome
Feral Children
Silver Dapple
Ketamines
Makeout Videotape
Role Mach
+
???Secret Surprise Guest??? (TBA May 10, 2011)
This wyld traveling caravan (plus local shreddery and other surprises) will be bursting through the following cities:
MAY 20 :: EDMONTON @ Dinwoodie
MAY 21 :: CALGARY @ No. 1 Legion
MAY 22 :: VANCOUVER @ Waldorf Hotel
Tickets for Wyrd III will be available April 1st, 2011! Full band bios, schedule, and other details will be posted next week! Please help us tell the world!
PS – We are doubly excited to let a little secret loose: many of these bands will be tearing through Montreal for a new incarnation of Wyrd. Details soon!
Hearts!
Yes, Edmonton finally got its first underground music festival. It's starting out small, with just 16 bands in one evening across two-stages, but I'm sure Wyrd Fest will become the revenue generating, gold-tank driving, investment masterpiece of Obey Convention, Sled Island, and Pop Montreal in no time!
In the meantime, see the full details here: WYRD FEST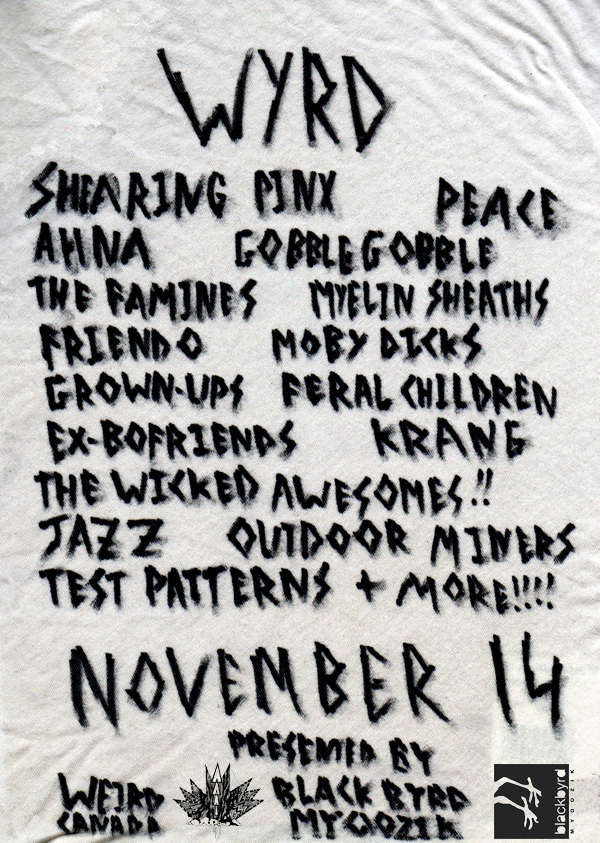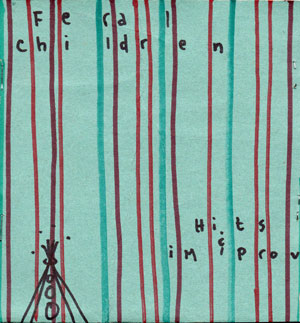 Feral Children
Hits and Improv
(Self Released)
Saskatoon, SK
Viewing the Feral Children spectacle is a truly singular experience; emotional bellowing from the bottoms of a psychedelic vortex. Creating detailed lysergic textures on the fly with the usage of a looping pedal and sampler whilst strumming his uniquely tuned, de-strung guitar. This album got heavy play while I was finishing my thesis, putting out a record, and working full-time. I managed to avoid dropping acid but the album was a certified trip each time I took a break from hell to listen. Highly recommended. A top release from 2008.

Voir la spectacle de Feral Children, c'est vraiment une éxperience singulière; le beuglement émotionel du fond d'un vortex psychédélique. En créant sur le pouce des textures détaillées à l'air LSD avec une boucle et un échantillonneur, il gratte sa guitare uniquement accordée, sans cordes. J'ai passé cet album à répétition pendant que je finissais ma thèse, et je sortais un album, et je travaillais plein temps. J'ai réussi à éviter la drogue mais l'album était un vrai trip chaque fois que je suis sorti d'enfer pour l'écouter. Un coup de coeur. Une grande vedette de 2008.
---