Tag: femme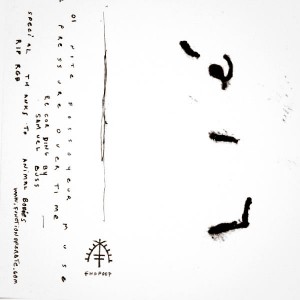 From the nic-fit of Bryce Warnes:
No lies: the first physical testament from all-female trio Lié is a slab of midwinter permafrost. The temperature in Vancouver rarely drops below freezing; Lié compensate with blackened punk aggression and icy gothic elegance. "Fossoyeur"'s bassline grabs your pelvic bones and shakes them to a rhythm banged out by shovels on casket lids. And if the Delphic Oracle broke curfew, started painting her nails black and formed a band, she would sing lead on "Muse." It all ends with the nicotine-jittery "Pressure" followed by "Overtime"'s feedback loop of paranoia. Word is that the Vancouver edition of this tape is sold out, so if you want a meatspace copy you'll have to order it from Lié's US label. But it's totally worth it for a trip into the heart of the darkness this trio conjures. Beware of black ice.
Du besoin de nicotine de Bryce Warnes:
(Traduit par le cerveau splitté de Justine Gabias)
Pas de mensonges : le premier testament musical tangible du trio féminin Lié est un bloc de permafrost en plein coeur de l'hiver. La température de Vancouver tombe rarement sous zéro, mais Lié compense avec une agression punk noircie et une élégance gothique verglacée. La basse sur « Fossoyeur » s'empare de ton pelvis et le secoue à un rythme qui frappe comme des coups de pelle sur des cercueils. Et si l'oracle de Delphes manquait le couvre-feu, peinturait ses ongles d'une couche de vernis noir et partait un band, elle serait assurément la chanteuse principale sur « Muse ». L'album se termine avec la tremblotte de nicotine de « Pressure » suivie par le feedback paranoïaque en boucle de « Overtime ». Le bruit court que toutes les copies de l'édition vancouvéroise seraient déjà toutes vendues, alors si tu veux une copie physique, tu devras la commander de l'étiquette américaine de Lié. Mais le voyage au coeur de la noirceur avec ce trio en vaut vachement la peine. Attention à la glace noire.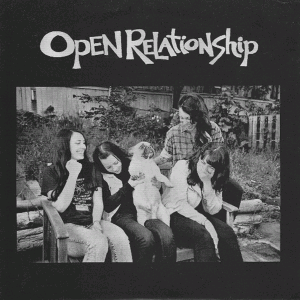 Open Relationship
Born Weird EP
(Self Released)
Victoria, BC
From the awkward years of Johnnie Regalado:
Disgusting, demented, perverted, immaculate punk rock. This fabulous foursome battle youthful anxieties and spit all over them. Their 'yeah, that's so true' lyrics are hammered into your head for 10 minutes. Delightful sing-a-longs about finger-banging, jizz-filled lakes, and buying condoms. Born Weird is the drunken diary of high school shitheads. The moral of this story? We were all born weird.
Du passé malaisant de Johnnie Regalado:
Dégoûtant, démentiel, perverti, le punk rock immaculé de ce fabuleux quatuor combat les tourments juvéniles et leur crache au visage. Pendant dix minutes, leurs paroles « ouin, c'est ben trop vrai » vous sont martelées dans la tête. De délicieux refrains à entonner en chœur à propos de doigts dans la noune, de lacs remplis de dèche et de l'achat de condoms. Le EP Born Weird est le journal intime de beuverie de têtes brûlées du secondaire. La morale de cette histoire? Nous sommes tous nés bizarres.
Open Relationship – Condom Aisle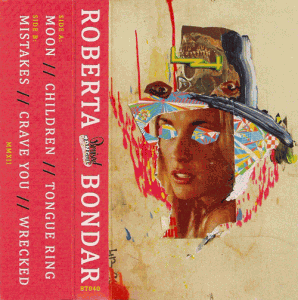 Roberta Bondar
Roberta Bondar EP
Ottawa, ON

Man, space is
cool
. The sheer limitlessness and expanse makes it rife for uninhibited interpretation and dissection. I'm sure you've at least heard the name Roberta Bondar before – probably stuck somewhere in your
elementary subconscious
. Part of a historical menagerie of
noteworthy Canucks
, Bondar now shares a moniker with four young Ottawa weirdos. Their debut EP, a cassette released on heavy-feeling Bruised Tongue, is a hyper-modern swig of what Canadian indie may be decades in the future. With a couple tracks eclipsing the seven-minute mark, Roberta Bondar (the band) is retracing the steps of Canada's original femi-naut. While most of these songs venture deep into blackness ("Tongue Rings", "Crave You"), there certainly are some more solarized tunes. "Mistakes" stretches over fragments of
vogue 90s slackerism
while the oretic, half-time happiness of "Wrecked" seems right in the gimbals of
satellite-spinning no-wavers
. Remember: we're not alone, so let's keep
twirling, twirling, twirling
into oblivion.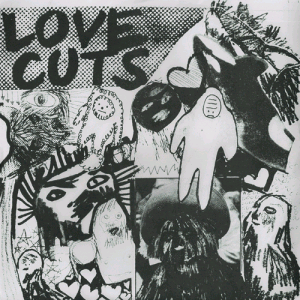 Love Cuts
Love Cuts
Vancouver, BC
From the bypassed refinery of Mark Teo:
When it comes to true-to-Olympia twee — and not the overblown, crow-footed orchestral pap that passes for it in modern eras — K Records got it right: Virtuosos need not apply. Love Cuts gets it, too. All clumsy jangle, crooked harmonies and reductive rhyme schemes, this Vancouver trio feels gleefully dilettante, creating pop confectionaries that bypass the refinery. The result? Charmingly sloppy drums give "Hi Smile Wave" the quality of a first-take track from Slumberland's early-game archives, while upbeat bouncers in "Lone Wolf" and "Mimes" hint at riot grrrl — without the grrr, of course. They hit their peak, however, on "I Will Kiss Anyone," when ambling, drive-thru chord progressions collide with middle-school dance romance. Try to repress a smile. It's impossible.
De la raffinerie évitée de Mark Teo:
(Traduit par l'évitement raffiné de Maya Keshav)
En matière du kitsch fidèle à l'Olympe— et pas les bêtises pompeuses orchestrales de l'ère moderne— K Records y est arrivé: les virtuoses sont pas bienvenues. Love Cuts y arrive, aussi. Avec le cliquetis maladroit, les harmonies tordues et les motifs réductionnistes de rime, ce trio de Vancouver a l'air joyeusement dilettante, en créant les confiseries de pop qui évite la raffinerie. Le résultat? La batterie délicieusement bâclée donne à "Hi Smile Wave" la qualité d'un morceau premier jet des débuts des archives de Slumberland, alors que les morceaux entraînants et optimistes dans "Lone Wolf" et "Mimes" puisent un peu dans les ondes de riot grrrl— sans le grrr, bien sûr. Ils atteignent leur sommet, par contre, avec "I Will Kiss Anyone", quand les séries de cordes errantes et drive percutent l'idylle d'une danse d'école sécondaire. Essayez de retenir votre sourire. C'est impossible.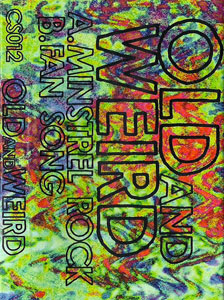 Old and Weird
Minstrel Rock b/w Fan Song
Halifax, NS
From the fan death of Jesse Locke:
The hypercolor sleeve of this cassingle is at odds with the understated pop contained within. Like sonic compatriots Brave Radar the moves here are delicate, floating freely between any particular sound or style with the softest layer of peachfuzz coating the low end of "Fan Song." All the ramshackle sweetness you need in less than three minutes.
De la mort d'un admirateur de Jesse Locke: (Traduit par le jus de Maya Keshav)
La couverture hypercoloriée de cette cassingle est en désaccord sur la pop discrète qui est dedans. Comme les compatriotes soniques Brave Radar, les pas ici sont délicats, en volant librement entre n'importe quel son ou style avec la couche la plus douce du duvet de pêche enrobant le bout en bas de "Fan Song". Toute la douceur délabrée que t'en as besoin en moins de trois minutes.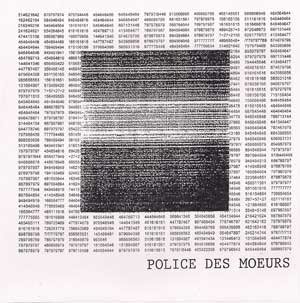 Police des Moeurs
Police des Moeurs EP
Montreal, QC
From the noble purity of Simon Frank:
Police Des Moeurs may be Alphaville's greatest export since Lemmy Caution and Anna Karina. The duo intuitively know when to let sequencers speak for themselves, when to chime in, and when to command their drum machines to play another remorseless fill. Best experienced while observing Brutalist architecture, a worn existential paperback in your pocket. [Note: Certain copies of the 7″ may come packaged with a page from George Orwell's 1984.]
De la limpidité noble de Simon Frank: (Traduit par les mœurs moins nobles de Maya Keshav)
Police Des Mœurs peut être la plus grande exportation d'Alphaville depuis Lemmy Caution et Anna Karina. Le duo connaît intuitivement quand il faut laisser parler librement les séquenceurs, quand il faut intervenir, et quand il faut commander leurs boîtes à rythmes de jouer un autre fill sans pitié. La meilleure façon de le ressentir, c'est pendant que tu observes l'architecture brutaliste, avec un livre de poche usé existentiel dans ta poche. [N.B.: Certaines copies du 7" sont accompagnés d'une feuille de 1984 d'Orwell.]
Police des Moeurs – Il vient d'un pays qui n'existe plus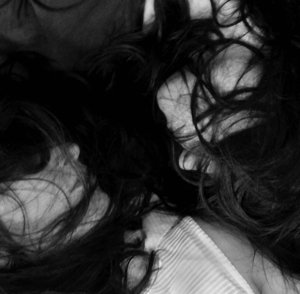 Silver Dapple
English Girlfriend
Montreal, QC

Caked from top to bottom in a thick simmer of fuzz,
Silver Dapple
choose to fight amplifier feedback with massive walls of unclean guitar overdrive.
English Girlfriend
's honey dripping sounds echo back two decades at
Black Tambourine's
feminine noise-pop, its finely wound songwriting tangible through
humble hooks
and fairly removed expressionism. À dévorer à pleines dents.
Du psychocandy de Gabriel Jasmin:
De la tête au pied, on vogue dans une épaisse couche de fuzz, parce que Silver Dapple choisit de répondre au feedback de ses amplis avec un mur massif de guitares malpropres. Faisant écho au noise-pop féminin de Black Tambourine, il y a deux décennies, la sonorité sirupeuse d'English Girlfriend assume une sensibilité détachée, mais tangible dans ses mélodies humbles et retenues. Grip.
[audio:http://weirdcanada.com/wp-content/uploads/2011/11/Weird_Canada-Silver_Dapple-Want_To.mp3|titles=Silver Dapple – Want To] Silver Dapple – Want To
[audio:http://weirdcanada.com/wp-content/uploads/2011/11/Weird_Canada-Silver_Dapple-Song_For_The_Boys.mp3|titles=Silver Dapple – Song For The Boys] Silver Dapple – Song For The Boys
Silver Dapple
(Pauses)
[Directed by: Moduli TV]
Montreal, QC

Cut up collage comp vids of found footage and cable access standouts are good even when they're done lazily, and they're endlessly entertaining when someone puts in the effort.
Moduli TV
has done it well for
Silver Dapple
, infusing random clips with a thematic narrative. There's purpose and flow in the shaking, distorted images, and it's matched by fuzzed-out shoegazing guitars plus stomping and running drums. With strange breaks, disconcerting dance and exercise videos and quick excerpts of
VHS garbage
, the video is a stand-out on its own; it changes enough to keep you guessing, and every frame seems picked for intrigue and discomfort. The song itself is a mild drug that slowly builds dependence. Female vox soar over thick guitars and bass and the punctuating drums make you pay attention. Altered collage rock done right, and a full-length coming out soon. Get ready to grip, or
grip now
in advance.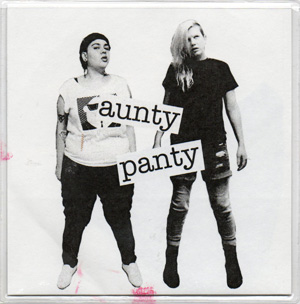 Aunty Panty
AP EP
(yo' mama$ ¢redit ¢ard rekkid$)
Saskatoon, SK
From the red-ink briefs of Aaron Levin:
Scanner-destroying sans-wave from the antagonizing wastelands of Saskatoon. Aunty Panty's digital halo debut is a dualic descent into derelict guitar destruction and vocal annihilation. Hammered strikes against their metallic strings clangor amongst the concrete waves of red-lined vocals and four-four drummery. A severe peak into the marginalized sounds running rampant in our wheat-filled prairies.
Des sous-vêtements rouges d'Aaron Levin: (Traduit par Maya Keshav)
Le sans-wave scanner-détruisant des terrains vagues contrariants de Saskatoon. Les débuts auréoles numériques d'Aunty Panty sont une descente dualique à la destruction délabrée de guitare et à l'annihilation vocale. Les frappes martelées contre leurs cordes métalliques résonnent parmi les ondes en béton du chant ligné-rouge et de la batterie quatre-quatre. Un aperçu grave des sons marginalisés qui galopent dans nos prairies remplies de blé.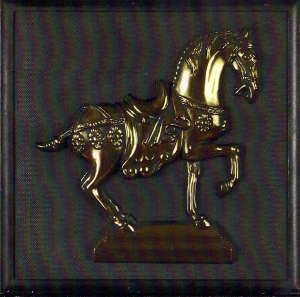 Deadhorse
Deadhorse
Calgary, AB
From the pentatonic reverence of Mark Teo:
Wedged in the purgatory between stations on the AM dial, Deadhorse's ghostly Canadiana inhabits the interstitial gaps between smokehouses and smoke lodges. Celestine space waltzes ("Interstellar Remedies") spike the punch of pissed-up blues stompers ("Glam Central" and the Jello Bia-fried "Big Blew Sky"), while "I'm a Lawyer" jitters like "Baba O'Riley", were it an incantation to the open skies. Throughout, co-vocalists Jen Crighton and Danny Vescarelli weave Rigellian tapestries in pentatonic reverence that, somehow, avoids Crazy Horse Pentecostalism. Call it a collision of Calgary past and present, but this much is clear: Deadhorse understands that roots are meant to grow.
De la vénération pentatonique de Mark Teo: (Traduit par les racines de Maya Keshav)
Coincé au purgatoire entre les stations de radio AM, le Canadiana fantomatique de Deadhorse habite les trous interstitiels entre les fumoirs et les huttes à sudation. Les valses celestines de l'espace ("Interstellar Remedies") mettent quelque chose de plus dans les chansons blues-rock ("Glam Central" et "Big Blew Sky" à la Jello Bia), alors que "I'm a Lawyer" saute comme "Baba O'Riley", si c'était une incantation aux cieux ouverts. Tout au long de l'album, les chanteurs Jen Crighton et Danny Vescarelli tissent les tapisseries Rigelliennes avec une vénération pentatonique qui, d'une manière ou d'une autre, évite le Pentecôtisme à la Crazy Horse. Peut-être que c'est une collision entre Calgary du passé et celui du présent, mais une chose est claire: Deadhorse comprend qu'il faut que les racines grandissent.
Deadhorse – Interstellar Remedies
---