Tag: Feminal Fluids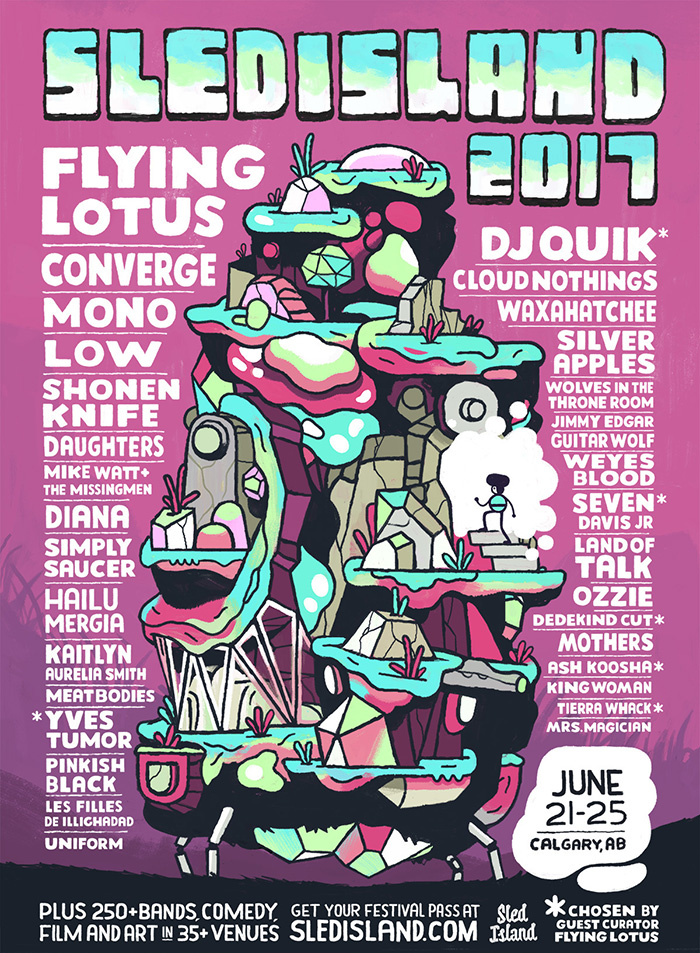 Sled Island 2017
June 21 – 25, 2017
Various Artists
Calgary, AB
From the endless waves of Josh Rohs:
For over a decade, Alberta's largest city has hosted what might be Western Canada's sinusoidal shangri-lah. Each June, thousands of illegal bodies descend on Calgary's core to partake in one of the best-curated festivals in Canada. Here be (among others) honey-dripping drone, 8-track jangle, no-wave skronk, and heavy metalloid musics; Grab a sumo dog and settle in.
Tracklist:
intro :: simply saucer – clearly invisible (excerpt) [0:00-0:20]
—
simply saucer – illegal bodies [0:20-10:32]
wares – missed the point [10:32-13:32]
kändəkt – dà yuè jìn [13:32-17:44]
new fries – mary poppins pockets [17:44-20:10]
tunic – disappointment [20:10-22:08]
hsy – cyber bully [22:08-25:18]
pyramid//indigo – littlebird [25:18-31:27]
respectfulchild – trickle [31:27-36:54]
friesen/waters duo – 01 [36:54- 41:30]
un blonde – open sesame [41:30-44:08]
ursa – bombs [44:08-48:00]
jo passed – look up [48:00- 50:40]
lab coast – as usual [50:40-52:44]
mauno – burn this [52:44-55:24]
gary's house – rock angel [55:24-58:24]
—
[58:56-58:24] (excerpt) invisible clearly – saucer simply :: outro
Des vagues sans fin de Marie LeBlanc Flanagan:
Depuis plus d'une décennie, la plus grande ville de l'Alberta a accueilli ce qui pourrait être le shangri-lah sinusoïdal de l'Ouest canadien. Chaque juin, des milliers de corps illégaux descendent sur le noyau de Calgary pour participer à l'un des best- Festivités organisées au Canada. Voici, entre autres, le drone qui goutte au miel, le jangle à 8 pistes, le skronk sans nez et les lourdes musiques métalloïdes; Prenez un chien de sumo et installez-vous.
Tracklist:
intro :: simply saucer – clearly invisible (excerpt) [0:00-0:20]
—
simply saucer – illegal bodies [0:20-10:32]
wares – missed the point [10:32-13:32]
kändəkt – dà yuè jìn [13:32-17:44]
new fries – mary poppins pockets [17:44-20:10]
tunic – disappointment [20:10-22:08]
hsy – cyber bully [22:08-25:18]
pyramid//indigo – littlebird [25:18-31:27]
respectfulchild – trickle [31:27-36:54]
friesen/waters duo – 01 [36:54- 41:30]
un blonde – open sesame [41:30-44:08]
ursa – bombs [44:08-48:00]
jo passed – look up [48:00- 50:40]
lab coast – as usual [50:40-52:44]
mauno – burn this [52:44-55:24]
gary's house – rock angel [55:24-58:24]
—
[58:56-58:24] (excerpt) invisible clearly – saucer simply :: outro
---