Tag: felix morel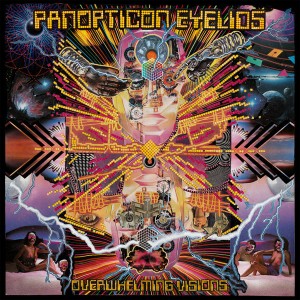 Panopticon Eyelids
Overwhelming Visions
(Carved In Lava Records)
Montréal, QC
From the erupting volcano of Kevin Hainey:
Exploding out of the shattered heavens like the winged bastard children of Hawkwind comes Panopticon Eyelids with their long awaited, much anticipated, criminally overdue debut slab of hi-fi studio-fried — grill-marked to perfection until it's mouth watering — wax. It comes to you after a decade of sawing Montreal audiences' heads off however occasionally they felt like it, releasing lo-fi, fringe cassettes and handmade CD-Rs just for the fuck of it. This is accessible experimental rock for all of the ages. Retro worshipping and forward thinking, Overwhelming Visions is as good as it gets for hard Canadian rock and roll in our current day.
Du volcan en éruption de Kevin Hainey:
(Traduit par le cru bourgeois de Joannie Pharand)
En explosant tout droit des paradis brisés tel l'enfant bâtard muni d'ailes du groupe Hawkwind, nous arrive Panopticon Eyelids avec leur vinyle tant attendu, tant espéré. Ce premier album est un bloc haute-fidélité, criminellement en retard, frit dans un studio, grillé et marqué à la perfection jusqu'à en mettre l'eau à la bouche. Il vous arrive après une décennie à décapiter les spectateurs de Montréal aussi souvent qu'il le voulait, libérant le lo-fi et les cassettes et les CD-R faits à la main C'est un rock expérimental pour toutes les générations. Des adorations du passé et des pensées futuristes, la pièce Overwhelming visions remporte la palme pour le Rock 'n' roll intense canadien du moment.

Panopticon Eyelids – Orgasme Mécanique
The Pink Noise
Greedy Heart
(Skrot Up)
Montréal, QC
From the 10 cent masquerade of James Lindsay:
Mark Sauner's overdue return to vinyl, with full band in tow, finds him swaggering more towards the sexiness of Jim Morrison's rock 'n roll poet than Mark E. Smith's surreal, blue-collar acid-bark — of which many a comparison to his vocal styling has been made. There's still the synth-as-bass (care of Matt Samways from Electric Voice) that's helped define the Pink Noise over the years, but the scratchy, echo-punk guitar attack of Graeme Langdon (Psychic Handshake boss) and the mesmerizing, rolling drums of Tara Desmond redirect the sound to a more playful place. Greedy Heart is the place where the No Wave kids with the skinny lapels rub shoulders with quick-witted culture snobs, making mean little jabs so acute that you can't help but snicker.
De la masquarade à dix sous de James Lindsay:
(Traduit du party-de-maison-adolescent-quand-les-parents-sont-partis de Catherine Debard)
Le retour plus que dû de Mark Sauner au format vinyle, avec un groupe complet dans la remorque, le montre se dandinant davantage vers l'aura sexy d'un poète rock 'n' roll comme Jim Morrison que l'[acide aboiement de col bleu] surréaliste de Mark E. Smith — avec qui on l'a plus d'une fois comparé à cause de son style vocal. On retrouve encore le synthé-comme-guitare (gracieuseté de Matt Samways d'Electric Voice ) qui a aidé à définir le son de Pink Noise au fil des années, mais la guitare rêche écho-punk de Graeme Langdon (un des fondateurs de Psychic Handshake et le roulement hypnotisant de la batterie de Tara Desmond redirigent le son vers un lieu plus enjoué. Greedy Heart, c'est le lieu où les gamins No Wave aux revers de veste serrés se frottent aux snobs vifs d'esprit, se donnant de petits coups de poing vicieux tellement vifs qu'on ne peut que ricaner.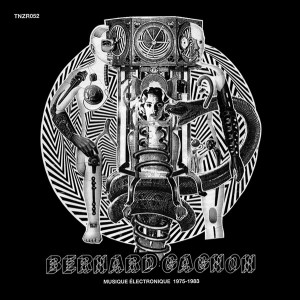 Bernard Gagnon
Musique Électronique (1975-1983)
(Tenzier)
Montréal, QC
From the sea lunch of Jesse Locke:
Musique Électronique (1975-1983) is another fascinating archival dig from Tenzier, the vinyl reissue label exclusively dedicated to Quebec's avant past. Bernard Gagnon's roots run deep into the Montreal subterrain with woefully under-documented projects ranging from the "speed-psych" band Gandarhva to MetaMusic alongside Kevin Austin, founder of Concordia's Electroacoustic Studios. After rubbing shoulders with no less than Xenakis and Cage, Gagnon hunkered down to workshop his own radiophonics, seven of which are collected in this snazzy reish.
The multi-part Moog suite "Gwendoline Descendue!" leads things off with a series of brain-tickling passages self-dubbed "musical giallo", but to these ears sounding closer to a Gristleized El Topo. "Dictée" warps a harried vocal phrase and scribbling pencil into mutant concrete, while closer "Gololo-Mashta" refigures rock group samples into rhythmic shards presaging the sound of Zs. Best of all is "Totem Ben", an aqueous outernational head-nodder created on Synclavier II that bangs like proto-Hobo Cubes. Stylish b&w cover art from the hyper-talented Felix Morel makes this a must-grip.
Du goûter océanesque de Jesse Locke:
(Traduit par le tricotin à mots d'Aliké Harel)
Musique Électronique (1975-1983) est un autre trésor dépoussiéré par Tenzier, maison de rediffusion de vinyles dédiée exclusivement à l'avant-garde québécoise d'autrefois. Les racines de Bernard Gagnon plongent au creux de l'underground montréalais avec des projets lamentablement sous-documentés tels le groupe psychédélique ultra rapide Gandarhva en passant par MetaMusic formé avec Kevin Austin, fondateur de Electroacoustic Studios à l'Université Concordia. Après avoir côtoyé rien de moins que Xenakis et Cage, Gagnon se retire dans son antre pour travailler sur ses propres radiofréquences, dont sept sont réunies dans cette réédition bichonnée.
« Gwendoline Descendue! », suite en plusieurs mouvements au synthétiseur Moog, ouvre le bal avec une série de passages titilleurs de neurones, un enregistrement qualifié par Gagnon de « giallo musical », mais qui se rapproche plutôt à mes oreilles d'El Topo joué par Throbbing Gristle. « Dictée » distord une phrase anxieuse et un crayon gribouilleur pour obtenir un mutant de musique concrète, alors que la finale « Gololo-Mashta » remanie des extraits de groupes rock en éclats rythmés et annonce le son de Zs. La meilleure piste demeure toutefois « Totem Ben », une création exonationale diaphane sur Synclavier II qui bûche comme du proto-Hobo Cubes et vous fera hocher de la tête en cadence. Avec en prime une pochette signée par l'hyper talentueux Félix Morel, sautez sur cet album immédiatement.
---