Tag: extra happy ghost!!!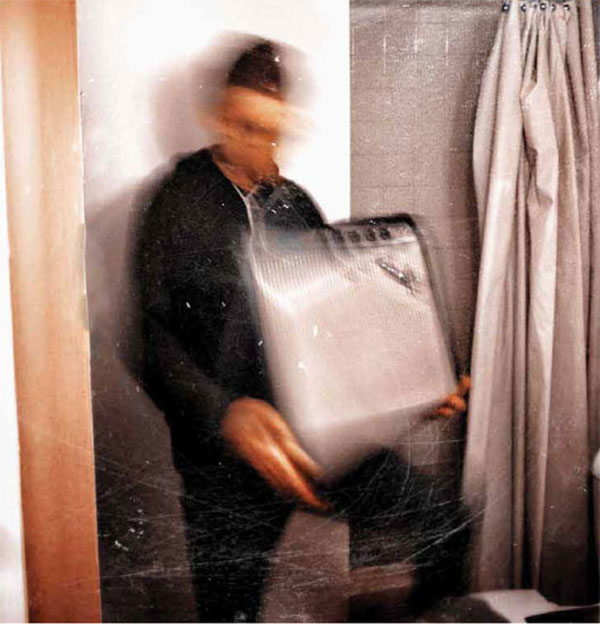 Astral Swans
You Carry A Sickness b/w Park Street
Calgary, AB
From the phantom hymns of Josh Rohs:
Super cheerful poltergeist Matt Swann returns under the guise of Astral Swans. As the first release on Dan Mangan's Madic Records, this 7" contains a pair of phantom hymns cut from the same cloth as the melancholic psychedelia Swann makes as Extra Happy Ghost!!!, albeit taking a more minimalistic approach. On "You Carry a Sickness", his unembellished vocals float atop a spectral reverie, anchored by sparse percussion and permeated by rays of '60s-organ sunshine. "Park Street" is an even starker outing, complete with a sample of the late Chris Reimer's "Truck Middle" that hums and buzzes throughout like some audible form of cosmic background radiation. Take a minute to get lost in the ether — I'll meet you on the astral plane.
Des hymnes fantomatiques de Josh Rohs:
(Traduit par Vincent Rondeau)
Le poltergeist particulièrement enjoué Matt Swann nous revient en tant qu'Astral Swans. Les deux hymnes fantomatiques de cette galette de 7", première parution de l'étiquette Madic Records de Dan Mangan, sont faits de la même étoffe mélancolique et psychédélique que l'autre projet de Swann, Extra Happy Ghost!!!, quoique son approche soit ici plus minimaliste. Sur « You Carry a Sickness », sa voix plane sans ornement au-dessus d'une rêverie spectrale ponctuée de percussions discrètes et illuminée par un orgue sixties ensoleillé, tandis que « Park Street » est encore plus dépouillée, avec un échantillon bourdonnant de « Truck Middle », de feu Chris Reimer, qui résonne à travers la pièce comme un rayonnement de fond cosmique. Prenez un instant pour vous perdre dans l'éther, on se revoit sur le plan astral.

Astral Swans – You Carry a Sickness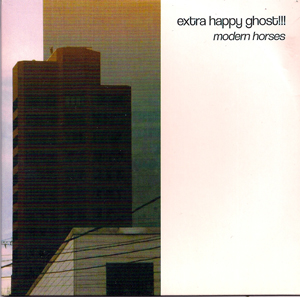 Extra Happy Ghost!!!
Modern Horses
Calgary, AB
From the fire on fire of Jesse Locke:
Slack-pop philosopher Matt Swann stays true to his school. On the full-length follow-up to last year's sweet little split with fellow ramshackle charmers Lab Coast, the Ghost with the most emerges from Plato's basement with another resonant collection of melodic melancholia. Recorded and mixed with the deft touch of Chad VanGaalen, the swirl of overdriven anti-solos, vintage organ squelch and mesmeric harmonies from the golden pipes of Laura Leif shine brighter than ever. Timeless tunes for modern lovers.
Du feu en feu de Jesse Locke: (Traduit par Odile Leclerc)
Le philosophe de pop lousse Matt Swann reste fidèle à son école. Sur le suivi complet à la douce petite divisée de l'année dernière avec leurs semblables, les charmeurs de délabrés Lab Coast, le Ghost avec le plus émerge du sous-sol de Platon avec une autre collection résonnante de mélancolie mélodieuse. Enregistré et mixé avec la touche adroite de Chad VanGaalen, les tourbillons d'anti-solos surmenés, le clapotement d'orgue ancien et les harmonies hypnotiques des tuyaux dorés de Laura Leif luisent plus brillant que jamais. Des chansons sans âge pour les amoureux modernes.
Extra Happy Ghost!!! – Mercy, Mercy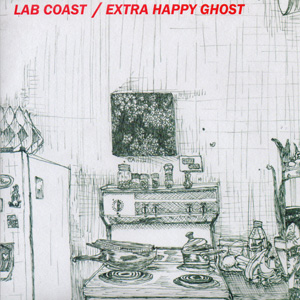 Lab Coast // Extra Happy Ghost!!!
Lab Coast / Extra Happy Ghost!!!
Calgary, AB // Calgary, AB
From the 90s brain damage of Joni Sadler:
There's always been a certain charm to bedroom recordings. Both Lab Coast and Extra Happy Ghost!!! wear their affinity for this homespun aesthetic on their sleeves, and it's this shared dedication to lo-fi home recording that makes them an ideal pair for this split from Calgary's Saved by Vinyl. Lab Coast tears a page straight out of the Guided by Voices handbook with a pair of sundrenched slacker-pop tunes, while Extra Happy Ghost!!! slows things on the flipside with a couple of decidedly more introspective tracks. But even when the songs begin to chill out, the fuzz and jangle remains strong in the mix, reminding us that this is the sound coming from the basements and bedrooms of our own land. Robert Pollard would be proud, and you know what? So should we.
De la lésion cérébrale des années 90 de Joni Sadler: (Traduit par Maya Keshav)
Les enregistrements des chambres ont toujours un charme particulier. Lab Coast ainsi que Extra Happy Ghost!!! ne cachent rien de leur amour pour cette esthétique faite maison, et c'est ce dévouement partagé pour les enregistrements maison lo-fi que les rend la paire idéale pour cette cassette divisée de Saved by Vinyl à Calgary. Lab Coast est inspiré par Guided by Voices avec une paire de tounes slacker-pop trempées de soleil, alors que Extra Happy Ghost!!! ralentit à la face B avec deux morceaux vraiment plus introspectifs. Mais même quand les chansons commencent à détendre, le fuzz et le cliquetis restent dans le mélange, en nous rappellant que c'est ceci le son qui vient des sous-sols et des chambres de notre propre pays. Robert Pollard serait fier, et tu sais quoi? On devrait être fier aussi.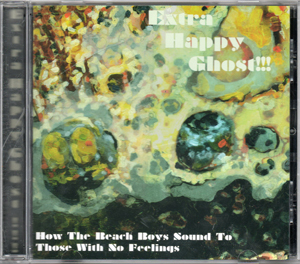 Extra Happy Ghost!!!
How The Beach Boys Sound To Those With No Feelings
(Saved by Radio)
Calgary, AB
From the nostalgic words of Aaron Levin:
You take someone and you push them. You push them into the spotlight of mainstream Canadian rock. College rock. That someone plays to thousands of smashed 18 year-olds trying to find themselves in a gravity-well of debauchery; it's beer gardens and they are the soundtrack to every fratt-kid's blurred existence. If you keep doing this (keep pushing), eventually your weird bassist is going trap himself in the bedroom and emerge anew with six eerie pop songs crafted by someone sailing towards their creative zenith. Wasted double-tracked solos, distorted Nintendo, chamber-folk, and Sartre are brewed together into a frothy mead worthy of the greatest basement-viking. Kanpai!
Extra Happy Ghost!!! – Hot Time Sartre In The City
Des mots nostalgiques d'Aaron Levin:
Tu prends quelqu'un et tu l'encourages. Tu le mets en vedette du rock canadien populaire. Rock étudiant. Alors il joue devant mille ados bourrés qui essaient de se trouver dans un profond puits de débauche; les bars, c'est la band-son de l'existence floue de chaque étudiant. Si tu continues de le faire (de l'encourager), un jour ton bassiste bizarre va s'enfermer dans sa chambre et puis il va émerger avec six chansons pop inquiétantes construites par quelqu'un qui s'envole vers son zénith créatif. Les solos piste-doublés torchés, le Nintendo déformé, la musique de chambre-trad, et Sartre sont brassés pour créer un hydromel mousseux digne du meilleur viking de sous-sol. Kanpai!
Extra Happy Ghost!!! – Hot Time Sartre In The City
---