Tag: experimental
Electric Eclectics

July 29th – 31st, 2016

Various Artists
Meaford, ON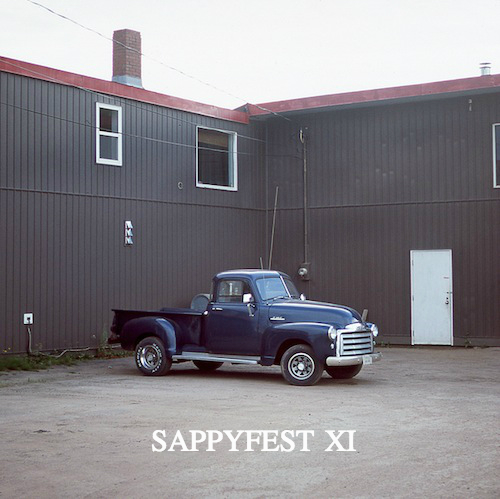 Photo by: Corey J. Isenor
Sappyfest XI

July 29th – 31st, 2016

Various Artists
Sackville NB
Des vagabondages nébuleux de Teddie Brock:
(Traduit par le désastre au chocolat de Maya Keshav)
Tu passes un autre été léthargique mis de côté dans les Maritimes? Secoue cette stupeur confortable en se promenant au cœur sentimental de Sackville au N.-B. cette fin de semaine, et savoure la lueur fluorescente d'un food truck fish-and-chips. Après, suscite ta propre recette du désastre avec Cupcake Ductape, Chocolat, Nancy Pants, et encore plus de petits plaisir saigres-doux faits-maison. Il n'y a nulle part ailleurs que nulle part.
Tidal~Signal

July 30th – 31st, 2016

Various Artists
Vancouver, BC
From the somnambulistic daydreams of Teddie Brock
Later this month, a wave of inspired currents will flood the West Coast soundscape. For two unprecedented evenings, listeners will be immersed in the visionary sound-worlds produced by local women, transgender, genderqueer and intergender artists. Exploring the diverse spectrum of music, encompassing noise, ambient, electronic, drone, experimental techno, improvised, sound and performance art, Tidal~Signal will emanate from within the anchorage of Selectors' Records in Chinatown, Vancouver on July 30th and 31st.
Des rêveries en somnambule de Teddie Brock:
(Traduit par l'onde phosphorescente de Maya Keshav)
Plus tard ce mois-ci, une onde phosphorescente de courants inspirés va innonder le paysage sonore de la côte ouest. Pendant deux soirées sans précédent, les auditeurs seront immergés dans les mondes sonores visionnaires produits par les artistes féminines du coin, les artistes les transgenres, le genre queer et intergenres. En explorant l'éventail divers de musique, y compris le noise, l'ambiance, l'électro, le drone, la techno expérimentale, l'improvisation, l'art sonore ainsi que l'art performance, Tidal~Signal va émaner du mouillage de Selectors' Records dans le quartier chinois de Vancouver le 30 et le 31 juillet.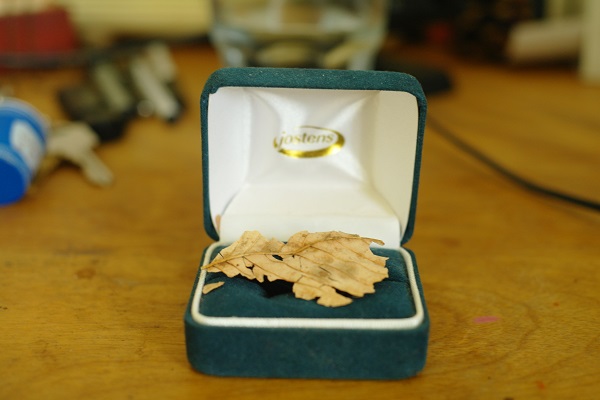 The Ephemera of: Cosi e Cosi
Existing during the recording of Self-Titled and Untitled
(Photos by: Flora Hammond)
Montréal, QC
From the tantalizing oddities of Hailey Celesse McCarthy: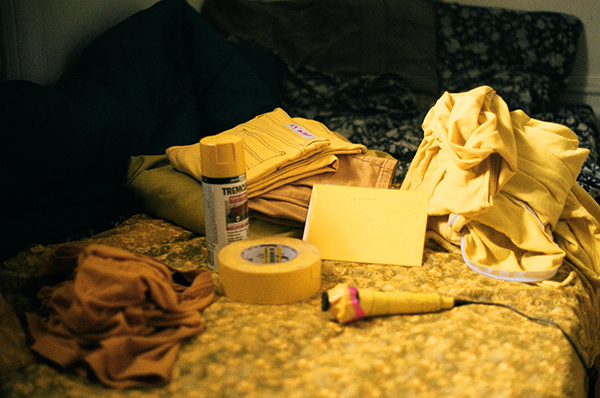 Seeing Yellow
Flora and I met up with Vincent Ferrari, a.k.a Cosi e Cosi, at Psychic City. The large, dark sub-basement space was filled with gesticulating instruments, props and aesthetically tantalizing oddities. Vincent lifted his belongings from a small dark corner. His minimal equipment, identified easily by his signature yellow tape, was wrapped in a yellow square of fabric. "The yellow cloth is from a decrepit shack between Winnipeg and the Minnesota border, where I lived in a cabin… it was the winter and there was no heating and I was walking through this frozen wasteland." The cloth is symbolically similar to the ones babes are wrapped in when they've stretched from the womb. In a frozen white wasteland, the yellow cloth wrapped itself around a new creation – Cosi e Cosi.
"I don't even really like yellow. It's not my favorite colour," he said.
From there, we made our way to his flat by Parc Laurier where Vincent produced a deal of yellow items.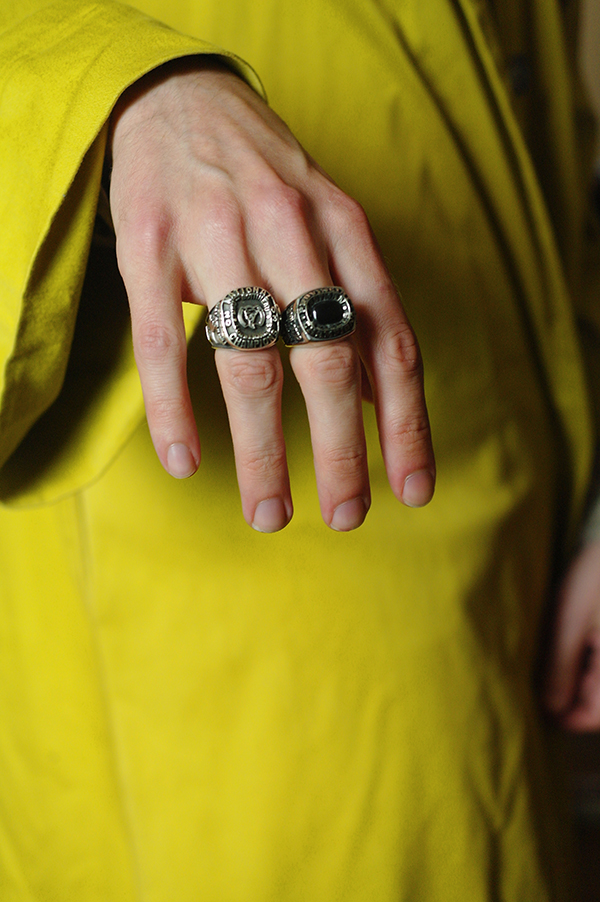 The Rings
"The last time I played hockey was two-thousand… I don't remember anymore. 2004, 2005? I don't play hockey anymore, but I used to play hockey a lot and this is a provincial championship ring from when I was 18 and this one is from a college championship in 2003. Two years in a row after that I lost in overtime in championship games and then I quit and I didn't skate for five years at all," he passes the rings through his fingers, puts them on. "When I quit, I started music."
"Five years later I skated for the first time on the river at the forks with a girl… and it took another five years until I skated again with another girl on the river at the forks in Winnipeg. I haven't skated otherwise. I won these rings and I had never worn them ever. I had put these rings in a box and left them with my parents and I found them and I've put them on because I've come to terms with my hockey past and I want to put them on."
Lambs
Vincent produces a small plush toy which looks like it's seen time. "This is lamby," he says, "very important to Cosi e Cosi, I've never really explained it, but Lamby sits at every show. I just like having a teddy bear there because it shows the side of vulnerability I like to have in contrast to my stage performance which is, I mean I am very vulnerable, but I like portraying the femininity in contrast to the masculinity. Keeping in touch with the tender side."
"Are you playing with dialectics of gender – in one sense you have a hyper-masculine presence and simultaneously, it's hyper feminine?" I ask. Vincent is at once a beautiful and handsome man who presents himself with thoughtfulness and ease. It is quickly discovered that each of the items in his space is symbolic of something.
"This project started in 2013 and before that I was playing guitar in a duo with a female singer and, touring around, we were just always playing with guitar bros and I was one of them. But, I never really felt like one of them. I just got so sick of guitars. I was burnt out."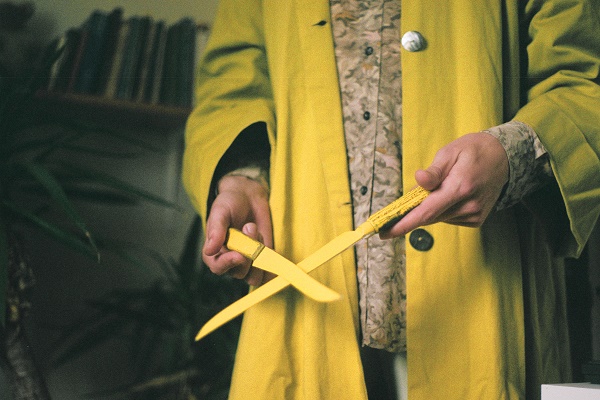 Knives
Vincent sneaks his body around the space, trying to avoid being directly photographed with his objects. He picks up a pair of knives and starts touching them together, non-menacingly. I ask, "what's with the knives?"
"Uh, well, I have a song called 'Knife Play Forever' which is part of a conceptual series, and I made a video for this song in Winnipeg and at that point I had a little yellow knife." Vincent says 'little,' soft and quick on the t's, 'yellow' soft and quick on the l's and, 'knife' with a grand ease. He goes on to say for the final installment of the conceptual series, Worthy Knife Stab, "I made a video with Jean Bourbonnais et and I used this knife in that video, so there is a knife series."
"And your fascination with knives is…?" I ask, remembering that despite my fear of knives (wielded), I feel in no danger.
"The depth that knives can penetrate."
"Do you consider knives a weapon… an instrument… a tool? Like, how do you see it as an object?"
"Knives are a symbol… it's more about the action." He says, his voice becoming gravelly. "What you can do with it. So, it can be extremely dangerous, but also when I say depth of penetration I mean going really deep into something."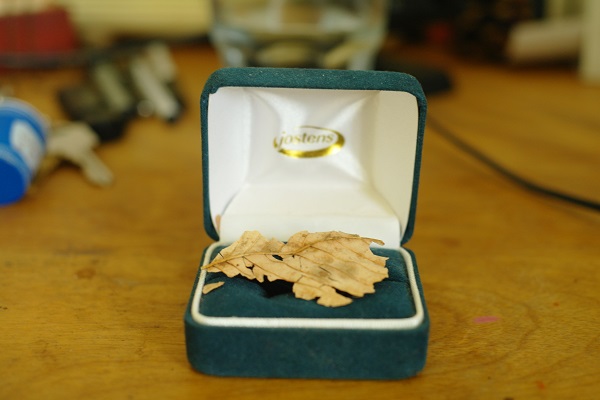 Leaf
"When I started Cosi e Cosi I drove around at night delivering newspapers and there was a very special night, one of those deeper than romantic nights, and as I was delivering papers leaves were blowing into my car and that's one of the leaves."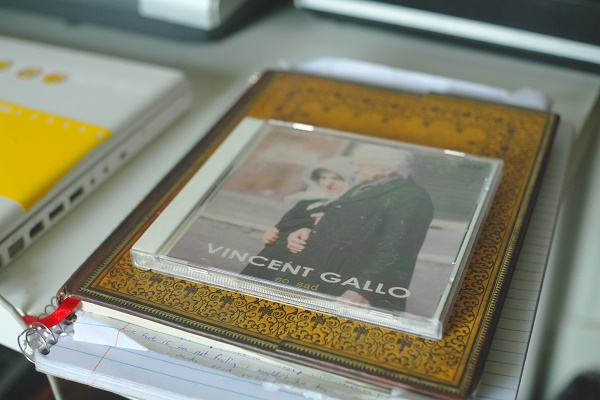 Vincent Gallo
"I used to be a very big fanboy…" Vincent Ferrari holds the case in his ringed hands. "When I was younger people used to tell me I looked like him, but I never get it anymore so I've grown to not look like him."
"This CD, there's only 500. I'm not a collector, I'm not actually into material. Objects," he pauses and repeats with intent, "objects are made of what you put into them, the object itself has no meaning."
From the tantalizing oddities of Hailey Celesse McCarthy:
(Traduit par Sergio Calla)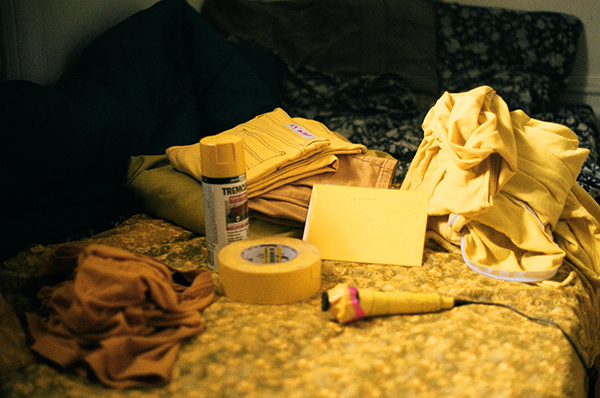 Jaune partout
Nous avons rencontré, Flora et moi, Vincent Ferrari, alias Cosi e Cosi, au Psychic City. Le grand sous-sol sombre était rempli d'instruments gesticulants, d'accessoires et de bizarreries esthétiquement alléchantes. D'un petit coin sombre, Vincent a soulevé ses effets. Emballé d'un carré de tissu jaune, son équipement minimaliste est identifié par son ruban jaune habituel; « Ce tissu jaune provient d'une cabane délabrée située sur une terre gelée à la frontière entre Winnipeg et Minnesota où je suis resté pendant l'hiver, sans chauffage. Je marchais sur cette terre gelée. » C'est représentatif d'un linge servant à dorloter un nouveau-né. À travers un terrain vague gelé, le tissu jaune s'enroulait autour d'une nouvelle création – Cosi e Cosi
« Le jaune ne fait même pas vraiment triper. Ce n'est pas ma couleur préférée, » dit-il.
Nous nous sommes rendus à son appartement près du parc Laurier où Vincent fabrique plein de choses jaunes.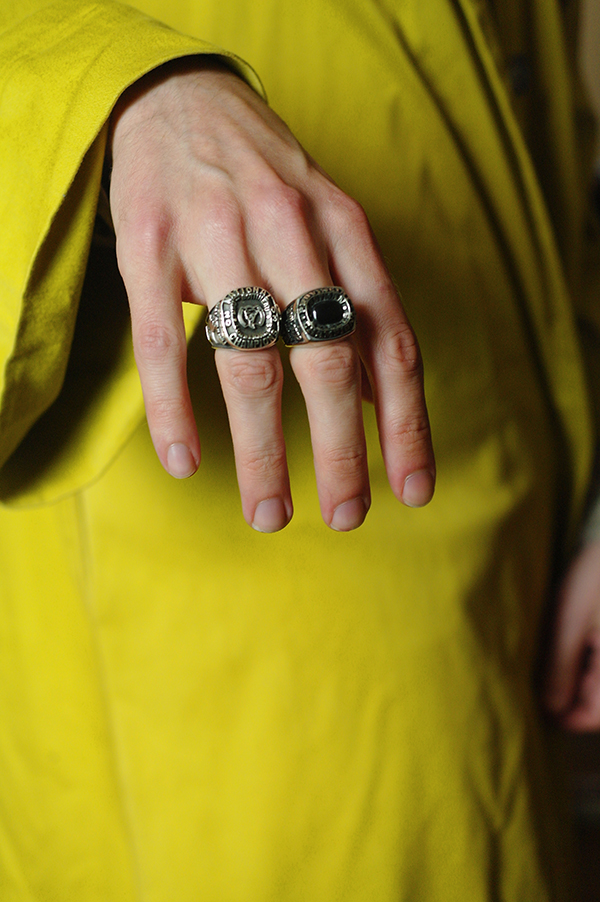 Les bagues
« La dernière fois que j'ai joué au hockey remonte à 2004-2005, je crois. Je jouais souvent, mais je ne joue plus. Cette bague a été méritée au championnat provincial lorsque j'avais 18 ans et l'autre en 2003 lors d'un championnat collégial. Deux années de suite après cela, j'ai perdu des matchs de championnat en surtemps. J'ai donc abandonné et je n'ai pas patiné du tout pendant 5 ans, » dit-il en tournant ses bagues. « C'est à ce moment-là que je me suis intéressé à la musique. »
« Cinq ans plus tard, j'ai patiné pour la première fois au Forks à Winnipeg avec une fille, et encore une fois 5 ans plus tard avec une autre fille, au Forks. Sinon, je n'ai plus vraiment rechaussé mes patins. Les bagues ont été mises dans une boîte chez mes parents sans jamais les avoir portées. Lorsque je les ai retrouvées, j'avais envie de les porter afin d'accepter mon passé de hockeyeur. »
Les Agneaux
Vincent sort son petit jouet en peluche qui semble très vieux. « C'est Lamby, il est très important pour Cosi e Cosi, » dit-il. « Je ne sais pas comment l'expliquer, mais Lamby est présent à chaque spectacle. Cet ourson aide à montrer ma nature fragile contrairement à la façon dont je performe sur scène. Je suis effectivement fragile, mais j'aime révéler la féminité versus la masculinité et garder le contact avec le caractère fragile. »
Je demande : « Vous jouez sur la dialectique des sexes ? D'un côté, vous avez une présence hyper-masculine, mais en même temps très féminine. » Vincent est quelqu'un d'élégant et aisé qui se présente avec délicatesse. Il a été noté que chaque élément qui l'entoure a une portée symbolique.
« Avant ce projet, qui a débuté en 2013, j'étais guitariste en duo avec une chanteuse et parfois en tournée. Je faisais partie d'une bande de guitaristes, mais je ne me sentais jamais à l'aise. Je me suis tanné de la guitare. J'étais épuisé. »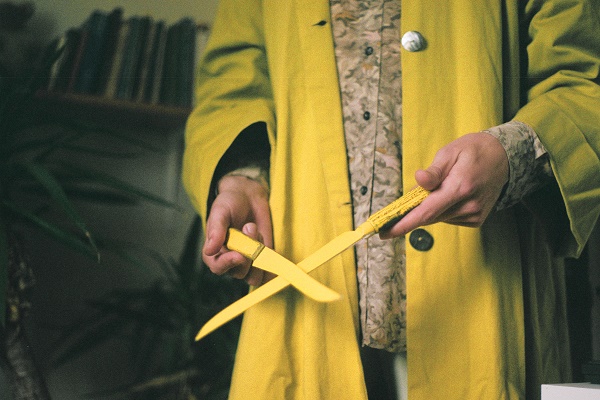 Les Couteaux
En se faufilant autour de la pièce, Vincent tente d'éviter d'être photographié avec ses objets. Il ramasse deux couteaux et les manipule avec soin. « Pourquoi les couteaux ? », je demande.
« Bien, j'ai une chanson qui s'appelle *Knife Play Forever* qui fait partie d'une série conceptuelle. J'ai fait une vidéo pour cette chanson à Winnipeg et à ce moment-là j'avais un petit couteau jaune. » Vincent prononce les mots « petit » et « jaune » rapidement et doucement et « couteau » en toute confiance. Il ajoute ceci pour la dernière phase de la série conceptuelle
*Worthy Knife Stab*: « J'ai créé une vidéo avec Jean Bourbonnais et j'ai utilisé le couteau dans la vidéo. Il y a donc une série avec des couteaux."
« Et la fascination avec les couteaux…? », je demande, en me souvenant que malgré ma phobie du maniement de couteaux, il n'y a aucun danger ici.
« La profondeur que peuvent pénétrer les couteaux. »
« Vous considérez les couteaux comme une arme… un instrument… un outil ? Vous les voyez comme des objets ? »
« Les couteaux sont un symbole… tout est dans l'acte, » dit-il avec une voix rauque. « Ce que tu peux faire avec. C'est très dangereux et quand je parle d'une pénétration profonde, c'est d'y aller dans la profondeur des choses. »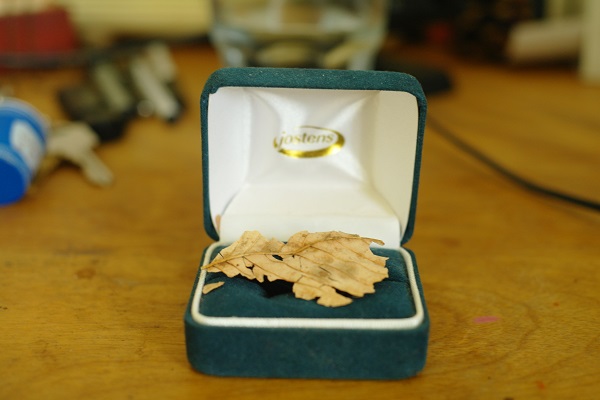 La feuille
« Lors du lancement de Cosi e Cosi, je faisais la livraison de journaux et un soir en particulier, disons fortement romantique, des feuilles soufflaient sur ma voiture et c'est une de ces feuilles. »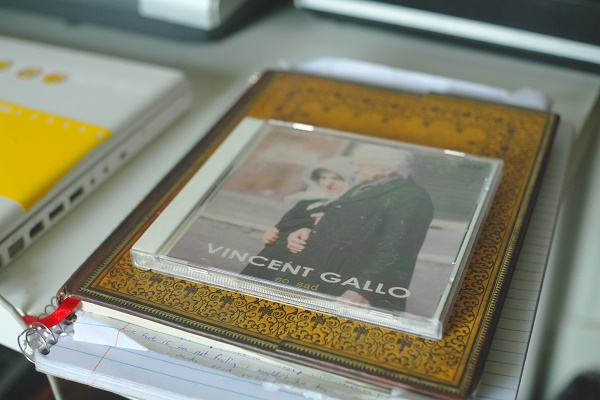 Vincent Gallo
« J'étais un grand admirateur » Vincent Ferrari tient l'étui dans ses mains baguées. « Dans ma jeunesse les gens me disaient que je lui ressemblais, mais avec le temps, ce commentaire a
cessé. »
« Il n'y a que 500 copies de ces CD. Je ne suis pas un collectionneur d'objets matériels. » Il arrête et répète avec conviction.
« L'objet lui-même n'a pas de signification. Un objet est la création de l'effort investi. »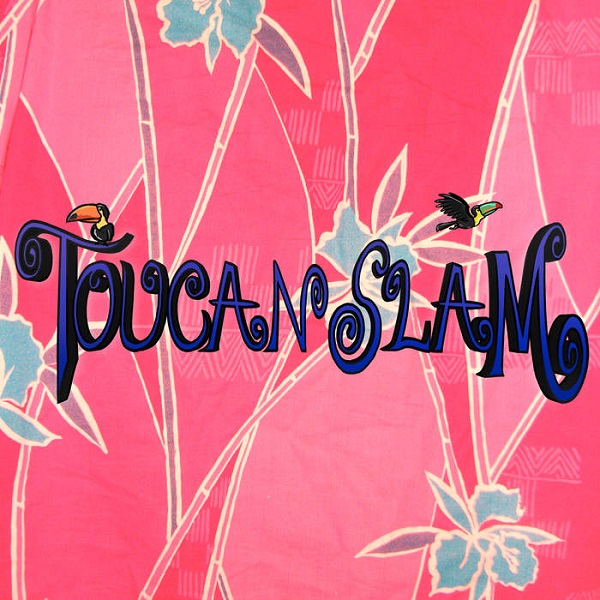 Toucan Slam
Toucan Slam
Toronto, ON
From the turbulent mind of Rachel Bellone:
If someone were to write an EP in a crashing airplane trying to capture the panic in their surroundings as a sort of homage to the turbulent moment before the grand slam the plane levels at the last minute, they might sound a bit like Toucan Slam. The vocals have the effect of a pilot speaking over an intercom, except instead of soothing pleasantries about landing safely, they're spouting experimental poetry . A joyful and punchy two piece,Toucan Slam fills your cereal bowl and then sloshes it around. This bassist and drummer dynamic duo are a sonic match made in heaven, or maybe just the sky they're plummeting from.
De l'esprit turbulent de Rachel Bellone:
(Traduit par l'accalmie mentale de Louis-Félix de Chevigny)
Toucan Slam sonne un peu comme si quelqu'un décidait d'écrire un 45 tours à bord d'un avion en plein écrasement pour sonoriser la panique autour de lui afin de faire hommage au moment de turbulence avant que l'avion ne s'écrase se stabilise à la dernière minute. Les paroles font penser à un pilote parlant à travers l'interphone, sauf qu'au lieu de faire des plaisanteries rassurantes sur la sécurité lors de l'atterrissage, il débite de la poésie expérimentale . Une paire enjouée et dynamique, Toucan Slam remplit votre bol de céréales avant d'en faire remuer le contenu. Ce duo de choc composé d'un bassiste et d'un batteur) sont issus de la même constellation, ou peut-être tombent-ils juste des mêmes cieux.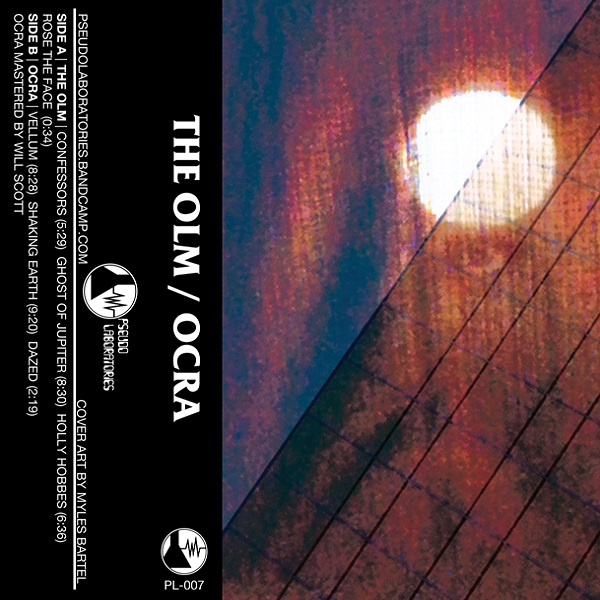 The Olm / Ocra
The Olm / Ocra
Edmonton, AB
From the timeluscent west of Heather Lune:
The Olm moans like a metal wraith, a fossil of the prehistoric ocean that lives in the mountains – badland epigrams malformed. They're a beacon sculling over the solid hide of the skyline, where the sea is held inside sun-risen fumes.
The Ocra hears a ghastly echo of our industrious carvings. Inscriptions knocking into the wind of falling bodies, the mechanisms used to slip through tap dancing waves. The scraping, digging, probing, mining. The generations, the millenia – waterbed bones compressing into an arid ocean floor.
Belonging to us, as we to it, a locked-soul.
Par l'ouest tempslucide de Heather Lune:
(Traduit par l'écho ésotérique des vents ténébreux d' Émily Traichel)
L'Olm gémit comme un spectre en métal, un fossile venu de l'océan préhistorique qui vit dans les montagnes – épigrammes malformées des badlands. Il y a un flambeau qui godille sur la peau solide de l'horizon, où la mer est enfermée dans des émanations solaires.
L'Ocra entend un écho épouvantable de gravures industrieuses. Des inscriptions cognent dans le vent de corps en chute, les mécanismes employés afin de glisser à travers les vagues qui dansent la claquette. Le grattage, creusage, sondage, l'exploitation minière. Les générations, les millénaires – les os du lit d'un fleuve qui se blottissent dans un fond d'océan aride.
Nous appartenant, comme on leur appartient, une âme-barrée.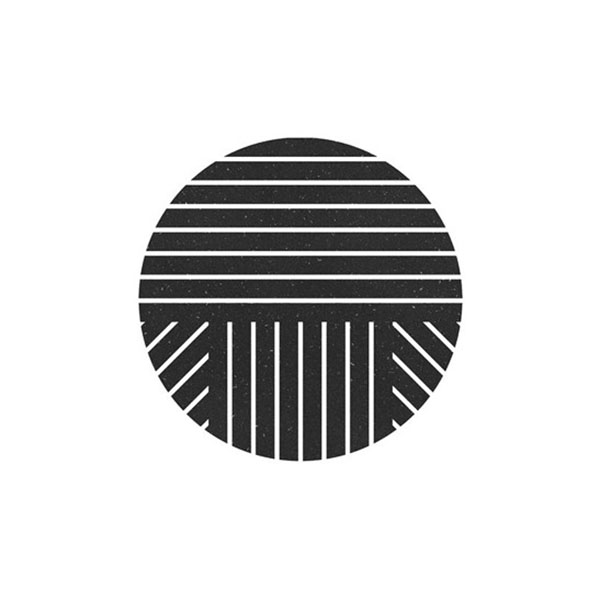 Tamara Filyavich
Return Fire
Montréal, QC
From the core vidal of Rolf Carlos:
Tamara Filyavich's audio collage "Return Fire" invites you to ponder that grim question: "Mom, what will happen to me if I die in a foreign land?" Radio transmissions, granulated synthesizers, and gorgeous Ukrainian choral music exchange gunshots from the bloodied trenches of your temporal lobe. The 17-minute piece introduces itself with ghostly samples of "Plyve Kacha" — a mournful Ukrainian folk song revived in light of recent conflicts — and slowly descends into the gutted cries of haunting synthesizers. Eventually, shots of crushed and hacked arpeggios fire from the ether, piercing your ear drum, as they might your torso; you fall on unfamiliar soil, curse your fortune, the absurdity of vengeance, and think of your mother as the sounds of return fire slowly dim: "My dearest child, you will be buried by other people."
Du coeur vidal de Rolf Carlos:
(Traduit par le lobe sanguinolent de Mathieu Bédard)
Le collage sonore de Tamara Filyavich, « Return Fire », vous invite à réfléchir à cette sinistre question : « Maman, qu'est-ce qui va m'arriver si je meurs dans un pays étranger? » Des transmissions radio, des synthétiseurs granuleux et de la magnifique musique chorale ukrainienne s'échangent des coups de feu entre les tranchées sanguinolentes de votre lobe temporal. La pièce de 17 minutes s'ouvre sur des échantillons fantomatiques de « Plyve Kacha » — une chanson funèbre du folklore ukrainien, ressuscitée à la lumière des conflits récents — puis décline lentement en des pleurs évidés venus de synthétiseurs entêtants. Éventuellement, des salves d'arpèges broyés, charcutés sont tirées de l'éther, perçant votre tympan comme ils perceraient votre torse; vous tombez sur un sol inconnu, maudissez votre sort, ainsi que l'absurdité de la vengeance, puis pensez à votre mère tandis que le son des tirs de riposte s'affaiblissent peu à peu: « Mon très cher enfant, tu seras enterré par d'autres gens. »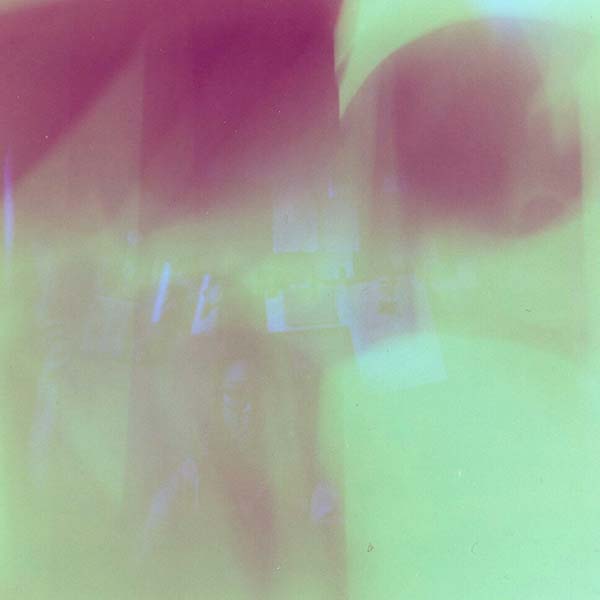 respectfulchild
[demos]
(Self-Released)
Saskatoon, SK
From the pulsing hands of Marie LeBlanc Flanagan:
Been dreaming underground, been breathing under while soft bones feed the green. Saskatoon's respectfulchild pulls strings through and up, looping you to the golden haze. All good things end in death, all good things come from death. A voice warming distant like prairie sundogs, trickle beats like footsteps rippling around grasping holes. Not all loops return to where they began, some pull upward.
Par les mains pulsantes de Marie LeBlanc Flanagan:
(Traduit par les rêves germinants d' Émily Traichel)
Ses rêves germinent sous terre, sa respiration sous la surface tandis que de tendres os nourrissent le vert. Respectfulchild de Saskatoon fait traverser les cordes et les faitt monter, vous bouclant à la brume dorée. Toutes bonnes choses prennent fin dans la mort, toutes bonnes choses viennent de la mort. Une voix qui s'échauffe, lointaine comme des parhélies de la prairie; des rythmes ruisselants comme des bruits de pas qui ondulent autour des trous agrippants. Ce n'est pas toutes les boucles qui retournent où elles ont commencé, certaines se relèvent vers le haut.
respectfulchild – golden lingers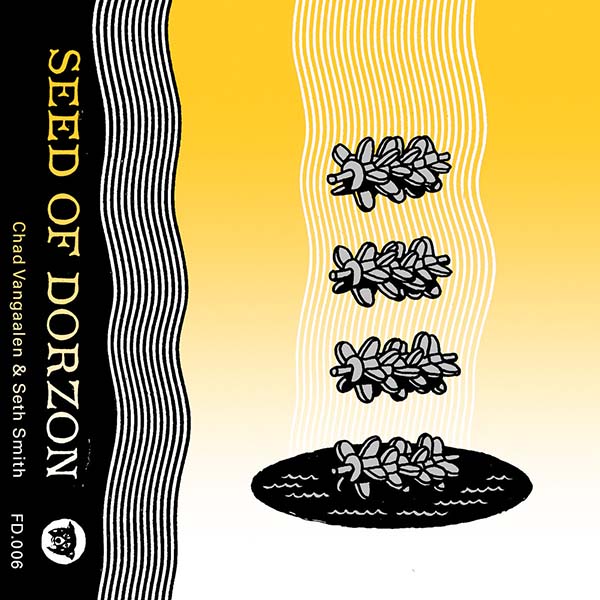 Chad VanGaalen & Seth Smith
Seed of Dorzon
(fundog)
Calgary, AB // Halifax, NS
From the Dusty Mind of Bobby Andrews:
Furious tones and manic cerebral vibrations from Chad Vangaalen and Seth Smith, Seeds of Dorzon is a two-part narrative leaving the listener breathless. Stretching beats across a vast landscape created within the ear, the listener ruminates on the conflict within. Cranked vibrations met with an expert level of grace, Seed of Dorzon erupts the emotional core of being, blossoming the imagination.
De l'esprit poussiéreux de Bobby Andrews:
(Traduit par Lanstratoran Mes!)
Avec des tons furieux et des vibrations cérébrales animées, Seeds of Dorzon, de Chad Vangaalen et Seth Smith est récité en deux parties qui coupent le souffle. Avec des pulsations qui s'allongent à travers un paysage créé par notre écoute, l'auditeur rumine sur le conflit intérieur. Des vibrations montées sont accueillies avec un niveau de grâce élevée. Ce disque fait jaillir le noyau émotionnel de l'âme, permettant l'épanouissement de l'imagination.
Chad VanGaalen & Seth Smith – Part I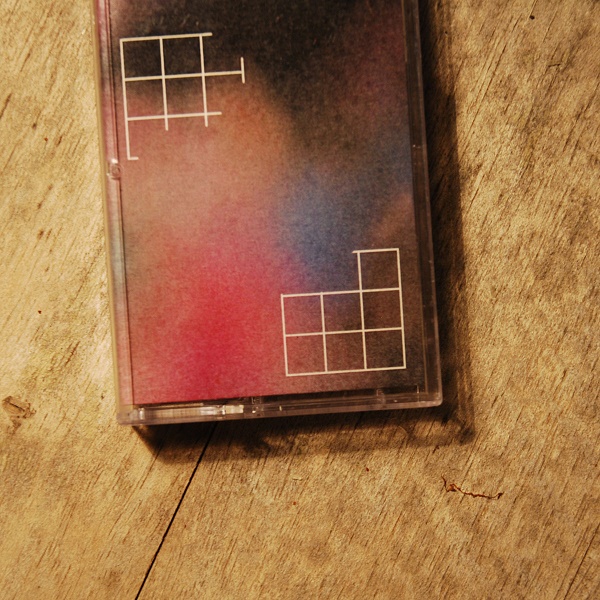 Philippe Vandal
Frag
Montreal, QC
From the splintered mind of Laura Stanley:
Our hearts once beat together. Their united sound displaced the loneliness that lived inside me for so long. But now, the loneliness has returned and I hear the ghosts of our former life: our fights, our joy, your favourite jazz record, the clatter of our dishes, the static from the TV when we forgot to pay our cable bill. In Frag, Montreal's Philippe Vandal summons distant discordance with forgotten feelings. Like us, these memories are fragmented and atonal. Together they sound as fearful of the future as I am.
De l'esprit fragmenté de Laura Stanley:
(Traduit par la mentalité capricieuse de Louis-Félix de Chevigny)
Nos cœurs ont autrefois battu à l'unisson. Ce battement synchronisé a repoussé la solitude qui vivait en moi depuis si longtemps. Maintenant, elle est de retour et je peux entendre les spectres de notre vie d'auparavant : nos chicanes, notre joie, ton disque de jazz favori, le bruit de nos assiettes, les parasites de notre télé la fois où nous avions oublié de payer notre facture de câble. Dans Frag, le Montréalais Philippe Vandal invoque, par des sentiments oubliés, une discordance lointaine. Comme nous, ces souvenirs sont fragmentés et atonaux. En les écoutant, on pourrait penser qu'ils sont aussi effrayés par le futur que je le suis.
---